Slate Property Group Seeks to Convert Greenpoint Savings Bank Annex Into Apartments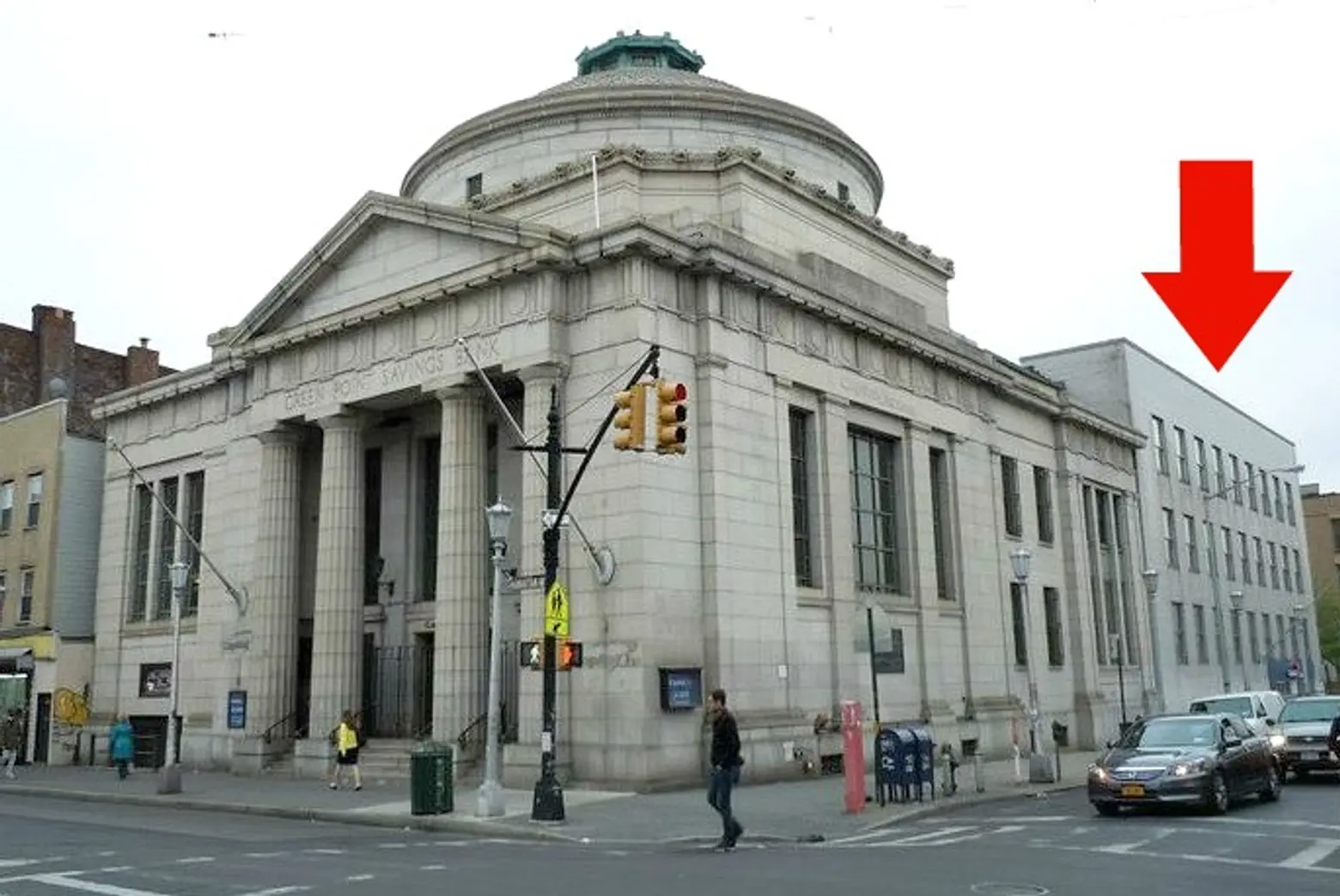 Slate Property Group is seeking approvals from the Landmark Preservation Commission to convert the rear annex of the landmarked Greenpoint Savings Bank into apartments. Situated within Greenpoint's historic district, at the southeast corner of Calyer and Lorimer Streets, the plan would add an additional two stories to an existing three-story office structure at the corner, ultimately yielding 25 units throughout 40,000 square feet of residential area.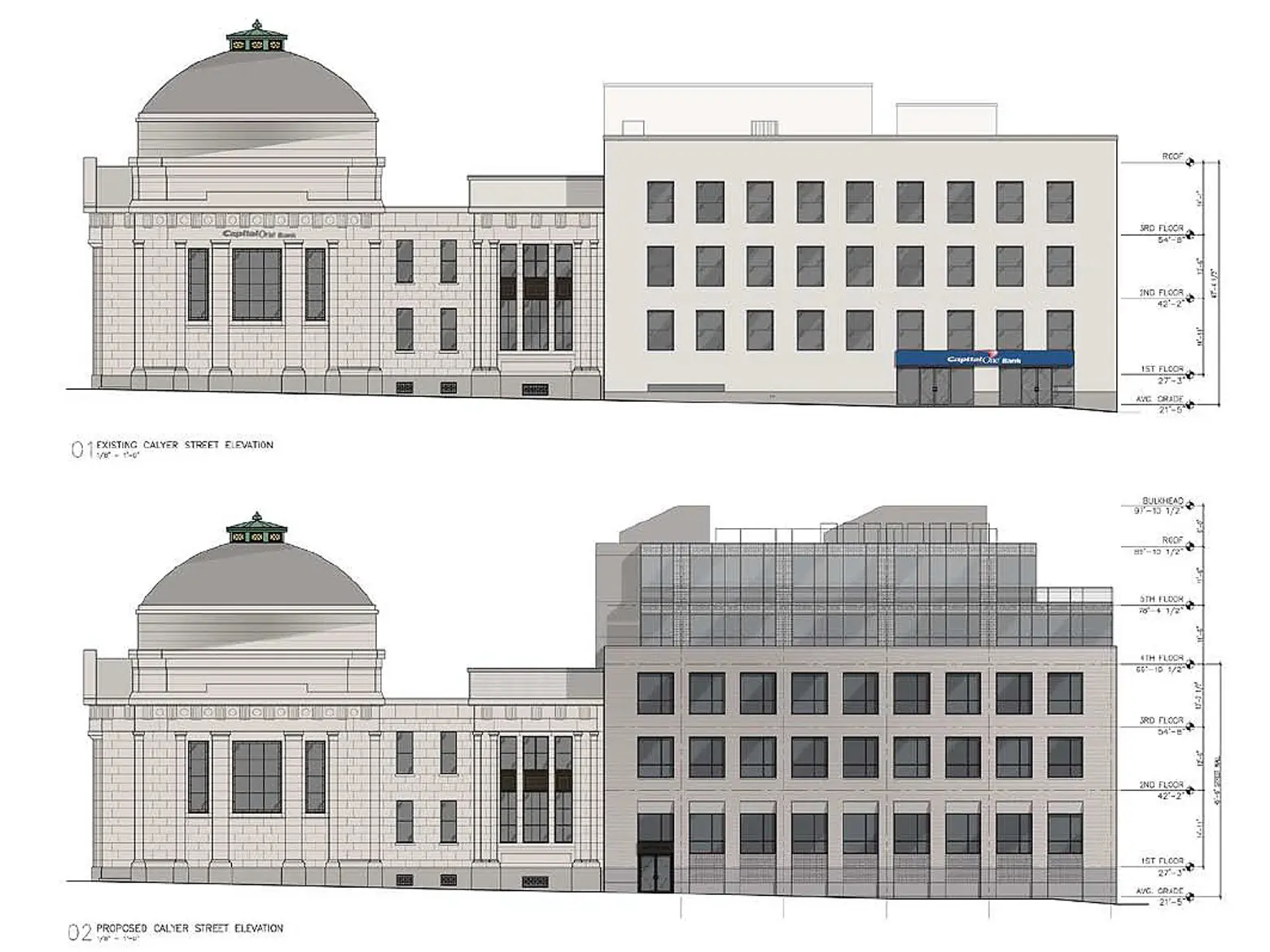 The Manhattan Avenue-facing, neo-Classical bank hall would remain untouched, while its nondescript 1954 annex building would be refaced. Preliminary drawings created by PKSB Architects show that the annex's existing double-hung windows would be replaced with larger sets of square windows that will be recessed into the facade, and the building will be crowned by courses of soldier brick or corbeling. The current main floor entrance along Calyer Street would be removed, and a smaller set of doors would be installed mid block to lead to a pair of ATM's and provide access to the original banking hall. Partially below-grade windows will be installed along the cellar levels, bringing light to the lower levels of ground-floor units. Referencing the ornamental grille-work, a lattice-like pattern of grilles will be installed below the first floor windows that should provide visual interest to passersby.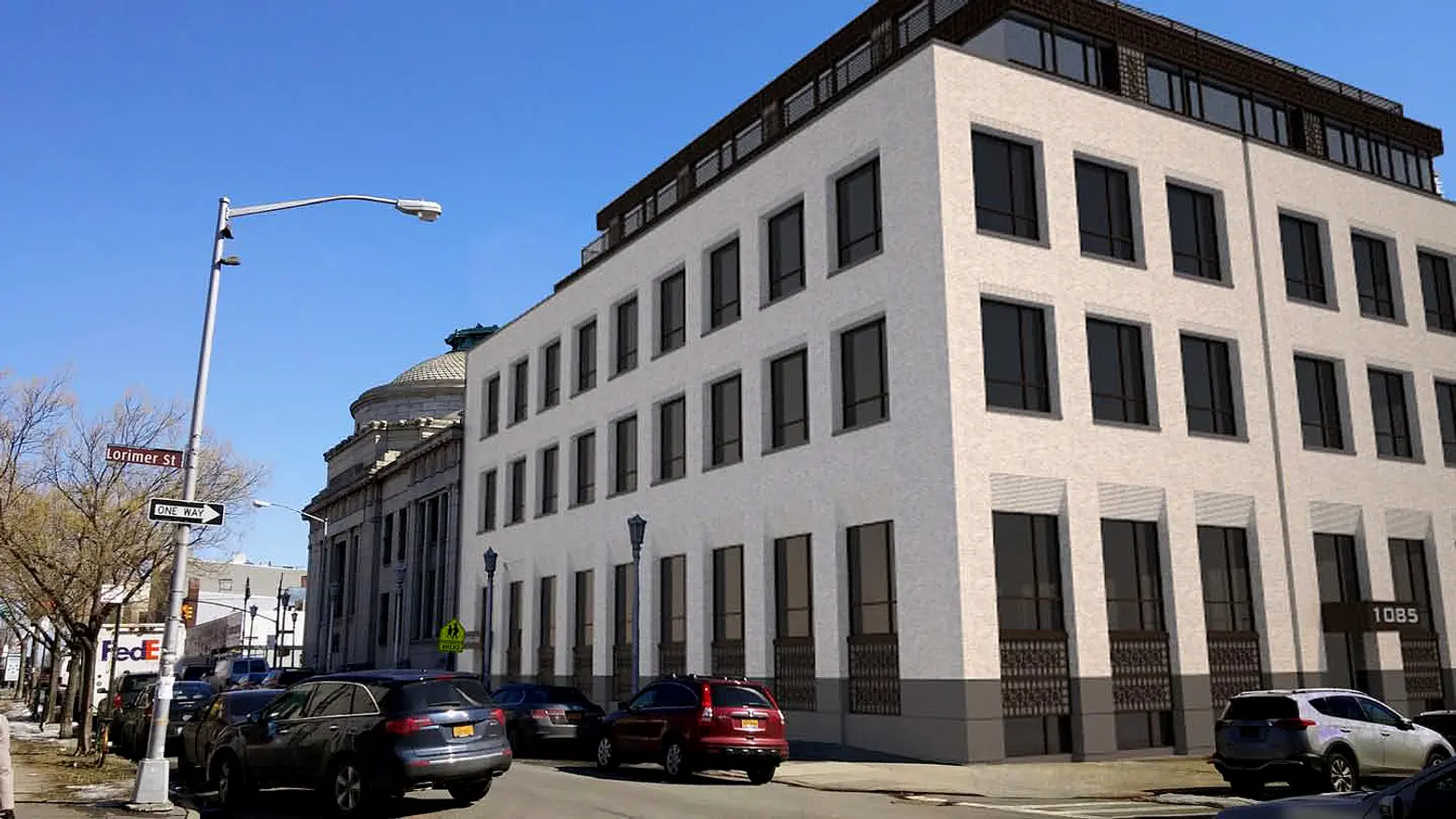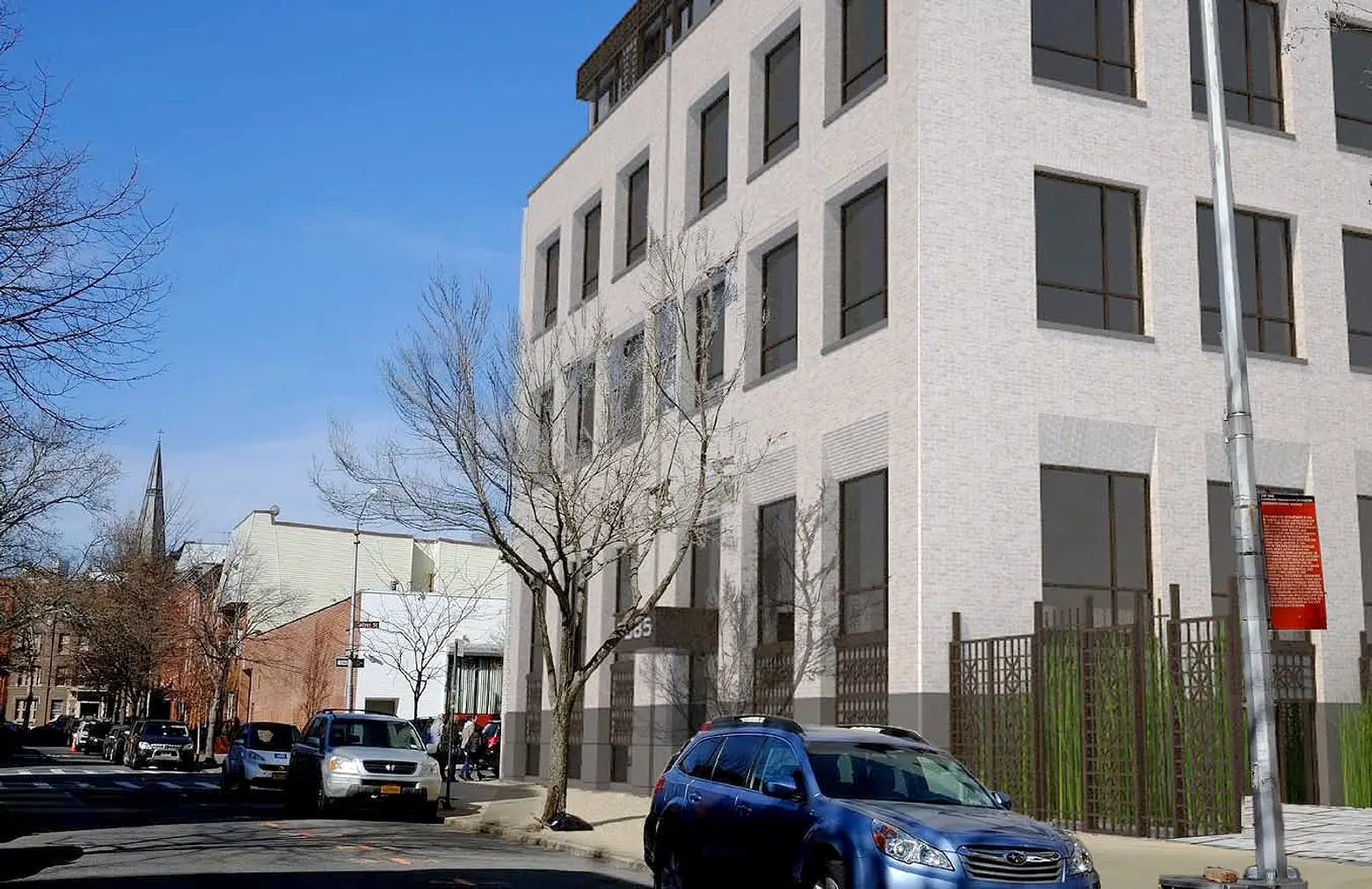 Inside, in lieu of open office spaces, there will be 25 large residences consisting of one to four bedrooms. According to pending permits filed with the Department of Buildings, the cellar level will house the lower levels of five duplex apartments, and the ground floor will house the residential lobby and the building's primary Lorimer Street entrance. Levels two through four would contain approximately five apartments each, while the upper level penthouse would house just two units. The building will have bicycle storage, an elevator, and a landscaped recreational area that will replace an existing set of parking spaces. The mechanical bulkhead will reach 98 feet, roughly in line with the old bank building's dome.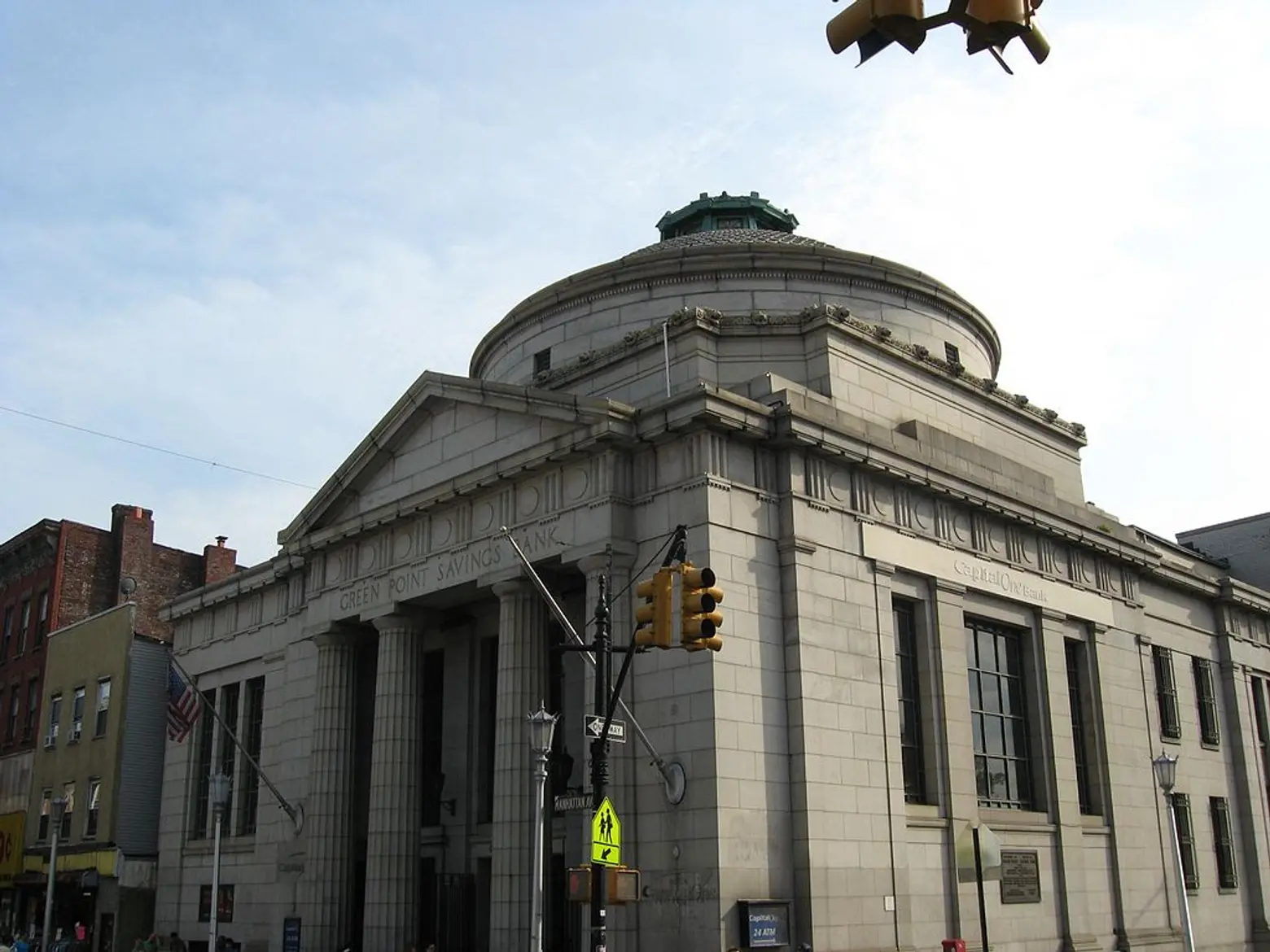 Photograph of the 1906 Greenpoint Savings Bank courtesy of Jim Henderson, Wikipedia
According to the LPC's Greenpoint Historic District (PDF) designation report, the Greenpoint Savings Bank was constructed in 1906 by the architectural firm of Helmle & Huberty, who were also the designers of the Prospect Park Boat House. The imposing Manhattan Avenue facade features a recessed portico with four Greek Doric columns topped by a frieze of triglyph. A triangular pediment crowns the portico and a shallow dome clad in slate shingles crowns the structure. A contextual addition was built in 1925 that continues the Calyer Street facade. The distinguished building will continue to operate as a Capitol One branch. The Landmark Preservation Commission's Hearing for the annex's addition is scheduled for this Wednesday.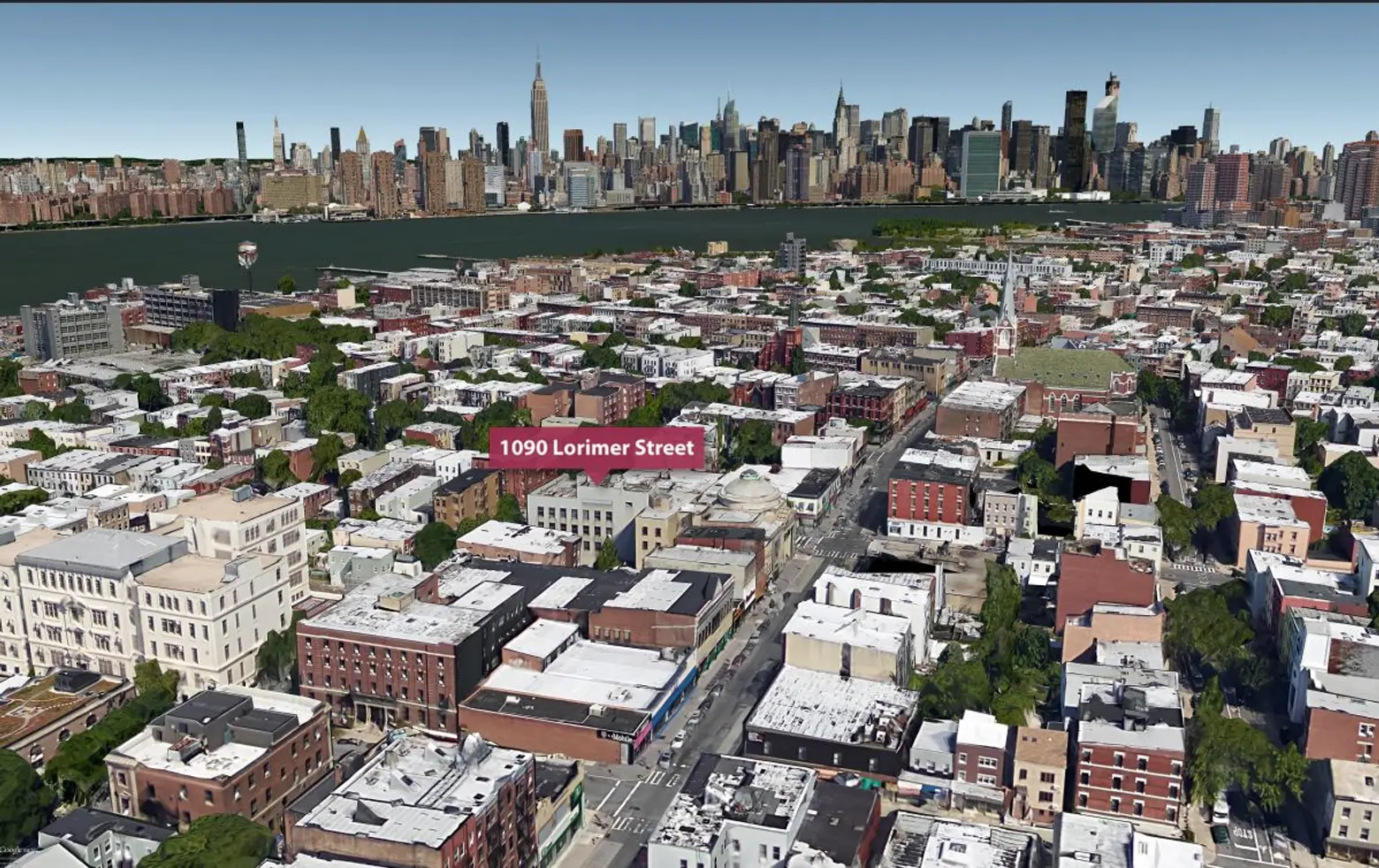 Google Eearth rendering via CityRealty
Find future listings for 1080-1090 Lorimer Street at CityRealty.
RELATED:
Renderings via PKSB Architects; Lead image via Hometown Greenpoint USA