See inside Hudson Yards arts center The Shed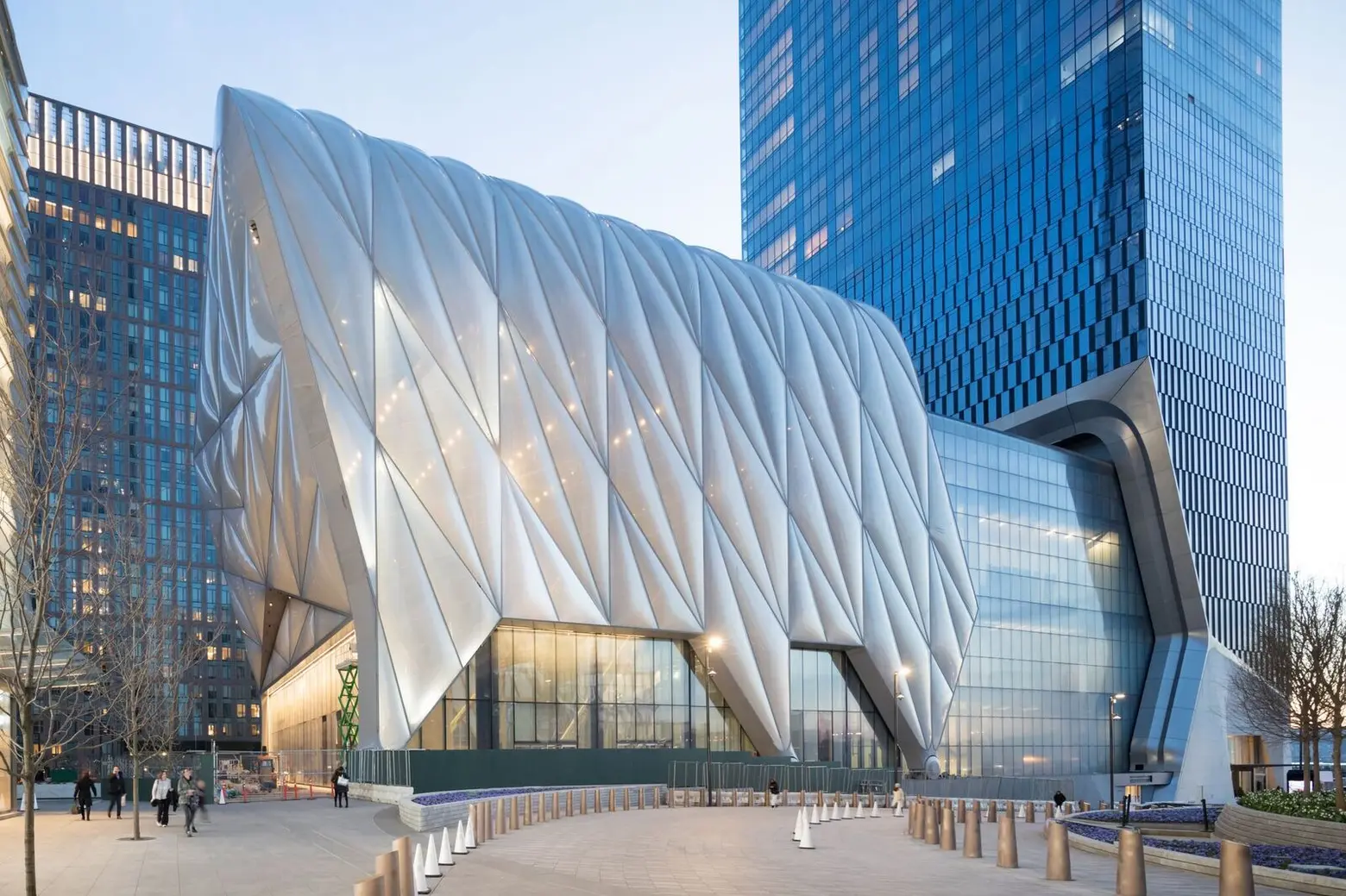 View from Hudson Yards; Photo by Iwan Baan, courtesy of The Shed
A new cultural institution in New York City is finally open after more than a decade in the making. The Shed, which straddles the recently opened Hudson Yards neighborhood and the High Line on 30th Street, will commission and present original artwork across a variety of disciplines. Designed by Diller Scofidio + Renfro and Rockwell Group, the building features a 120-foot movable shell, allowing it to physically change on demand and adapt to different performances. Kicking things off today, April 5 is a five-night concert series, "Soundtrack of America," which was directed by Steve McQueen, Quincy Jones, and Maureen Mahon, and explores the impact of African American music on modern culture.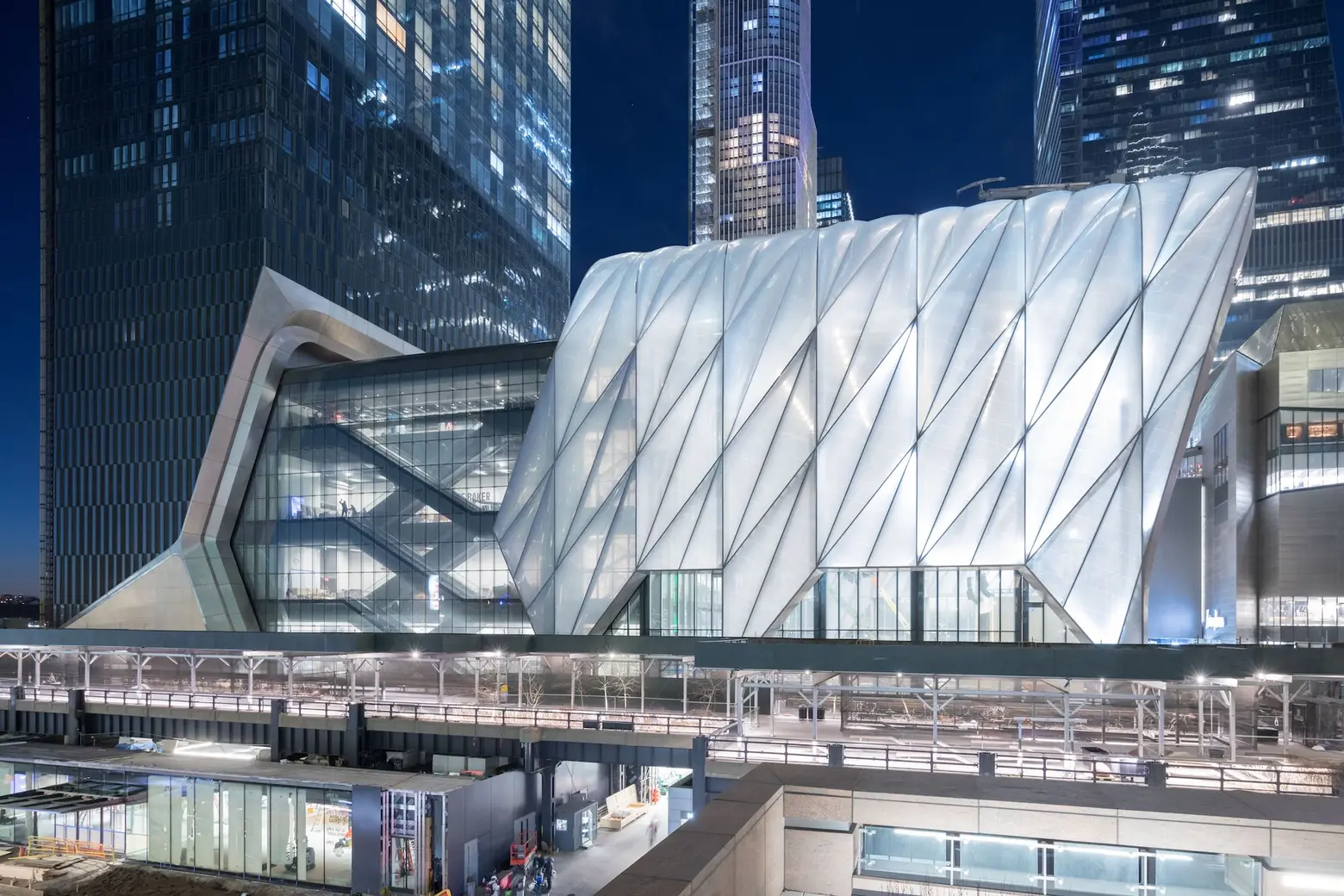 View of The Shed from 30th Street; Photo by Iwan Baan, courtesy of The Shed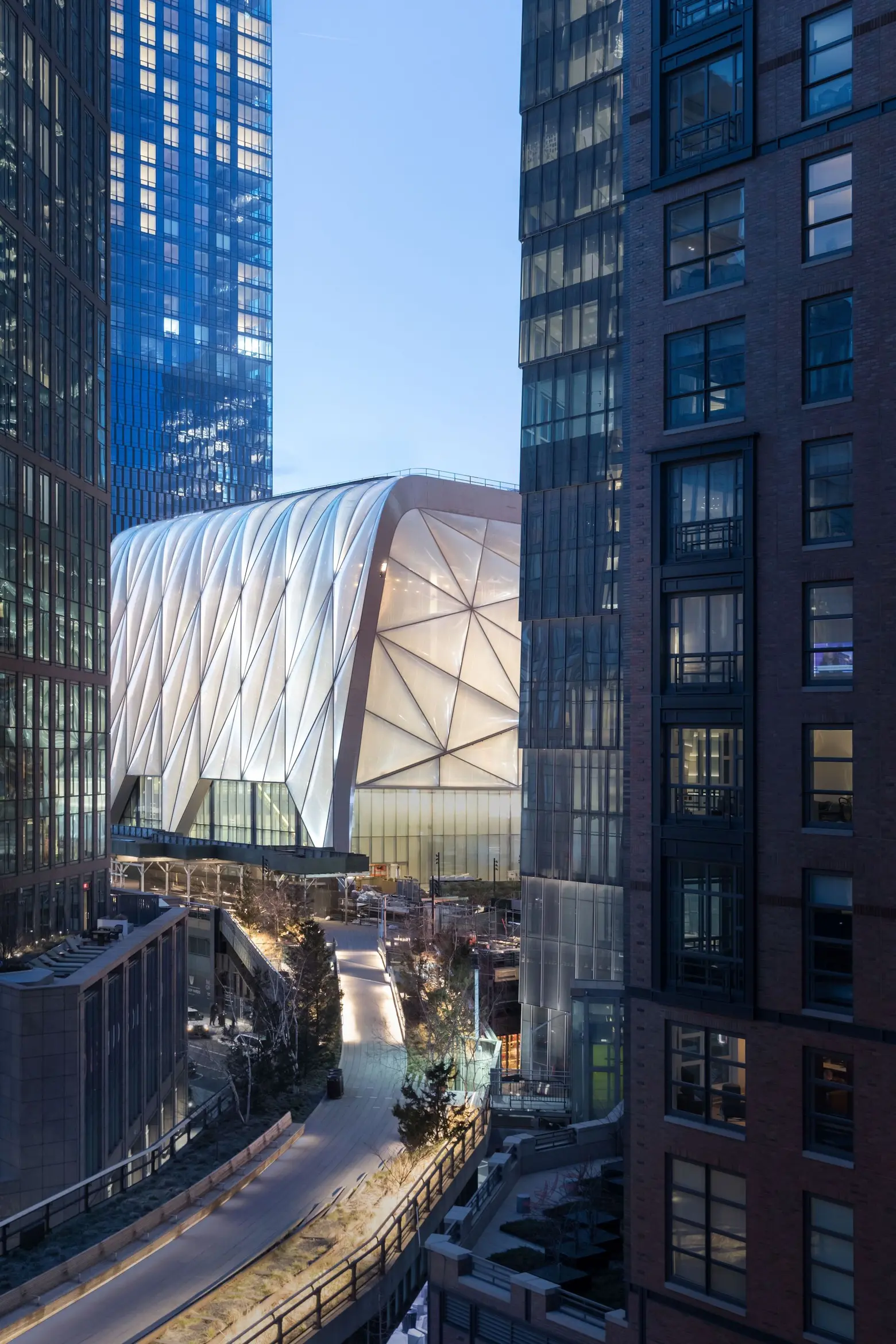 View from the High Line; Photo by Iwan Baan, courtesy of The Shed
The Shed consists of two floors of column-free galleries, 500-seat Griffin Theater (named for billionaire Ken Griffin who donated $25 million for the project), and the McCourt, a multi-use hall for large-scale performances and installations with space for up to 2,000 standing guests. On the top floor, the Tisch Skylights feature a rehearsal space, lab for local artists, and event space.
During a press preview Wednesday, architect Liz Diller called her project a "perpetual work in progress," and noted the necessity of the structure to evolve with contemporary art. "I see the building as an 'architecture of infrastructure,' all muscle, no fat, and responsive to the ever-changing needs of artists into a future we cannot predict."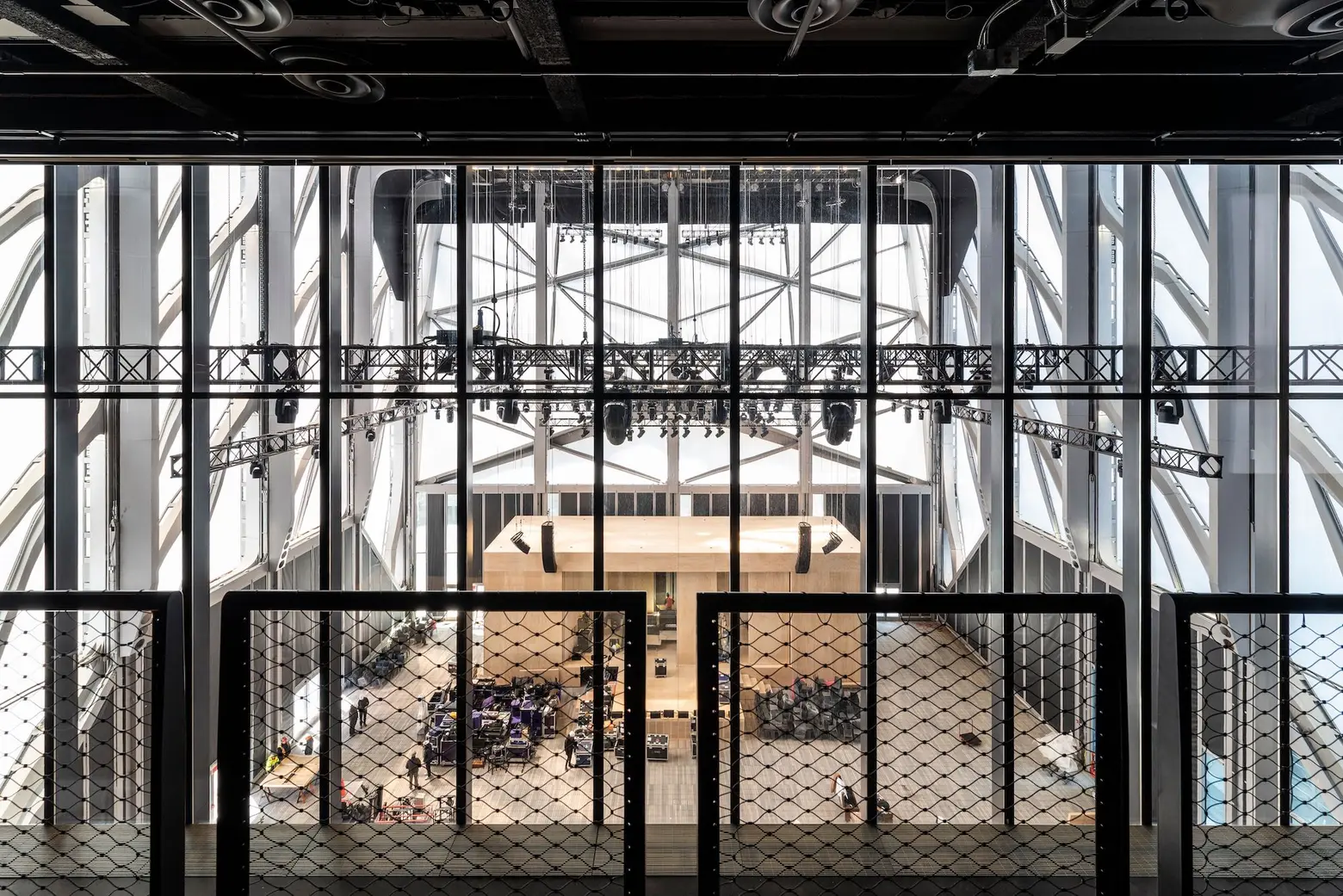 View of The McCourt from the Griffin Theater; Photo by Timothy Schenck, courtesy of the Shed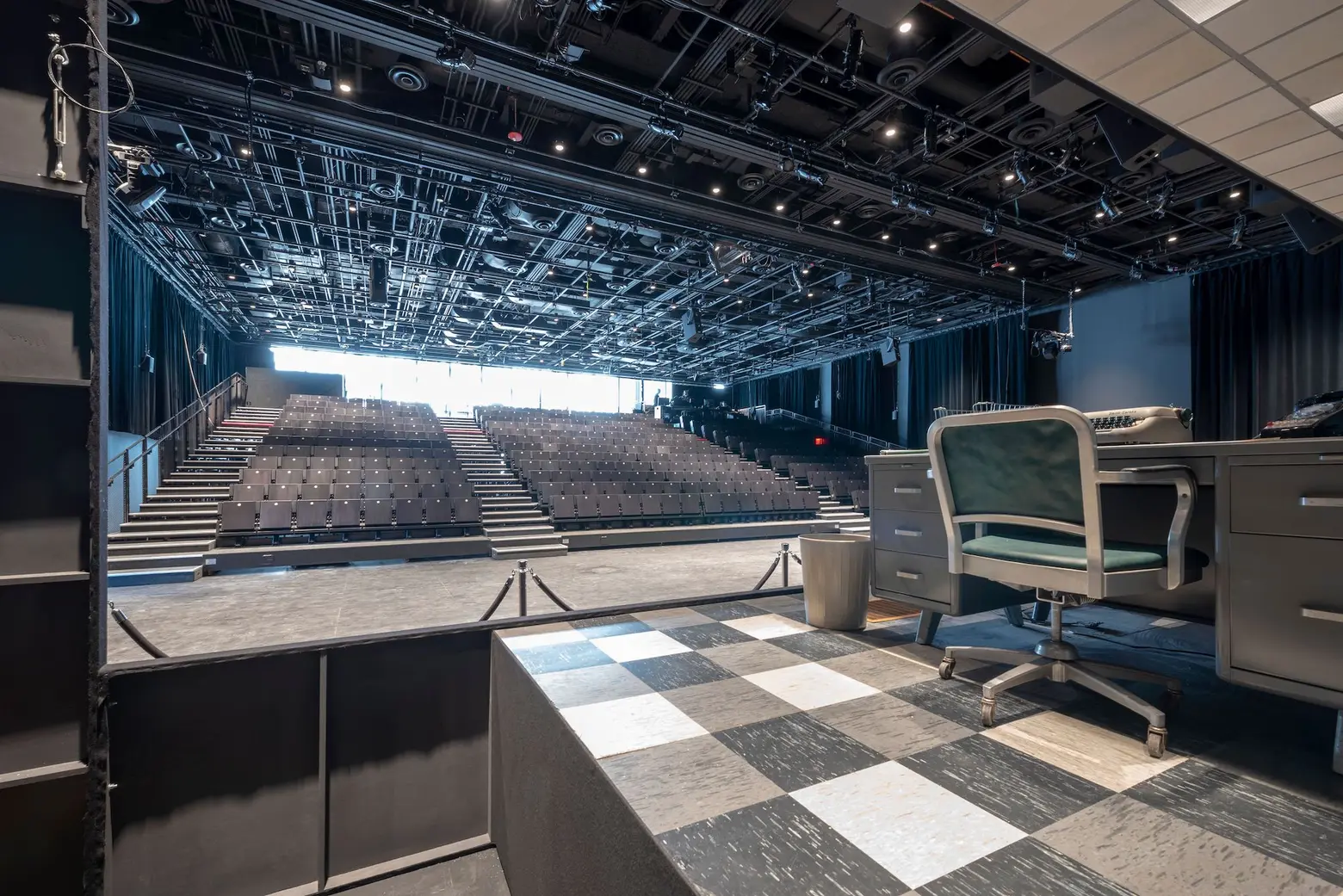 The Griffin Theater, view towards The McCourt; Photo by Timothy Schenck, courtesy of the Shed
The McCourt level is created when the movable shell deploys from the base of the building. The 17,000-square-foot performance space overlaps with the two galleries, allowing for an audience of up to 3,000 people. Large doors on the north and east sides of the McCourt can open to become an open-air pavilion.
The street-level lobby, with an entrance on 30th Street, includes Danny Meyer's Cedric's, a 121-seat cafe opening in mid-April, and a shop from independent bookseller McNally Jackson, which will have a book catalog reflective of the Shed's programming.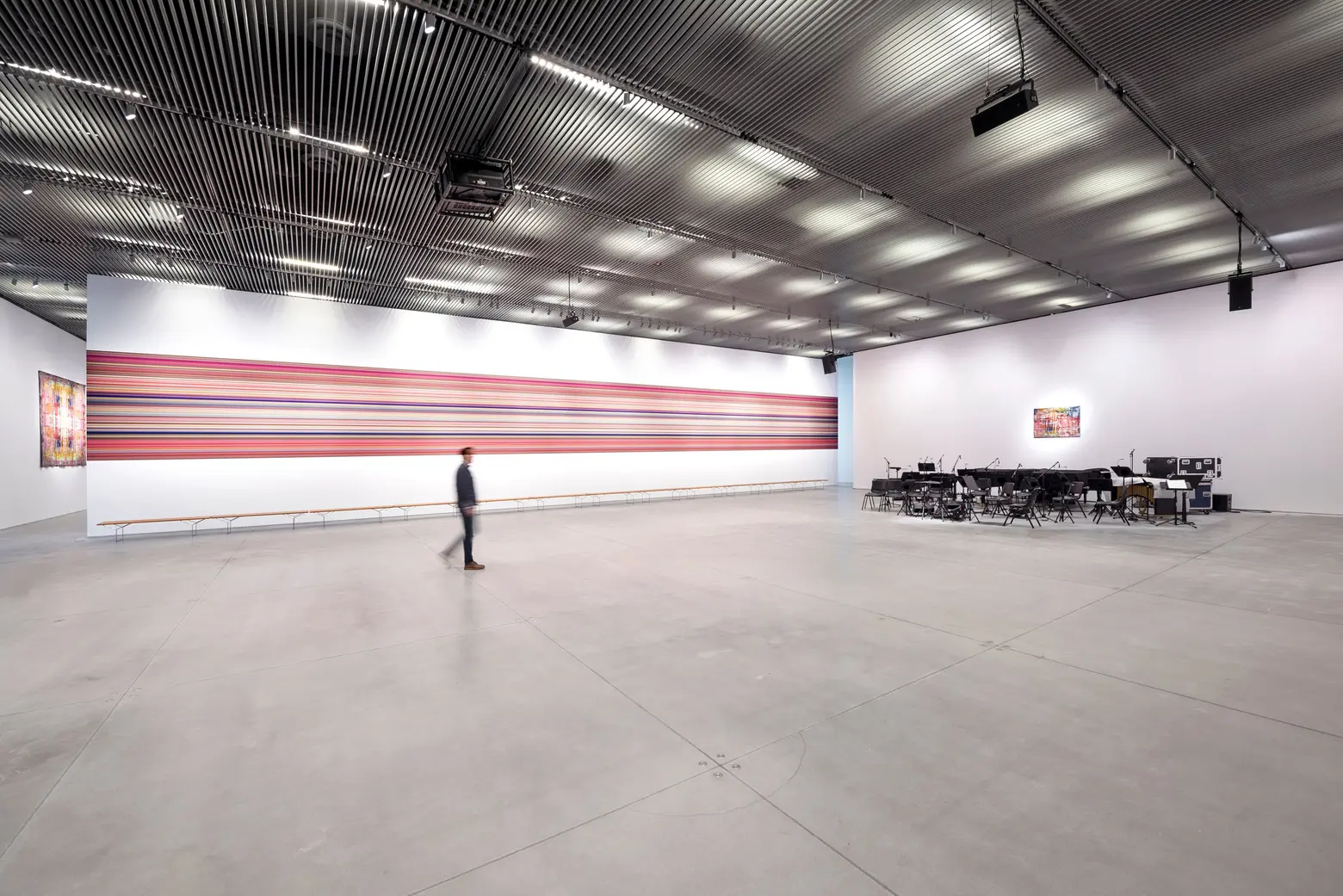 View of the installation "Reich Richter Part"; Photo by Timothy Schenck, courtesy of The Shed
The Shed's artistic director, Alex Poots, wants to emphasize the civic responsibility of the new performance center, which aims to increase access to the art world and exhibit local talent. Almost to counteract the symbol of wealth that is Hudson Yards, entry to the Shed's exhibitions cost $10, is free for those 18 and under and students at CUNY, and a portion will be set aside for low-income New Yorkers.
With a focus on emerging artists, the Shed's "Open Call" exhibit features 52 artists and collectives based in the city who have not received support from a large cultural institution. Each of the artists receives between $7,000 and $15,000 to support their work and will be able to occupy various spaces at the Shed throughout the year.
"As a commissioning home for artists from the worlds of performance, visual arts, and pop, The Shed is a place for all artists and all audiences to meet," Poots said in a statement.
Following the Soundtrack of America show, which runs from April 5 to April 14, the McCourt will transform to hold a theatrical concert from Björk, as well as a chorus and cast of musicians. All eight of the concerts, titled "Björk's Cornucopia," are sold out.
As 6sqft previously reported, the Shed's opening commissions– kicking off Friday– include:
A new live production celebrating the impact of African American music on art and popular culture in the past century conceived by acclaimed filmmaker and artist Steve McQueen, developed and produced with music industry legend Quincy Jones, respected NYU academic Maureen Mahon, and preeminent hip-hop producer Dion 'No I.D.' Wilson
"Reich Richter Pärt," a live performance/exhibition that pairs work by master painter Gerhard Richter with a new composition by Steve Reich and an extant composition by Arvo Pärt
"Norma Jeane Baker of Troy," a reinvention of Euripides' "Helen" by poet Anne Carson, starring Ben Whishaw and Renée Fleming
An original live production co-conceived by Chen Shi-Zheng and Kung Fu Panda screenwriters Jonathan Aibel and Glenn Berger, with songs by Sia and choreography by Akram Khan
Expansive exhibitions devoted to newly commissioned work by artists Trisha Donnelly and Agnes Denes
To date, the Shed has raised $529 million towards its goal of $550 million for building costs and other expenses, which includes a $45 million loan from Stephen Ross, according to the New York Times.
RELATED: 
All photos courtesy of The Shed