See how five architecture firms designed affordable housing for small vacant lots in NYC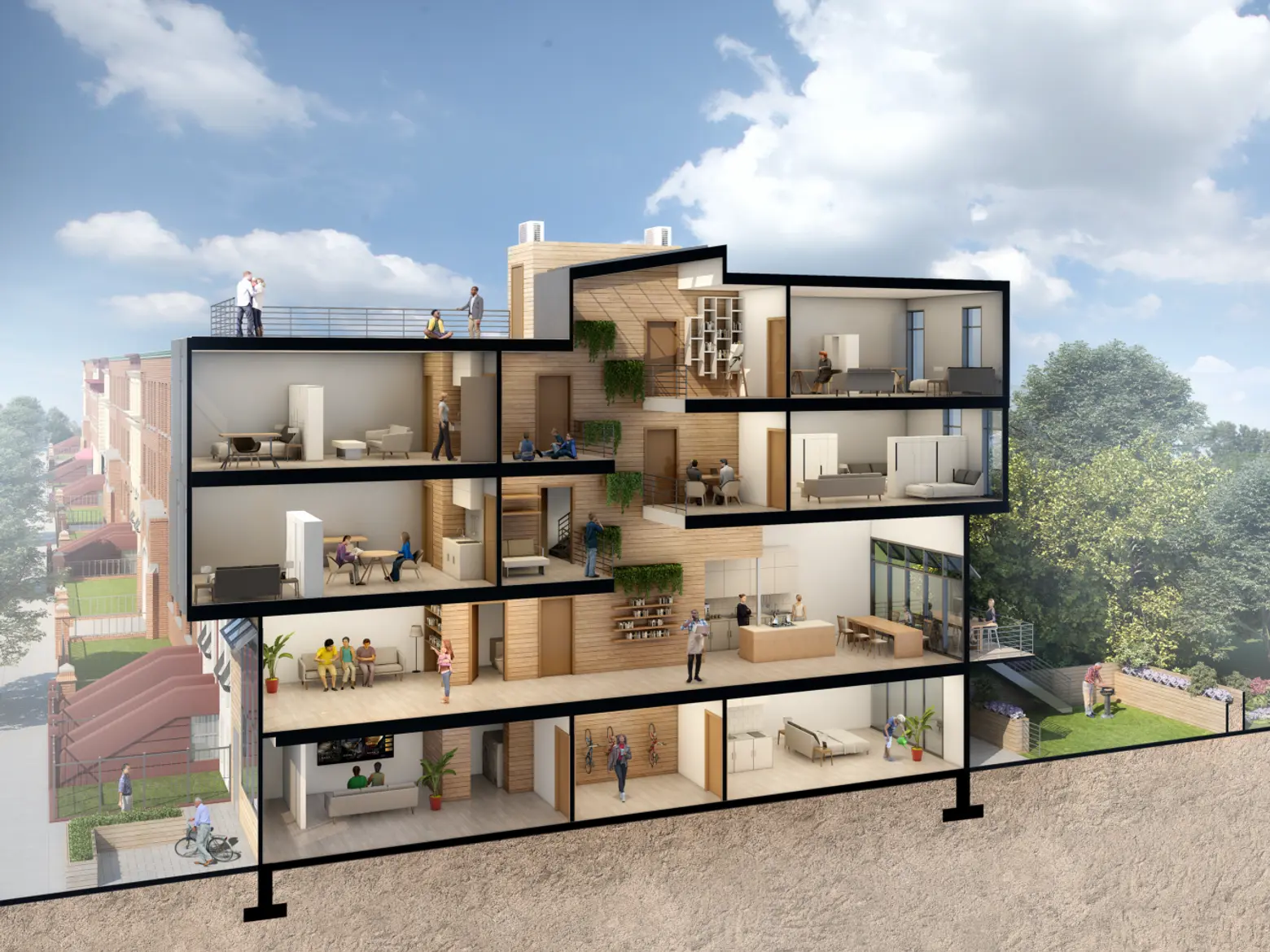 "More with Less," a winning entry by Palette Architecture
The New York City Department of Housing Preservation and Development (HPD) and the American Institute of Architects New York (AIANY) announced on Tuesday the selection of five New York City-based firms as finalists in the Big Ideas for Small Lots NYC design competition for small-scale, urban infill housing. As 6sqft previously reported, the program was organized by HPD and AIANY as a way to address the challenges associated with the design and construction of affordable housing on 23 lots of underutilized city-owned land. First announced by the city last year, the program falls under Mayor Bill de Blasio's Housing New York 2.0 plan. The winning proposals were selected by a panel of nine jurors and evaluated on their design, replicability, and construction feasibility. The finalists will advance to the final stage of the program.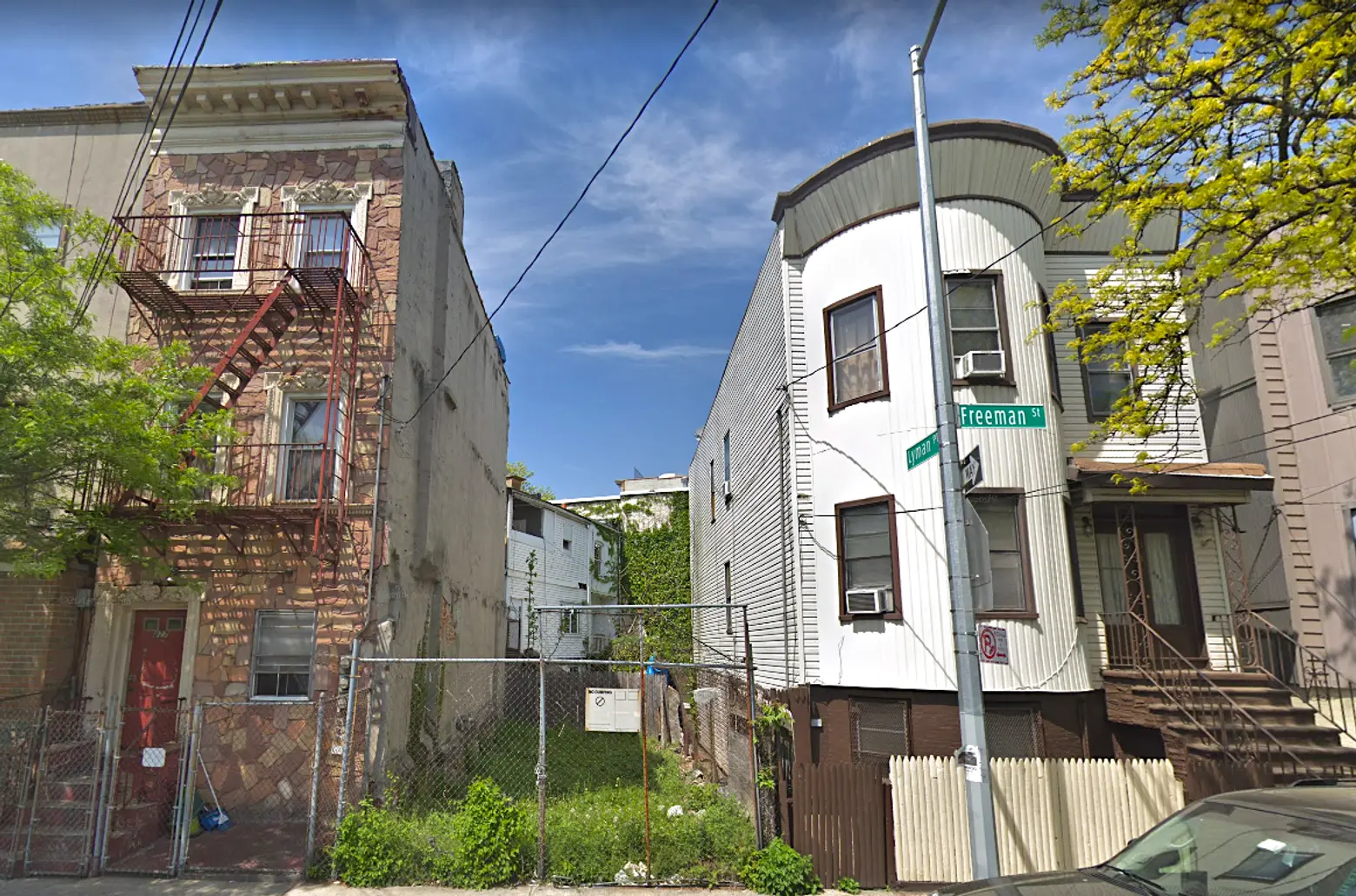 The city hopes to develop affordable housing on this lot at 829 Freeman Street in the Bronx; via Google Street View
Part of the HNY 2.0 plan involves creating affordable housing on city-owned land that is vacant or underutilized. Last February, the city announced it would hire nine development teams to build 490 affordable homes on 87 vacant lots through its New Infill Homeownership Opportunities Program and Neighborhood Construction Program.

Design entries addressed this tiny lot in Harlem; via HPD
For the first stage of the competition, entrants were presented with the challenge of a vacant lot at West 136th Street in Harlem that measures just over 1,660 square feet with a mere 17 feet of frontage; they were directed to create a design for residential use that can be replicated across various sites.
The five selected designs were chosen from 444 proposals from 36 countries across five continents. HPD Commissioner Louise Carroll said in a statement, "Out of the hundreds of proposals that we received from teams around the world, these five were unparalleled in their use of innovative design to solve for the challenges that have left these lots underutilized." Below are the five finalists' designs.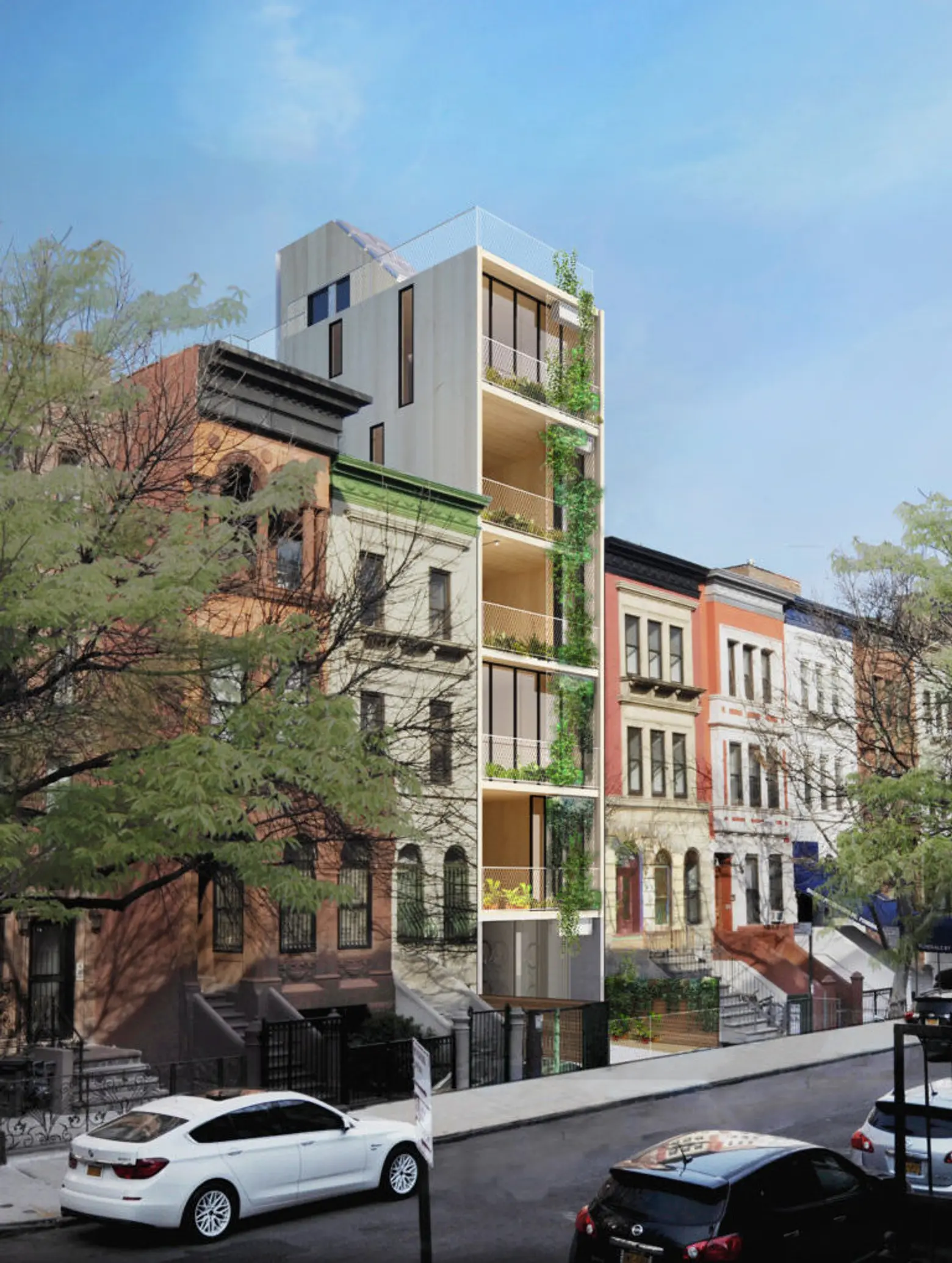 "Mass Green Living" by Anawan/101 + Kane AUD
"Mass Green Living" by Anawan/101 + Kane AUD
"Mass Green Living" features five units in an approximately 5,900 square-foot building that includes a multi-use, ground-level common area referred to as the "urban garage." The submission was selected based on its mix of unit types, its adaptability and the enhanced living experience for residents through smart design features.
The proposal is a collaboration between the principals of two architecture firms: Jeremiah Joseph of Anawan/101 and Ted Kane of Kane AUD. Jeremiah Joseph of Anawan/101 said, "Our idea of the Urban Garage creates an extension of each apartment into shared areas, combining and elevating everyday uses with more dynamic social gatherings, making a place where everyone is included, and everyone shares."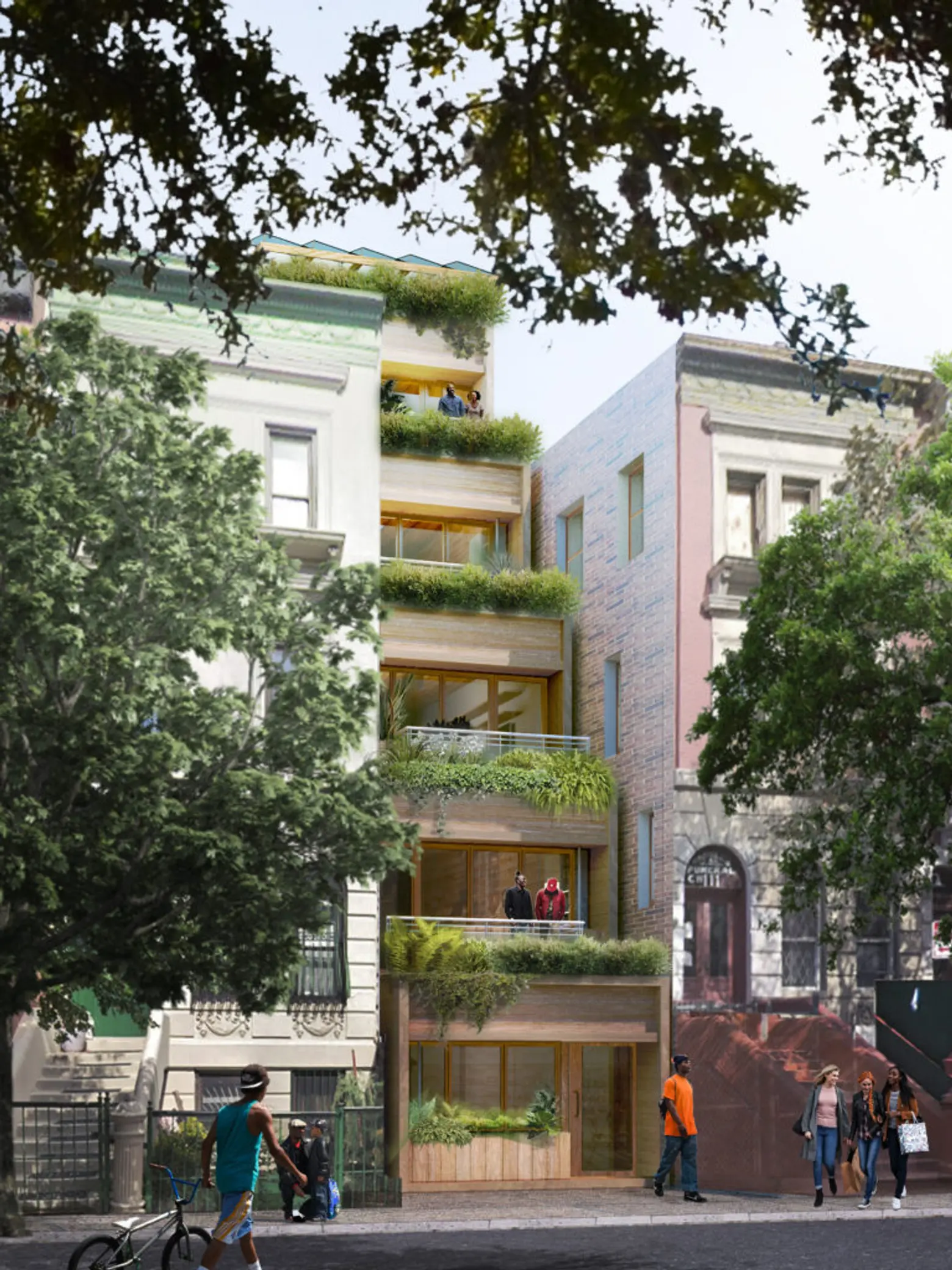 "Greenfill House as Garden" by Michael Sorkin Studio
"Greenfill House as Garden" by Michael Sorkin Studio
The design features seven units in an approximately 4,430 square-foot building with a stepped-back façade creating a terraced effect. The submission was selected based on its ability to provide plentiful outdoor spaces that contribute to residents' experience, its clever use of space and its comprehensive use of sustainable features to minimize the building's environmental footprint.
Michael Sorkin Studio is a New York City-based global design practice that specializes in both urbanism and green architecture. Principal and Founder Michael Sorkin said, "'House As Garden' investigates from scratch a typical situation in New York: the evolution of the row house into a multiple dwelling, a conversion full of problems. Our proposal offers the most advanced – Net Zero – environmental performance, a habitat for new and shared life-styles, greatly enhanced daylighting, new and economical construction techniques and materials, and active community involvement – via employment and training – in filling these waiting gaps in the fabric of the city."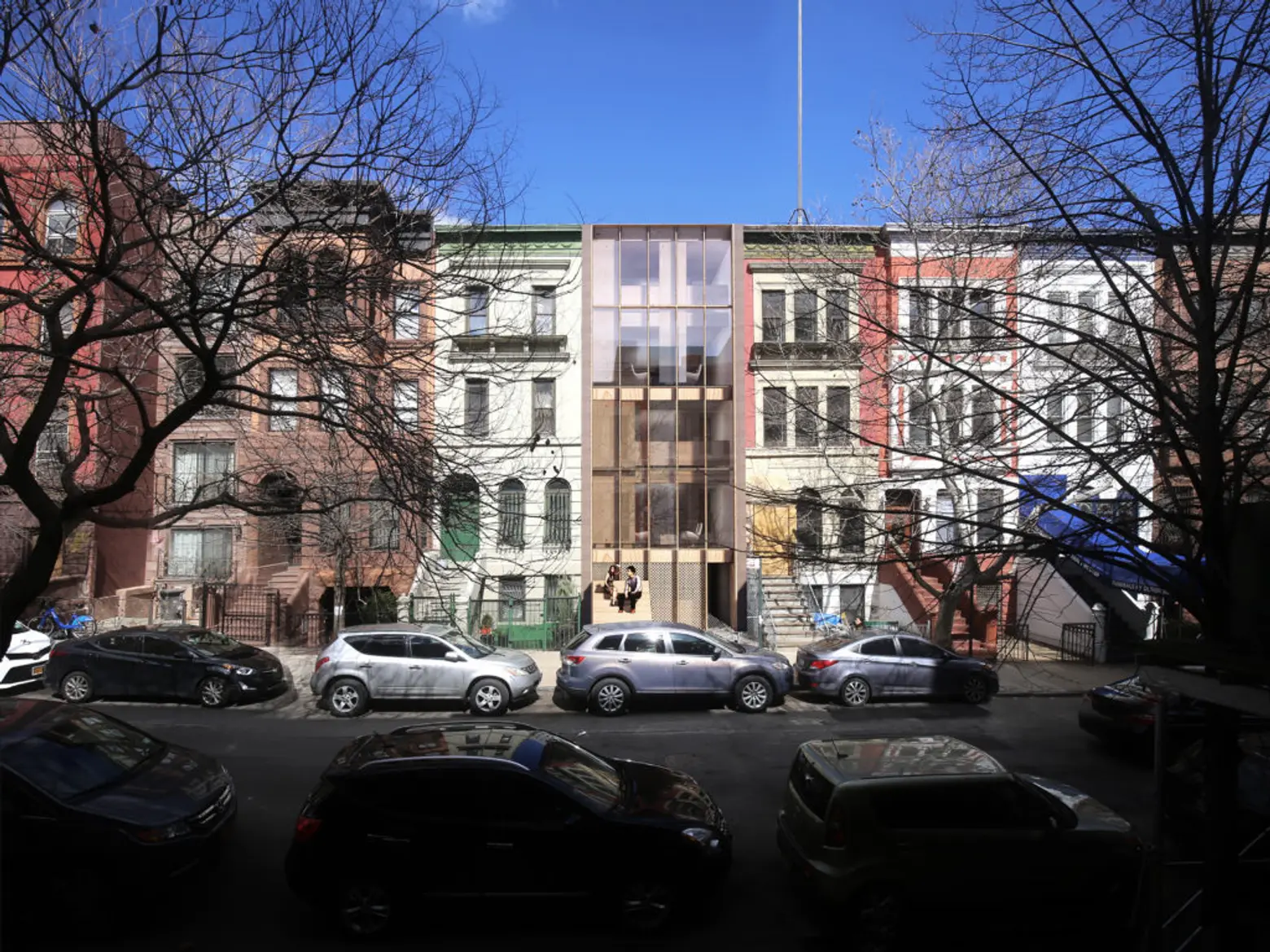 "Fold and Stack" by OBJ
"Fold and Stack" by OBJ
"Fold and Stack" features five units in an approximately 5,540 square-foot building organized around an interior courtyard. The submission was selected based on the design's intelligent use of modular construction, its successful use of double-height spaces within a compact footprint to create a vertical community, and its successful integration of design techniques that address light and ventilation through an interior courtyard that also encourages social interaction.
OBJ is a collection of four architects that currently work for Diller, Scofidio + Renfro in New York City and Olson Kundig in Seattle, Washington. The team members have a combined 25 years of experience working on a variety of projects internationally including the recently constructed The Shed in Hudson Yards.
"We're excited to be participating in the future of NYC housing," said Merica May Jensen, Partner at OBJ. "As New Yorkers, we asked ourselves, 'what do you do when you have limited space?' You fold and stack! The double-height 'stacked' unit is easy to reconfigure on a variety of sites – meaning the small lots are no longer design obstacles, but design opportunities."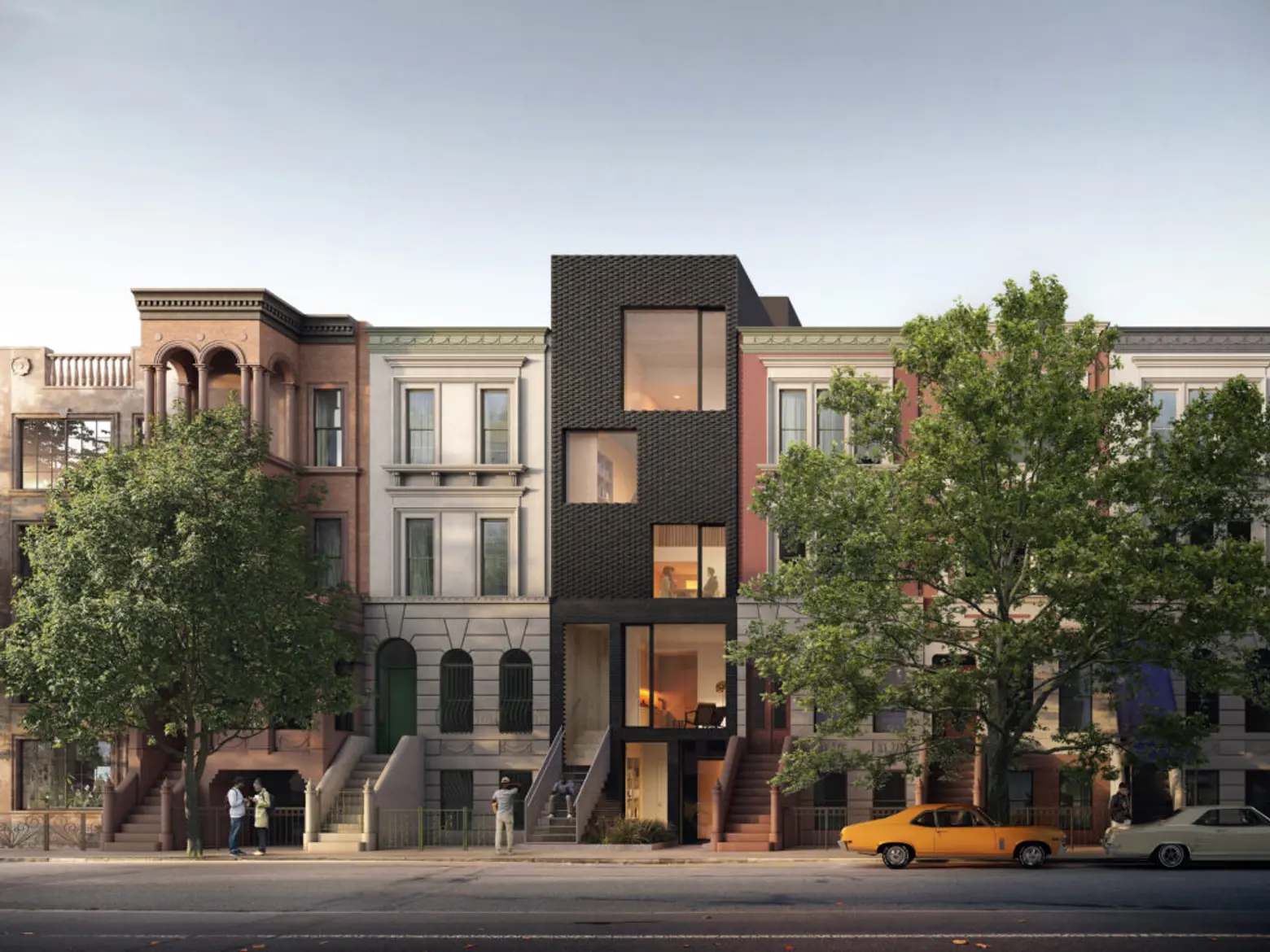 "Only If" by Only If Architecture
"Only If" by Only If Architecture
"Only If" features seven units in an approximately 4,900 square-foot building. The submission was selected based on its use of innovative built-ins to produce compact yet functional appealing spaces, its ability to provide seven units that range in size from micro to two-bedrooms within a small footprint, its variable façade treatments, and its ability to exemplify how intentional design can elevate a traditional row house in a familiar yet unique manner.
Only If is a New York City-based design practice for architecture and urbanism founded in 2013 and led by Adam Snow Frampton, AIA, and Karolina Czeczek. "For the past several years we've been examining the specific and cumulative potential for housing on New York City's irregular, narrow, and leftover land, both through our exhibited research, but also through a 13'-4" wide house now under construction in Brooklyn. Our proposal draws on this expertise and, to ensure its feasibility, strategically avoids the infrastructure of larger buildings," said Only If Principal Adam Frampton.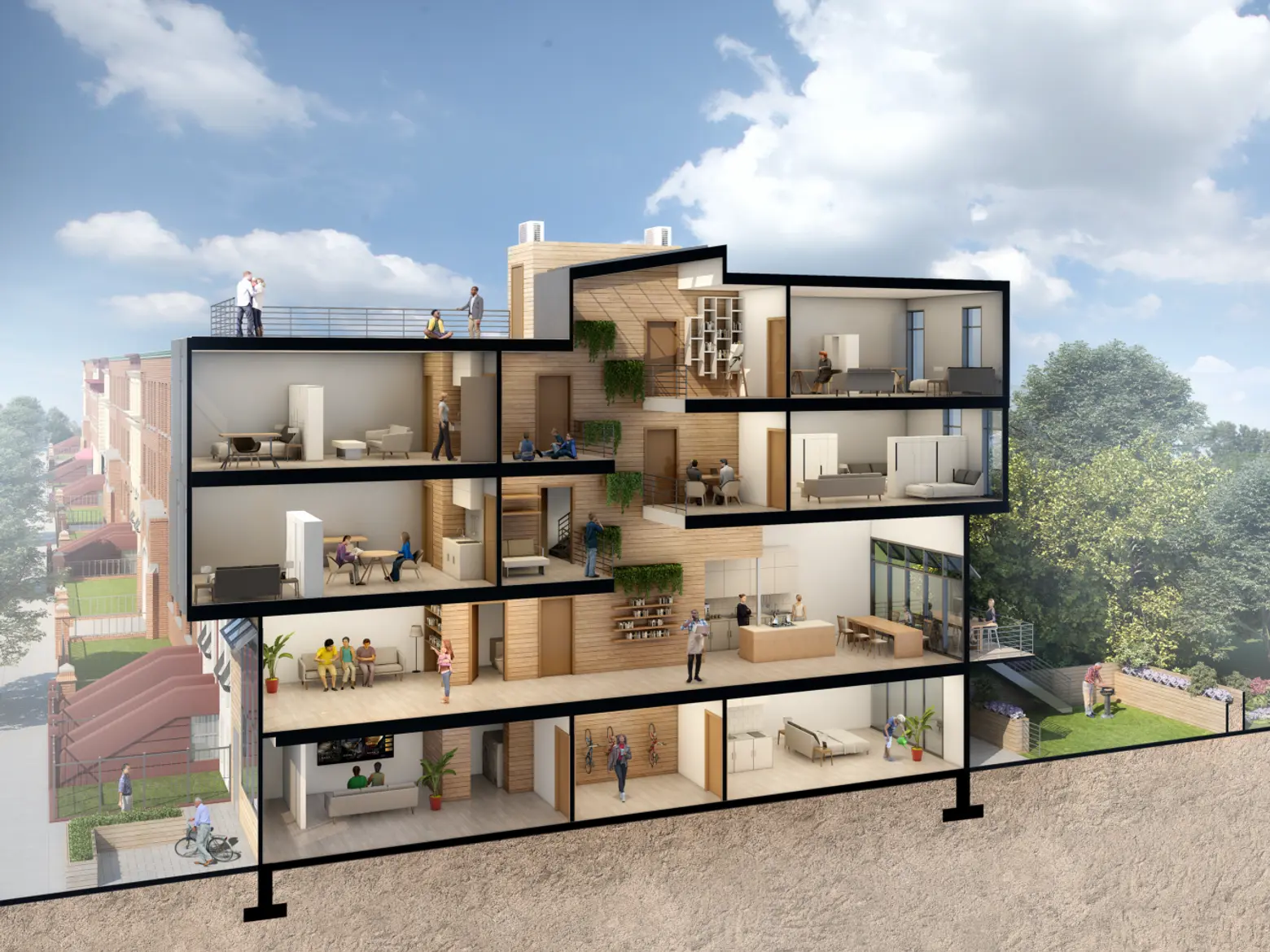 "More with Less" by Palette Architecture
"More with Less" by Palette Architecture
"More with Less" is a 3,700 square-foot building that features two units, one of which is a co-living space with four individual rooming units. The submission was selected based on its ability to provide a model for co-living that demonstrates intelligent consolidation and organization of different types of spaces, the way public and private spaces intersect, and for serving as a good example of how a small lot can accommodate modern housing trends.
Palette Architecture is a full-service, New York City-based design and architecture practice founded in 2010. "Our proposal seeks to economically house residents in contextually scaled developments. By promoting shared resources and flexible spaces, we strengthen community, maximize the number of residents we can serve, and minimize construction costs. The result is an alternate form of living that can help the city address the ongoing need for housing," said Partner at Palette Architecture Peter Miller.
The selected finalists will receive a $3,000 stipend, get the chance to participate in workshops and be featured in an exhibition hosted by AIA New York at the Center for Architecture that will be open from August 1st through the Fall of 2019. HPD and AIANY will help form development teams and aid finalists in developing their submissions into site-specific proposals. HPD will then choose one or more stage II development proposals to be developed for affordable housing on city-owned land. Sites designated for development will be announced in November of 2019. You can find out more about the finalists and their designs here.
RELATED: