Rockaway Ferry to take off in May, one month ahead of schedule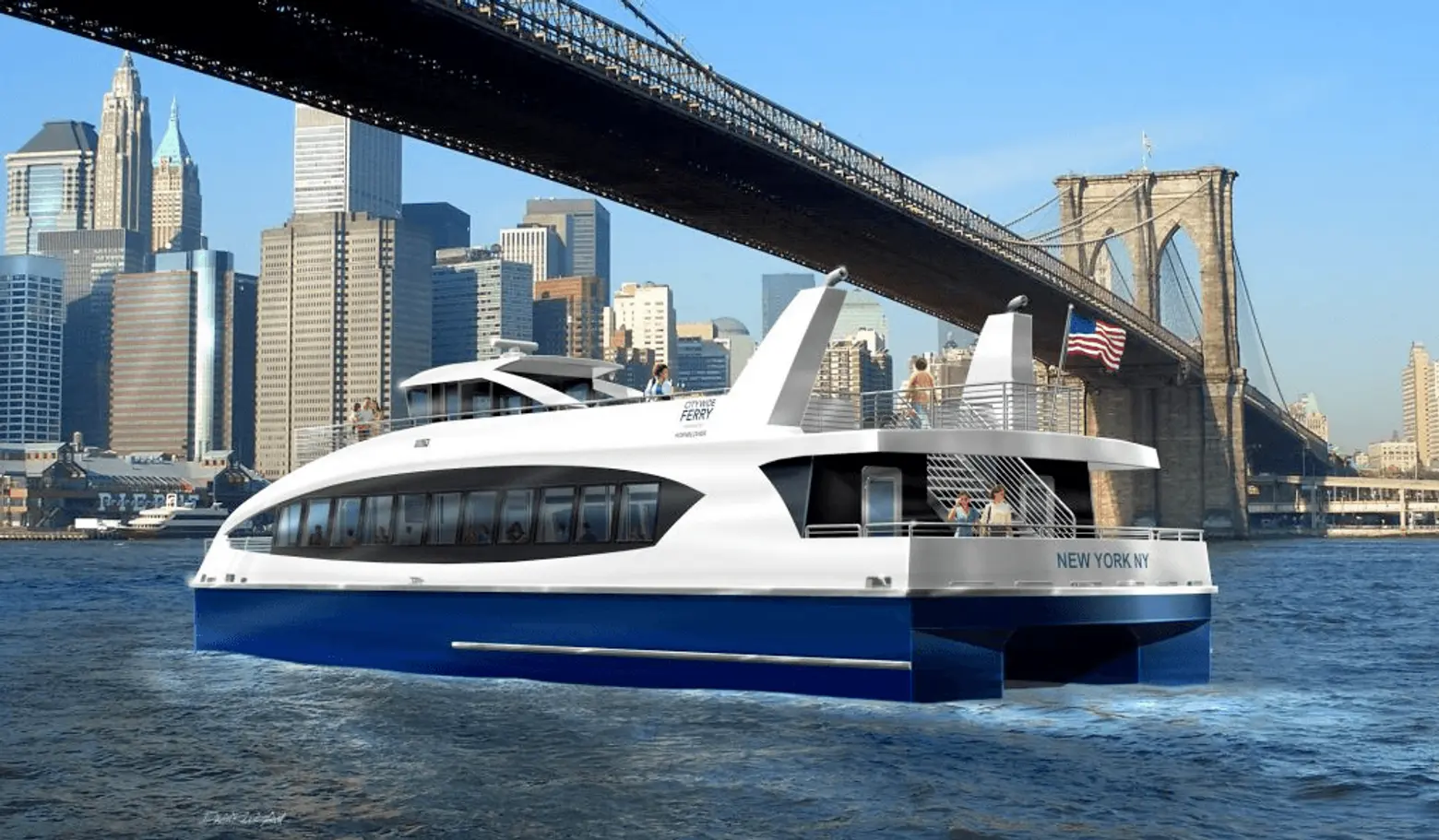 Mayor de Blasio announced today that the Citywide Ferry Service, now officially named "NYC Ferry," will be launching two routes on the first day of May: the new Rockaway Route and the existing East River Route. As DNA Info learned, the Rockaway route takes passengers from the new dock on Beach 108th Street to the Brooklyn Terminal, and then Wall Street's Pier 11. Expect service on the South Brooklyn Route with stops in Bay Ridge, Sunset Park, Red Hook and Brooklyn Bridge Park to begin on June 1. The Astoria Route will be launched sometime in August and the Lower East Side and Soundview Routes have a launch date set in 2018.
The Rockaway boat, which is designed to travel rough waters, arrived at Liberty Landing in New Jersey on Sunday and is being worked on until its start date. Free shuttle buses take riders to the ferry between Beach 35th and Beach 169th Streets. While the fare costs the same as the subway, $2.75, riders do not get a free transfer to buses or subways. Mayor de Blasio said the ferry will lessen the commute time for those living in the Rockaways.
"Rockaway residents have some of the longest commute times in the city," the mayor said. "We promise we'd bring them our new NYC Ferry service first, and today we're delivering on that promise."
Operating 20 vessels at 22 landings across the city, NYC Ferry will carry an estimated 4.6 million trips per year across the six routes. As 6sqft wrote last year, the seven aluminum-made vessels have been made at two shipyards, Metal Shark in Louisiana and Horizon in Alabama. The 85-foot-long, fuel-efficient boats will have heated decks, wifi and be able to fit 150 passengers. Out of the total $325 initiative, the city plans on investing $55 million in infrastructure upgrades and $30 million in operating support every year for six years. Over 200 jobs are expected to be added to the city's economy from this initiative, with half of them to pay at least $50,000 per year or more, according to the mayor's office.
[Via DNA Info]
RELATED: 
Images via NYC Ferry