Renderings revealed for adaptive reuse Maker Park along the Williamsburg waterfront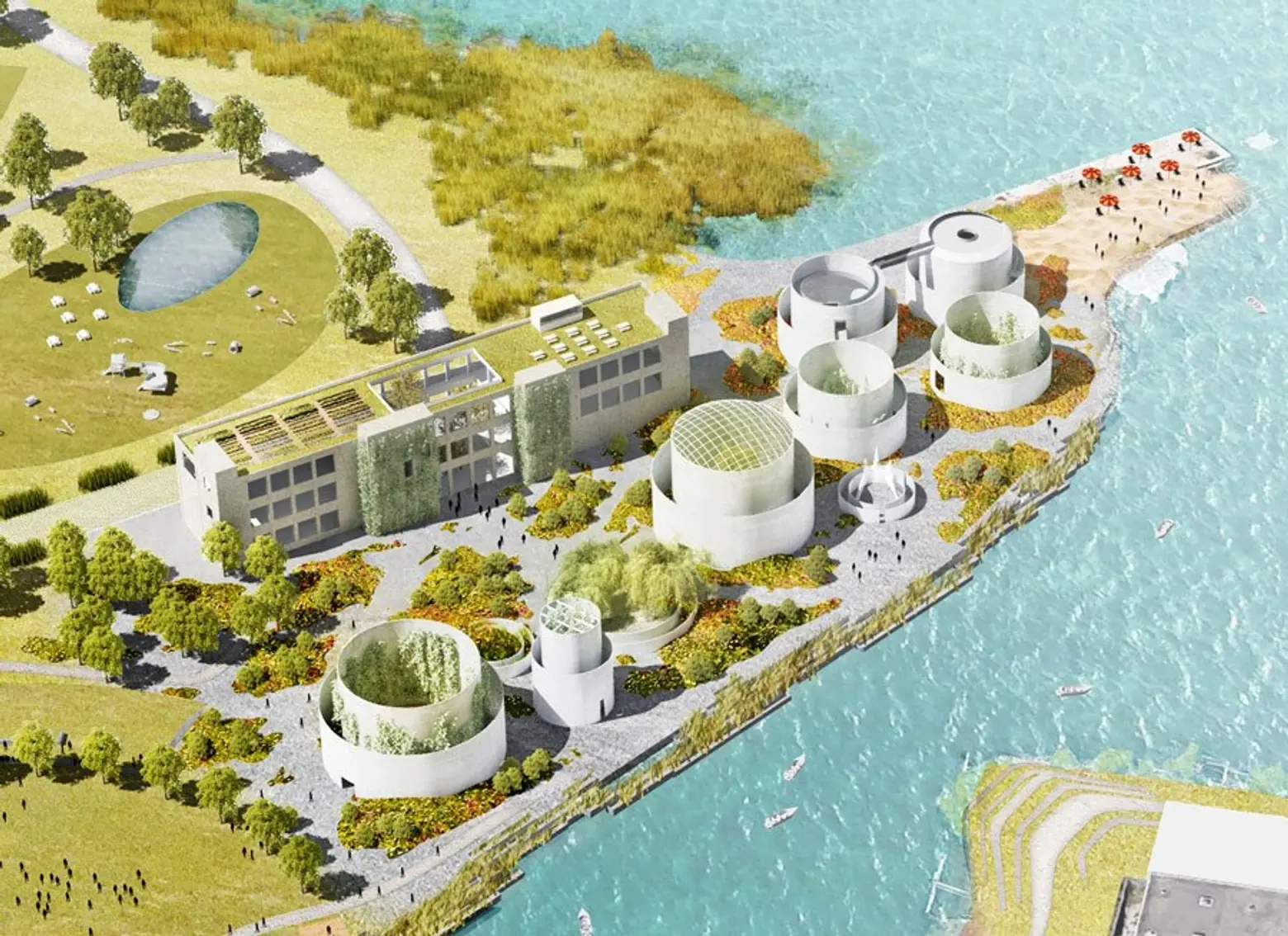 Plans for Bushwick Inlet Park, a 28-acre open space along an unused industrial stretch of the Williamsburg waterfront, first came about in 2005, when the Bloomberg administration rezoned the area to allow for new residential development in exchange for the open space. Fast forward to last week, and the city finally acquired the last piece of land for the project, the controversial Citistorage site. Now that the park is on its way to becoming a reality, a trio of grassroots creatives hopes to bring their alternative vision for the former Bayside Oil Depot site to the forefront. Maker Park is the proposal to adaptively reuse this seven-acre parcel's architectural infrastructure–namely the ten 50-foot decommissioned fuel containers–and create a "park as creative as the neighborhood around it." The Architect's Newspaper recently revealed the first set of renderings, which showcase performance venues, art galleries, hanging gardens, reflecting pools, and an adventure playground.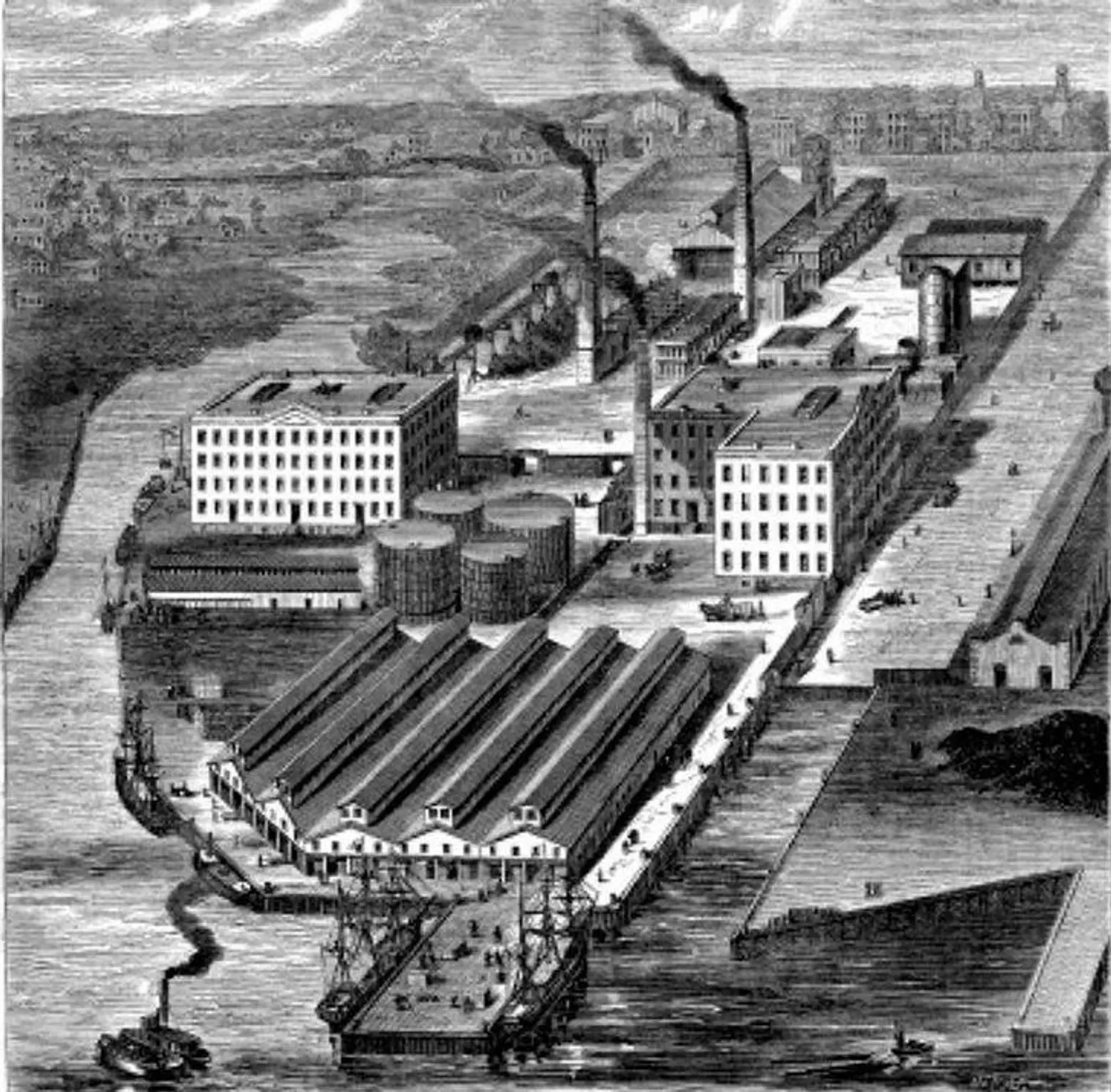 First, a little background. In 1867, at the height of Brooklyn's Industrial Revolution, American businessman, philanthropist, and petroleum pioneer Charles Pratt founded Astral Oil Works on the site. After John D. Rockefeller's Standard Oil absorbed the company in 1874, Pratt used his earnings to found Pratt Institute. The site would later become the Bayside Oil Depot, which the city purchased for $53 million in March.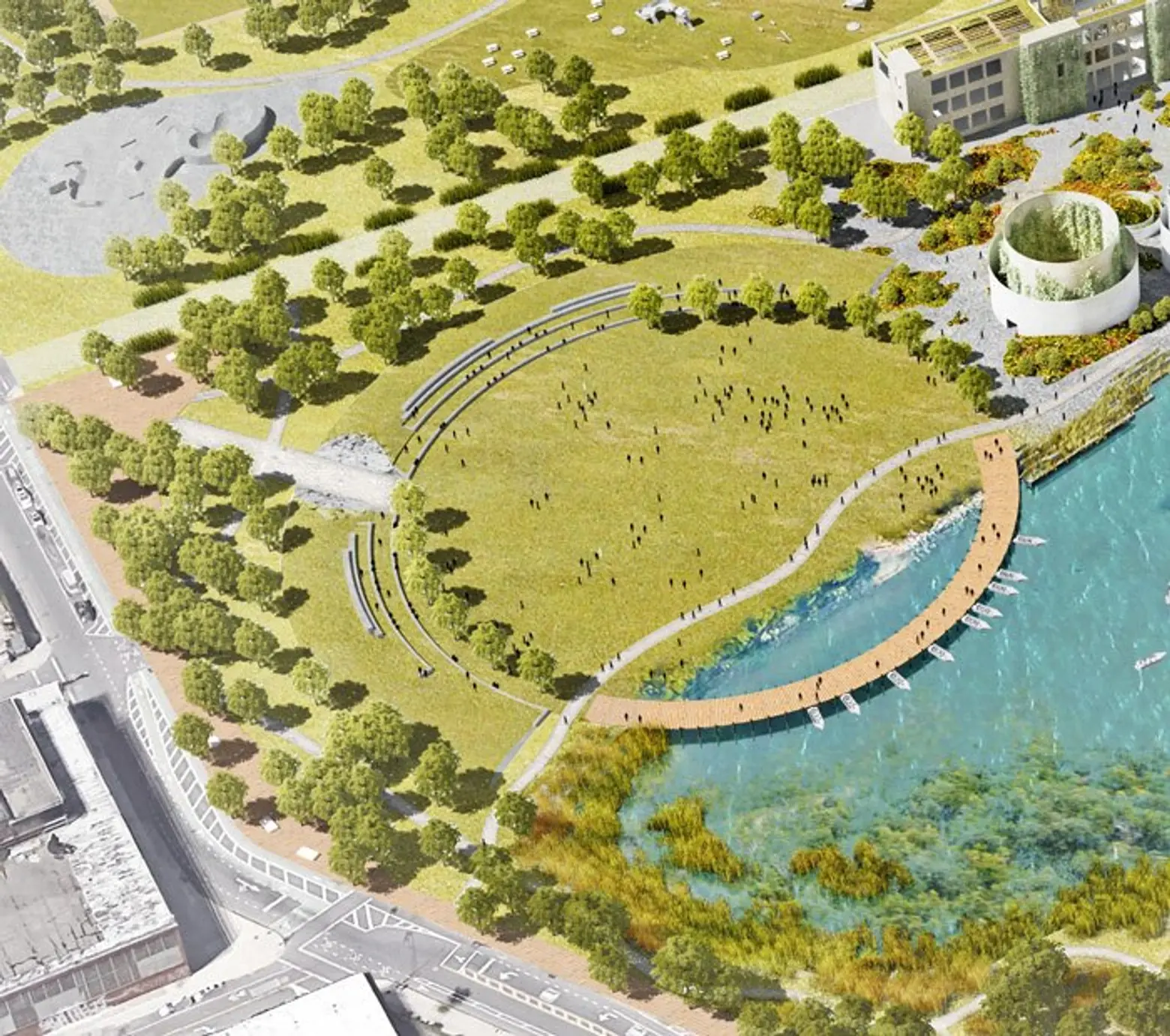 The Maker Park team is made up of advertising professional Zac Waldman, Kushner Companies' creative director Karen Zabarsky, and the Municipal Arts Society's director of public programs Stacey Anderson. They recently teamed up with STUDIO V Architecture and Ken Smith Workshop to create a comprehensive vision for the park and the first set of renderings.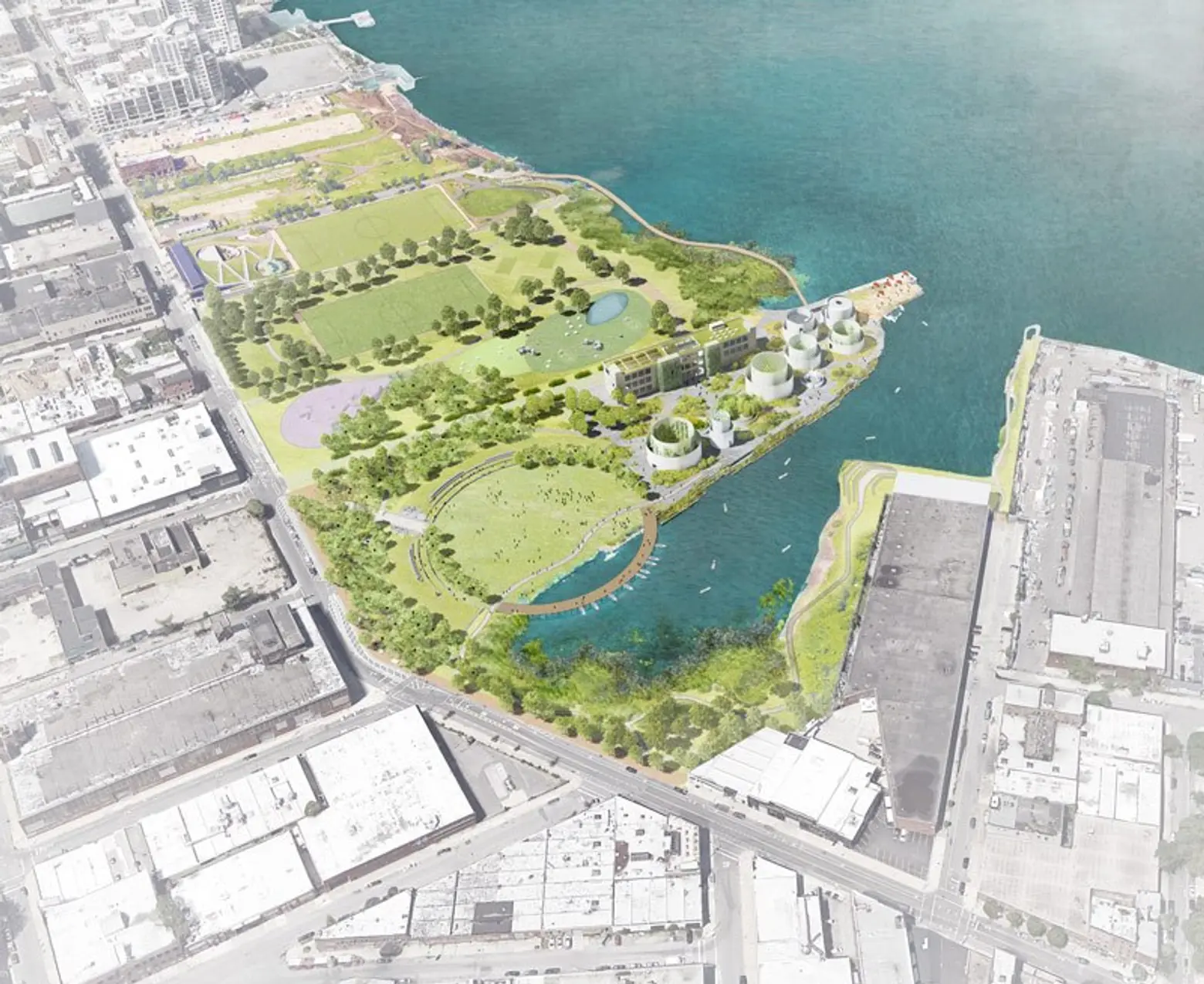 The park would run from the Bushwick Inlet at North 14th Street and Kent Avenue via a curved boardwalk to North 12th Street where there would be a terraced open lawn. As the Architect's Newspaper explains, "The inlet would be planted with native grasses to create a wetland—and natural flood barrier, and a former Bayside building that fronts North 12th Street could be converted to green-roofed galleries or an events space."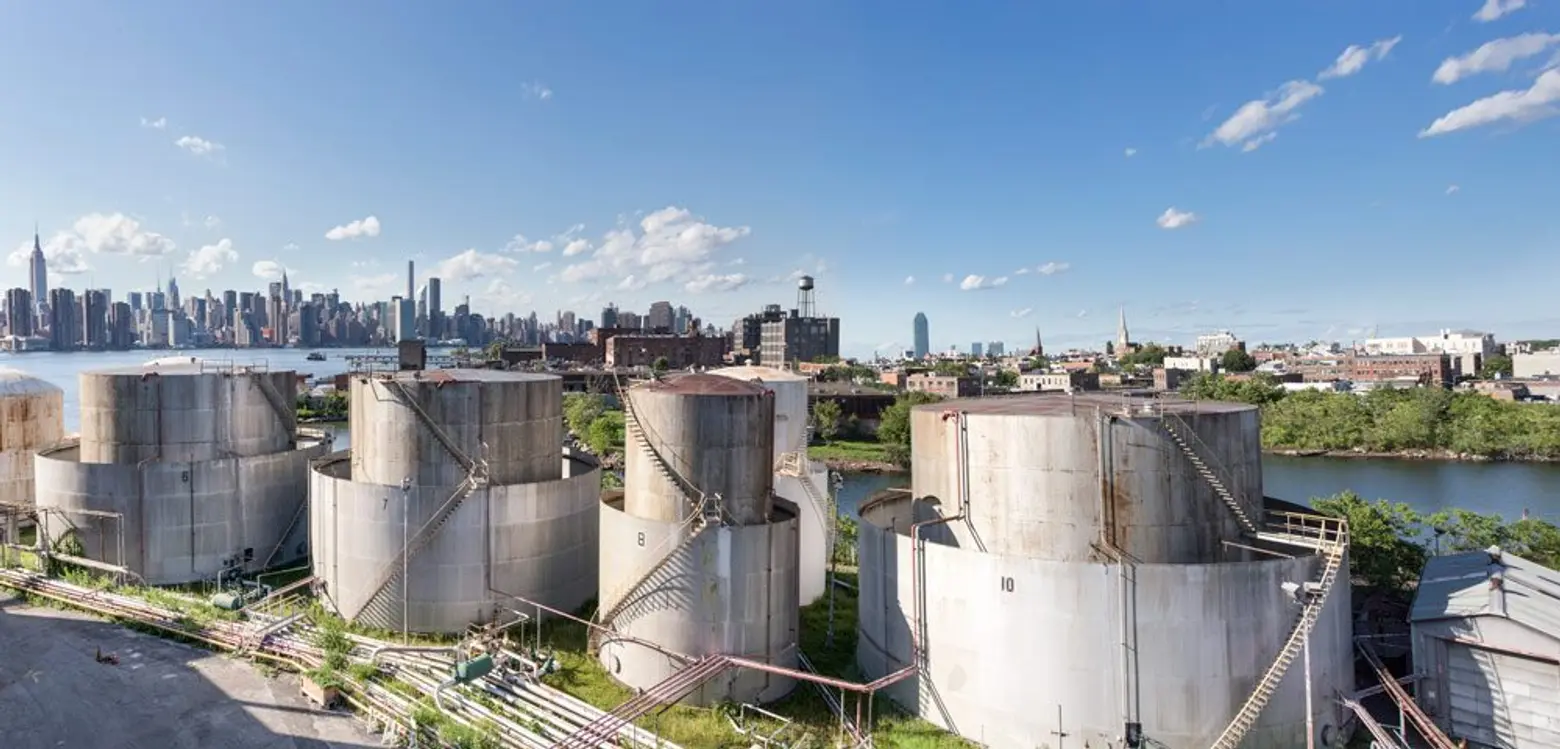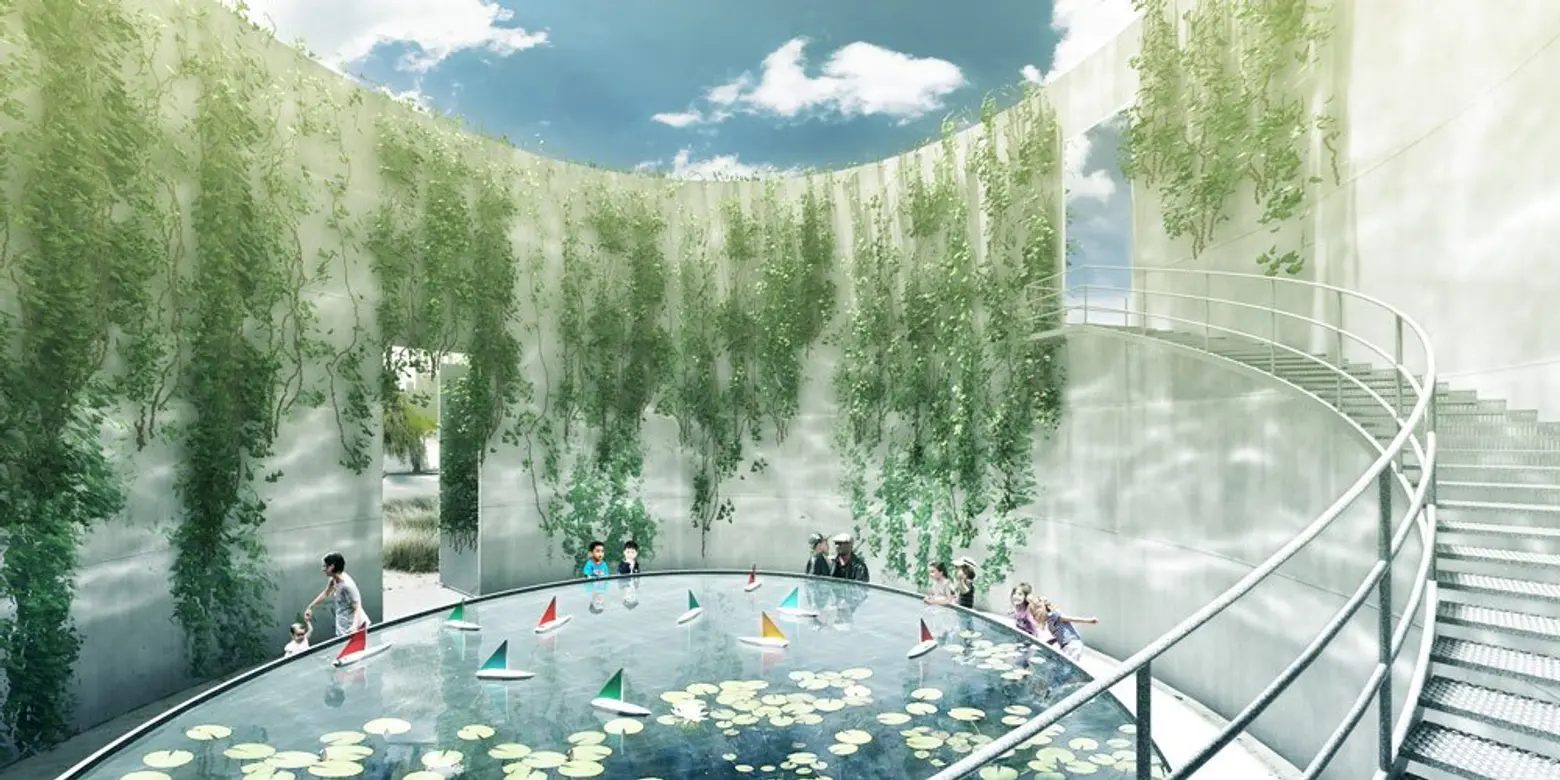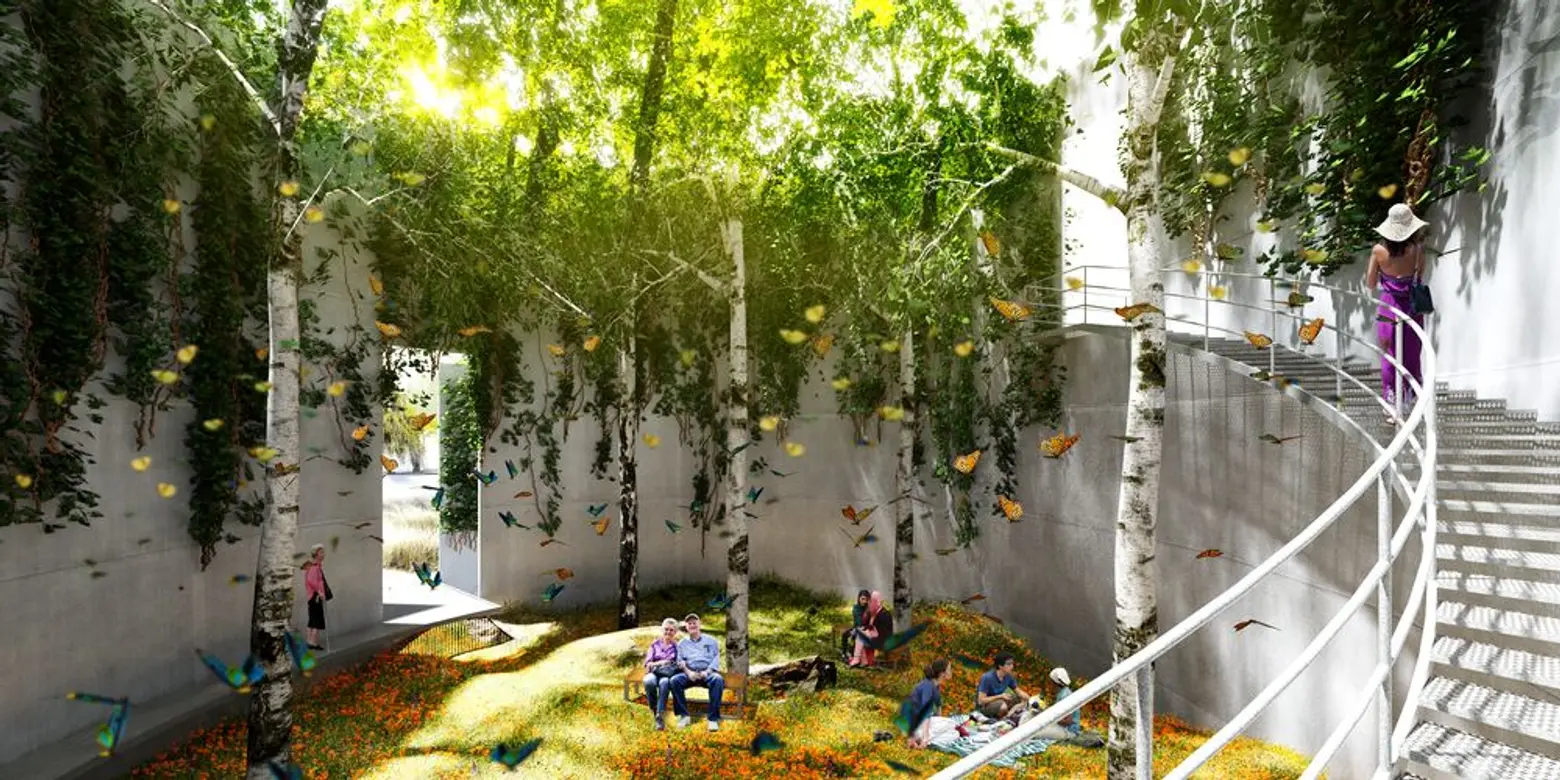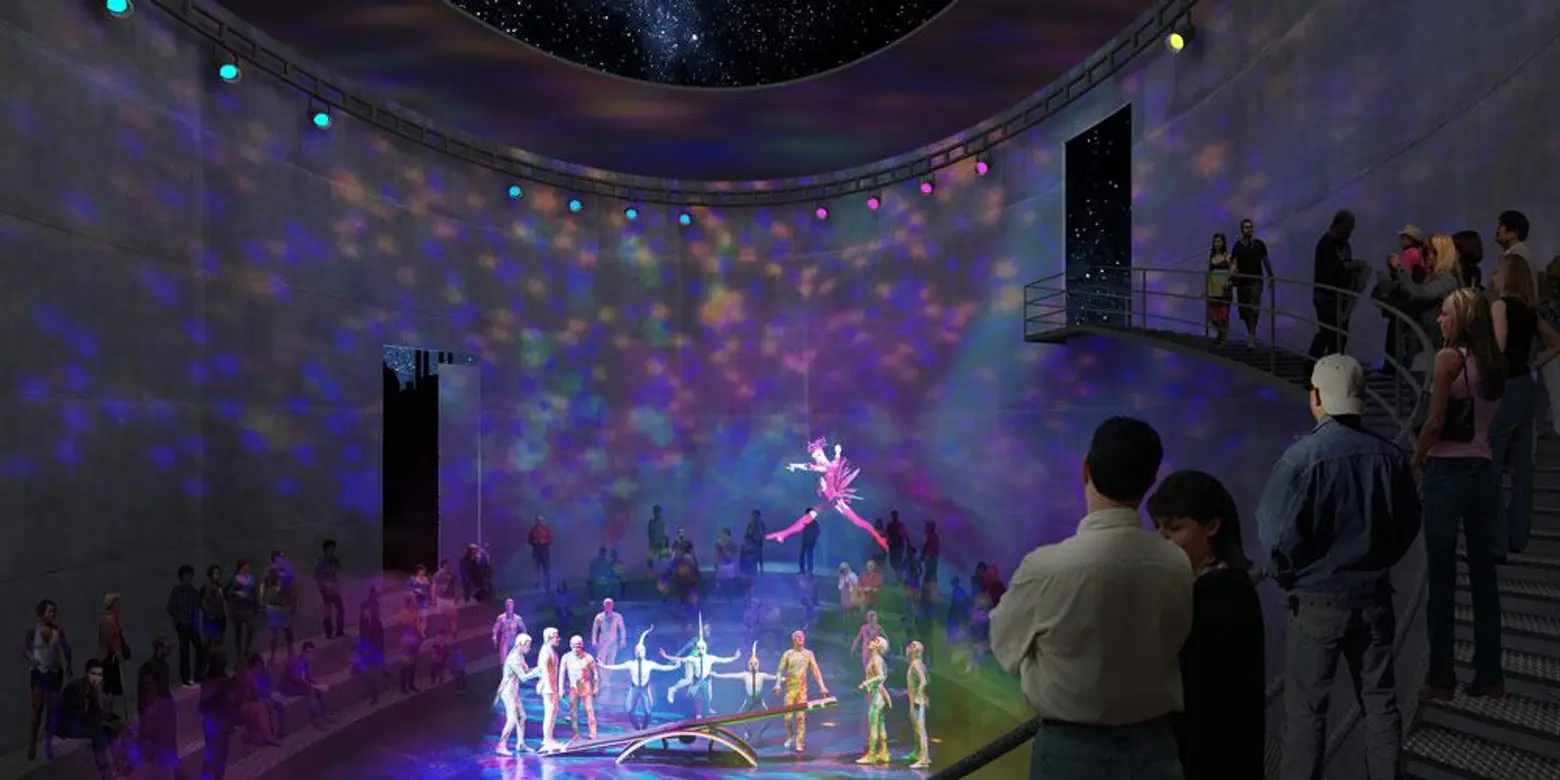 The cylindrical fuel containers would become viewing platforms, performance venues, exhibition spaces, or greenhouses. Zabarsky did note that the renderings are "meant to inspire, not to prescribe," adding that, "the reason they're so magical and have these different elements is to bring about new ideas."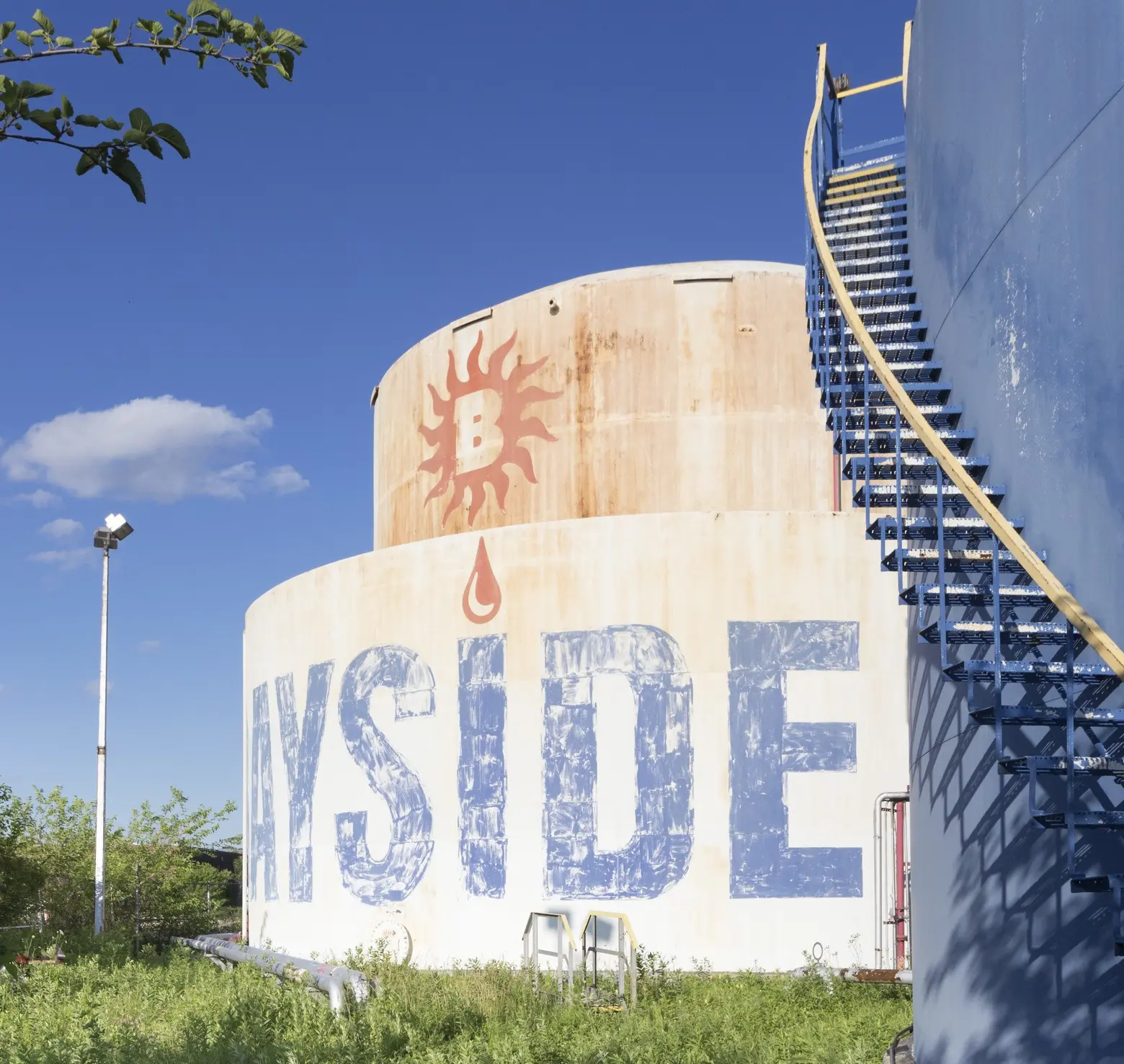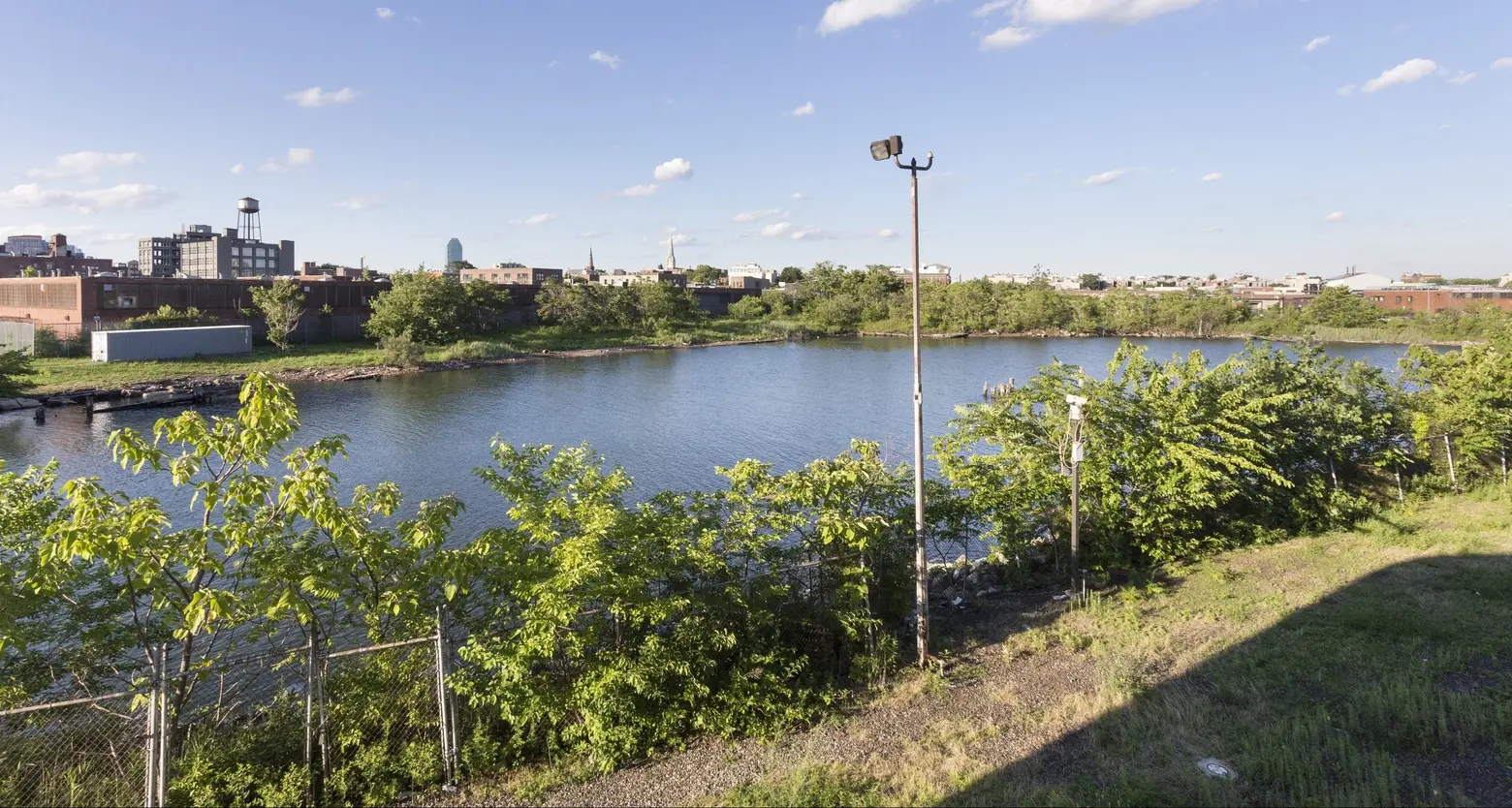 In order to make their vision a reality, the Maker Park team will need the support of the neighborhood, approvals from various city agencies including the Department of Parks and Recreation, and funds from the city. As Curbed recently noted, one obstacle could be getting members of Friends of Bushwick Inlet Park on board. Though they said it's an "interesting idea," they feel that reusing the oil tanks is "the antithesis of what people are striving for," referring to possible pollutants. To that end, Maker Park is currently working with environmental lawyer Michael Bogin of Sive, Paget & Riesel P.C. on a remediation strategy for any contamination. Separately, they're conducting a financial feasibility analysis.
Next Tuesday, December 6th, Maker Park is holding a design exhibition to get feedback from local residents and interested parties.
[Via The Architect's Newspaper]
All renderings courtesy of STUDIO V Architecture and Ken Smith Workshop; Current views of the site via Maker Park