Renderings revealed for 724-foot Lower East Side tower, final piece of controversial site
The historically low-income, low-slung neighborhood of Two Bridges–the area along the East River, near the footings of the Manhattan and Brooklyn Bridges where the Lower East Side meets Chinatown–has become a high-rise hotbed over the past year. Despite the controversy that the four planned projects, all upwards of 700 feet, have caused, they're moving along fairly swiftly, and The Lo-Down now has the big reveal for the final site–Starrett Group's 259 Clinton Street. Perkins Eastman Architects have designed the 724-foot, 62-story glass tower, which will have ground-floor retail and 732 apartments, 25 percent of which will be permanently affordable with a good chunk being set aside for low-income seniors.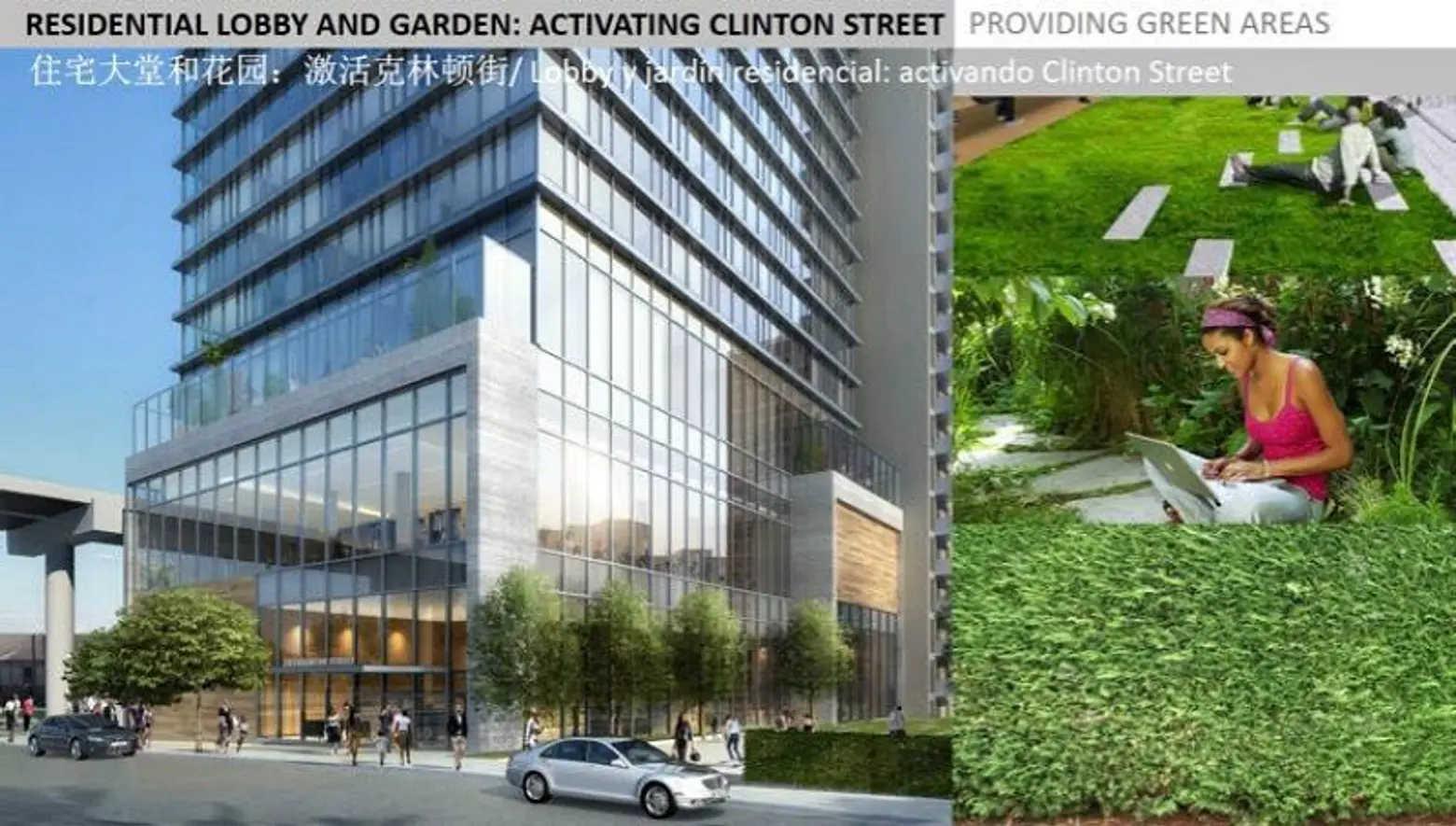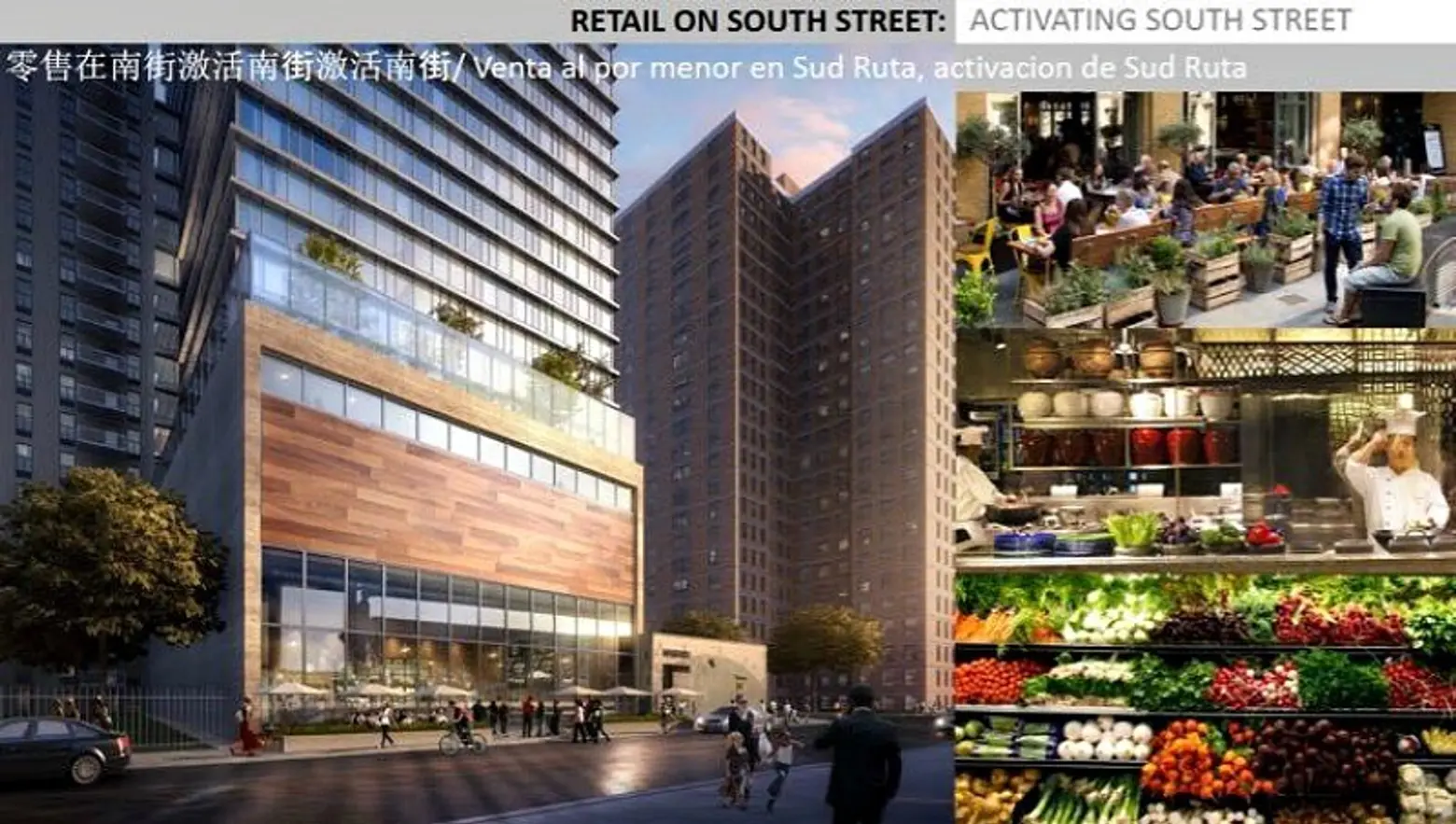 Though the renderings are preliminary, they show a two-story podium with extra-high ceilings in order to begin the main floors above the adjacent FDR ramp. The entrance to the lobby will be on Clinton Street with landscaping and gardens shown in the front and back of the site. There will also be a terrace at the third-floor setback and waterfront protections like flood gates and holdings tanks that can store excess storm water.
In terms of the retail tenants, Josh Siegel, president of Starrett Development, said he hopes they'll support the local community. He also said they're looking for a restaurant or food-oriented business "to improve and expand the retail presence along South Street."
The building is adjacent to the Lands End I affordable housing complex at 257-271 South Street, which Starrett sold to L+M and Nelson Management Group in 2015. It'll rise between Pier 42, which is set to become a large park, and Pier 35, "another long-delayed recreational space to the south."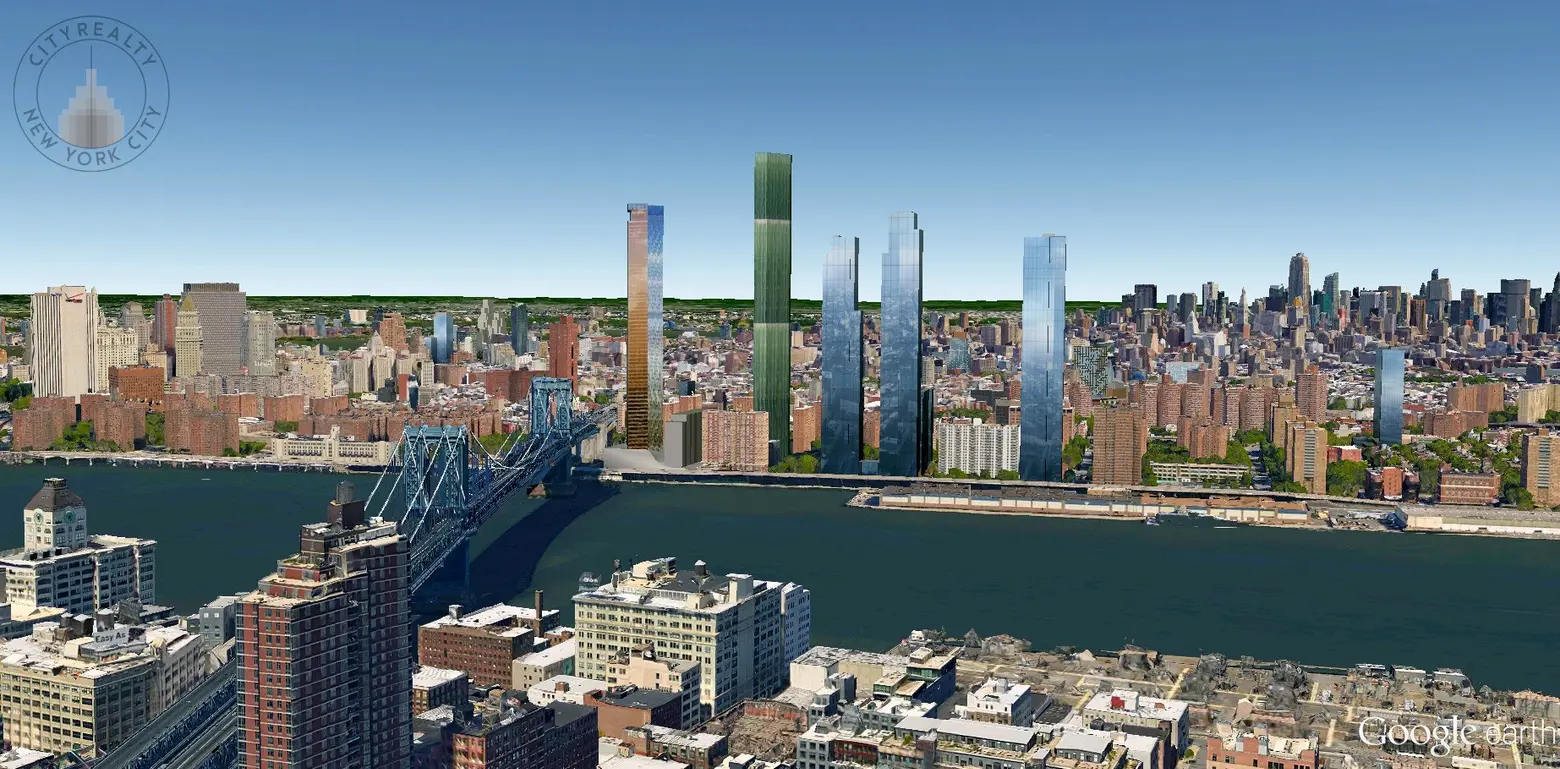 L to R: One Manhattan Square, 247 Cherry Street, 260 South Street, and 271-283 South Street. The image above, created by CityRealty, depicts the possible massing of the new towers; No official design has been released
259 Cherry Street will join L+M Partners and CIM Group's 798- and 728-foot towers, Extell's 823-foot condo One Manhattan Square, and JDS and SHoP Architects' possible 1,000+ foot rental at 247 Cherry Street. With the exception of One Manhattan Square, which is already well underway and where sales have launched, the three projects are all on a similar timeline and therefore the developers "agreed to take part in a joint environmental review in the Two Bridges area." The first meeting is taking place this Thursday at 6:30pm at Gouverneur Health, 227 Madison Street.
Construction at 259 Cherry Street is set to begin in 2018 and last about three years.
[Via The Lo-Down]
RELATED:
Renderings via Perkins Eastman