Judge halts Two Bridges development temporarily after hearing lawsuits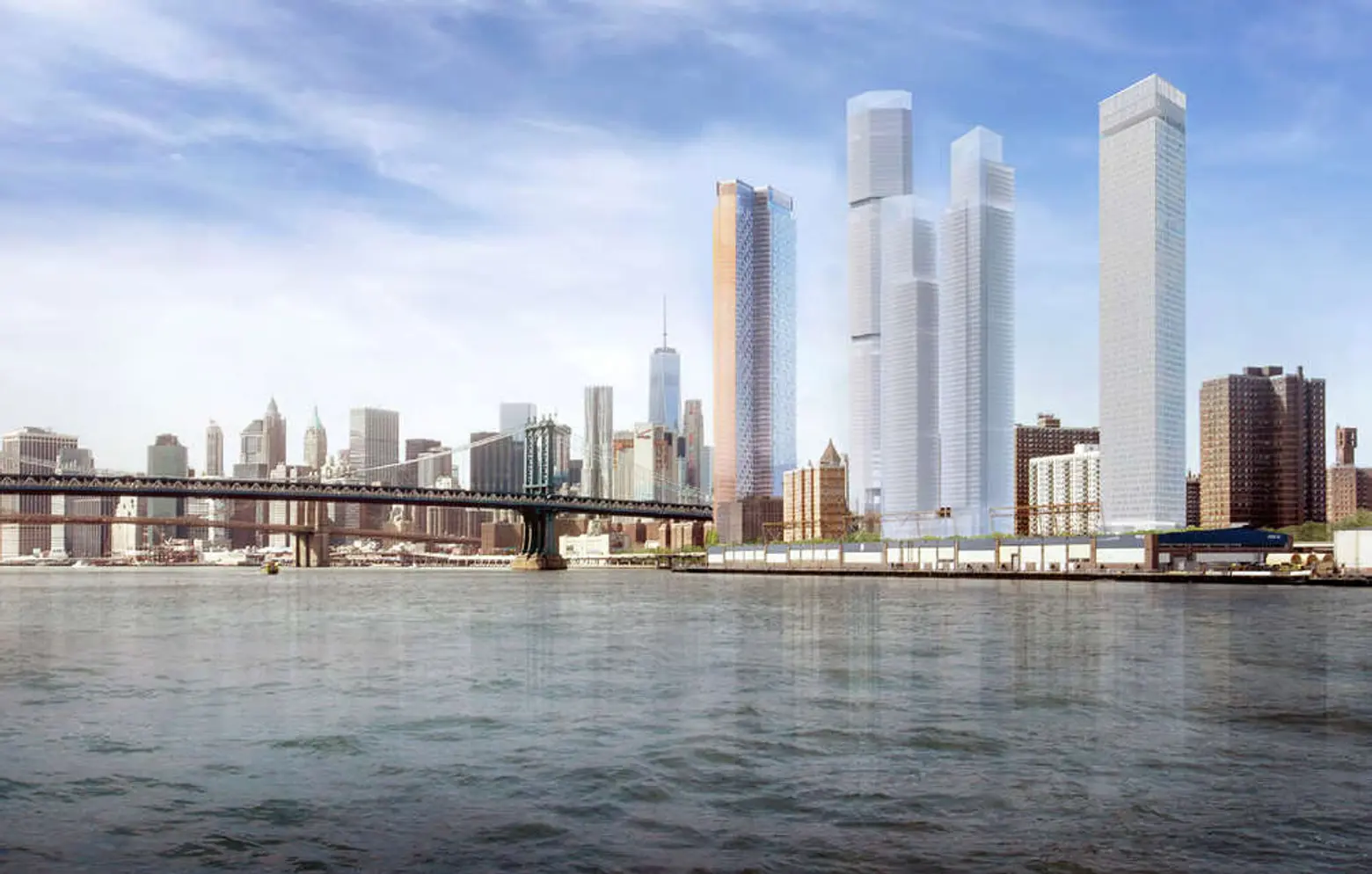 Rendering: Handel Architects.
State Supreme Court Judge Arthur Engoron has extended a temporary halt on the Two Bridges high-rise development after hearing testimony on several lawsuits aimed at the controversial project in the Lower East Side and Chinatown, Gothamist reports. As 6sqft previously reported, several groups of Lower East Side residents and other community organizations filed a lawsuit against the city to stop four skyscrapers from rising in the Lower Manhattan neighborhood. The lawsuits accuse the city of illegally approving the multi-billion dollar project, claiming the City Planning Commission bypassed City Council authority regarding the land-use review process and that one of the towers violates a 32-year-old deed restriction that ensures housing for low-income residents with disabilities and the elderly.
Late last year the City Planning Commission approved the four-tower project, which includes a 1,008-foot-supertall. The approval came without a formal public land use review process known as ULURP, which sparked objection from community groups and elected officials, many of whom see it as an example of Mayor Bill de Blasio's pandering to luxury developers.
In January, the City Council and Manhattan Borough President Gale Brewer sued the city and the project's developers for circumventing the land use review process and the final City Council approval that it requires. A group of Lower East Side and Chinatown community groups filed a lawsuit stating that the development should not proceed, ULURP or not, and an additional community coalition consisting of Tenants United Fighting for the Lower East Side, Organizing Asian Communities, Good Old Lower East Side, Land's End One Tenants Association and LaGuardia Houses Tenants' Association filed a suit against the project.
Proposed towers include a 1,008-foot rental tower at 247 Cherry Street by JDS Development Group, a 798-foot dual-tower project at 260 South Street by L+M Development Partners and CIM Group and a 730-foot building at 259 Clinton Street by Starrett Corporation.
The main argument in the opposition's cases involves whether the city was correct in granting the project's development teams' request for a change to a 1972 plan created to regulate development in the area. The 1972 plan designated the area as a Large-Scale Residential Development (LSRD) zone, allowing the city flexibility around normal land-use regulations in order to facilitate space-efficient and beneficial site plans for large apartment buildings spanning several property lots.
The project's opponents argue that the height and density of the four projects are well beyond what constitutes a "minor" update. The developers' attorneys and the city have defended the appropriateness of the project on the grounds that it required only a "minor modification." A spokesperson for the developers called the lawsuits "wholly without merit" and said "we are confident that they will be dismissed. The Judge's decision to extend the TRO for two months does not impact the projects because construction was not planned to start imminently. Contrary to the plaintiffs' arguments, the right to build is based on zoning laws–not personal policy preferences about building size."
The court's temporary halt follows a day of testimony on the three lawsuits. Justice Engoron said he believed there was merit to the arguments against the development and that he would have a final decision in early August. "These are huge towers," he said. "I've lived in the city my whole life. You can't just do this because the zoning allows it. I just can't believe this is the case."
According to CityLimits, lawyers for the city and developers have said "The size of the buildings do not matter here. Although the height is significant, it does not matter because that is what the zoning allowed here in the LSRD." Justice Engoron responded by calling the size of the proposed towers "an 800-pound gorilla."
[Via Gothamist; Via CityLimits]
RELATED: