PHOTOS: See an abandoned High Line before its days as a public park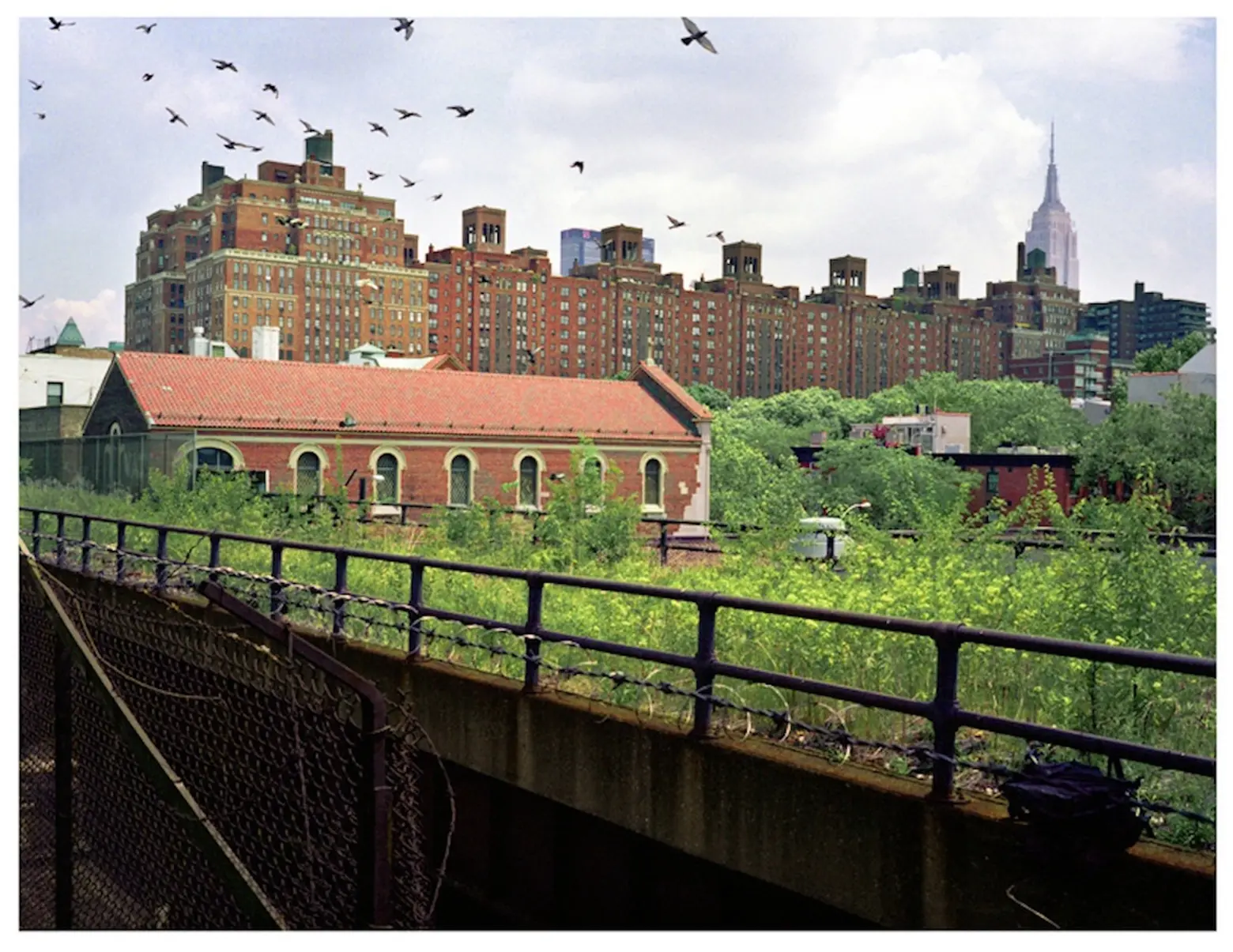 All photos © Jonathan Flaum. Photo above: High Line Color 1. June 2005.
6sqft's series The Urban Lens invites photographers to share work exploring a theme or a place within New York City. Are you a photographer who'd like to see your work featured on The Urban Lens? Get in touch with us at [email protected].
Photographer Jonathan Flaum started going up on the abandoned High line in the '80s, when it was full of overgrown wildlife, to see some of his friends' graffiti work and find a quiet escape from the city. In the late '90s, he heard about plans to demolish the former elevated train tracks and decided to start photographing the structure. Soon thereafter, Joshua David and Robert Hammond started Friends of the High Line, then a small, grassroots organization advocating for its preservation and adaptive reuse into a park. When they built their website, they incorporated Jonathan's photos to provide a behind-the-scenes look for those who weren't as adventurous to venture up there.
The park's first phase officially opened in 2009 and to celebrate its 10-year anniversary, Jonathan has shared with us his collection of photos. Ahead, hear from him on his experiences with the High Line and see how far this NYC icon has come.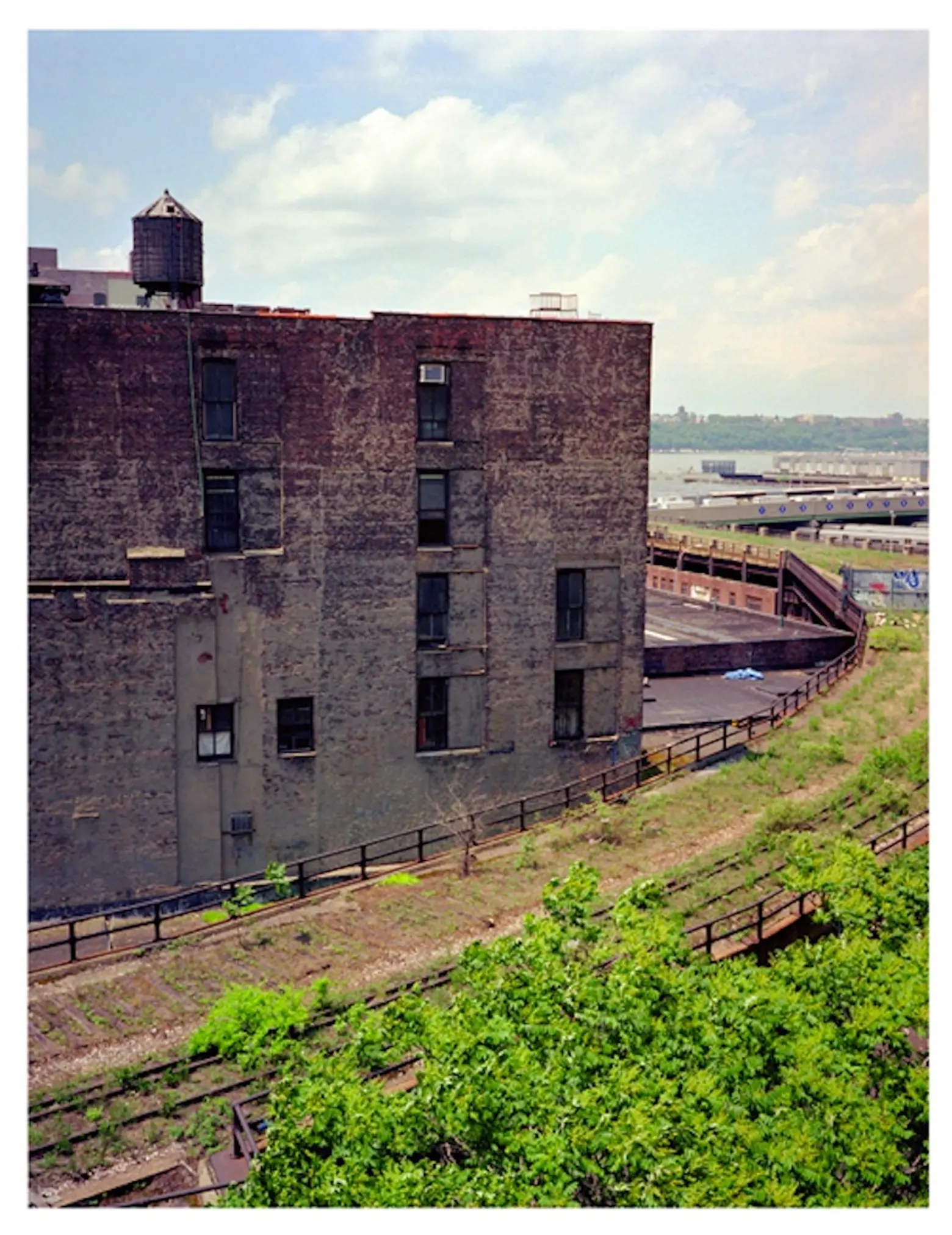 Jonathan Flaum. High Line Color 18. May 2001.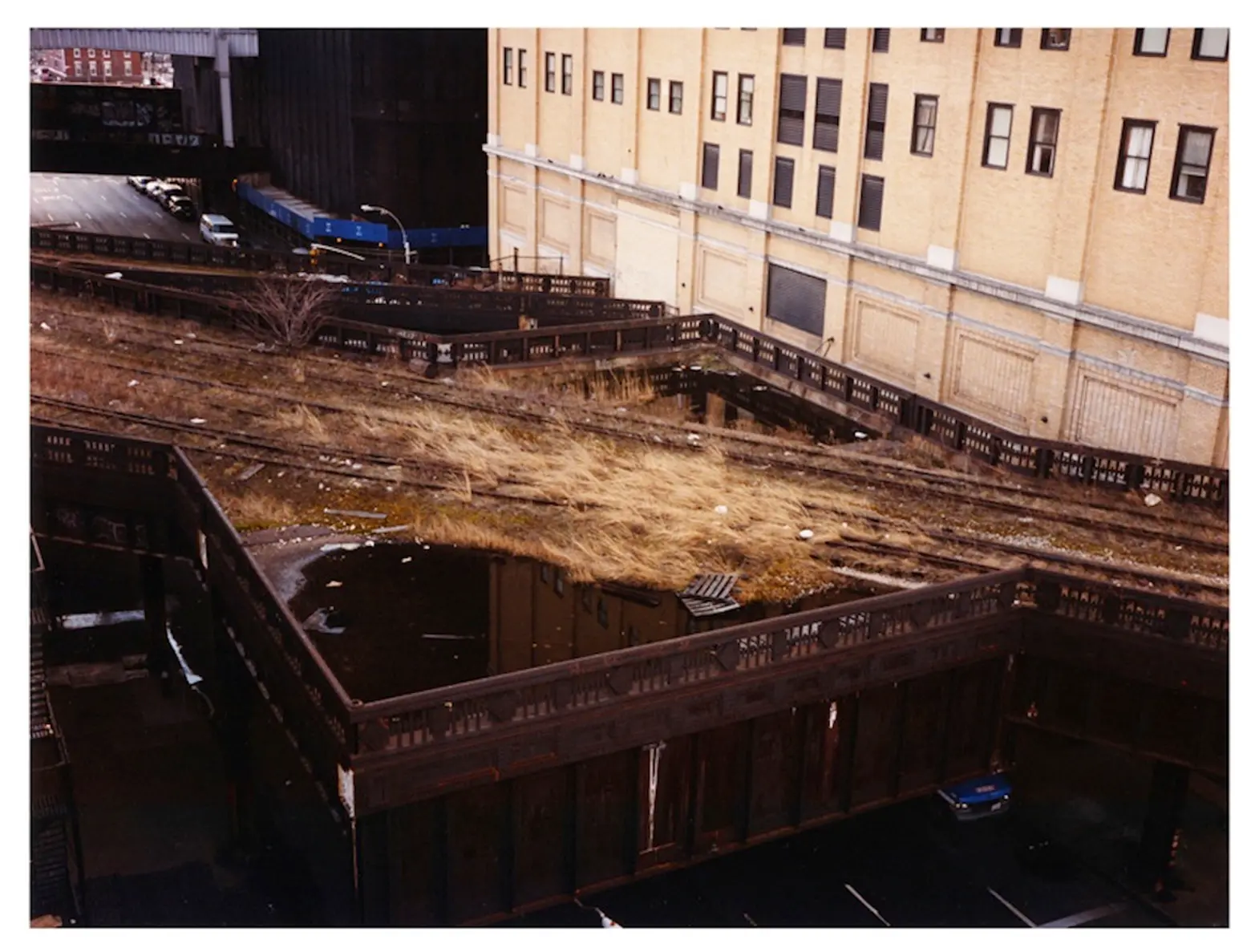 Jonathan Flaum. High Line Color 4. March 2001.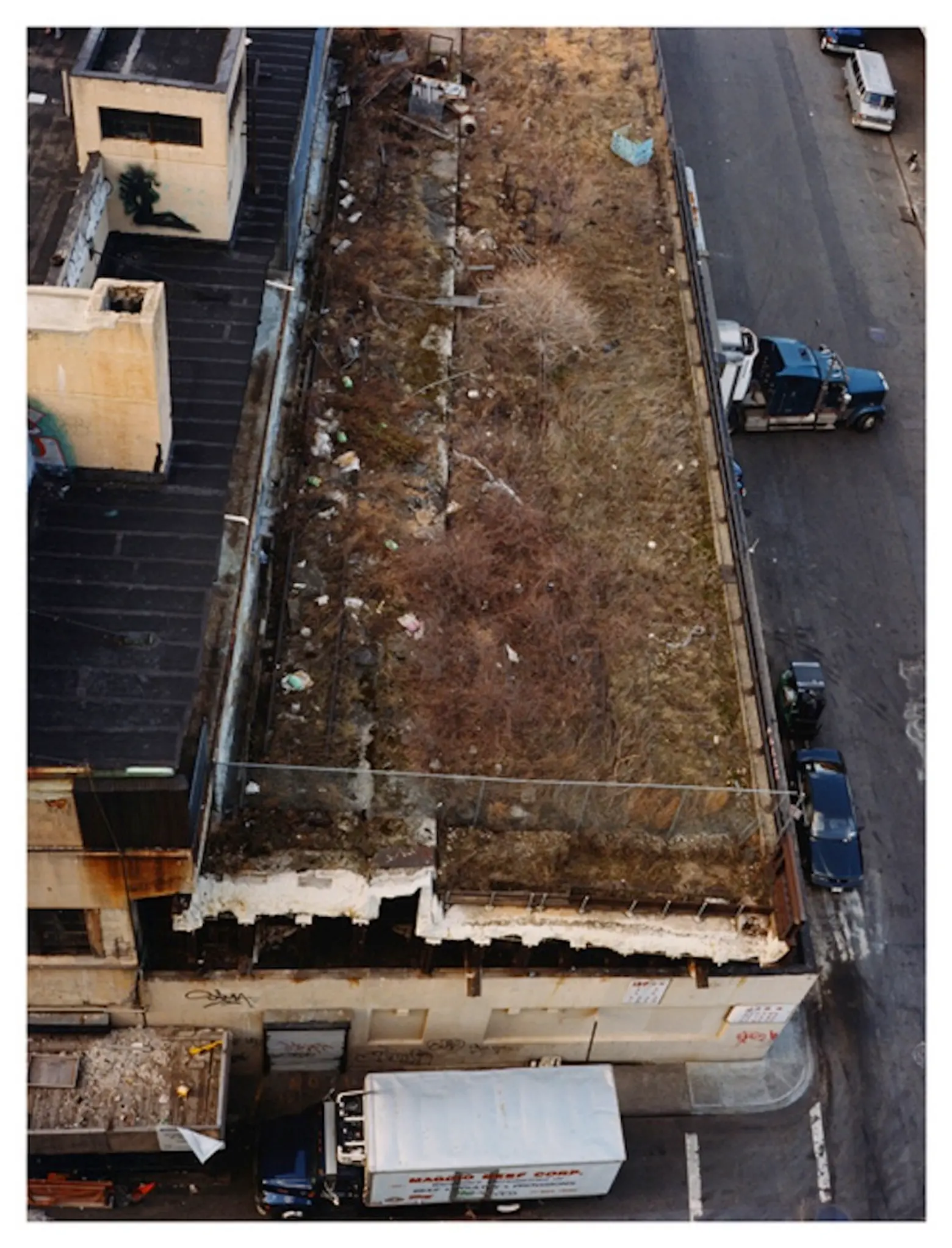 Jonathan Flaum. High Line Color 20. March 2001.
How did you get into photography?
When I was six years old, I remember my father showing me how to look through the viewfinder of his Pentax 35mm camera and peer at the built-in light meter. He showed me how the light meter needle bounced up and down based on different lighting conditions, and this made me aware of how light affects everything in the world. He let me borrow his camera when I was a teenager and that is when my real love for photography started. I shot as much as I could and really enjoyed dropping off my negatives and waiting for them to get developed. As a young adult in my mid-20s, I saved up for a medium format camera so I could get more resolution from my negatives. After practicing shooting with the medium format for a few years, I bought an old 1950s Polaroid Land Camera Model 80 and had it retrofitted to accept new Polaroid film. All of the photos from my High Line series were shot on medium format film or with the Polaroid 665 positive/negative black and white instant film. Today I shoot with a Canon DSLR and love the quality of the images and the instant gratification of digital, but definitely miss the film days.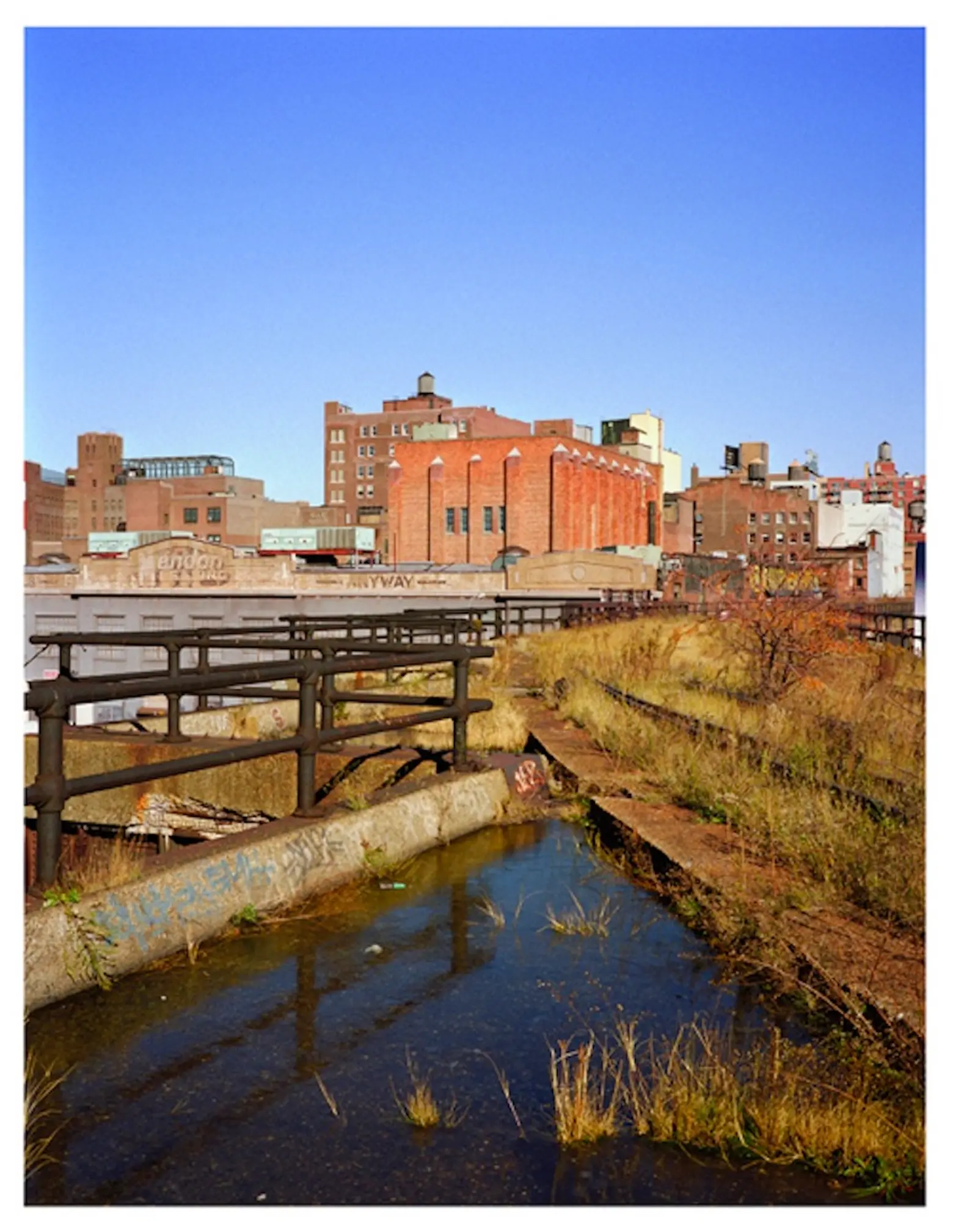 Jonathan Flaum. High Line Color 6. November 2004.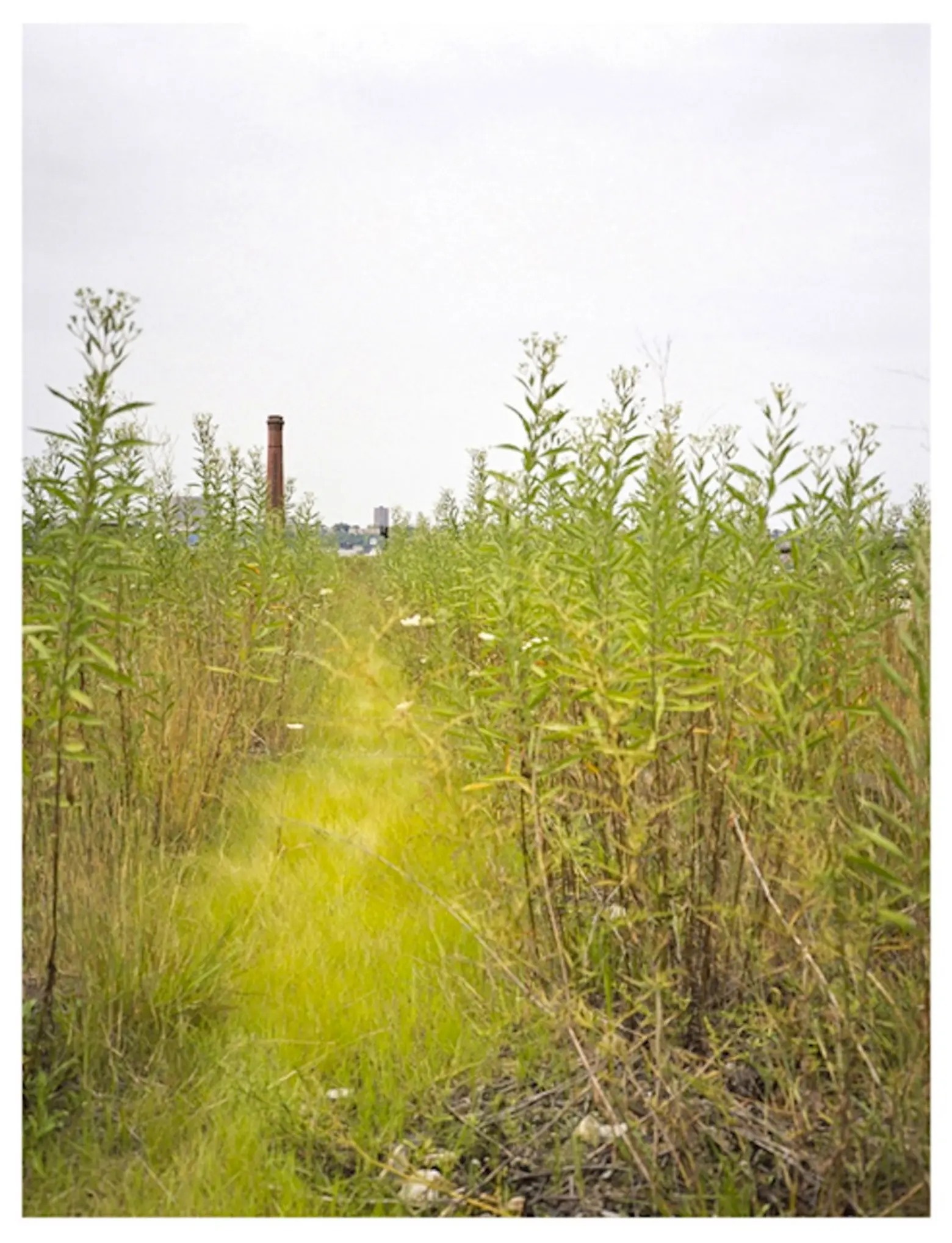 Jonathan Flaum. High Line Color 12. July 2004.
What drew you to the High Line?
I first went up on the High Line in 1985 to visit friends who were painting graffiti pieces on the platform on 23rd street. It was incredible to finally be up there after seeing it my whole life. During that trip to the High Line, our group got mugged by two guys with bats, and one of our friends even got punched in the face. After this experience, as we were trying to make our exit from the High Line, we were chased by a group of neighborhood kids who we thankfully escaped from. Over the next few years, as we gained back our confidence a little, some friends and I went up there, as we loved urban exploration, and the High Line was a perfect place for us to go explore and escape the streets. It was super quiet up there, with lots of wildlife, birds and beautiful foliage, but also with a definite edge of danger and the unknown.
In 1999, I heard that the High Line was possibly going to be demolished, so I started to come up with plans to document this very special and unique place. For that whole first year, I was just researching new ways to get access to the platform and also making sure that it was safer than the previous years. I really did think it would be demolished, so I did my best to take photos of it from every angle that I could, sneaking into numerous buildings that surrounded the platform. I took photos on the platform and from vantage points that showed the High Line in its environment and how it snaked its way through neighborhoods.
I was very excited when I learned that Joshua David and Robert Hammond started the Friends of the High Line to start the campaign to save this historic treasure. I contacted them and shared my photographs and they asked if they could use them on the Friends of the High Line website. I agreed without hesitation and was so happy to be a part of this amazing New York restoration project. Without Joshua and David, the High Line would be ancient history.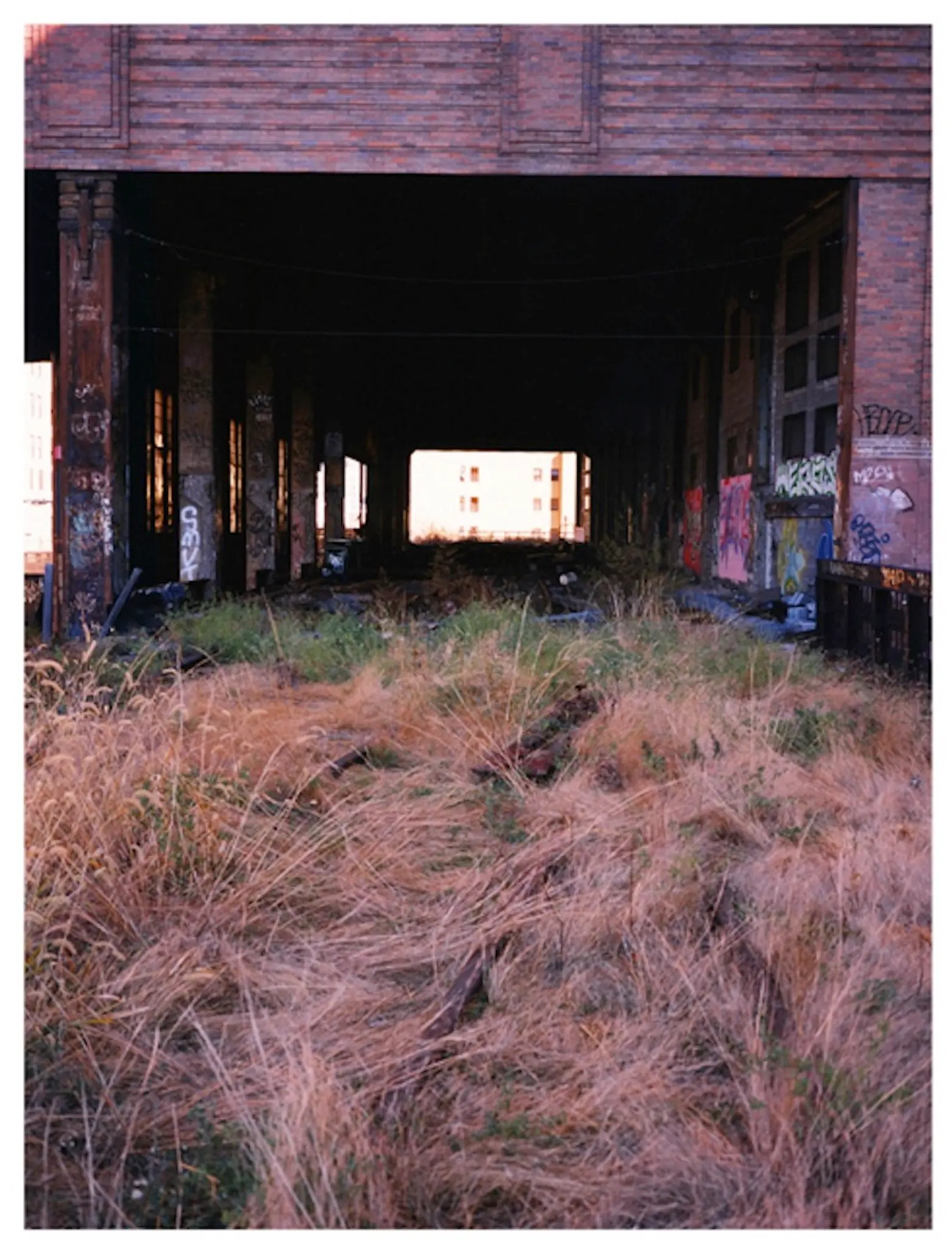 Jonathan Flaum. High Line Color 13. November 2004.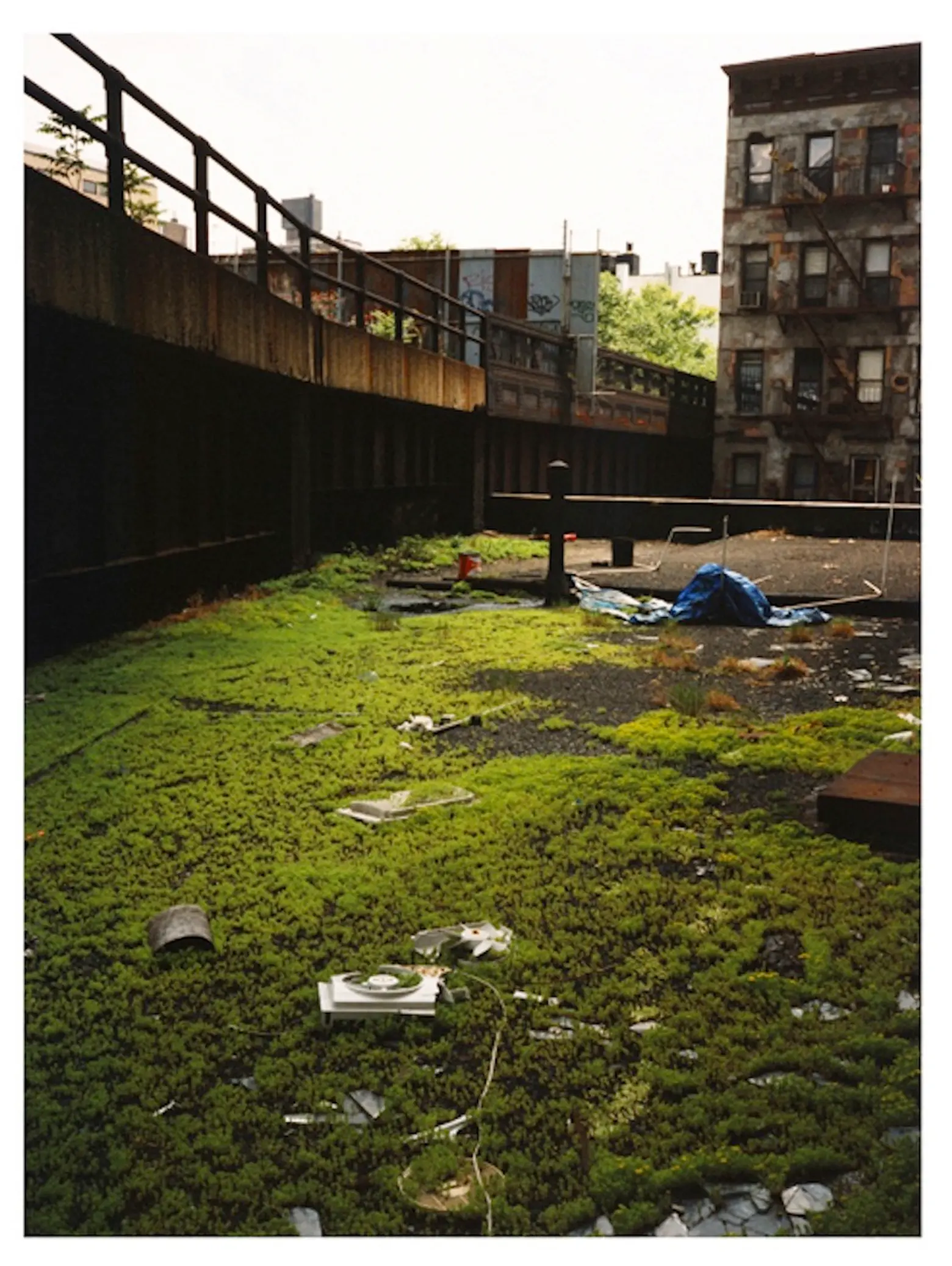 Jonathan Flaum. High Line Color 14. May 2001.
What were your thoughts when you heard about the plans for an elevated park?
I had mixed emotions when I heard that the High Line was going to be saved. I was definitely happy that it wasn't going to be torn down but understood that whatever renovations were being planned, the High Line would be a very different place than it was before. Over the early Friends of the High Line years, I was invited by Joshua and Robert to events and fundraisers and got to meet so many passionate people who also loved the High Line. All of these amazing people were the key players in the saving of the park. The early years of the High Line redevelopment initiative was a very exciting time.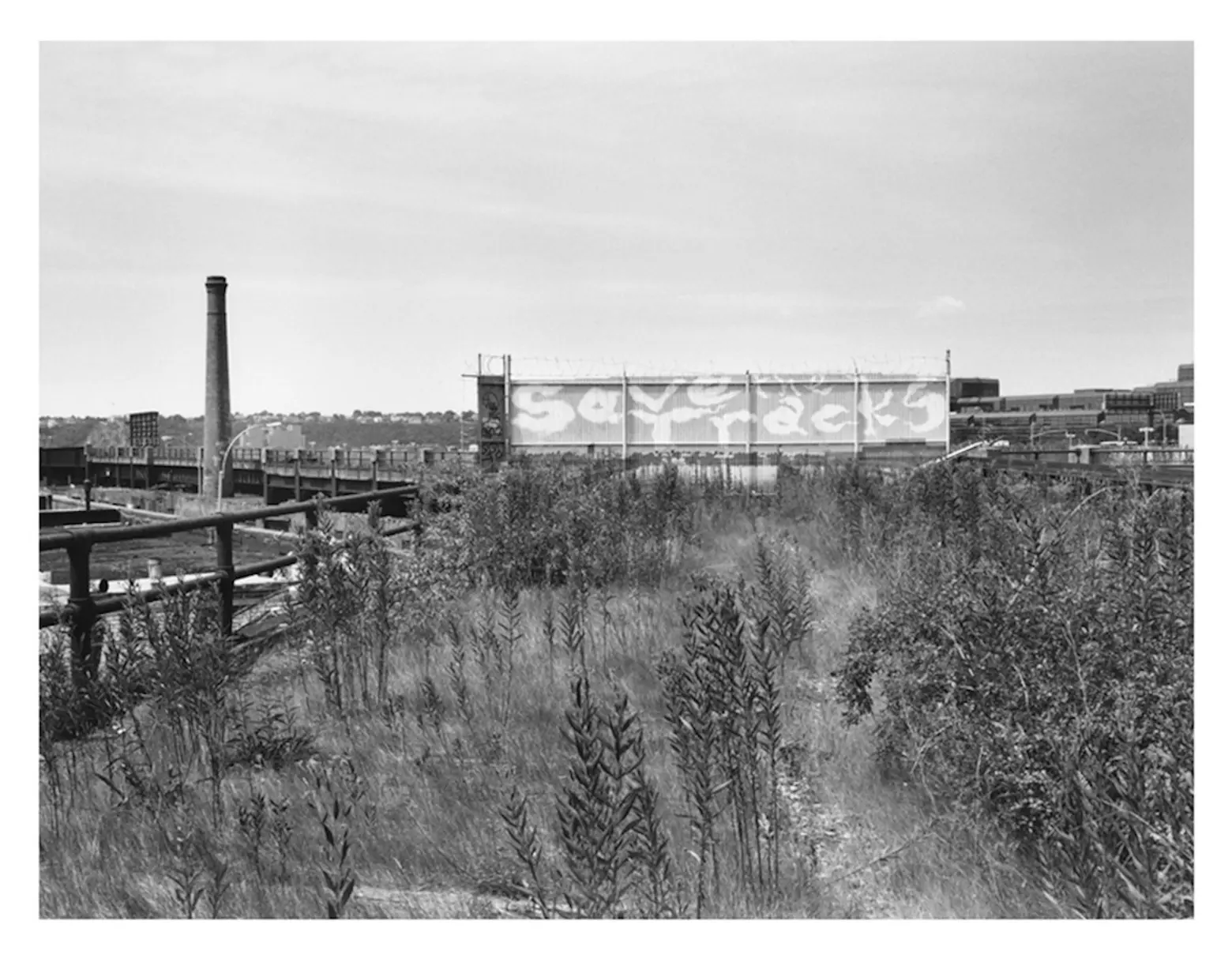 Jonathan Flaum. High Line B&W 16. July 2004.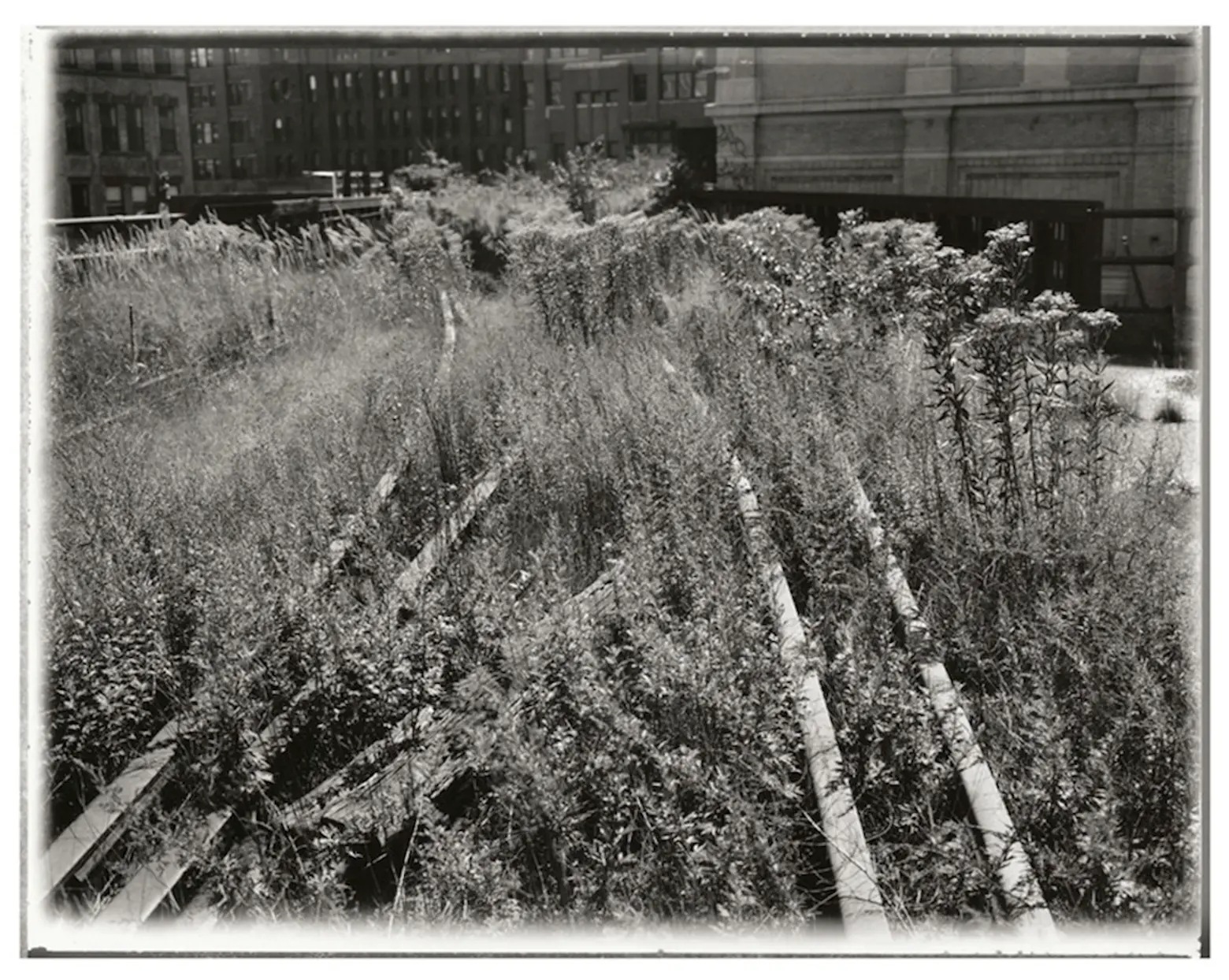 Jonathan Flaum. High Line B&W 3. August 2003.
What are your thoughts on the park now?
I really love how they restored and transformed the High Line. A lot of the way it feels up there is very familiar from the pre-renovation days, and there is also so much that has been improved. I love seeing people from all over the world, young and old, walking and relaxing and enjoying the High Line and the surrounding architecture. The High Line is constantly evolving season by season with new plant growth and different art installations. And the last part of the High Line, the Spur, just recently opened earlier this year over by Hudson Yards. The original footprint of the High Line was saved, and so much hard work was done by so many people, which I view as an incredible NYC success story.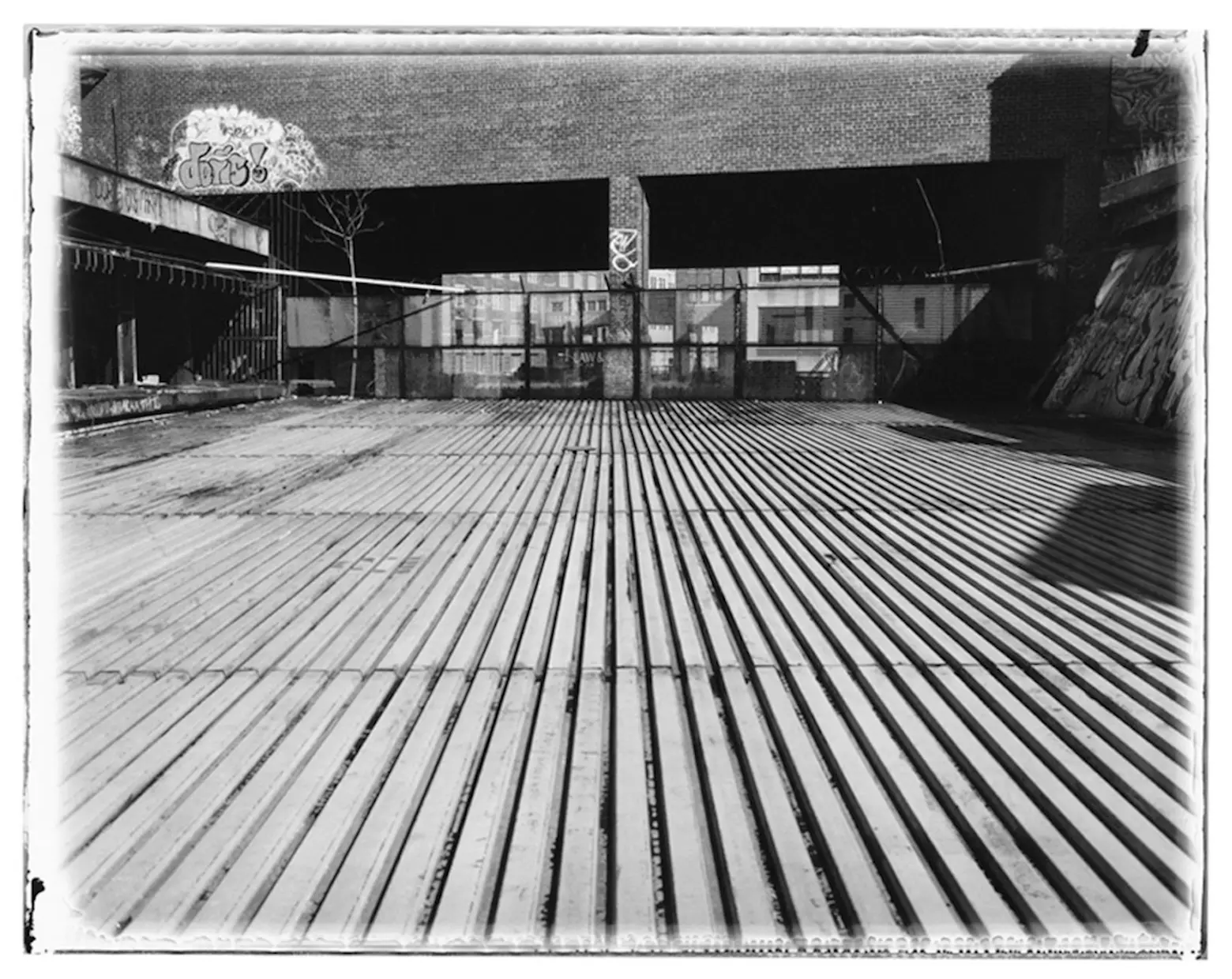 Jonathan Flaum. High Line B&W 2. November 2004.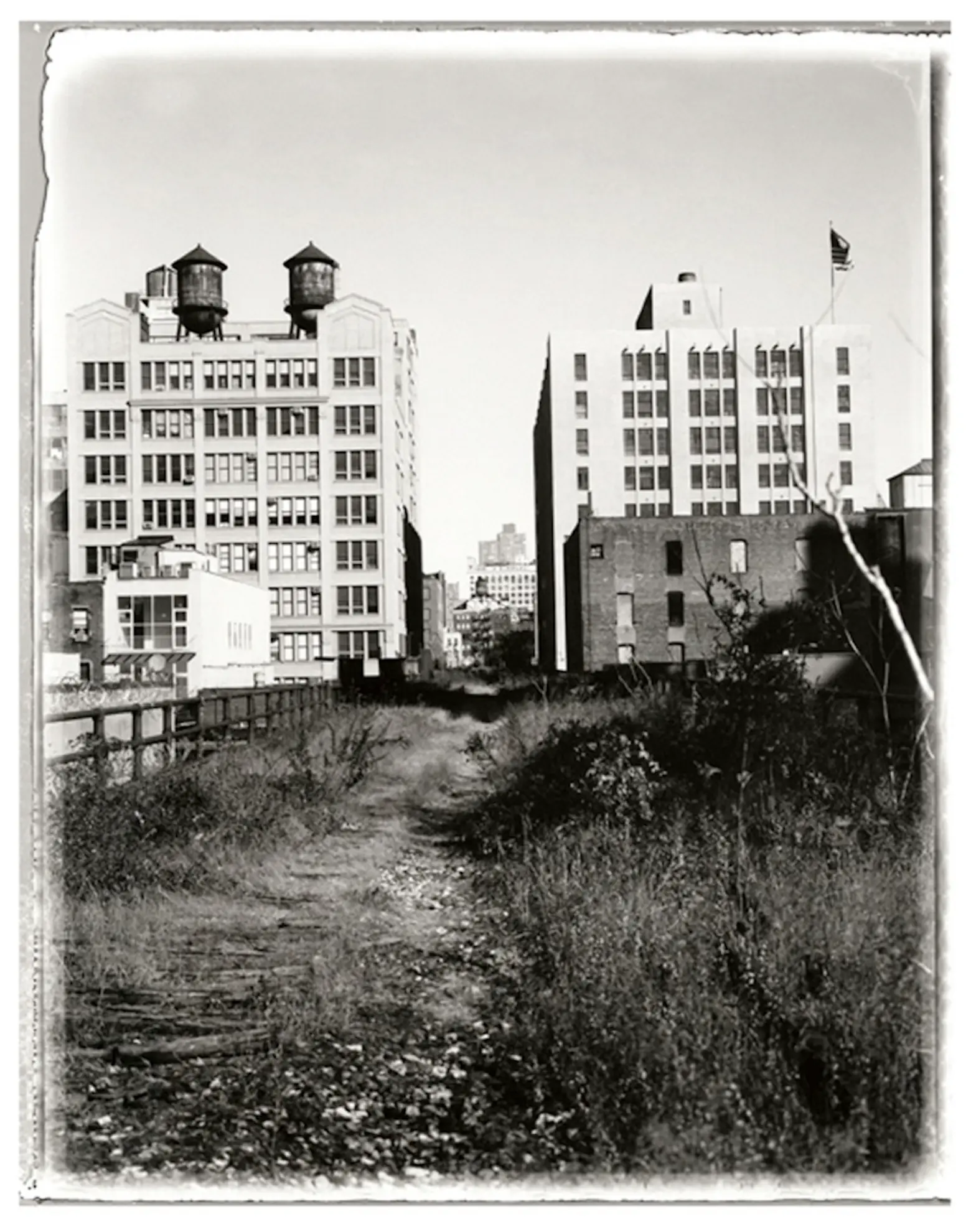 Jonathan Flaum. High Line B&W 15. November 2004. 
How have you seen the Meatpacking District and West Village change over the past 10 or so years?
I used to go out to nightclubs in the late 1980s and '90s in the Meatpacking District. The smell of meat is what I remember most. There were lots of guys in leather, drag queens, transsexual hookers on the streets, an eclectic sight for sure. The West Village feels about the same to me as it did before, maybe a few more high-end handbag stores and cupcake shops now. The Meatpacking District is now unrecognizable from the old days. The only real familiar thing to me it the High Line, rising tall.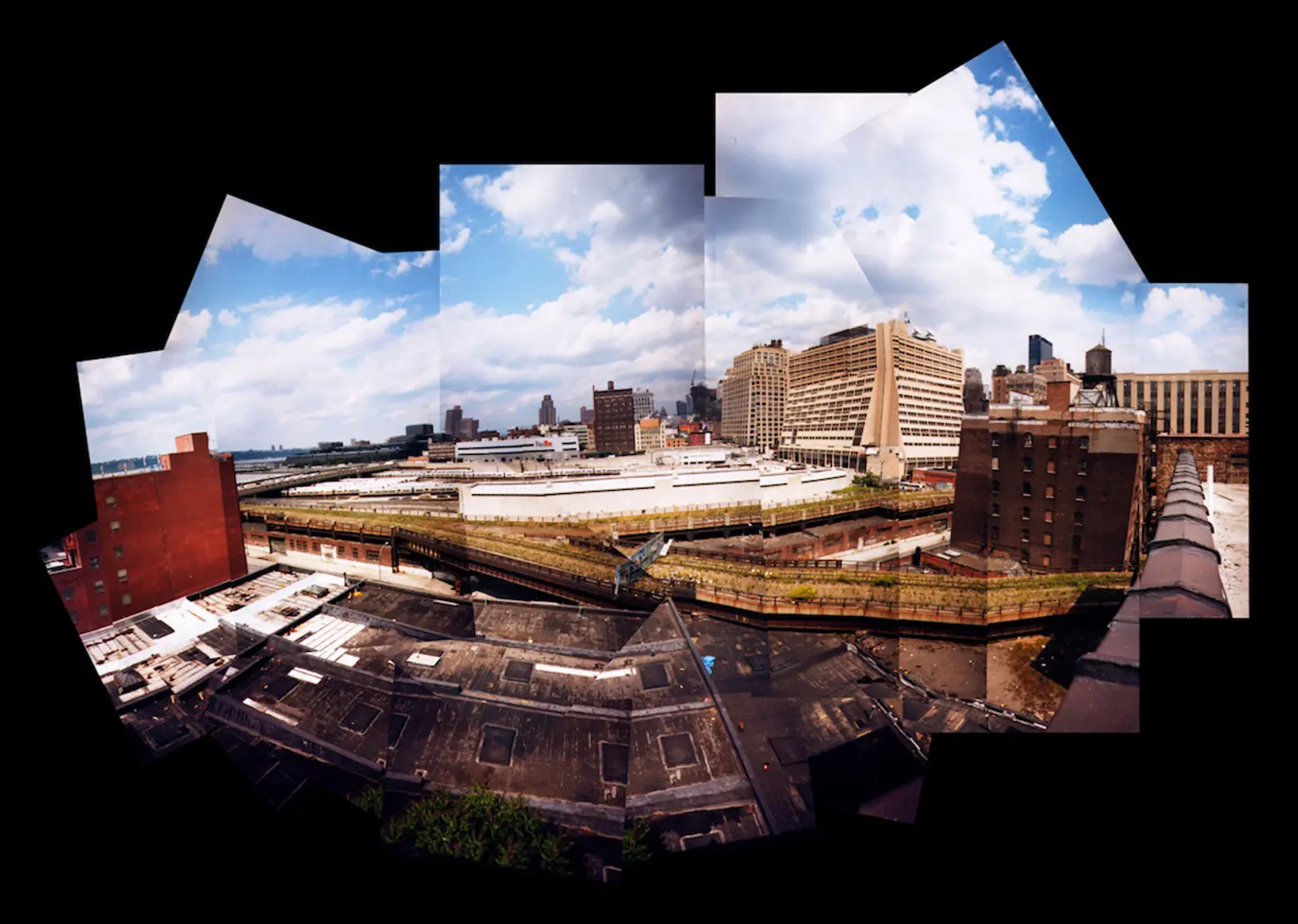 Jonathan Flaum. High Line Collage 3. June 2001.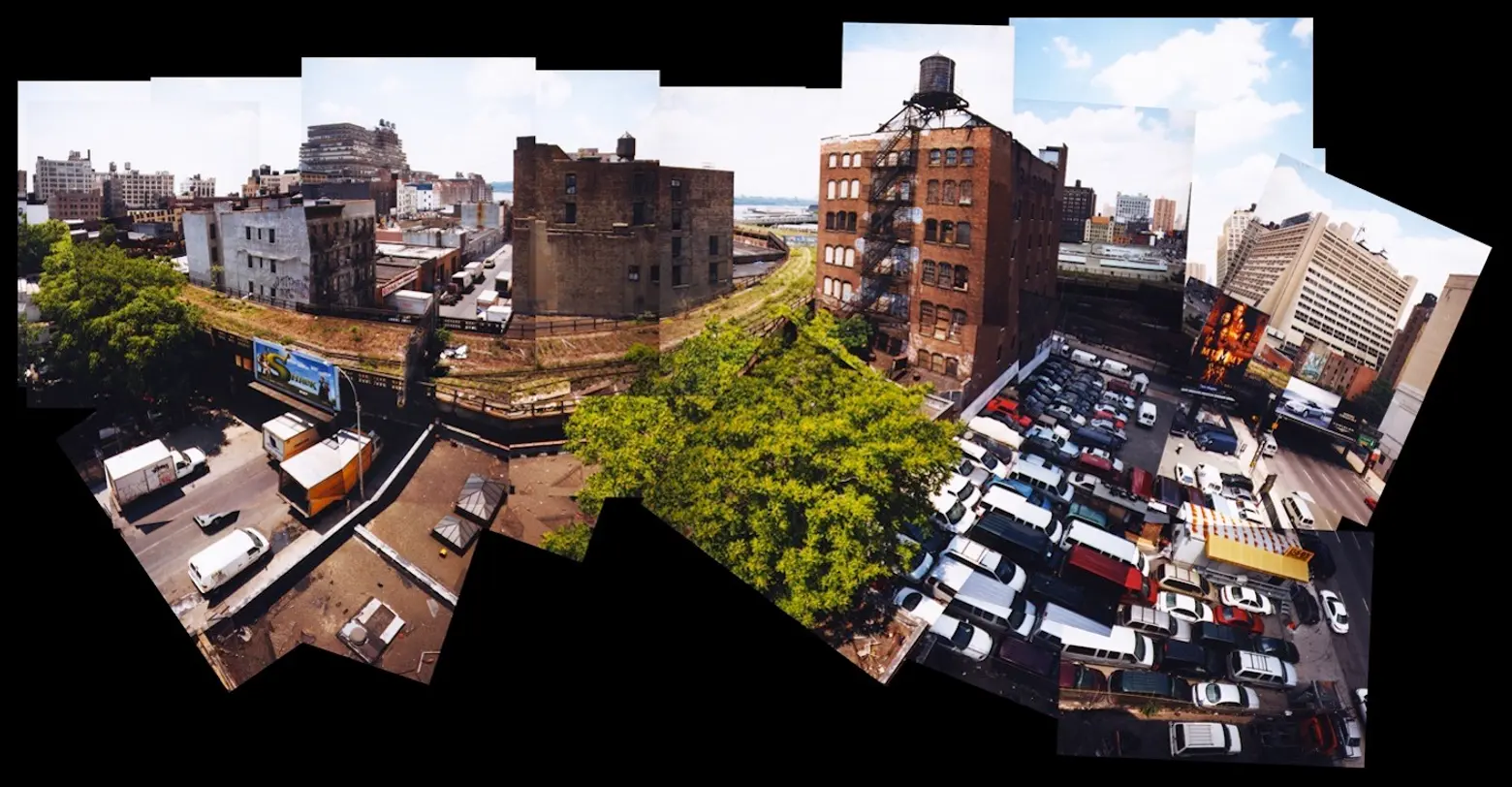 Jonathan Flaum. High Line Collage 5. June 2001.
If you could go back in time and photograph something in NYC that has since been demolished or changed, what would it be?
It was way before my time, but I would have loved to have seen and photographed the old opium dens and gangs of Chinatown. I also wish I photographed more of the incredible characters and stories of nightlife in NYC in the late 1980s and early 1990s.
All photos © Jonathan Flaum