New exhibit at the Whitney offers a comprehensive look at Edward Hopper's life and work in NYC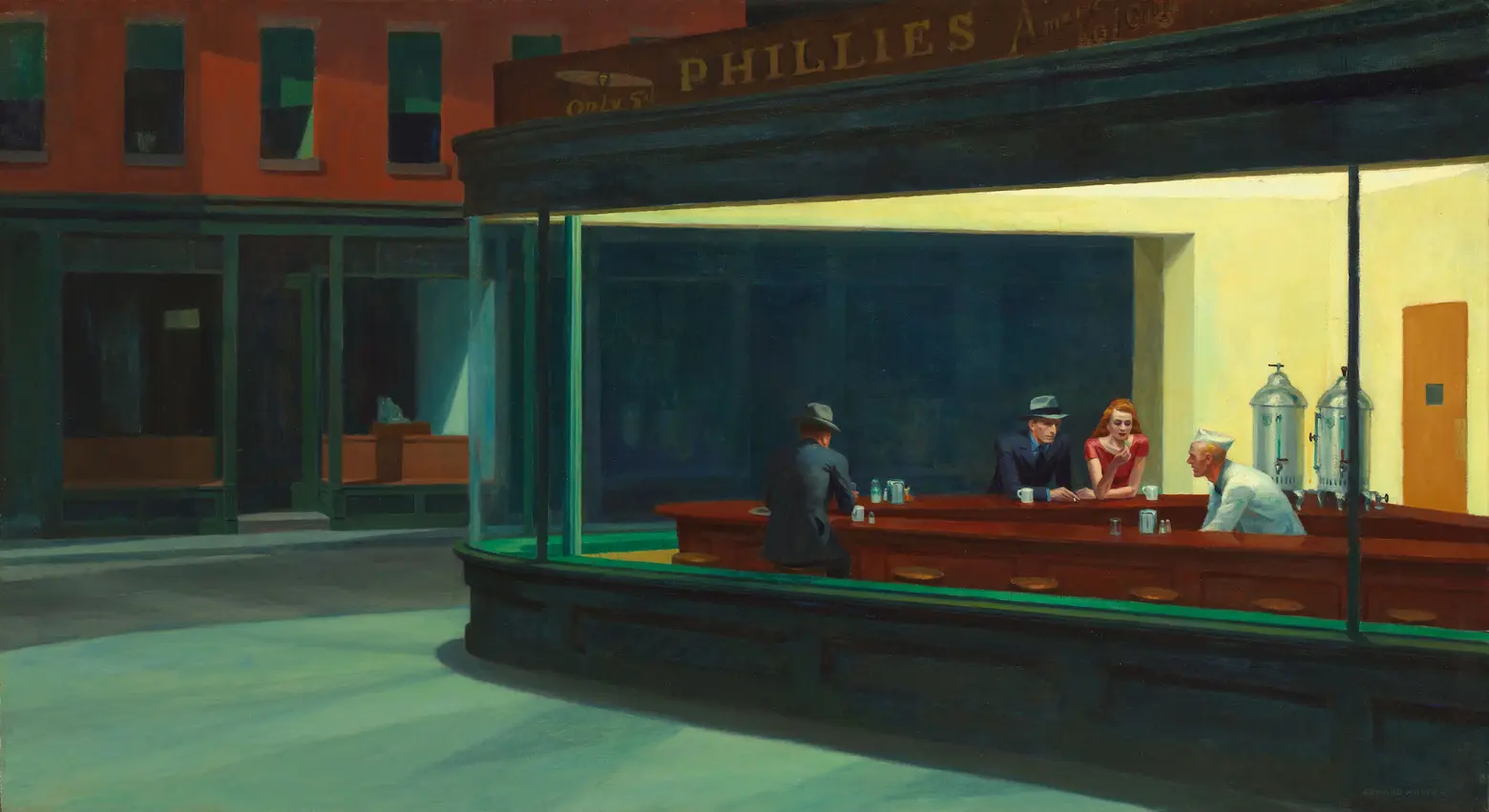 Edward Hopper's "Nighthawks" (1942); Public Domain
A new exhibition that explores the work of artist Edward Hopper and his relationship with New York City will open at the Whitney Museum this fall. Hopper, who called Greenwich Village home from 1913 until his death in 1967, uniquely captured an evolving city at a time of historic development and population growth. On view at the museum starting in October, Edward Hopper's New York will feature more than 200 paintings, watercolors, prints, and drawings by Hopper, along with additional archival materials like photographs and notebooks.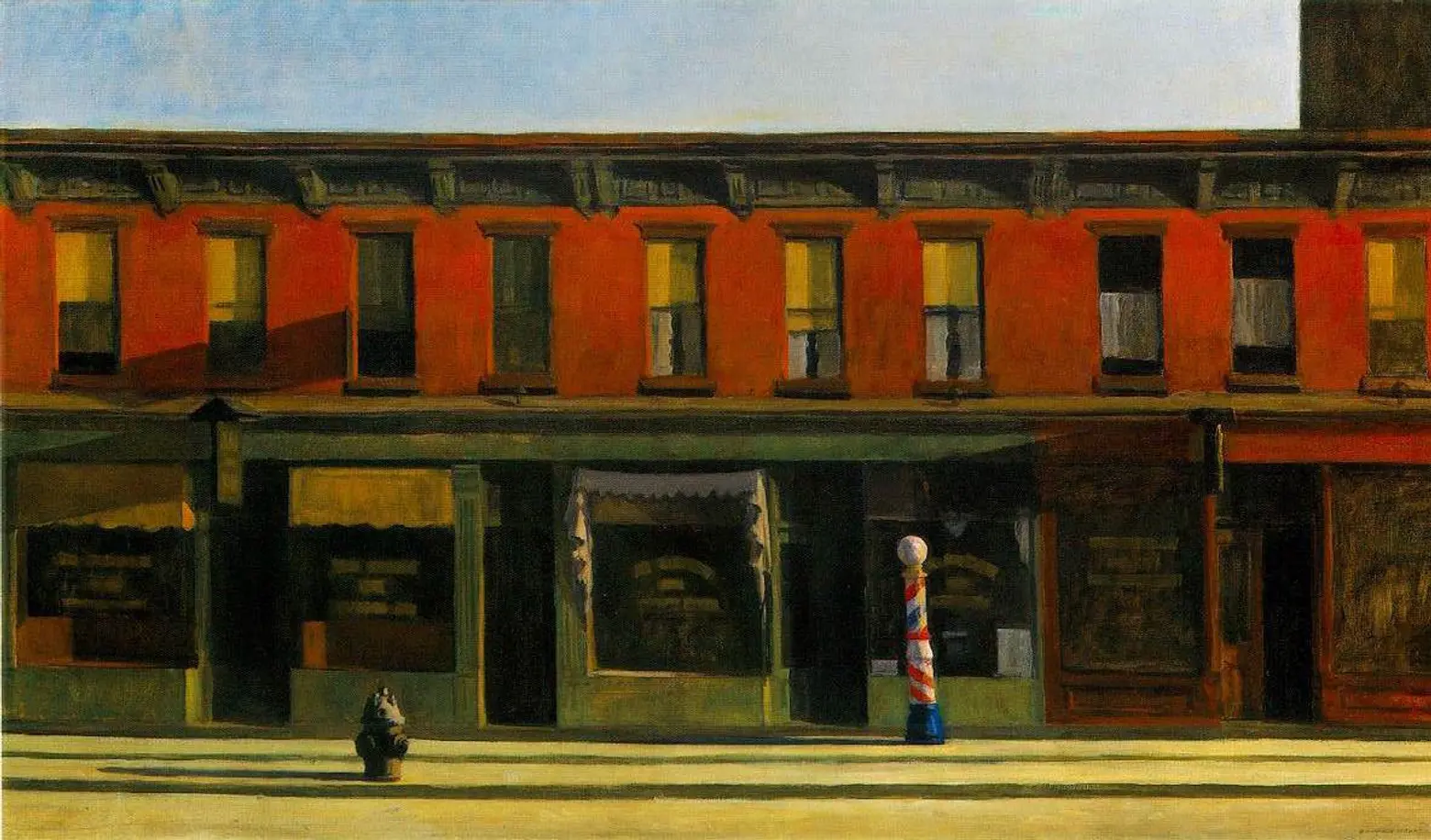 "Early Sunday morning" (1930); Public Domain
The exhibition is organized by "thematic chapters" of Hopper's life and includes eight sections and four gallery spaces featuring his most celebrated paintings. The installation begins with Hopper's early sketches and drawings from when he was commuting to the city from Nyack, New York to when he first moved to the apartment at 3 Washington Square North in Greenwich Village.
Another section of the installation, titled "The Window," highlights Hopper's work that was inspired as he walked the streets or rode elevated trains, witnessing everyday life, as seen in paintings like Automat (1927) and Room in Brooklyn (1932).
On display for the first time together will be Hopper's panoramic cityscapes in a section called "The Horizontal City." The installation features five of the artist's paintings (Early Sunday Morning (1930), Manhattan Bridge Loop (1928), Blackwell's Island (1928), Apartment Houses, East River (c. 1930), and Macomb's Dam Bridge (1935)) which have a nearly identical format. Together, the paintings provide a fresh look at Hopper's "contrarian vision of the growing city at a time when New York was increasingly defined by its relentless skyward development," as a museum press release describes.
"Hopper lived most of his life right here, only blocks from where the Whitney stands today," Kim Conaty, curator of Edward Hopper's New York, said. "He experienced the same streets and witnessed the incessant cycles of demolition and construction that continue today, as New York reinvents itself again and again."
"Yet, as few others have done so poignantly, Hopper captured a city that was both changing and changeless, a particular place in time and one distinctly shaped by his imagination. Seeing his work through this lens opens new pathways for exploring even Hopper's most iconic works."
"Washington Square" features paintings inspired by his neighborhood and explores his infatuation with views from his apartment. "Theater" explores Hopper's love of the stage and includes works inspired by theater spaces, like The Sheridan Theatre (1957), as well as preserved ticket stubs.
The comprehensive exhibit includes a selection of sketches that show Hopper's favorite places in the city to document, as well as later works that show a more fantastical approach to depicting the urban experience.
"Edward Hopper's New York offers a remarkable opportunity to celebrate an ever-changing yet timeless city through the work of an American icon," Adam D. Weinberg, the Alice Pratt Brown Director of the Whitney Museum.
"As New York bounces back after two challenging years of global pandemic, this exhibition reconsiders the life and work of Edward Hopper, serves as a barometer of our times, and introduces a new generation of audiences to Hopper's work by a new generation of scholars. This exhibition offers fresh perspectives and radical new insights."
Hopper's relationship with Whitney began in 1920 when he had his first solo exhibition at the Whitney Studio Club, which closed in 1928 to make way for the Whitney Museum of American Art. Hopper's work first appeared in the inaugural Whitney Biennial in 1932 and in 29 Biennials and Annuals through 1965, according to the museum. In 1968, Hopper's widow, artist Josephine Nivison Hopper, bequeathed the entirety of his collection to the museum, which today is home to more than 3,100 works by the artist.
Edward Hopper's New York will be on view from October 19, 2022, through March 5, 2023. Timed tickets to the exhibition will be available starting Tuesday, September 13.
RELATED: