Our 900sqft: Native New Yorkers Aria and John open up their retro, colorful Harlem home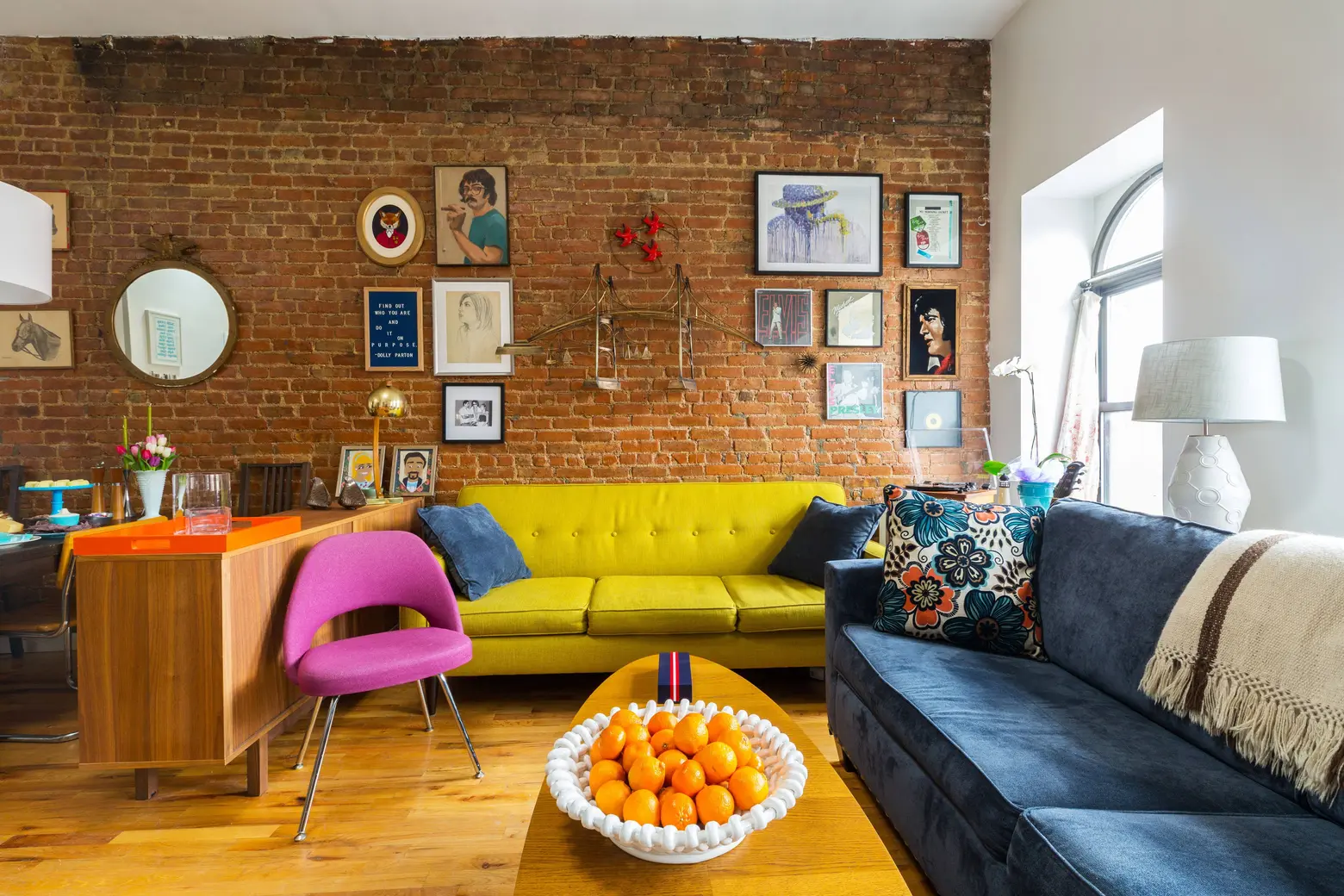 6sqft's series "My sqft" checks out the homes of New Yorkers across all the boroughs. Our latest interior adventure brings us to the Harlem apartment of Aria and John Chiaraviglio. Want to see your home featured here? Get in touch!
When asked to sum up the aesthetic of their Harlem apartment in a few words, Aria and John Chiaraviglio chose "inviting, unique, open, retro and fun," and after a recent visit to the full-floor brownstone home, we couldn't agree more. Aria, a Doctoral student in Child Psychology, and John, Vice President of the Financial Intelligence Unit of a major bank, both grew up in NYC–she in Tribeca and he on the Upper East Side. The old-school, quirky vibes reminiscent of artist-loft Tribeca are seen everywhere, from Aria's Elvis collection to the couple's countless vintage finds, yet the traditional style one would associate with uptown are brought out through mid-century modern furnishings and an attention to entertaining.
Ahead, take a tour of this spunky couple's colorful, comfy, and classy home and learn about their best thrifted pieces, the theme parties they host, their Derby collection, and why they love living in Harlem.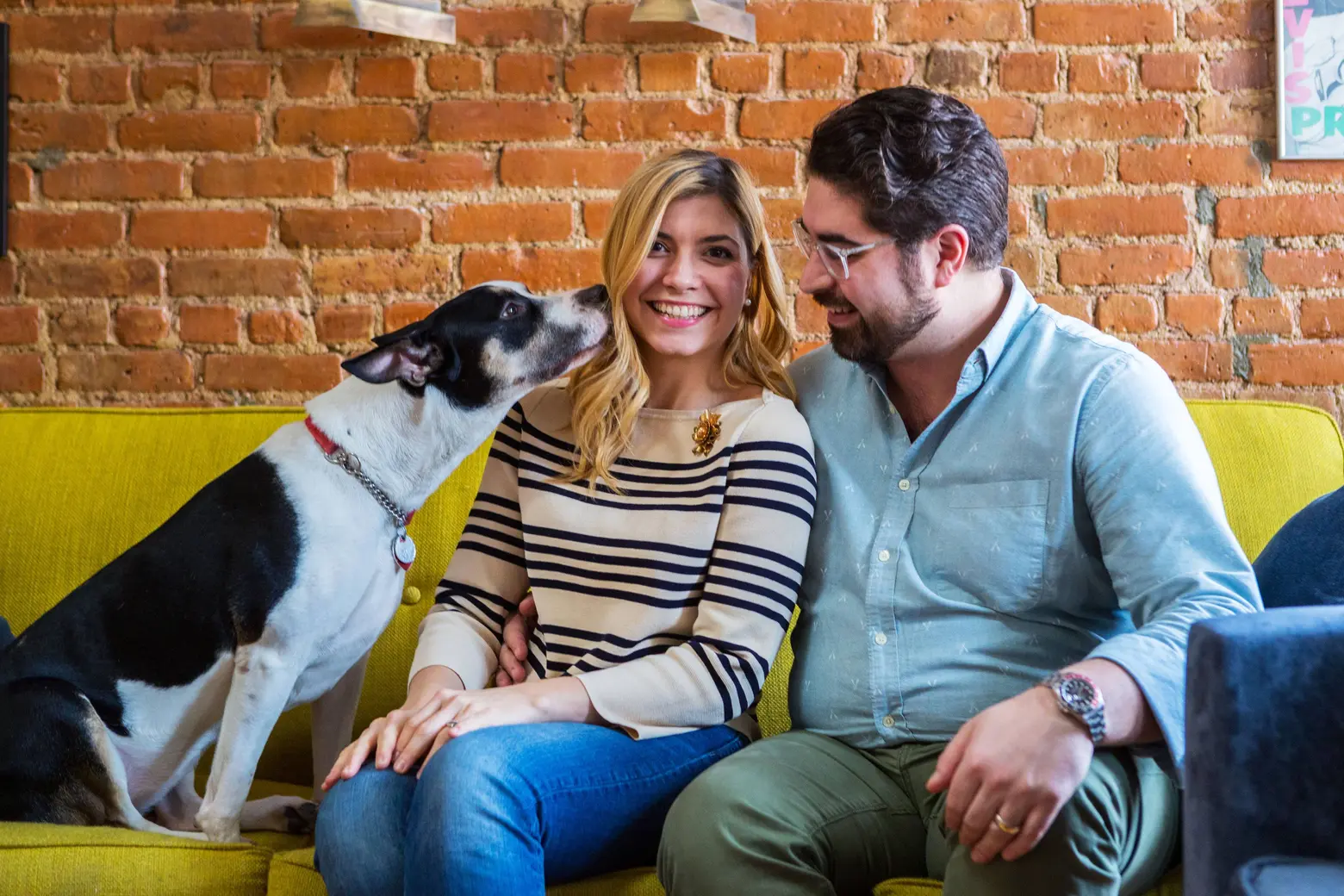 Aria and John rescued Ladybird three years ago from Animal Haven in Soho and learned Terry Richardson selected her for the cover of a magazine he shot before they got her! 
How did you two meet?
John and Aria: We met our Freshman year of college and were fast friends. There was clearly a spark, but nothing came of it (even though all our friends knew it!) We reconnected a few years later and that spark hadn't left – our first "date" was the day Captain Sully landed his plane on the Hudson River, so we consider it our miracle day, too.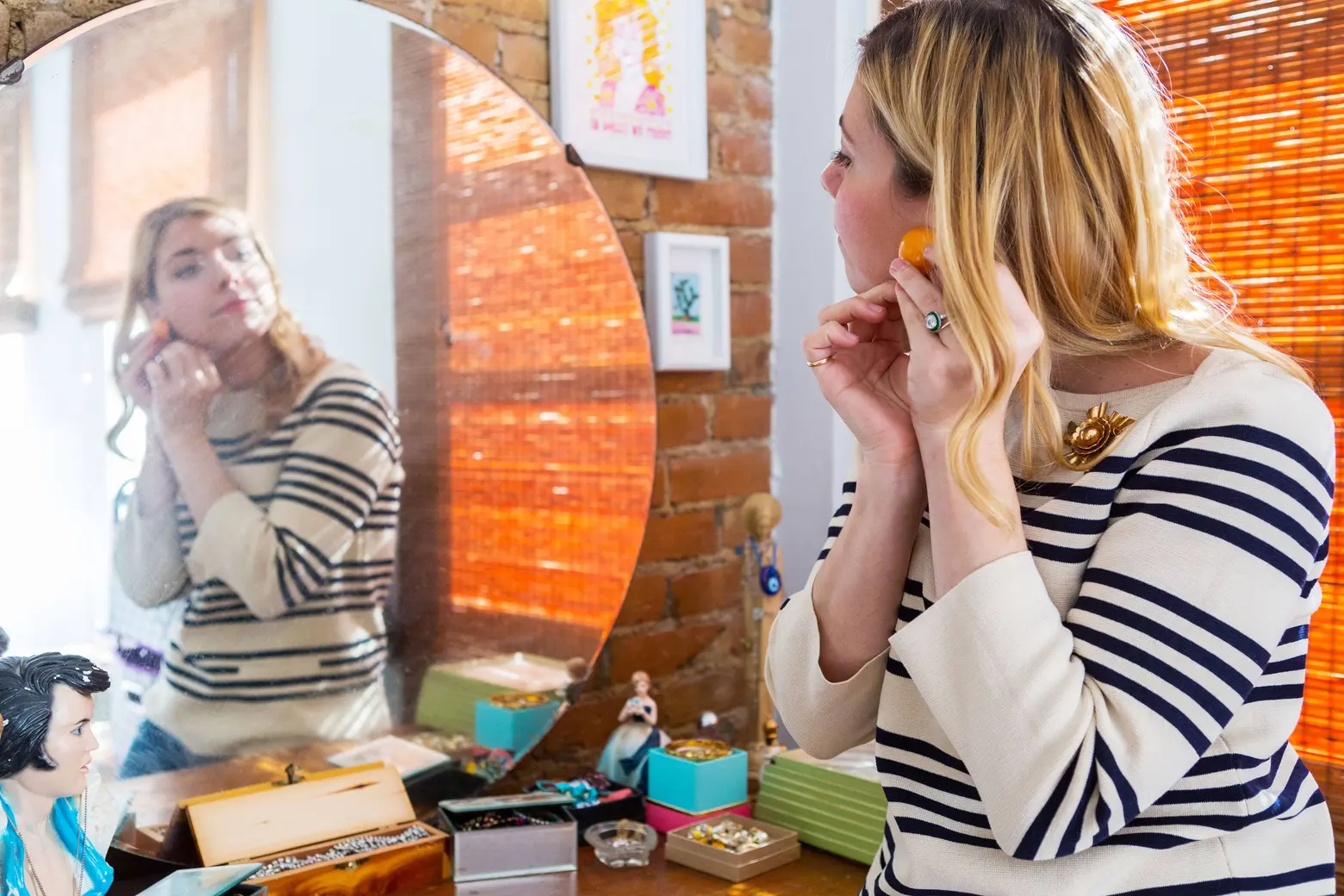 Aria, you grew up in Tribeca when it was still very much an artists' neighborhood. Your parents still live there, though, so you've certainly seen the area change. What are your feelings on this? 
Aria: Tribeca has changed a lot but has always been a gem. I am so thankful that my parents moved to Tribeca (before it even had a name!), and as artists; my mom is a writer/playwright and my Dad is a painter. So many elements of my childhood remain–Washington Market Park, PS 234, Hudson River Park, Downtown Day Camp, Balloon Saloon–but none of that would be there now if it wasn't for all the families and community-run organizations in the '80s, and '90s making Tribeca the neighborhood it is. I hope that any newcomer respects and appreciates all the people who came before them to create the community that's there now.
I do miss the uniqueness of old Tribeca. 9/11 changed everything, of course. Tribeca was directly affected in so many ways: losing family friends, restaurants and businesses closing, many, many residents got sick. When the real estate boom came back, the mega-mansions and bigger apartment buildings replaced the smaller loft buildings and the artists' neighborhood feel was gone. I miss Friday nights when everyone went to our local haunts like Delphi, Walker's, Bubby's or Socrates – you'd always see someone you know. Sometimes it sounds like "Anytown USA," the fact that growing up we all knew each other, we all went trick or treating together, we rode our bikes until the lights came on at dusk at the park but then (laughing) we'd also run around the plaza of the Twin Towers, bump into JFK, Jr. and his dog, interrupt a movie set, or see Bobby De Niro hanging out at the Odeon – so, a wonderful but unique childhood!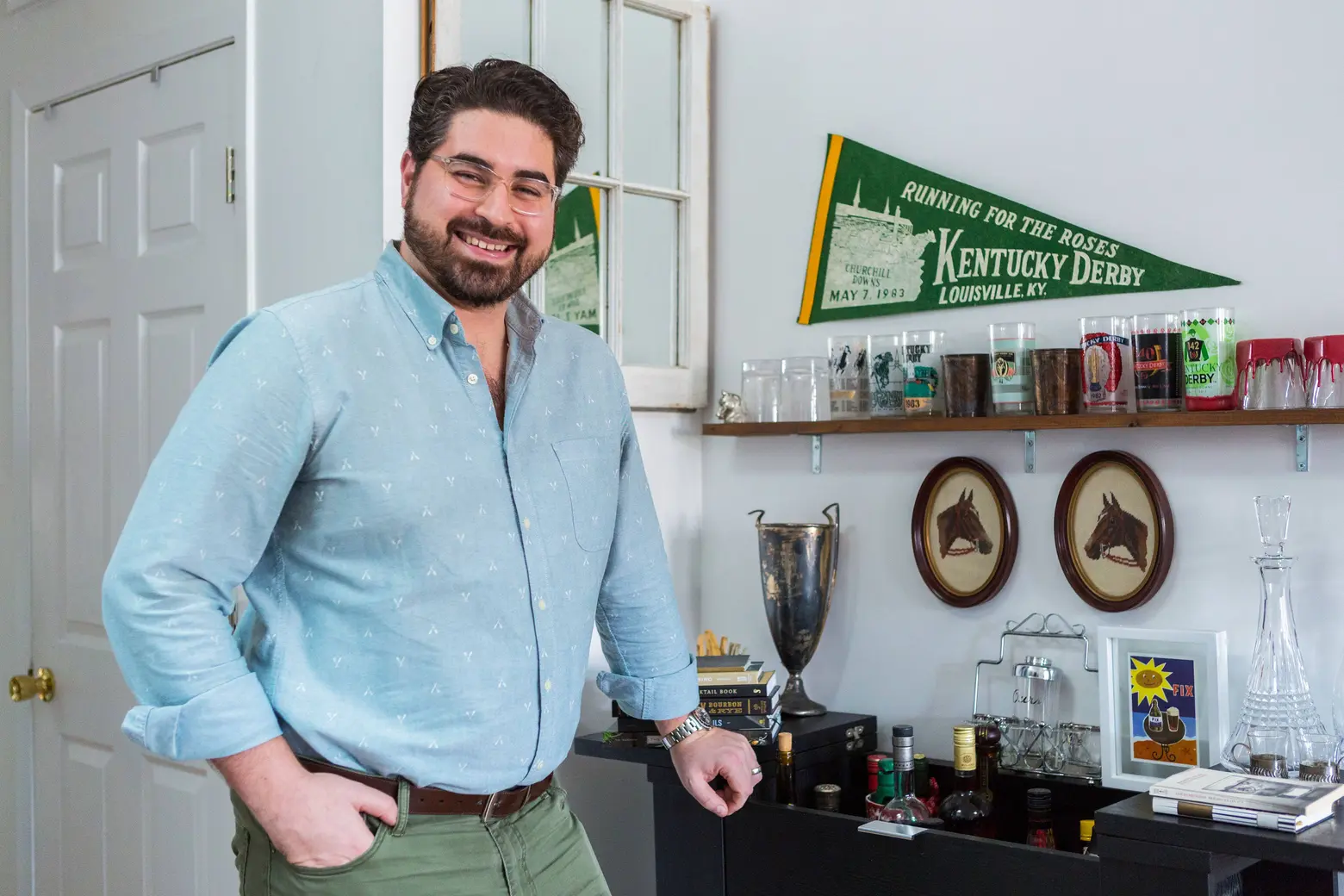 John, you grew up on the Upper East Side, before the Second Avenue Subway and influx of millennial-friendly bars and restaurants. Is it strange to see how "downtown" the neighborhood has become?
John: Yes, I enjoy the Upper East Side. Having access to museum mile as well as Central Park as a child really helped provide an artistic and cultural growth for me, and a place to run off all my energy! In terms of the changing, I think it's great to see the diversity and the "breaking the mold" of the classic upper east side neighborhoods with the new bars and restaurants and such. It's also nice to see, at the same time, bastions of old Yorkville still remain like Schaller & Weber, Tal bagels, Heidelberg, Dorrian's, JG Melon etc. and this "influx" frequents both kinds of establishments, adding new life but keeping the classic UES classic.
Do you think you'll ever move back to Tribeca or the Upper East Side?
John and Aria: We never say never!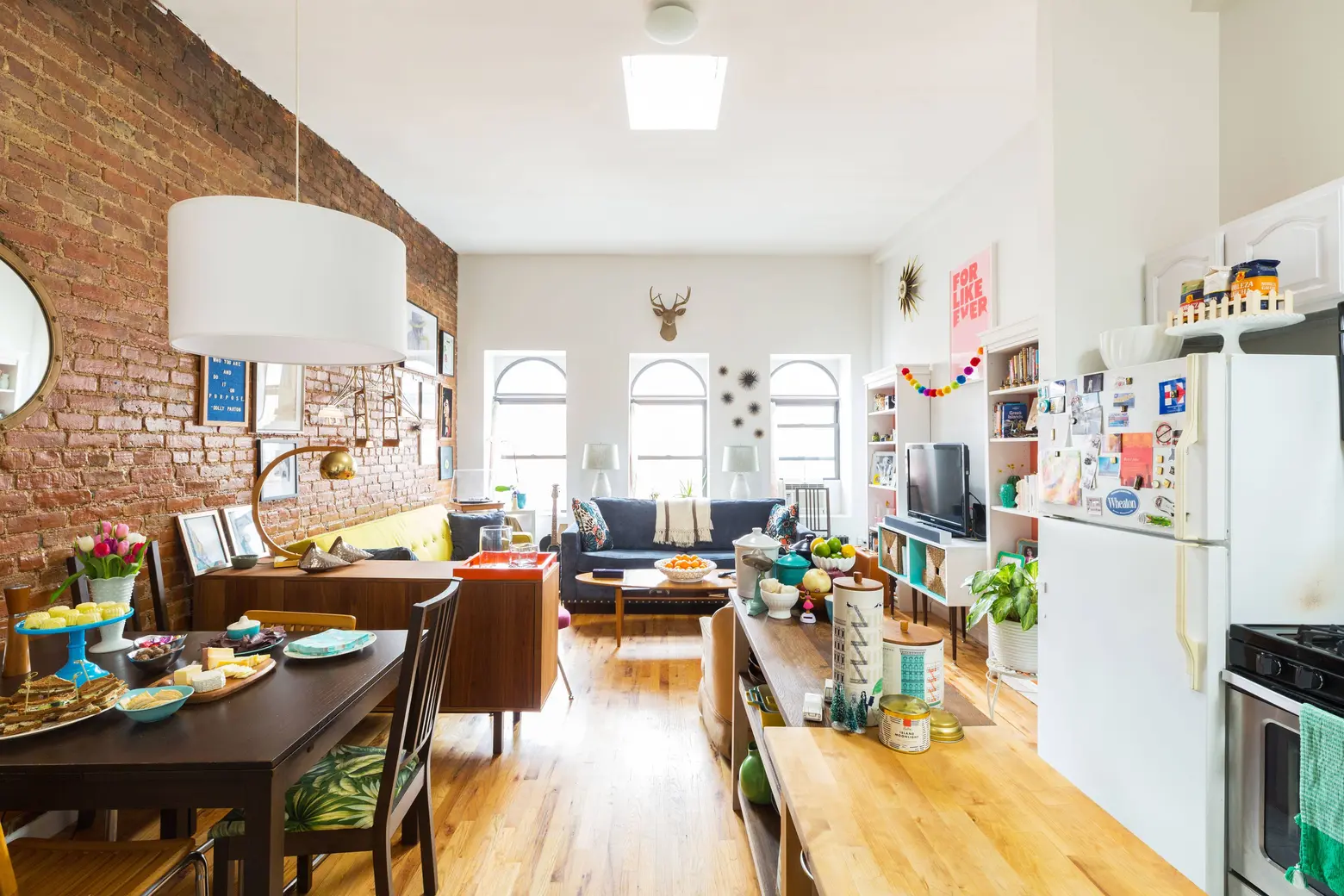 Your first place together was in Brooklyn Heights. What did you like most and least about that neighborhood?
John and Aria: We loved the feeling that we were so close to Manhattan (We could see it from our window) and yet so removed. We were on a quiet, tree-lined street, a 1920s building with so much charm. (Laughs) But then that's what we liked least – we felt so removed. The trains became like the Polar Express on weekends…you swore you heard them, maybe they visited you in a dream? As a child? Ha, they never ran.
What brought you to Harlem?
Aria: We wanted more space and access and we got the opportunity to move into this unique Brownstone and thought – let's go! It was also central for both of our jobs, which of course is the lifeline of all New Yorkers: where is the closest train?
John: We're also only a few blocks from Central Park, which is amazing. We take our dog Ladybird and we just walk all the way down through the park and it's great.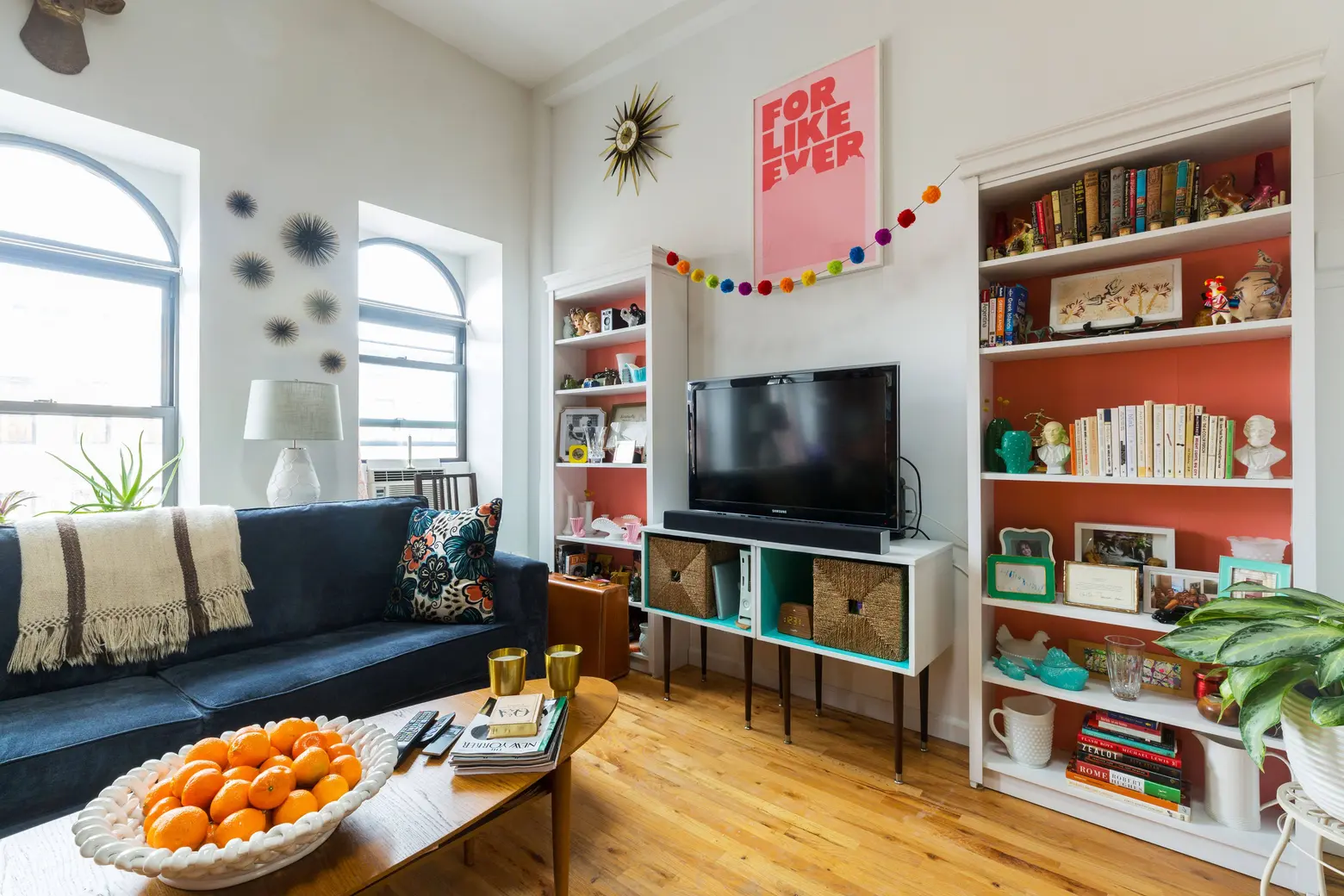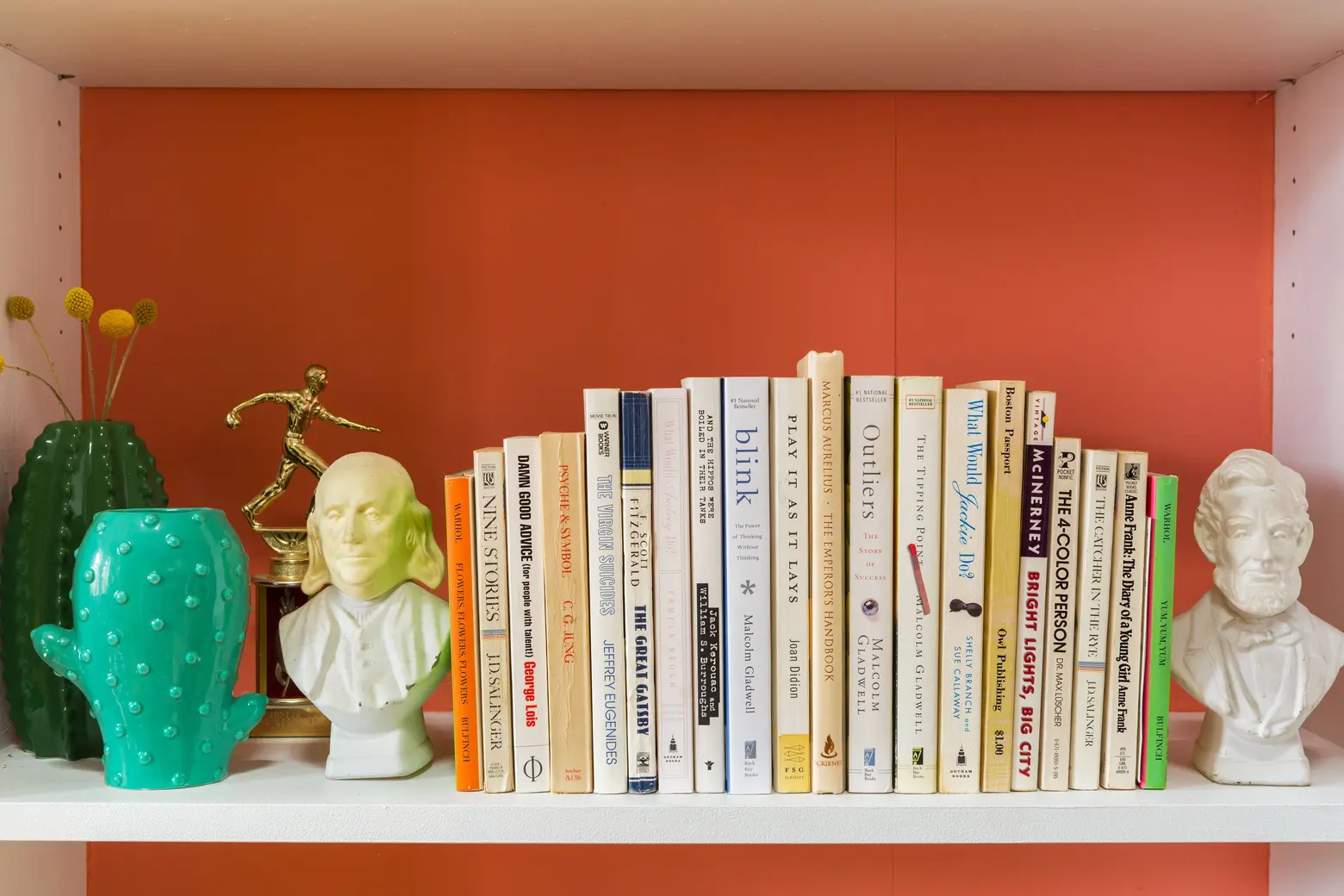 The living room cabinets are actually "Billy" bookshelves from Ikea that Aria and John too apart and added molding to. They also made the television console table themselves. 
What are some of your favorite spots in the area?
John and Aria: We are surrounded by amazing restaurants and bars. We love Barawine, Red Rooster & Ginny's Supper Club, Harlem Tavern, Bier, Sottocasa, Harlem Shake, and Streetbird, to name a few. And, there's so much more to check out. We're excited to try BLVD Bistro, Cheri, and Minton's Playhouse, which is on the National Registry of Historic Places – it opened in 1938, it's one of the oldest running jazz establishments. All the greats played there, and it's where bebop was born.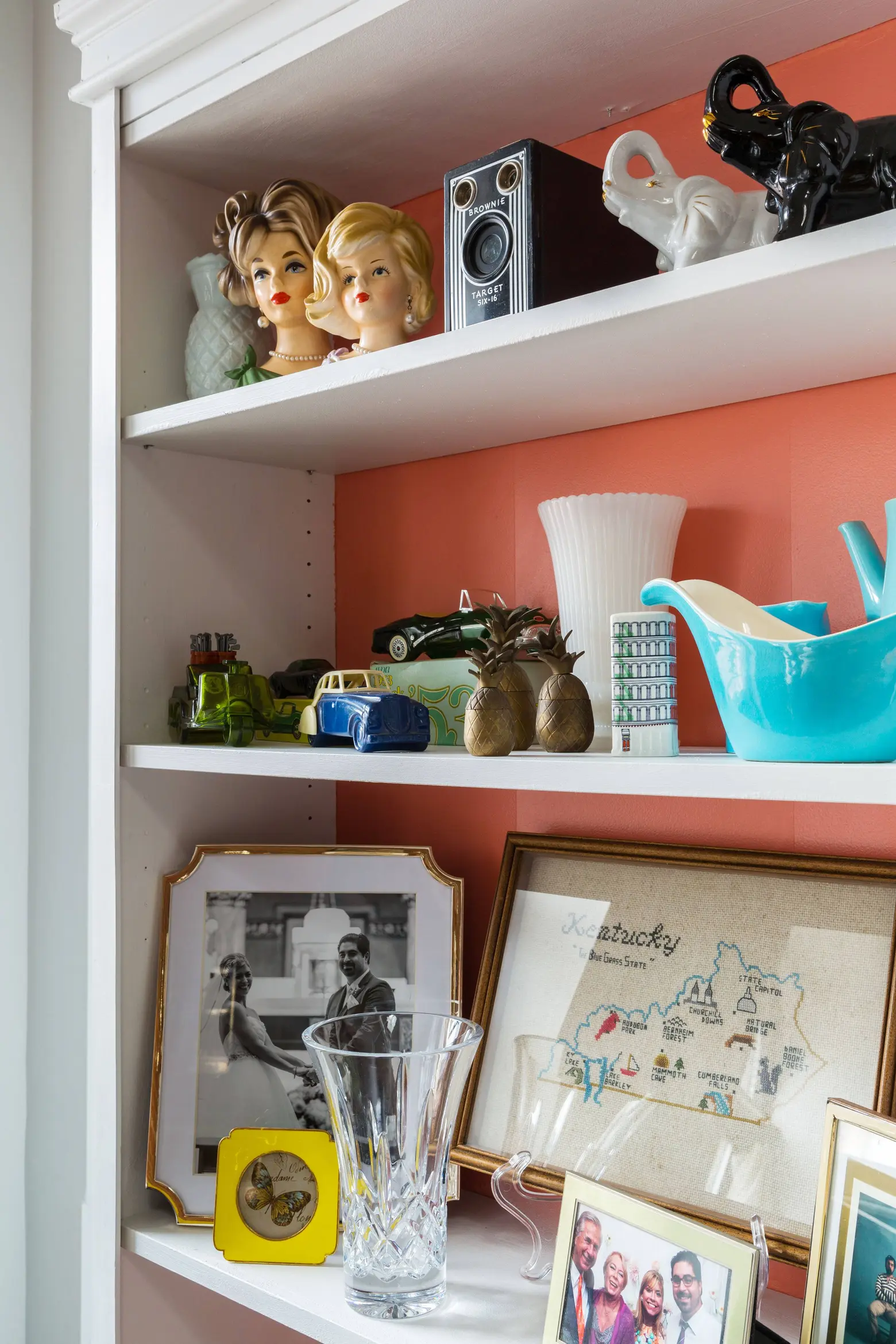 Aria only has a third of her milk glass collection displayed!
How did you find the apartment?
Aria: We are also very lucky that one of my closest friends since Kindergarten, Rudi Hanja, is a broker with Brown Harris. He literally called me one day and said "I feel like you'd like to live in a brownstone, whadaya think?" He was so right.
You used to live on the floor below, where your friends now live. This must make socializing convenient! 
John and Aria: We love our neighbors! They're great friends and we feel like this building is one, big adult dorm. There are only three families in the whole building and we're all close – what's better than going over to visit your friends with a glass of wine and then walking home in your socks?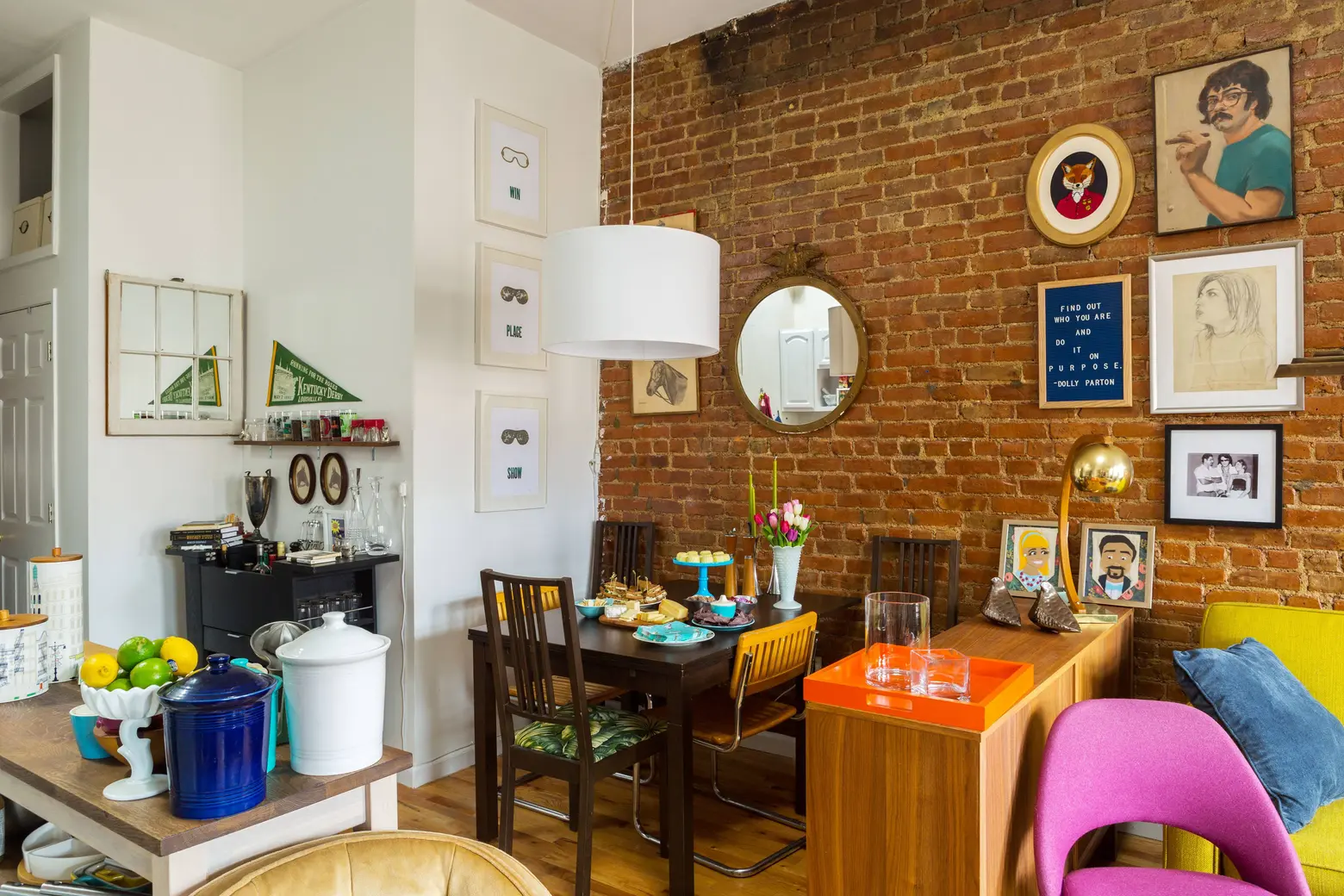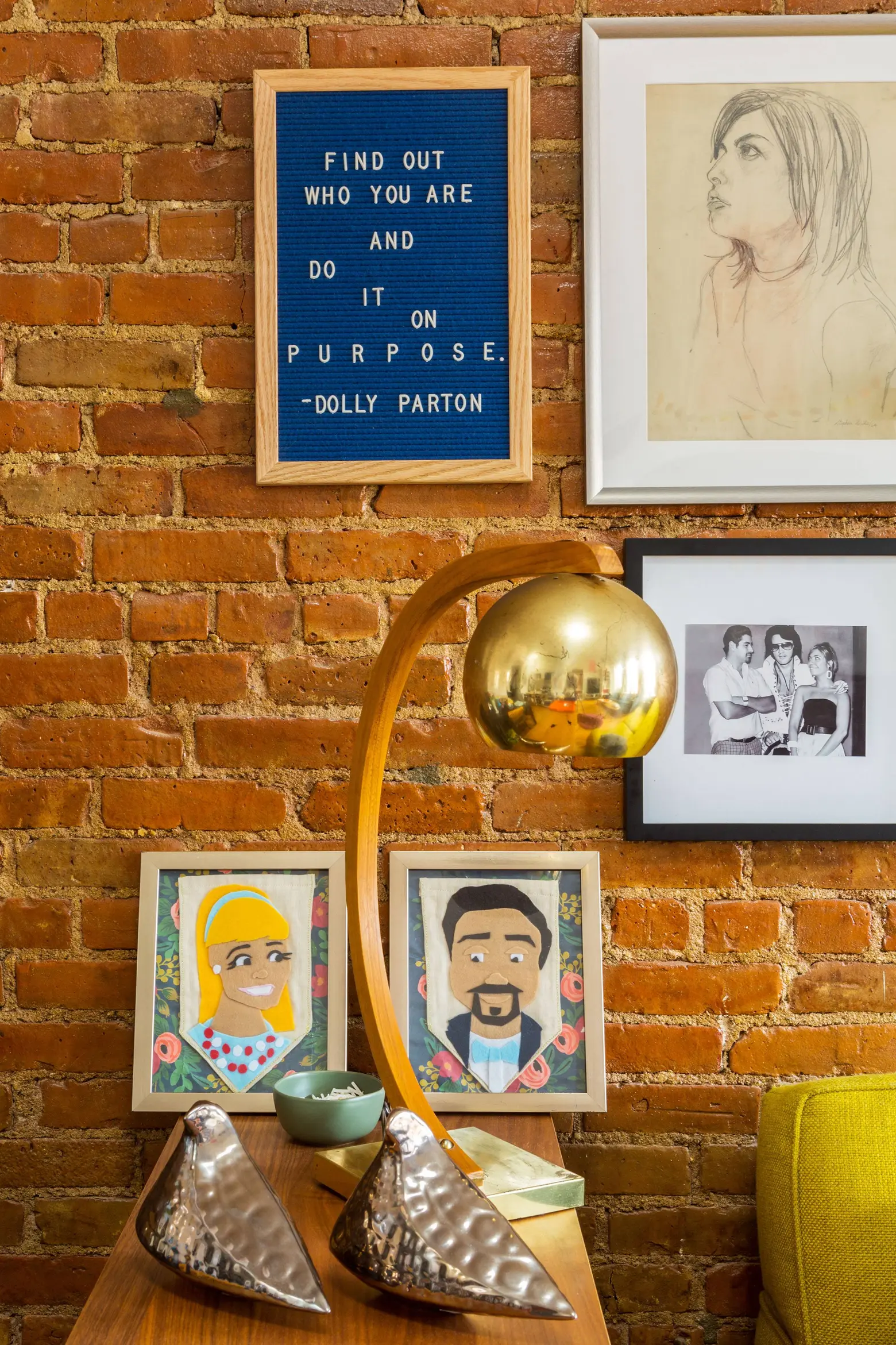 They found the federalist-style mirror above the dining table at the Animal Rescue Fund thrift shop on the Hamptons for just $20! Aria's best friend made them the felt portraits as a wedding gift. Whenever guests come over, Aria asks them for a quote for the board (the Dolly Parton quote is her personal pick!)
Speaking of socializing, you mentioned you love to entertain. Tell us about some of your theme parties.
Aria: I love theme parties!
John: It's true, she does. We have had Oscars parties where we make food in the theme of all the nominated movies, a Black & Gold '20s New Year's party, we always have a Halloween party, Derby parties, you name it. We had a "Top Chef" party where we told people a random ingredient and everyone had to show up having made something of that ingredient, that was fun!
Aria: I also love when we have a "highbrow/lowbrow party" where everyone just comes all dressed up. No holiday or special event, just wear your fanciest thing and drink champagne and eat pigs in a blanket.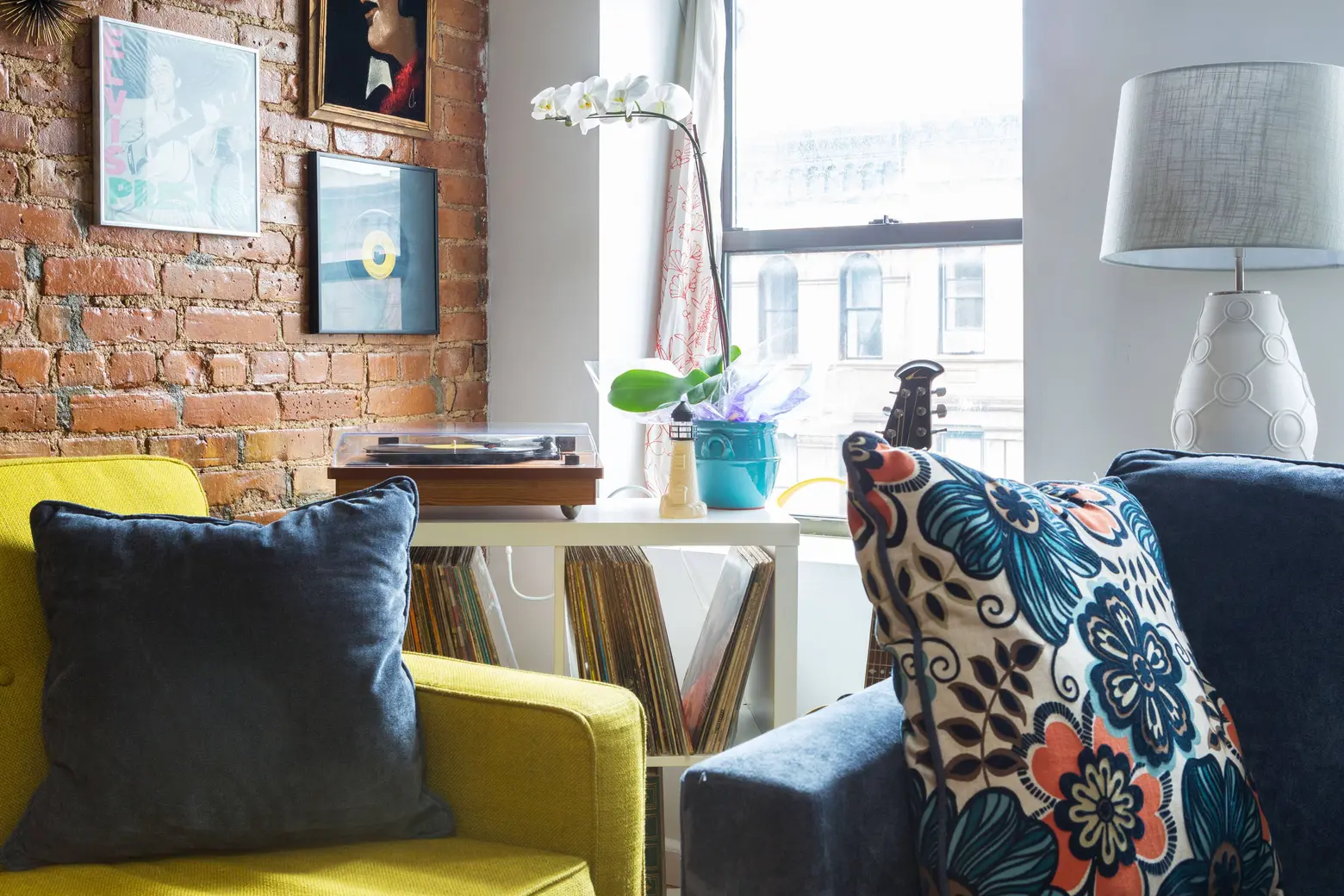 Aria and John also collect original vinyl records. They've hung some of their favorite album covers above the couch. The lamps behind the couch are Jonathan Adler. 
Aria, you lived in Louisville, Kentucky for several years after college. How does city life there compare to NYC?
Aria: I definitely feel like I spent my "growing up" years in Louisville and consider it a major part of my heart and my second home. Louisville is far smaller than NYC, of course, but that's what makes it special. It's small enough that everyone doesn't know everyone, but you probably know of them. It's big enough that there's a bustle to it, but not the crazy NYC hustle. The restaurant/bar scene, the art scene, and the music scene are fantastic. You can truly have a quality of life there and a work/life balance that's very hard to achieve here.
What do you miss most about Louisville?
Aria: Ooh, everything! The people. The vibe. The thrifting! Benedictine sandwiches and Graeter's Ice Cream? Not together, separately – Ha! Luckily, I try to go back at least once or twice a year. But above all, I miss my family there.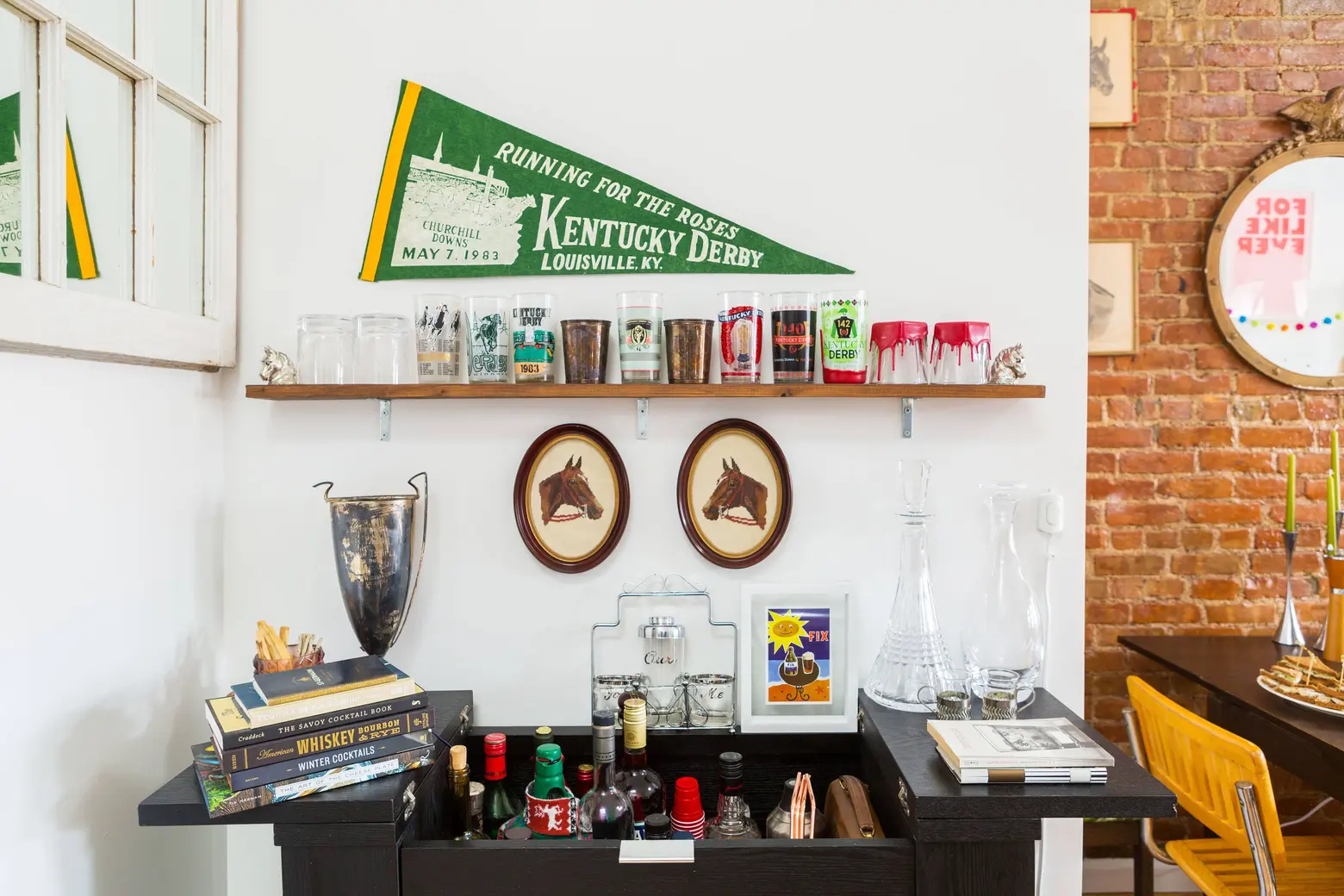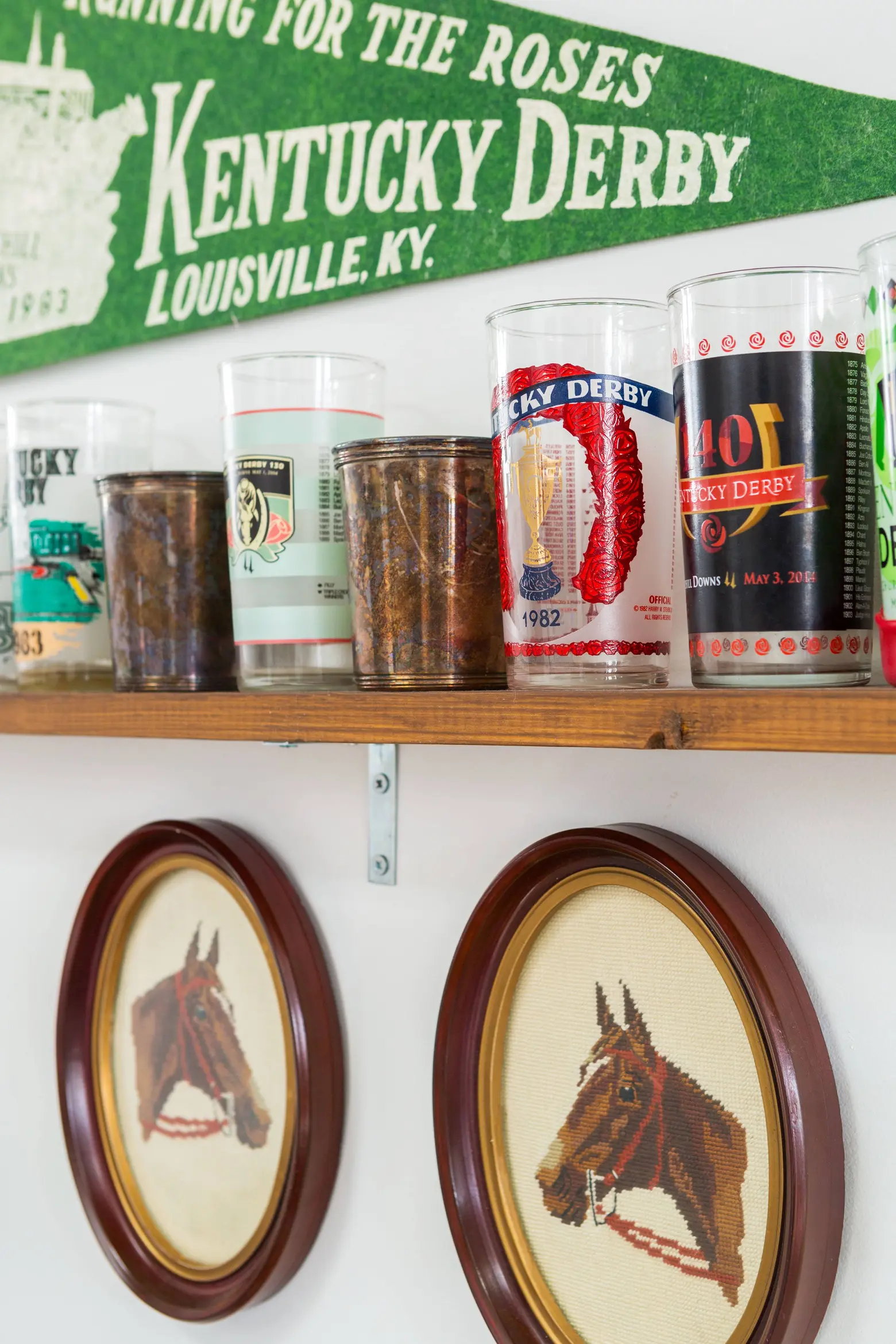 Judging by your bar, you're big Derby fans! How do you usually celebrate the event?
John: We always celebrate big. The last few years we have been attending the Brooklyn Derby, run by friends from Louisville.
Aria: Yes! I was born a Derby baby – it was destined to be! Last year my girlfriend from Louisville was up and we won the hat contest and bet on the winning horse to show! Now, you don't get more Derby than that.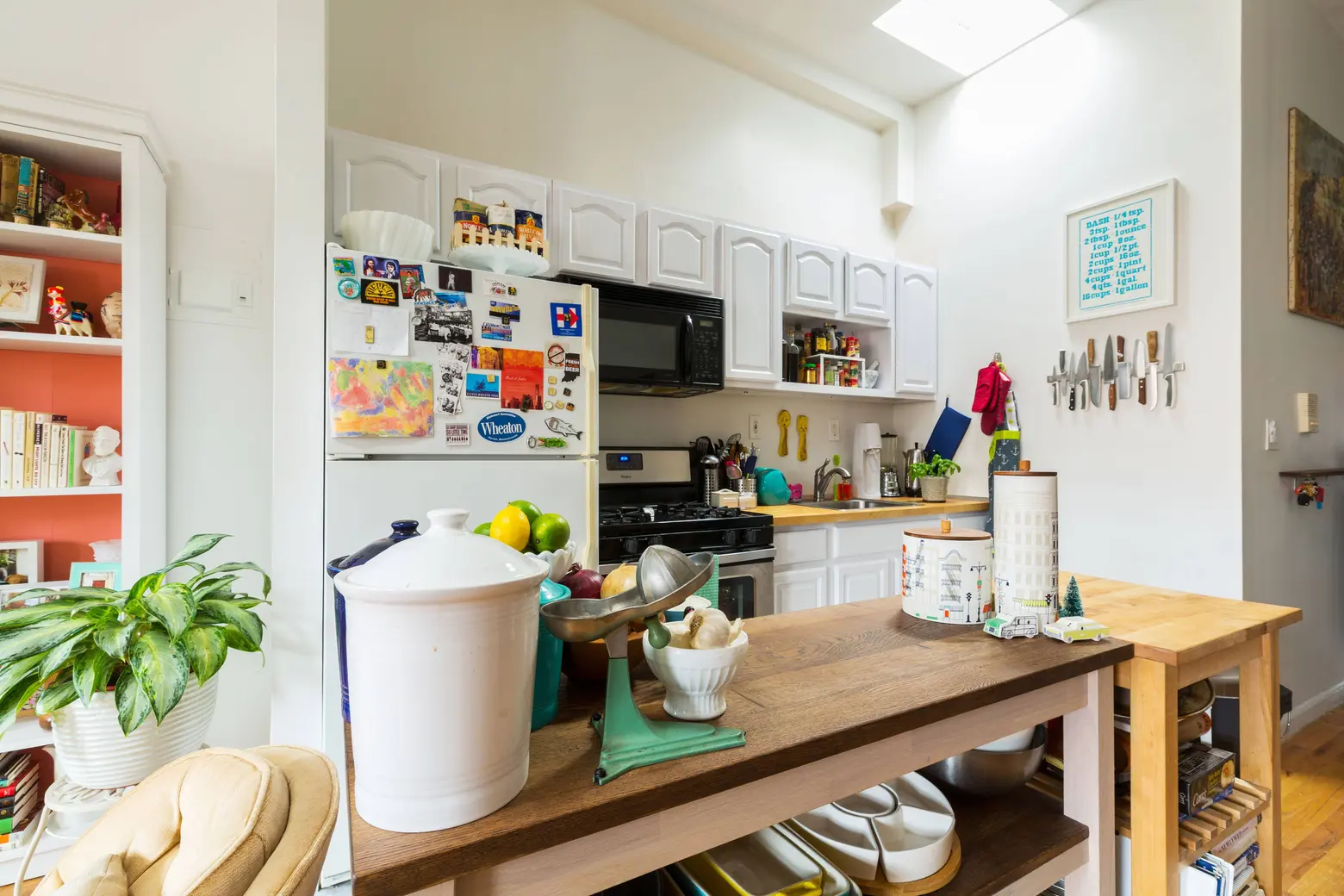 Louisville is also where you said you got into antiquing. How has this grown from a hobby to a passion over the years? 
Aria: I always went with my mom to estate sales and flea markets in New York and Rhode Island as a kid and would buy something here or there; I always loved tchotchkes. But Louisville is where I really found my style, so now the items I have found over the years have shaped the aesthetic of our home, even my style of clothing. I consider our home "modern vintage" because we do have new items, but almost every other item is a thrifting find.
John, did you get into it right from the start, too?
John: I've always enjoyed mid-century modern furniture, the look and the style of it. But, "antiquing" I do to humor her, but I get into the "hunt!"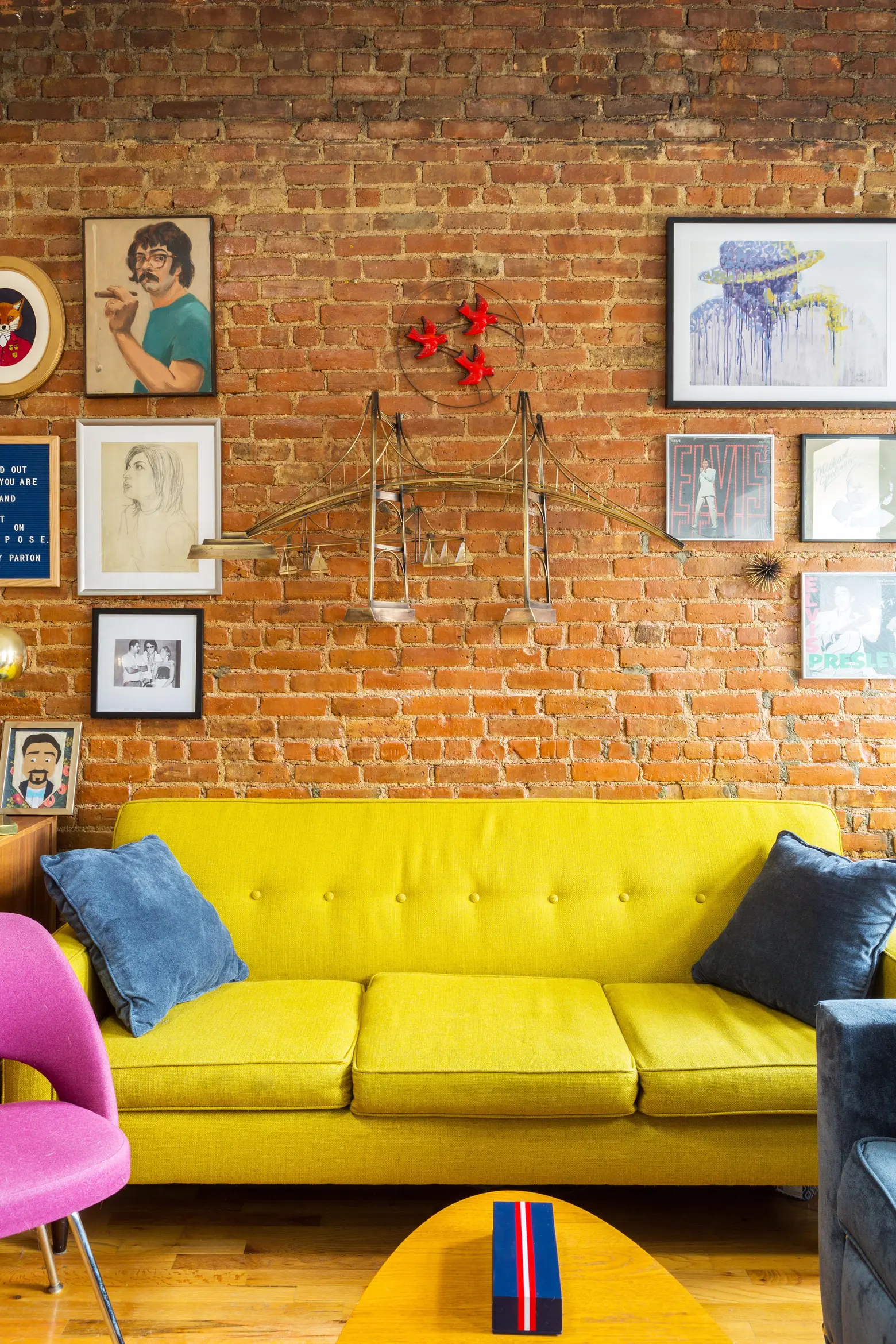 The purple chair is from Knoll. The green couch is vintage, and the blue sofabed is from Bob's Furniture. To the left of the bridge is a self-portrait Aria's dad painted of himself in the '70s and a drawing of her mom he did in the '60s. 
Do you have a favorite vintage piece?
John: We have this great 1950s side table lamp with a two-tier drum lampshade and it has gold gilded bees on it; it's a great, mod piece. Also, Aria's grandmother's Waring Blender is this classic art deco piece. It's sleek and it still works! And, it looks cool.
Aria: We have this huge mid-century brass bridge on our wall that we found in Louisville. When we found it, we ended up having to stuff all our suitcases in the backseat of our car so the entire trunk could be dedicated to getting it back to New York! That, and my original 1960s Elvis Presley Fan Club charm bracelet, of course.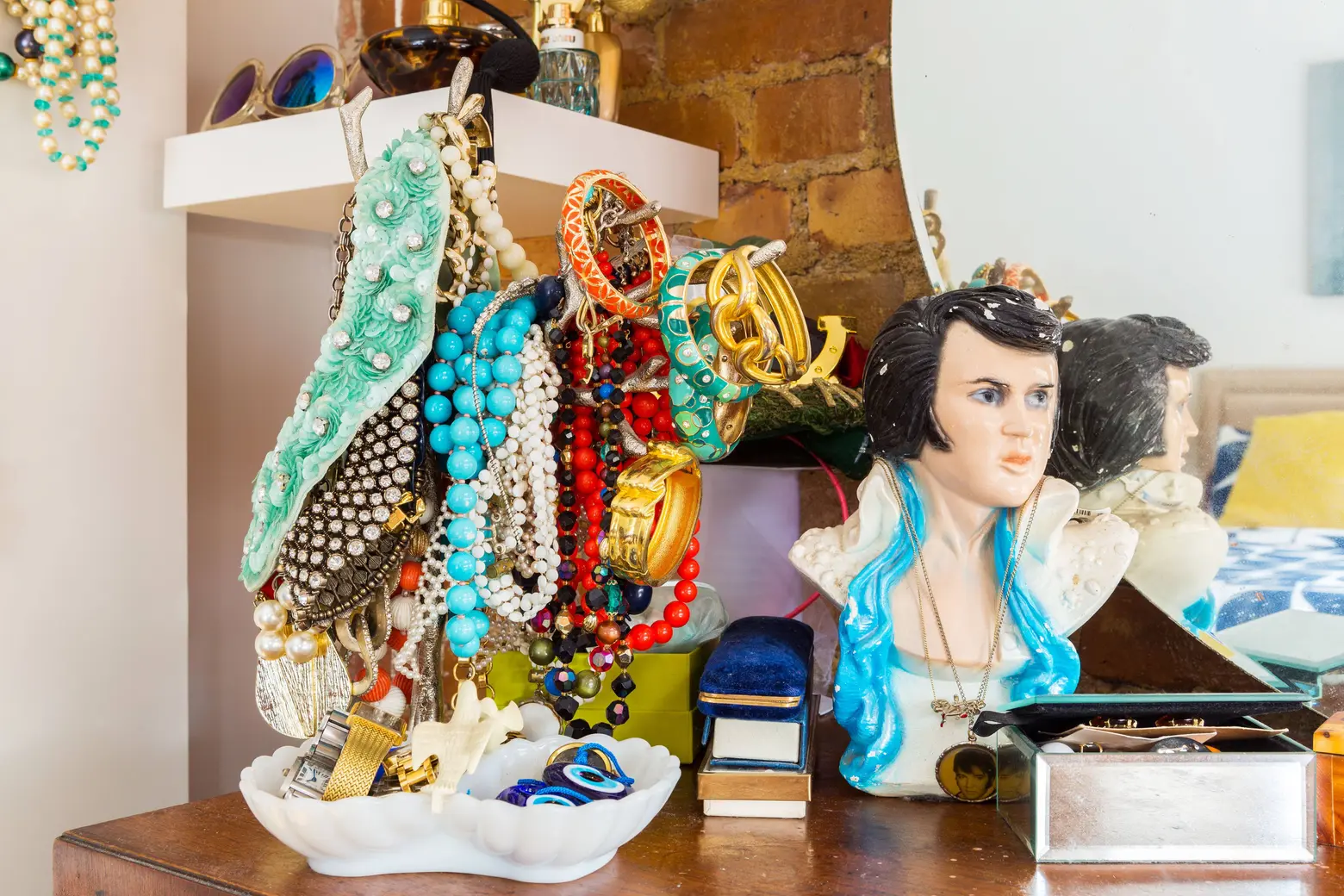 Speaking of, there are quite a few nods to Elvis around. We take it you're a huge fan?
Aria: Haha! Well, how'd you guess that? I have loved Elvis since I was little. I heard "Return to Sender" in my tap dancing class when I was five years old and was hooked. I proudly came home and told my mom I wanted to meet Elvis as soon as possible. Luckily, she let me down easily. She also loved '50s and '60s music and just fed the fire with tons of records and the oldies on the radio.
Were there any challenges mixing your styles?
John: Yes, I have a moratorium on Elvis items…
Aria: Ha! There isn't that much! It's understated.
John: Nothing about Elvis is understated!
Aria: So true. See? You're learning!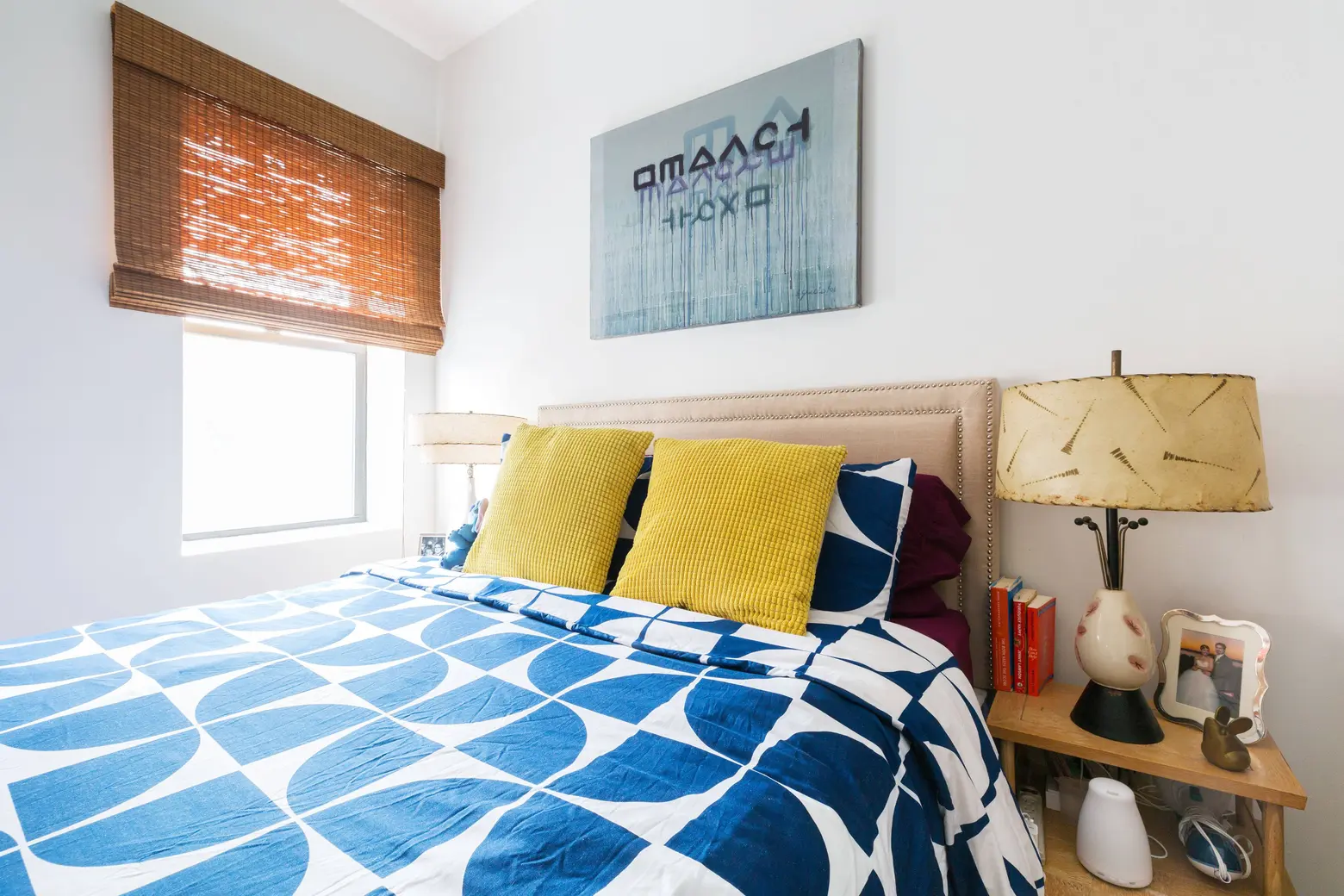 Aria's dad did the painting above the bed. The lamps are vintage.
I know you prefer to do most of your antiquing in Louisville, but are there any spots in NYC you like?
Aria: Well, affordable thrifting and antiquing is kind of a unicorn around these parts, but I do love Housing Works, Goodwill and Junk in Williamsburg. But, thrifting and antiquing for me is finding something rare and special where you'd never think you'd find it – so that's why I love hunting flea markets, pulling over for estate sales or my go-to spots to visit like Hey Tiger and Yesternook in Louisville and Sweet Vintage Finds and Rocket to Mars Vintage in Providence, Rhode Island. Hey, NYC folks – give these places some love! You never know what you might find (just tell them I sent ya and save stuff for me, too! ).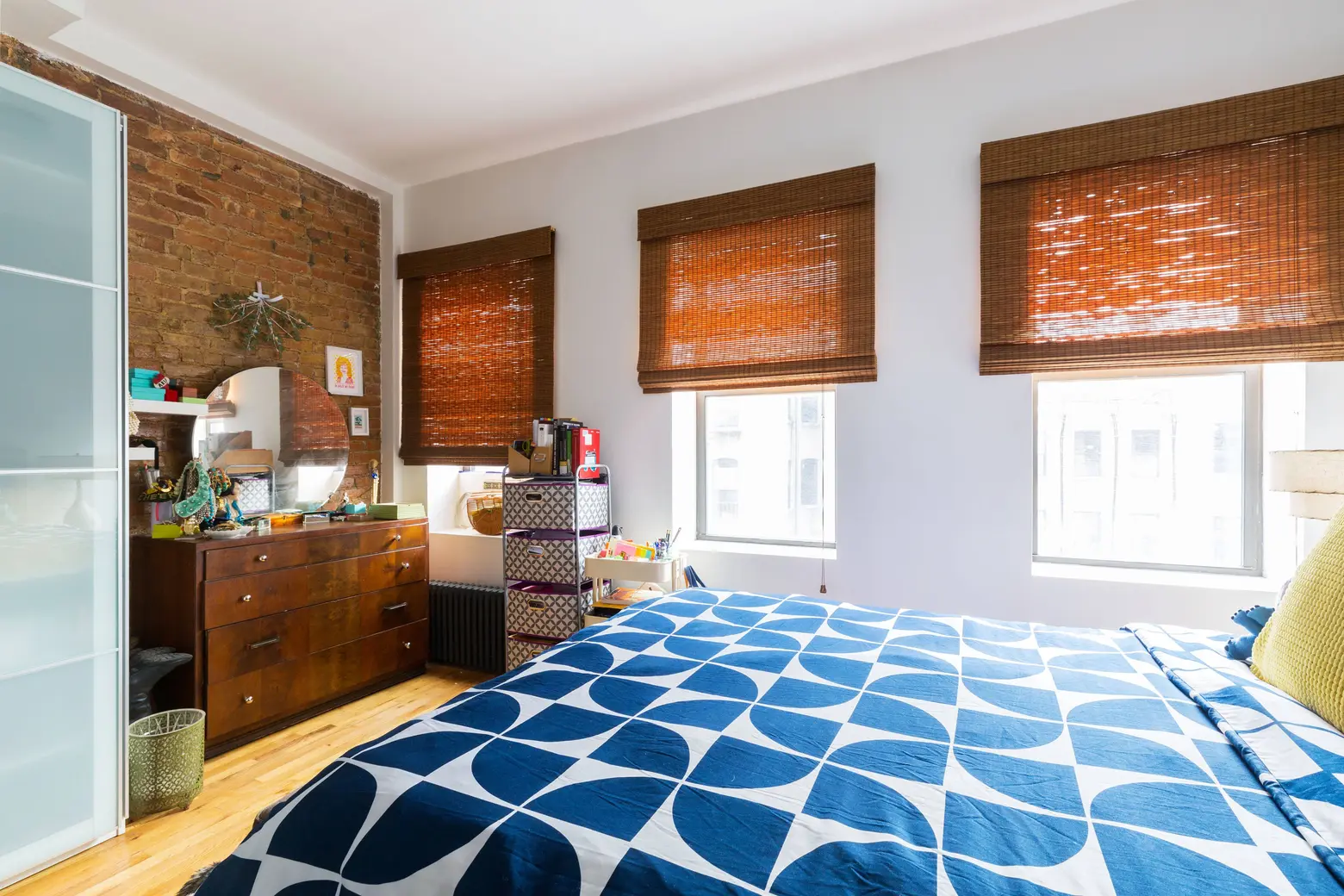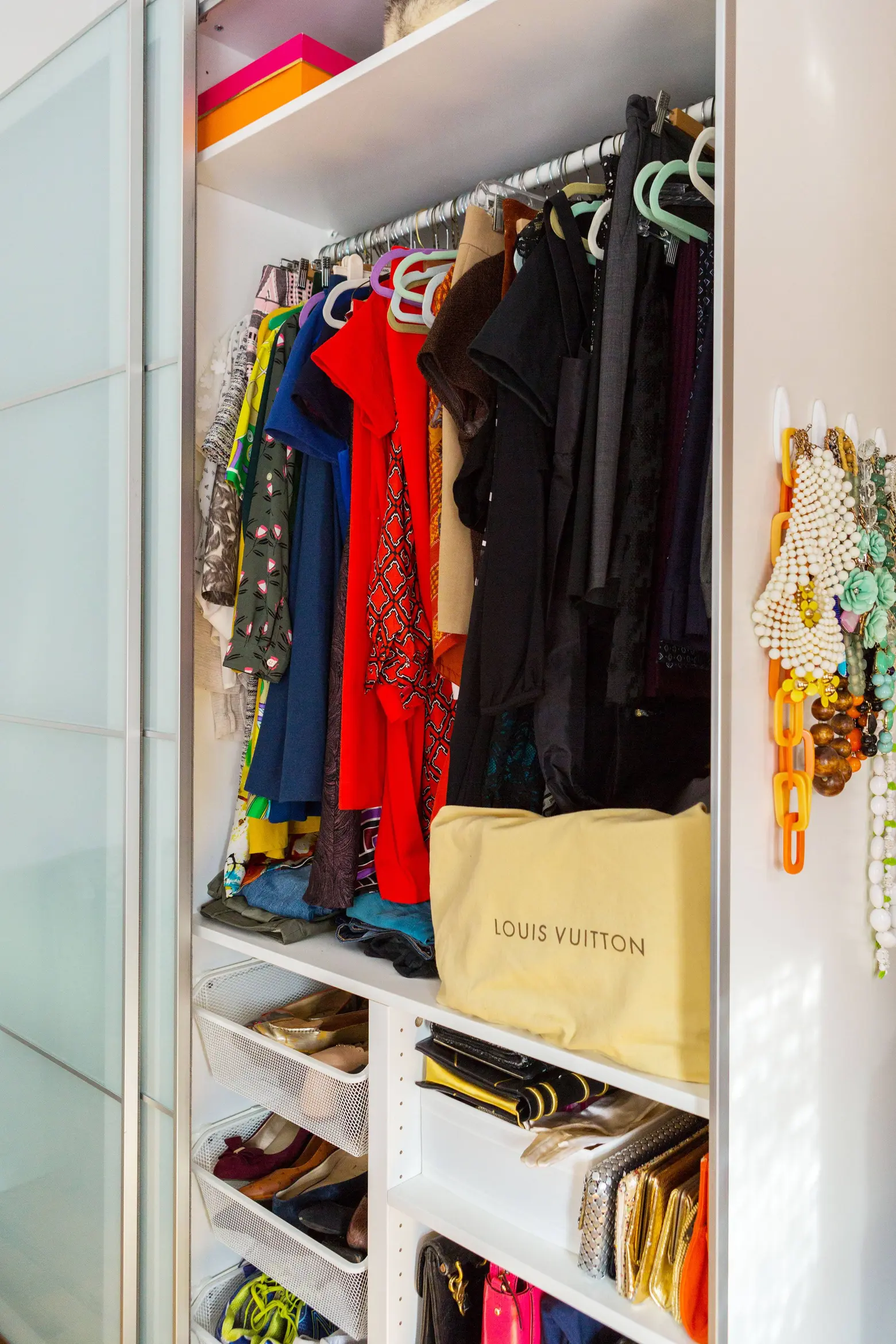 The bedroom dresser was Aria's grandmother's vanity from the '30s. It's VERY heavy, but luckily on wheels. John built the Ikea closet. 
Tell us about your vintage dress collection.
Aria: Oh my goodness, I absolutely love vintage dresses. I actually have a closet dedicated just to my collection. I love their construction, attention to detail, the quality – it's something you are hard pressed to find these days; they just don't make them like they used to. I have been collecting since I was a kid. There was a store in the village called Reminiscence and I would pour over the tulle and beading and buy these amazing dresses – I had nowhere to wear them, I just loved them! I also always wonder who owned some of them or made them, some of my favorite finds are clearly handmade. So, I name them and give them back stories! (laughing) because some of them are just too fabulous not to have a back story. One of the dresses, I've decided, was clearly owned by a fabulous southern belle who is the reigning Banana Pudding Contest queen in the county. Another dress I have must have been owned by a no-nonsense boss lady who lives in a sprawling midcentury home overlooking LA and was friends with Slim Aarons and was probably in lots of his photos.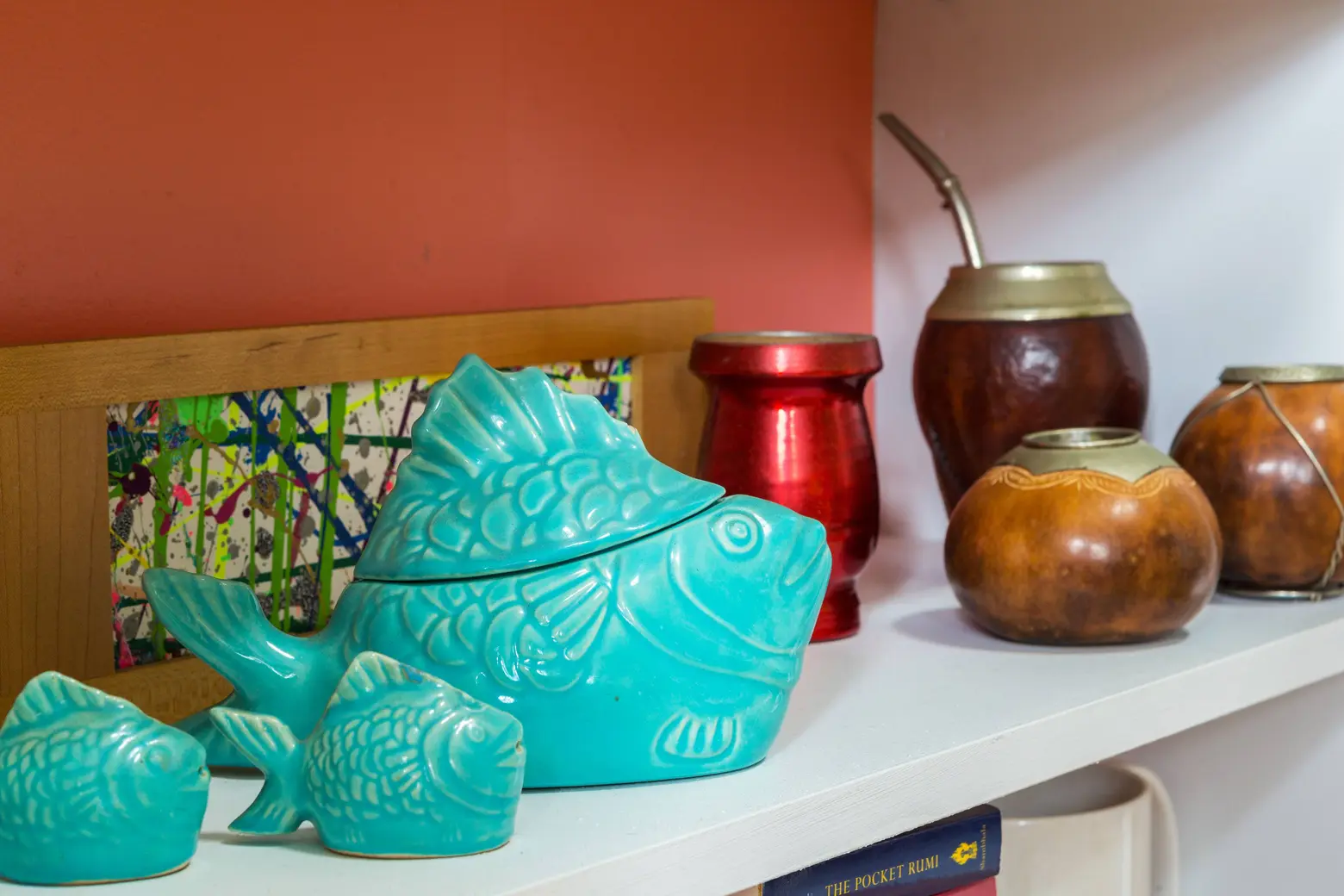 The large turquoise fish is a vintage "tuna salad server" from Chicken of the Sea, along with matching salt-and-pepper shakers. When canned tuna first came out, people were horrified, so this was a marketing tactic. To the right are John's mate gourds from Argentina. 
John, your family is from Argentina. Was it important for you to incorporate cultural Argentinian decor into the apartment?
John: It's definitely important. Argentina is part of my identity, my entire family is there and my parents travel back often. The way I like to add to the design of our home is to incorporate items that are pleasing, but ones that create a dialogue with guests. So, to incorporate my Argentine culture we have a large framed map of Buenos Aires on the wall. Aria bought me an original 1930s map of the country which we also have; we also have a traditional leather and cowhide Gaucho dress-belt used for Argentine rodeos on display, a large Facón, a traditional Gaucho knife, and we have a variety of maté gourds that we bought when I first brought Aria to Argentina to meet my family.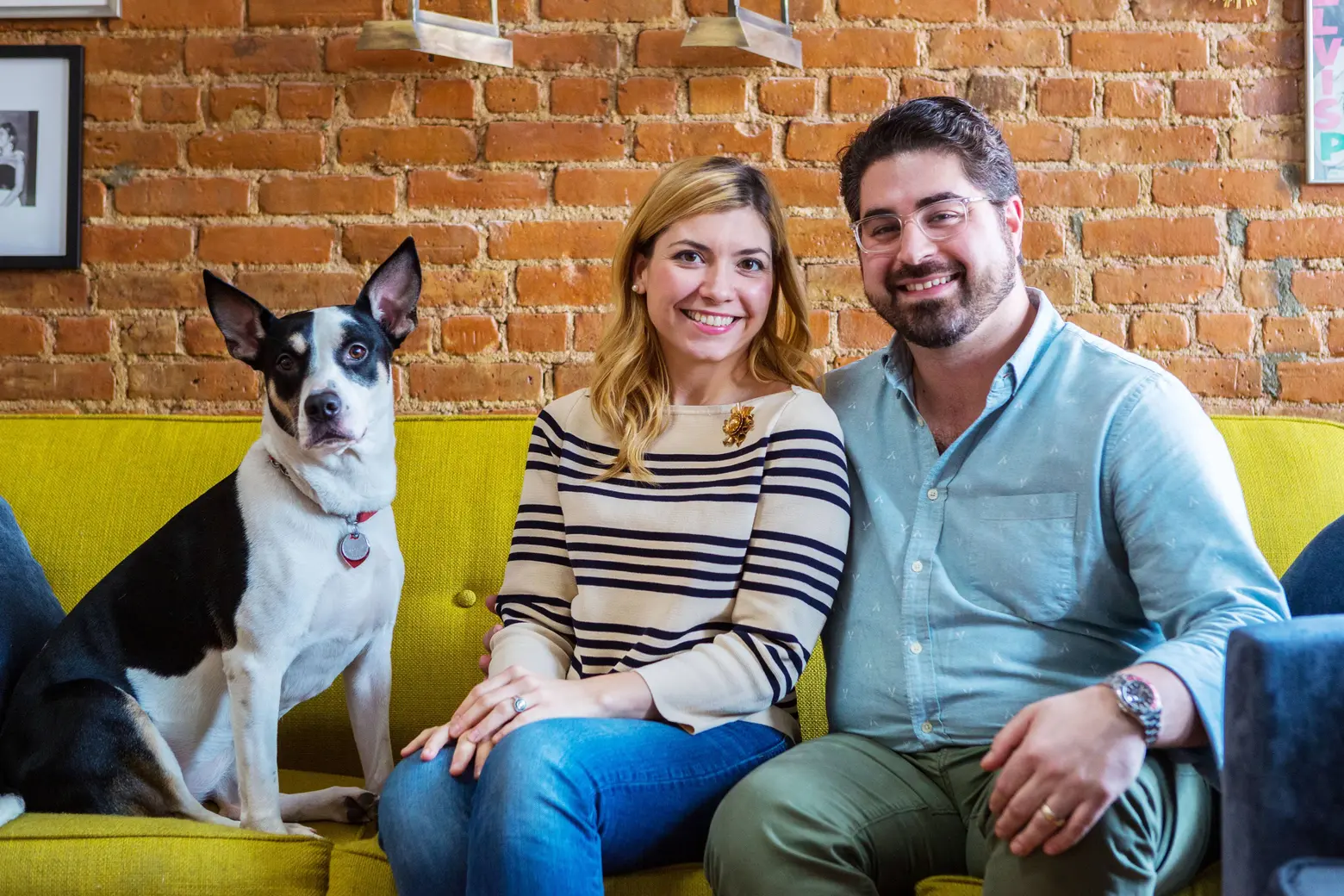 John and Aria have been married for three years (but dating for nearly a decade!). Funnily, they both rode horses in Central Park as kids at the horseback riding school that used to be there. 
What does a typical Sunday look like for you?
Aria: We (try) to relax, we take Ladybird on long walks, we love to cook, we really enjoy being in our apartment.
John: We also love wandering around and exploring the city. No matter what, there is always someplace new to discover in NYC, there's no place like it. We're lucky to call New York home. It's really a privilege.
+++
All photos taken by Kate Glicksberg exclusively for 6sqft. Photos are not to be reproduced without written permission from 6sqft.