NYC's third-priciest apartment ever just sold at 220 Central Park South for $92.7M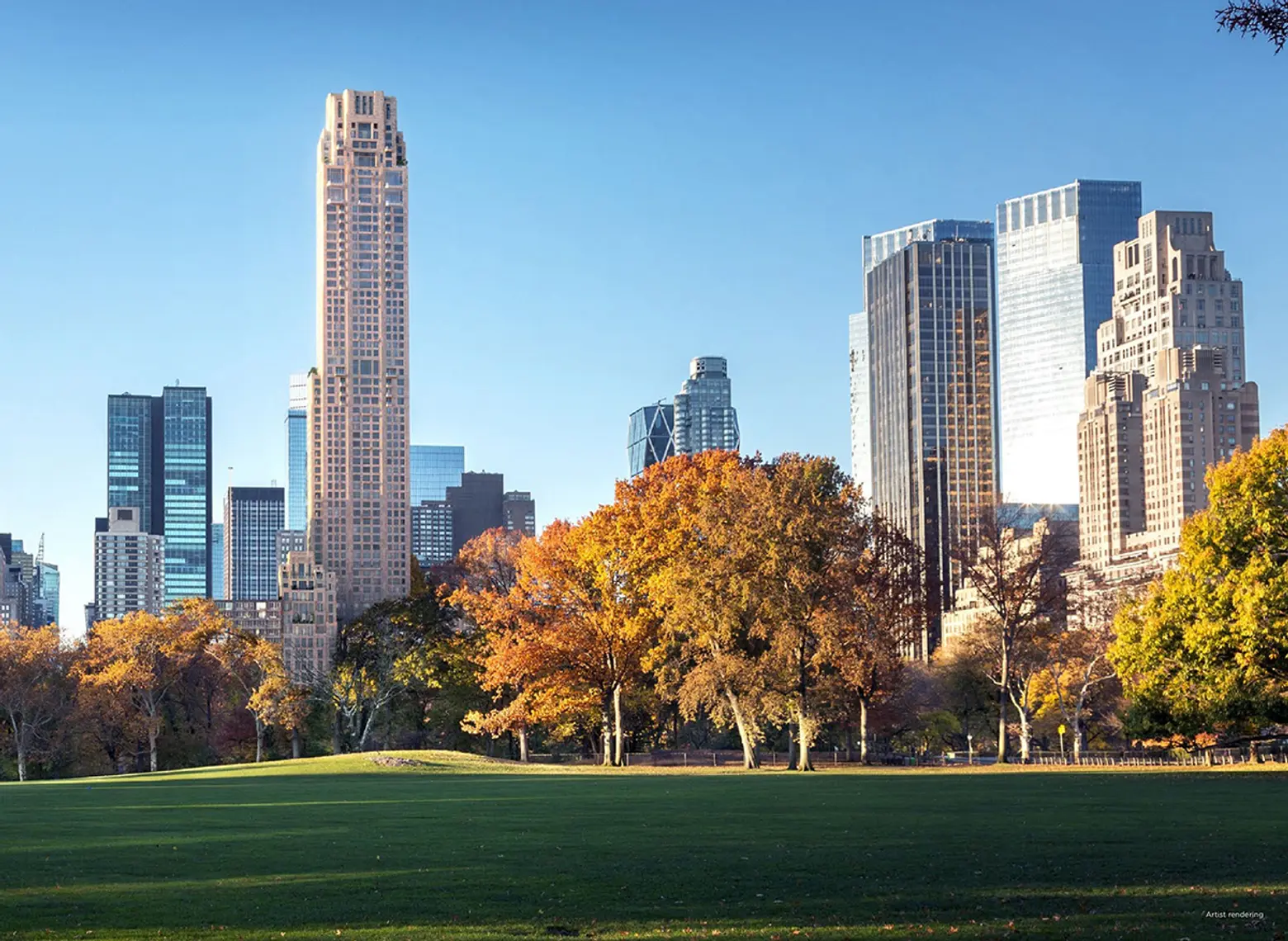 Via Vornado Realty Trust and Robert A.M. Stern Architects
Despite some trepidation about the luxury sales market, the year is finishing strong, at least near Billionaires' Row, which was just named the most expensive street in the entire world. As the NY Post first reported, property records filed today show a $92.7 million penthouse sale at 220 Central Park South, making it the third-most-expensive NYC sale ever, behind billionaire Ken Griffith's $238 million purchase also at 220 CPS in early 2019 and Michael Dell's $100 million buy at One57 in 2015. Though it was purchased by an anonymous LLC, the Wall Street Journal uncovered that billionaire hedge-funder Daniel Och is the buyer.
Last week, the Wall Street Journal revealed that a penthouse at Robert A.M. Stern's 220 Central Park South had sold for $100 million to an undisclosed buyer, but in their more recent article, they note that the $92.7 million transaction for penthouse 73 is the same one that actually closed for slightly less. "People familiar with the deal" disclosed to the Journal that Daniel Och is the buyer. He also closed on a smaller, 19th-floor apartment for just over $2 million. As per their sources, the Journal says that Och "recently relocated to South Florida to save on taxes and plans for this home to be a pied-a-terre."
In January, Sting dropped $66 million on another penthouse in the building; today, property records also showed two additional sales for $31 and $26.8 million, bringing the total number of sales to 60 out of the 117 units.
As 6sqft reported earlier today, nearby Billionaires' Row is the most expensive street in the entire world, with 41 closed transactions in the last five years that have sold for over $25 million, averaging $38.5 million. Central Park South took the third spot on the list with 32 such sales at an average of $44.9 million. To that end, 220 Central Park South surpassed $1 billion in sales this past September, and its average sales price makes it the city's most expensive condo building.
RELATED:
This story was updated on December 20, 2019, to reflect the additional information about the buyer's identity per the Wall Street Journal.