NYC's Museum of Chinese in America unveils new $118M building designed by Maya Lin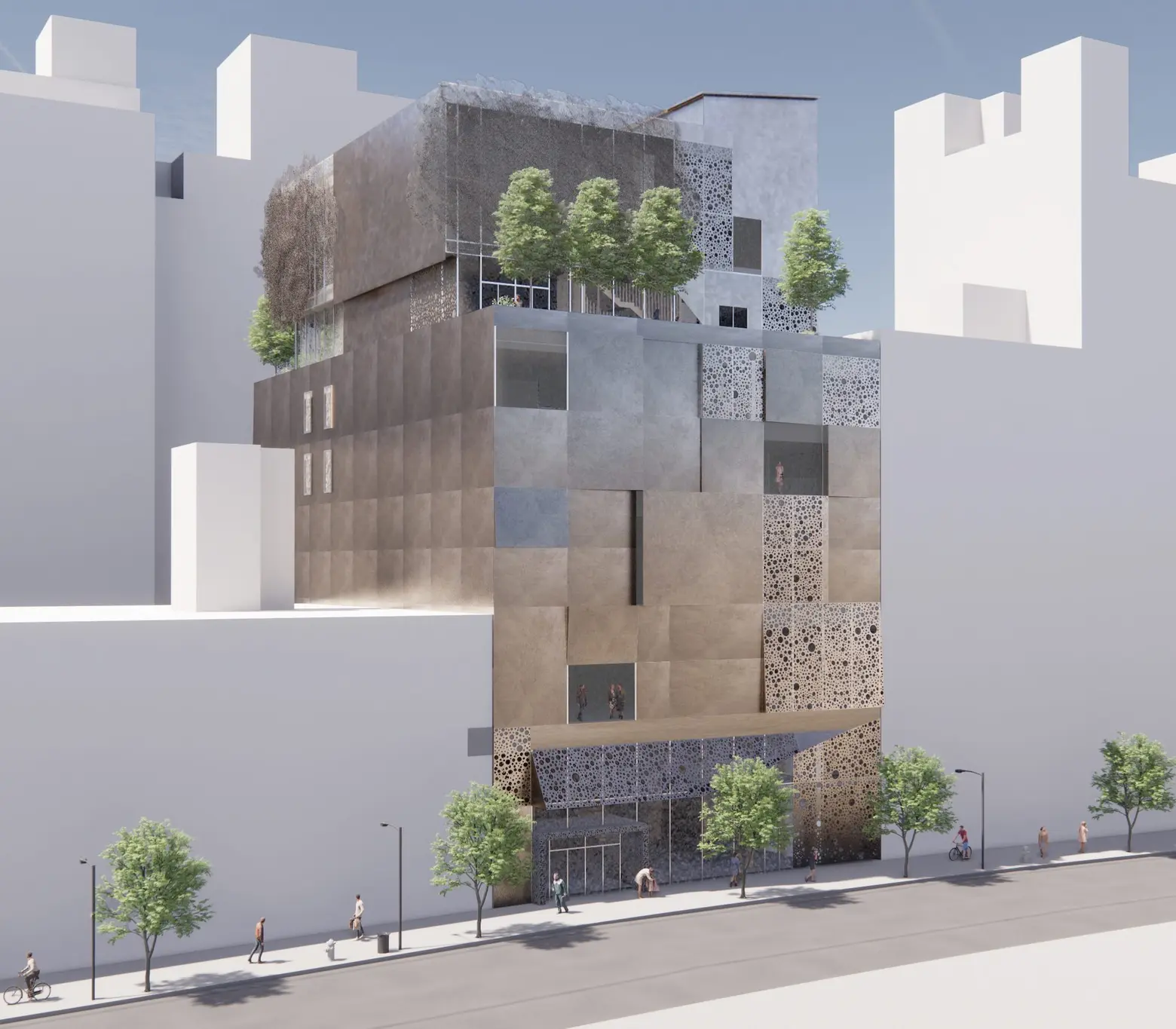 All renderings courtesy of Museum of Chinese in America/ © 2022 Maya Lin Studio with Bialosky New York
The Museum of Chinese in America on Friday unveiled plans for a new headquarters designed by renowned architect Maya Lin. The new nine-story museum, to rise on the site of MOCA's current Centre Street location in Chinatown, will expand its current footprint from 12,000 square feet to about 68,000 square feet. Lin's design involves a puzzle-like exterior made of metal and perforated panels, a two-story lecture hall, a light-filled atrium, community space, and exhibitions dedicated to the history of the Chinese diaspora in the U.S. As Bloomberg first reported, the new museum will cost $118 million and is expected to open in 2025.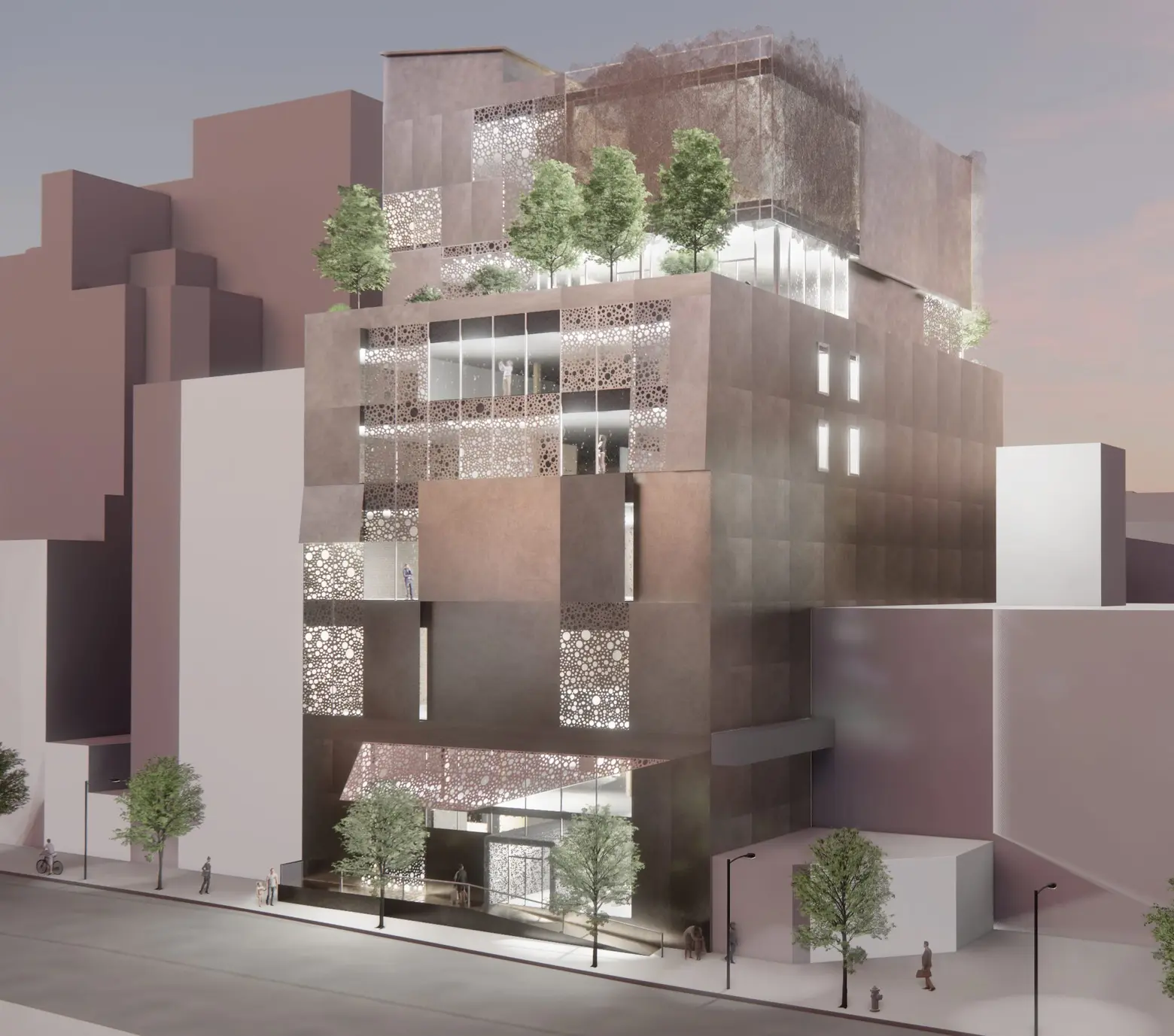 Lin, who designed the Vietnam Veterans Memorial in Washington, D.C., was inspired by both the tangram, an ancient Chinese mathematical puzzle, and vertical Chinese landscape paintings, according to a press release. The facade's shifting and perforated panels will allow for sunlight to "strategically enter the exhibition spaces" with light from larger openings illuminating workspaces and classrooms.
"This is a true passion project for me," Lin said. "As a child of Chinese immigrants, I have throughout my life experienced firsthand anti-Asian discrimination and hostility. I've been drawn to MOCA and its critical mission for years, and am incredibly moved to be able to present our design for its new headquarters – a place that will welcome, teach and inspire visitors from around the world."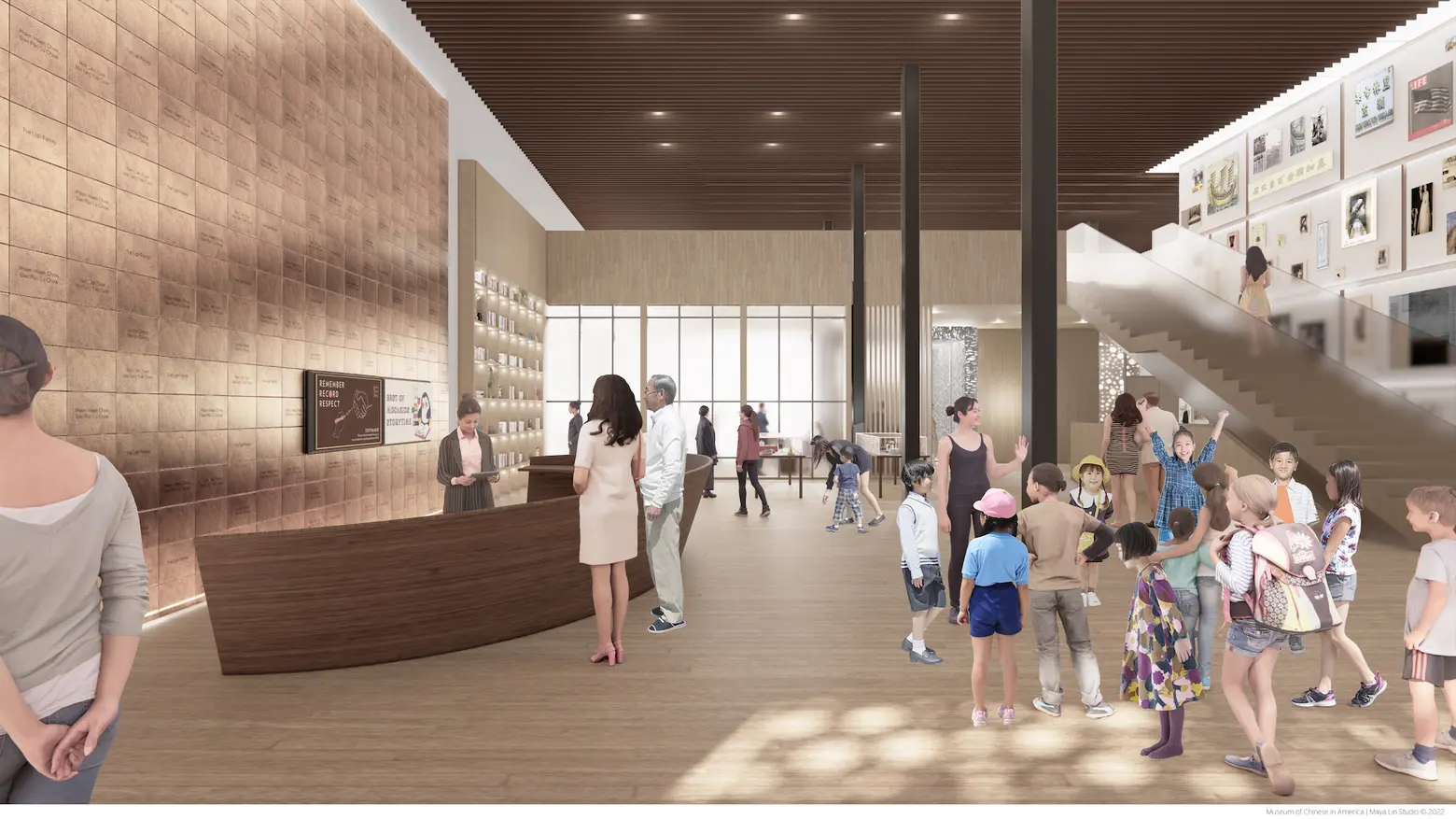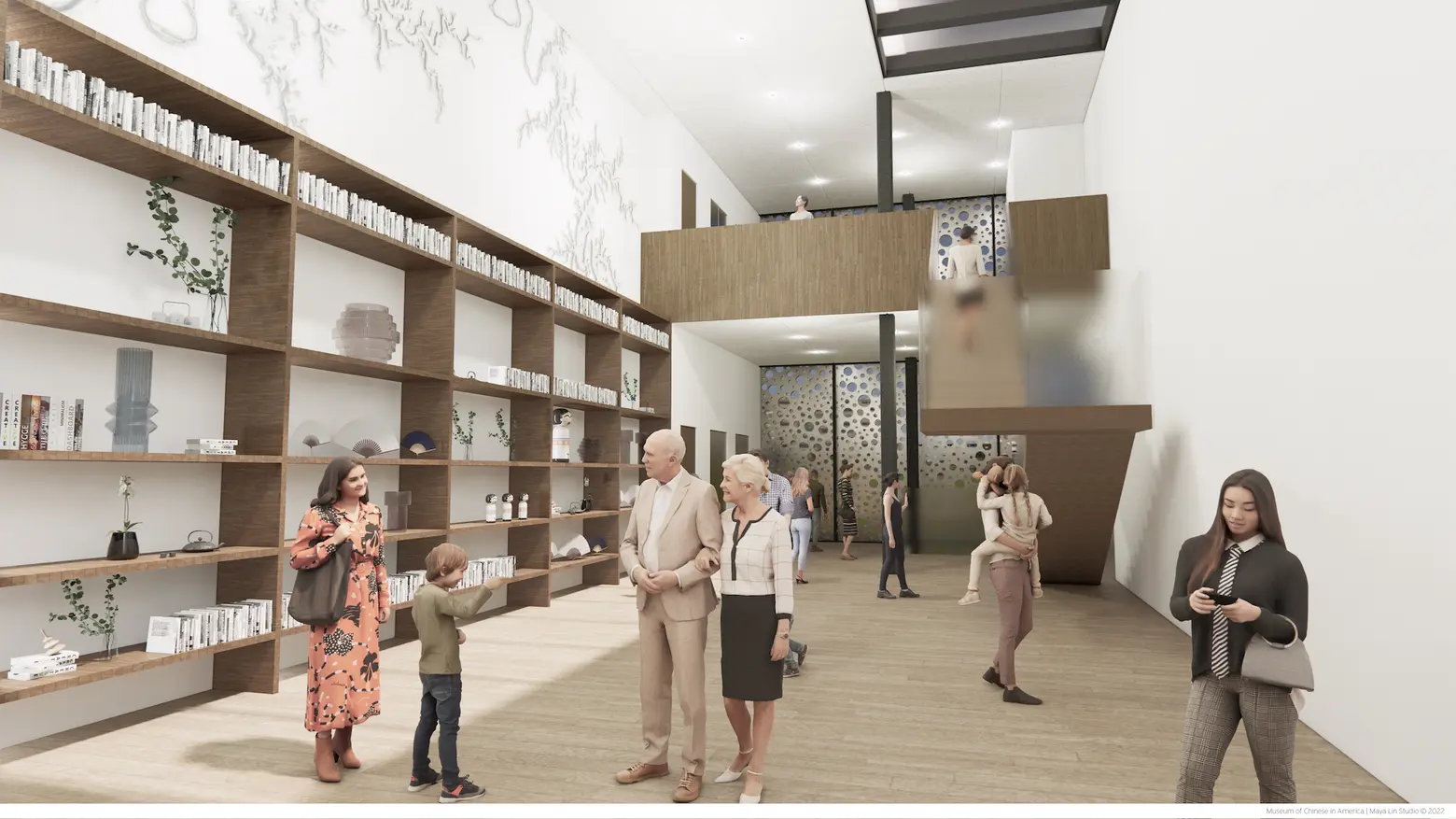 The new building will feature a center for research and genealogy, a theater, classrooms, a cooking demonstration kitchen, a canteen, and outdoor gathering spaces. According to Bloomberg, the museum's permanent collection will be located on the third and fourth floors, with a temporary exhibition space on the fifth floor, an event space with a landscaped terrace on the seventh, and a double-height theater that cantilevers out on the eighth floor.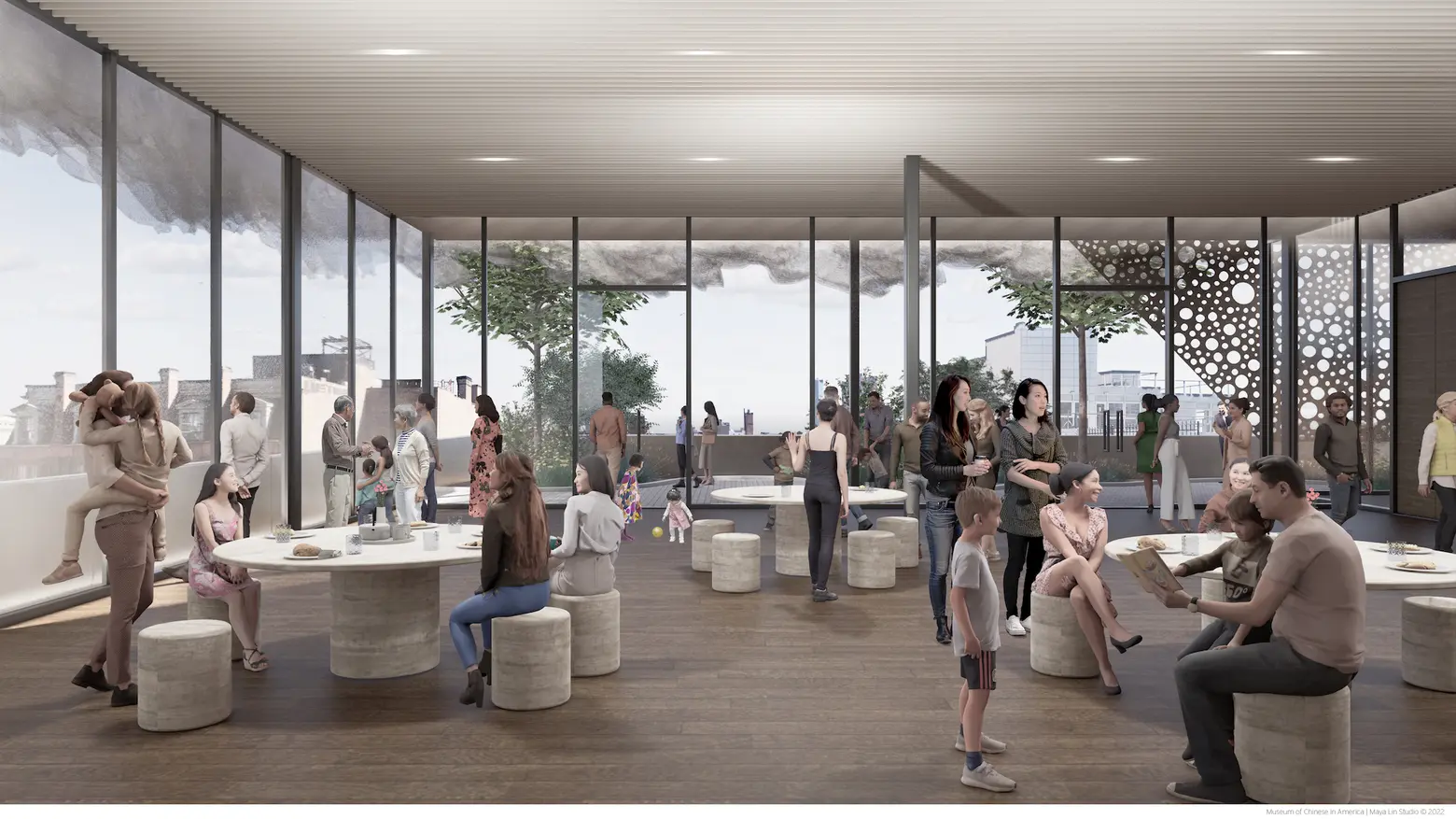 Exhibitions will be designed in collaboration between Lin and Ralph Appelbaum Associates, the firm behind the recently opened Halls of Gems and Minerals at the American Museum of Natural History.
A spokesperson for the museum said the institution will close in late 2023 for construction, with the new building opening in 2025.
MOCA got its start 40 years ago as a grassroots nonprofit and has since grown into a nationally-recognized museum dedicated to the Chinese-American experience. The museum has rented space at 215 Centre Street since 2009 in a building redesigned by Lin.
The organization's research offices and archives were located at 70 Mulberry Street, where a five-alarm fire broke out in January 2020. While much of its collection was salvaged following the fire, the museum also spent time last year gathering new artifacts and stories from individuals and institutions around the country.
The new building is part of the museum's longtime plan for a permanent home. MOCA is currently paying $600,000 per year in rent, according to Bloomberg. After the museum struggled for years to raise enough funding, the city's Department of Cultural Affairs has pledged roughly $40 million, which will go towards buying the current building from the current owner for $50 million. Bloomberg reports that MOCA needs to raise an additional $62 million; the projected cost of $118 million includes the cost of buying the building.
Nancy Yao Maasbach, president of MOCA, said she hopes the new building makes a statement during a period of time when the number of anti-Asian hate crimes has reached unprecedented levels across the country.
"Amid national waves of anti-Chinese American ignorance and fraught U.S.-China relations, there has perhaps been no more critical moment in recent memory for MOCA to serve as a hub for this important yet tragically overlooked history of the Chinese diaspora in the United States," Massbach said in a statement.
"The history of discrimination and racism toward Chinese Americans and Asian American Pacific Islanders in the U.S. dates back to the first immigrants from Asia. The space, at long last, will create the nexus between these missing elements in U.S. history and public access at the same time MOCA will celebrate the journeys and successes."
RELATED: 
All renderings courtesy of Museum of Chinese in America/ © 2022 Maya Lin Studio with Bialosky New York