NYC's first all-electric skyscraper tops out in Downtown Brooklyn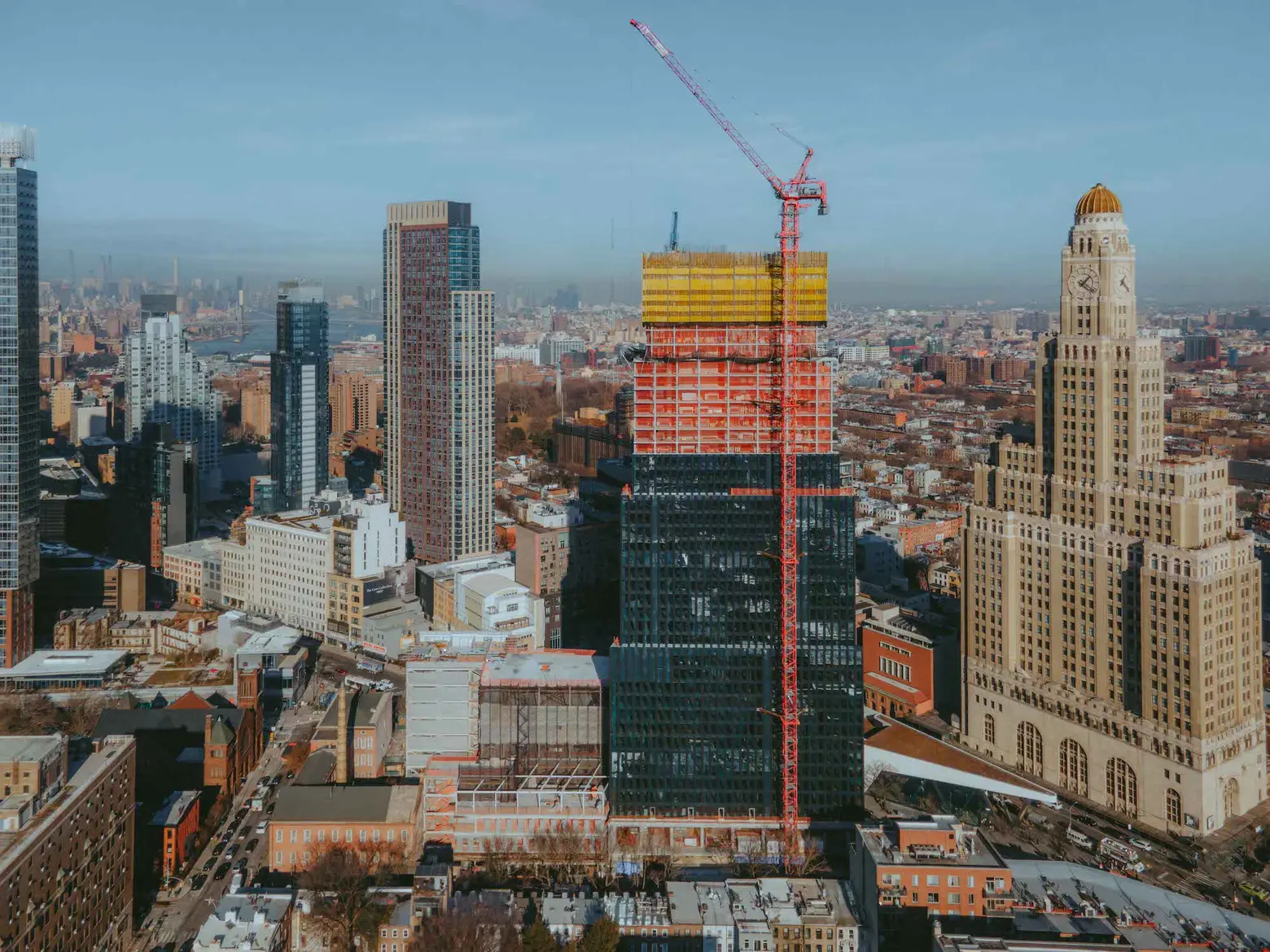 Image courtesy of Selvon Ramsawak
New York City's first fully electric skyscraper topped out in Downtown Brooklyn this week. The 44-story building 100 Flatbush is part of the first phase of Alloy Block, a mixed-use five-building development designed by Alloy Development to have 850 apartments, 200,000 square feet of office space, and two public schools. 100 Flatbush will contain 441 mixed-income residences, 396 of which will be market-rate rentals and 45 separate affordable residences, and 30,000 square feet of retail space.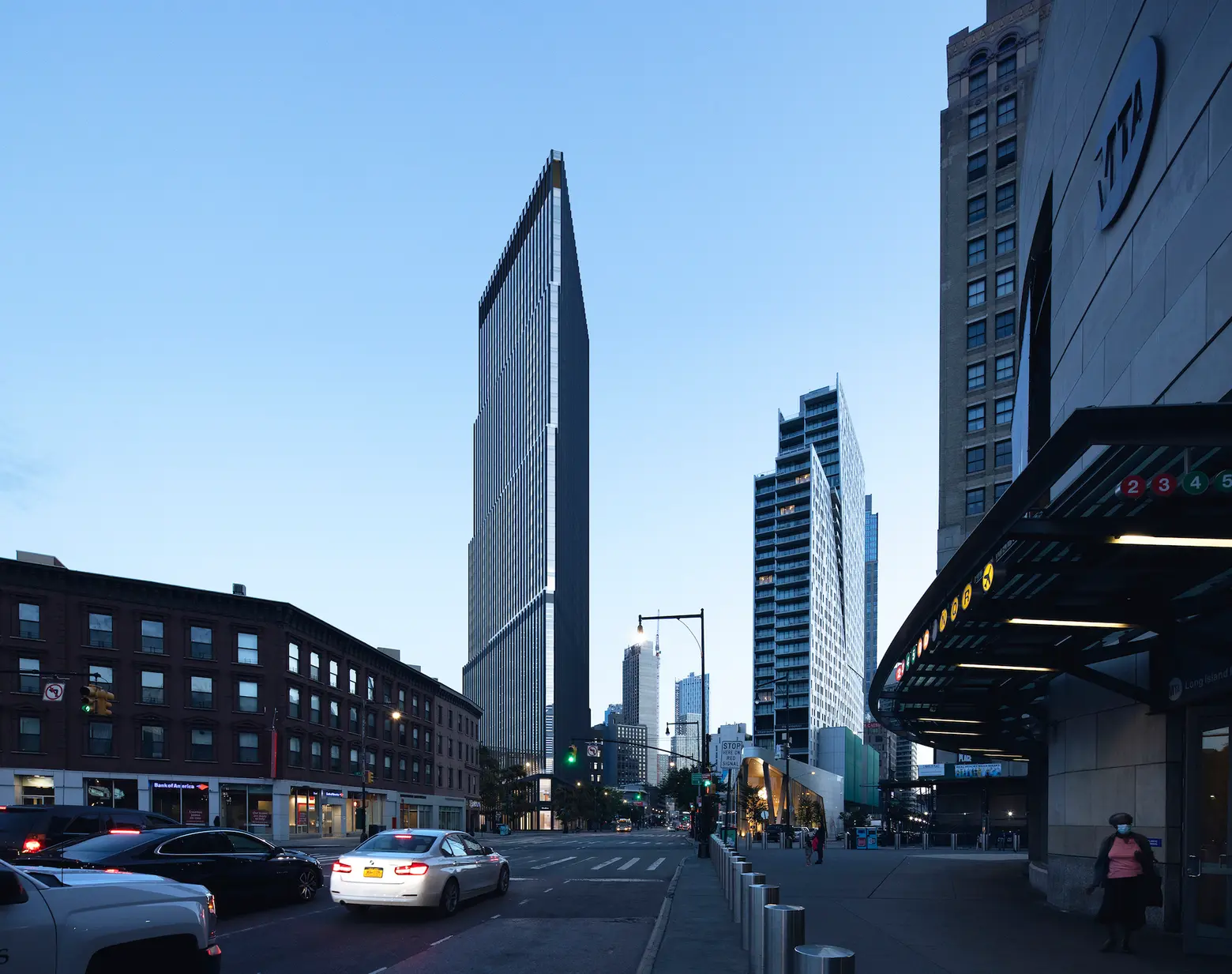 Rendering: Alloy Development
Functions of the skyscraper that normally would run on gas will be run off electricity instead. Apartments will have sustainable features like induction cooktops and heat pump dryers. With these features, 100 Flatbush aims to be carbon neutral upon its completion.
Both of the public schools, the Khalil Gibran International Academy (KGIA) and a new public elementary school, are designed by the Architecture Research Office. KGIA is NYC's first Arabic language-focused high school and with its newfound space within Alloy Block, will be able to accommodate more students. The school will also include a new cafeteria, gym, and library. The schools will be the first Passive House-certified public schools in the city.
Alloy Development is pursuing a partnership with a community solar developer that will have 100 Flatbush run on 100 percent local renewable energy and comply with the NYC Department of Buildings rules regarding Local Law 97. Passed in 2019, LL97 requires building owners of more than 25,000 square feet to cap their property's greenhouse emissions or face fines.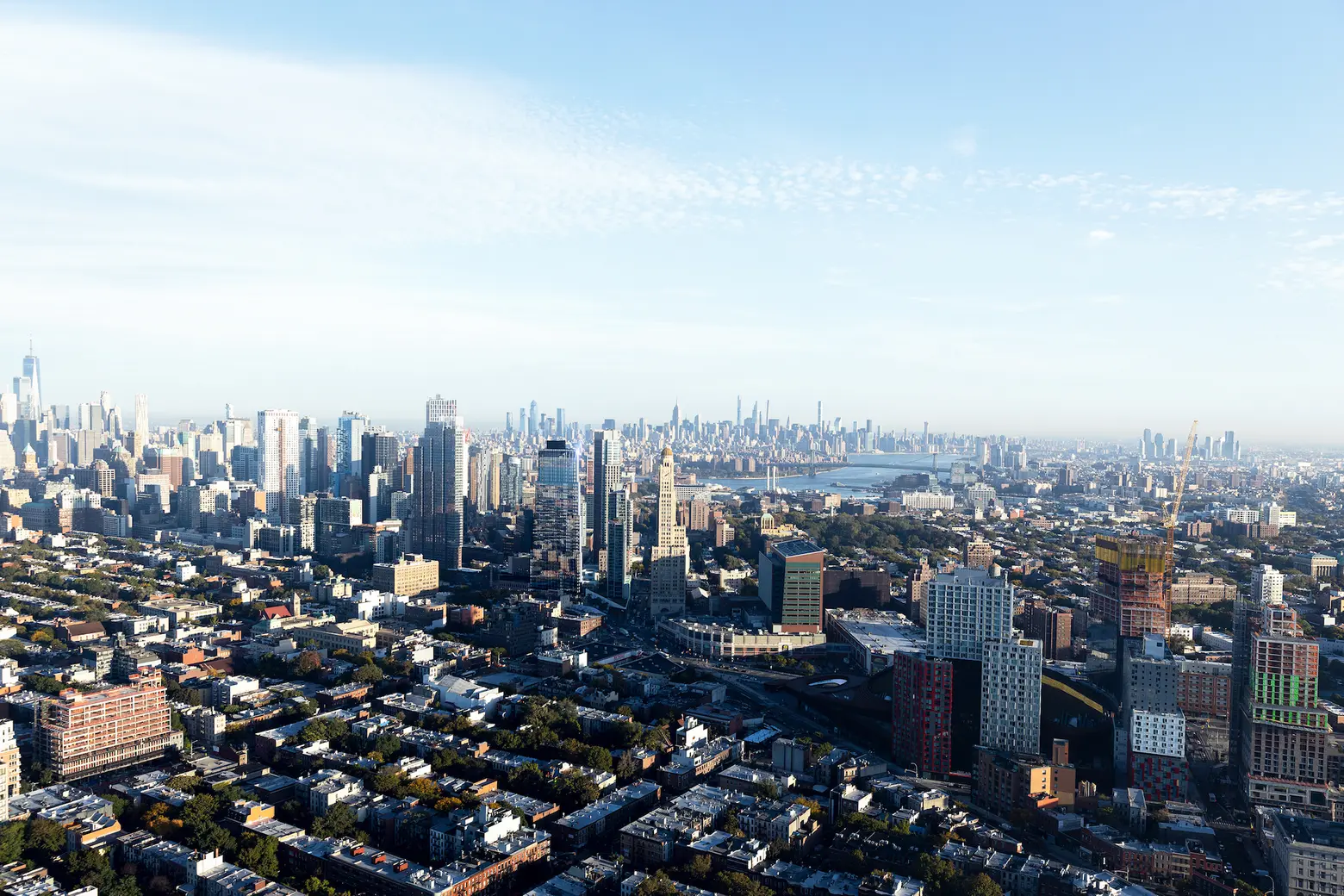 Rendering: Alloy Development
"The Alloy Block is a transformative vision for Downtown Brooklyn and will set a new standard for sustainable development for New York," Jared Della Valle, CEO of Alloy, said.
"As the city's first fully electrified skyscraper, 100 Flatbush not only serves as a model for sustainable urban development but it also delivers for the community by providing much-needed housing, along with retail along Flatbush Avenue. We thank our construction team for its hard work toward reaching this exciting milestone."
Alloy Block was first approved by the NYC Council in September 2018, after a negotiation that lowered the heights of its two tallest buildings from 986 to 840 feet, and 560 to 510 feet, respectively. As part of the agreement, the number of units within the complex was cut from 900 to 870.
Construction on the first phase of Alloy Block began in July 2021, which included the 44-story 100 Flatbush building, retail space, and the two public schools.
The project's second phase will include a mixed-use residential, office, and retail tower, which will also have a space for a new cultural institution.
The Urban Atelier Group is leading the construction of 100 Flatbush, expected to be completed by 2024.
RELATED: