NYC Council committee approves 80 Flatbush project in Downtown Brooklyn after height chop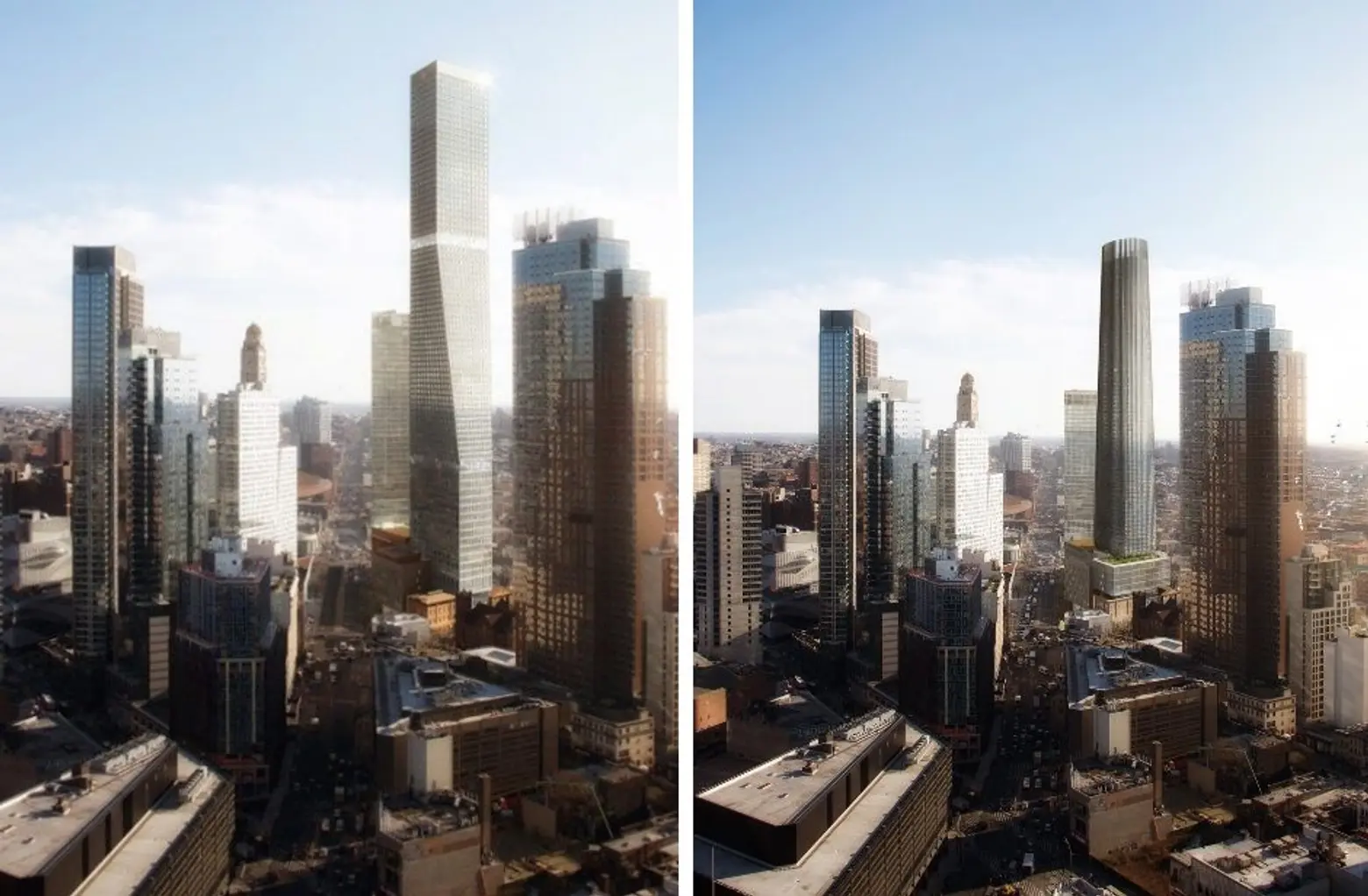 Rendering of the 986-foot tower (left) and revised 840-foot tower (right) via Alloy Development and Luxigon
The New York City Council's subcommittee on zoning voted unanimously Thursday to approve the rezoning application that allows for the construction of 80 Flatbush, a five-building complex planned for Downtown Brooklyn. Following negotiations between Alloy Development and Council Member Stephen Levin, the developers agreed to cut the height of two buildings, one from 986 to 840 feet and another from 560 to 510 feet (h/t Brooklyn Paper). New renderings reveal not only smaller buildings but an updated design as well. With this key approval, the project will most likely get support from the full City Council followed by Mayor Bill de Blasio.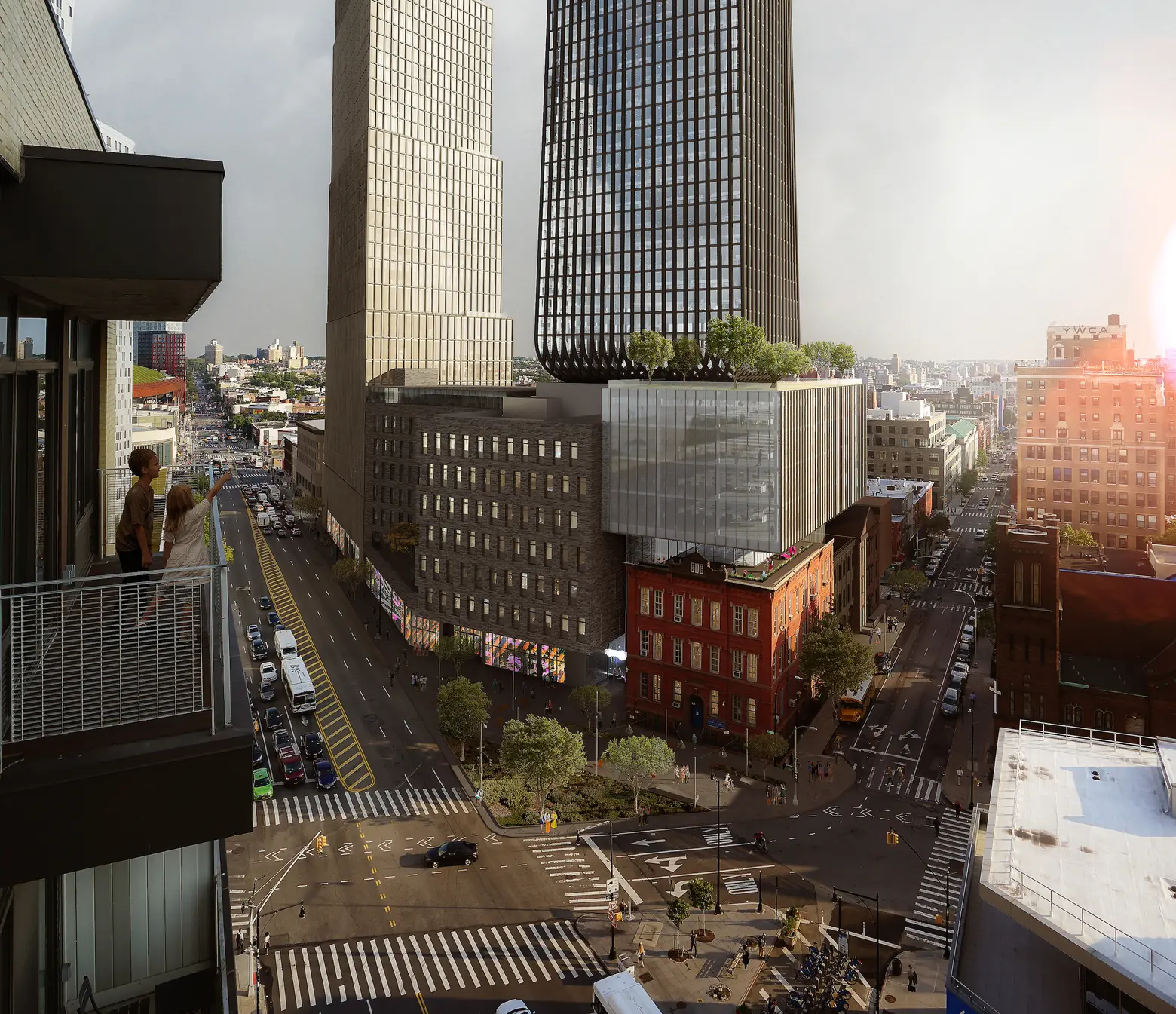 "It gets the community benefit, while also being responsive to concerns about density and height," Levin told the Brooklyn Paper.
The number of apartments was also reduced to 870 from 900 units, but as the original plan stipulated, 200 of them remain permanently affordable. The developers also agreed to reduce the floor area ratio (FAR) of the complex from 18 to 15.75.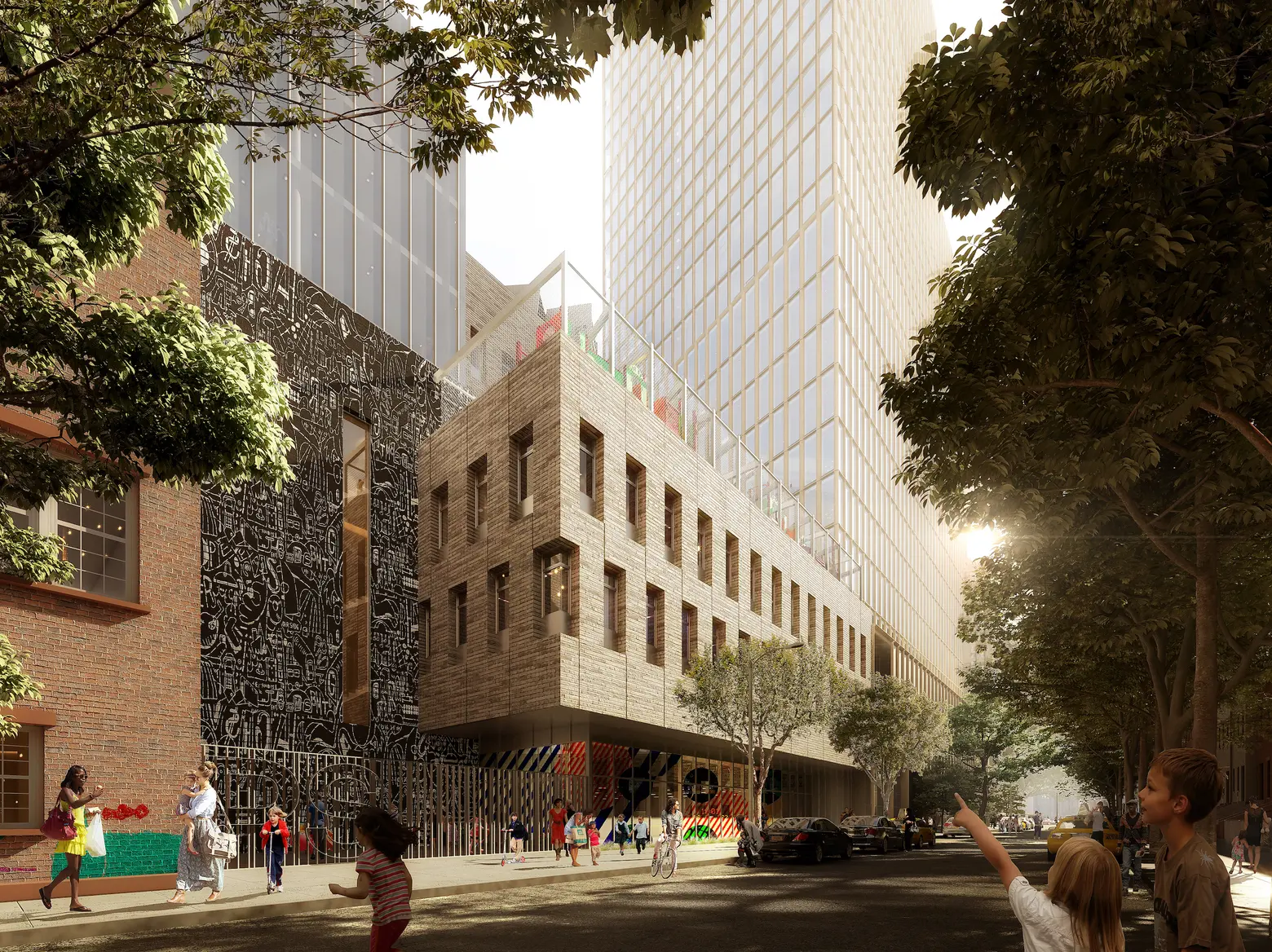 "We're proud that 80 Flatbush will deliver so many critically needed public benefits and help address the housing crisis," Jared Della Valle, the CEO of Alloy, said in a statement.
"We hope the broad support we received for building a dense project in a transit-rich area sends a strong message across the five boroughs: amid an ongoing housing crisis, New York City needs to be progressive and seize every opportunity for growth in locations that can accommodate it," he said.
The complex will bring a cultural facility, office space and new retail. Notably, 80 Flatbush also includes the addition of two public schools, designed by Architecture Research Office. One will replace and expand the Khalil Gibran International Academy, and the second elementary school, planned to have 350 seats, will serve the surrounding community.
The project involves the historic preservation of two structures at 362 Schermerhorn, one built in the 1860s and the second in the 1890s. Although neither are protected by landmark status, Alloy plans to preserve and adaptively reuse both buildings, with one serving as the cultural center.
The schools will be built during the first phase of construction, expected to kick off sometime next year. The entire project is scheduled to finish in 2025.
[Via Brooklyn Paper]
RELATED:
Renderings courtesy of Alloy Development and Luxigon