New Yorker Spotlight: Al Diaz on NYC Street Art and Working with Jean-Michel Basquiat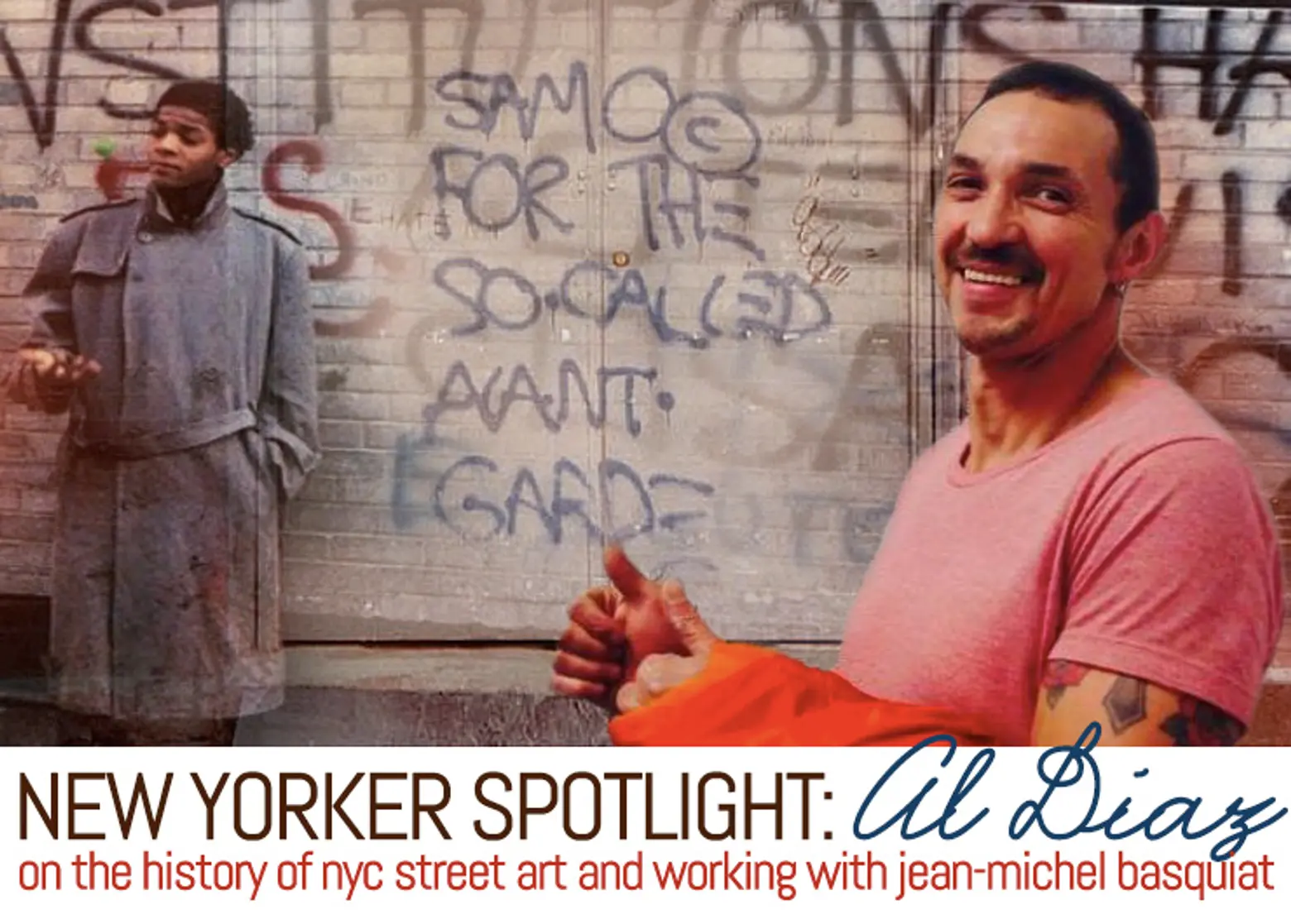 Artist Al Diaz is often asked to speak at panel discussions about Jean-Michel Basquiat or to lend his expertise for new exhibits about the world-famous artist. But Diaz was just as much a part of the downtown street art movement as his buddy Basquiat; in fact, the two got involved with the art form together. They met in high school and created the tag SAMO©, which appeared throughout lower Manhattan between 1977 and 1979 and put them on the map. They were first-generation NYC subway graffiti artists, and Diaz later became a text-oriented street artist. Today, you'll see his hand in the subway again with his WET PAINT series, which uses individually-cut-out letters to create "clever, surreal and sometimes poignant anagrams."
We recently chatted with Al Diaz to get the inside scoop on street art history in New York City, what it was like to work with Basquiat, and how he and his art work are much more than a shadow of his famous friend.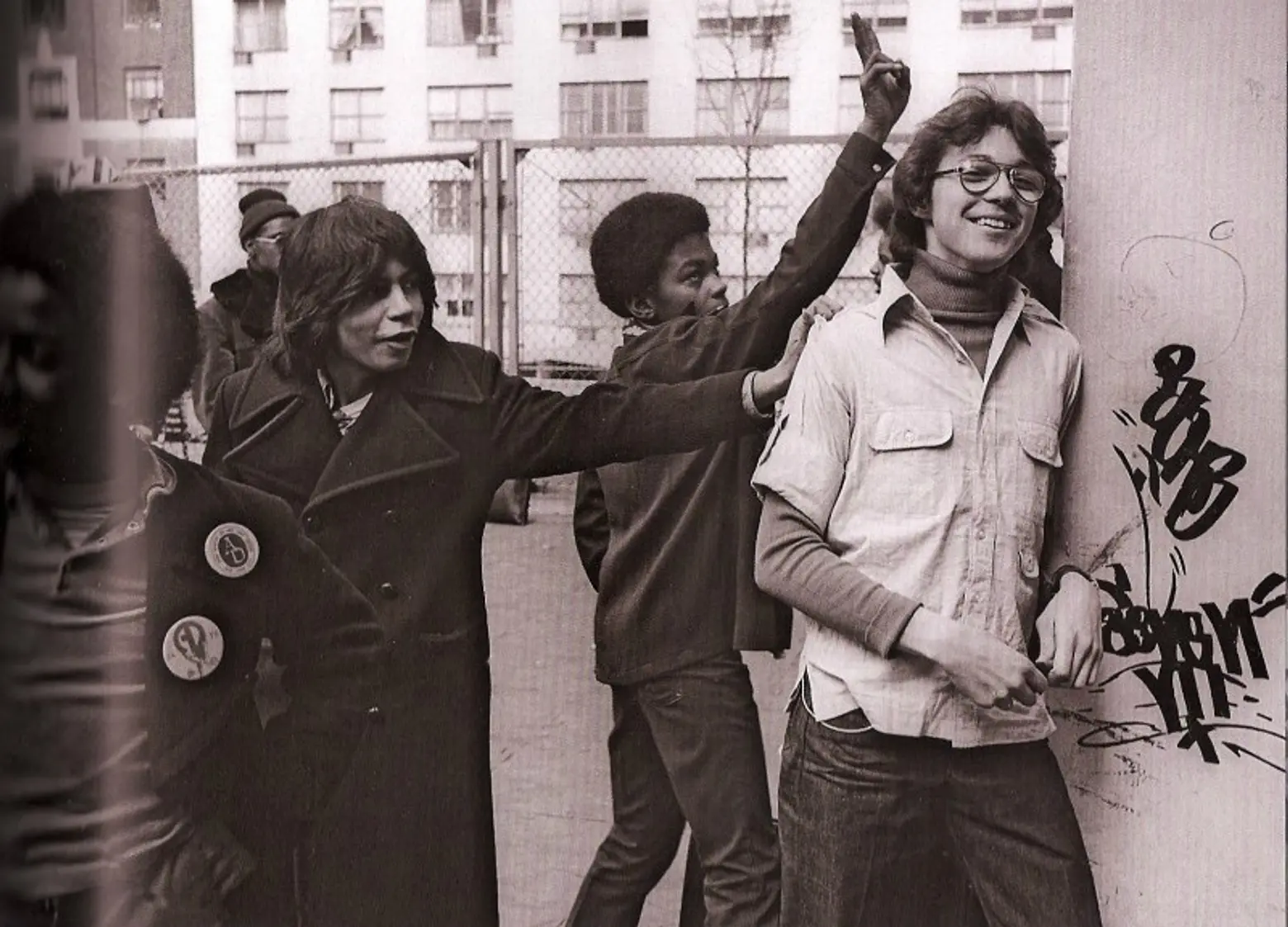 Al Diaz (far right) and friends in high school circa 1975
Let's start at the beginning. You grew up on the Lower East Side in the Jacob Riis public housing projects. What was it like there in the '60s?
The LES was not exactly a "safe" neighborhood during the '60s—I once overheard one of my neighbors shoot and kill her husband when I was five—but it was still somewhat tolerable. There was a variety of social programs available, such as day care/day camps, after-school centers, free art classes, a Boy's Club, etc. An outdoor amphitheater was built in the center of the Riis Houses in the late '60s, which featured big name acts like James Brown and Ray Barretto, to name a couple. It was a "poor" area but not "impoverished."
By the early '70s the city was in financial demise, and it took its toll on the poorer areas throughout the city. Drugs, slums, poverty, and crime went out of control. In 1974 my parents moved us to Kensington, Brooklyn.
How did you first get involved in the subway graffiti movement in the 1970s? What was it like to be part of this revolutionary community?
I was first exposed to graffiti in 1971 through my cousin Gilbert, who grew up in Washington Heights—arguably the spawning ground for NYC graffiti culture. I met Gilbert's friends who were doing it and was very impressed with the whole aesthetic. These guys, who were a few years older than myself, had a style of talking, dressing, and being, and I wanted to be part of it. I was 12 years old, not very good at sports, not quite "gang" material, so I felt very much at home with writing on walls. It was more of a sport than anything back then. I had the name "BOMB," given to me by my childhood friend Mickey Kansco after panicking and pushing him into a bush, during a game of Ringolevio. My career as an active graffiti artist lasted about six years. I made a fairly strong name for myself in both Manhattan and Brooklyn. I was mostly known for my "handstyle" or "tag," as opposed to major "pieces" (i.e. BLADE, DONDI, LEE) or sheer volume (IZ ,CLIFF 159, IN).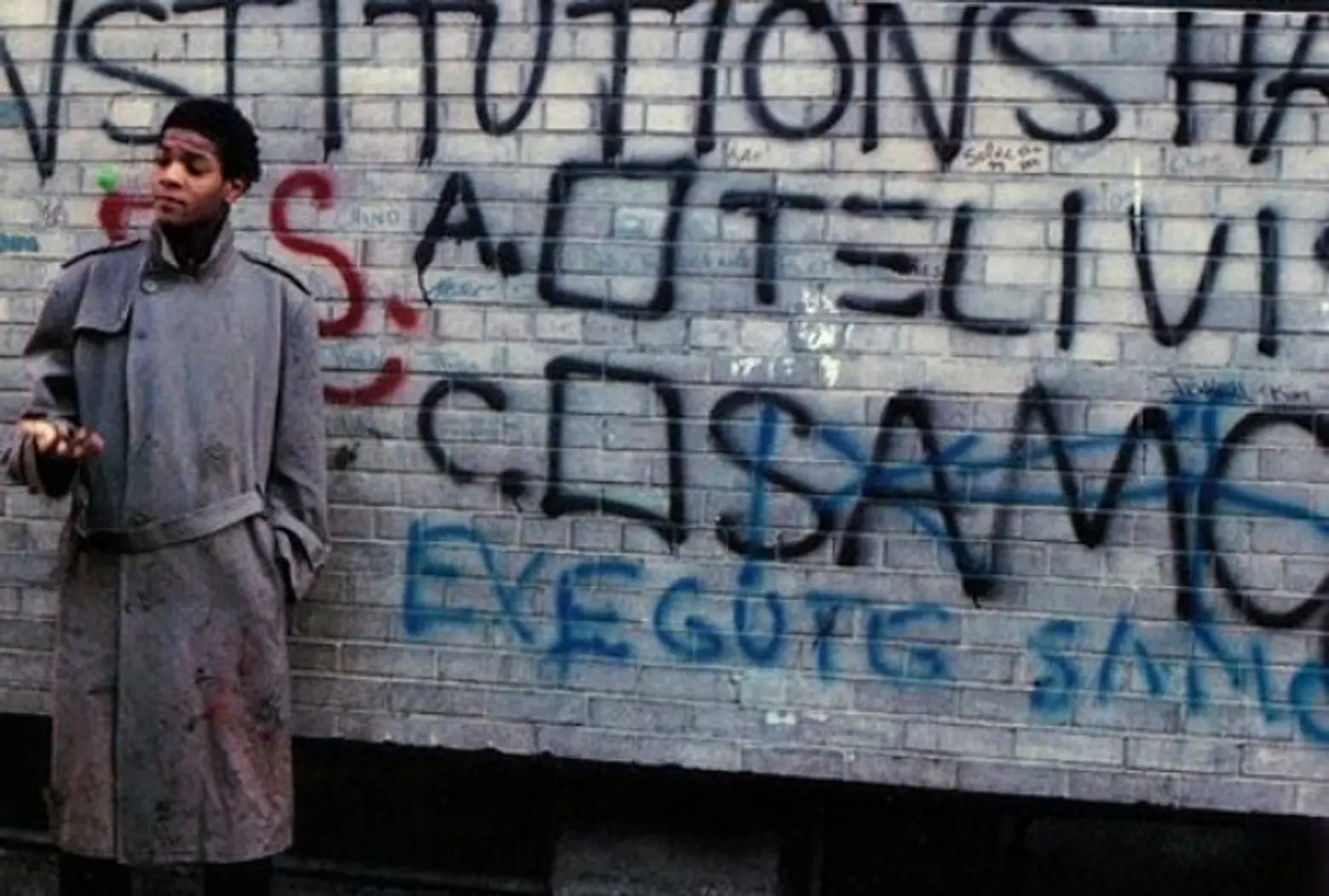 Jean-Michel Basquiat standing in front of a SAMO© tag
You met Jean-Michel Basquiat in high school. What was he like back then, and why did you two hit it off?
I first met Jean-Michel Basquiat while attending City-as-a-School when it was located in Brooklyn Heights. Jean was a bit awkward around graffiti writers and skaters, but had sense of style and was very clever. He often wore a beret and held his pants up with rainbow suspenders—it was the '70s. He was very independent; he'd come and go without much hello/goodbye. He smoked a good deal of weed and was quite funny and a smart ass. We shared tastes in music and art and were both popular in our separate circles.
In retrospect, I see that we also had a "thing" for language. We enjoyed speaking Spanglish, playing with words, and inventing our own slang. We would eventually start a school newspaper and pretty much run it as we wanted. It was through this project that SAMO© became a brand. What started as a private joke—SAMe Old shit—would end up as a satirical article Jean wrote about a "fills all the needs" religion. It would eventually become a vehicle for us to express our general dissatisfaction with the world we lived in. It was a logo to sign our messages. SAMO©… AS AN END 2 MASS PRODUCED INDIVIDUALITY & MEDIA CONTROLLED FADS…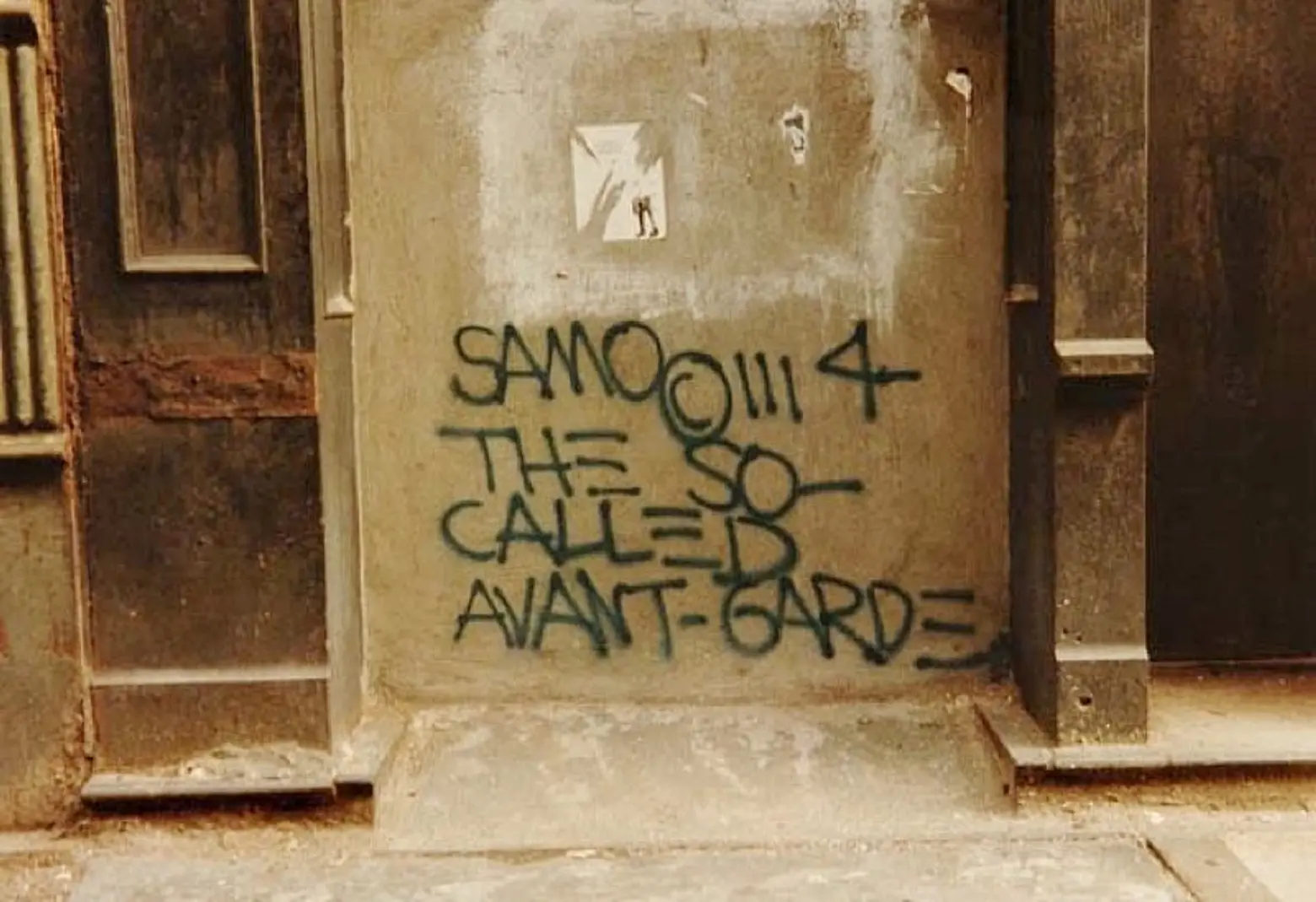 You really made it big with SAMO©. Can you tell us a bit about how it transformed into a celebrated piece of culture, and why you think it resonated with the neighborhoods of Soho and the East Village?
As far as I am concerned, SAMO© is not and never was "street art." It was graffiti in the Greco/Roman tradition—commentary as opposed to one's name. The art element is merely the fact that the art world was quite often the target. During our peak, there was a group of guys our age who were hanging actual oil paintings around Soho. They called themselves AVANT. Very shortly after we parted ways, Richard Hambleton's "body outlines" began to appear throughout downtown. And thus street art was born or reborn or made visible or whatever.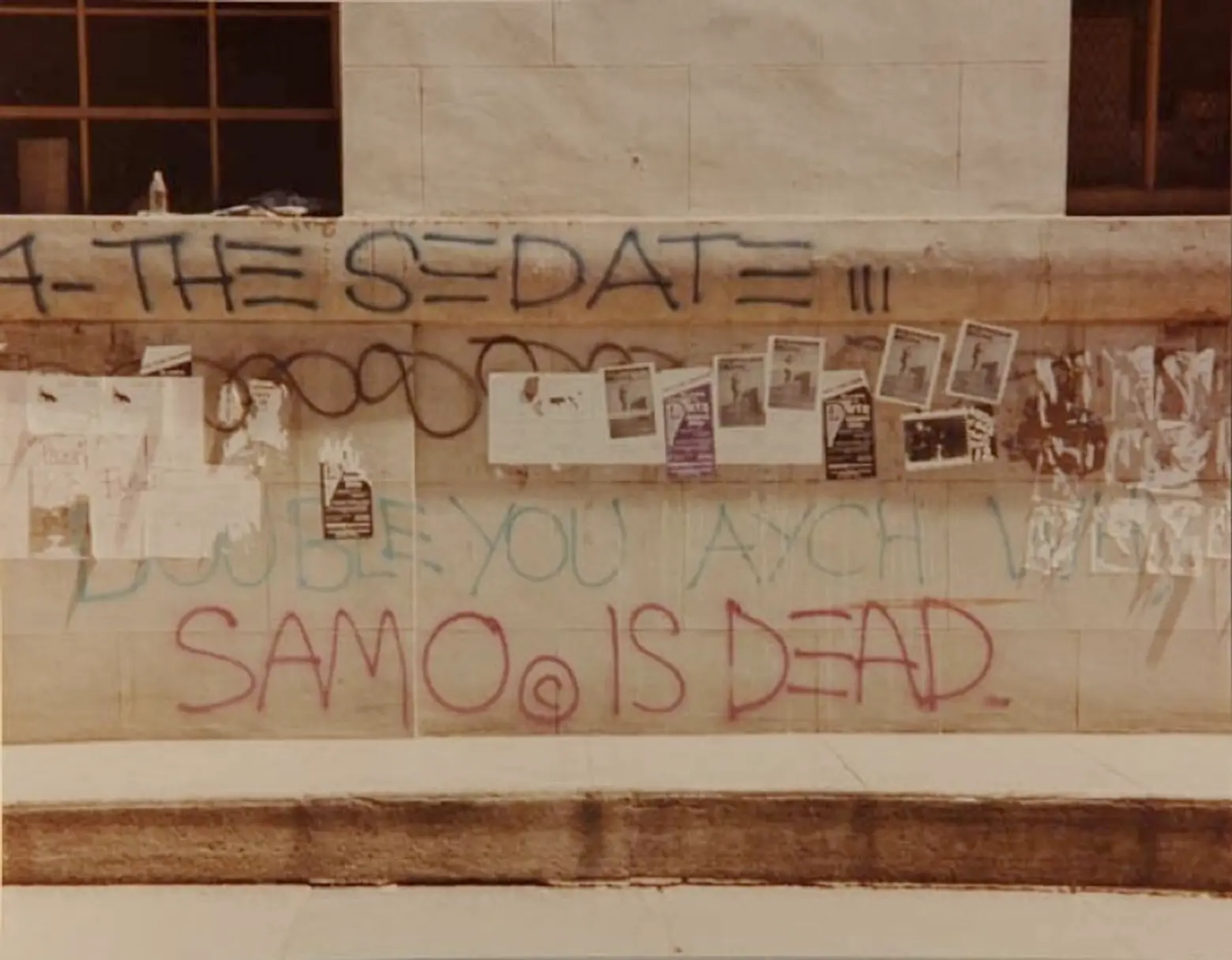 Basquiat was very open about being one of the faces behind SAMO. He was also quite vocal about making a break from the tag, writing "SAMO© IS DEAD" at one point. This is often attributed to his rising fame. Do you agree?
The end of our collaboration followed shortly after the Village Voice published an interview with us in December 1978. We had a number of disagreements and reasons for being angry with each other. The Voice article only served to inflate our young egos. There was a brick wall between us, so we moved on to new things. SAMO© IS DEAD only appeared a few times, and this was long before Jean's rise to fame. The media seems to love that one. Jean very soon began doing his stream-of-consciousness writings—Jimmy Best, Build a Fort, Plush Safe He Think. I immersed myself in making and playing percussion instruments.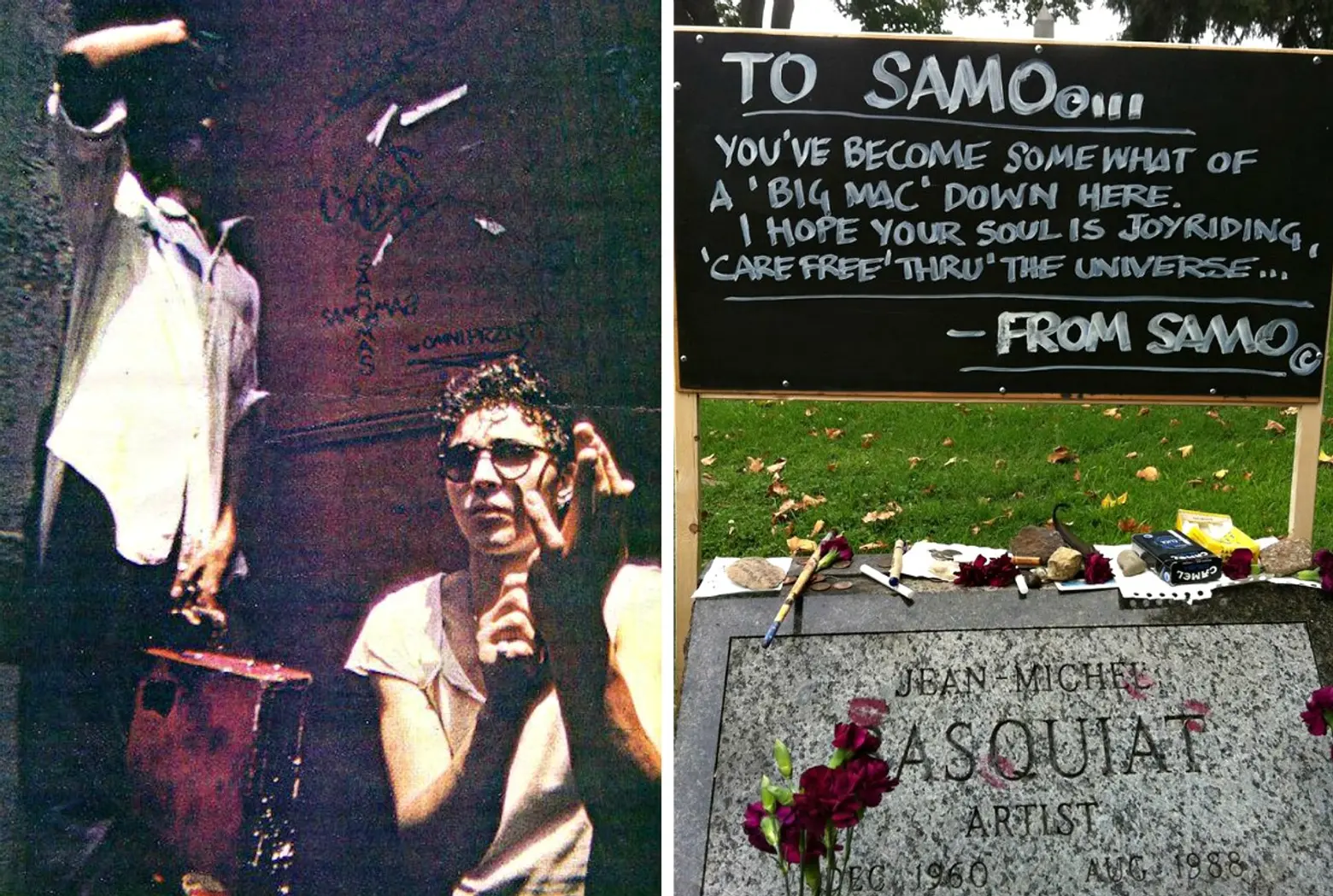 Basquiat and Diaz circa 1978 (L); Diaz's tribute and visit to Basquiat's grave in 2014, 26 years after his death (R)
After the rise and fall of SAMO, you faced some hard times and struggled with addiction. You even moved to Puerto Rico for several years in the '90s and relapsed when you came back to New York. What was it that eventually inspired you to turn things around?
I had been drinking and abusing drugs from a very young age. In 1996, I left New York for Puerto Rico to try and change my life. My parents afforded me a chance to build myself a small house and live there, help oversee the construction of their house, and develop new and healthier habits. I stayed down there for two and a half years, studying electricity, making alters from exotic woods, and working on several construction projects. I have worked as a carpenter since I was 19.
In 1999, I felt I was ready to go back to New York. A year later, I found a bag of heroin on the sidewalk and decided it was a good idea to open it up. Ten years later, at age 51, I found myself once again a full-fledged heroin addict/alcoholic with no future to look forward to. After seeing one too many alarming photos of myself and the interview I did for "Radiant Child," I decided it was time for a new beginning. I was done with slowly trying to kill myself. I've been clean now for close to five years.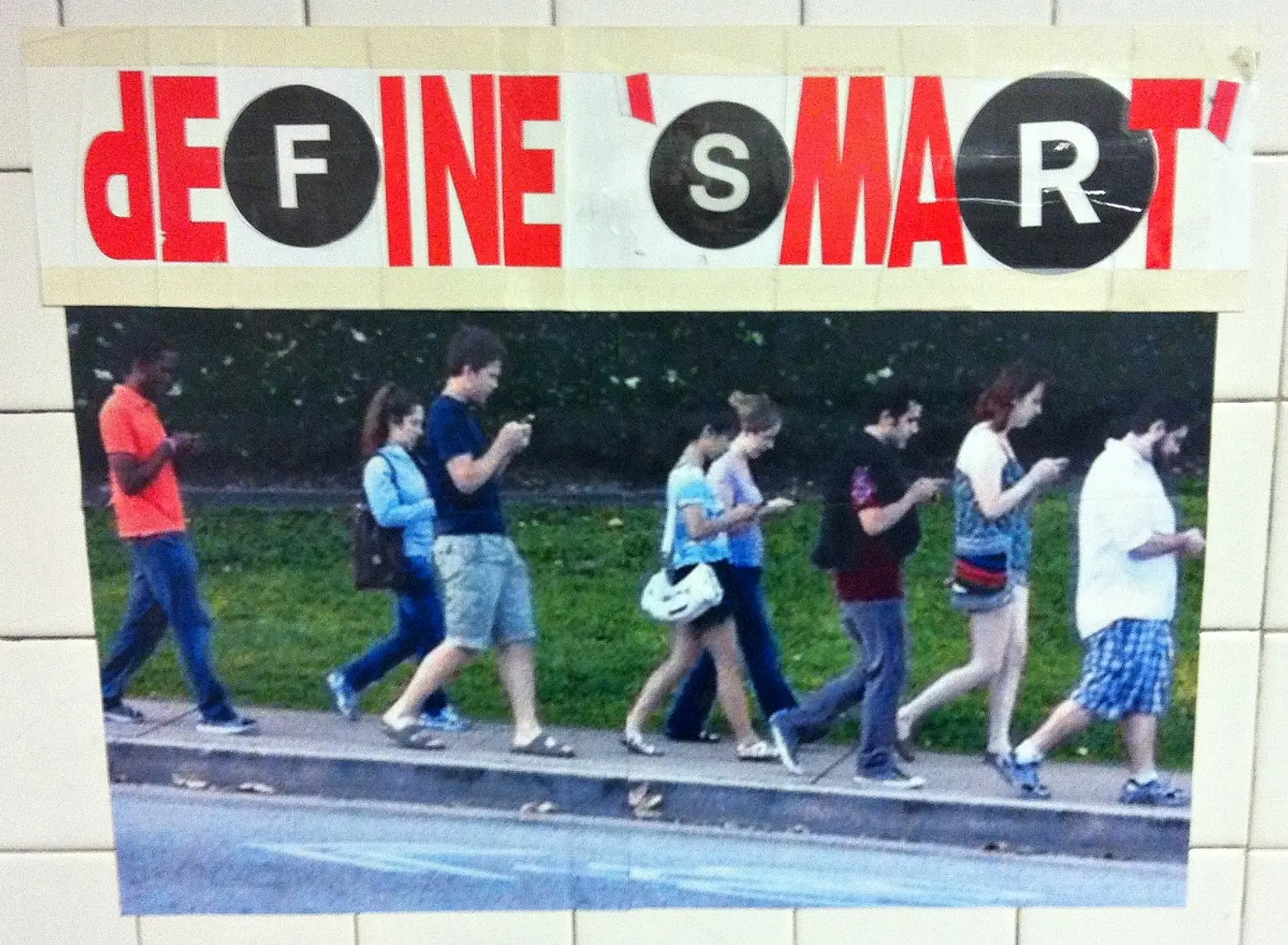 Your work now focuses on WET PAINT, signs used throughout the New York City subway system. How do you create these text-oriented works, and what do they mean to you?
I have been working on and developing the WET PAINT series since 2009. The project sparked a renewed enthusiasm for text- and message-oriented work for me. It has been quite a challenge, but gratifying as well. Working with a "constrained" alphabet makes one really use their imagination. The possibilities often surprise me. I have incorporated the use of MTA "Service Change Alert" posters and now have a much larger alphabet, but I still have no H,K,O,X,V,or Y. The messages I write are developed in a variety of ways. I think of a topic I want to comment on. I create and think up the comment in my head, working with only the letters I have. This calls for a mental "thesaurus" and editing process. It is very good brain exercise. Sometimes they've come very easily, but not all that often.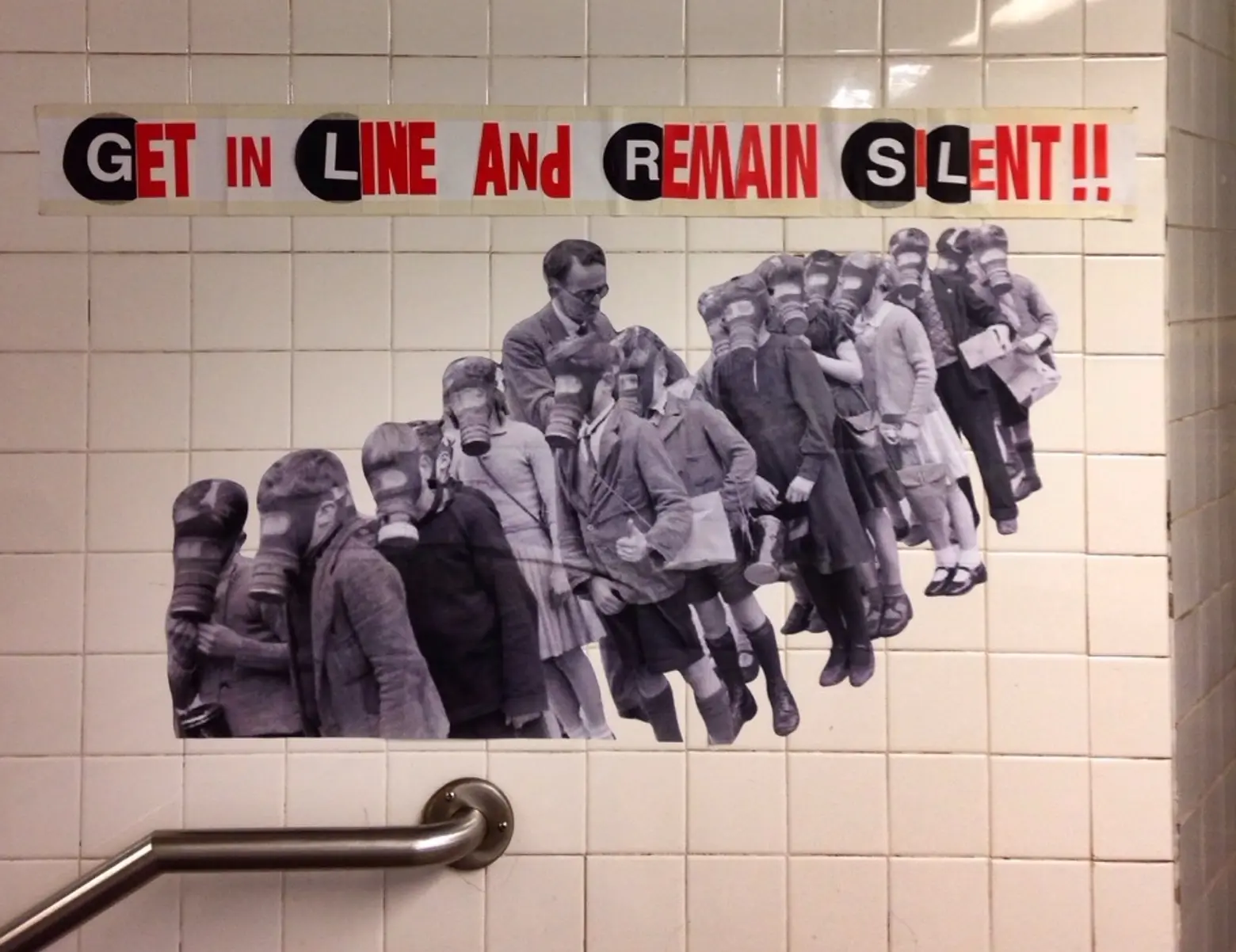 Collaboration between Jilly Ballistic and Al Diaz, via Jilly Ballistic
Aside from WET PAINT, can you tell us about some of the other projects you're working on?
Besides my own WET PAINT work, I have been collaborating with subway artist Jilly Ballistic since last fall. We have done at least 17 subway installations throughout the city together. I had a solo pop-up show this past March at Outlaw Arts on the Bowery and sold two pieces. One of those was a reproduction of one of my collaborations with Jilly. I am also presently curating a show on the history of NYC graffiti culture versus "street art" at the Bishop Gallery in Bed-Stuy. We are presenting a timeline to remind the world that those two mediums are not one and the same. It will have photos and works of key periods and players in NYC graffiti and street art history. I'm participating in Larry Warsh's panel this October discussing the Basquiat note books presently on display at the Brooklyn Museum. Besides all that, I'm working on a 150-foot continuous sign of multiple messages and trying to find a gallery/space to install it.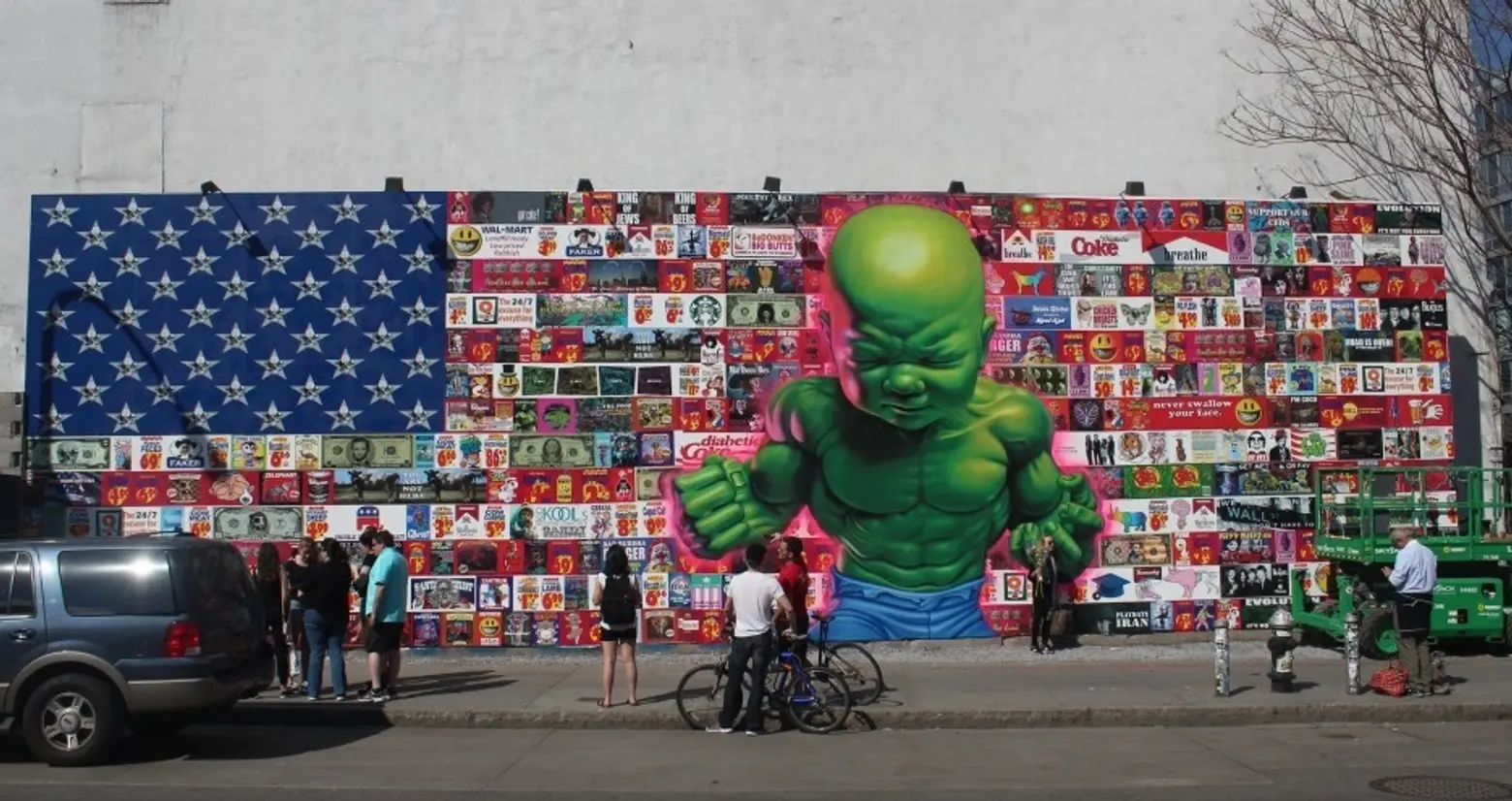 Ron English's "Temper Tot" on the legendary Houston & Bowery mural wall via J Dot Shots
Today, you don't see as much graffiti in the downtown neighborhoods as you used to. Do you think these areas–Soho, the East Village, the Lower East Side–have changed for the better or worse?
NYC has become absurdly expensive, sterile, and frigid. Neighborhoods have been destroyed and converted into "desirable" places to live. The city I grew up in has lost a great deal of character and flavor. Not much "New Yawk" left in NYC. It's a bit painful for me to walk through the Lower East Side. High-rise buildings, hotels, and fancy eateries have replaced what I once called home. I am quite content living in a Brooklyn brownstone with a backyard and neighbors I know and speak to.
What are your thoughts on street art and public art today?
I see a very "decorative" street art in NYC these days. I think there is much more energy as a whole coming out of places such as Mexico City and Berlin. I really enjoyed Ron English's "Temper Tot" when I saw it in Little Italy, but there are so many people doing murals that it's easy to miss the good ones in the cluster. I don't really follow the current graffiti world. It has very little, if any, relevance to me.
Okay, last question. What do you hope your legacy as an artist will be?
I would like to be remembered for my contributions to urban art, music, culture. I believe I have done a fair bit of creative and unique work so far. I DO NOT want to be remembered as "the guy who knew the guy"…
***
Visit Al Diaz's official website. 
[This interview has been edited]
All images via Al Diaz unless otherwise noted
RELATED: