My 408sqft: A Tudor City historian lives maximally in a micro-studio using furniture on wheels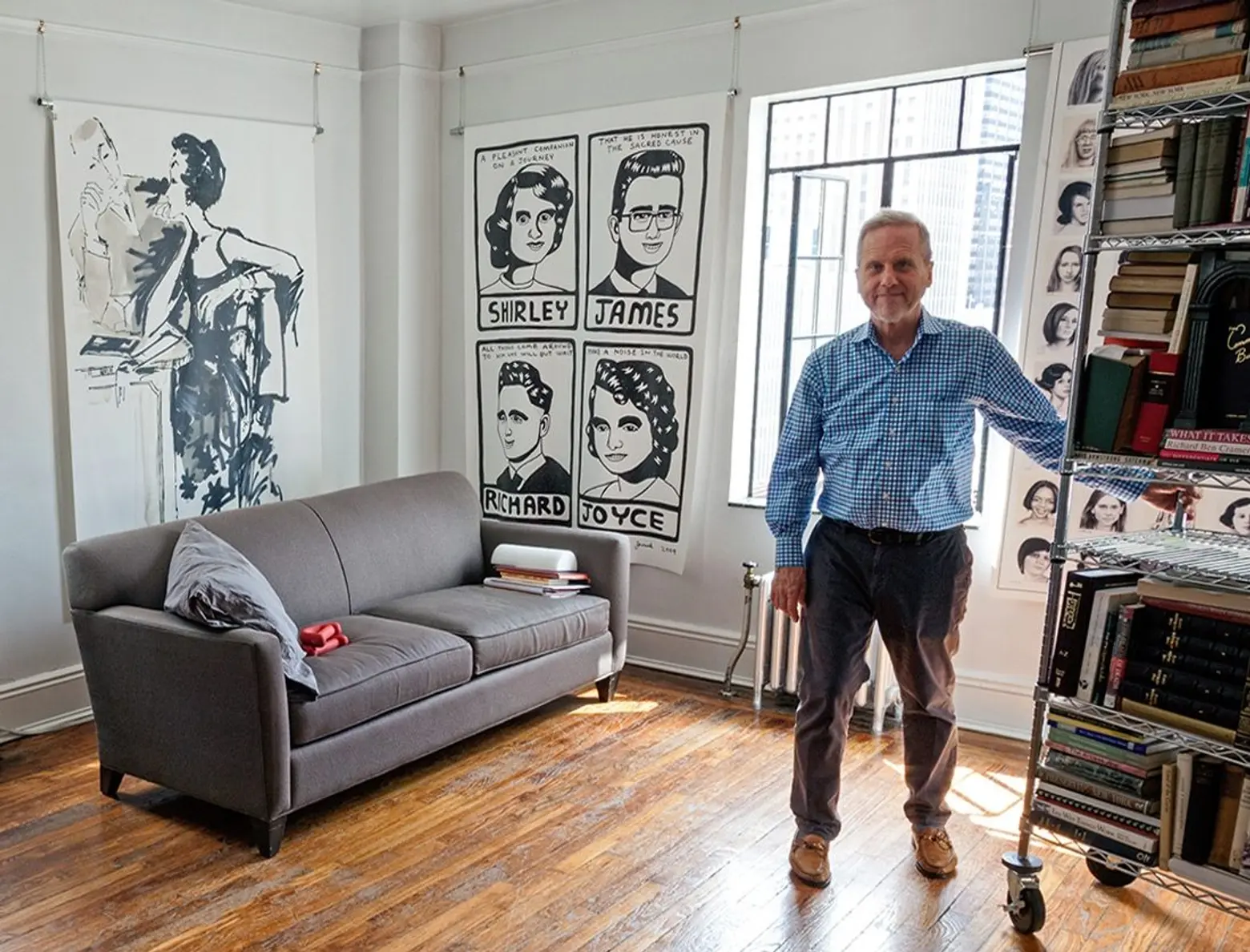 6sqft's ongoing series "My sqft" checks out the homes of New Yorkers across all the boroughs. Our latest interior adventure brings us to the Tudor City studio of  Brian Thompson. Want to see your home featured here? Get in touch!
We've seen many solutions for tiny living employed here at 6sqft, from transforming furniture to elaborate built-ins to adding color and patterns to trick the eye, but as far as living minimally has gone, we're not sure if we've seen a home opt for such a straightforward—but artful—setup. Located in the quaint and picturesque neighborhood of Tudor City is the 408-square-foot apartment of historian, activist, and real estate broker Brian Thompson. Rather than outfitting his apartment with built-in seating or complex hidden furniture (though he does have a Murphy bed), Brian has opted for an ultra-minimal setup that includes just three pieces of furniture: a couch, a bookshelf, and a desk—all of which can be arranged into an infinite number of livable layouts with just a simple push or a pull.
▽▽▽
Most people don't know where or what Tudor City is. What do you say when someone asks you "Where is Tudor City"?
Brian: Ha! There are two kinds of people here: Those who live in Tudor City and those who are lost. I say Tudor City "hovers above 42nd Street between The UN and The Chrysler Building." In spite of the huge sign announcing "Tudor City" to all who cast a languid glance east, there aren't many places more remote in Western World than Tudor City on East 42nd Street.


What makes Tudor City special?
Brian: For decades I've loved every brick, window, and apartment in Tudor City. When I first came here in 1993, the parks plus the size of the apartments is what it was attracted me. What is special these days is how people optimize their city lives through the lens of a 3oo square foot apartment; full-time or as a pied-a-terre. I have been fortunate enough to work with many determined owners who have created amazing situations from what were distressed an under-utilized asset.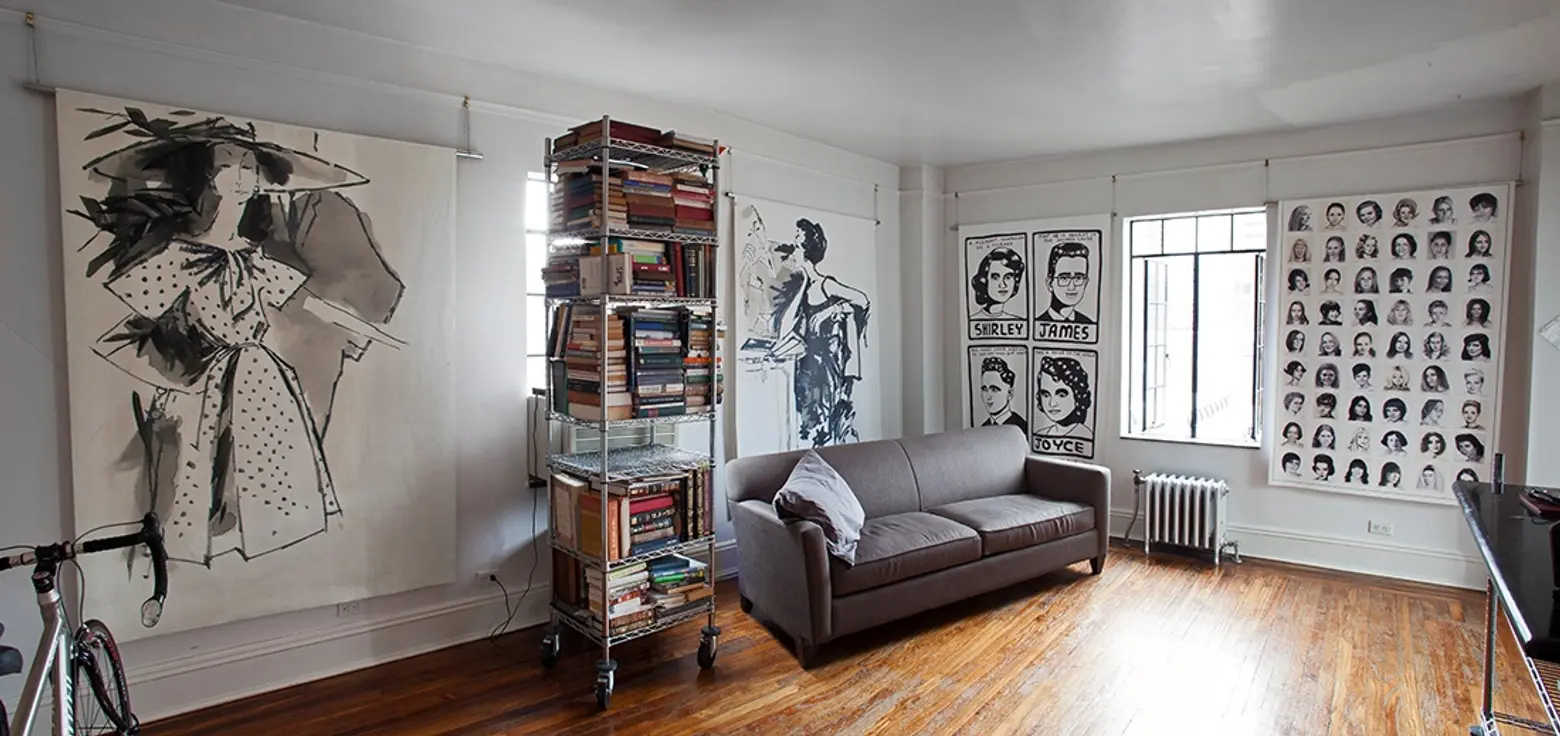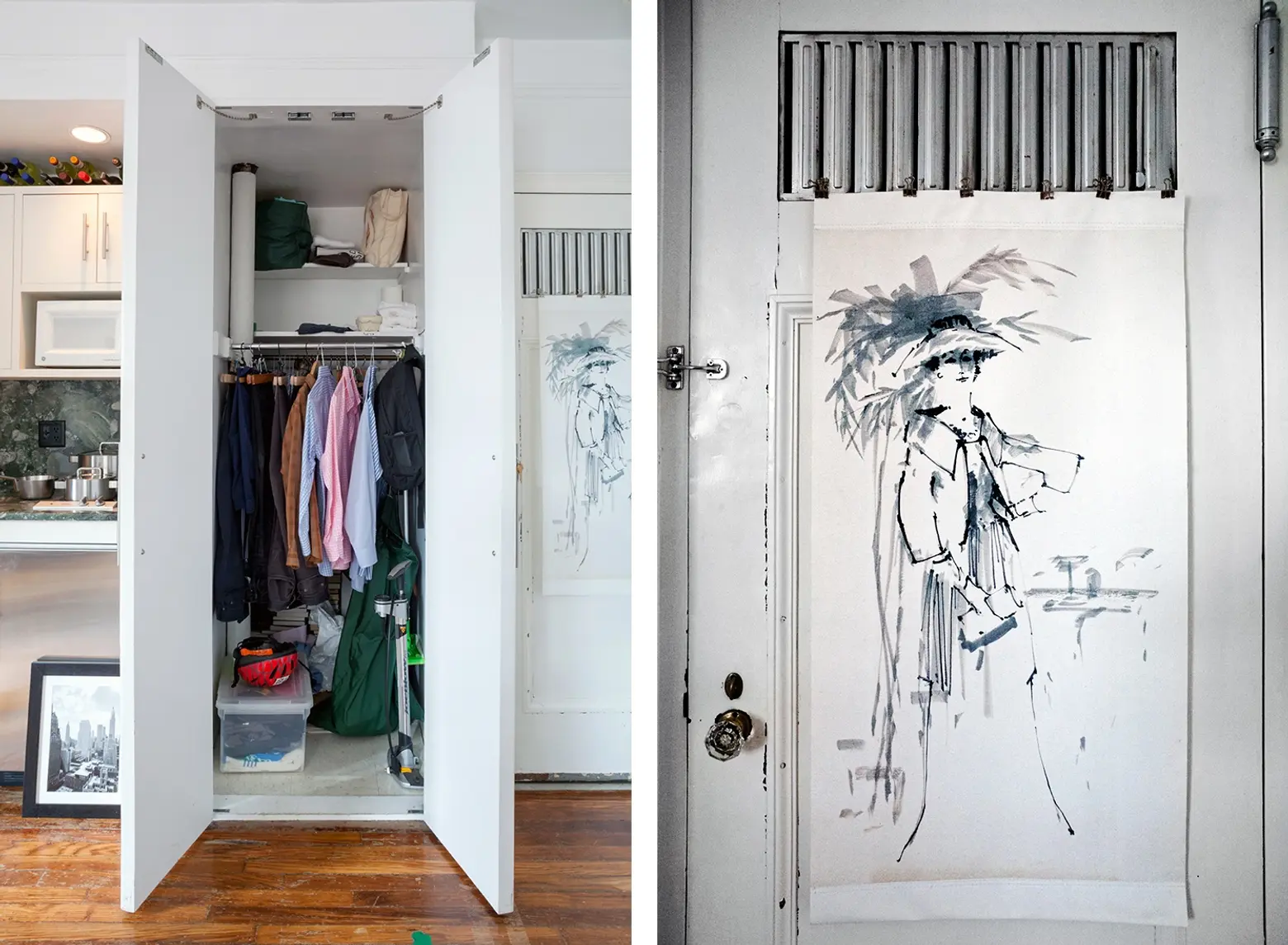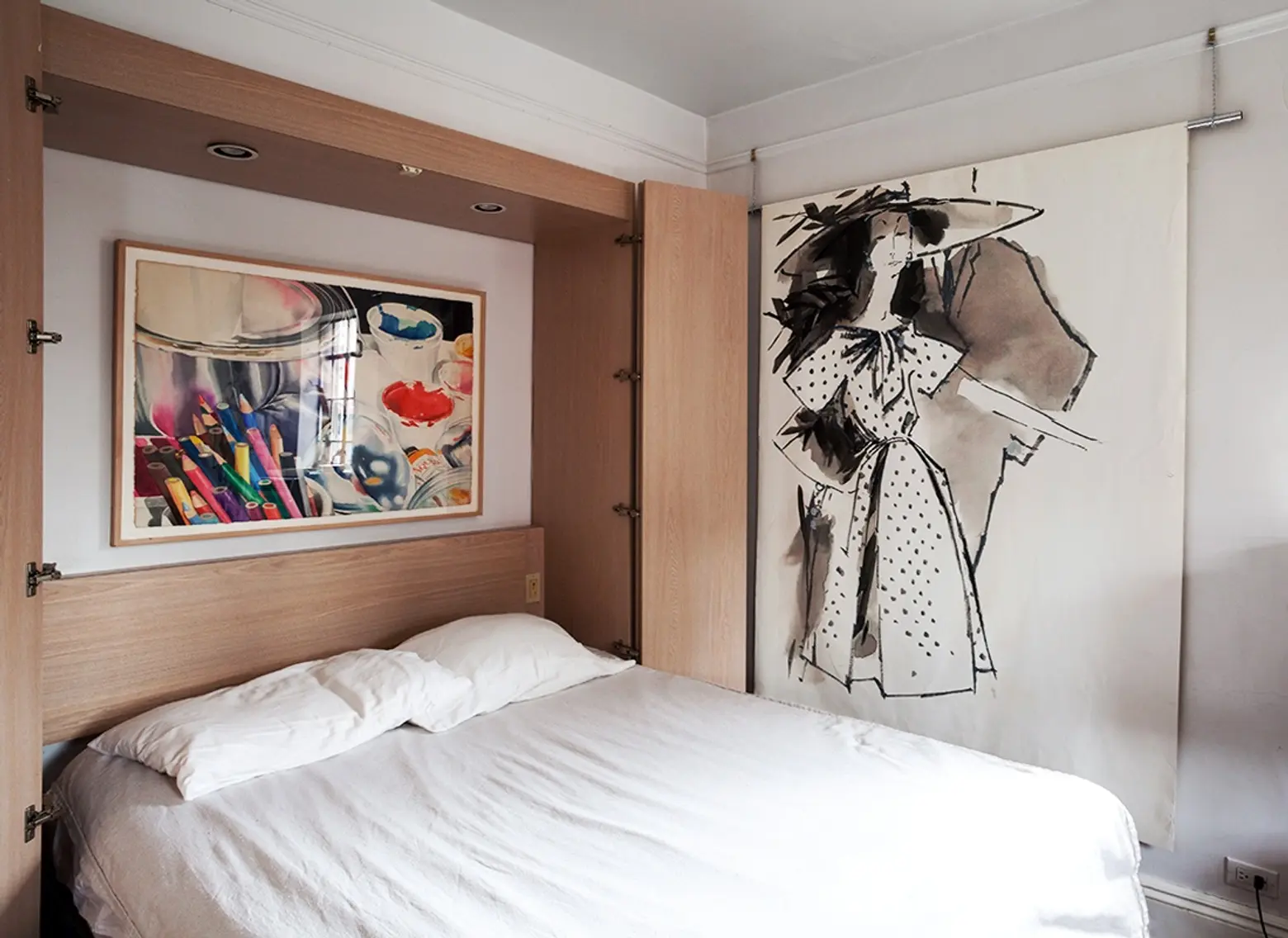 What continues to make Tudor City special is its location and the amazingly creative people it attracts. One of the more impressive apartments I've come across is recent renovation by a med school student who needed a quiet studio, with a fabulous kitchen. He needed a versatile arrangement that could accommodate 12 guests once a month for a home-cooked meal. That is just one example of life within 325 square feet here. Amazing!
This year Tudor City turns 90. From the beginning, Tudor City was quiet by design. Today it is an urban oasis with two private parks, unmatched transportation networks, and a walk-to-work lifestyle. What Tudor City brings to the heart of the urban core is redefining what city living means.
The first thing I do every morning is walk the tree covered, flowered-lined pathways of both parks. The experience becomes a fine tuning primer to appreciate other aesthetic experiences spread throughout the city.
Tudor City was designed as "suburb in the city;" suburbs where a unique source of freedom only found outside the city in the 1920s. Today that upscale freedom is what happens when you step outside your door directly into the urban core. Returning to Tudor City after a day's work brings a sense of arrival, a connection to a place belonging to a shared future. What makes Tudor City special today is it is affordable. If you
want an unbelievable view, fabulous convenience and you can wait for a few months—call me.
How did you find yourself in this apartment?
Brian: Well that is a bit of a funny story. It was Halloween 1993, real estate in New York was distressed from what was then the latest round of bank failures. Seven Tudor City properties were being auctioned, literally, at the 60 Centre Street Courthouse steps. I bought five Tudor City apartments that morning. The broker who told me about the auction was, a wonderfully elegant lady named Louise who said, "Wait, you paid $24,000 for the units, they're not worth more than $18,000!" I said to her "Great! I'll buy another." She sold me this one, which turned out to be the best deal of them all.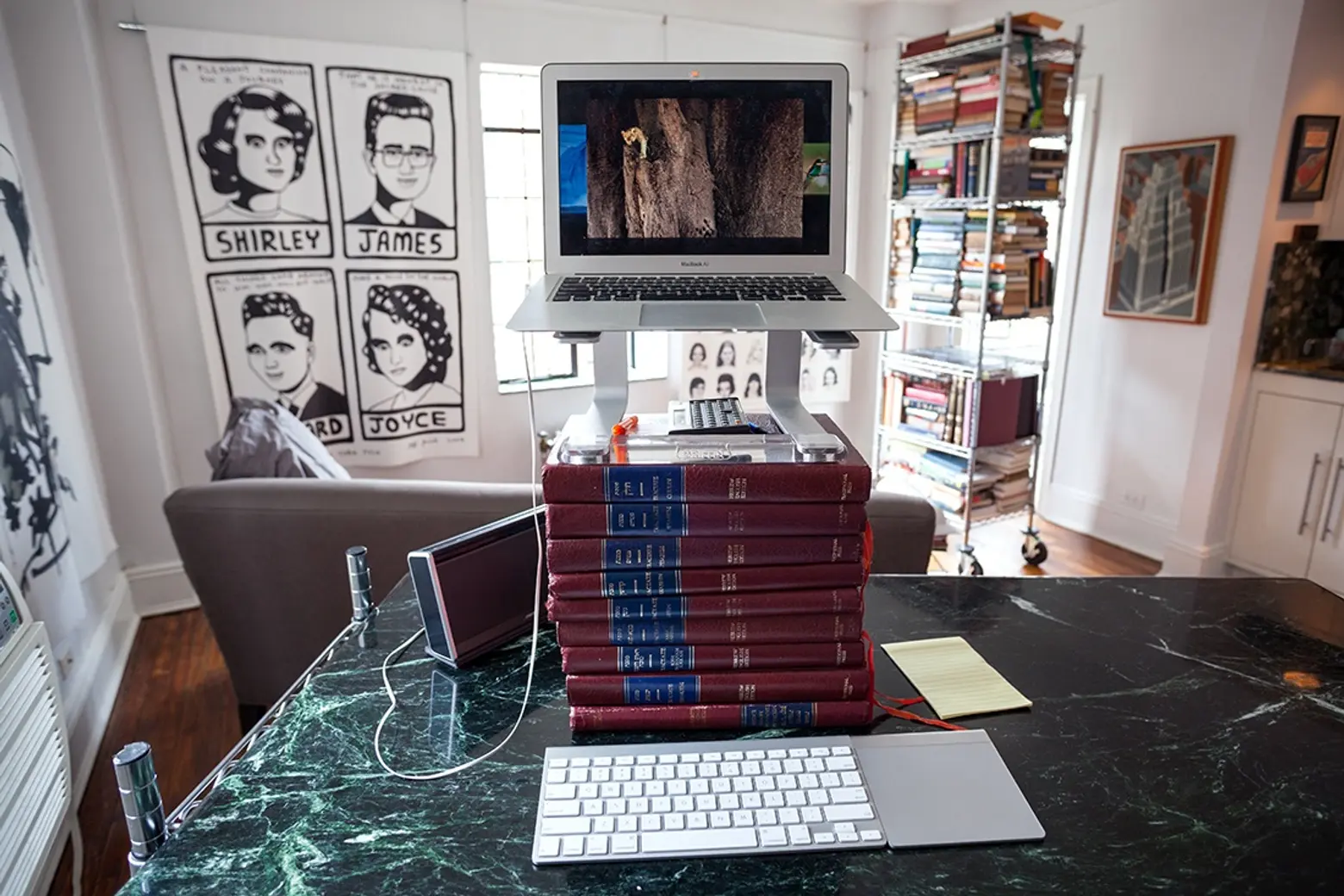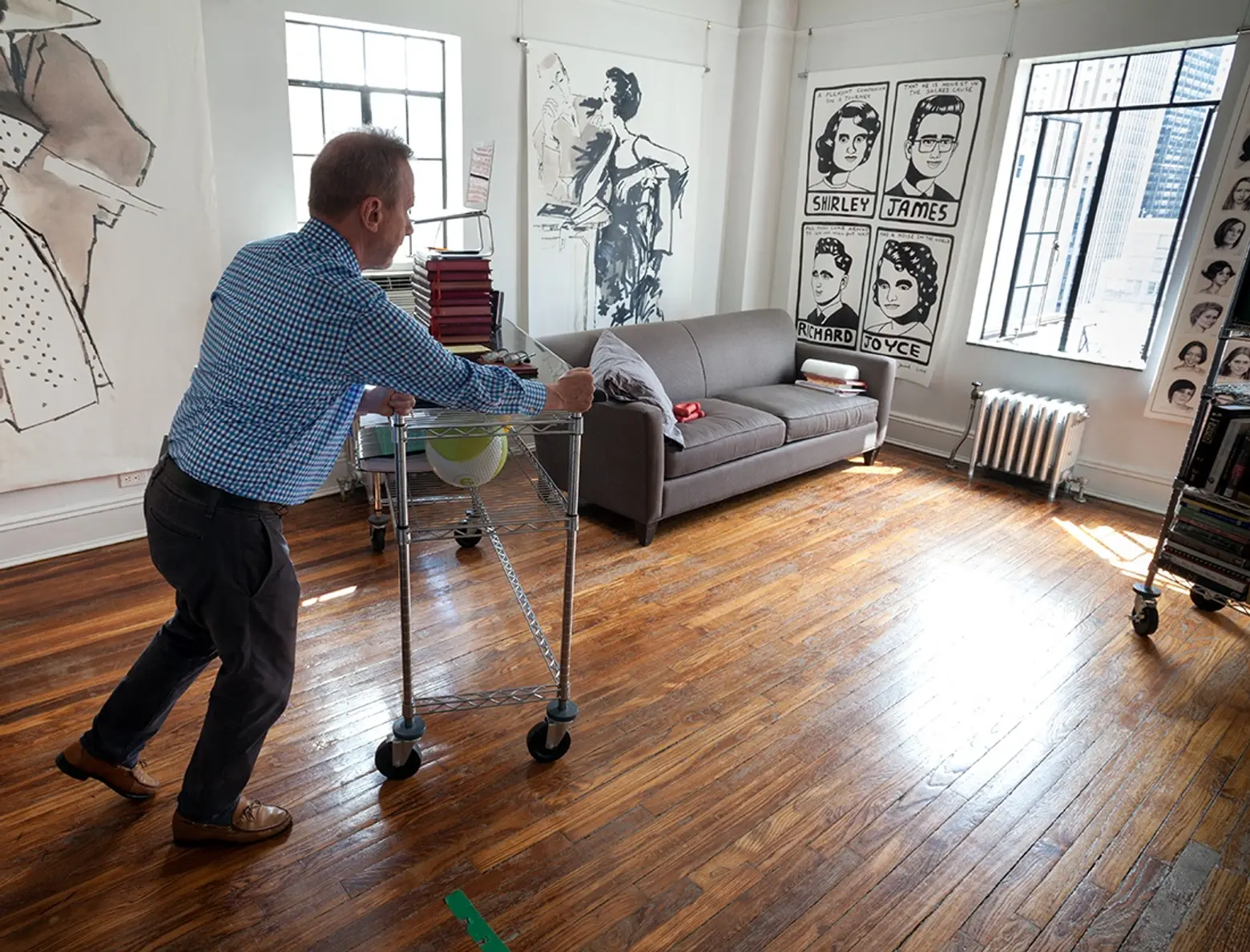 Can you explain how your apartment is set up?
Brian: Everything in the apartment has to be easily and swiftly movable like the sun slipping sideways across the sky. For me, this is the critical link to a balanced life. If I walked into the apartment and the furniture was always the same, it would feel very stagnate, claustrophobic. Life in New York is dynamic, so too is Tudor City living. Daily my thoughts include "How I can make this space fresh?" Minimalism for me isn't about how can I fix things to make them better, rather, how can I use what I have in a way that makes life engaging.
"The minimalist's confessional" is the compactor room. If something isn't working it needs to go, quickly. It is interesting to me how our minds look to geometrize open space into discrete patterns. I keep a line taped to the floor showing the room as a square. To my surprise, rarely is the space outside of the squared-off area ever used. The experience I want from a micro apartment is a much bigger life, how that happens is its own art. My apartment is set up to be a livable art form.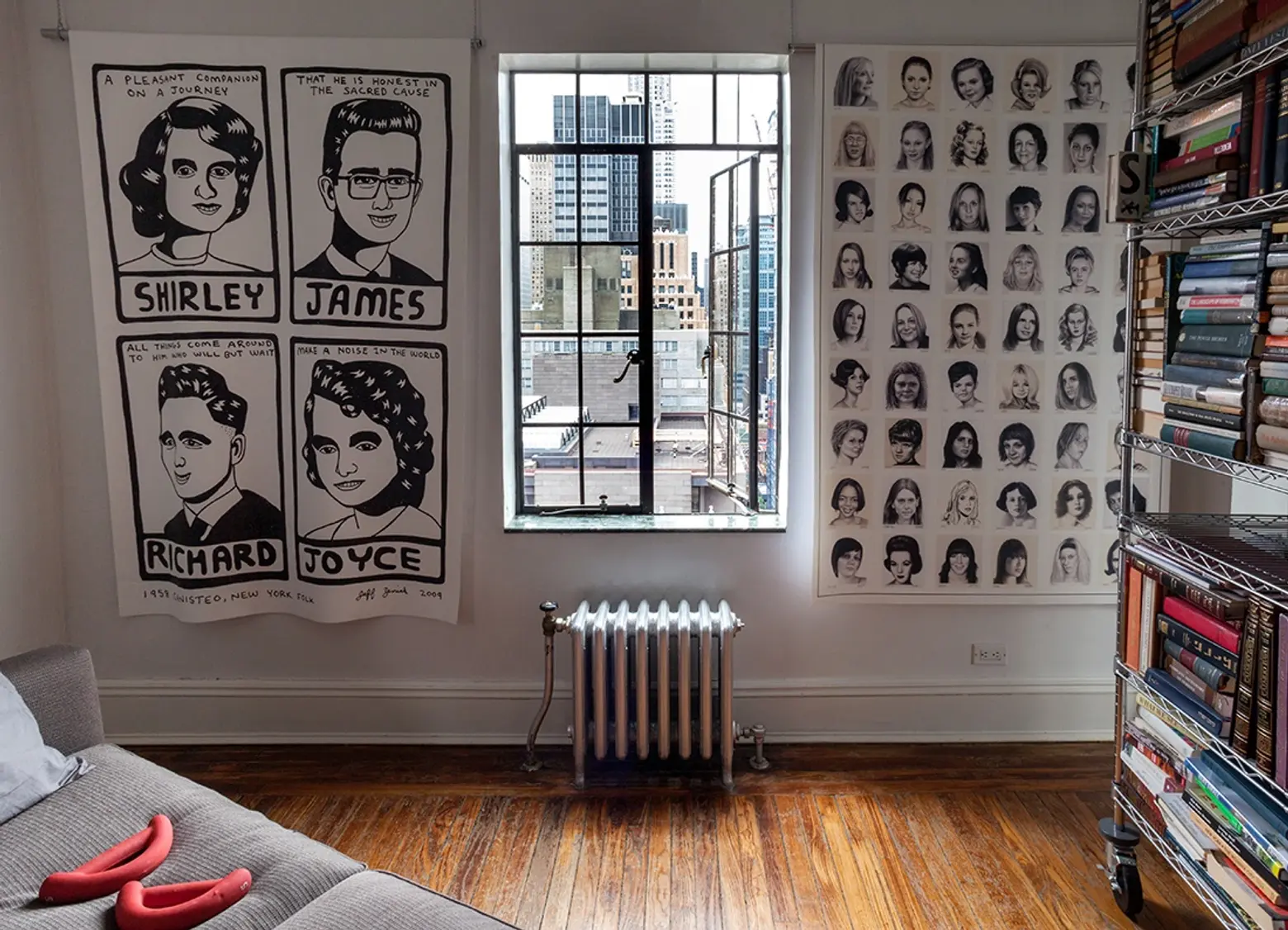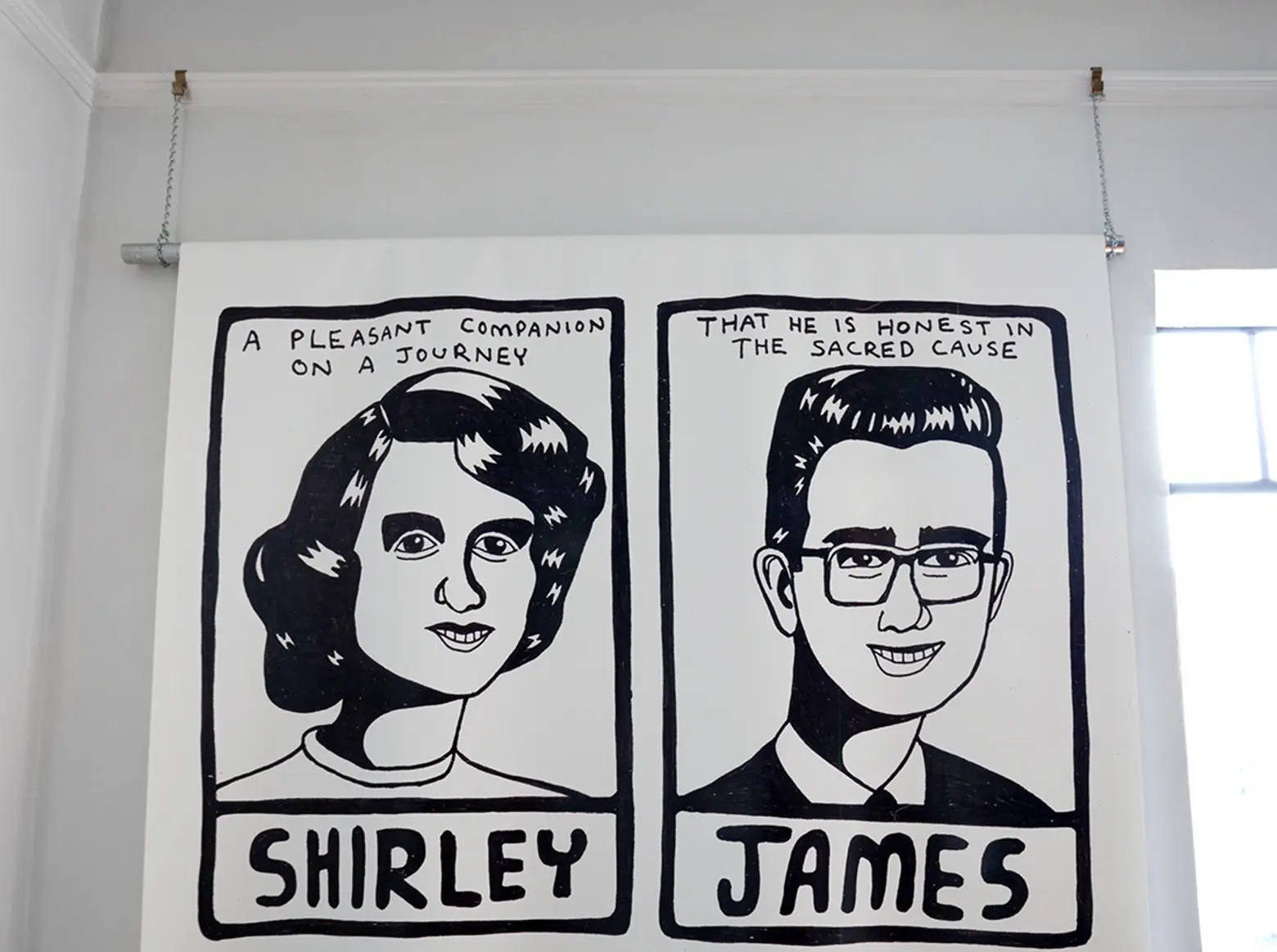 What are some of the challenges you've had living here?
Brian: One of the challenges I had early on was that I had a lot of framed artwork. I had maybe 30 pieces or so that I collected while living in a much larger home. I love large artwork, but in a space like this framed artwork wasn't working for me. I would have needed more furniture to fill up the blank wall space. In conversation with a neighbor we came up with this concept of "banner art." Banner art is a printed canvas folded-over a metal rod. Securing the canvas is a metal bar with a series of magnets. Simple concept. With this configuration, I can do a 6×6 foot canvas. Large art requiring a minimal amount of space. Large art in a small space.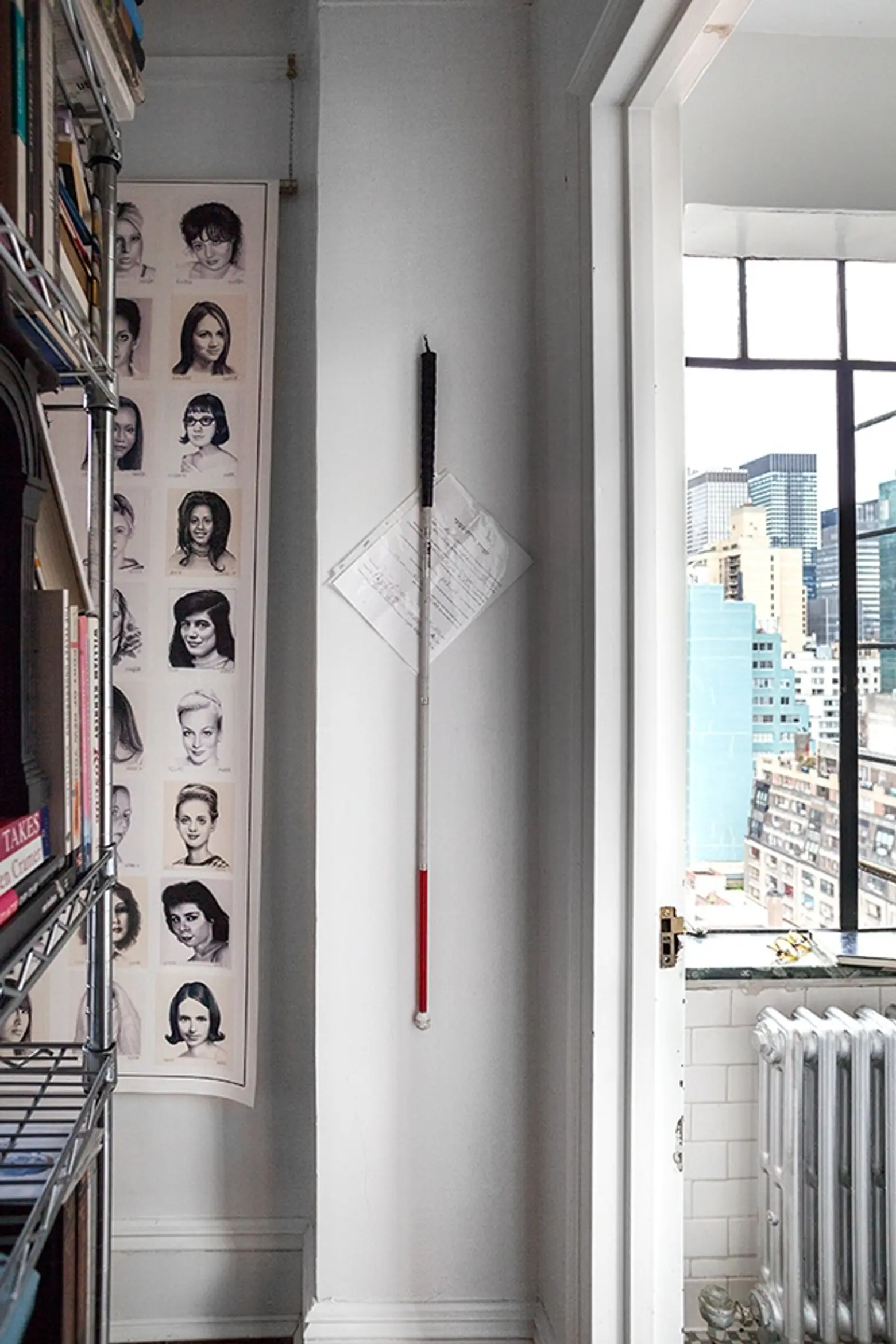 What's your favorite piece of artwork?
Brian: Great art touches your core. My white cane is my favorite artwork. It is from those years when I was blind. As my corneas thinned before collapsing I slowly lost my vision. Suddenly I could no longer function. An experimental surgery corrected the cornea, I am still lucky to have regained my vision.
Pathetic as it sounds, eyesight is my favorite artwork. Looking beyond the Chrysler Building into the soul of Midtown onto lights of Times Square—every evening is mildly outrageous.
One of the consequences of regaining eyesight is I am legally obligated to tell people how good looking they are, that too is an art.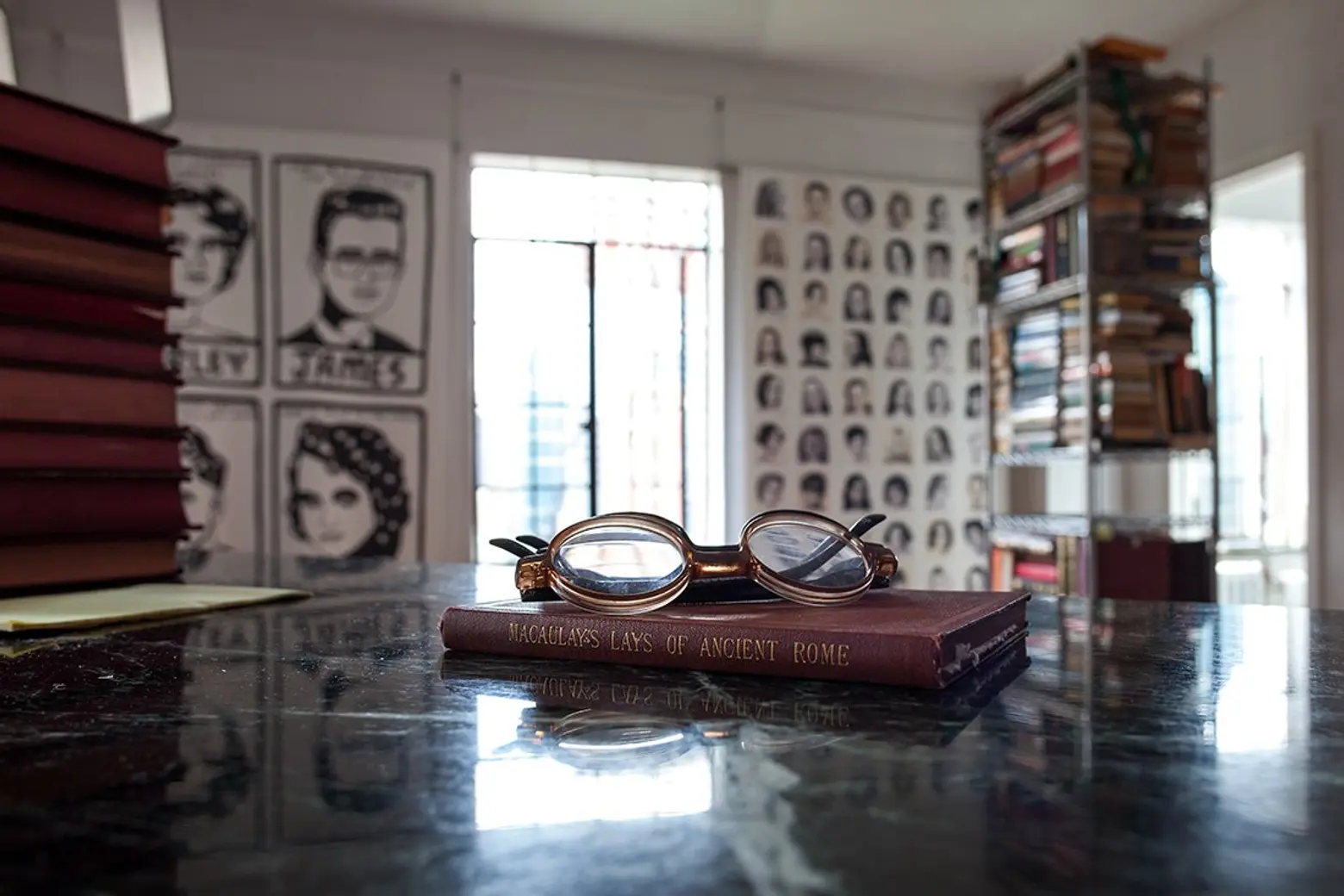 What are a few of your favorite things about this apartment?
Brian: It changes weekly. Everything in this apartment is about using—the same space—two or three times. Right now its kitchen counter is a favorite place. Using a step stool to create an elevated seat the kitchen counter takes on a dual purpose. When I'm not washing dishes, it is my favorite reading chair. With the kitchen counter I have an abundance of light in a tight little perch.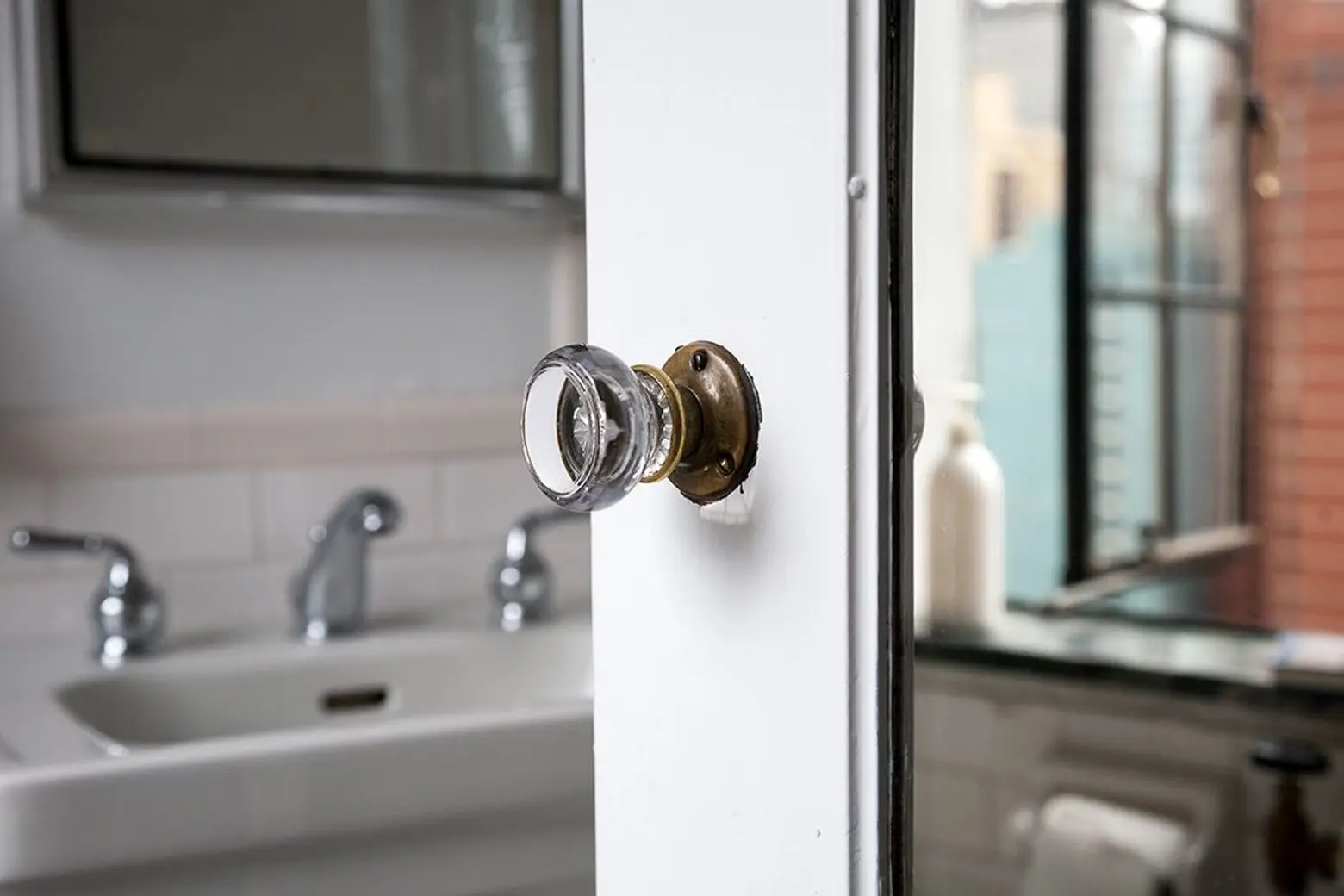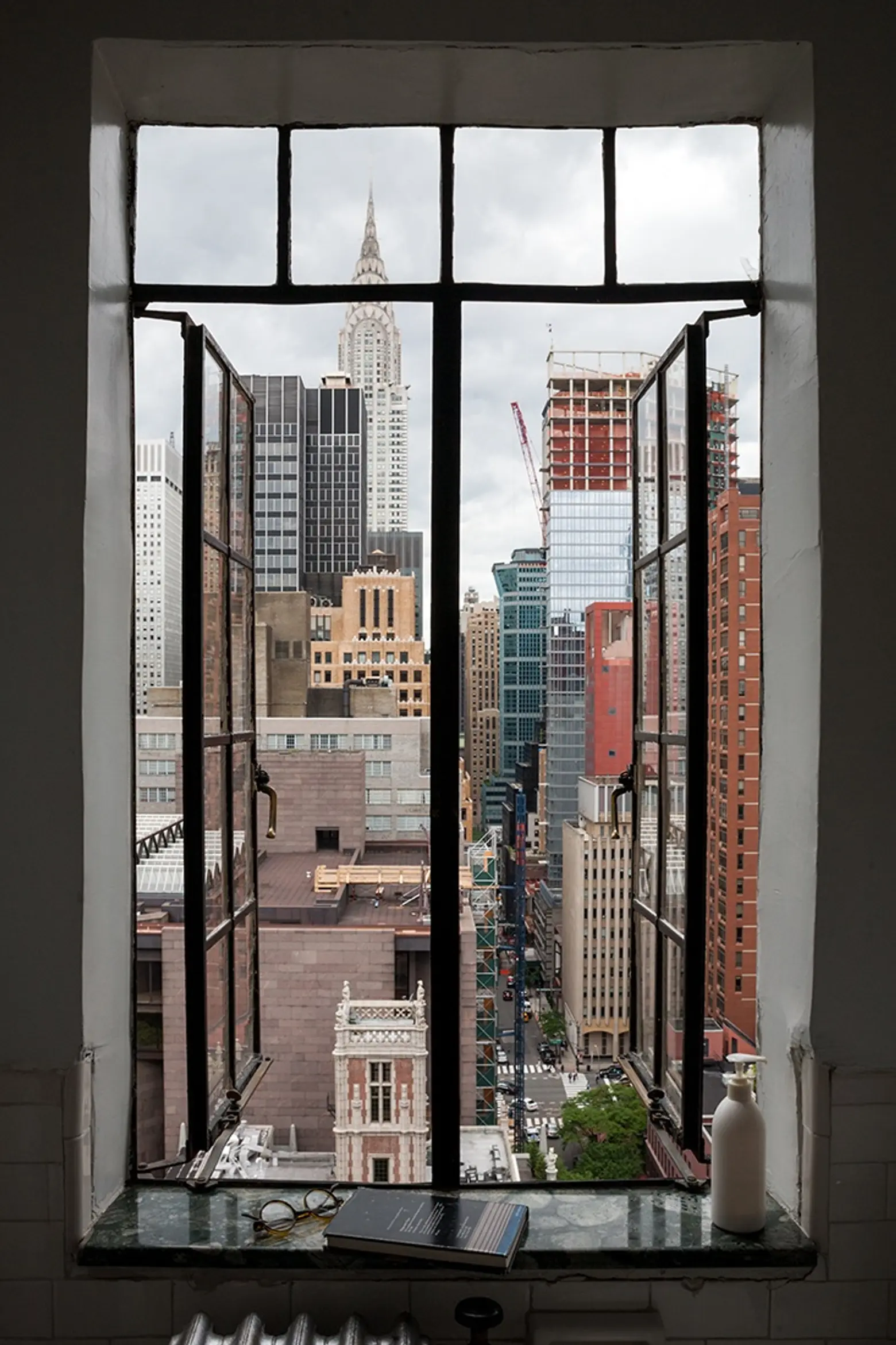 Then there is the windowed bathroom. Likely one the best bathroom views in all of New York. As a raw space I think that the bathroom is completely underutilized. My favorite project that hasn't happened yet is this: I believe this bathroom can visually disappear and become a separate room, that doubles as a bathroom. As a concept, it's out there a bit. I look forward to working with a remodeling TV show to create that opportunity for me and others living in small spaces.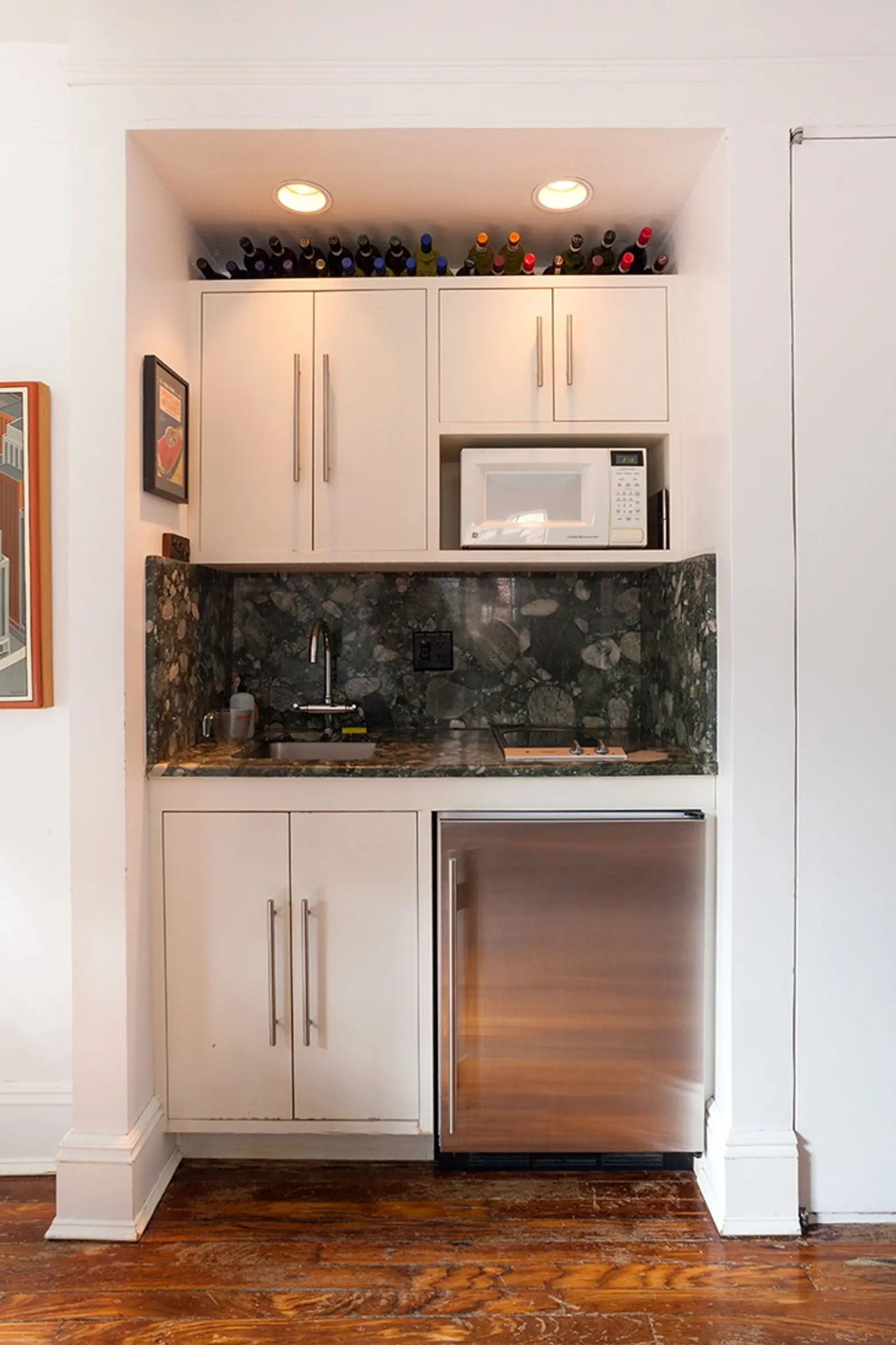 When did you find yourself drawn to minimalism and minimalist objects?
Brian: One day I realized I wasn't in sync with how I could maximize my life-space. After that buying became painfully deliberate process: In a micro apartment everything is about aesthetics.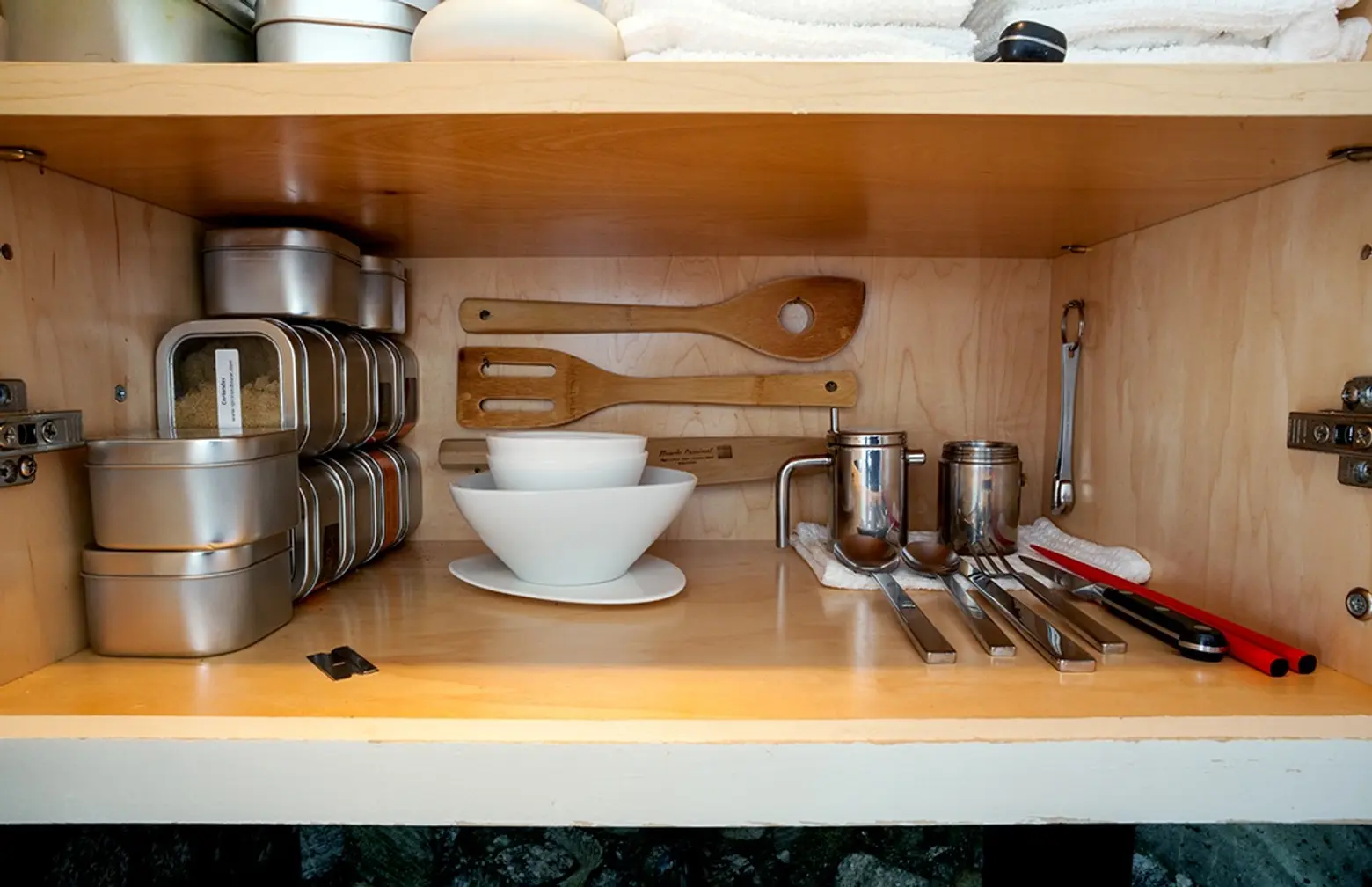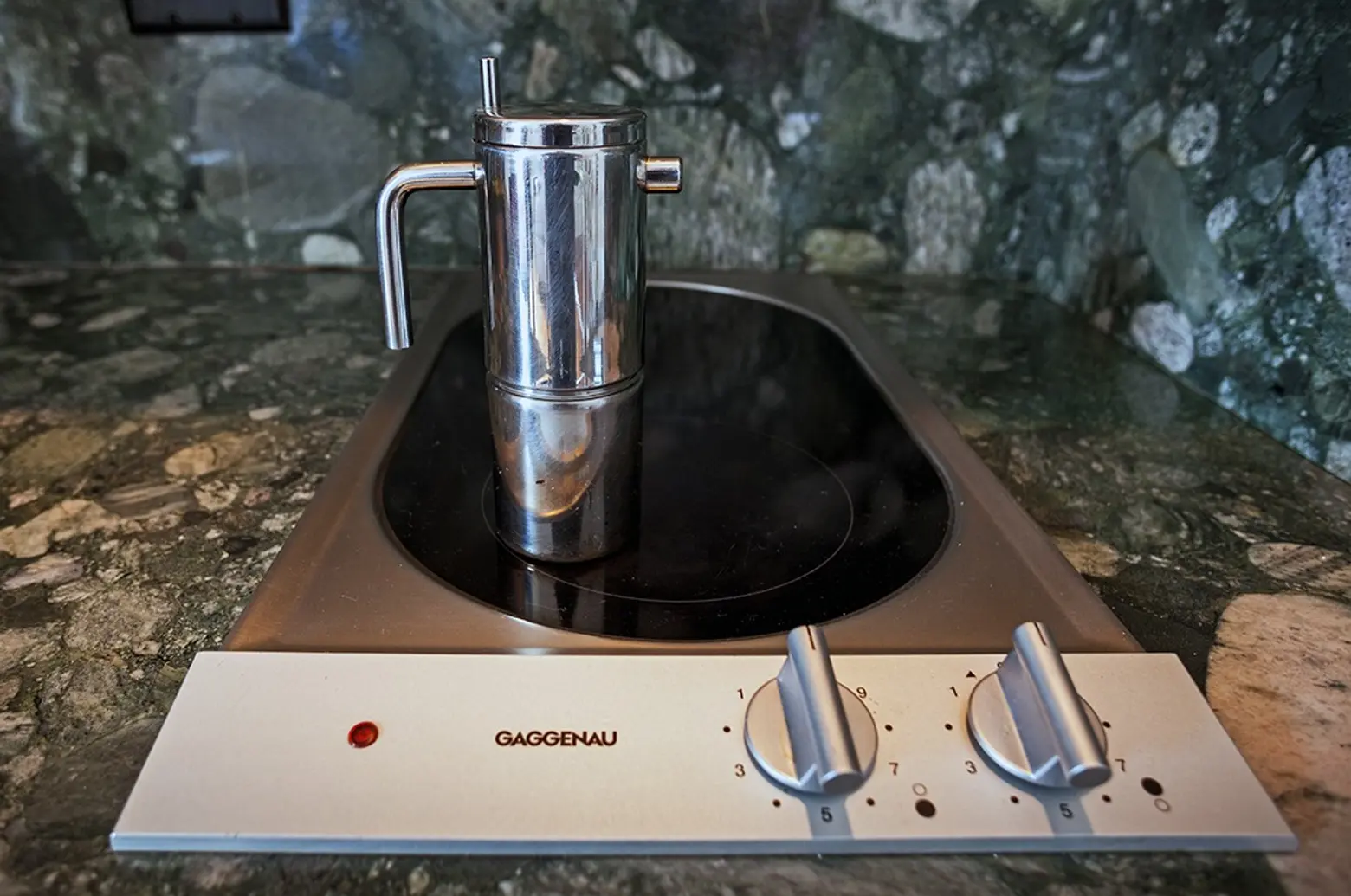 Cookware is more than just pots and pans, its functional art. I started looking for high-quality items free of extraneous design elements —imilar to the Raymond Hood designed News Building across the street. Everything needs to contribute to a seamlessly continued aesthetic and, be joy to use. Everyday aesthetics as the defining part of minimalism cemented my attraction.
Conflicts: As I only drink espresso, I need two-ounce cups. The Alessi-fun-shaped two-ounce cups see the most use, but the ceramic Massimo Vignelli designed coffee cups have a design sweet spot that I just can't shake right now.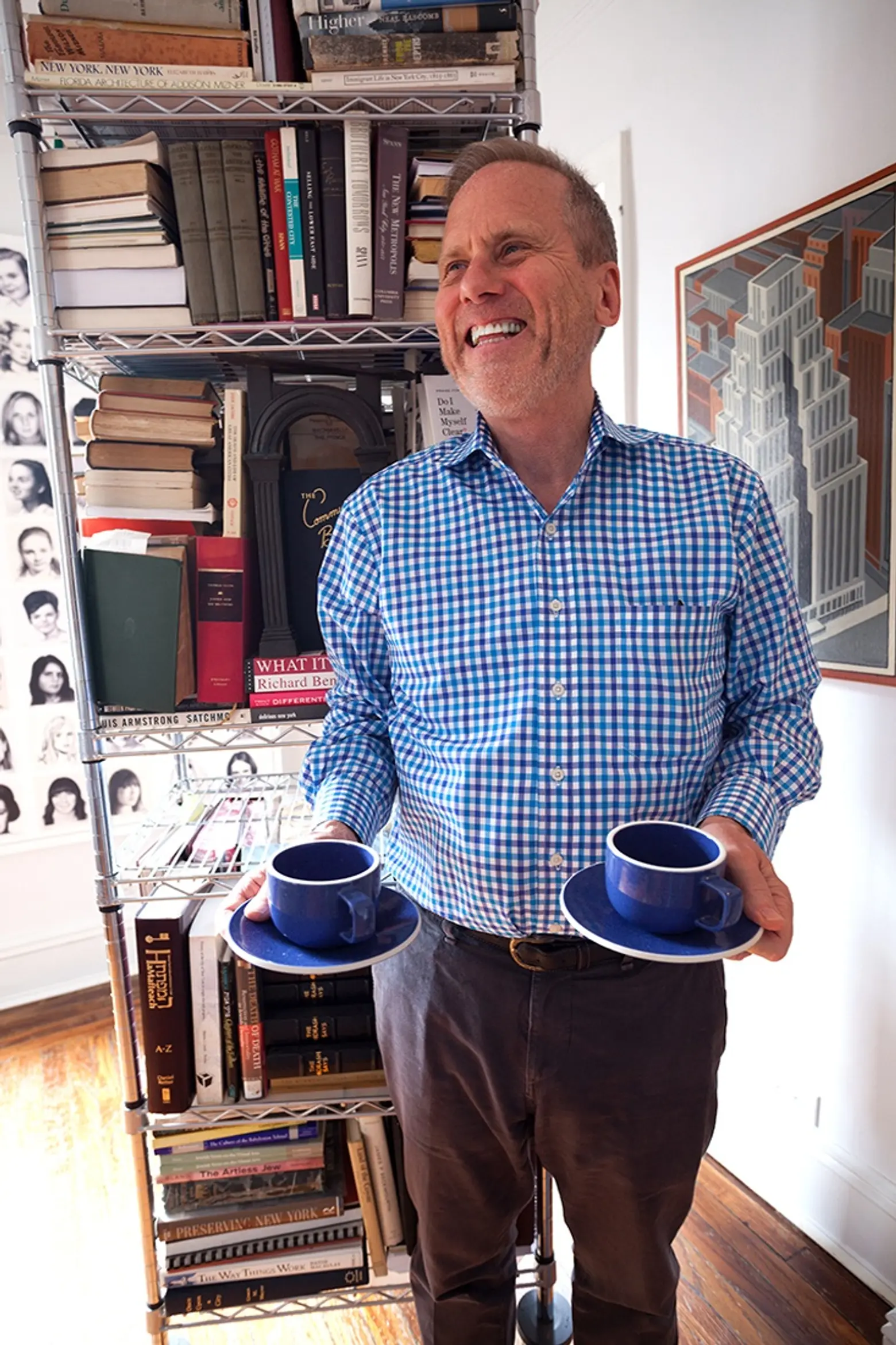 RELATED:
Photos © 6sqft / James & Karla Murray. Images are not to be republished without written permission from 6sqft