Lottery opens for 69 affordable apartments next to Jamaica's Rufus King Park, from $1,599/month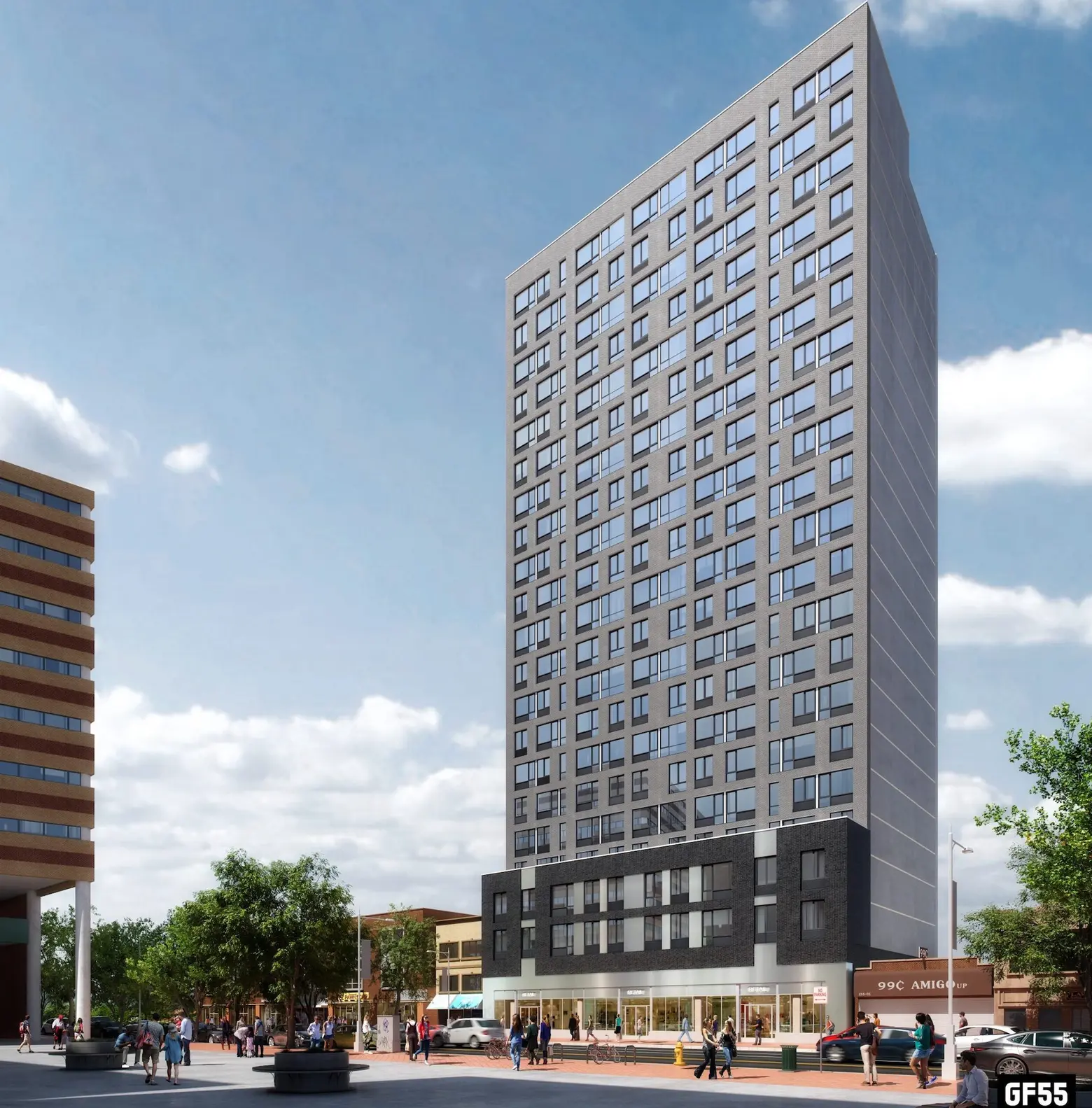 Rendering courtesy of NYC Department of Housing Preservation & Development
A housing lottery opened this week for 69 apartments designated for New Yorkers earning 80 percent of the area median income. Located at 153-19 Jamaica Avenue in Jamaica, Queens, the newly constructed 19-story building sits across from the historic Rufus King Park and is also just one block from the subway. Available apartments include 37 studios priced at $1,599/month and 32 one-bedrooms for $1,708/month.
Developed by BFC Partners, the building, dubbed The Kira, features 139 total units and 5,000 square feet of retail space. The project was developed through the state's Supportive Housing Opportunity Program (SHOP), which designates half of the units for survivors of domestic violence.
Apartments have dishwashers, energy-efficient appliances, and air-conditioning. Amenities at the building include a gym, on-site laundry, a recreation room for kids, and an outdoor play space. There will be community facility space for the on-site supportive services run by the nonprofit New Destiny.
In addition to being located across from Rufus King Park, which has sports fields, a playground, leafy green space, and the King Manor Museum, the development is near several commercial thoroughfares, with a variety of retail and dining options just steps from its front door. Nearest transit options include the Jamaica Center-Parsons/Archer station, home to the E, J, and Z trains, as well as a number of buses and the Long Island Rail Road at Archer Avenue and Sutphin Boulevard.

Qualifying New Yorkers can apply for the affordable units until December 14, 2021. Fifty percent of the units are set aside for residents of Queens Community Board 12. Complete details on how to apply are available here. Questions regarding this offer must be referred to NYC's Housing Connect department by dialing 311.
If you don't qualify for the housing lotteries mentioned, visit CityRealty.com's no-fee rentals page for other apartment deals in the city.
RELATED: