Lottery launches for 185 affordable apartments at Long Island City's Hunter's Point South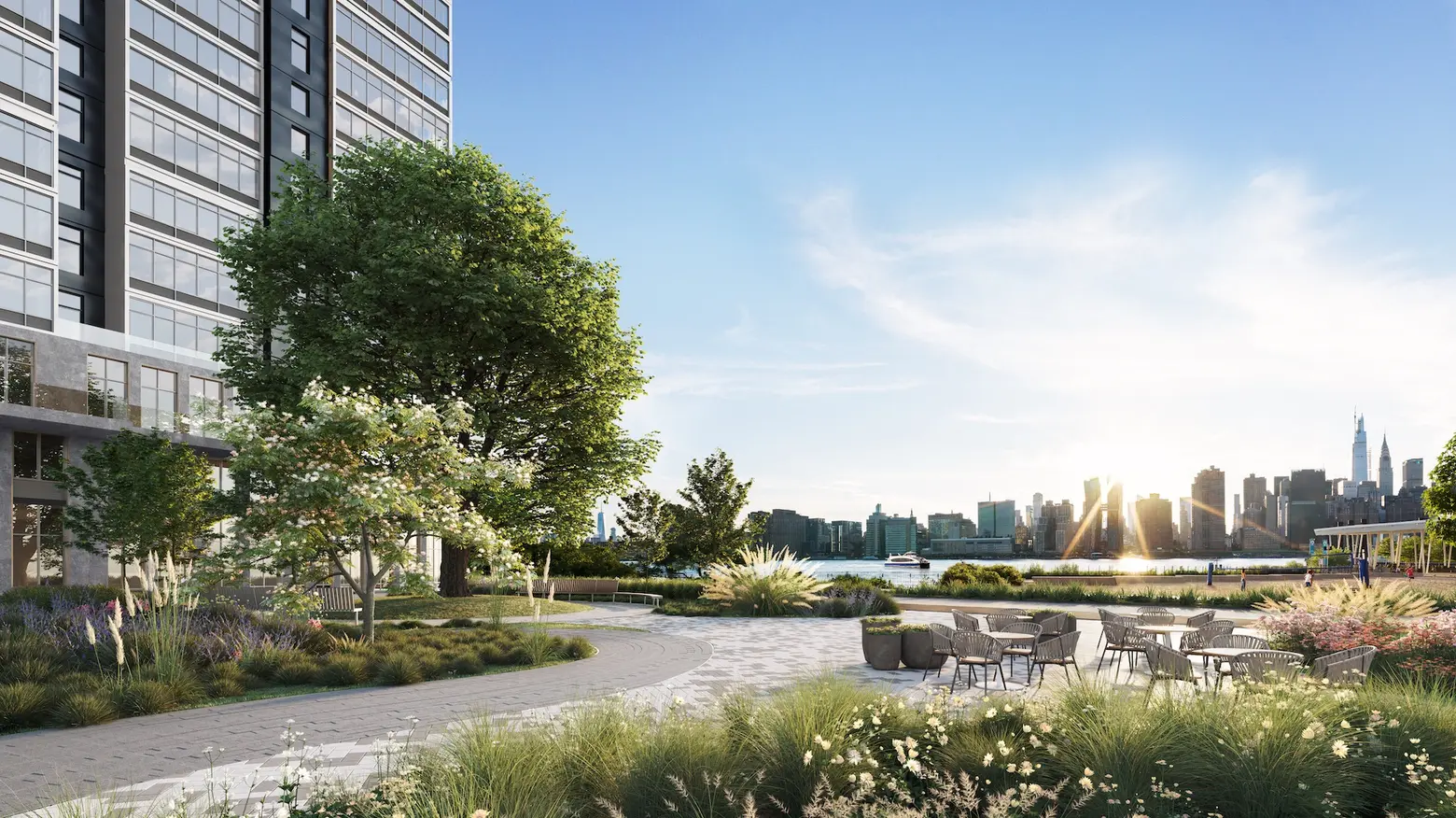 Rendering via TF Cornerstone
A year-and-a-half ago, developer TF Cornerstone broke ground on their two-building, 1,194-unit project at Hunter's Point South, located along the East River in Long Island City. Anchored by a new half-acre public park, the pair of ODA-designed towers will be 60 percent affordable. Today, a lottery launched for 185 of these low- and middle-income units, available to those earning 50, 130, and 165 percent of the area median income. The available homes range from $698/month studios to $2,704/month two-bedrooms.
The current lottery is at 5241 Center Boulevard, the smaller, 46-story south tower. Leasing for its remaining 209 market-rate units is expected to begin at the end of the year. This building also holds a 7,700-square-foot community facility on the second floor and retail space on the ground floor.
The 56-story north tower, located at 5203 Center Boulevard, will have 534 affordable and 266 market-rate units, leasing for which will likely commence in summer 2021. Here, there will be a 150-car parking garage, a community facility run by Selfhelp Community Services, and a 572-seat K-8 school, which is currently under construction.
In both buildings, units will range from studios to two-bedrooms, with sixty percent designated as permanently affordable to low-, moderate-, and middle-income residents. Of these 719 affordable units, 100 are set aside for low-income seniors and half are set aside for those who live within Queens Community Board 2.
Residents will be able to access amenities in both buildings, which include expansive outdoor spaces, barbecue grills, lounges, a children's playroom, fitness center, yoga room, laundry facilities, and HomeWork, TF Cornerstone's resident-exclusive co-working space. They'll also have the new 22,000-square-foot park designed by Matthews Nielsen Landscape Architects right outside their doors.
"This amenity-packed project that's opening in Long Island City will be an incredible asset to this vibrant neighborhood," said NYC Department of Housing Preservation and Development Commissioner Louise Carroll. "With a coworking space, a fitness center and plentiful outdoor space included, not only are many low-income families and seniors getting a high-quality affordable place to call home but families are receiving accommodations that will contribute to their health and well-being for years to come."
TF Cornerstone's project is part of the city's larger redevelopment of Hunter's Point South, which will bring a total of 5,000 residential units to the area, all of which will be 60 percent affordable. The master plan includes the 11-acre Hunter's Point South Park, which opened in 2018.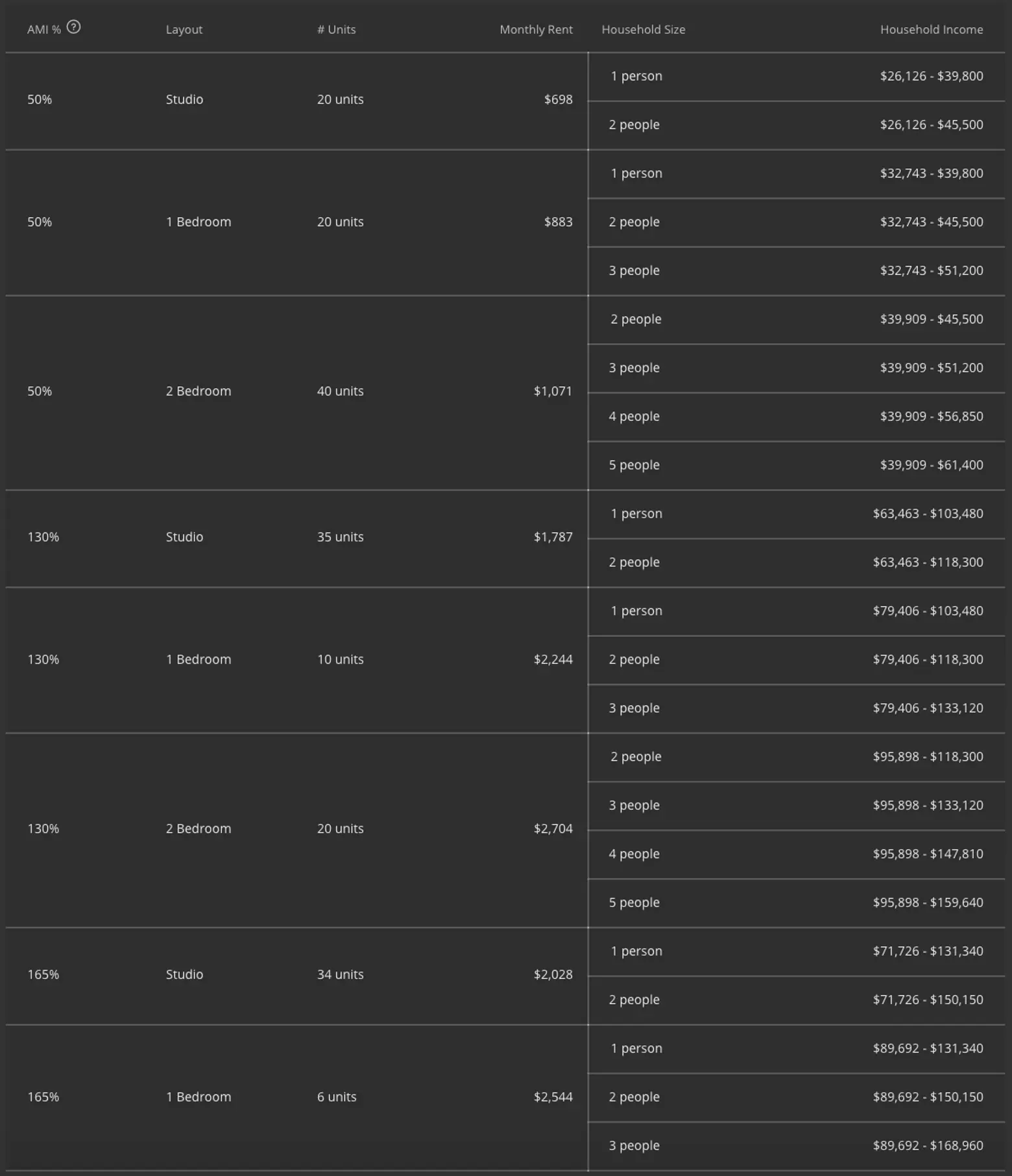 Qualifying New Yorkers can apply for the affordable units at 5241 Center Boulevard until November 23, 2020. Complete details on how to apply are available here. Questions regarding this offer must be referred to NYC's Housing Connect department by dialing 311.
If you don't qualify for the housing lotteries mentioned, visit CityRealty.com's no-fee rentals page for other apartment deals in the city.
RELATED: