1,200-unit Hunters Point development breaks ground and reveals new looks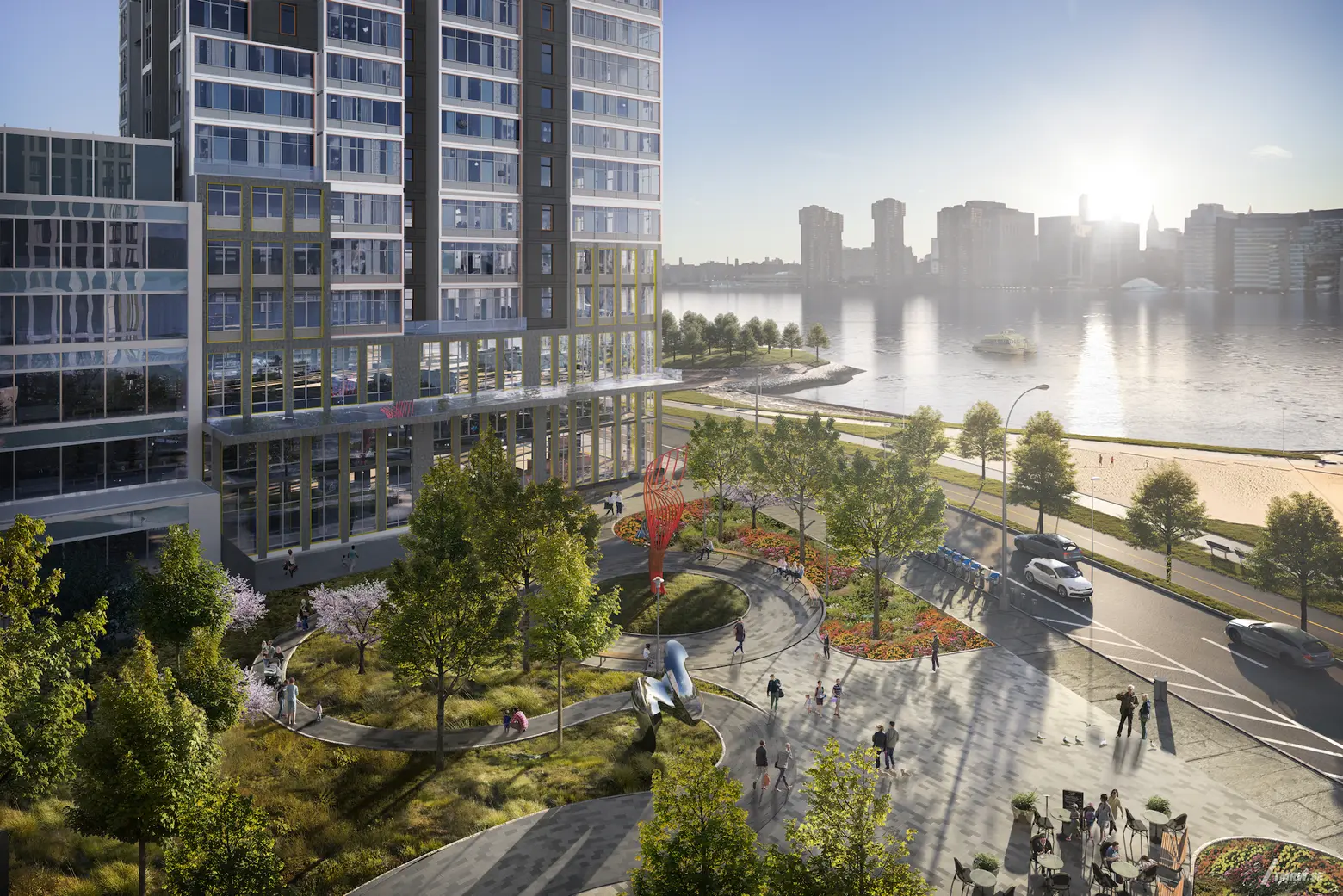 New rendering by ODA Architects for TF Cornerstone
Developer TF Cornerstone officially broke ground Friday on its mixed-use, affordable housing development in Long Island City, a plan that began nearly six years prior. The project, which consists of 1,194 new apartments across two buildings on Center Boulevard, falls under the city's redevelopment of Hunter's Point South, a proposal with the goal of bringing 5,000 units of new housing to the area first backed by former Mayor Michael Bloomberg. In addition to the residences, the project includes construction of a community center, local retail, a new public park designed by Mathews Nielsen Landscape Architects, and a K-8 school. A pair of new renderings highlights the open space planned between the new towers.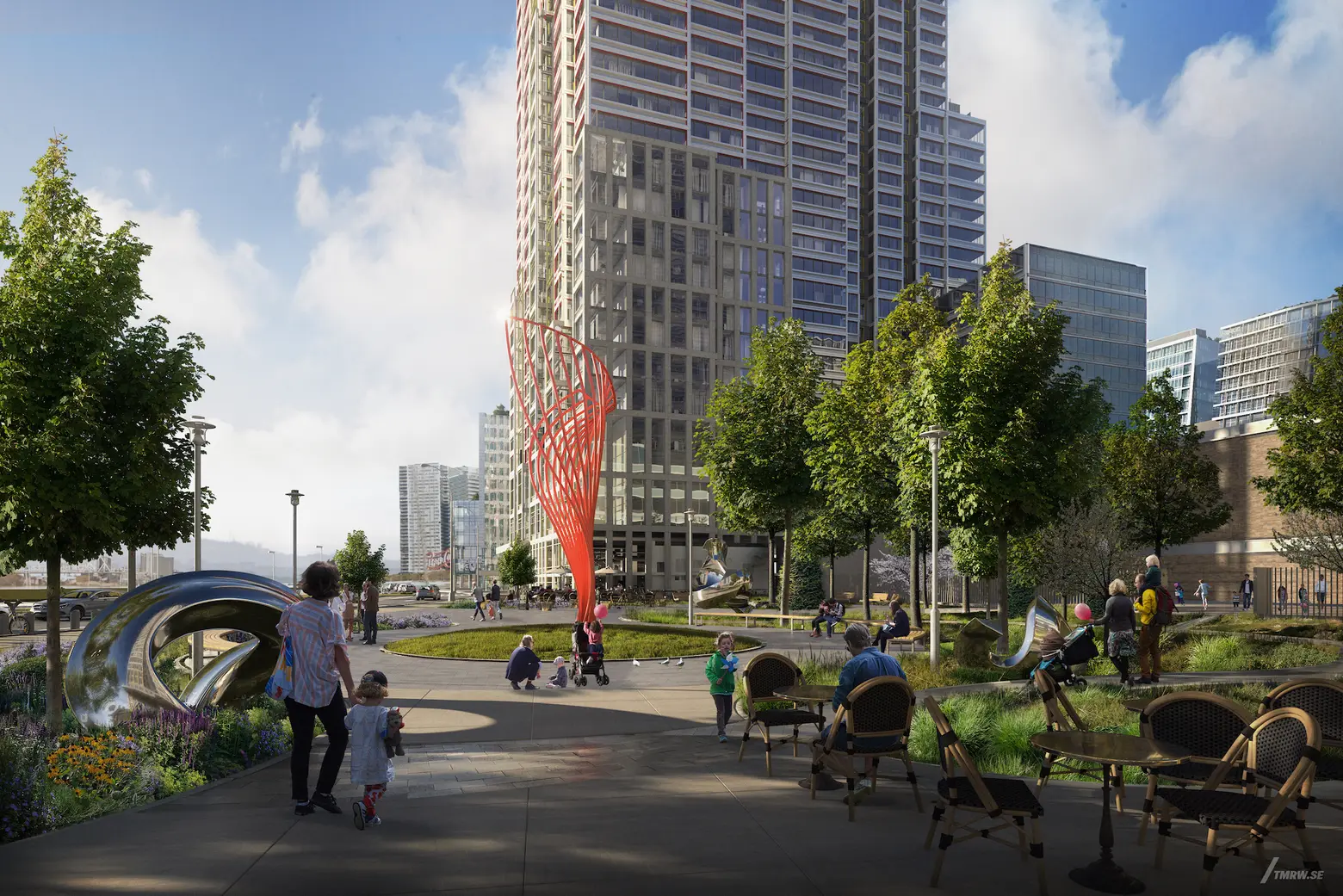 Designed by ODA Architects, with SLCE as the architect of record, the two buildings, one with 46 floors and the other with 56 floors, are connected by a central courtyard and a low-rise retail building in between them. The larger tower will be home to the majority of the apartments, as well as the 600-seat elementary school expected to open in 2023.
The apartments consist of a mix of studios, one-, and two-bedrooms, with 60 percent of them set aside for residents with low, moderate, and middle income. One hundred apartments will be for low-income seniors.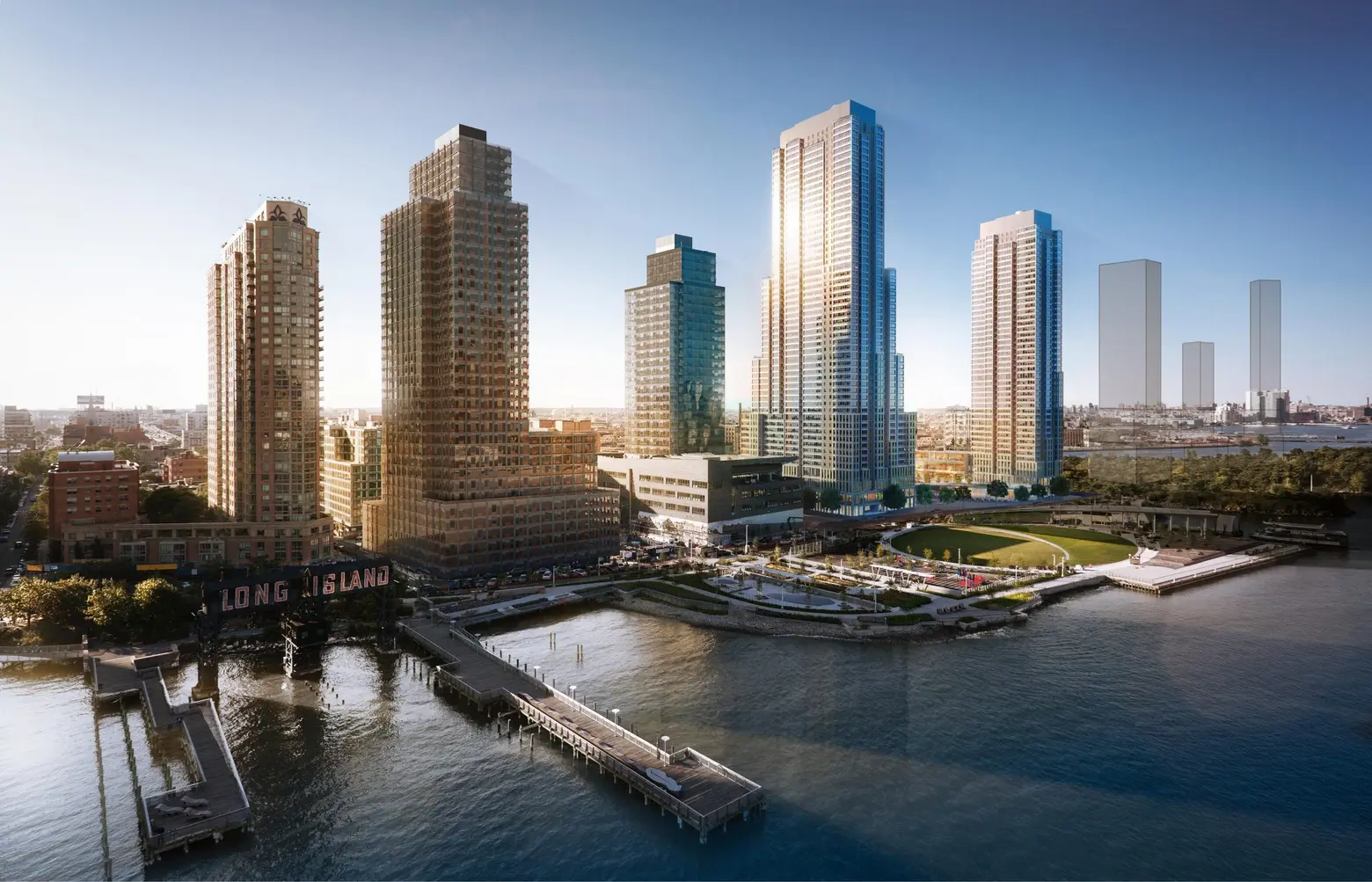 Rendering of Parcel C from October 2017, courtesy of ODA
"Long Island City is rapidly growing, attracting new residents, companies, and thriving local shops and restaurants," Jeremy Shell, the principal of TF Cornerstone, said in a press release. "This project will serve to foster that growth with a diverse mix of housing and community amenities to ensure new and old residents can stay in the community they love."
TF Cornerstone was first picked in 2013 to develop the second phase for Bloomberg's Hunter's Point South project. But construction was halted after the project ran into a problem with the New York Power Authority and Amtrak, which owns a rail tunnel that runs underneath the site.
To avoid interference with the train line, the developer said it would separate the units between a pair of buildings. And to keep weight off of the tunnel, ten floors of apartments would then be built at ground level in the center of the property, but on top of a concrete slab.
The New York Power Authority rejected TF Cornerstone's new design and did not allow any construction over the center of the property at all. But after years of negotiations, an agreement to keep the middle of Hunter's Point South tower-free was met.
Along with the city, the developer is working with Selfhelp Community Services, an organization that serves Holocaust survivors. Selfhelp will provide on-site support services for those in the senior apartments and will offer events for seniors at the community space. The community center will be run by Sunnyside Community Services, which will provide space for healthcare aide training and weekend events focusing on arts, wellness, and civic engagement.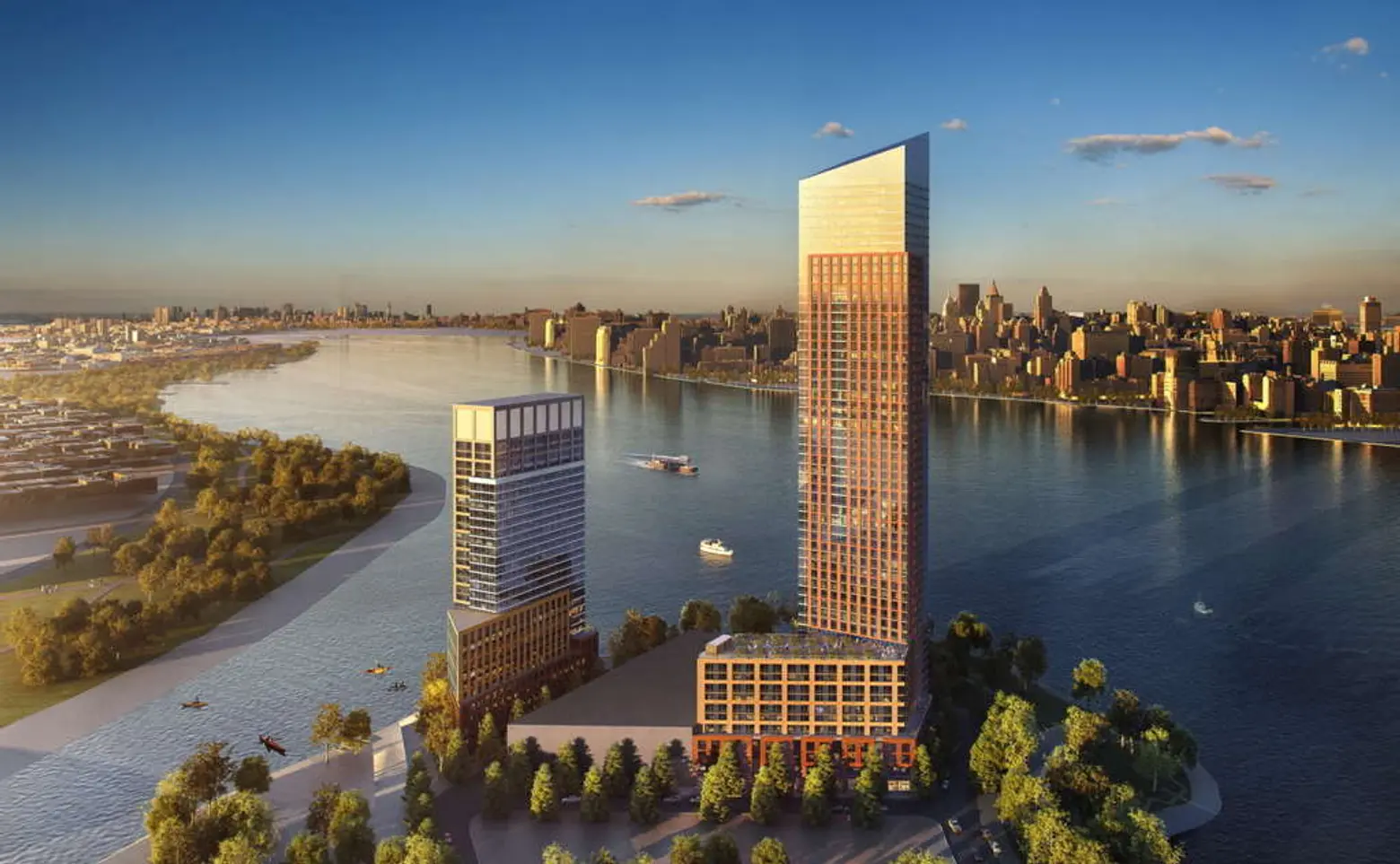 Rendering for Parcel G by Handel Architects
In November of 2017, the city selected a proposal from Gotham and RiseBoro Community Partnership Inc. to bring 1,100 new residential units to Hunter's Point South. The $500 million project will be built at the intersection of 57th Avenue and Second Street, or "Parcel G" at the development.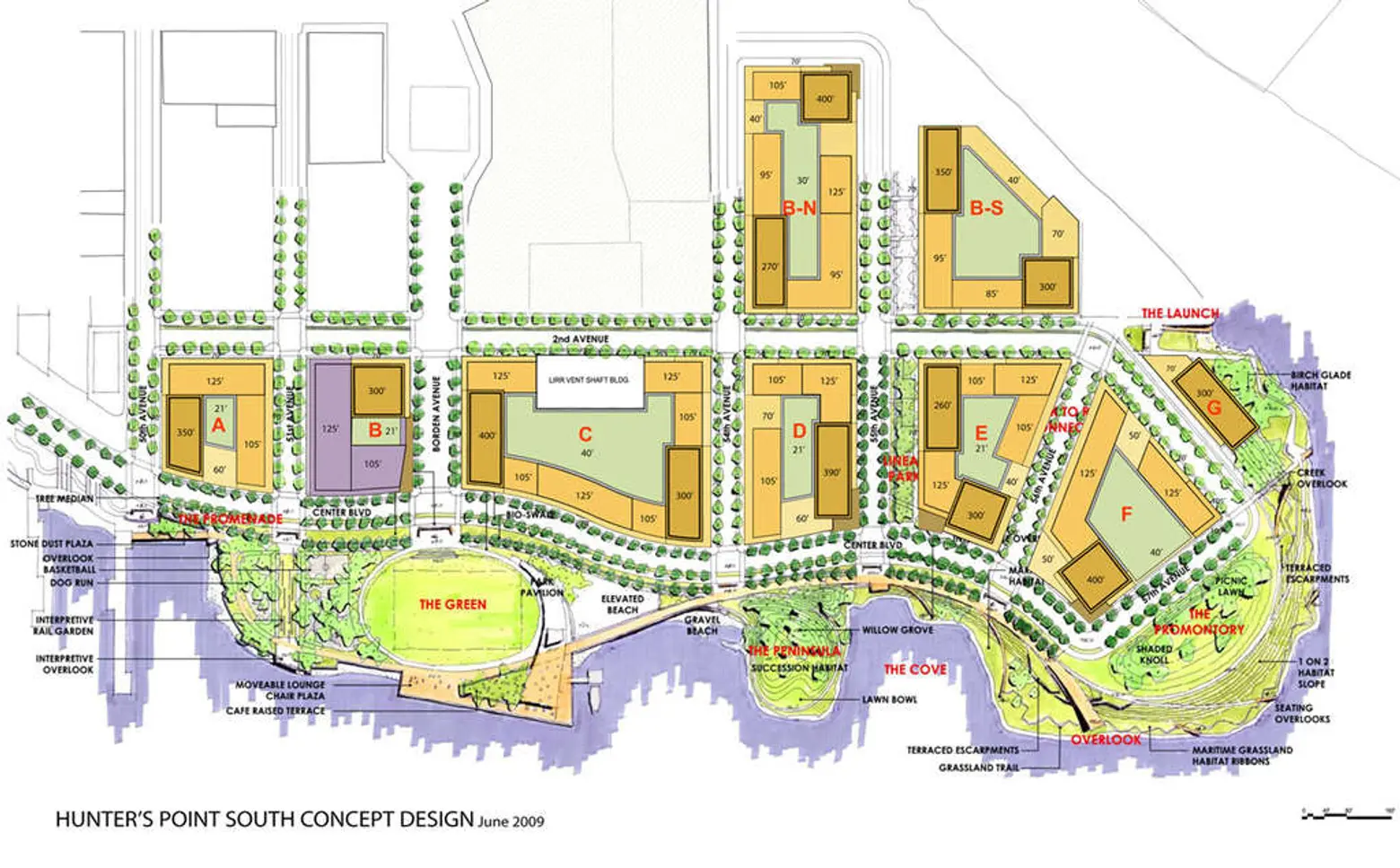 A design and development team consisting of SHoP Architects, Phipps Houses, Related Companies, Monadnock Construction, and Ismael Leyva Architects designed two towers, with 925 affordable units, at Parcel A and B, completed during phase one of the project. TF Cornerstone is developing Parcel C.
Eric Enderlin, the acting commissioner for the city's Housing Preservation and Development, said in a press release Friday: "Hunter's Point South is the type of transformative project we see once in a generation. Through tremendous vision and hard work, these thirty vacant acres of public land gave rise to a dynamic new neighborhood featuring beautiful parkland anchored in affordability."
RELATED: