Living in the Clouds: 50 New York Residential Towers Poised to Scrape the Sky (Part I)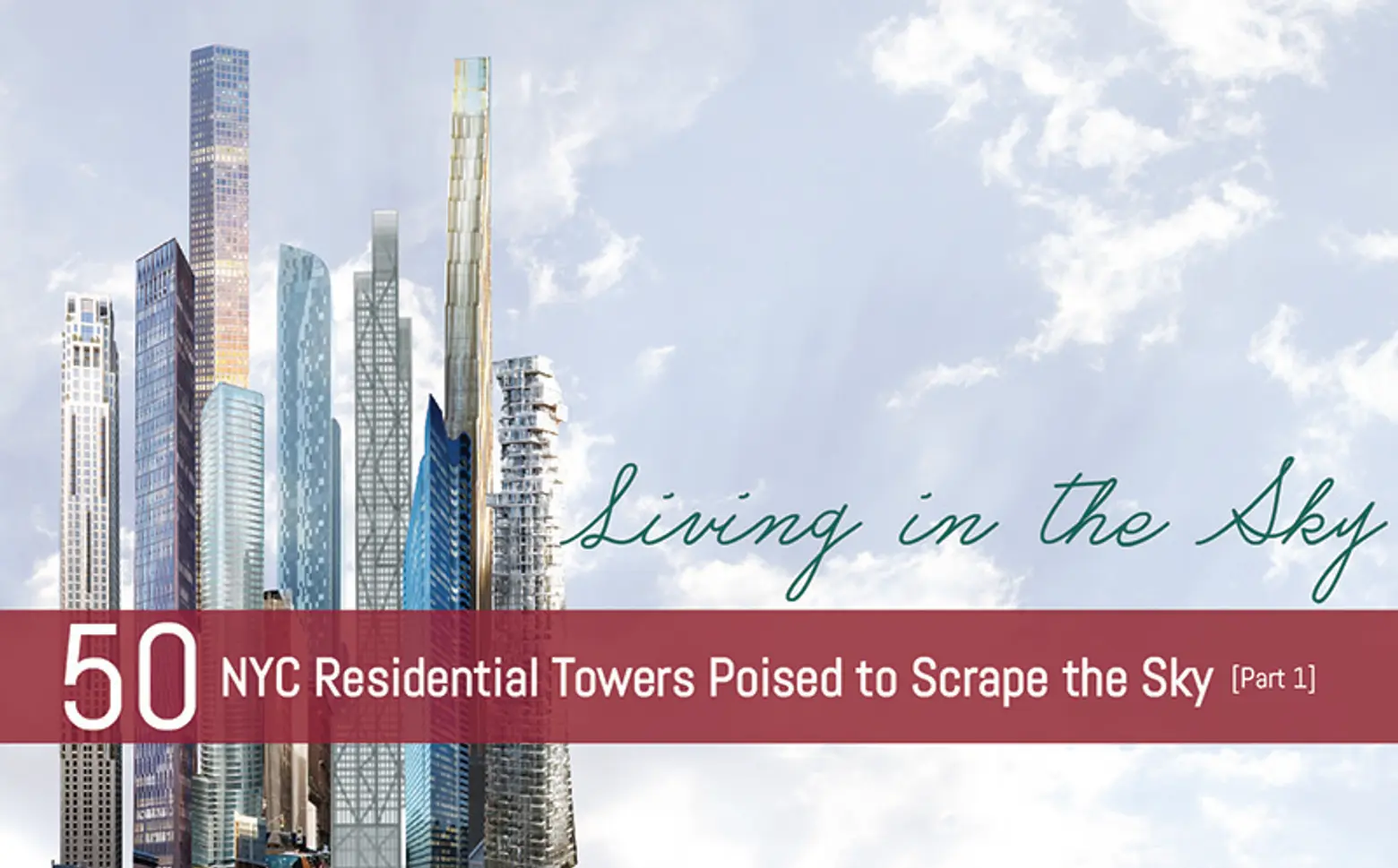 It seems like every week a new residential skyscraper is being announced in New York City, just earlier this week the New York Times noted that a partnership between Steven Witkoff and Harry Macklowe is moving ahead with a redevelopment of the Park Lane Hotel at 36 Central Park West with an 850-foot tower.
With the mind-boggling amount of residential spires poised to pierce the sky, here's a quick rundown of the tallest of the tall–the spindly bunch set to soar higher than 700 feet. Keep in mind that just 30 years ago, the tallest residence in the city was perched atop the 664-foot Trump Tower. Today, buildings are on the drawing board for more than twice that height.
225 West 57th Street (Nordstrom Tower)
Midtown West
Extell Development | Adrian Smith Gordon Gill Architects
93 floors | 1,479 feet to roof | 1,775 feet to spire
199 Condominiums, 1.3 MSF
2018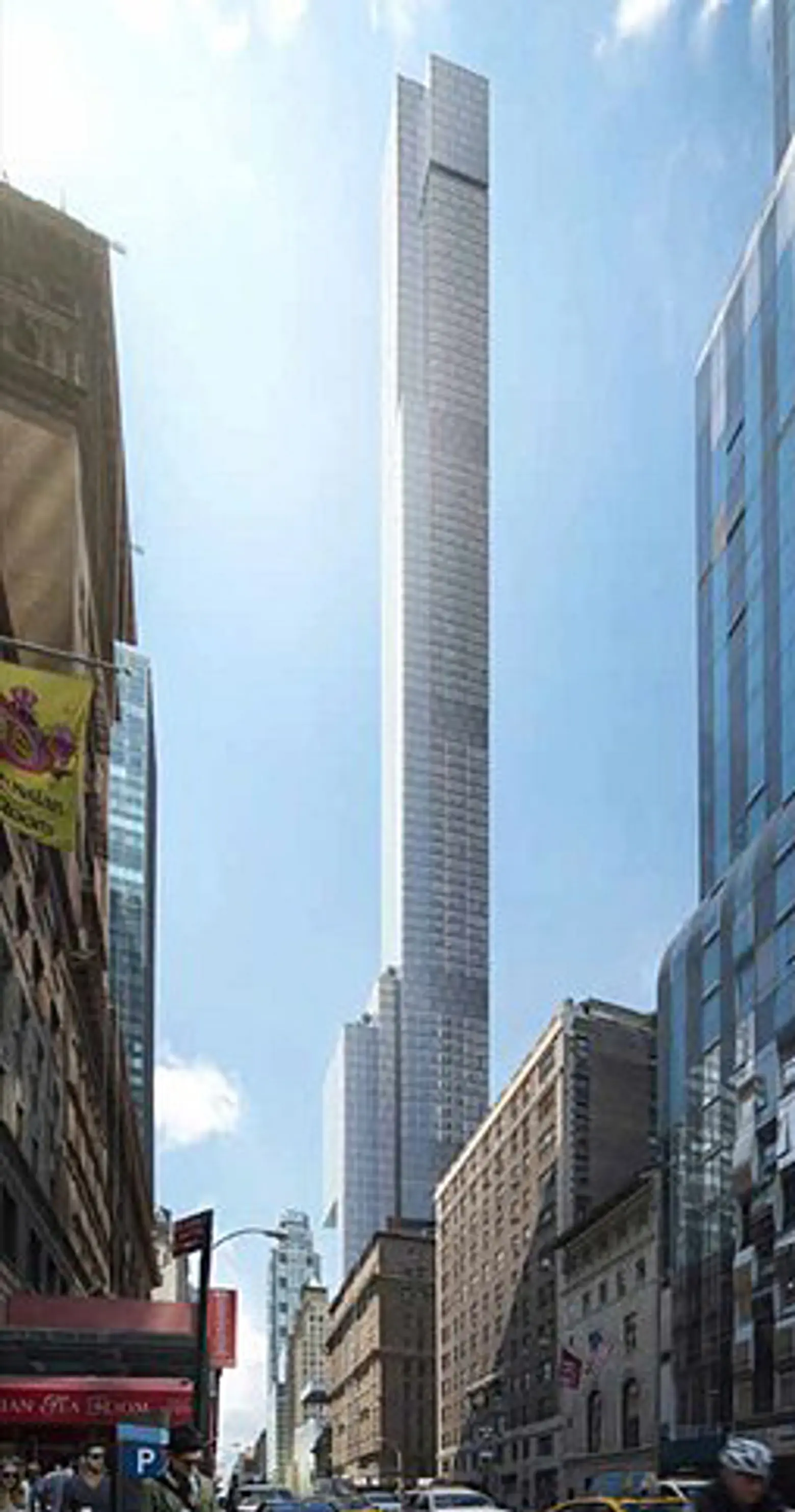 111 West 57th Street
Midtwon West
JDS Development | SHoP Architects
77 floors | 1,350-1,400 feet
80 Condominiums, 315,078 SF
Summer 2017
Midtown East
Macklowe/CIM Group | Rafael Vinoly Architects
96 floors | 1,398 feet
123 Condominiums, 519,229 SF
2015
125 Greenwich Avenue
22 Thames Street, Financial District
Shvo | Rafael Vinoly Architects
77 Floors | 1,356 feet
128 Condominiums, 453,628 SF
514 Eleventh Avenue (former Mercedes Benz Site)
Far West Side
Silverstein Properties
106 floors | 1,100 feet
1,400 units
2020
3 Hudson Boulevard (Girasole)
Far West Side
Moinian Group | FXFowle Architects
66 Floors | 1,060 feet
14 floors of luxury residential | 1.8 MSF
2018
53W53
53 West 53rd Street, Midtown West
Hines | Atelier Jean Nouvel
82 floors | 1,050 feet
140 condos, 28 service apartments
2017
157 West 57th Street, Midtown West
Extell Development | Christian de Portzamparc
73 floors | 1,005 feet
94 condos / 65 rentals / 210 room Park Hyatt Hotel | 882,141 SF
2014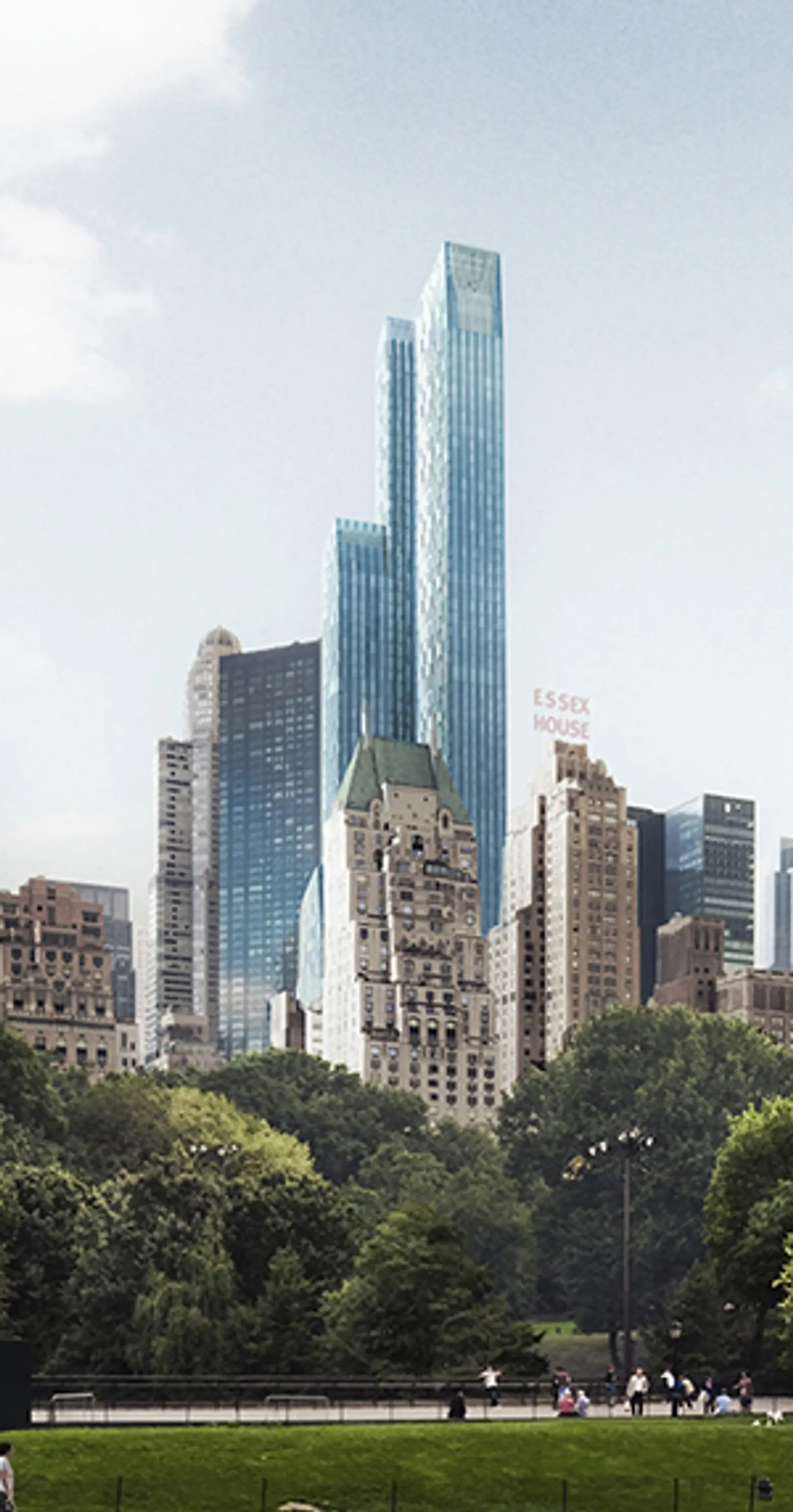 Christian de Portzamparc | dbox
Hudson Yards Tower E
35 Hudson Yards, Far West Side
Related Companies | Skidmore, Owings & Merrill
79 floors | 1000+ feet
250 condos | 150 room
220 Central Park West
Midtown West
Vornado Realty Trust | Robert A.M. Stern Architects
66 floors | 950 feet
160 condos
2016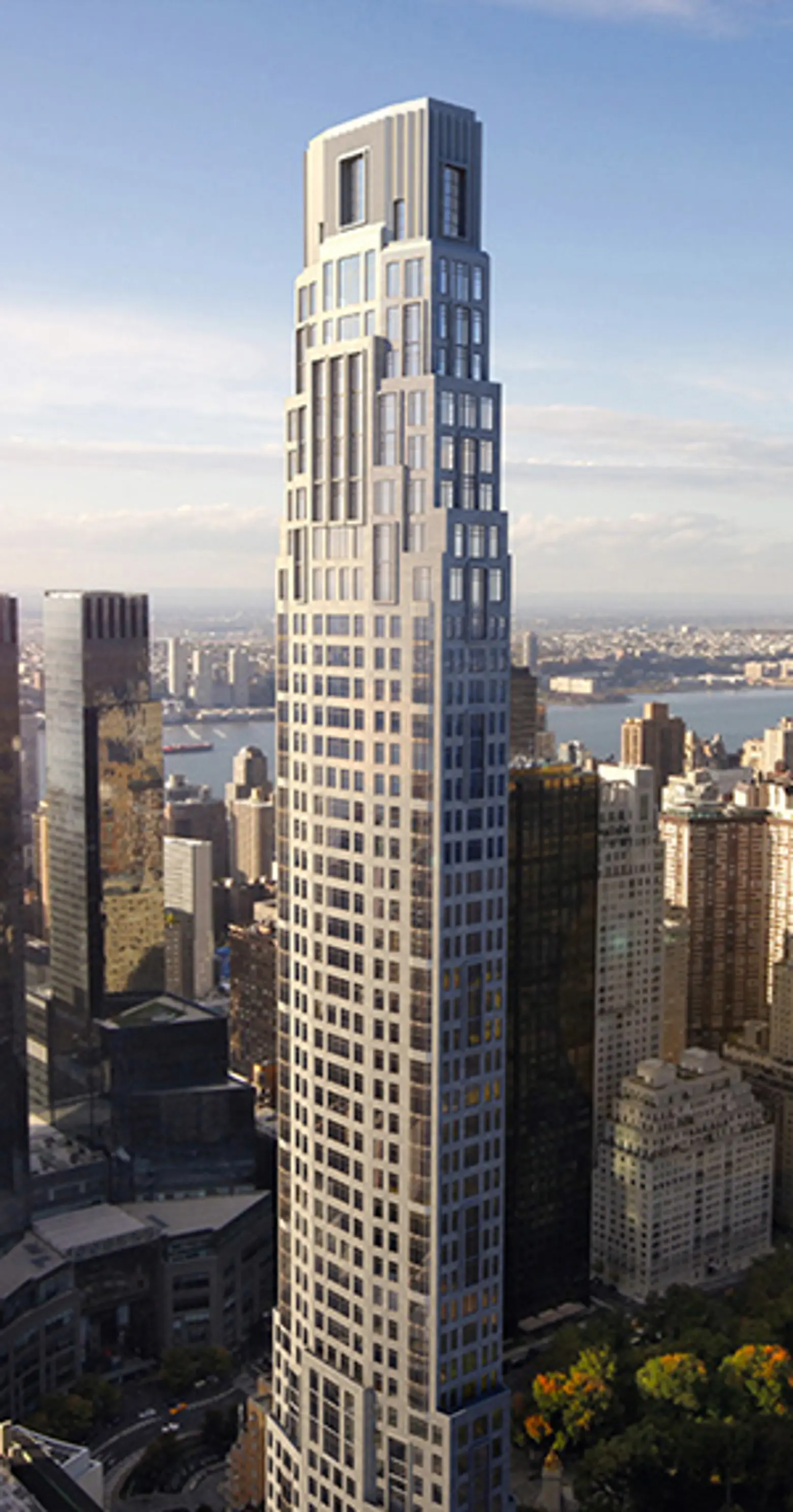 Preliminary Design by Robert A.M. Stern Architects
101 TriBeCa
101 Murray Street, TriBeCa
The Witkoff Group | Kohn Pedersen Fox Architects
63 floors | 950 feet
129 condos
2016
30 Park Place, TriBeCa
Silverstein Properties | Robert A.M. Stern Architects
82 floors | 926 feet
157 Condos | 683,000
June 2016

dbox | Robert A.M. Stern Architects
36 Central Park South (Park Lane Hotel site)
Midtown West
Witkoff Group | Macklowe Properties
850 feet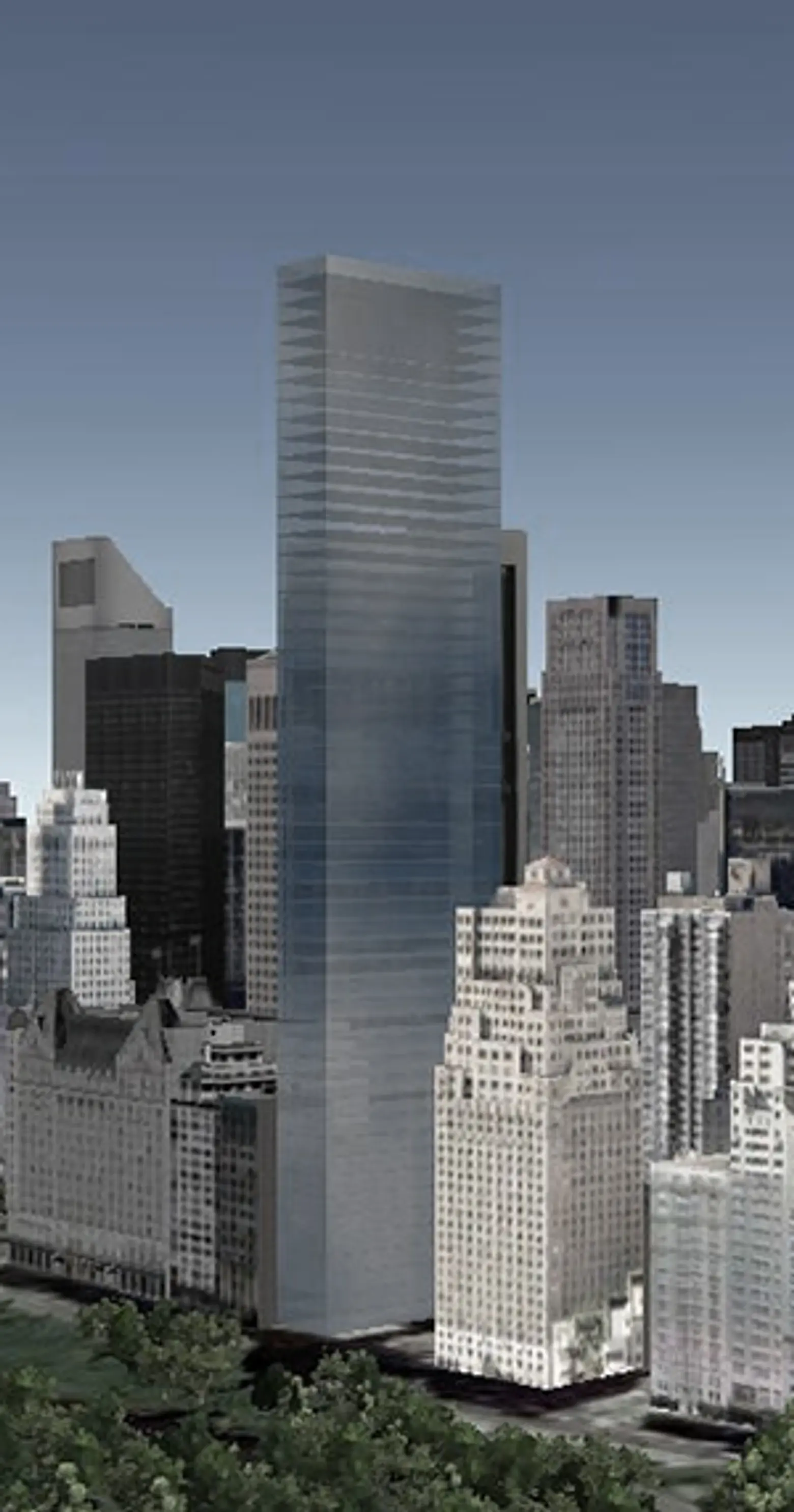 Image shown for massing purposes only
Hudson Yards Tower D
15 Hudson Yards, Far West Side
Related Companies | Diller Scofidio + Renfro
70 floors | 910 feet
250 condominiums and rentals | 960,000 SF
2018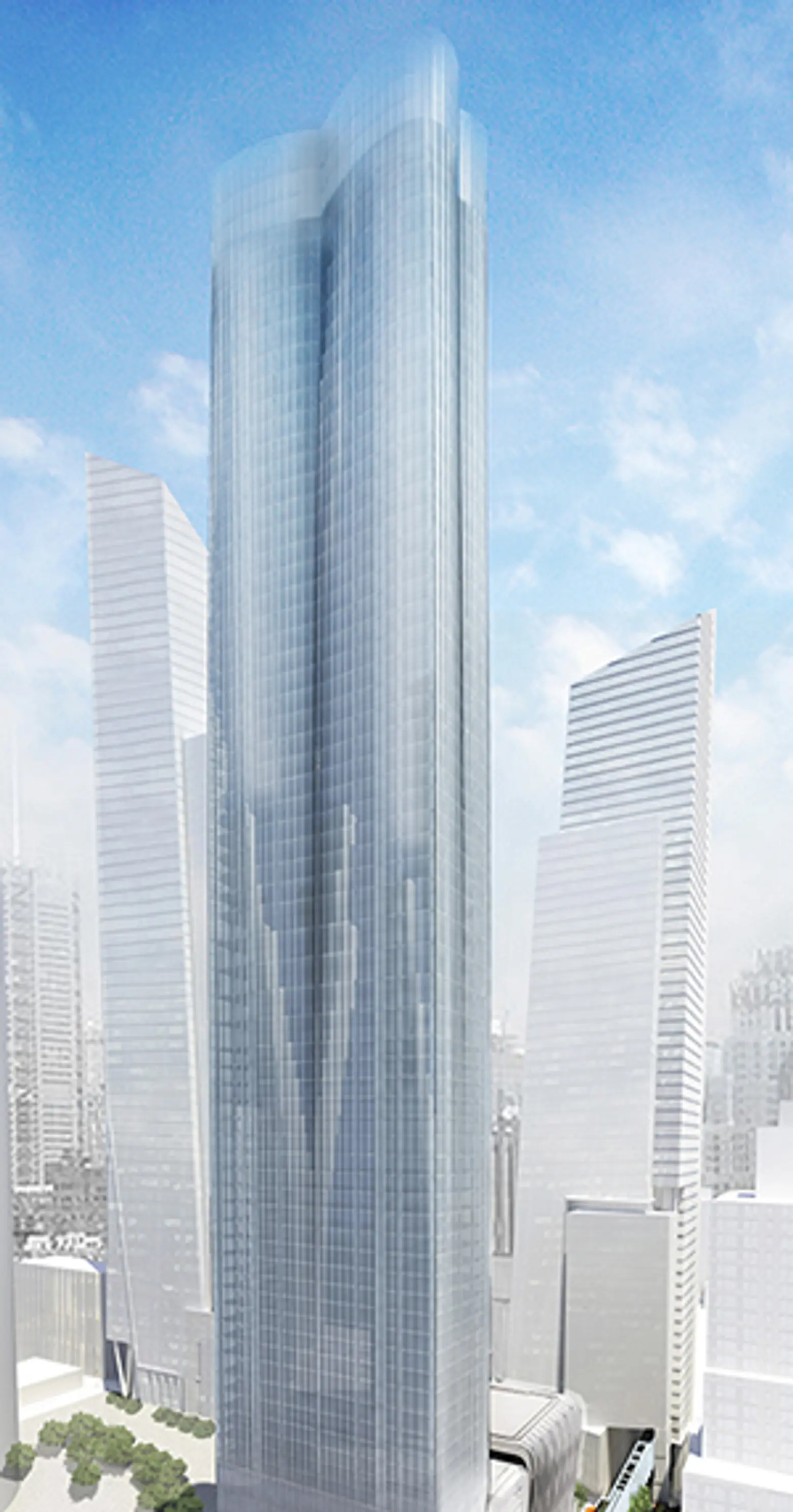 Related Companies | Diller Scofidio + Renfro
250 South Street
227 Cherry Street, Lower East Side
Extell Development | Dattner Architects
68 floors | 847 feet
787 units | 1,227,694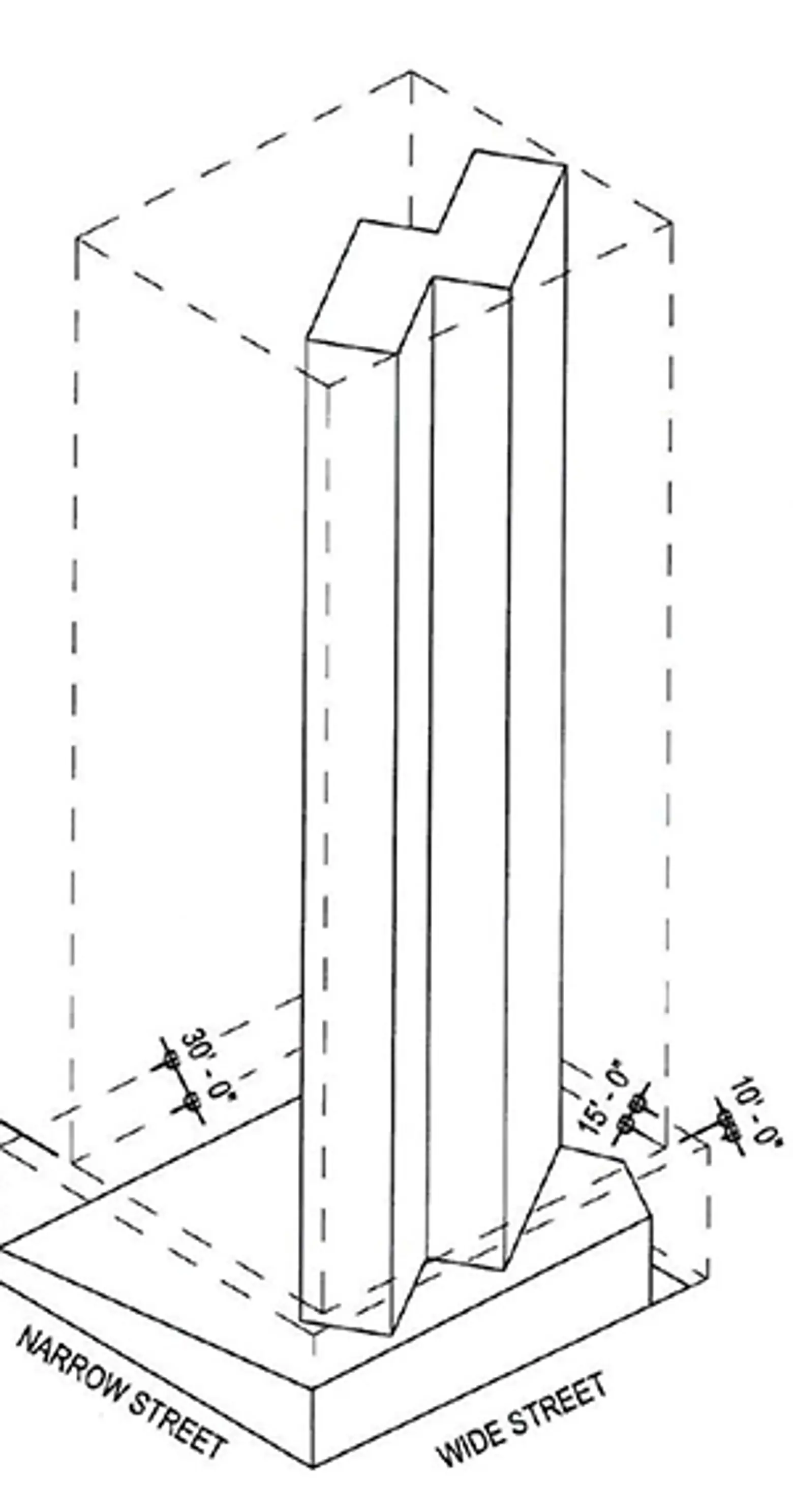 NYC Department of Buildings Massing Diagram
NoMad
JD Carlisle | Handel Architects
53 floors | 825 feet
188 Units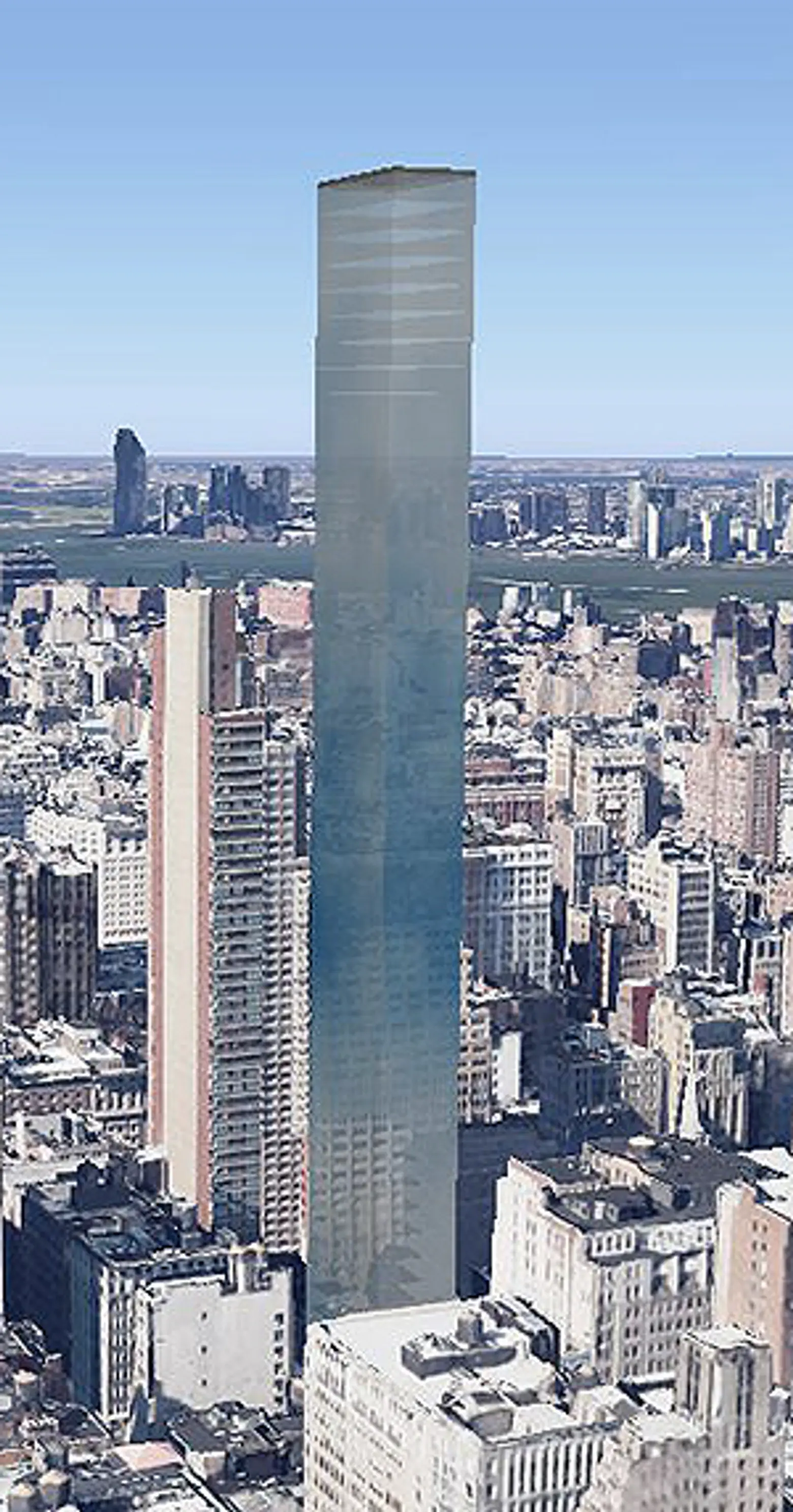 Image shown for massing purposes only
TriBeCa
Hines / Alexico Group | Herzog & de Meuron Architects
56 floors | 821 feet
145 condos | 480,364 SF
2015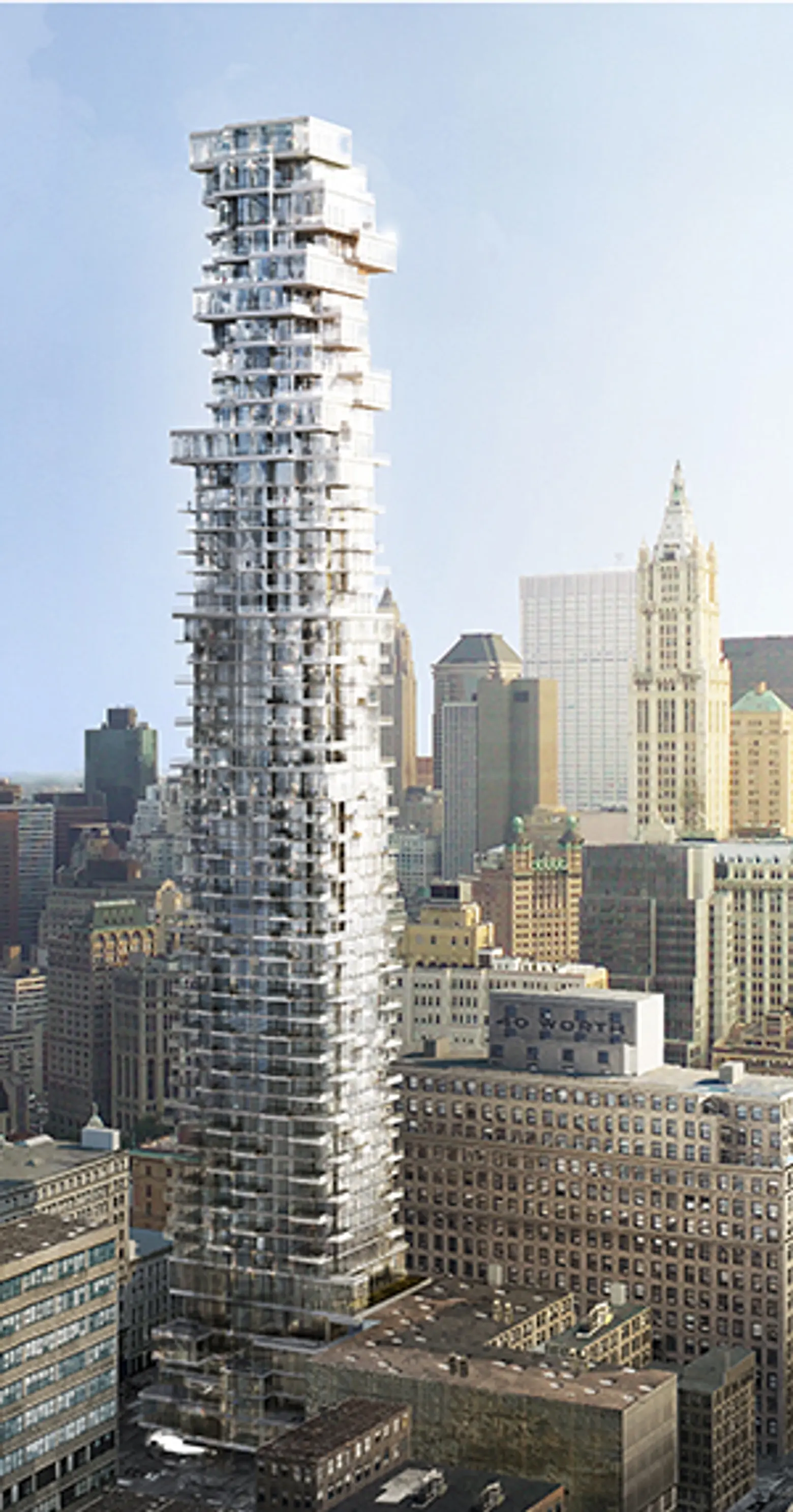 dbox | Herzog & de Meuron Architects
Upper East Side
Zeckendorf Development LLC | Robert A.M. Stern Architects
52 floors | 781 feet
31 Condos, 178,578 SF
2017
Financial District
Time Equities, Inc. | Murphy/Jahn Architects
63 floors | 783 feet
191 condos | 546,000 SF
2016
Gramercy
The Continuum Company | Kohn Pedersen Fox Architects
64 floors | 777 feet
83 units | 372,684 SF
Fall 2016
340 Flatbush Avenue Extension
Downtown Brooklyn
SHoP Architects | JDS Development
70 floors | 775 feet
495 units | 561,104 SF
Fall 2016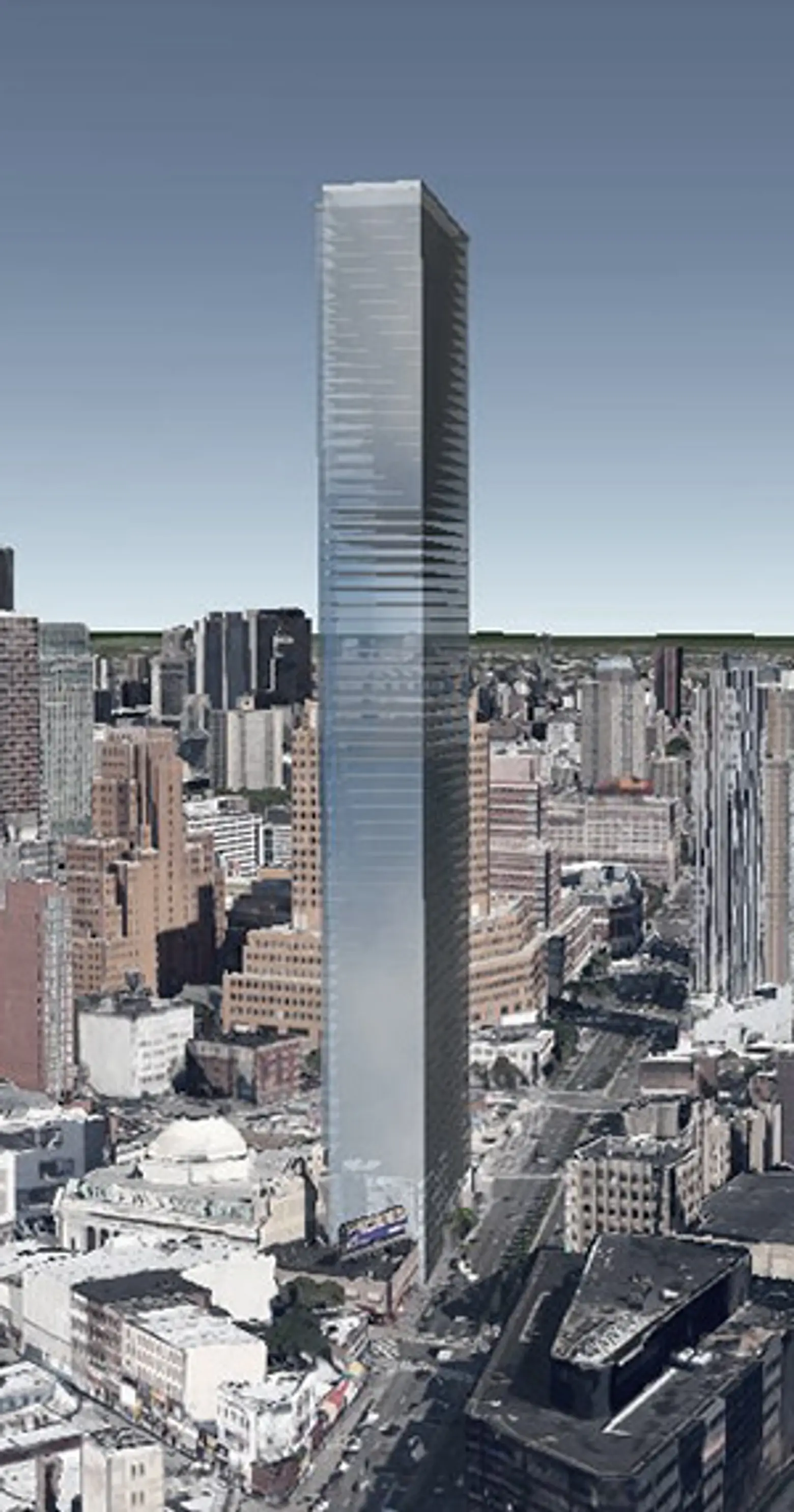 Image shown for massing purposes only
Midtown East
61 floors | 711 feet
World-Wide Group | Skidmore Owings & Merrill LLP
93 condos | 322,260 SF
2016
Midtown East
63 stories | 709 feet
RFR Realty LLC /Hines | Foster & Partners
91 condos | 273,598 Sf
2017
Manhattan West Residential Tower
500 West 33rd Street, Far West Side / Hudson Yards
Brookfield Properties | Skidmore Owings & Merrill
64 floors | 702 feet
790 Rentals | 756,674
Citypoint Phase III
Downtown Brooklyn
Extell Development
approx. 65 floors | +700 feet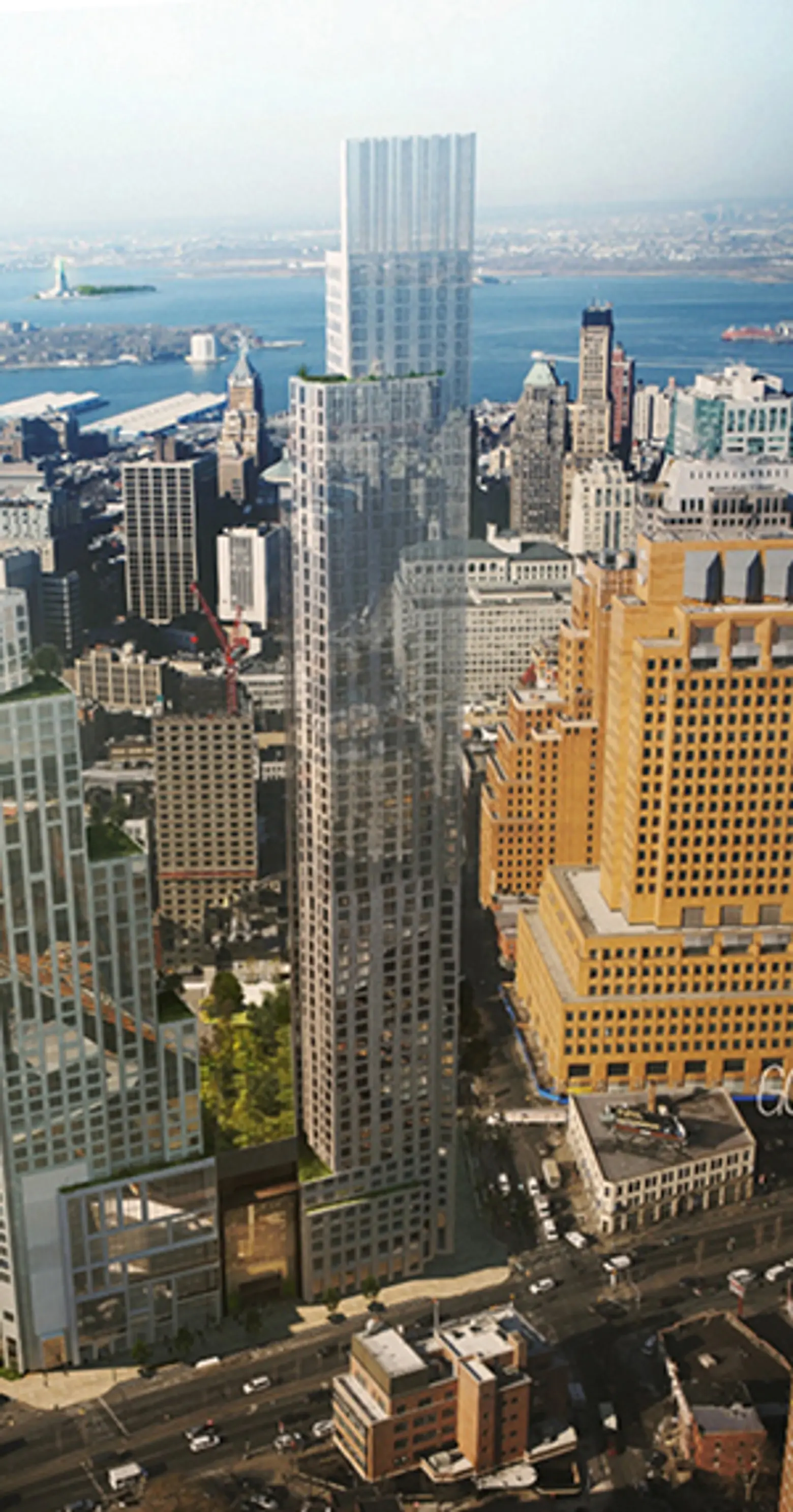 Conceptual Rendering by COOKFOX Architects
RELATED: