19 ways to celebrate Juneteenth in New York City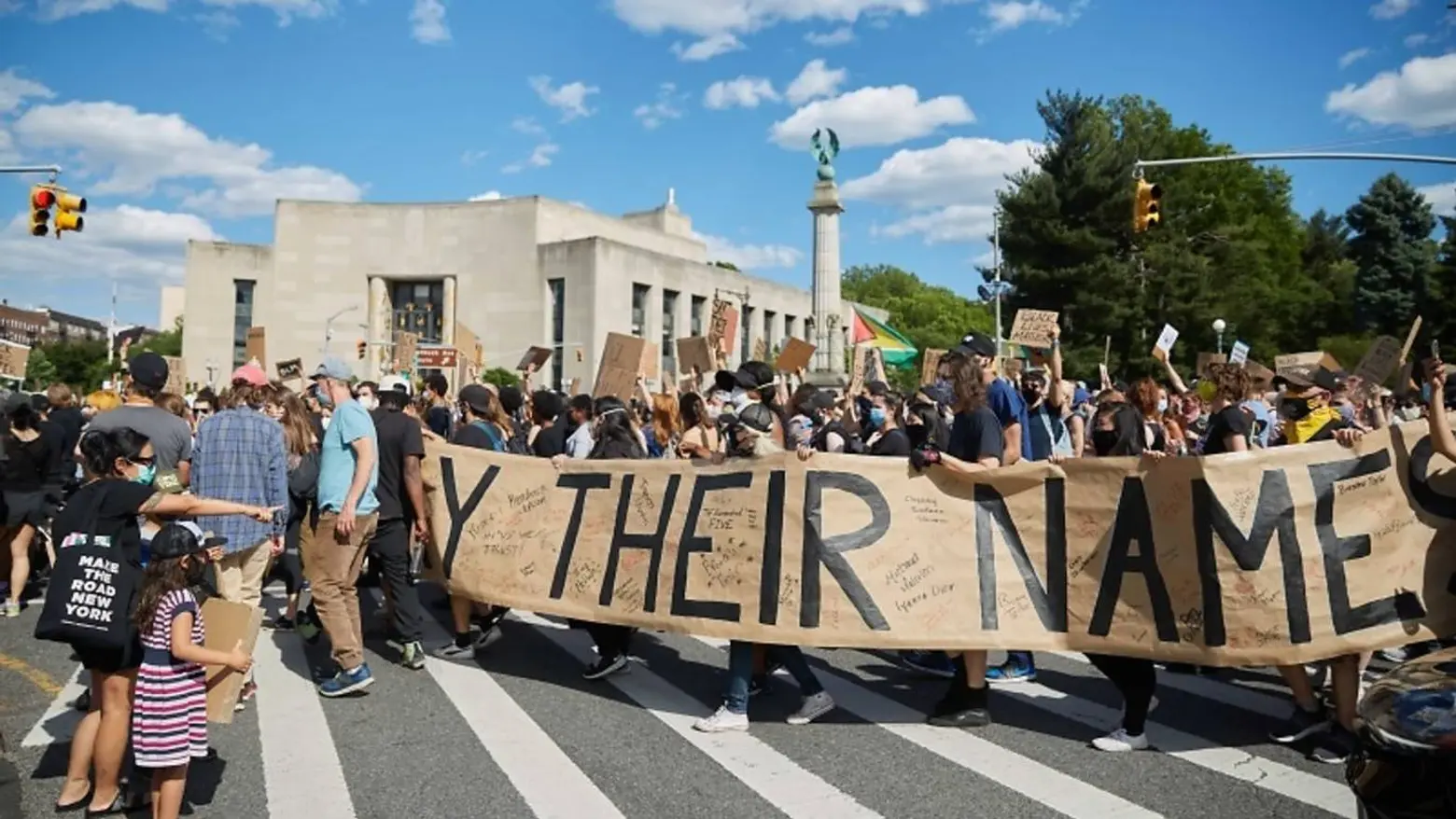 Gregg Richards: Crowd carrying a "Say their names" banner gather at Grand Army Plaza for Black Lives Matter rally. Brooklyn Public Library's Center for Brooklyn History.
Celebrated on June 19, Juneteenth marks the end of slavery in the United States in 1865, and it has been marked by African Americans across the country for more than 150 years. Last year, Governor Cuomo made Juneteenth an official state holiday, and Mayor de Blasio made it a city and school holiday. On this occasion of the holiday's first official year being observed, we've put together a list of events throughout New York City that celebrate and honor this sacred day, from film screenings and musical performances to panel discussions to walking tours.
12th Annual Juneteenth NY Festival
Saturday, June 19, 9 am-6 pm, Herbert Von King Park in Brooklyn
Sunday, June 20, 3 pm-9 pm, Restoration Plaza
As we mentioned, Juneteenth is not a new holiday to so many, and the East New York and Brownsville communities have been putting on this celebratory event for 12 years. In 2019, they saw 5,000+ in-person attendees, and in 2020, 20,000+ virtual attendees. The event kicks off virtually on Friday, June 18, and then becomes a hybrid celebration with both in-person and virtual events for the remainder of the weekend. During the three-day festival, attendees will enjoy live performances, workshops, family activities, and showcased vendors all gathered to celebrate the achievements of the Black community. In honor of New York City and State's official recognition of Juneteenth as a public holiday, the Brooklyn Public Library will be distributing the first-ever, limited edition Black American Library card at the Festival.
Brooklyn Resists
Saturday, June 19, 3 pm, Center for Brooklyn History, 128 Pierrepont Street
Created in response to the killing of George Floyd, Breonna Taylor, and the long history of Black Brooklynites experiencing the persistence of racism and police brutality, Brooklyn Resists explores the history of racial protest in Brooklyn – from abolition to today – and the ongoing fight against systemic racism as told through the lens of the Black Brooklynites and allies who have acted in solidarity to abolish it. There will be a 24/7 outdoor, multimedia exhibition featuring projected and physical images and text representing Brooklyn's long history of racial protest on Brooklyn Public Library's Center for Brooklyn History, as well as an online exhibition. There will also be additional public programs.
I Dream a Dream That Dreams Back at Me: A Juneteenth Celebration
Saturday, June 19, 7 pm, Lincoln Center
Conceived by the award-winning poet and artist Carl Hancock Rux, this experiential site-specific event moves attendees around the Lincoln Center campus to "experience the performance unfolding around you in multiple distinct parts." It begins at Heart Plaza with a musical introduction featuring vocalists Nona Hendryx, Marcelle Lashley, and Kimberly Nichole. They will wear paper dress creations crafted by designer Dianne Smith while standing in the Paul Milstein Pool, symbolizing the river journey taken by abolitionist Harriet Tubman while leading enslaved Americans to freedom. Next is a musical recitation of a deconstructed National Anthem, remixing the works of Francis Scott Key and James Weldon Johnson, sung from on high by the multidisciplinary artist and vocalist Helga Davis. The evening culminates with a full-length concert by the acclaimed rock and roots musician Toshi Reagon with her band BIGLovely, who will be joined onstage at Damrosch Park by Hendryx, Reid, Lashley, Nichole and Davis. Free tickets are available through the TodayTix lottery.
Summer of Soul Screening at SummerStage
Saturday, June 19, 5-8:30 pm (doors open 3 pm), Marcus Garvey Park, 18 Mt. Morris Park West
Celebrate Juneteenth in Harlem with a free, outdoor screening of Summer of Soul (…Or, When the Revolution Could Not Be Televised). Directed by Ahmir "Questlove" Thompson, the film highlights the story of the momentous 1969 Harlem Cultural Festival, featuring never-before-seen footage from the massive concert series that was (until now) virtually eliminated from the history books. Free tickets must be reserved in advance; ticket requests close Saturday, June 12.
The New Black Joy: Black History, Continued Event
Thursday, June 17, 5 pm, virtual 
The second installment of the New York Times' new series Black History, Continued, this Juneteenth event welcomes Questlove to discuss his new documentary Summer Of Soul (see above for film details). In addition to chatting, Grammy-winning bassist and listener Esperanza Spalding will perform. Artist, community organizer, and educator Dr. Shamell Bell will dance and explore how movement can unlock the joy within. And finally, hear from The Lay Out, a group of Brooklyn-based activists and organizers who are helping us reclaim space, time, energy and, most importantly, each other.
Juneteenth Solidarity 5K
Saturday, June 19, 12pm, starts at Highbridge Park
Walk or run this solidarity march in the form of a 5K that starts at Highbridge Park in Washington Heights and ends at Morningside Park in Harlem. Following the march, from 2-3pm, there will be a chamber concert and performance by the Marching Cobras in the park. At 5pm in Marcus Garvey Park, catch a screening of Questlove's Summer of Soul.
Meals as Collective Memory
Saturday, June 19, 12:30-4 pm, Weeksville Heritage Center
This free, interactive event is a continuation of the Weeksville Heritage Center's comprehensive oral history project that launched in 2019. It includes lively food demonstrations, a panel discussion about food deserts and the emergence of community fridges during the pandemic, and an intimate conversation with food historians Tonya Hopkins and Dr. Jessica Harris (of the new Netflix hit High on the Hog) that explores the comfort of Black foodways from throughout the diaspora.
Central Park Conservancy tours of Seneca Village
Saturday, June 19 and Sunday, June 20; times vary
To mark Juneteenth, the Central Park Conservancy has arranged two days of programming surrounding Seneca Village, which was located on the current park site from West 82nd to 89th Streets and was home to the largest community of free African-American property owners in pre-Civil War New York. Throughout the weekend, Conservancy staff will offer in-person and virtual tours of the Seneca Village site. The 90-minute in-person tours cost $15 and explore how Seneca Village offered refuge from the crowded conditions and racial discrimination prevalent in NYC at the time, and how the construction of the park resulted in the displacement of its residents through the process of eminent domain. There will also be a special pop-up with information and family-friendly activities at the Abraham and Joseph Spector Playground.
Juneteenth Freedom Festival
Saturday, June 19, 11 am – 6 pm, Snug Harbor Cultural Center & Botanical Garden
This Staten Island attraction is a collection of 19th-century buildings that were originally part of a home for retired sailors. Today, it functions as an arts center, botanical garden, and public park. This year, Snug Harbor is holding its inaugural Juneteenth Freedom Festival, where over 50 Staten Island-based organizations will come together to celebrate the holiday. There will be tons of different events and workshops throughout the day, but some highlights include: a historical reenactment of the reading of General Order No.3 and the Emancipation Proclamation; musical performances and fashion shows; and art-making activities for children.
Juneteenth in Queens
Saturday, June 19, 10 am – 6pm, Roy Wilkins Park
Queens Assemblymember Alicia Hyndman hosts this special festival with interactive activities like an African dance master class and live painting, as well as a slew of food, retail, and informational vendors. Highlights include Badmom Jerk Chicken & Waffles Truck, Pon Di Ice, and a special Black Fashion Row.
Juneteenth Family Day
Saturday, June 19, 12 pm – 5pm, Pelham Bay Park
In the Bronx's Pelham Bay Park, this event will have free fun for the whole family, including refreshments and snacks, yoga, Zumba, arts and crafts, performances, and more. It's being hosted by Bronx Poetry, The Rose Garden Events, and Noire Vibez Eventz.
Troy Anthony's The Revival: It Is Our Duty 
Saturday, June 19, 8 pm, The Shed at Hudson Yards
This performance is a musical event featuring powerful, grounding, original songs written by Anthony and performed through ritual to activate individual and collective liberation in celebration of Juneteenth. It will include a stirring community choir and band. Tickets are free but must be reserved in advance.
Schomburg Center Literary Festival
Monday, June 14 – Saturday, June 19; times vary
The Schomburg Center for Research in Black Culture has reimagined its annual day-long book festival as a virtual festival taking place over six days. Throughout the week, featured authors and books help explore concepts of freedom, culminating in the "Words Like Freedom" event on June 19. This event features authors from across the globe–including Cheryl Boyce-Taylor, Yaba Blay, PhD, and Honorée Fanonne Jeffers–whose works of fiction, non-fiction, and poetry "celebrate and interrogate the sweet refrain of freedom's song in our everyday lives."
Juneteenth: The Lot Radio at the Library for the Performing Arts
Saturday, June 19, 11:30 am-4:30 pm, Lincoln Center or online
Williamsburg's independent online radio station (that operates 24/7 from a reclaimed shipping container) The Lot Radio has teamed up with The Library for the Performing Arts for a special Juneteenth event, during which guest DJs will spin from the Music & Recorded Sound Division's vast collection of music and spoken word recordings in a live broadcast that celebrates African American culture and that reflects upon the meaning of Black freedom.
3rd Annual Juneteenth Jubilee: The Emancipation After Party
Saturday, June 19, 6 pm, The Bell House, 149 7th Street, Brooklyn
This socially distanced indoor event (masks are required when not eating or drinking) is hosted by Chinisa S with music by DJ Monday Blue. It will feature comedians Aminah Imani, Alex English, Dave Lester, Jatty Robinson, and To Karen, With Love. Tickets, appropriately, cost $18.65.
Drunk Black History
Saturday, June 19, 9 pm, The Bell House, 149 7th Street, Brooklyn
Stick around at the Bell House to see comedians Brandon Collins and Gordon Baker-Bone host the Juneteenth edition of their interactive show where prominent Black historical figures will finally get their due through drunken anecdotes from booked guests. Tickets are $20 in advance ($25 at the door), or you can buy a $10 advanced streaming ticket ($15 day of).
Living History @ Home: Cooking for Juneteenth
Wednesday, June 16, 3 pm, virtual
In this virtual family program, The New-York Historical Society takes you on a virtual field trip to Genesee Country Village & Museum—the largest and most comprehensive living history museum in New York State—to explore how some African American New Yorkers would have celebrated the end of slavery. Guides will prepare a celebration feast on a wood-burning stove in one of the historic buildings, so you can learn how to make kid-friendly recipes like strawberry pie and sweet tea.
MCNY presents FREEDOM SONGS featuring Kenyatta Emmanuel & Shanelle Gabriel
Friday, June 18, 4 pm, Museum of the City of New York
* At the time of publication, this event was sold out with no waitlist
The Museum of the City of New York has arranged an afternoon of song and spoken word reflections celebrating freedom and commemorating the ending of American slavery, taking place outdoors on their front terrace. There will be performances by songwriter and activist Kenyatta Emmanuel and poet, singer, and lupus warrior Shanelle Gabriel.
Black Creatives + Culture Market, Juneteenth Edition
Saturday, June 19 & Sunday, June 20, City Point and Albee Square, Downtown Brooklyn
The Black Creatives + Culture Market: Juneteenth Edition is taking place on June 19 and June 20 in Downtown Brooklyn. Hosted by Da Spot NYC in partnership with Mastercard & City Point, the free two-day festival includes a marketplace with more than 40 Black, Indigenous, and People of Color brands offering a variety of designs and products available for purchase. The event will also feature musical performances, an art show featuring local artists, and community-building workshops. Learn more here.
RELATED: