35+ black-owned restaurants in NYC by borough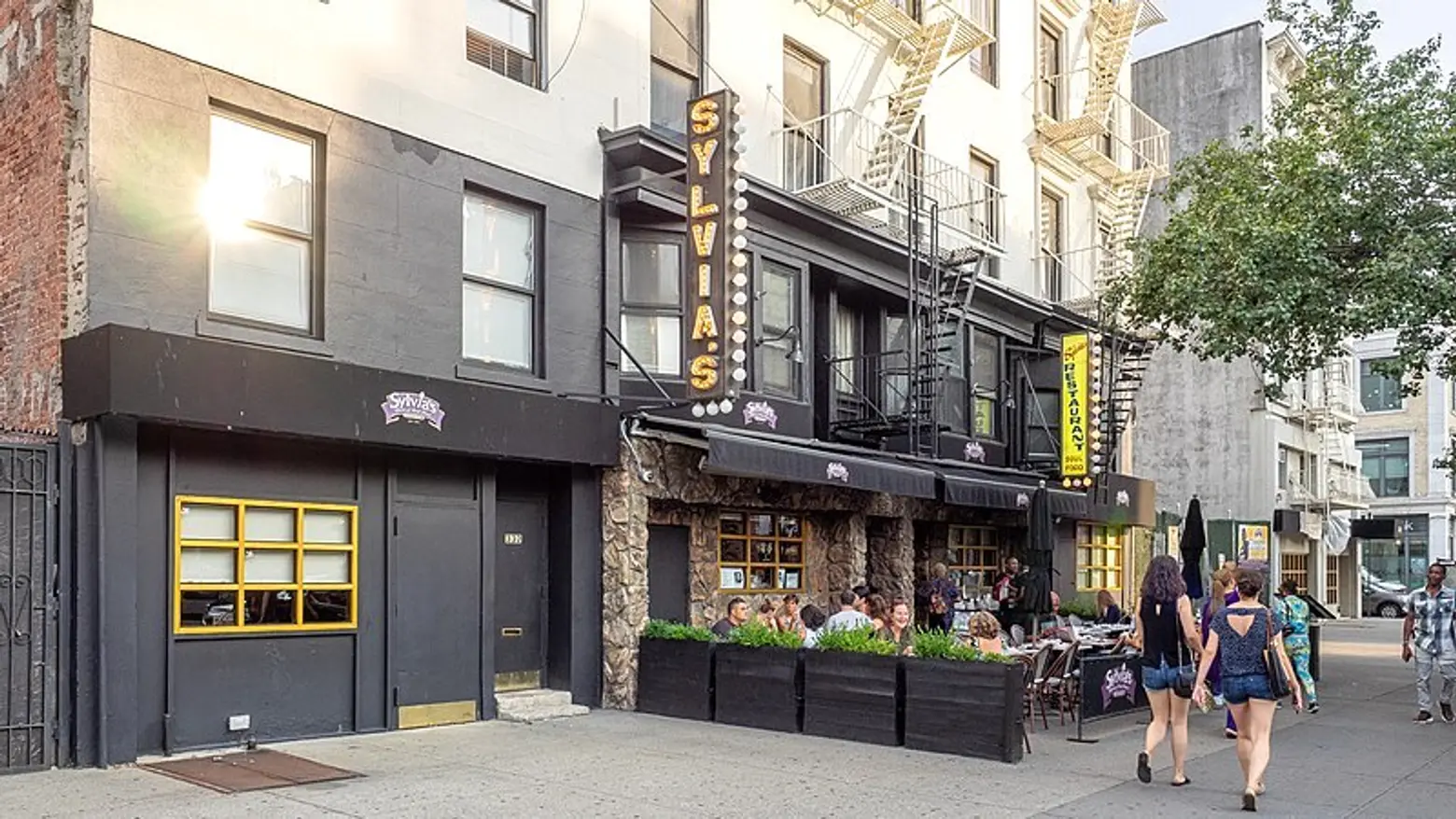 The Black Lives Matter movement continues to grow in New York City and across the country, with many people looking to get involved, whether it's donating to antiracist organizations or studying the history of the black experience in America. Another direct action New Yorkers can take to support the black community today is shopping at black-owned businesses. Lists and guides have popped up online in the last few weeks to bring attention to these mom and pop shops, with detailed resources from Black-Owned Brooklyn and this spreadsheet created by New Yorker food critic Hannah Goldfield. The app Eat Okra, which launched three years ago, is also a helpful resource that highlights most of the black-owned restaurants in NYC, which according to Eater, includes more than 2,500 restaurants. Ahead, we break down some of the best black-owned restaurants, cafes, and bars in every borough. It is no means a comprehensive list and we encourage our readers to share with us additional places to include.
Brooklyn
Allan's Bakery
1109 Nostrand Avenue
This West Indian bakery has been serving the Prospect Lefferts Gardens neighborhood and the rest of Brooklyn for more than 50 years. Allan's Bakery, a third-generation family-owned shop, is known for its fresh bread, currant rolls, beef patties, cakes and other delicious pastries.
Bed-Stuy Fish Fry
940 Fulton Street, 827 Nostrand Avenue, 801 Halsey Street, 1716 Utica Avenue
For all your comfort food needs, check out Bed-Stuy Fish Fry, which has four physical locations and delivers locally. As their name suggests, the restaurant is best known for its seafood and chips combos and nearly two dozen side options.
Cheryl's Global Soul
236 Underhill Avenue
Chef Cheryl Smith's Prospect Heights restaurant offers quality global cuisine at an affordable price. The menu from the former Food Network includes a little bit of everything, from tonkatsu bowls and bulgogi rib-eye steak to a tamarind roasted half chicken and Creole BBQ jump shrimp.
De Hot Pot
1127 Washington Avenue
Local favorite De Hot Pot is a casual Trinidadian restaurant in PLG offering cheap Caribbean eats. Quick bites include doubles, roti stuffed with meat or vegetables, and pastries like coconut bakes and currants. The typically cash-only shop is now on DoorDash.
Grandchamps
197 Patchen Avenue, 141 Flushing Avenue
Grandchamps serves up traditional Haitian cuisine, including freshly-made pikliz, akra, and griyo. And don't skip on dessert, which could be plantains foster (sweet plantains with rum caramel and ice cream) or pen patat (baked sweet potato pudding).
Peaches HotHouse
415 Tompkins Avenue, 87 South Elliott Place
As one of the only places serving Nashville-style hot chicken in Brooklyn, Peaches HotHouse has been a local favorite since opening in Bed-Stuy a decade ago. Now with a second location in Fort Greene, the restaurant continues to please with its crispy fried chicken and Southern-inspired cocktails. The HotHouse owners also run Brooklyn restaurants Peaches and Peaches Shrimp and Crab.
Peppa's Jerk Chicken
791 Prospect Place
Crown Heights-based Peppa's remains one of the most popular spots in the borough for jerk, stew, and curry chicken. With everything on the menu mostly under $15, Peppa's will no doubt leave you full and with some money leftover.
Rustik Tavern
471 Dekalb Avenue
Popular boozy brunch spot Rustik Tavern is known for its fun atmosphere and cozy outdoor patio space. While the patio has not reopened yet, the Clinton Hill restaurant is still serving favorites like crab cakes and shrimp avocado tostones (and to-go cocktails) for pick-up via Seamless.
Sally Roots
195 Wyckoff Avenue
With summer weather officially here, cooling off with a frozen cocktail from Sally Roots is something we all need. In addition to its tasty drinks (like this one), the Caribbean-American restaurant features traditional dishes like braised oxtail and grilled jerk chicken and mixes in with less-common Island dishes like ramen and burgers.
Sol Sips
203 Wilson Avenue
For plant-based bites and beverages, look no further than Sol Sips in Bushwick. The business is one of the most popular vegan and vegetarian restaurants in Brooklyn, offering tasty dishes like jerk jackfruit paninis, mushroom melts, and more. Sol Sips has also launched Black Supper, a program that provides nourishing meals to the community for free. Learn more about it here.
The Bergen
1299 Bergen Street
Newbie restaurant The Bergen had just opened its doors for a few weeks in March before having to shutter for dine-in service because of the coronavirus. But the restaurant has continued delivery and pick-up service, with menu items like fish and chips, wings, burgers, and sandwiches.
Bronx
Balimaya
2535 3rd Avenue
The Balimaya continues to serve some of the borough's best West African cuisine for takeout. The Mott Haven restaurant is best known for its fried fish, jollof rice, and attiéké, a popular street food found along the Ivory Coast.
Blackgal Seafood
1930 Patterson Avenue
Shrimp, salmon, sides, and more at this soul food restaurant in the Bronx's Clason Point neighborhood. Blackgal Seafood offers affordable seafood and wing combos, with comfort sides like collard greens, mac and cheese, and potato salad. The restaurant is open for pickup and delivery via Uber Eats.
Bricks and Hops
65 Bruckner Boulevard
The Harlem River-facing beer garden is known for its long list of draft beers and easy-to-share appetizers and savory sandwiches, including a "bodega chopped cheese," a nod to the Bronx. Bricks and Hops has remained open during the statewide shutdown offering signature dishes and drinks to-go on Uber Eats and Grubhub.
Corner Style Jamaican
1195 Walton Avenue
Just a few blocks north of Yankee Stadium, this blink-and-you'll-miss-it storefront offers delicious Jamaican dishes at budget-friendly prices. Serving breakfast, lunch, and dinner, Corner Style is a local favorite, known for its patties, jerk chicken, and American-style mac and cheese.
Fish N' Ting
4063 Boston Road
Fish N' Ting brings Jamaican cuisine to the Northeast Bronx. Available for online orders, Fish N' Ting has an extensive menu, offering various Rasta pasta, fried rice combos, and classic curry and stew dishes.
Lloyd's Carrot Cake
6087 Broadway
Considered by many to be home to NYC's best carrot cake, Lloyd's Carrot Cake has gained international status. The family recipe originated in the United States Virgin Islands, moved to the Bronx nearly 40 years ago, and has since taken off in Riverdale and beyond. While the carrot cake is the most well-known sweet treat at Lloyd's, the bakery also sells other cakes, cupcakes, and muffins.
Melanie's Roti & Grill
1248 Castle Hill Road
Parkchester-based Melanie's Roti and Grill specializes in West Indian and Guyanese cuisine, mixing authentic foods with a modern twist. The restaurant offers free delivery and takeout for online orders. And its beloved happy hour is still taking place, with Pina Coladas, daiquiris, and more available to-go.
Nabaya
860 Melrose Avenue
Another neighbor of Yankee Stadium, Nabaya has been serving West African cuisine on Melrose Avenue for over a decade. With menu items not priced over $20, it's easy to try multiple dishes. Be sure to check out the sweet-potato leaf stew, jollof rice with anything, and the fried fish. Call the restaurant at 718-401-2283 for takeout orders.
Paula's Soul Food
746 East 233rd Street
Southern fare and seafood are on the menu at Paula's in Wakefield. The cozy soul food restaurant offers chicken, beef, and seafood dinners, with diners choosing from 20 available sides. Mouth-watering dessert options range from pecan pie and banana pudding to black and white cake and flavored cheesecake. Throughout COVID-19, Paula's has been open for takeout and delivery.
Taste So Good (Make You Wanna Smack Yo Mama)
1752 Lafayette Avenue
One look at this Soundview restaurant's Instagram page and you'll be calling in an order for takeout. The Caribbean restaurant The restaurant serves fare like jerk chicken, curry goat, rasta pasta, and fried shrimp. Place an online order here.
Manhattan
Amy Ruth's
113 West 116th Street
It's hard to beat Amy Ruth's when it comes to home-style Southern food in the city. Serving Harlem for more than 20 years, the restaurant's beloved dishes are named after black celebrities, like President Barack Obama, Al Roker, Rev. Al Sharpton, and others. You can order Amy Ruth's famous fried chicken and waffles every day between 11 a.m. and 8 p.m. for pickup or delivery on Grubhub.
Famous Fish Market
684 St Nicholas Avenue
This Sugar Hill shop is a favorite among locals for a reason. Located on West 145th and St. Nicholas, the Famous Fish Market is considered one of the best fish and chip restaurants in the city and usually has a line that extends past the door. After closing for a few weeks because of COVID, Famous Fish Market reopened, serving up its seafood specialties between noon and 9 p.m. daily.
Island Bites
2107 1st Avenue
In the heart of Spanish Harlem, Island Bites is serving up a fusion of Trinidadian and Haitian cuisines, with staples like curry goat, oxtail, and jerk chicken on the menu. Pickup and delivery orders can be placed between 12 p.m. and 8:30 p.m daily.
Las' Lap
74 Orchard Street
Rum cocktails, lobster arepas, and key lime pies. What else do you need to know about Lower East Side's Las' Lap? In addition to the fun cocktails, the vibrant and hip restaurant also serves classic Caribbean fare in a unique style, like jerk chicken spring rolls and Trini-Chinese chicken wings. Their current to-go menu is equally impressive, with booze ice pops and jugs of rum punch available for takeout.
Melba's
300 West 114th Street
When appetizers are called "comfortizers" on a menu, you know it's going to be good. Melba's, located in Harlem since 2005, is known for its comfort food, like its smothered chicken, fried catfish, fried chicken and eggnog waffles, and much more. Delivery and pickup orders can be placed daily between noon and 6 p.m.
Miss Mamie's Spoonbread Too
366 West 110th Street
A gem in Morningside Heights, Miss Mamie's Spoonbread Too provides a feeling of home inside its restaurant, with its retro diner vibe and friendly atmosphere. Fill up on classics like turkey wings and meatloaf, with red velvet cake for dessert.
Sylvia's
328 Malcolm X Boulevard
Arguably the city's most famous soul food eateries, Sylvia's has been serving the Harlem neighborhood and beyond since 1962. Must-haves include the fried chicken, BBQ ribs, mac and cheese, and the entire brunch menu, offered on Saturday and Sunday. See the full takeout and delivery menu here.
Sugar Hill Creamery
184 Malcolm X Boulevard
Handmade in Harlem, the ice cream sold at Sugar Hill Creamery range from classic to creative, with Caribbean-inspired treats.Try "Island Formation," which mixes lemon and sorrel, "Pon De Replay," a vegan coconut flavor with passionfruit and tamarind, or "Don Cartagena," a flavor inspired by a breakfast pastry that boasts cream cheese and guava sauce.
Queens
Henrica's Restaurant and Lounge
138-89 Francis Lewis Boulevard
Henrica's Restaurant and Lounge offers a fusion cuisine of Jamaican and Chinese, offering things like jerk pork fried rice and steamed snapper with ginger and scallion. Located in Rosedale, the mom and pop shop remains open for takeout and delivery.
Milk & Pull
778 Seneca Avenue
Making many Ridgewood residents happy, neighborhood cafe Milk & Pull reopened its doors last month after closing in March because of COVID. With coffee beans from Stumptown and donuts from Dough Donuts, as well as a variety of yummy pastries, this coffee shop will keep you caffeinated and your sweet tooth satisfied. Order online and pick up your order between 8 a.m. and 2 p.m. at Milk & Pull's to-go window.
Queens Bully
113-30 Queens Boulevard
Get your comfort food fix at Queens Bully in Forest Hills. While the spacious restaurant is known for its in-person events, like trivia nights and eating competitions, Queens Bully has adapted to COVID by offering delivery and curbside pickup for food and alcoholic drinks. In addition to its regular individual dishes, they are offering specials, including combos that serve two to four people, and includes an appetizer, salad, and choice of brisket, pulled pork, whole chicken, and coleslaw or potato salad as sides.
Something Catchy
23-14 36th Avenue
Astoria's Something Catchy is known for its "catchy" dinners, like stuffed lobster tails, seafood mac and cheese, and crab-stuffed salmon. The restaurant also launched "Soul Food Sundays," which includes $50 and $100 platters that include a main of chicken, ribs, or turkey wings, and three sides. To place orders for pick-up, call 917-832-7988.
Staten Island
Bayou
1072 Bay Street
Considered Staten Island's only restaurant serving Cajun-Creole dishes, Bayou brings New Orleans to New York City. While the French Quarter-inspired dining room is definitely worth a visit, for now, as dine-in visits are still prohibited, consider placing an order for delivery or pick-up by calling 914-668-2634.
Chez Adja African Restaurant
226 Bay Street
Chez Adja brings two West African cuisines to the St. George neighborhood of Staten Island: Nigerian and Senegalese. The restaurant, which opened in 2018, offers daily lunch specials, including a mix of fish stewed in tomato sauce, lamb with rice, and peanut butter stew, with dinner options like Sengalese couscous, grilled lamb chops, fried fish and more. Call the restaurant at 347-934-3001 to place an order.
Koten's Caribbean and American Restaurant
537 Port Richmond Avenue
Port Richmond's favorite Caribbean-American restaurant has continued to serve Staten Island their favorite dishes, from curry goat and oxtail combos to jerk chicken with roti and beef patties. Koten's Caribbean and American Restaurant is taking orders on Grubhub, where customers can add rum cocktails and island punch to their meals for $20.
Staten Island Fish & More
137 Montgomery Avenue
While the fish is the focus at Staten Island's Fish & More, the restaurant offers salads, wraps, burgers, oxtails, veggie-only dishes, burgers, chicken, and more. Order online for pick-up and delivery on Staten Island Fish & More's website here, or via Grubhub and Seamless.