See inside José Andrés' Mediterranean restaurant Zaytinya, now open at NYC's new Ritz-Carlton hotel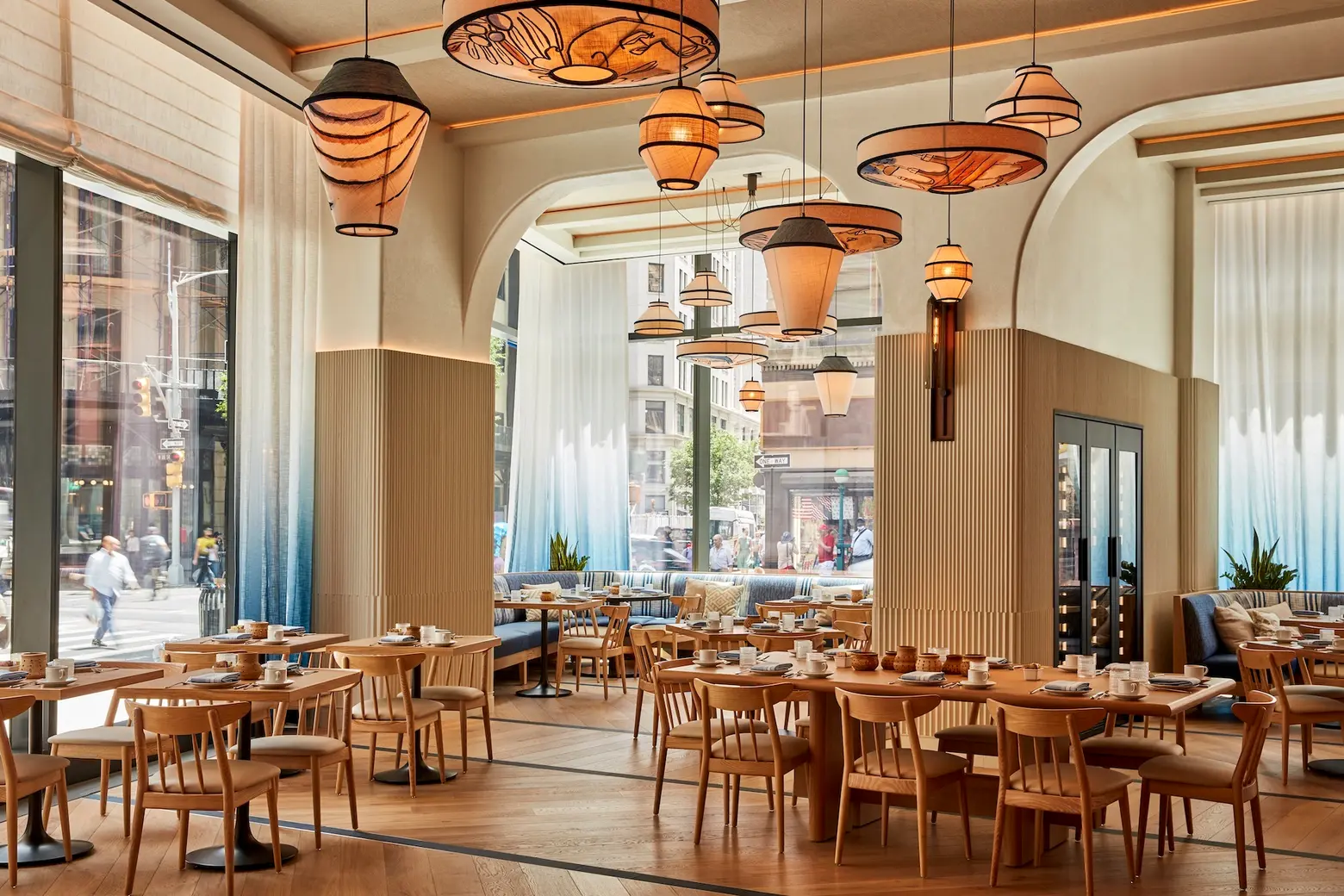 Photo credit: Jason Varney
José Andrés' ThinkFoodGroup on Tuesday opened Zaytinya, a new restaurant and hotel in-room dining option at The Ritz-Carlton New York, Nomad. The restaurant features a mezze menu inspired by Turkish, Greek, and Lebanese cuisines in a 140-seat street-level restaurant with a mod-meets Mediterranean interior design courtesy of David Rockwell's Rockwell Group. The Nomad location will be the second for Zaytinya, which first opened in 2002 in Washington, DC.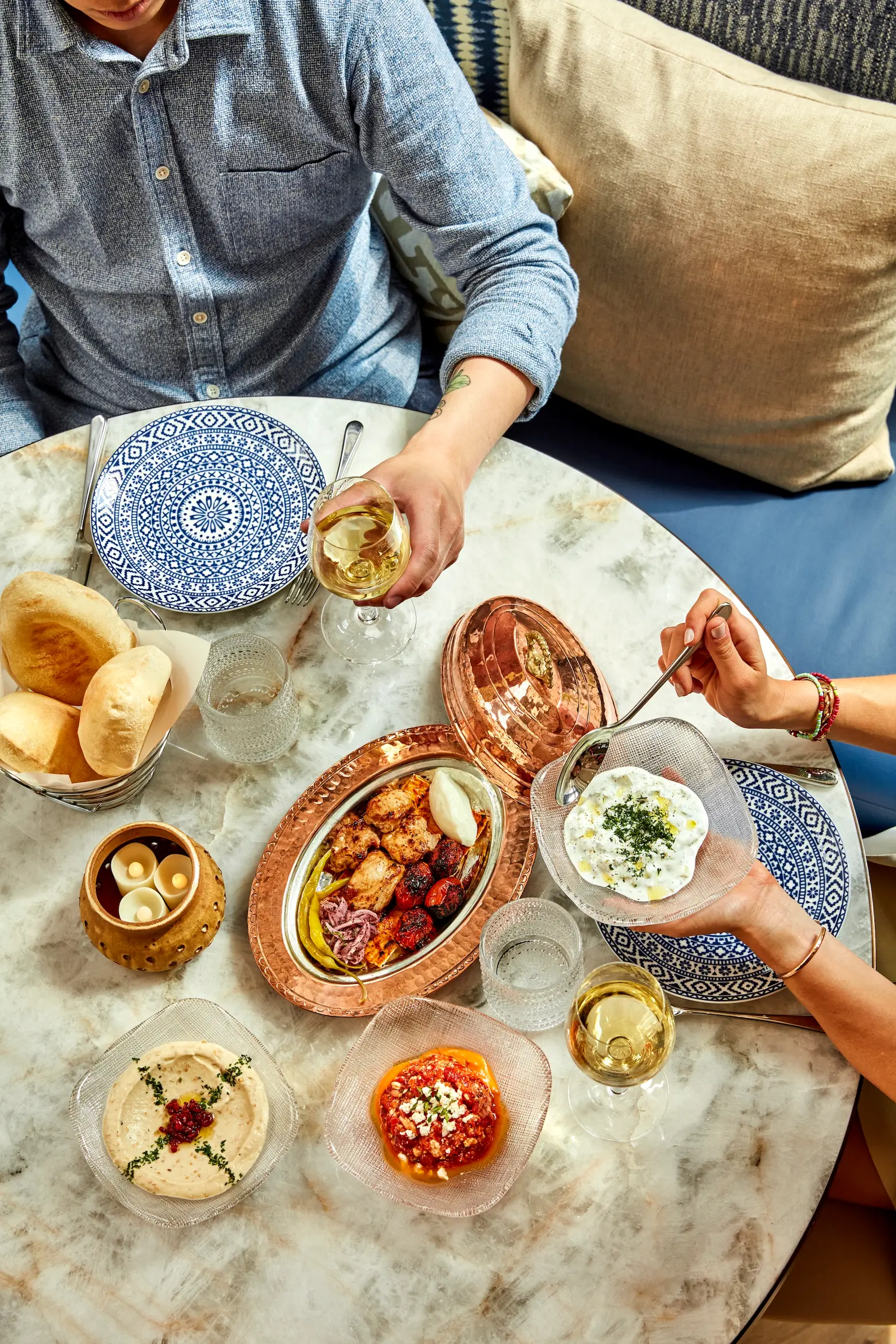 Created by the restaurant's Chef Partner Michael Costa and Head Chef Jose Ayala, the menu includes shareable spreads, flatbreads, cures and cheeses, soups and salads and mezze. Highlights include Seared Halloumi (dates, pomegranate, citrus, mint, pistachio); Octopus Santorini (grilled Mediterranean octopus, marinated onions, capers, yellow split pea purée); and Hunkar Begendi (traditional Turkish braised lamb shank, eggplant kefalograviera cheese purée). Breakfast service will be exclusive to the New York location.
Innovative cocktail offerings range from a refreshing Za'atar Margarita (Milagro tequila, lime, orange liqueur, za'atar air) to the complex Caleidoscope (Batavia Arrack, lemon, roasted sweet pepper, smokey Urfa pepper, and wild Greek chamomile). In addition, a unique selection of Mediterranean wines will be featured.
"I have a deep love for the city of New York, and it has long been a dream of mine to bring Zaytinya here," Chef José Andrés said of the new addition. "For the last two decades Zaytinya has been a place for shared meals between friends and families, celebrations, and countless momentous events, and we cannot wait to continue its story here in New York."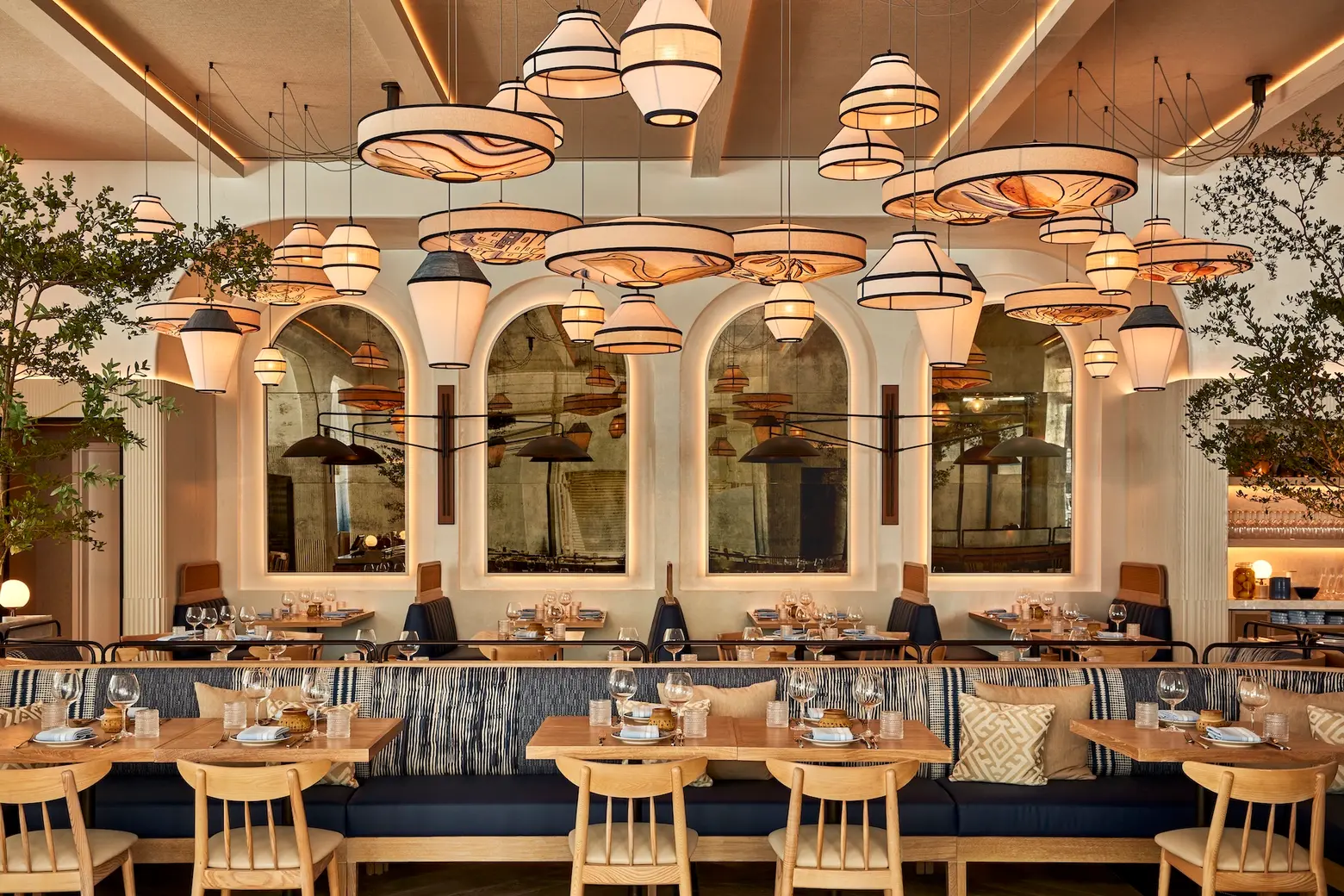 The award-winning architecture and design firm Rockwell Group has created light-filled spaces with a clean palette of bronze metals and white oak wood. Pops of blue, soft curves, and textures are inspired by the coastal waters and architecture of the Mediterranean.
Exposed wood beams, chevron-patterned flooring inset with blue tiles, limewashed walls and tambour detailing create a frame for pendant lighting with hand-painted linen shades. A dramatic bar features Gio Ponti-inspired floor tiles, a blue lava stone top, and an abstract backlit screen of hand-blown glass discs inspired by the "evil eye."
This summer will see further culinary additions to The Ritz-Carlton New York, NoMad in the form of a rooftop bar, Nubeluz. Designed by Martin Brudinzki, the 45th-floor bar is a "glittering jewel box" in the sky, will reflective surfaces and sophisticated textiles. Opening later this year, the Bazaar by José Andrés will be a "high-end avant-garde dining destination," as a press release describes.
And on the first floor, the Lobby Lounge and Bar will offer guests both morning coffee and pastries and evening nightcaps.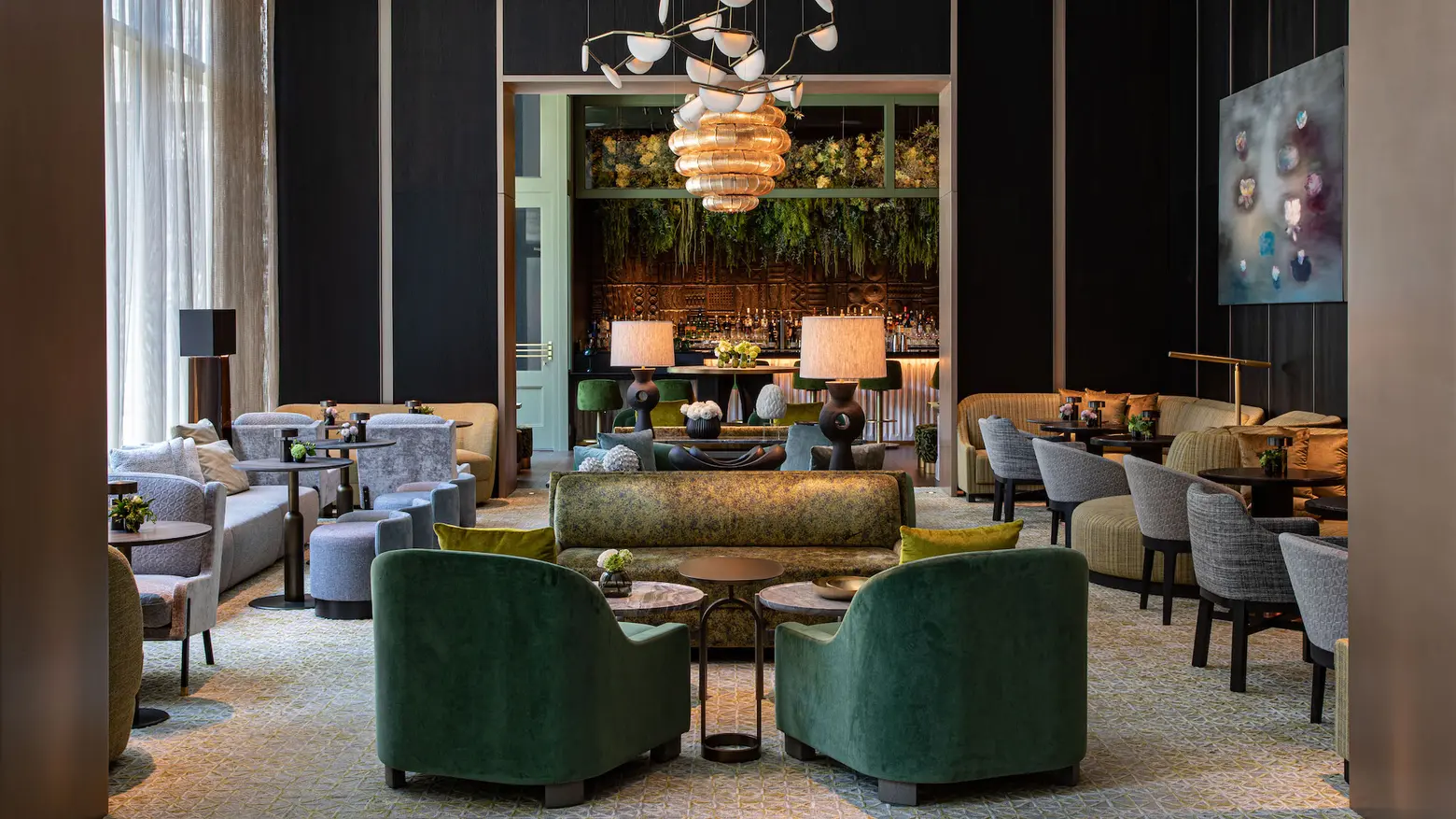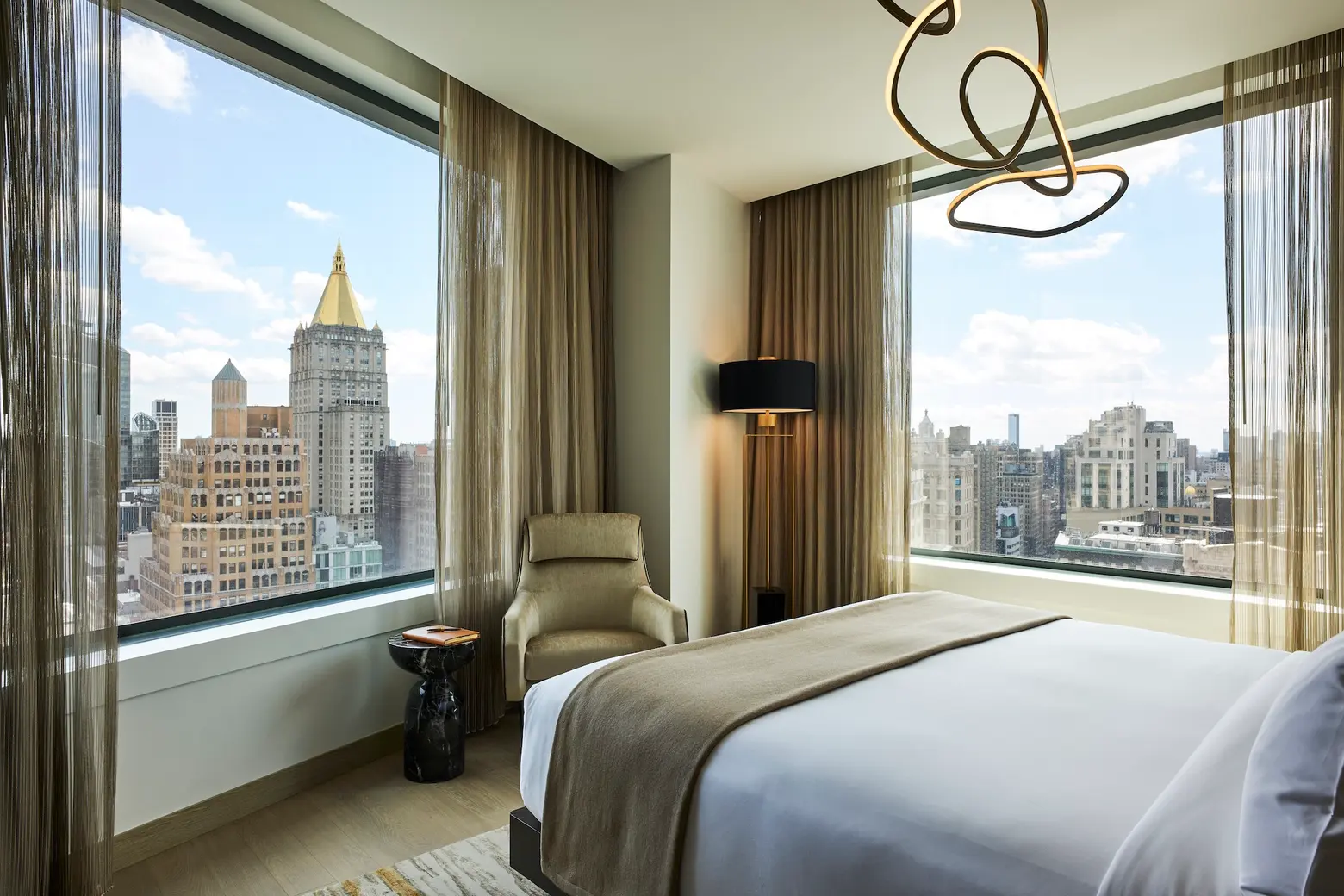 Photos courtesy of The Ritz-Carlton New York, Nomad
Developed by Flag Luxury Group and designed by Raphael Viñoly Architects, The Ritz-Carlton New York, Nomad rises 50 stories and includes 250 guestrooms and 19 suites. The unique architecture of the building allows for stunning views of Manhattan, with all rooms facing north.
In addition to the many dining and nightlife options, hotel amenities include The Ritz-Carlton Spa and Fitness Center, which measures 6,800 square feet and includes several sauna and steam rooms, and 10,000 square feet of event space, including a private outdoor terrace.
"The Ritz-Carlton New York, Nomad represents a milestone moment in the evolution of The Ritz-Carlton brand," Donna McNamara, Vice President and Global Brand Leader for The Ritz-Carlton, said. "With an exquisite design that blends the best of the brand and the destination, combined with the finest amenities, culinary offerings, and highly personalized service, The Ritz-Carlton New York, NoMad delivers an experience tailored to today's luxury guest. I know that travelers and locals alike will enjoy settling into Nubeluz, our rooftop bar, for spectacular views of the Manhattan skyline."
As part of The Ritz-Carlton Residences, New York, Nomad, there are 16 exclusive penthouse units for sale. Situated above the hotel floors, the one- and two-bedroom homes have access to the hotel's five-star services and amenities. Owners and their families and guests can stay up to 120 nights per year and elect to have their residences managed by The Ritz-Carlton when away. Current availabilities, according to CityRealty, include a $4 million one-bedroom and a $7.2 million two-bedroom.
RELATED:
Zaytinya photos by Jason Varney; Hotel photos courtesy of The Ritz-Carlton New York, Nomad