Huge American Dream mall near MetLife stadium will put NYC's food halls to shame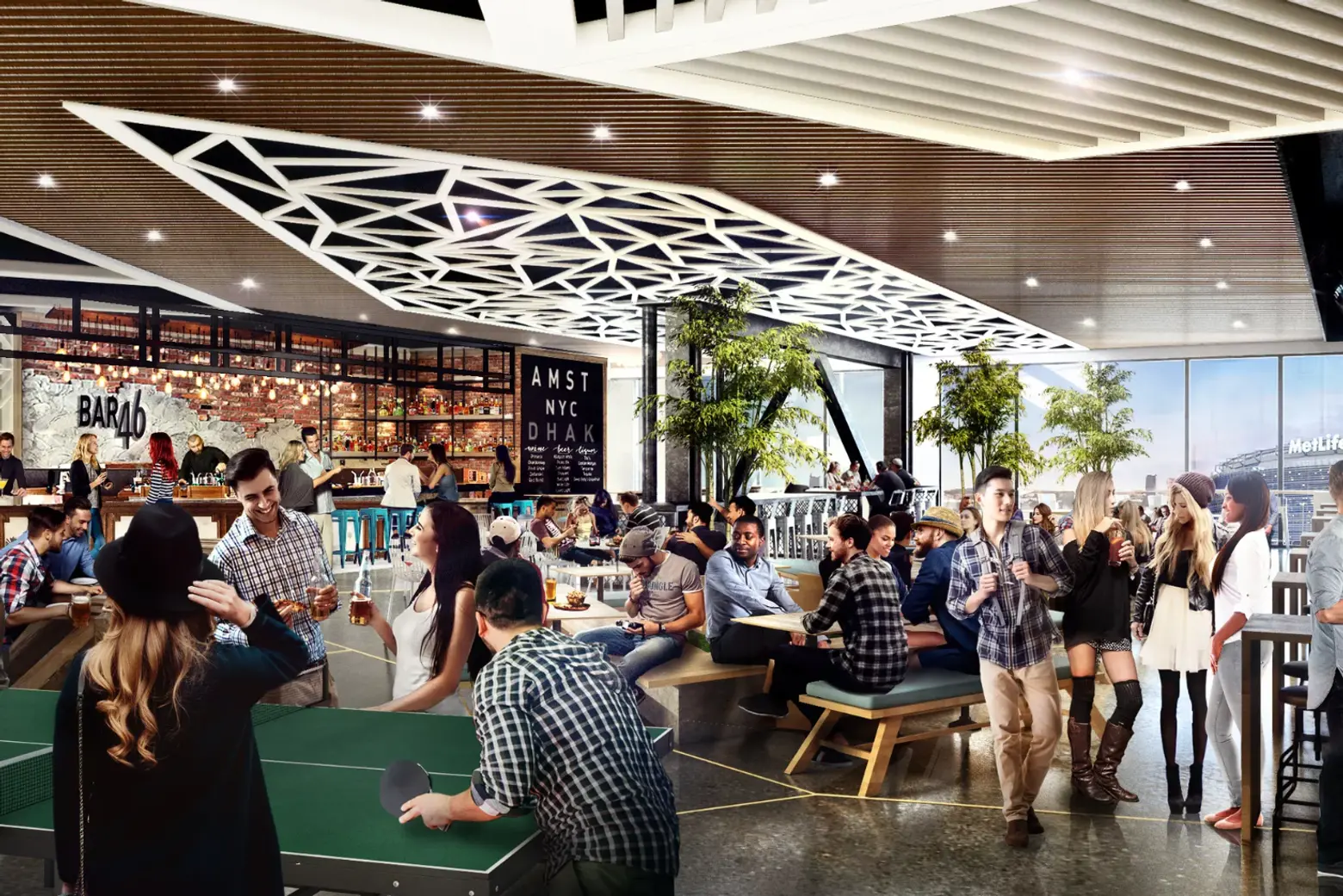 Rendering via Vice/Munchies
Is NYC's biggest food hall coming to New Jersey?! According to Eater, that may be the case. They report that the long-stalled (16 years, to be exact) American Dream mall planned for the site next to MetLife Stadium in East Rutherford will have 50 grab-and-go options, 20 full-service restaurants, a Vice-branded food hall, and the world's first Kosher food hall. This is in addition to the $3 billion, 4.5 million-square-foot shopping mall's insane amenities like the largest indoor ski slope in the western hemisphere, an NHL-sized ice rink, a 4-D movie theater, a LEGOLAND, and an eight-acre Nickelodeon water park and theme park.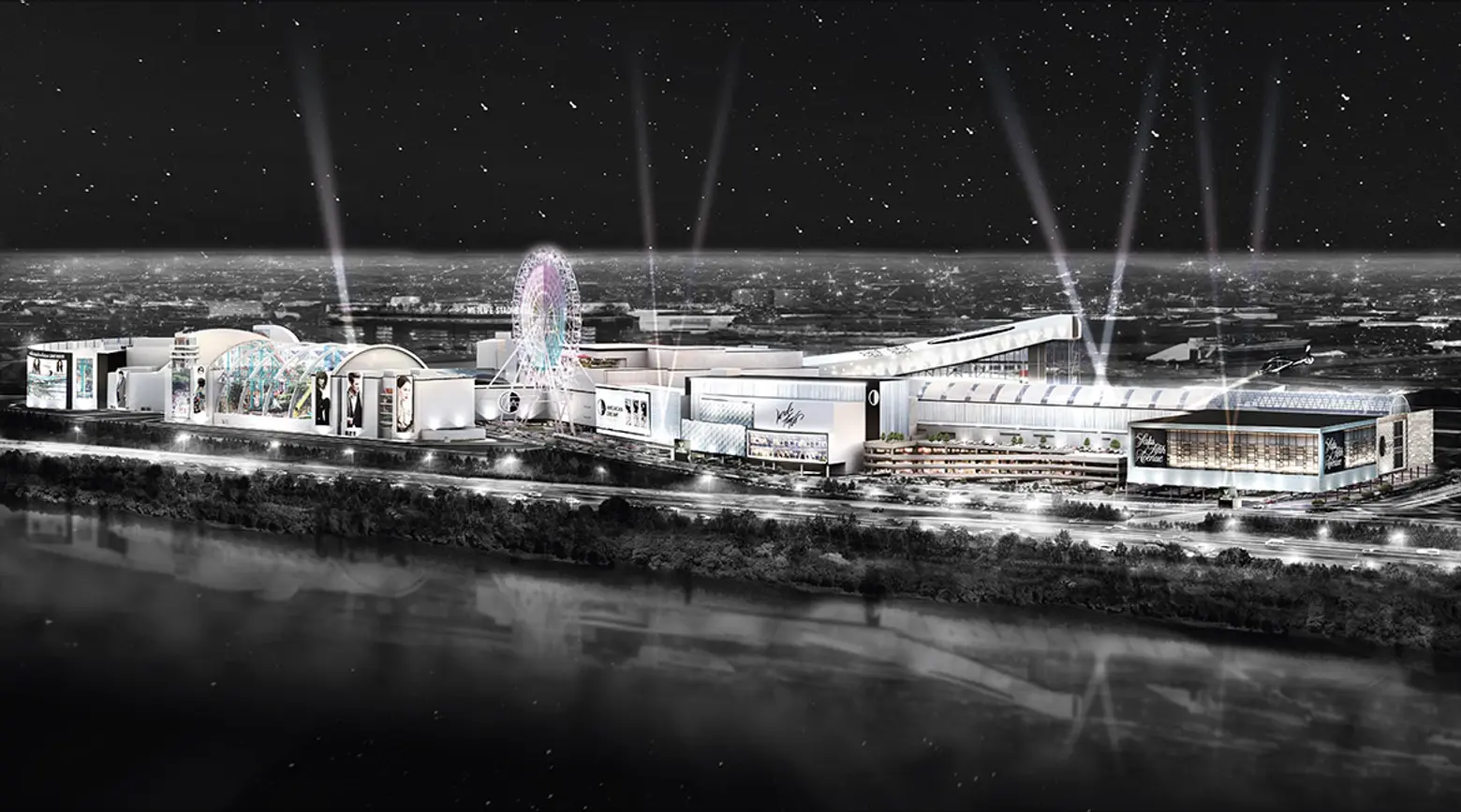 Rendering via American Dream
The saga of Amerian Dream (originally dubbed Xanadu) has been a thorn in the side of the state, even leading former Governor Christie to refer to the stalled development site as "the ugliest damn building in New Jersey and maybe America." It began way back in 2003 when the state signed a $160 million agreement with Mills Corp. and Mack-Cali Realty Corp. with the expectation that the project would be up and running in two years. Construction began in 2005, then stalled, then really stalled post-2008. After sitting idle for six years, construction picked back up in 2015, with developer Triple Five, also behind the Mall of America, acquiring the project from the group of lenders who then owned the debt. According to NJ.com, currently "construction is progressing at $3 million per day with about 1,500 workers on site and work is about 60 percent complete."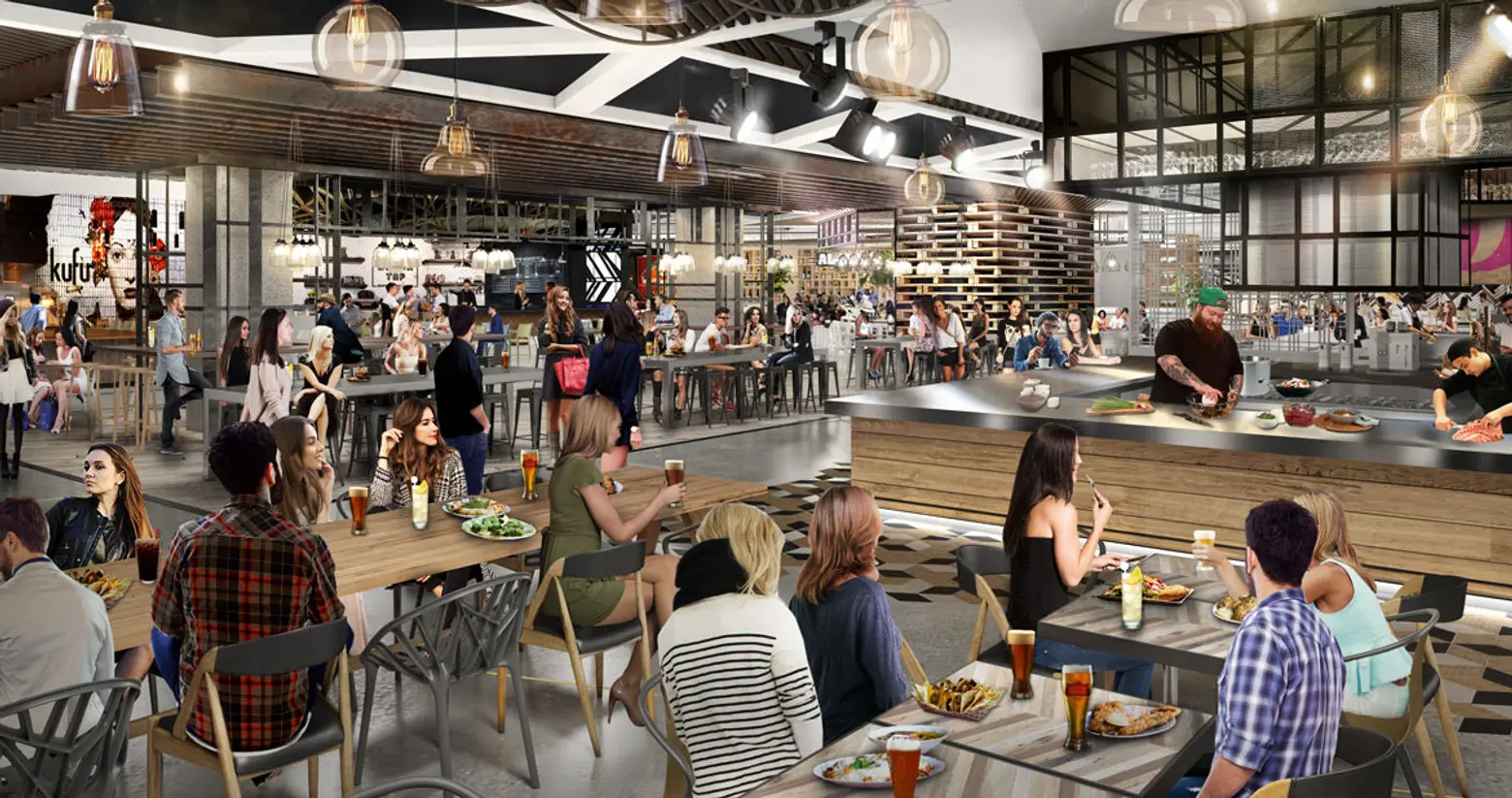 Rendering via American Dream
Now back to the food… Eater tells us that the Vice food hall will be called Munchies, the same name as their popular food blog. It will have 400 seats and 14 stalls, including a cooking studio and two revolving kitchens "showcasing up-and-coming chefs and concepts i.e. pop-up restaurants," according to the American Dream website. Munchies will sell their branded merchandise at the location and host events (more on that here). The Kosher food hall will reportedly be the first in the world and have "six units drawn from the best kosher food operators from NYC to Miami." There are no details yet on any of the specific food vendors.
The only NYC food hall to rival American Dream is the Market Line at Essex Crossing, which will boast two indoor parks, a beer garden, 150 food vendors, and 20 retail spaces.
American Dream is expected to open in the spring of 2019, at which time it's estimated that it will draw 30-40 million visitors a year, many of whom are projected to be tourists visiting NYC. There will be a commuter shuttle from the NJ Transit stops at the Meadowlands and Secaucus, as well as a direct bus route from Port Authority.
[Via Eater]