How to start an art collection in NYC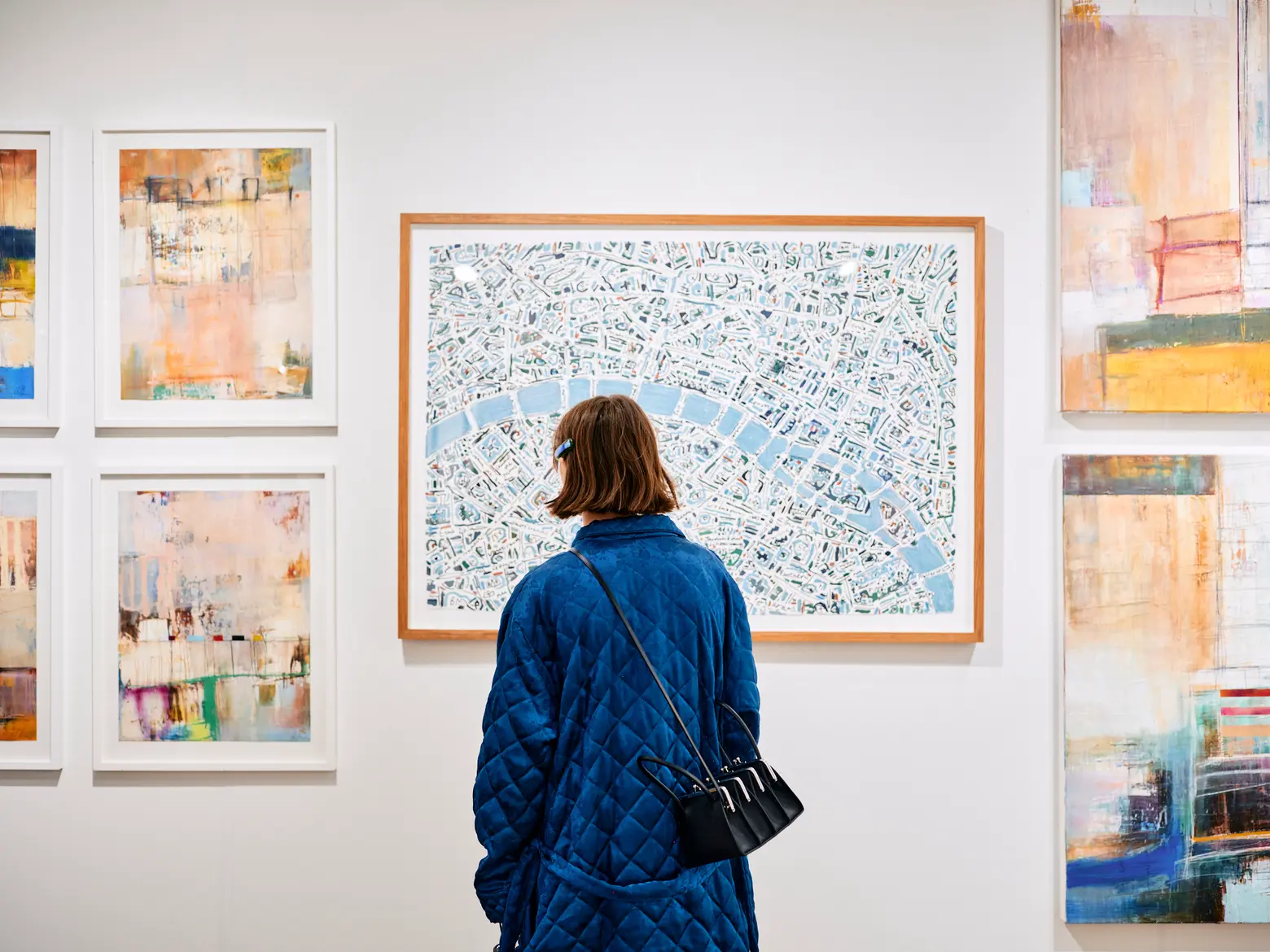 Photo Credit: Affordable Art Fair New York / Phillip Reed
In a city where you're surrounded by art — from the classics at the Met to Chelsea's contemporary art gallery scene to performers on the subway — day-to-day life is an immersive art experience. "The art community is extremely dynamic and diversified (in New York City)," said Ashkan Baghestani, Head of Contemporary Day Sale at Sotheby's. "People are interested in art and … sophisticated New Yorkers are people who spend time appreciating art. That does not mean they always buy it." So when it comes to bringing that art into your home, where do you start? And is it even possible on a budget?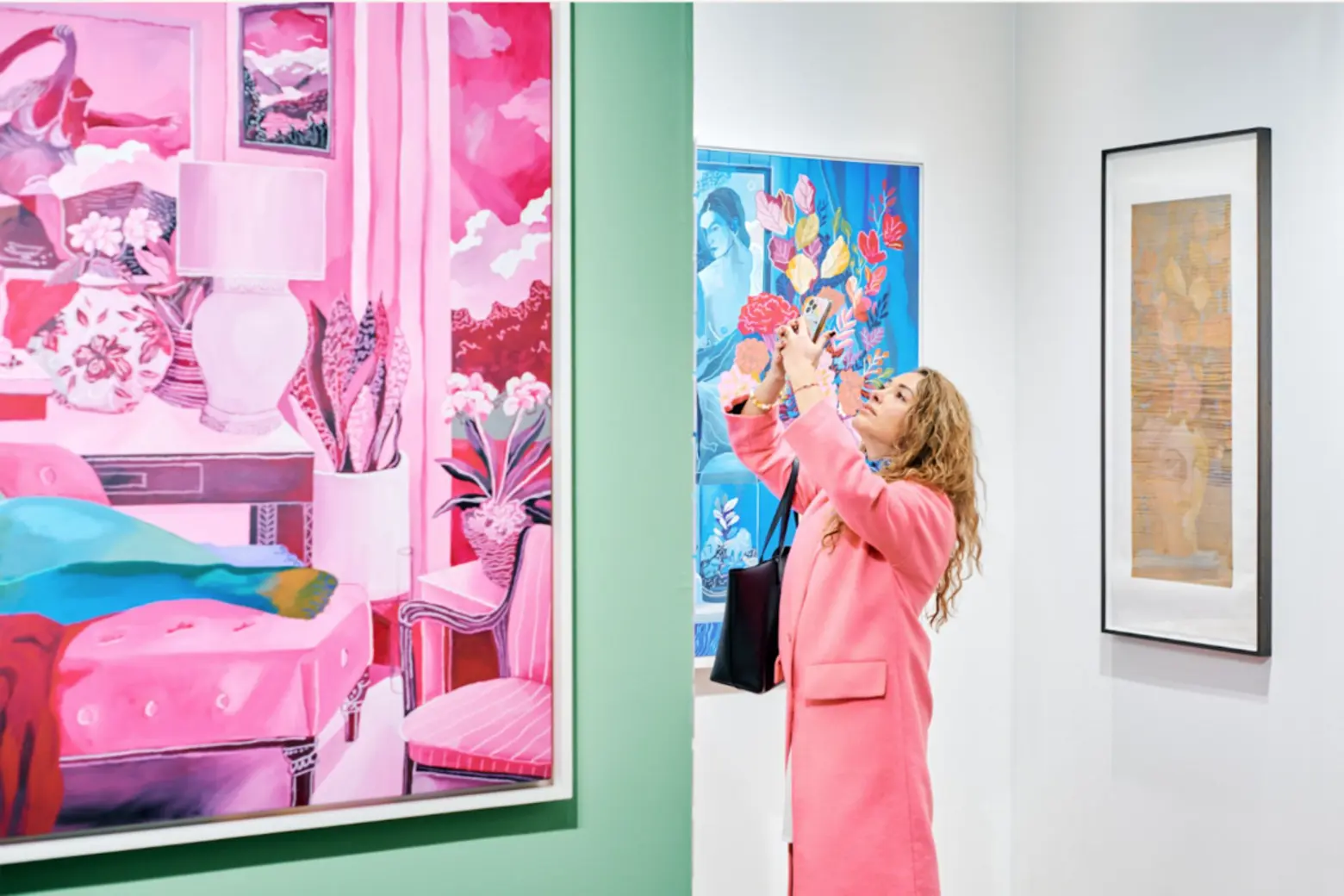 From September 20 through September 24, the Affordable Art Fair is in New York City. The fair started in London in 1999 and began its NYC iteration in 2002.
"We are a fair that is extremely approachable and a friendly environment whether (attendees) have collected before or never interacted with the fine art world," said Affordable Art Fair NYC Director Erin Schuppert. "The idea was this mission to make art accessible and remove that barrier that it's scary, and that mystique."
The international event is just one opportunity for beginners and non-collectors to access art. Baghestani said those looking to purchase art for the first time should be on the lookout for opportunities like this all the time. The biggest misconception around art, he says, is that it's "expensive and elitist, and it's not. It's for everyone."
Tips for buying art on a budget: Where to look
Art fairs and events
The Affordable Art Fair is a gallery fair, meaning all the exhibitors are galleries or artist collectives that come from all around the world, but with an emphasis on art local to the fair's city. The New York fair will show artwork from the city and the tri-state area. And, all the creators are living so as to support working artists. "Each fair has its own local fair team that curates, selects galleries, and talks to the galleries about the artist selection," said Schuppert. "We have recorded data on what we are seeing that our audience is responding well to, and prices can change to reflect the buying market."
Speaking of prices, everything at the fair is clearly priced between $100 and $12,000 and is available to wrap up and take home that day. Most of the items are 2D, meaning paintings, photographs, collages, and fiber art.
It's also a good place to start because it's a sort of safe space for beginners. "I've been working in this industry for a decade now and even I can feel intimidated walking into a large art fair," said Schuppert. "I think it's important to have a friendly environment so people can have confidence in their own taste. Art can be enjoyed and collected by everyone."
The Lower Manhattan Cultural Council Arts Center at Governors Island is open in the summer months and showcases emerging local artists. "We work hard to ensure all our visitors feel welcome, and no prior knowledge of art is necessary to enjoy what's on view," said Jess Van Nostrand, director of exhibitions and public programs for LMCC. Open Studio events, like an upcoming one on Sept. 30, allow the public to interact with an artist in residence.
LMCC is dedicated not only to supporting up-and-coming art collectors but to the artists as well, by helping them with affordable studio space, access to exhibitions, and networking to sell their art.
"Add in the element of trying to sustain a living in New York City, and it's not easy! But if you think about what makes New York special, arts and culture are usually near the top of the list, so it's incredibly vital to the health of the city that artists are able to live and work here," said Van Nostrand.
Art Fair 14C, Spring/Break, Art on Paper, and the NY Art Book Fair are other great options in New York.
Auctions
Baghestani says auctions are a great place to find affordable art. Auction house websites will post new sales every few weeks with prices starting "super low" – sometimes at just $1. But Baghestani warns people not to get too excited about that price point as the bidding escalates pretty quickly, but he does think it's reasonable to get a piece of fine art for somewhere between $3,000-$5,000. "In a time of high inflation, I did see a shift in the last few years; you could get something for $1,000 and now it's more $3,000-$5,000."
Galleries
When it comes to buying from galleries, especially in New York City where there is a high caliber, Baghestani says to focus on "young" galleries. "They will have things under $10,000 price point," he said. Go diligently every three months to keep up with inventory and new artists.
Also, be aware that galleries often have wait times, especially for "hot" artists — Baghestani said he's waited over a year for a piece. If you have your eye on a piece from a new young artist that either has a long wait time or is starting at a fairly high price point, it's a fair bet that the artist's work will only get more expensive, so it could be time to set your sights on something else, he says.
Train your eye and do your homework
So, how do you know if the art you are buying is "good"? Well, as the old adage goes, beauty is in the eye of the beholder.
"I don't like the term 'investment,'" says Baghestani. "Trends change a lot. Just like trends in fashion, they come and go. If you buy purely as an investment and you don't enjoy living with it, then God forbid if it's worth nothing, you are stuck with it. Buy what you like and if it's a good investment, then great."
Luckily for New Yorkers, if it's hanging in a gallery in the epicenter of the art world, someone who knows what they are talking about thinks it's good. Baghestani advises to take note of which galleries represent the artist and if those galleries have a good reputation or are tied to any museums. Read articles and reviews on Artnet, Artforum, and the New York Times. Ask yourself: Does the artist have a novel style or is their work a derivative of something other artists did 10 or 20 years ago? These are all ways you can start to navigate the art world and learn to "train your eye" to spot quality work.
But really, experts say it is as simple as just figuring out your taste and what you love.
"Sometimes when we say 'train your eye,' it sounds formal, but fairs like this are the perfect environment to get a sense of what you respond to," Schuppert said. "There is such a variety and so many different styles and media all in one place. Take note as you walk around on what draws you in and catches your eye."
"Spend a lot of time on a Saturday and do the galleries downtown in Chelsea and Tribeca," said Baghestani. "Go to museum exhibitions, small and large. The MoMA, The Whitney, The New Museum because, don't forget, even though they have permanent collections and a lot of inaccessible artists, it's still a good way to educate yourself."
Try and hone in on what you want, he says. "It's a vast art world and there is a lot to consider. Be more focused." So, if you like photography, focus on photography galleries and auctions. If you like classical art, focus on that. You also will figure out what your buying personality is. Some people, says Baghestani, are just inspired and see something they love and that speaks to them right away and buy it. Others like to take time to do due diligence. "It depends on your character."
But, whether you spend years or months on it, the exploratory, educational stage should not be skipped, he says.
The NYC art scene
As an art capital of the world, Baghestani calls the scene in NYC a "thriving ecosystem" of diverse styles from the highbrow works on the Upper East Side to emerging artists in Chinatown, Harlem, and Brooklyn.
"The offering is huge," he said. "There are all these small little museums — beautiful gems that people don't know as much about — like MoMA PS1 and the Drawing Center."
"We feel really lucky to be able to have the fair in NYC because there is such a culturally savvy audience from being around culture," added Schuppert. "And lucky to be able to have so many amazing exhibitors right here around us."
Galleries and artists to watch
Baghestani of Sotheby's suggests checking out these NYC galleries and artists:
Galleries:
Artists:
Oscar Hiou
Ding Shilun
Gabriele Adomaityte
Agustin Fernandez
Laurie Simmons
Milano Chow
Tourmaline
Asal Peirovi
Mehrdad Lorpour
Schuppert offers these exhibitors to check out at the NYC Affordable Art Fair: