How to spend New Year's Eve 2020 in NYC without going near Times Square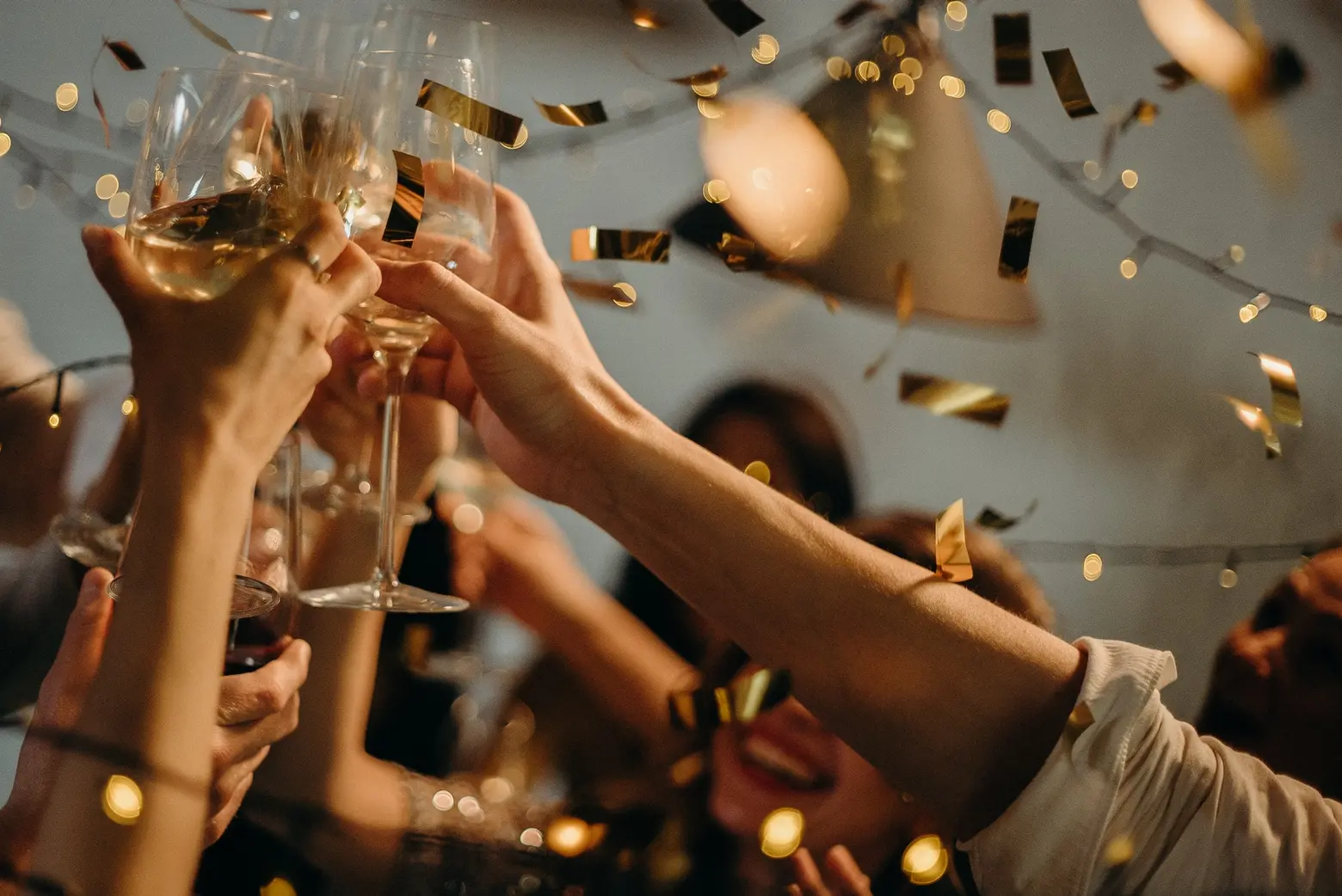 New Year's Eve is one of those events where it seems all of humanity has converged upon New York City. If you fancy rubbing shoulders (or more) with at least a million of them, Times Square is your best bet. But if you'd rather enjoy a more curated, yet still public, experience, check out any of the many events happening in the city as the second decade of the millennium lurches to a close; below is just a sampling. Debauch responsibly–hindsight, as they say, is 2020.
Hotels, restaurants, and bars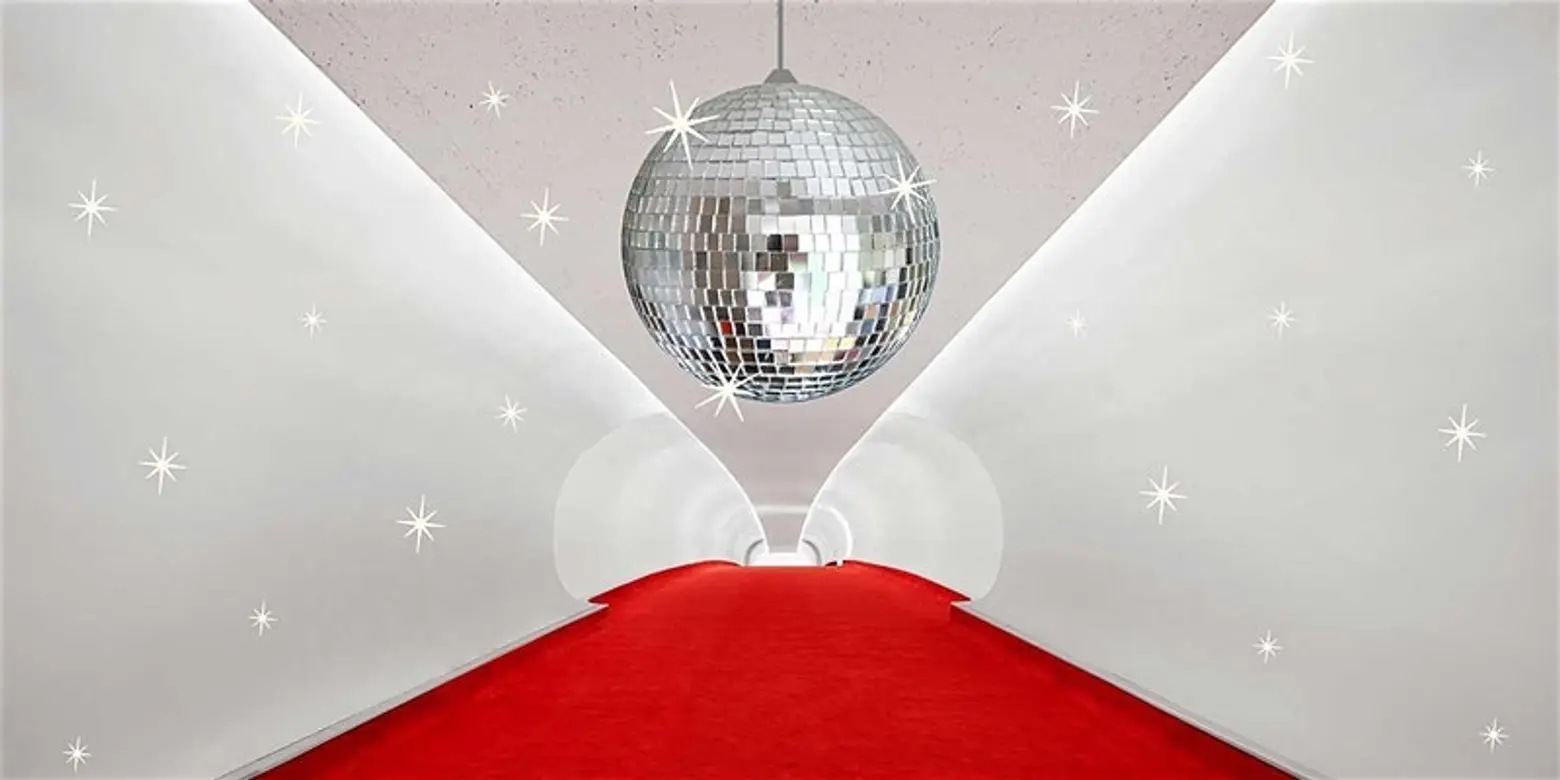 Image courtesy of TWA Hotel
1. TWA Hotel New Year's Eve – Party Like It's 1962
The new TWA Hotel in the landmarked Saarinen building at JFK Airport just gave us ice skating on the tarmac; now the mid-20th-century-icon-turned-hotel invites you to "wing" in the new year with a 1960s-themed soiree with live retro music, an ice skating performance, dinner stations, and champagne aplenty long into the night. Tickets for an array of options (skating, VIP packages, etc.) can be purchased here. A general admission ticket includes a five-hour open bar, dinner stations, live music, a Champagne toast at midnight, and a live stream of the famous Times Square Ball Drop.
2. The Roller Wave: a New Year's Eve roller disco party
The Ace Hotel New York will be rolling out a ticketed party ($100; $50 skating only) on wheels in its Liberty Hall venue for New Year's Eve. From 7-11pm, expect a hearty celebration of rollerskating with music from Hot 97 DJ E Stylez and an open bar and dancing from 11pm-1am. Also at the laid-back luxe hipster hotel, something you don't find in the city too often: A free-of-charge, no-cover dance party, with food and drink specials and music from Industry Friends from 9pm on will be happening in the lobby.
3. Top of the Standard: New Year's Eve with Sister Sledge

If you'd rather sit and drink in some glittering 360-degree Manhattan views than roll around on skates, the once-impossibly-buzzy club at the top of the Standard High Line–A.K.A. the Boom Boom Room–is having a ticketed (so no waiting in line) rooftop affair, with tables, Moët champagne and Belvedere vodka on ice, performances by the Pointer Sisters, and DJs until the wee hours. Information and tickets can be found here.
4. New Year's Eve at Eataly Downtown
Celebrate Italian-style with lots and lots of good food, wine and cocktails, live entertainment, incredible views, and a sparkling toast at Eataly Downtown, just steps away from the Oculus in lower Manhattan. The two options on offer include an "unlimited festa" for $150 and the addition of an exclusive dinner at Osteria della Pace for $225. Learn more here–and leave room for dessert!
5. New Year's Eve at Lemon's in the Wythe Hotel
If you don't even want to venture into Manhattan, head to the top of Williamsburg's Wythe Hotel, where Lemon's will be hosting a disco-inspired gathering. The Manhattan skyline views through the floor-to-ceiling windows here are some of the finest in the city, and table reservations are available along with a complimentary Champagne toast at the stroke of 12.
6. Brooklyn Brewery New Year's Eve Brewery Bash
If you're feeling more beer than Champagne, wind down the last moments of 2019 at the iconic Brooklyn Brewery, where you're invited to dress for your favorite decade and hang out with food, friends, and, of course, (excellent) beer. Gear up for an all-vinyl DJ set, a late-night taco bar from Tacombi, an open beer bar, and a midnight toast with an unreleased "ghost bottle" freshly emerged from the brewery's barrel-aging facility. New Year, new beer! Tickets are available here.
Raves, bashes and immersive experiences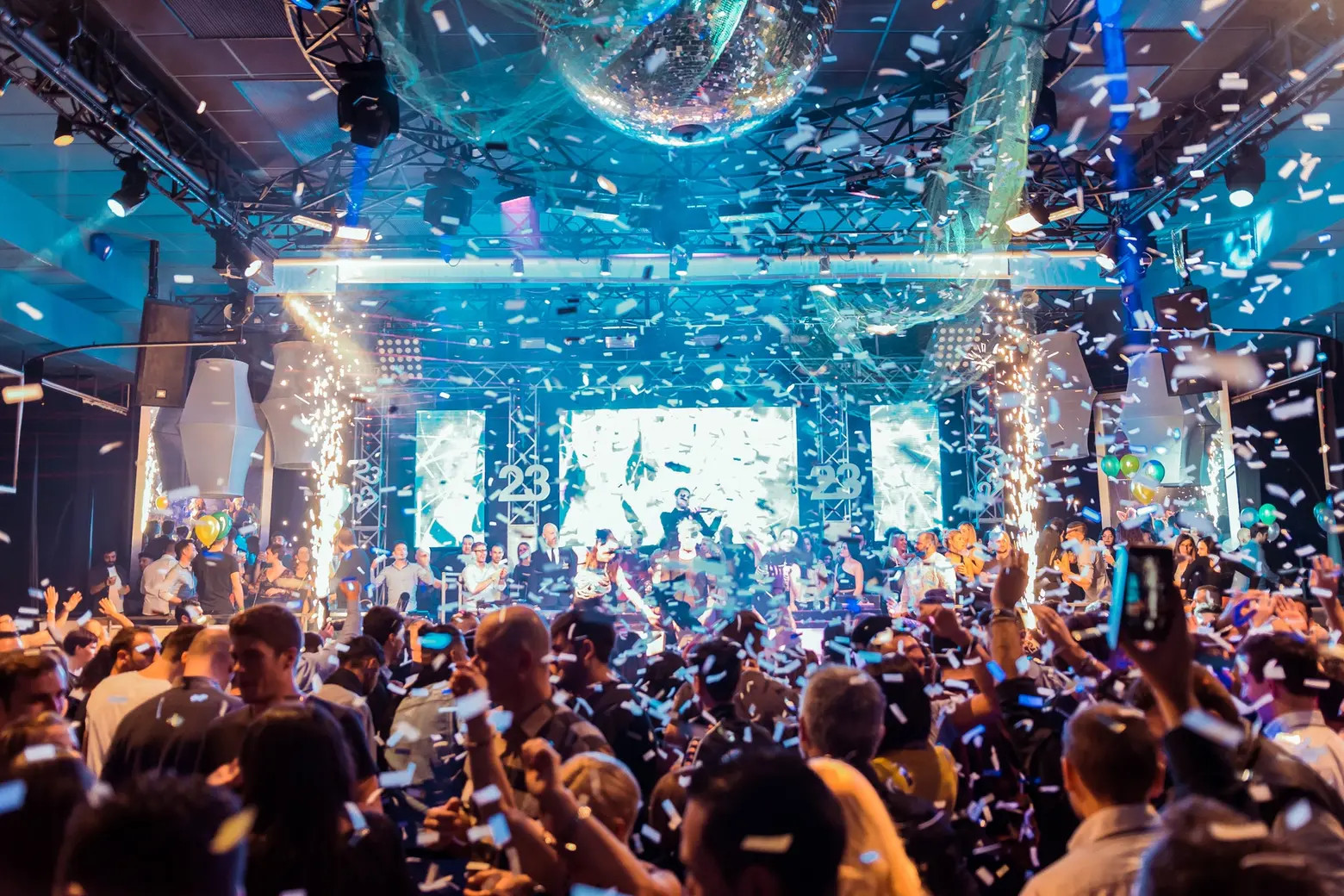 Photo by Edoardo Tommasini from Pexels
7. World's Fair New Year's Eve party at the McKittrick Hotel
From the masterminds of cult immersive-experience "Sleep No More," this elegant retro ball at the storied McKittrick Hotel event venue at 530 West 27th Street features the usual suspects: three-course supper, all-night open bar, performances, music, decadence, and dancing. Tickets start at $150 per guest for after-midnight-arrivals and go up from there; you can experience "Sleep No More" as part of one of the pricier packages.
8. Zero + House of Yes present Golden Era: New Year's Eve 2020
Celebrate the arrival of the roaring 2020s with a party that roars 'til 6:00am–including a second midnight moment at 3:00am. Dress in anything that glitters and explore three rooms of music, bites, treats, an open prosecco bar, a photo booth, tarot, and a whole lot more at the sprawling music venue 99 Scott Studio at 99 Scott Avenue in East Williamsburg. Tickets range from $40-$150.
9. House of Yes New Year's Eve Surrealist Ball
The zany denizens of House of Yes are hosting this Brooklyn bacchanal on their home turf, complete with "AV installations, body art & beauty bar, chill-out lounge, psychedelic psychics, live illusionists, aerial artistry, real magic, and fake eyelashes." Confused? Curious? Find out more here, fork over $40-100 and stay until 4am.
10. BangOnNYC: Time + Space

Bang On NYC bangs on for eight straight hours at Knockdown Center (52-19 Flushing Avenue), a contemporary arts and performance space in quietly hip Ridgewood, Queens. Rolling out an impressive lineup of dance music acts, this seemingly endless artsy party couldn't be further from Times Square, but it may seem almost as massive. On the menu are immersive zones, LED chill domes, luminescent art pieces, craft vendors, climbable art, and much more. Tickets start at $75.
11. NY Night Train 13th Annual NYE Ball

This annual New Year's Eve tradition is yet another example of the tireless entertaining skills of Jonathan Toubin, the perpetually youthful father of Soul Clap and New York Night Train. While there won't be 20-foot climbable art, trapeze-dances or body painting, there will definitely be some energetic all-night dancing to–sometimes famous–DJs who know just how to keep the party going. The location is still a secret but check here and get on the mailing list for the 411.
12. Rubulad presents The Big Bang

The dedicated, stalwart creative crew at Rubulad have been throwing offbeat festivals in the BK since the bad old 1990s, giving burners something to do until the next Black Rock City expedition. But no matter how 'bro infested or over-the-top things got, there has always been an essential innocence and spirit of fun to their events, which is probably why they're still toasting the new year well into the 21st century. The location of the latest fest is a secret until you buy a ticket; what's no secret: The DJs and bands are talented and fun, there will be treats, projections, music, art and more, and tickets (also available at the door) won't break the bank at $20-$30.
Fireworks

Photo by Azikiwe Aboagye, courtesy of the Prospect Park Alliance
13. Fireworks in Prospect Park
Fireworks seem like the perfect addition to noisy New Year's Eve cheers, and free-of-charge is certainly refreshing–like standing outside in the brisk January air in park-adjacent Grand Army Plaza. From 10:30pm-12:30am, Brooklyn Borough President Eric L. Adams and the Prospect Park Alliance are once again hosting this free, family-friendly event with live entertainment followed by fireworks at the stroke of midnight. The fireworks display is in its 40th year and attracts tens of thousands of revelers to Prospect Park. If you're on the other side of the East River, turn your sights on Central Park at midnight for 15 minutes of fireworks. The accompanying festivities are reserved for participants in the annual NYRR Midnight Run, but they make a grand spectacle from any rooftop. And if you really want to be where the crowds aren't, Coney Island has been hosting midnight pyrotechnics on New Year's Eve, though it's a bit under the radar. Check here for information–but you can be sure the infamous Polar Bear Club will be taking their New Year's Day plunge.
Alternatives: Culture, exercise, world peace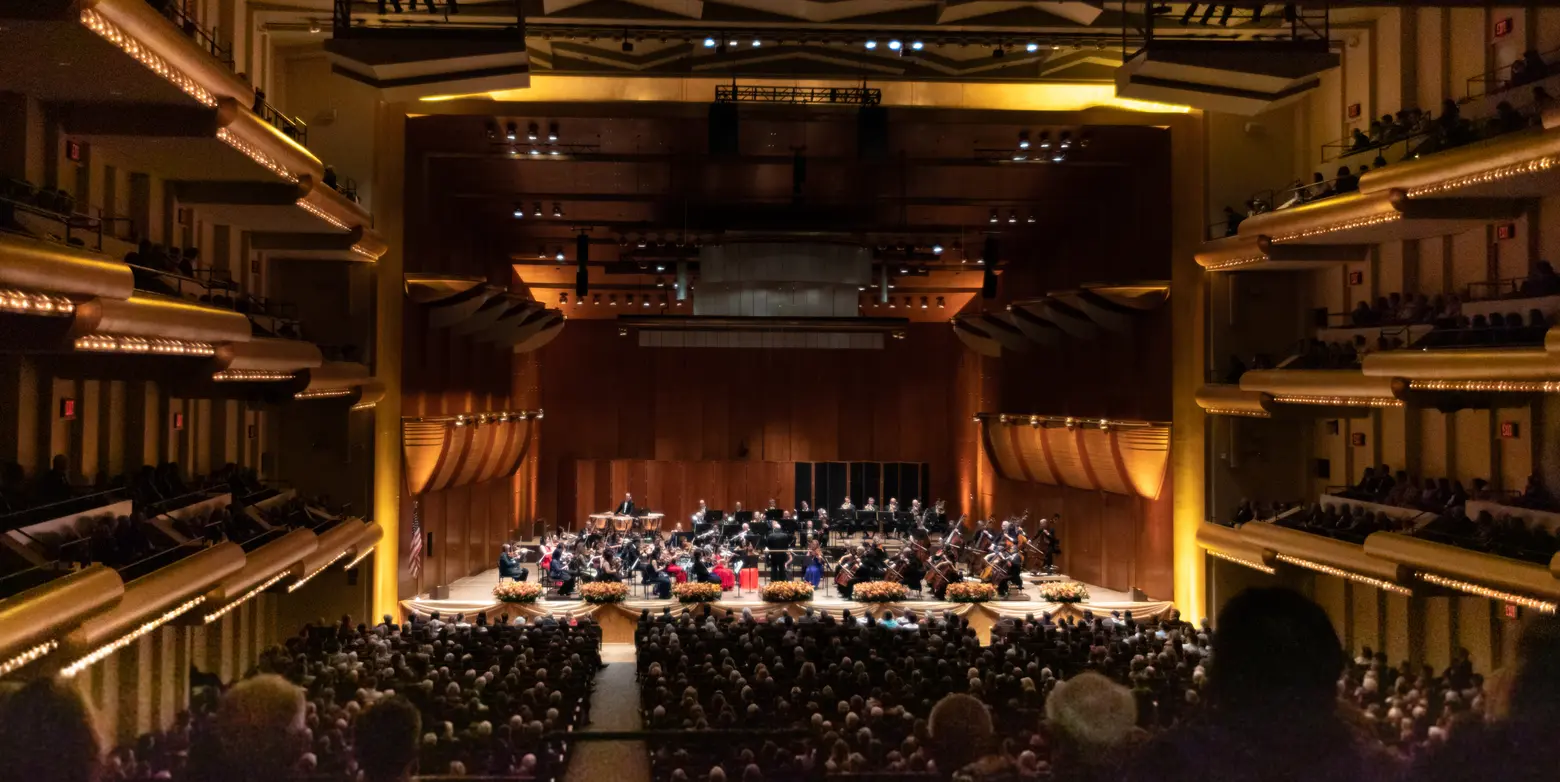 David Geffen Hall. Photo Credit: Zach Mahone for New York Philharmonic.
14. "Celebrating Sondheim" at the Philharmonic

This low-key–but upbeat–alternative is a highlight of the New York Philharmonic's 2019–20 season. Living legend Stephen Sondheim's work takes center stage at this New Year's Eve concert, hosted by Sondheim specialist Bernadette Peters and featuring Tony Award winner Katrina Lenk ("The Band's Visit") and music from "Company," "Into the Woods," "Sunday in the Park with George," "Sweeney Todd," and more. The concert, which will also be broadcast live from Lincoln Center on PBS, starts at 7:30 at David Geffen Hall; tickets are $200-305
15. New Year's Eve Concert for Peace

This annual concert at the Cathedral of St. John the Divine on the Upper West Side was founded by Leonard Bernstein in 1984. This year's New Year's Eve Concert for Peace, hosted by Harry Smith, includes performances by the Cathedral Choir and Orchestra led by Director of Music Kent Tritle. Special guests include Paul Winter, Jamet Pittman, Jason Robert Brown, and David Briggs. The concert starts at 7pm; general admission tickets are free the night of the show;  you can choose your seats in advance at a range of prices.
16. NYRR Midnight Run

If you'd rather meet the new decade burning calories than quaffing champagne, this annual four-mile midnight run around the Central Park "inner loop" with the New York Road Runners may be just the thing to jump-start your resolutions. The race kicks off after a countdown at 11:59, timed with a fireworks display in the park. Entry fees start at $70 for non-NYRR members with discounts for members.
When you've made your plans, you might actually want to venture into Times Square–on December 28th. That's when Good Riddance Day is taking place between 12 and 1 pm. Inspired by the Latin American New Year's Eve tradition of stuffing dolls with objects that represent unpleasant memories and setting them ablaze, this version involves fewer fire hazards. Standing at the crossroads of public art and ritualistic kvetching, participants will get a chance to toss, shred and smash "any unpleasant, embarrassing, and downright unwanted memories from the past year" or anything you'd like to scrawl on an official Good Riddance Day form. This cathartic event happens on the Broadway plaza between 45th and 46th streets, and it's free; there's even a contest with tickets to the ball-drop as a prize.
RELATED: