Hip hop legends to perform at four free concerts in NYC for 'Homecoming Week'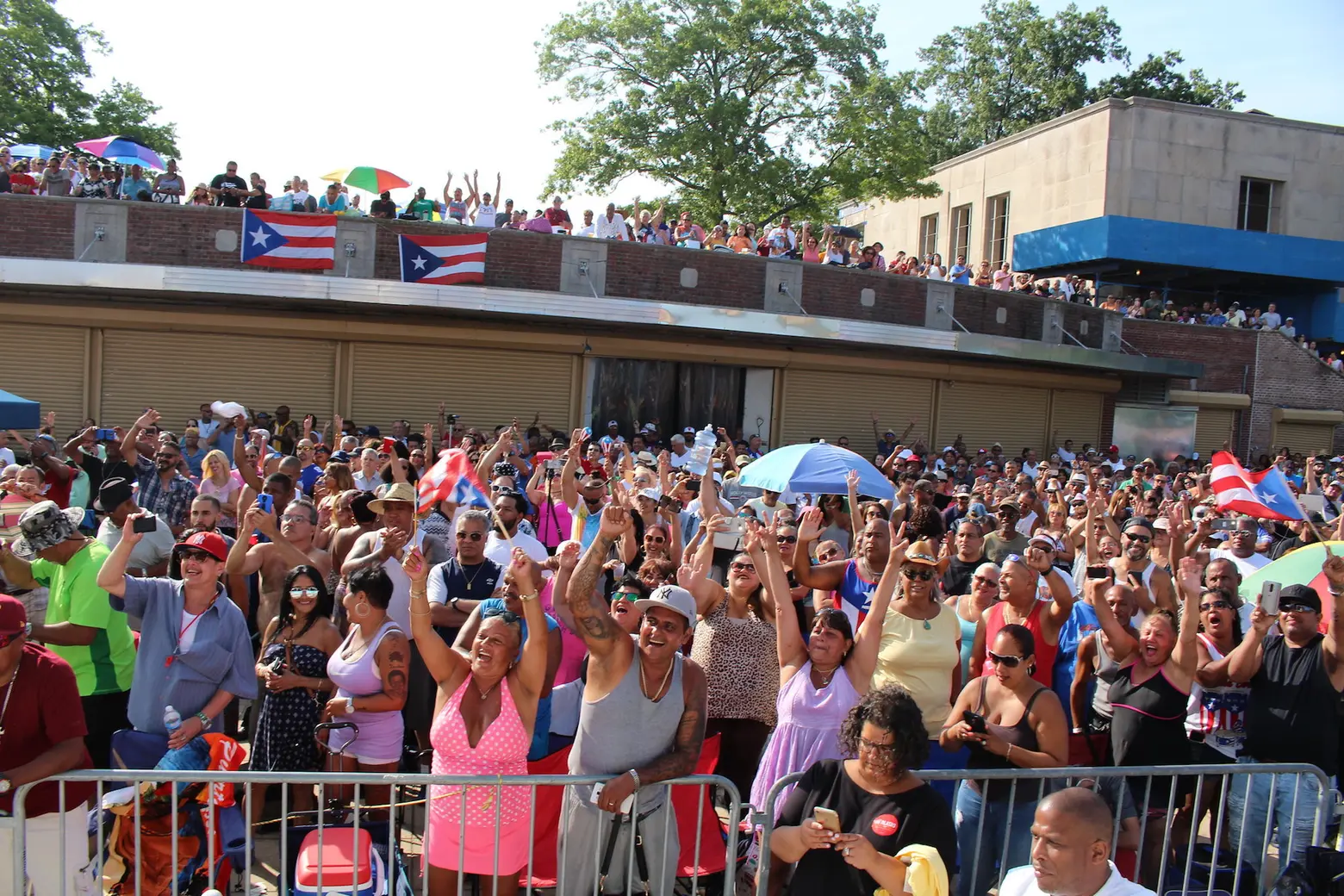 Orchard Beach concert in 2017; Photo by Bronx Borough President Ruben Diaz Jr on Flickr
Four free concerts featuring both legendary and up-and-coming hip hop musicians are coming to a borough near you. Mayor Bill de Blasio on Thursday revealed the lineup of the shows, which are taking place as part of the city's "Homecoming Week," a weeklong celebration of New York City's comeback following the pandemic. Produced by the Universal Hip Hop Museum, the concerts will feature stars like KRS-One, Raekwon and Ghostface Killah, Big Daddy Kane, George Clinton & The P-Funk All Stars, and nearly 40 more performers.
The four outer-borough concerts, "It's Time for Hip Hop in NYC," are happening on August 16 at Orchard Beach, August 17 at Midland Beach, August 19 at the Brooklyn Army Terminal, and August 20 at Forest Hills Stadium.  The concerts will also be live-streamed on Behind The Rhyme, a hip hop-focused channel on Twitch, and will feature backstage content and interviews.
In addition to the shows, nonprofit Thrive Collective will be putting together a collection of street artists that will create live, temporary art installations during the concerts, a nod to the history between hip hop and graffiti.
"Hip Hop comes home to celebrate NYC Homecoming Week!" Rocky Bucano, president of the Universal Hip Hop Museum, said. "Many of the artists performing in these shows are native New Yorkers hailing from the five boroughs. It's their talent, creativity and passion for the culture that spread it from the stoops, parks and playgrounds to stages worldwide. The Universal Hip Hop Museum is proud to welcome them home, back to where it all began."
The full lineups for the outer-borough Homecoming Week concerts are as follows:
Monday, August 16 from 3:00 p.m. to 9:30 p.m. at Orchard Beach in the Bronx:
KRS-One
Slick Rick
Remy Ma
Busy Bee
CL Smooth
DJ Hollywood
DJ Jazzy Joyce
DJ Kevie Kev
Fantastic Five
Furious 5 featuring Grandmaster Melle Mel and Scorpio
Grand Wizard Theodore
Joeski Love
Kid Capri
Nice & Smooth
PopMaster Fabel
Soul Sonic Force
T La Rock
Ultra MAgnetic MC's
Tuesday, August 17 from 4:00 p.m. to 9:30 p.m. at Midland Beach on Staten Island: 
Raekwon and Ghostface Killah
Crystal Waters
DJ Chuck Chillout
EMPD
Force MDs
Hakim Green
HeeSun Lee
Kool Keith
Lizzy Ashliegh
Pharoahe Monch
Rikki
Rob Base
Thursday, August 19 from 4:00 p.m. to 9:30 p.m. at Brooklyn Army Terminal in Brooklyn: 
Big Daddy Kane
Desiigner
C&C Music Factory
DJ Mr. Cee
Judy Torres
Lizzy Ashliegh
Maino
Obsai Jackson
Papoose
PopMaster Fabel
Special Ed
Stetsasonic
Sweet Sensation
Young Devyn
Friday, August 20th from 4:00 p.m. to 9:30 p.m. at Forest Hills Stadium in Queens
George Clinton + The P-Funk All Stars
Too $hort
DJ Hurricane
DJ Wiz
EPMD
Mobb Deep
Yo-Yo
The shows are free to attend, but tickets are required. The tickets will be released to the public in batches at the following dates and times at nyc.gov/homecomingweek:
Monday, August 2 at 10 a.m.
Tuesday, August 3 at 7 a.m.
Wednesday, August 4 at 9 p.m.
Thursday, August 5 at 7 a.m.
Friday, August 6 at 10 a.m.
Saturday, August 7 at 9 p.m.
All ticketholders must present proof of COVID-19 vaccination, which for this case means at least one dose. (If you get your first vaccine dose at an NYC-run vaccine site starting July 30, you will receive a $100 pre-paid debit card.)
Closing out Homecoming Week is a "mega-concert" on Central Park's Great Lawn on August 21. The lineup for the "WE LOVE NYC" concert, which will be aired on CNN, includes huge stars like Andrea Bocelli, Wyclef Jean, Barry Manilow, Earth, Wind & Fire, Jennifer Hudson, The Killers, LL COOL J, Carlos Santana, Paul Simon, Patti Smith, Bruce Springsteen, Rob Thomas, and more.
Curated by Clive Davis and Live Nation, along with de Blasio and Union Square Hospitality Group CEO Danny Meyer, the Central Park concert will host 60,000 people. Officials say 80 percent of the tickets will be free, with the remaining 20 percent available as VIP tickets for purchase.
Free tickets, and VIP tickets for purchase, will be released to the public in batches at nyc.gov/HomecomingWeek starting Monday, August 2 at 10 a.m. Find more details here.
In addition to the concerts, Homecoming Week will include free movie screenings from Rooftop Films, Summer Streets, NYC Restaurant Week, and other events across the city.
Editor's note 8/2/21: Mayor de Blasio announced the location for the August 17 concert on Staten Island has changed from The Richmond County Bank Ballpark to Midland Beach to accommodate a larger crowd. The original version of this article has been updated to reflect this.
RELATED: