Has the Failed B2 Tower Ruined Large-Scale Prefab Housing for the City?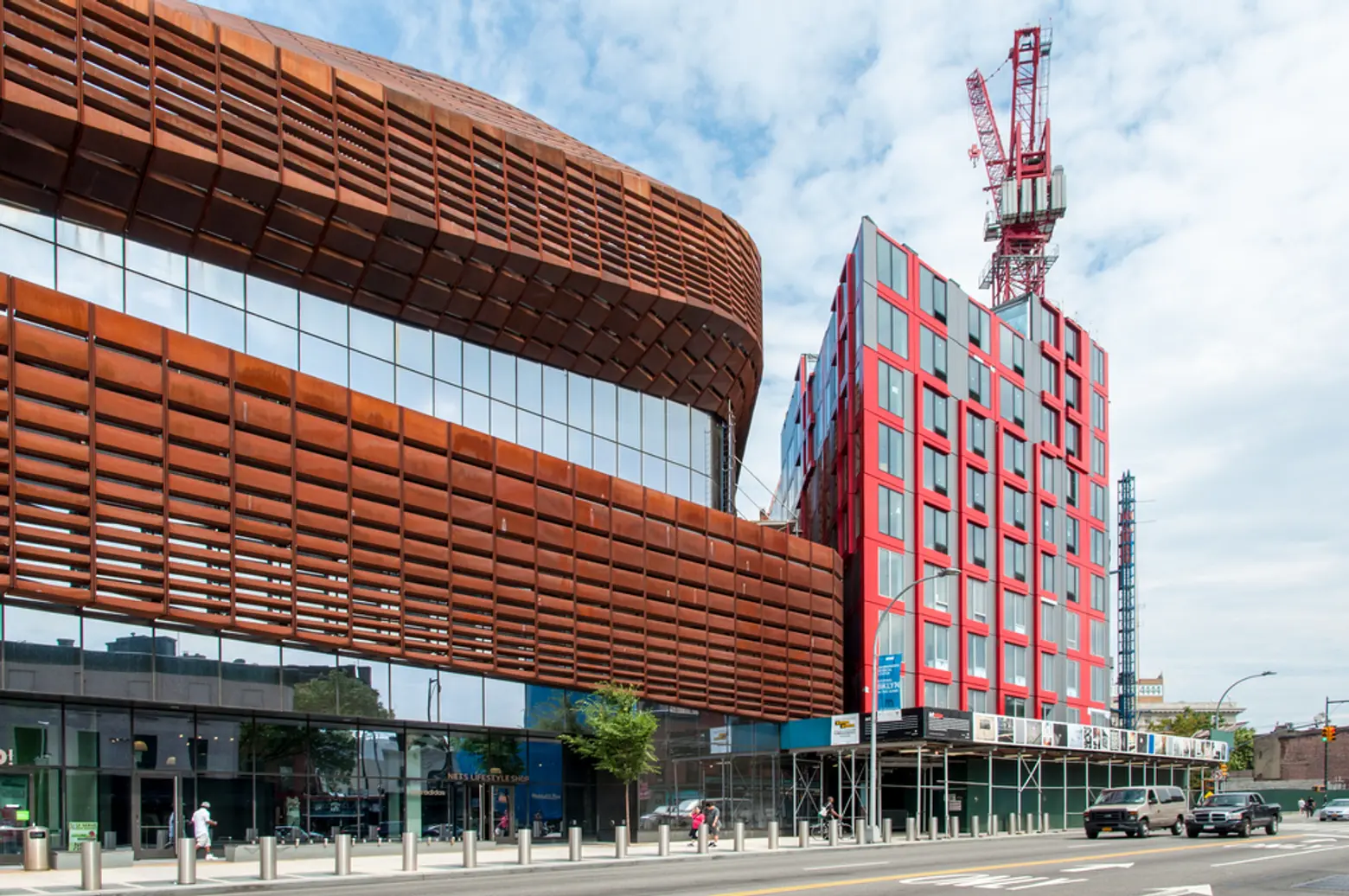 Prefab housing has taken the world by storm in the last years, lauded for its low cost and flexibility, with buildings ranging from single-family homes to art schools popping up across the globe. But not until Forest City Ratner's plan for B2 BKLYN have we seen an attempt to build a large-scale module tower topping out at 32-stories—the world's tallest prefab tower.
It's well known that the project has been a big flop; construction was far slower than originally projected and was halted in August amidst disputes between the builder, Skansa USA, and the developer, Forest City Ratner. In September lawsuits went flying, both pointing fingers as to why the whole thing failed. Forest City blamed the execution of the plan, while Skanska said the design was flawed. Fast-forward to today, and the work on the tower has been shut down with only 10 stories erected. A recent WSJ article looks at where the whole thing went awry, and more importantly: Is pre-fab construction even feasible at such a scale?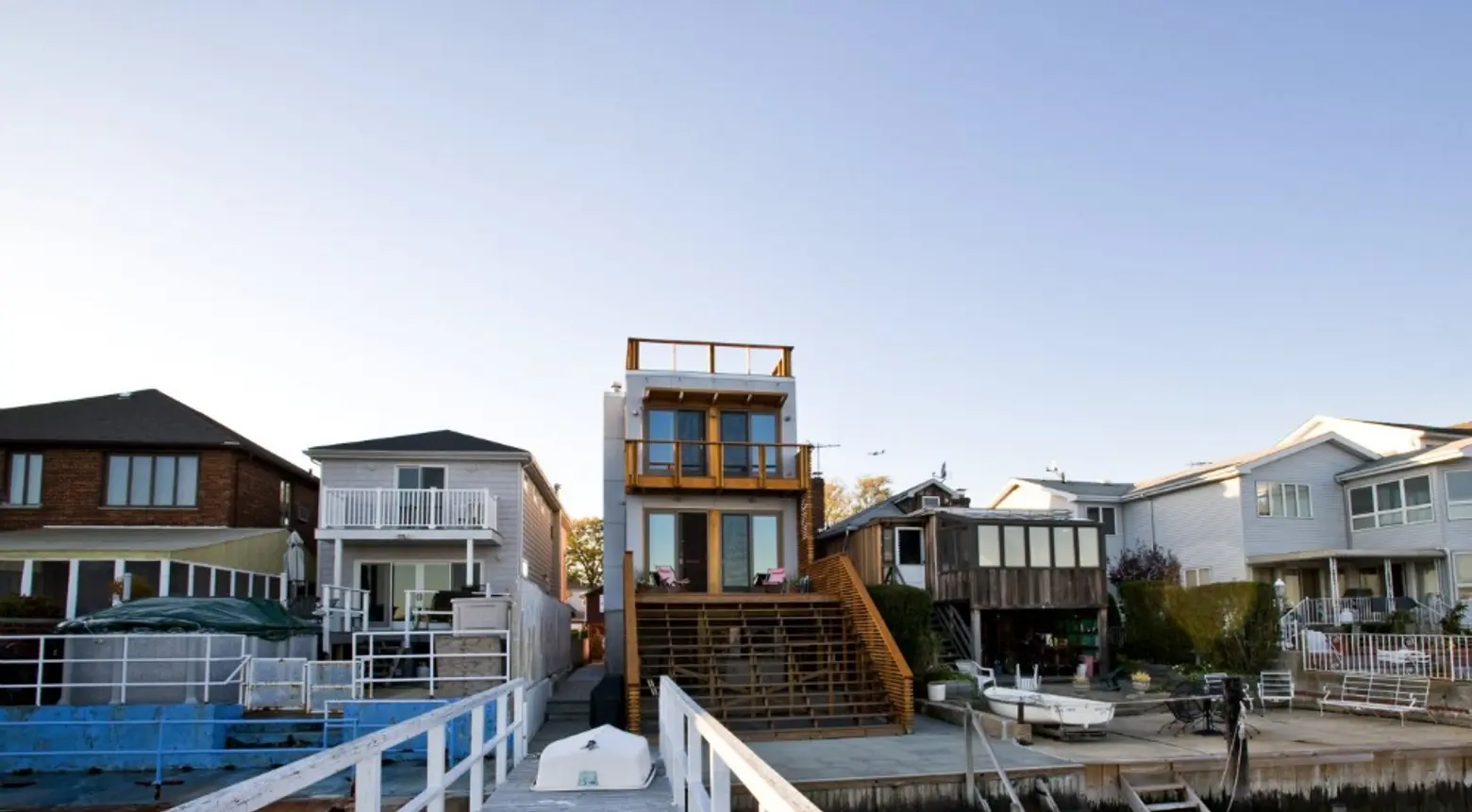 Bronx Box by Resolution: 4 Architecture was built from two modules
Green builders and architects have used modules to build homes for decades. This method of construction has long been an excellent way to deliver a beautiful home at a low cost, and firms such as Blu Homes, Lindal Homes, LO-TEK and Resolution: 4 Architecture have found great success doing so. When B2 was initiated, it was hoped the tower could deliver the same results, providing a new model for affordable housing that could be employed all throughout our city. Though good-intentioned, and green to boot, its ambitious height has proved to be its biggest downfall.
Though the bracing technique used in the by SHoP Architects-designed B2 tower has been successful in other projects of lower heights, the ambitious 32 stories proved to be the beast. Modular buildings can be self-supporting, without requiring additional structural supports to about the 12- or 14-story level, but taller than that, they require additional steel or concrete bracing, experts tell the WSJ.
The building system is not as simple as stacking blocks like Lego; steel compresses under heavy loads, columns get shorter and beams bend more and more with each story. Tolerances need to extremely tight to account for this, and there is much less give than with a standard construction. When a few pieces don't fit into the frame, the whole structure is in jeopardy. Trying to predict these tolerances for a 32-story tower in a factory off-site is extremely difficult.
In a separate story, The Atlantic Yards Report blog points to Skanska's 146-page letter, addressed to Forest City Ratner, which highlights this central problem (and Skanska's main argument): "It is impossible to predict that the building when completed will perform as designed; and in particular, it is impossible to predict that the curtain wall joints will be and, over time, will remain effective barriers to the passage of air and water… [I]n simple terms, no one knows if the building is going to leak." Skanska also wrote that leaks could have occurred at thousands of joints between module facade elements.
In response, Forest City has contended that these problems were Skanska's fault and the design they provided was not flawed. As it stands, B2's construction is at a standstill until all the legal issues are resolved, which some predict could take months to years.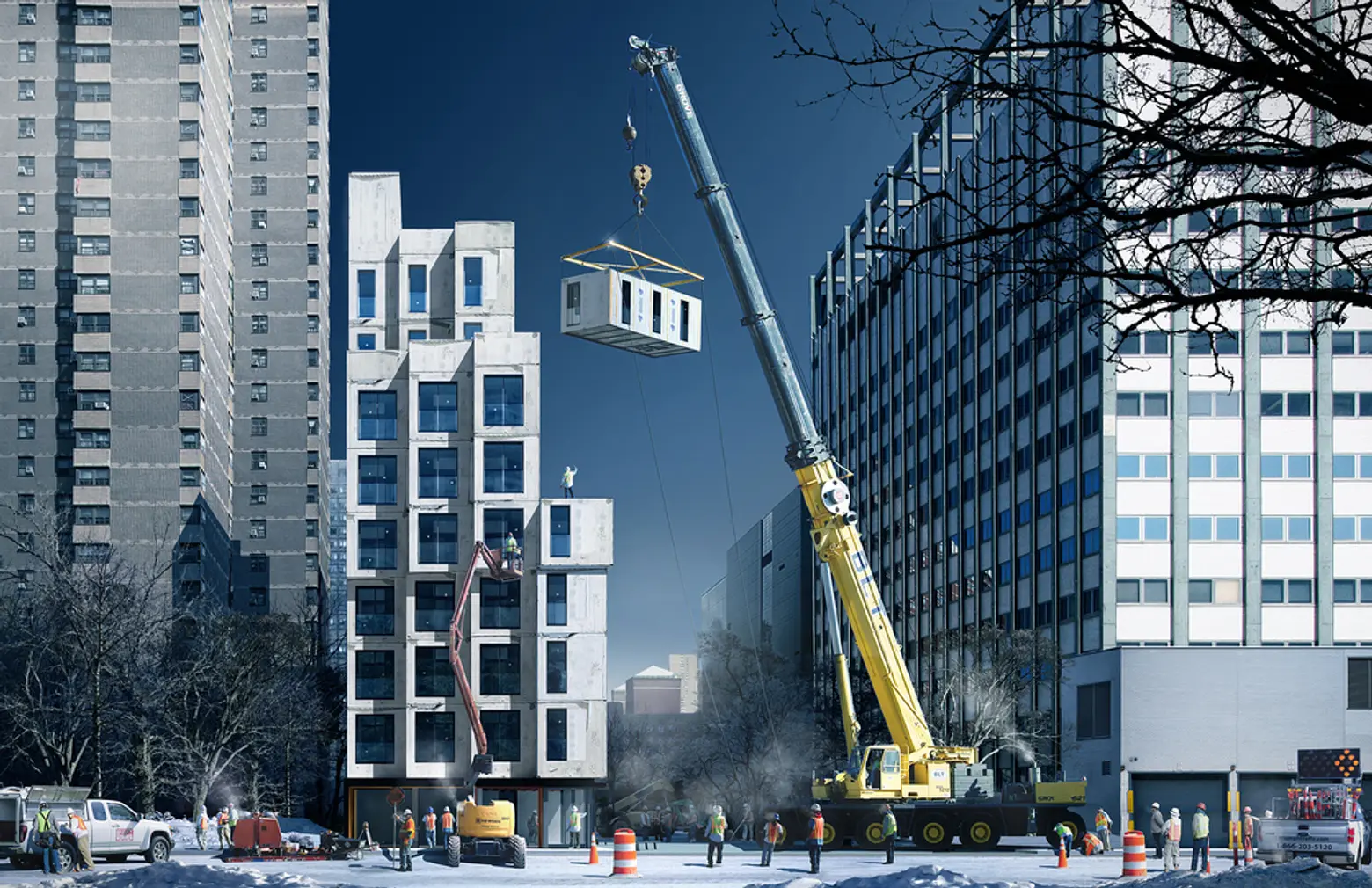 My Micro NYC by nARCHITECTS
So, is building towers with prefab modules a total bust? Not quite. Although the WSJ reports that many feel prefab building is too far in its early stages to go mainstream and mega-scale, they also report on a number of tower that have found success, including a 30-story modular hotel in China and a 25-story dormitory in the U.K. Proof that height isn't the end all. They also cite three other projects in the NYC area: A seven-story, 59-module apartment building at 4857 Broadway in Manhattan's Inwood called The Stack; and My Micro NYC by nARCHITECTS, under construction at 335 East 27th Street. They also note there are 10 projects currently under construction in the region.
"We'll get there, I'm just not sure we're there yet," James Garrison of Garrison Architects told the paper. "It's like when you build an automobile. You know the fan belt has to clear the frame, the gas line has to have places to go—all of these things have to be integrated." Although Garrison was not involved in the design of B2, his firm recently developed a post-disaster housing prototype made from prefab modules.
[Via WSJ]