Get Your Grill On: Rules, Tips, and Products for Indoor and Outdoor Barbecuing in NYC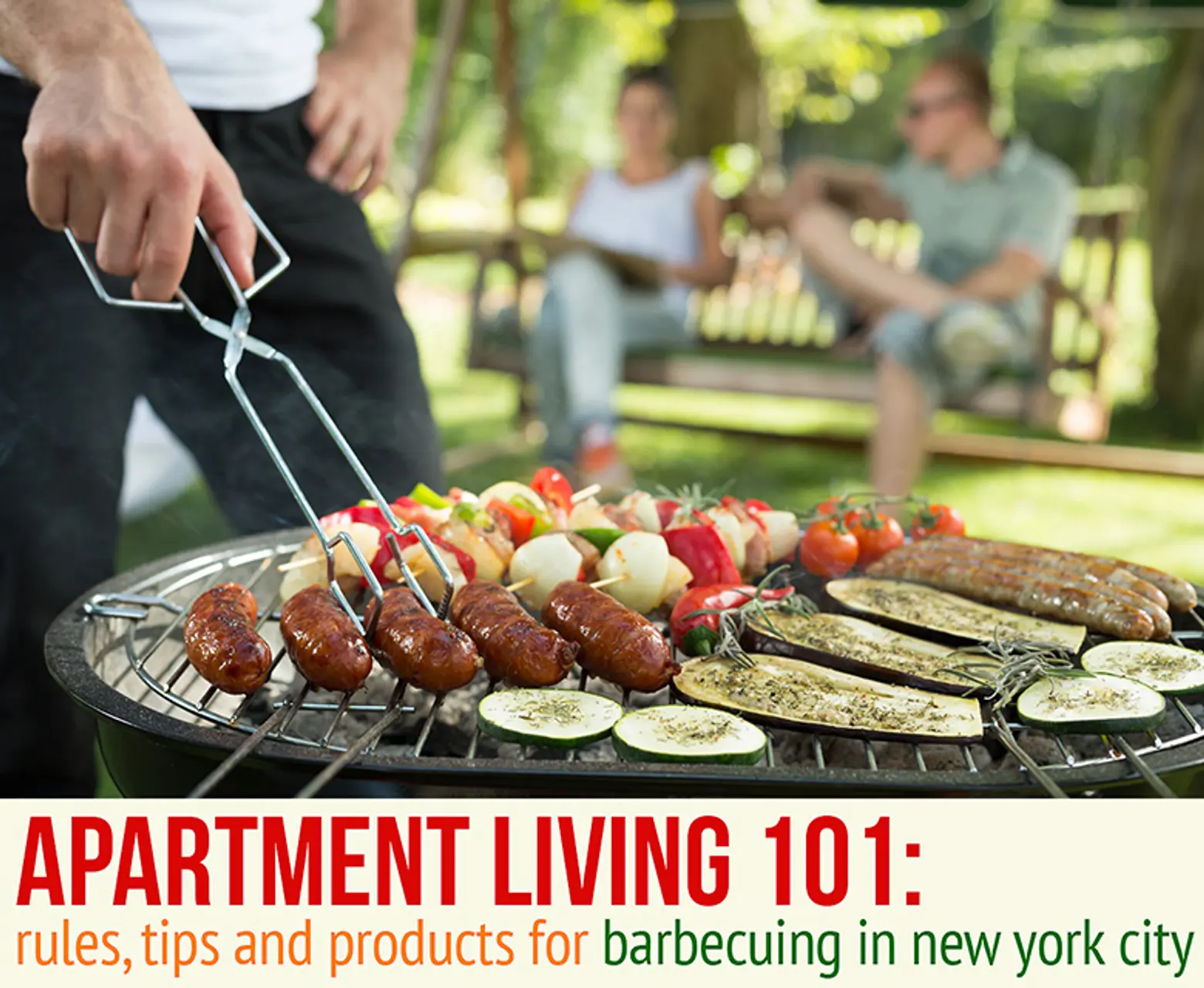 6sqft's ongoing series Apartment Living 101 is aimed at helping New Yorkers navigate the challenges of creating a happy home in the big city. This week, we provide a comprehensive guide to indoor and outdoor grilling in NYC.
Nothing says summer like a perfectly charred burger or buttery ear of corn, but for many New Yorkers these warm-weather goodies are reserved for weekend jaunts to the suburbs or sub-par restaurant versions. If you want to get in on the grilling action without leaving the boroughs, there are plenty of options to barbecue both outside and in. It'll just require a little insider knowledge of the city's rules and regulations, so to help in the process, 6sqft has done the research, as well as put together handy tips and some of the best products.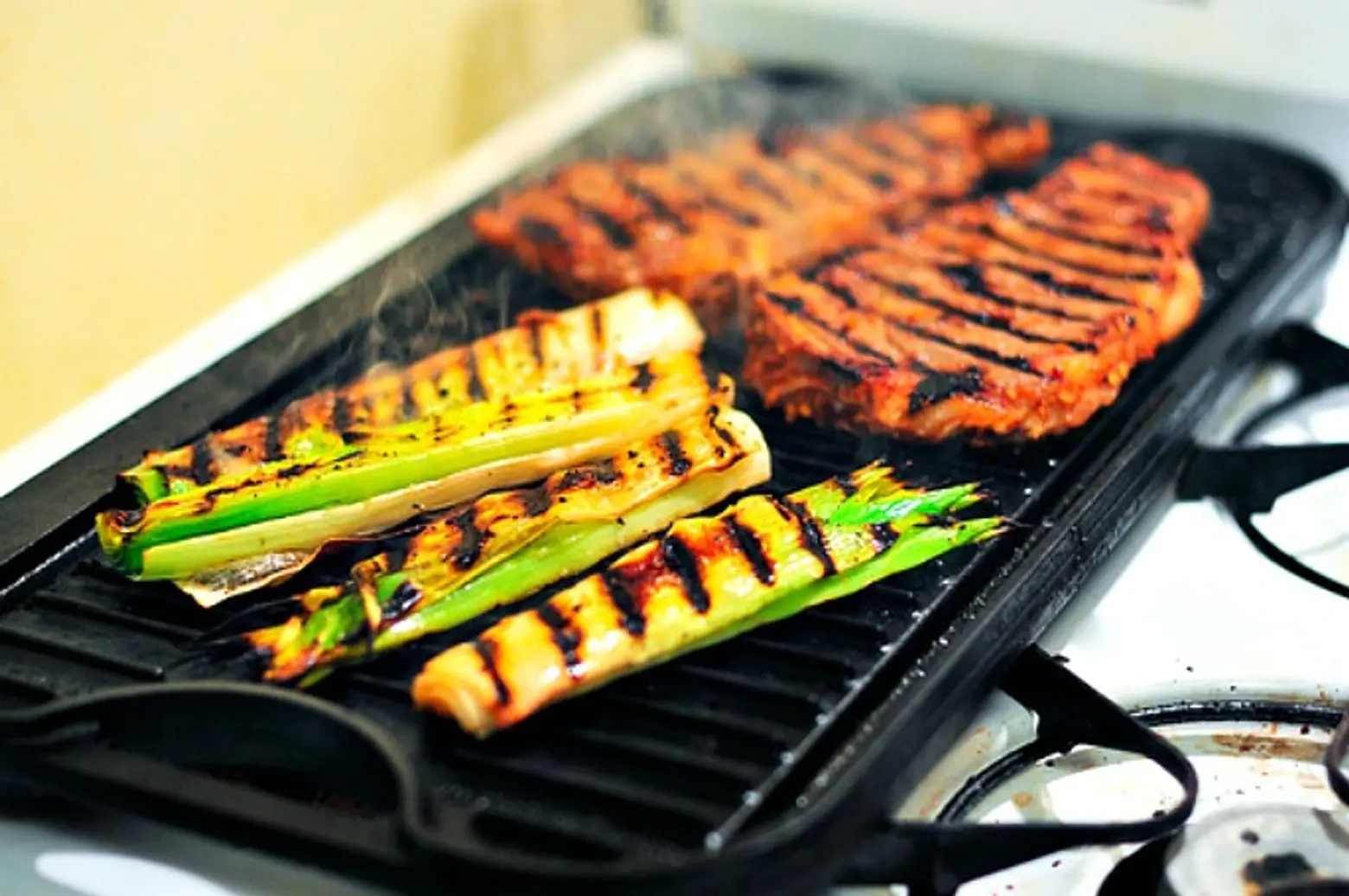 Indoor Grilling
The big thing to remember when grilling in your apartment is that barbecues made specifically for outdoor use (charcoal, propane, etc.) can never be used indoors, as they may generate dangerous levels of carbon monoxide. It's also important to check that your smoke detector is working. Turn on your oven fan if you have one, and if not, consider bringing a portable fan in to the kitchen to keep smoke from building up. Here are your options for grilling indoors:
Grill Pans
There's a variety of options out there, but cast iron is the most heavy duty. It retains heat the best, and therefore will stay hot to produce those coveted grill marks, also created by their ridged design. They're placed over stovetop burners, which allows for direct temperature control, and are generally easy to clean.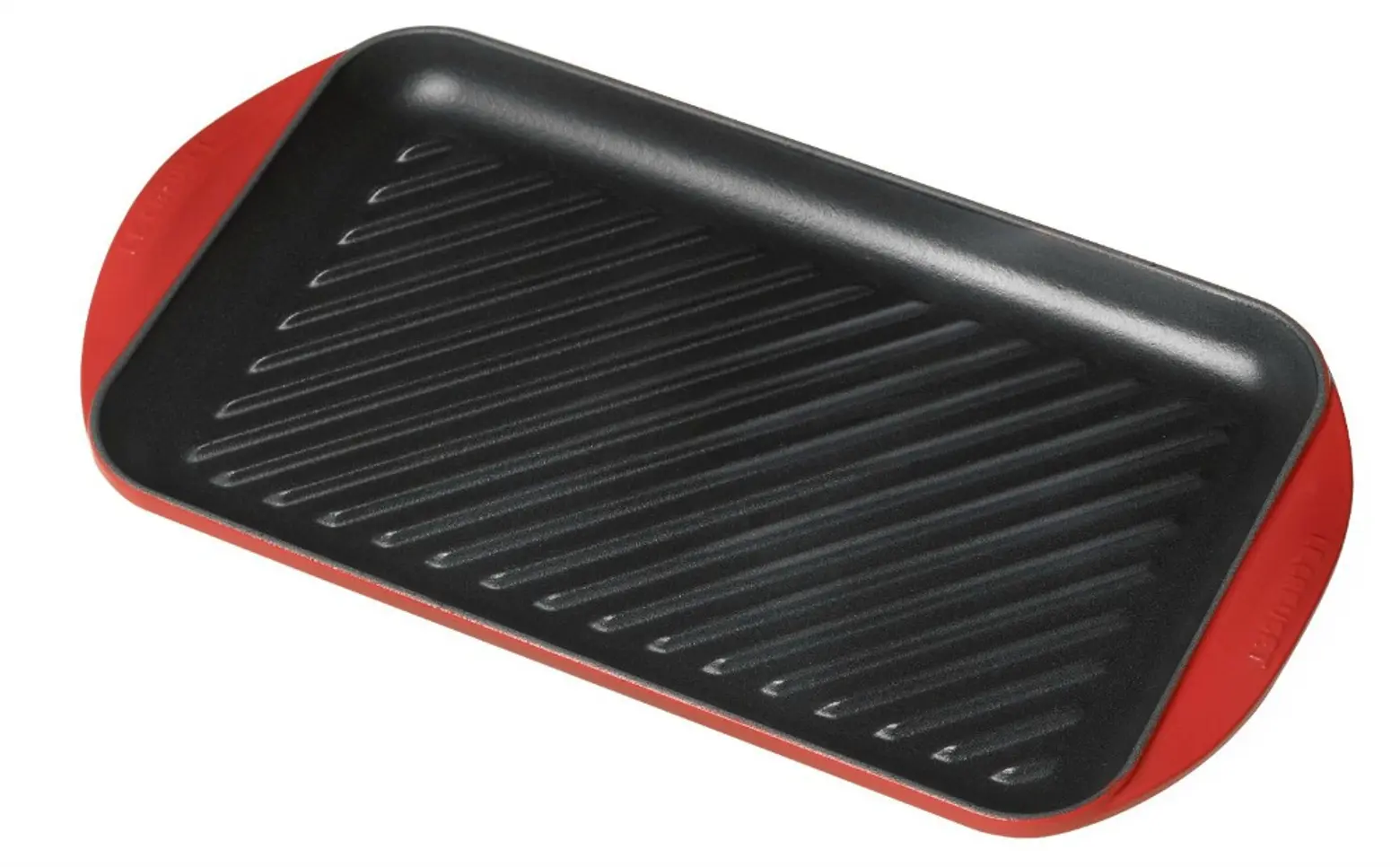 ↑ Le Creuset Extra-Large Double Burner Grill
It's a splurge at $200, but Le Creuset's extra-large double-burner grill pan is a favorite of chefs. It fits over two burners and is made of the company's signature enameled cast iron, which is cast individually in sand molds and then hand-inspected by French artisans. Because of the matte black enamel cooking surface, this pan doesn't require seasoning.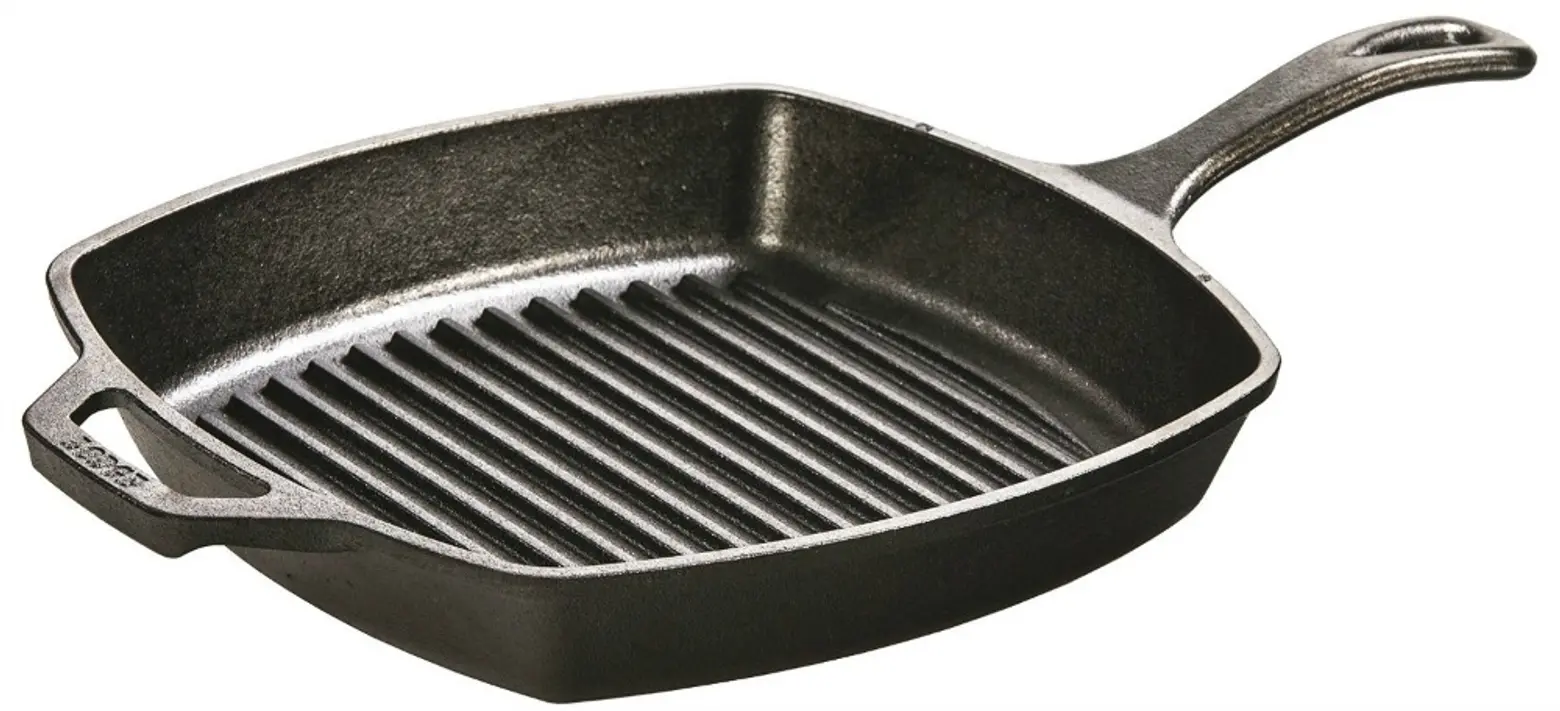 ↑ Lodge Pre-Seasoned Grill Pan
If you don't want to spend the big bucks, Amazon's best seller is this $20 pre-seasoned cast-iron square grill pan from Lodge. It's ready to go, it's deep-ribbed bottom works well for low-fat cooking, and it's known to retain heat very well. It's also oven-safe and can be used on regular grills and campfires.
Indoor Electric Grills
The George Foreman-type grill is another popular option. It has both top and bottom ridged plates, but because it clamps down on your food, it can sometimes create a steaming effect rather than pure grilling. These are great options for paninis or thin chicken breasts that cook quickly.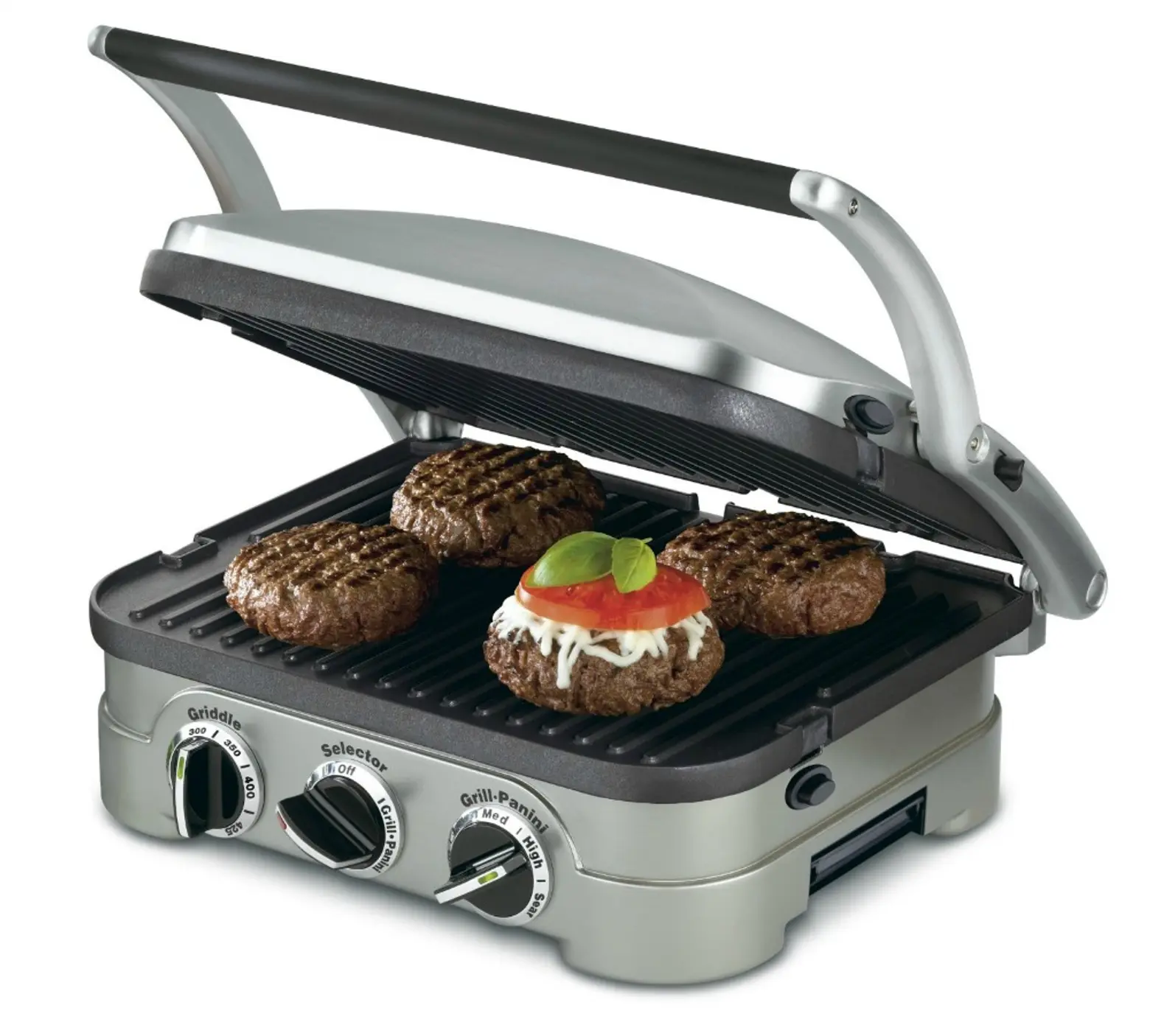 This electric grill is the number-one seller on Amazon ($80) thanks to its versatility. It has five separate cooking options — a contact grill, panini press, full grill, full griddle, or half grill/half griddle — to handle everything from pancakes to steaks to paninis. Plus, it has dual temperature controls and a floating cover so you can cook larger foods.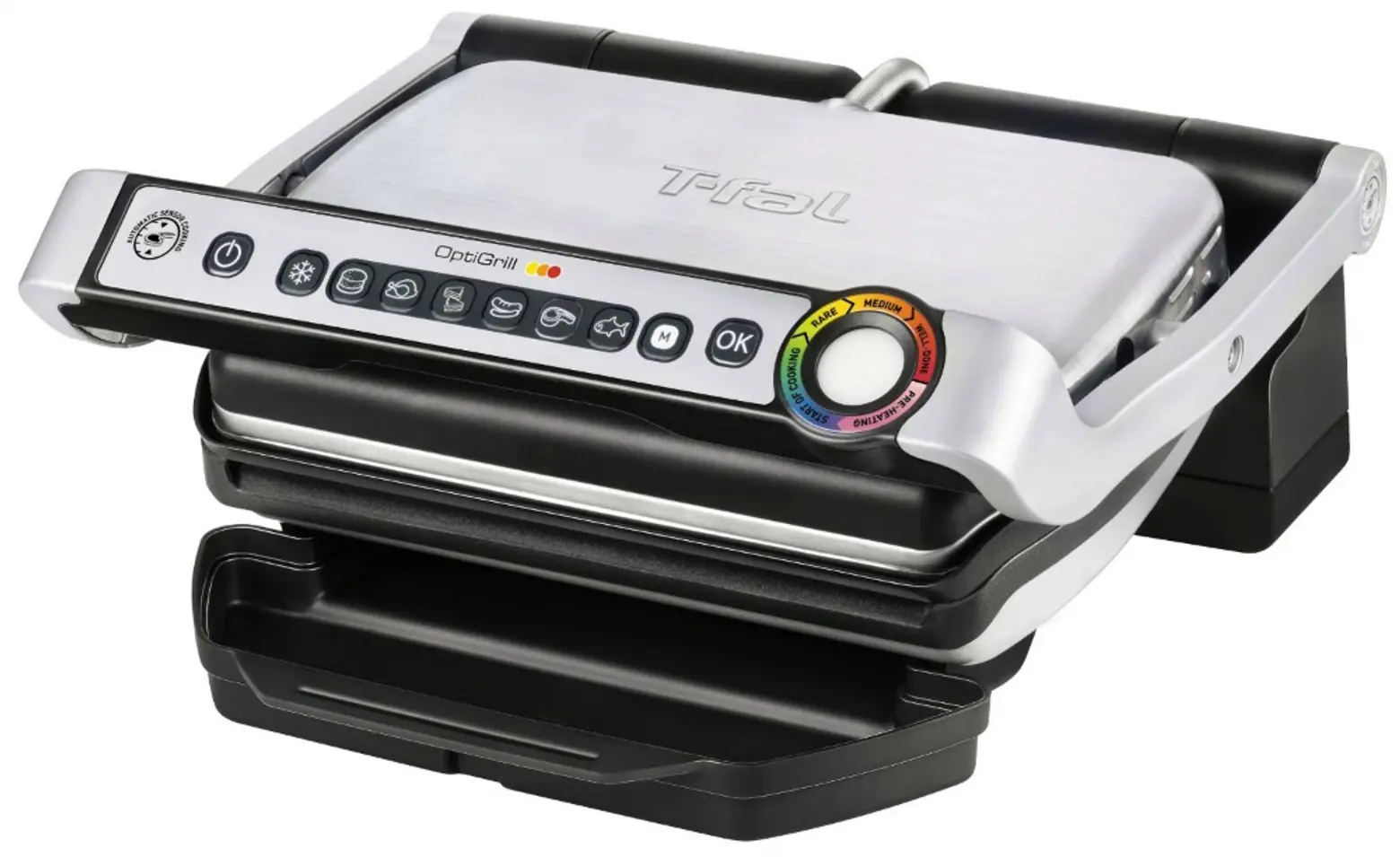 Take the guess work out of indoor grilling with T-fal's automatic sensor, which adapts cooking to the thickness of the meat and number of portions. There are six auto cooking programs–burger, poultry, sandwich, sausage, red meat and fish. It also has a cooking level indicator so you can get perfectly rare or well-done meat. It's available for $99 on Amazon.
Here are some tips for getting outdoor-quality grilled foods inside:
Pre-season your cast iron grill pan: Use a paper towel to rub canola or vegetable oil (they have a higher smoking point than olive oil) over the pan and then place it in the oven at 375 degrees for 30 minutes. You can then oil only your food, not the grill pan, allowing for more flavor and less smoke.
Choose the right meats: Burgers, boneless chicken breasts, fish filets, and steaks work well for indoor grilling since they don't need to be covered. Avoid larger cuts like whole chickens, prime ribs, or pork shoulders that need to be cooked long and slow in a traditional, covered barbecue.
Don't grill with herbs: Marinating food in herbs and garlic is a great idea, but before you place it on the grill, be sure those extra bits of onion or rosemary are brushed off, as they'll burn and stick to the grill.
Fake a smoky flavor: If you're craving the taste that comes from charcoal or wood, consider using spices like smoked paprika or salt and woodsy barbecue sauces.
Outdoor Grilling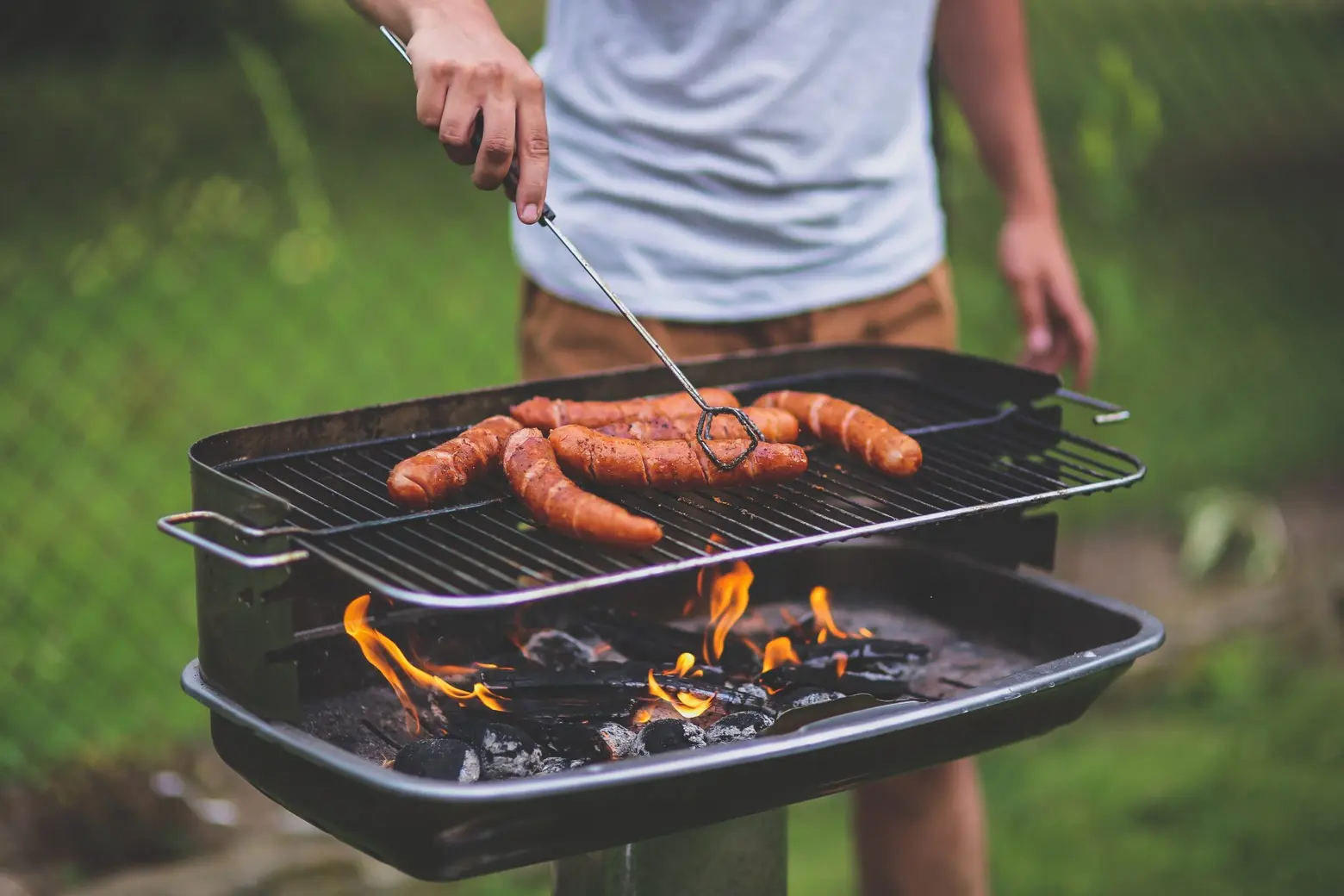 Photo via Pexels
Though outdoor grilling may not carry the same fire hazards as indoor, the city still imposes its own set of rules and regulations. Here are the basic rules from the Department of Parks & Recreation:
Barbecuing is allowed in designated areas ONLY.
No barbecuing permitted under trees.
All coals and litter must be disposed in trash receptacles.
There are a total of 68 designated areas — 14 in the Bronx, 21 in Brooklyn (12 of which are in Prospect Park), 16 in Manhattan (six of which are actually on Randall's Island), 13 in Queens, and four on Staten Island. You can see them all here.
Most of these spots have their own charcoal grills, but you'll need to bring your own coals and utensils. You can also bring your own non-propane grill if you don't want to risk a wait.
If you have your own outdoor space, the FDNY has separate rules depending on the type of grill:
Charcoal barbecues can not be used on a roof or balcony, but can be used in a backyard or on a terrace (a balcony is one that overhangs from the facade, whereas a terrace doesn't extend past the wall) if they're not being operated within ten feet of any flammable material (garage, trees, furniture, etc.). There must be a garden-type hose attached to a water supply or at least a four-gallon pail of water or sand available for use if needed.
The ten-foot rule also applies to propane barbecues, but the tanks must be smaller than 16.4 ounces and can then be used on the roof, patio, or courtyard of an apartment building.
Electric barbecues are the easiest; they can be used in backyards, roofs, balconies, and terraces. Just be conscious of dripping grease!
Using any type of grill is illegal on a fire escape.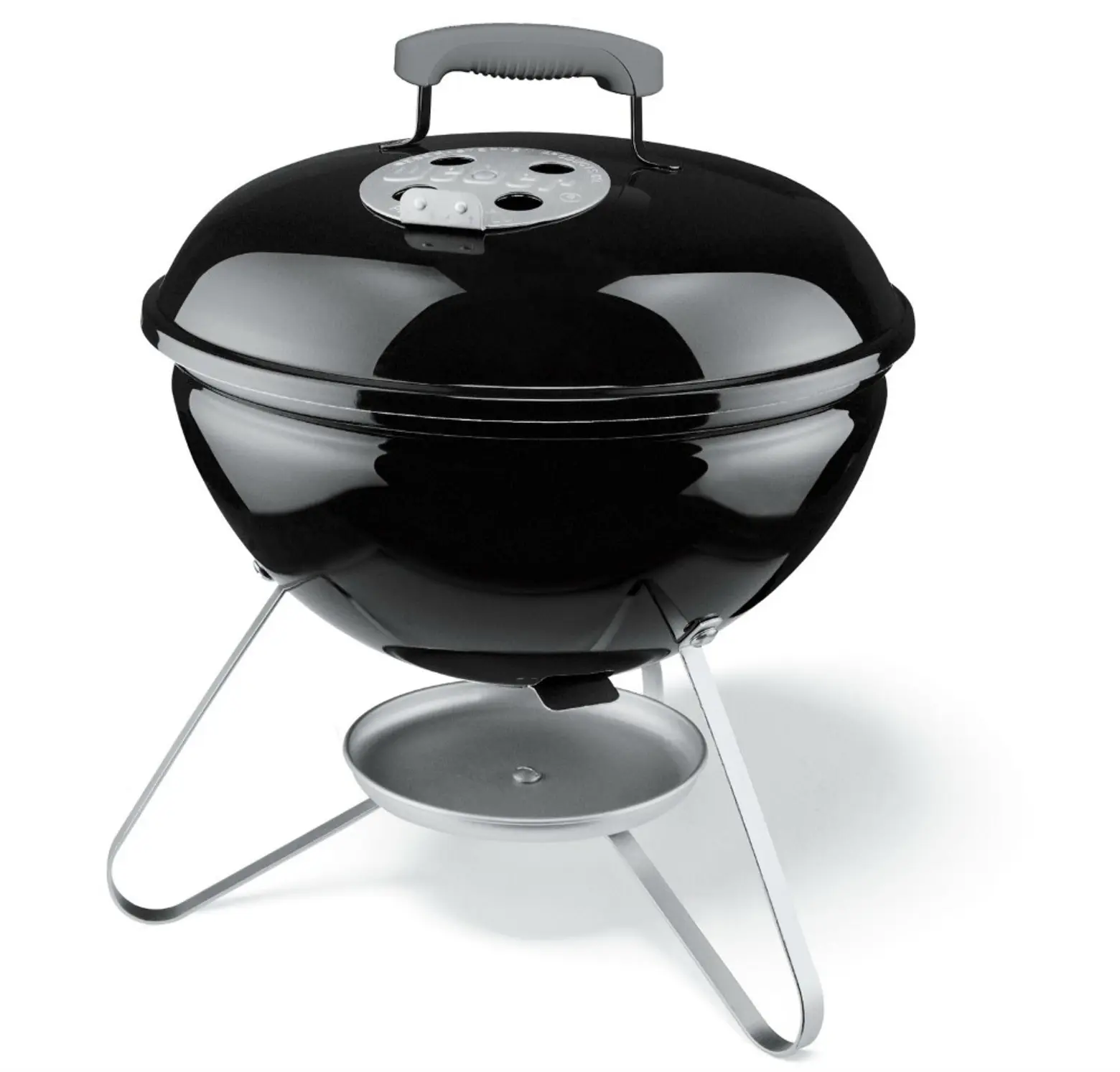 This 14-inch charcoal grill is consistently voted the best on the market, as it's a compact version of the grill that made Weber famous. It only weighs 9.5 pounds and has a handle that wraps around its frame, so it's great for travelling. The best part is, it's only $30 on Amazon.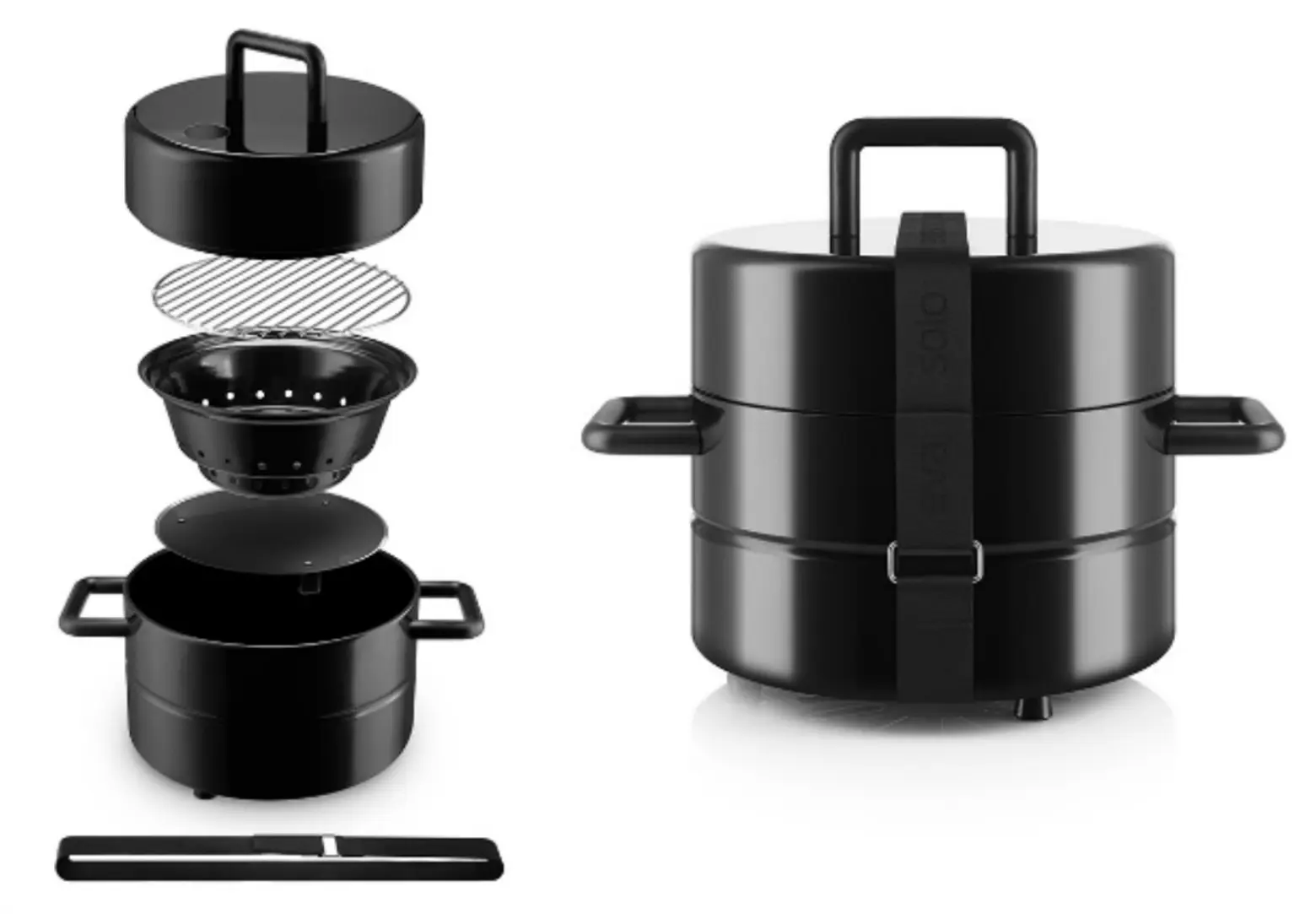 Measuring 15-inches tall by 13-inches wide, this portable charcoal grill was modeled after an Indian tiffin, a stackable lunch box with different compartments for rice, veggies and meat. As 6sqft explained, "The To Go Grill is similarly layered, with a black enameled steel pot holding components like a coal bucket and grill grid made from chromium-plated steel. Silicone handles stay cool even as you're cooking and a handy nylon strap keeps the parts together as you tote it around from parks to beaches."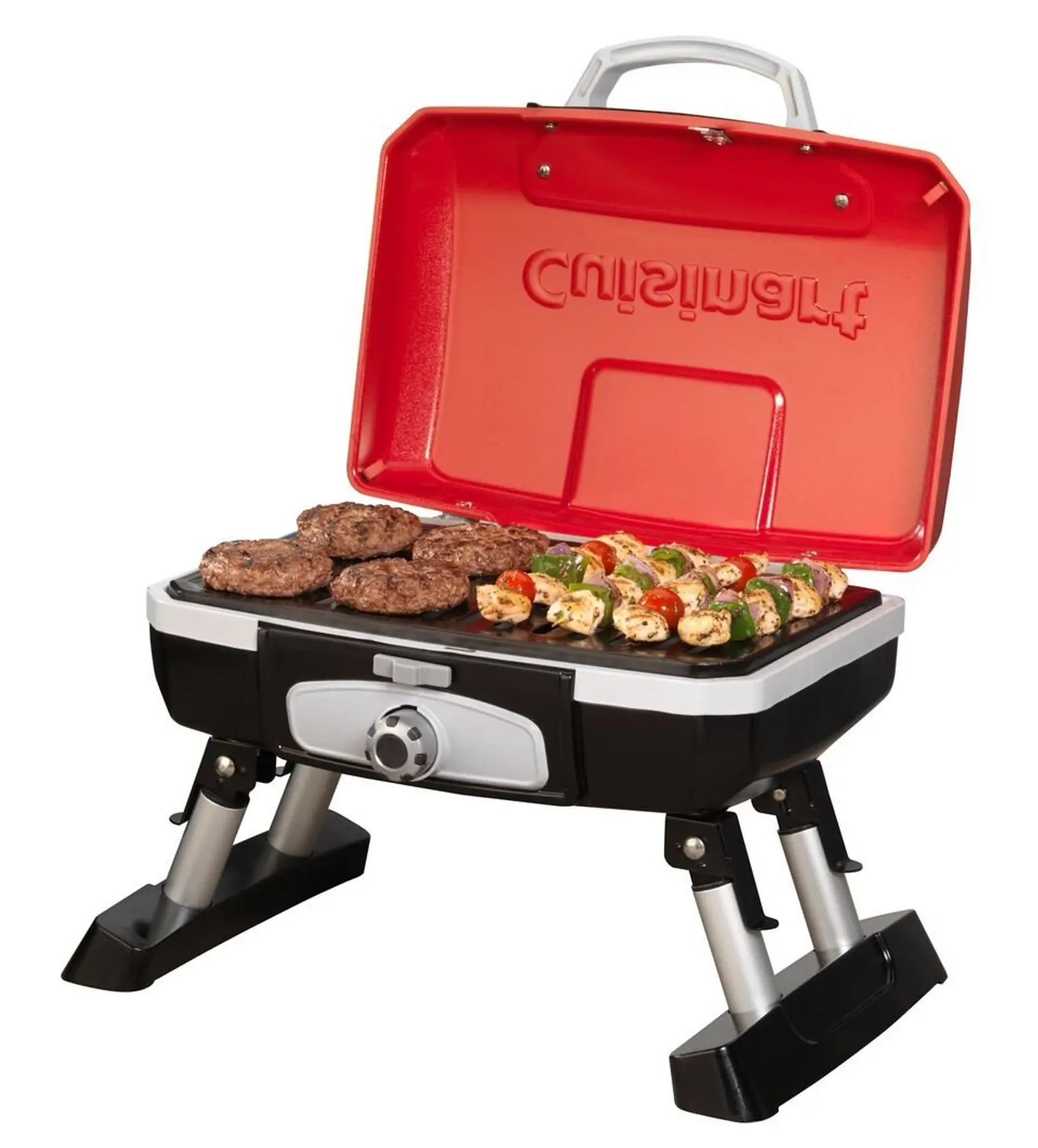 With a one-pound propane tank, this gas grill just makes the cut for the city's regulations. At 20 pounds, it's nicely portable, but it's small, so temperatures don't get as high and it doesn't fit as much at once. It comes with a convenient carrying handle, and users say it's easy to clean. The tabletop version is $98, but for $123, you can get it with a telescoping stand.
+++
RELATED: