Everything you need to know about houseboat living in NYC, from finding a boat to securing a slip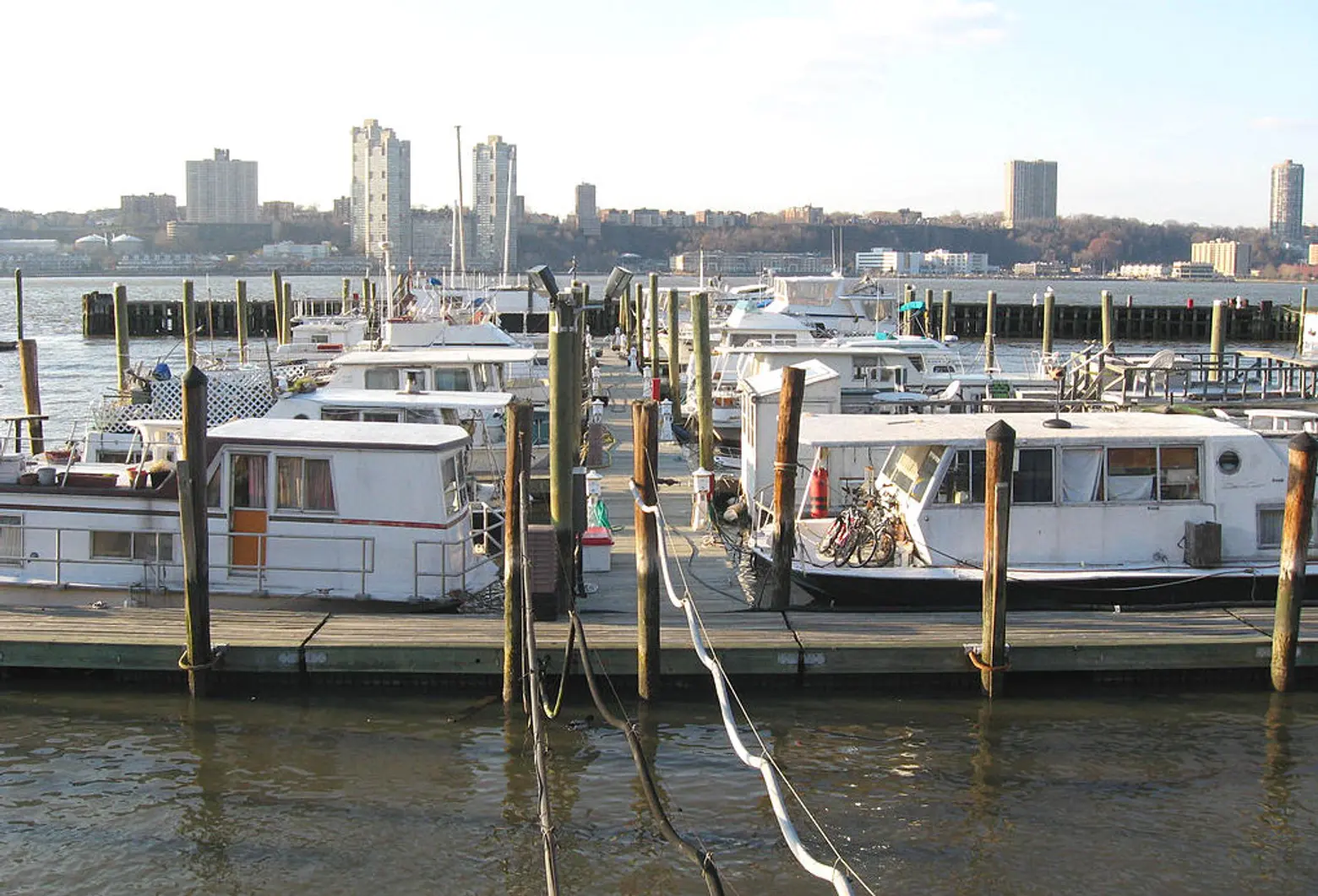 In Amsterdam, houseboats are considered an affordable way to live in the center of the city. They're also popular in other global cities, from London's Little Venice to waterfront neighborhoods in Vancouver, Los Angeles, and Sydney. So why doesn't New York City—with its 578 miles of coastline—have a thriving houseboat community, too? While it's impossible to know for certain, recent estimates for Manhattan suggest that year-round houseboat residents or "liveaboards" may now number fewer than 50.
Limited year-round docking space accounts for the fact that New York reports far fewer "liveaboards" than many smaller cities. But a December 2019 announcement by local authorities suggests this may be changing. The $90 million project, which is expected to get underway by 2021, will include a host of upgrades to Pier 79 that result in a vast expansion of the pier's capacity to host year-round residents. While it is still unclear how many of the 780 people currently on Pier 79's 14-year-long waitlist will eventually be able to move onto the water year-round, the plan does promise to eventually result in a drastic spike of NYC "liveaboards."
Until then, New Jersey may be a great option. The famous Liberty Landing Marina in Jersey City rents its slips on a 12-month basis. Each of their 520 slips–that can accommodate "boats as small as 20′ to yachts up to 160′ in length"–offers metered electric, water, and free Wi-Fi.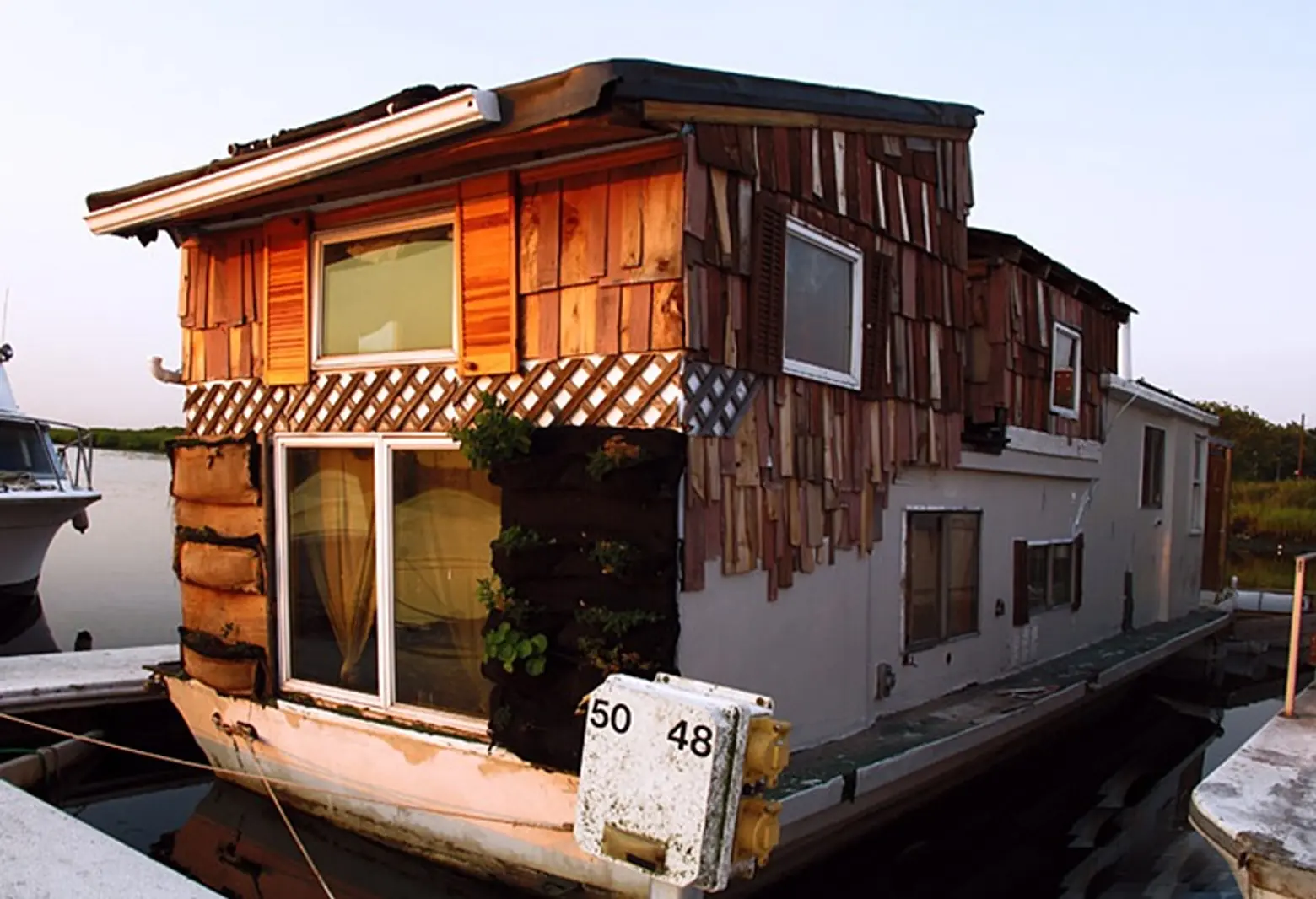 A houseboat in Far Rockaway. Image by 6sqft
The cost of living on a houseboat
Regina Jordan and Ed Bacon, long-time residents at Pier 79 on the Upper West Side, told West Side Rag in 2016, "We used to have about 104 year-rounders, now it's down to 33 boats." The couple also revealed that they pay less than $1,000 per month in docking fees to live in the neighborhood. 
Houseboats are one of the most affordable housing options on the market, especially for anyone looking to own their own home. First, there is the relatively low cost of purchasing a houseboat. Larger luxury houseboats can often be purchased new for approximately $180,000. Used houseboats with less curb (or dock) appeal can be purchased for as little as $30,000.
Docking fees are also typically far more competitive than condo or co-op fees. On average, one should expect to pay anywhere from $5,000 to $7,000 annually. Fees vary depending on the location and length of the boat (a large houseboat docked at the 79th Street Pier on the Upper West Side will cost more annually than a smaller houseboat docked further up the Hudson). A 2019 New York Times article about houseboat living across the U.S., cited that in New York City, season, in addition to boat length, season also comes into play with the cost of docking a boat: "In the winter, it can range from $70 to $90 a foot in some marinas, and in summer it can go up to between $250 and $320 a foot." Likewise, a 2003 New York Times article about living at Liberty Landing Marina said that "rent at the marina is a mere $200 a month, except in the summer, when it is $7,000 for the season."
Nevertheless, even if one is carrying a loan on their houseboat, combined with docking fees, it is usually possible to live in one's waterfront home for approximately $1,000 monthly. Better yet, in most but not all U.S. cities, houseboats equipped with an engine are classified as vehicles rather than "floating homes," and this means that most houseboat owners pay no property tax.
There is another form of savings, however, that cannot be taken for granted. If your houseboat is seaworthy (not all houseboats are), you may also enjoy considerable savings during the summer months. Rather than rent a vacation home at the Jersey Shore or in the Hamptons, you'll now have the option of simply pulling up your anchor and docking in a vacation community of your choice for a few weeks or the entire summer.
Despite the substantial savings in terms of the purchase price, monthly fees, and property tax, houseboats do have one downfall. Unlike nearly any other home purchase, in the case of a houseboat, your home will depreciate over time, since the lifespan of most houseboats is only 30 to 40 years. This means that while houseboats may offer substantial savings in the present, they offer no long-term return on investment.
From old-time nautical to floating modernist prefab micro-apartment
Although the savings and mobility of houseboat living may be attractive, there is no question that not everyone wants to live in a space that resembles Captain Hook's secret living quarters. Fortunately, on the houseboat market, the nautical theme is out and modern minimalism is in. Just as it is now possible to purchase a slick modernist-inspired backyard shed or wilderness cabin, it is possible to purchase a houseboat that has all the aesthetic qualities of the very latest micro-apartment. This houseboat designed by a Dutch architecture firm even manages to produce more solar energy than it consumes. And as this Dwell article shows, Pinterest-worth interiors are just as popular on houseboats as they are in regular houses.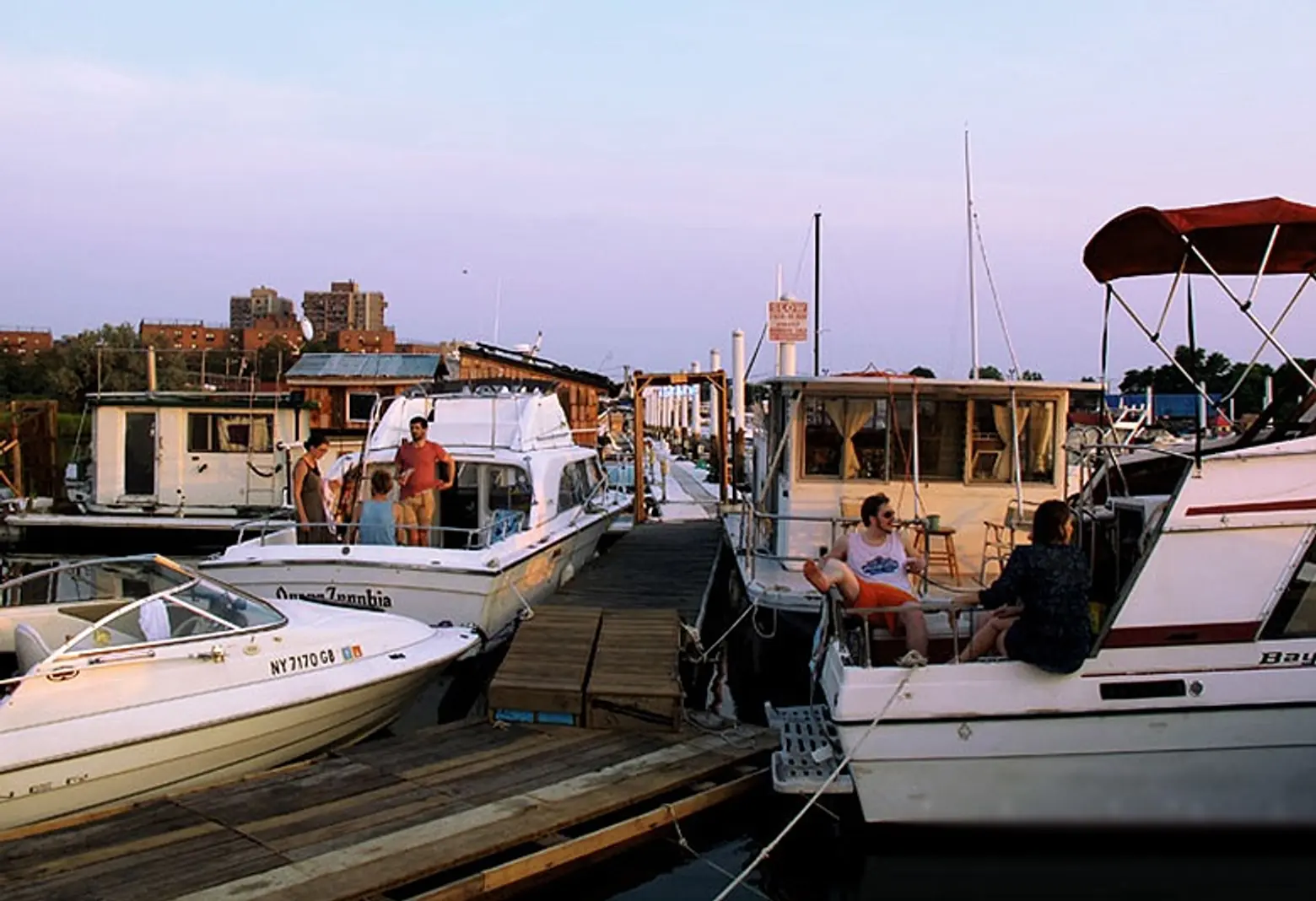 Slips at Far Rockaway. Image by 6sqft
Planning your move to a houseboat
Step 1: Find a slip in your borough of choice
If you're thinking about moving on to a houseboat, at least in the New York City area, the most difficult challenge will likely be finding a place to dock your houseboat. However, with Pier 79 on the Upper West Side about to upgrade its facilities, there are high hopes that "liveaboards" may have more options by the mid-2020s.
Step 2: Purchase a houseboat that meets your needs
Like micro-apartment living, living on a houseboat means making at least some sacrifices. Space will be limited, some appliances may need to be smaller than usual, and if you're an antiquarian with several tons of old dusty books, you will likely need to rent a storage space, too. For this reason, it's important to be clear about what your needs are in terms of space and amenities prior to purchasing your houseboat. Also, bear in mind that docking fees are by the foot, so going vertical (opting for a two-level houseboat) is nearly always more strategic than opting for a longer single-level houseboat.
Another critical consideration is whether or not you plan to move your home from place to place. Traditional houseboats were typically built to be more house than boat. While they could be transported with the aid of a tugboat, they were not classified as boats but rather as "floating homes." If you purchase a catamaran with an engine, however, you will have the option of moving your home from place to place.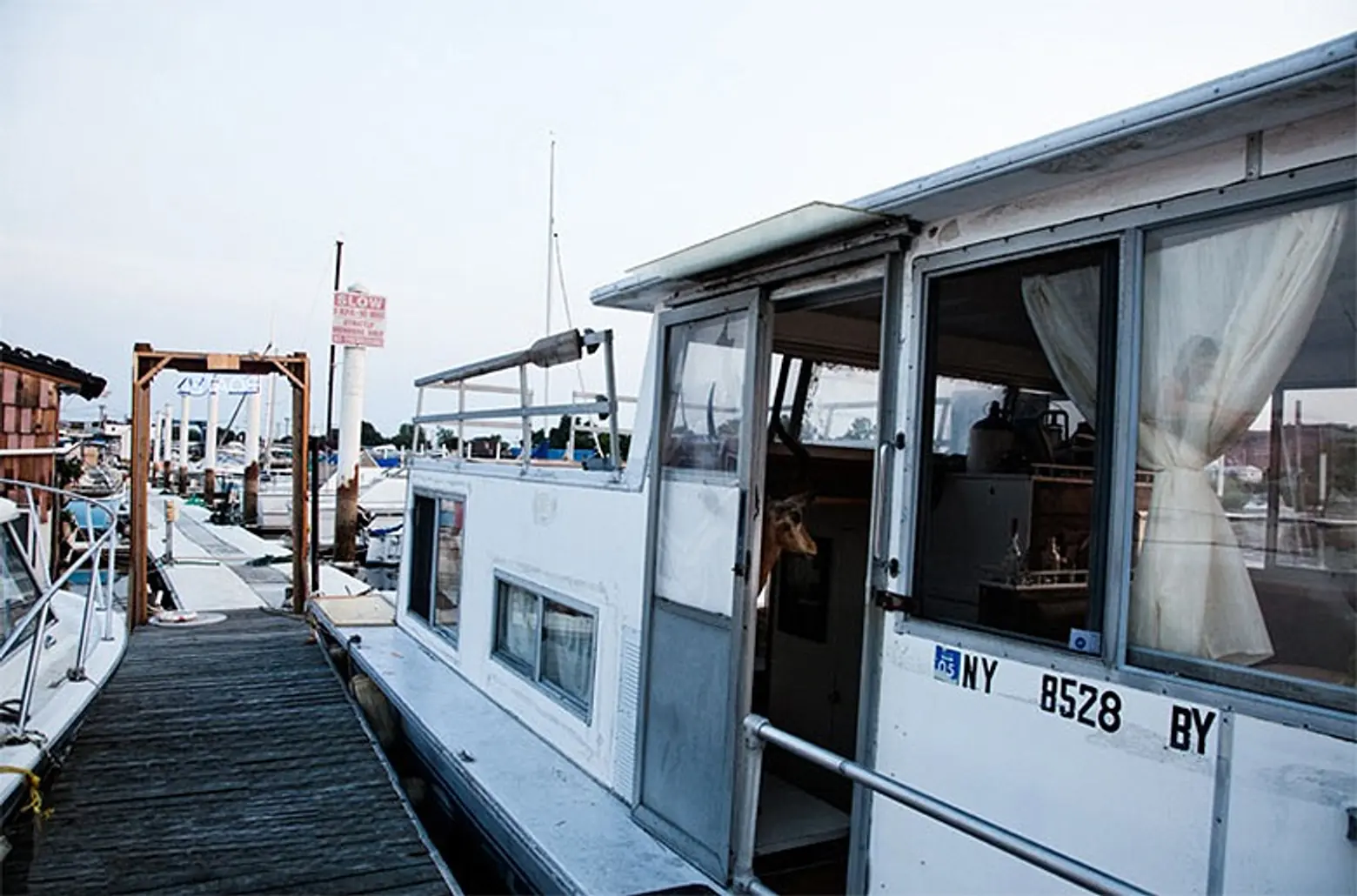 Image by 6sqft
Step 3: Take a crash course on home and ship maintenance
If you're living on a houseboat, things can and will go wrong—it's a boat, not a full-service co-op or condo. This means that you'll need to become your own super. In addition to typical home repairs, you'll also need to oversee an entirely new spectrum of tasks from re-gelling your roof to hull maintenance. This is likely why most liveaboards are also DIYers at heart. After all, while a leaky basement may be a nuisance, in a houseboat, a leaky basement will sink you into more than a bit of debt.
Step 4: Brace yourself for the elements
If a hurricane hits, you're better off in a high-rise than a houseboat. Indeed, during a hurricane, it is usually best to haul your home ashore. Deep freezes also pose problems for houseboat owners, since they can result in frozen pipes and leave you without running water or worse yet, water damage. Even during the summer months, living on the water can be both a blessing and a curse, since houseboats are known to quickly overheat. The bottom line is that if you're living on a houseboat, rain, wind, deep freezes and heat waves will hit you just a bit closer to home.
RELATED:
Editor's Note: This story was originally published on October 18, 2016, and has been updated.