Dining, shopping, and 25 live performances are coming to Bryant Park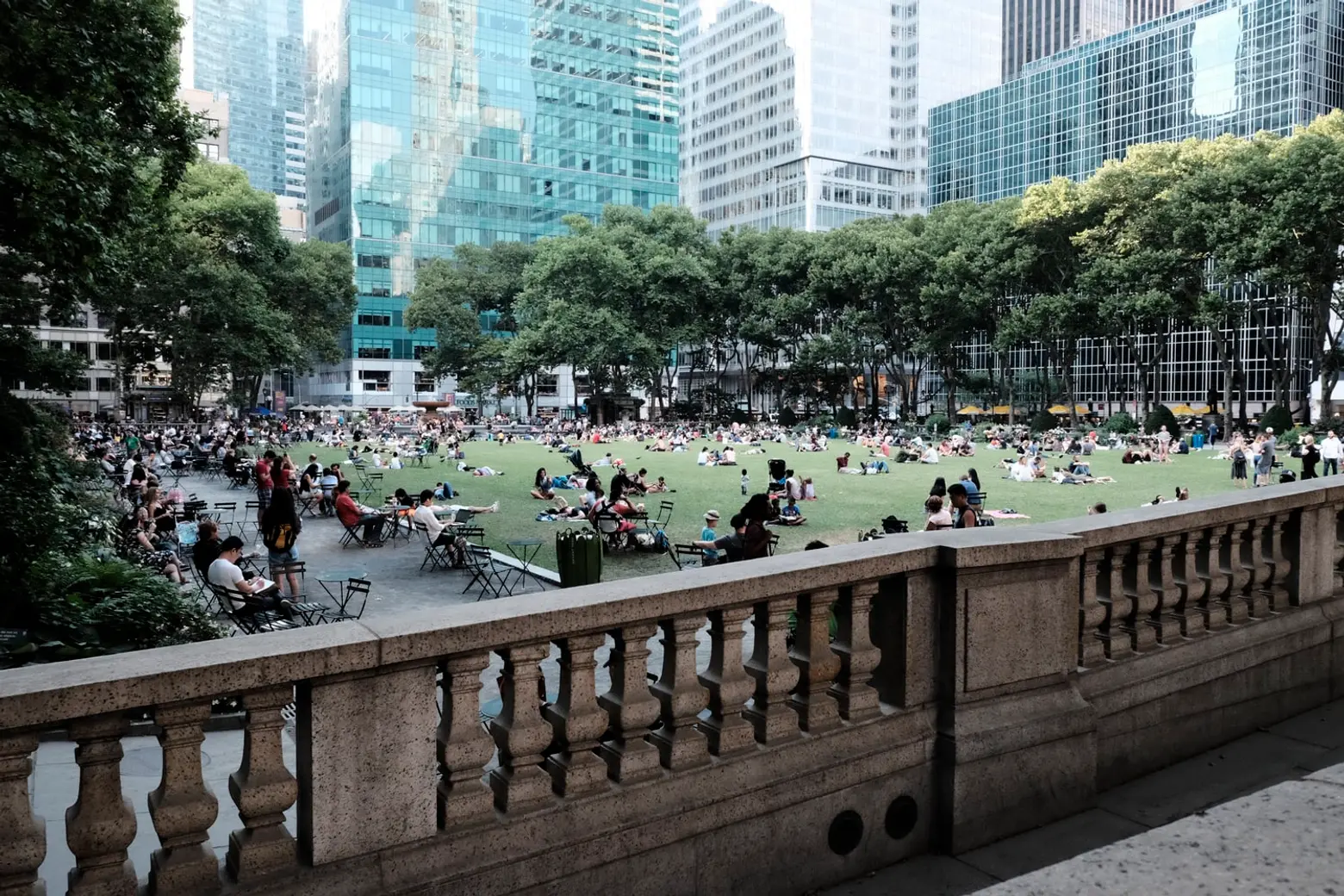 Kicking off yesterday and running through June 20th, "Spring Up" is a new immersive dining and shopping experience in Bryant Park. Managed by food hall operator Urbanspace, the market will feature original art, antique collectibles, jewelry and cuisines from more than 40 local small businesses. And from June 9th through September 20th, the Bryant Park Corporation will present 25 free performances from local institutions including the New York Philharmonic, Carnegie Hall, Jazz at Lincoln Center, Joe's Pub, the Classical Theater of Harlem, and Paul Taylor Dance Company.
"It's been a devasting year for small businesses, and we are eager to play our part in the City's recovery as we begin to see New York come back to life," said Urbanspace President Eldon Scott. "Urbanspace is built on the concept of building community and meaningful interactions with people, and the Spring Up Market is just that. It's a great way to enjoy the season with friends and family."
To that end, local vendors include Ample Hills ice cream and Cheeseboat, as well as businesses owned by women and members of the BIPOC and LGBTQ+ communities including Smooth Pops, Oohjacquelina Jewelry, Beriqisu, and ekosfere. Bank of America will contribute with their Small Business Spotlight, which provides a rent-free built-out shop to five minority-owned businesses with annual revenue under $1 million. The businesses that will alternate as part of this program are Cognitive Coaching Candles, DA SPOT NYC, It's Nola, Padoca Bakery, and Yamato Indigo.
In addition, Urbanspace has partnered with New York City's "unofficial talent scout" Nick Heller (@NewYorkNico), who has hand-picked local small businesses to showcase their talents and products in a specially curated booth. These rotating vendors include Bronx Native, Lulu Vintage Clothing, Pageant Print, and Fantasy Explosion.
For even more outdoor fun, "Picnic Performances" will launch on June 9th, offering New Yorkers 25 free music, dance, and theater events that can be enjoyed from the lawn. As of now, each event will have the capacity to accommodate 200 guests, though state regulations may allow larger crowds at some point. All events will require advance registration, and they will also be live-streamed.
As the New York Times so eloquently put it: "Bryant Park's season functions as a coming-together of New York arts groups, many of which have had few opportunities for live events since the pandemic arrived."
In addition to the cultural institutions mentioned previously, other participants include Elisa Monte Dance, Harlem Stage, National Sawdust, New York Chinese Cultural Center, Limón Dance Company, Greenwich House Music School, and The Town Hall. The full schedule has not yet been published, but the New York Philharmonic will open the season with four nights of concerts. The 100-year-old The Town Hall will close out the series on September 20th with an anniversary performance by mandolinist Chris Thile.
RELATED: