Designer gift guide: 11 NYC creatives share what they're giving (and what they want) this holiday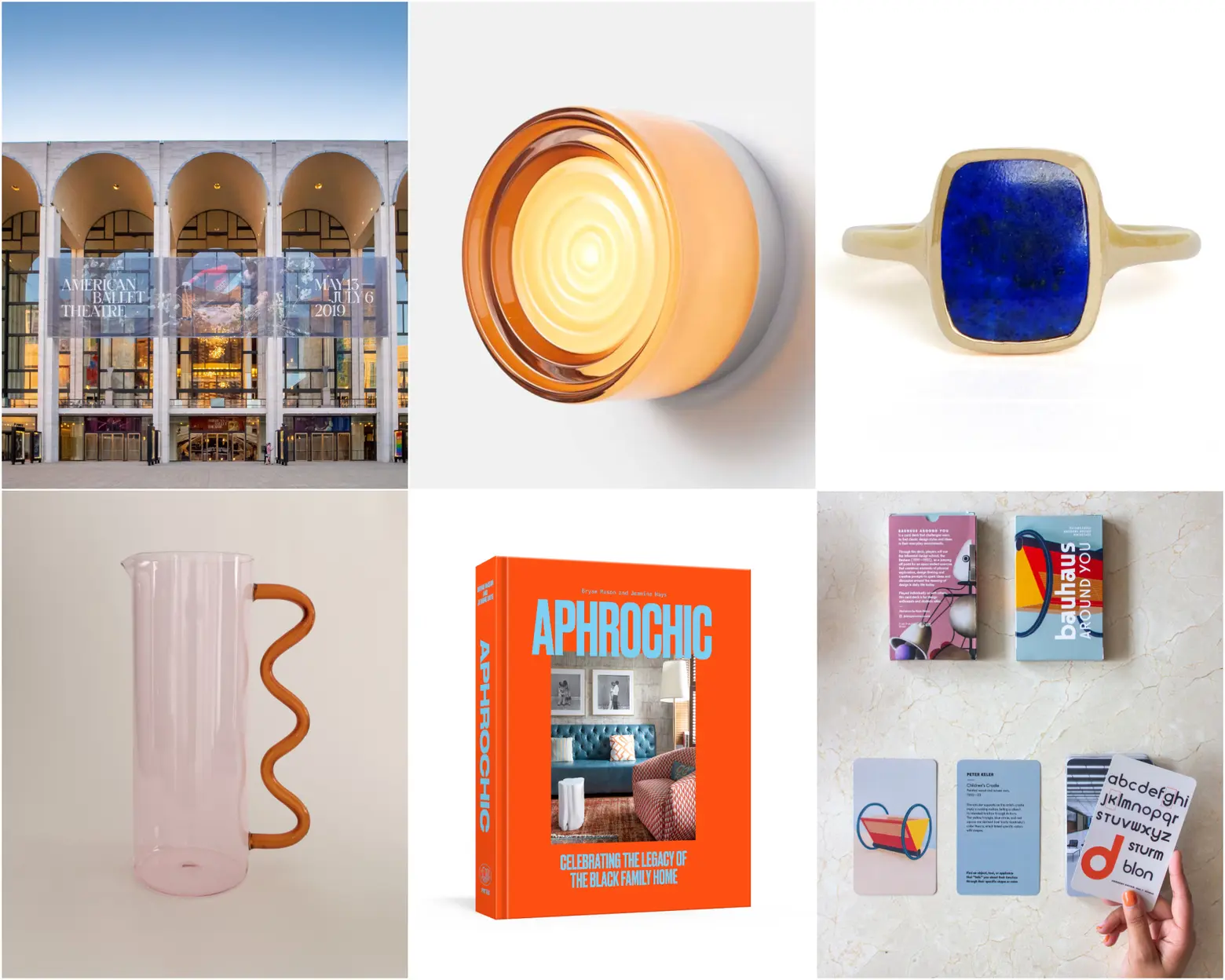 6sqft has once again asked a handful of New York City designers, architects, and artists to share a few things they plan on gifting–or, perhaps, hope to receive–this season. Read on for dozens of unique and unexpected items curated by some of the city's most talented creatives. We promise a bounty of ideas and inspiration to choose from if you happen to find yourself scrambling for a gift.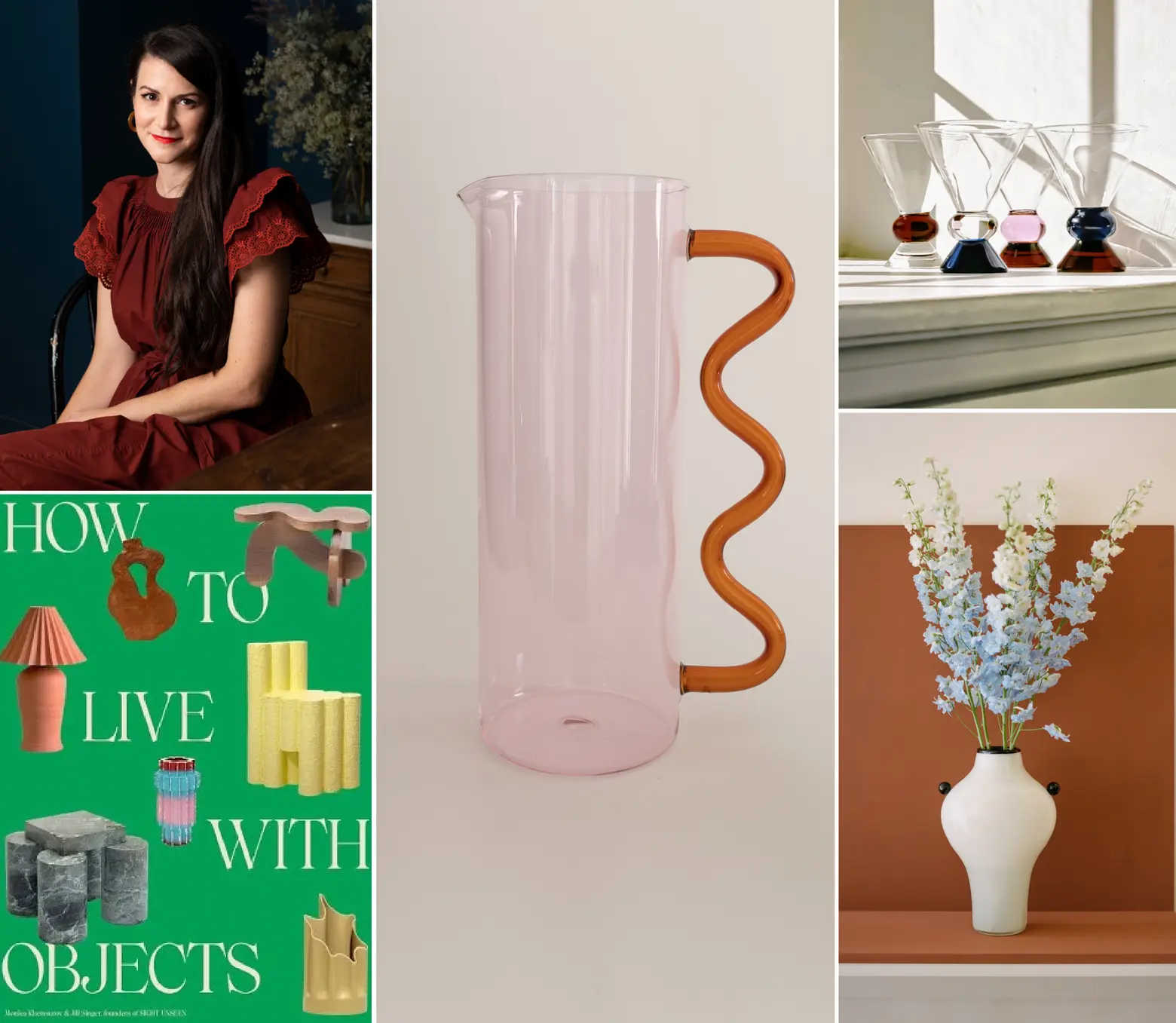 Photo credits, clockwise from top left: Keren Richter, photo by Frances Denny; pitcher, ©Jessi Frederick/Sophie Lou Jacobsen; Joe glassware, ©courtesy Ghia/Sophie Lou Jacobsen, vase, ©Marco Galloway/Sophie Lou Jacobsen; "How to Live With Objects," via Amazon.
Keren Richter, co-founder, principal designer, White Arrow
"How to Live With Objects." The new book from Sight Unseen Founders Jill Singer and Monica Khemsurov. They have been spearheading and supporting innovative design since 2009, and this book is about "finding your own voice" and featuring those with idiosyncratic and distinctive design perspectives.
Oracle Oil. Beautiful packaging and great-tasting Greek olive oil by Cristiana Sadigianis. We gift this every year!
For a very special person, I'd give a vase from Sophie Lou Jacobsen. I especially love this one. Her pitcher is also really unique, and I love her glass colorways and simplified geometric silhouettes. These cocktail glasses are also amazing.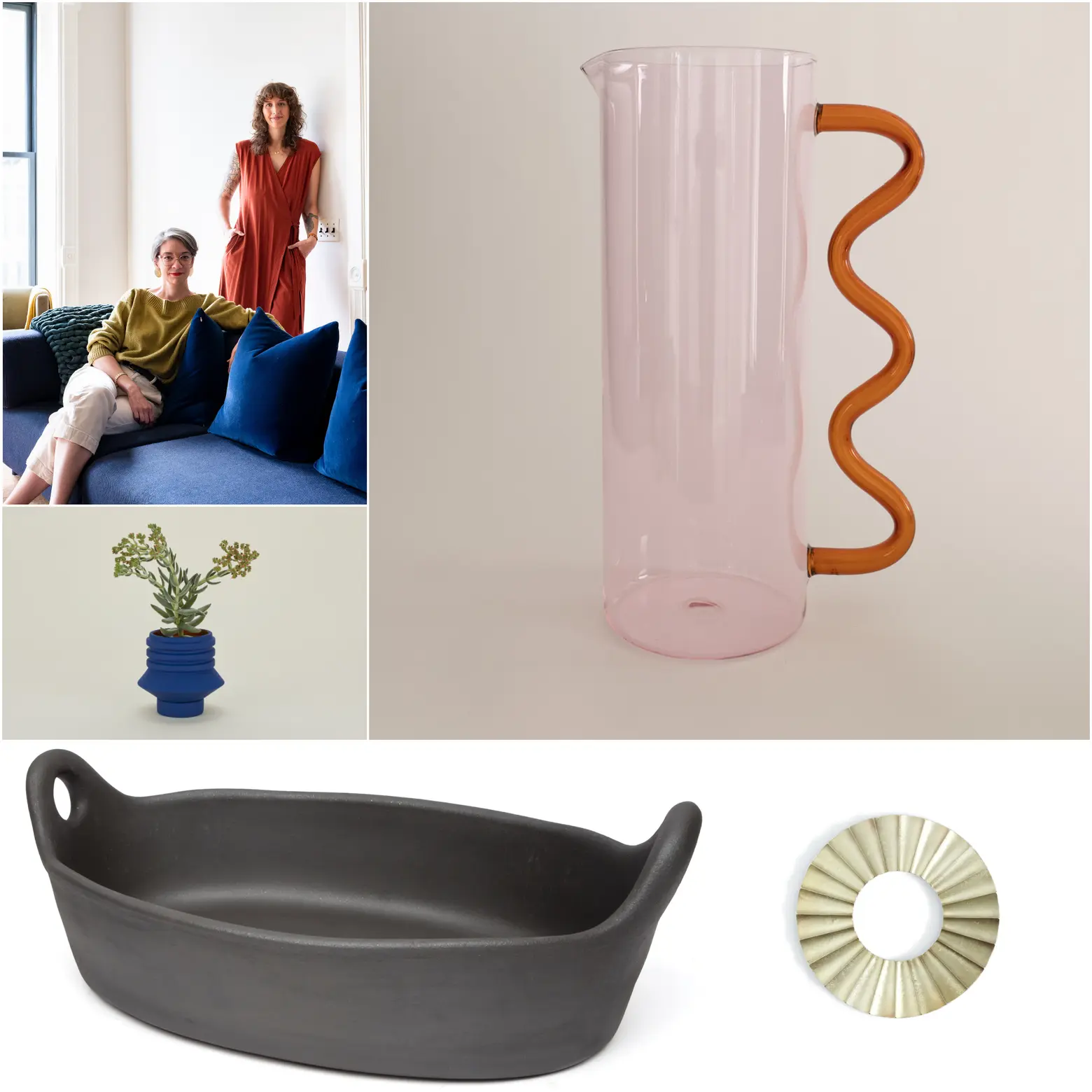 Photo credits, clockwise from top left: Andrea Fisk and Jess Thomas Hinshaw, photo by Nicholas Calcott; pitcher, ©Jessi Frederick/Sophie Lou Jacobsen; cast brass trivet, photo courtesy of Nalata Nalata; Cazuela Flameware baking dish, photo courtesy of Michele Varian; Strata planter by Areaware at Hawkins New York, photo courtesy of Hawkins New York.
Andrea Fisk of Shapeless Studio
For someone who loves a playful object, this pitcher/vase from Assembly Line: We are absolutely in love with this series of glass vessels by Sophie Lou Jacobsen, now available at Assembly Line, a great furniture shop in our neighborhood. There is a variety of shapes and colors, and they delight us every time we see them.
For the potluck enthusiast, these cast brass trivets: I have given one of these brass trivets to almost everybody I know at one time or another because trivets are often a missed opportunity to add a beautiful object to your dinner party. These will last forever, and they feel so special. The lovely LES shop Nalata Nalata also carries matching coasters, bottle openers, clocks, and other home items.
For the humble cook: this black Portuguese baking dish: I discovered this type of traditional Portuguese cookware while traveling several years ago, and it is absolutely fantastic and extraordinarily beautiful. I was happy to see the beautiful pieces are stocked at Michele Varian, a wonderful shop in our neighborhood.
For someone who hosts dinner parties, this understated serving board: The soft taper at the edge of this cutting board is extremely pleasing to the eye, and since the edges are lifted slightly, it is extremely easy to pick this up! This is another fantastic shop in our neighborhood, we highly recommend a visit.
For someone who loves to pamper their houseplants, one of these handsome planters: I love having houseplants, and I also kill a lot of houseplants. That means I'm constantly buying new plants and searching for the right planters. These come in wonderful, playful shape, they have a matching dish, and the colors are stunning. And obviously, you can dress it up with an actual plant!
Giving the gift of a design consultation can be a fun and personal gift! We are accepting consultations through the website Matriarchy Build.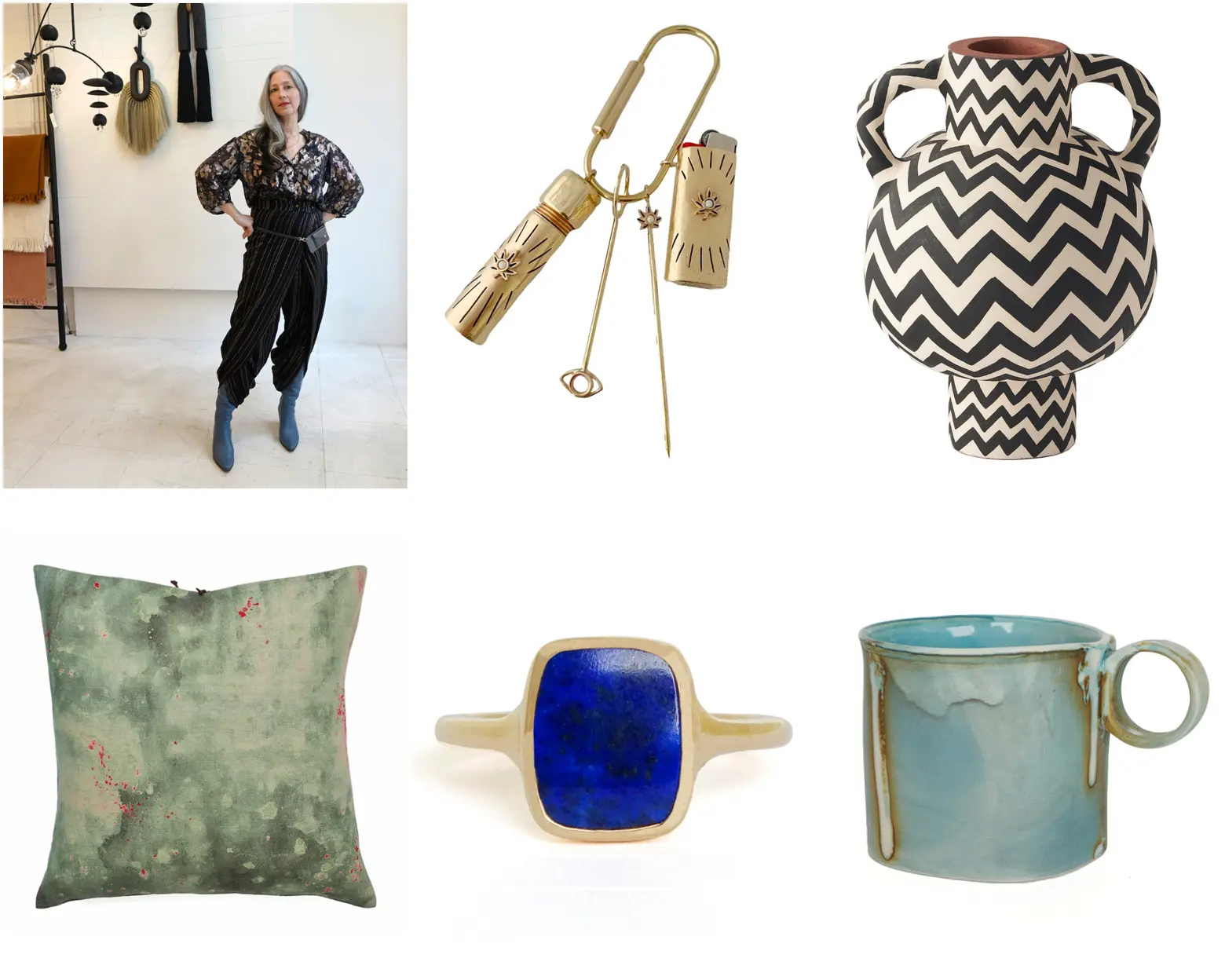 Clockwise from top left: Michele Varian, brass keychain, zig zag terra cotta pot, skylark glaze mug, lapis lazuli gold signet ring, cloudy print linen pillow, all photos courtesy of Michele Varian.
Michele Varian, designer, owner, Michele Varian
Brass Keychain. Now that recreational pot is officially legal in NYC, we've made a point of stocking our favorite smoke accessories. This piece is my personal favorite, and I will be gifting it to my most special someone, who has been making do with pretty rudimentary tools until now. Everything about this "smoke kit" appeals to me: The tiny carry canister, the lighter case, both with inlaid opal, a dainty joint holder, and an even daintier pokey stick for "?." The fine details and workmanship of these pieces is courtesy of one of our longtime jewelers, who has expanded her collection to include this passion project of smoke accessories.
Cloudy Print Linen Pillow. This piece is from my newly launched collection, which is up for an award this year. It is from one of my paintings, and I love the way it looks like the texture of the old plaster walls after we removed the wallpaper in our house growing up.
Lapiz Lazuli Gold Signet Ring. I've been coveting this ring myself. It is universally loved by all who see it, no matter what their personal style is. Best of all, it is made by one of my longtime co-workers, Hayley, who has become a jeweler herself after being around so much jewelry here at the shop.
Skylark Glaze Mug. Like the cloudy pillow, the surface of this mug has so many layers of texture. It is part of a newly launched collection by one of my oldest friends, who, like me, used to be a fashion designer. The glaze process itself is a labor of love. So many layers and steps, finished with hand-burnishing the color until just the right amount of transparency has been achieved.
Zig Zag Terra Cotta Pot. This is a brand new ceramicist for us, which we are importing from the UK. Each piece is hand-painted and no two are alike. I've been having a hard time deciding which piece will be coming home with me–because one certainly will!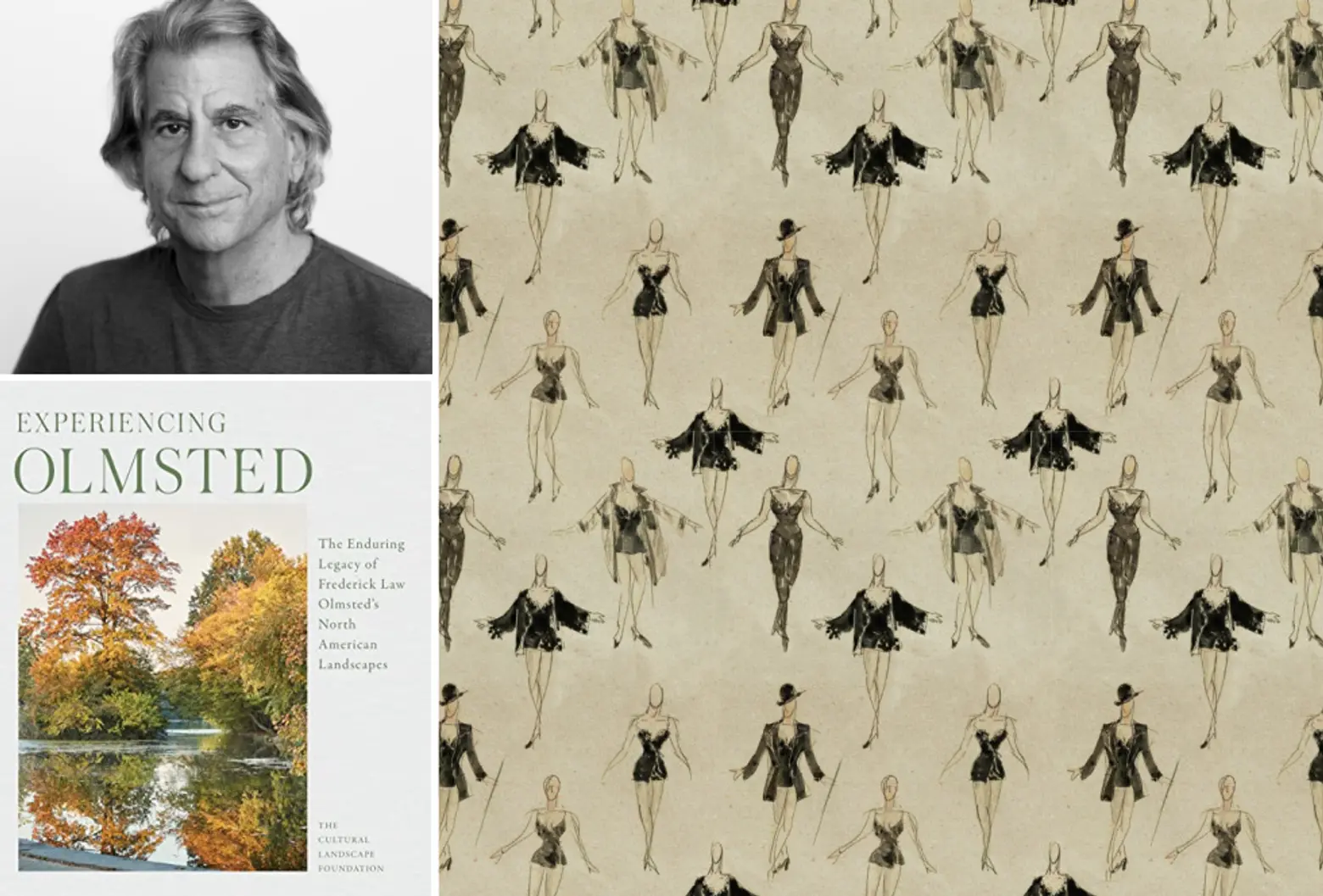 Clockwise from top left: David Rockwell, photo by Brigitte Lacombe; "Chicago" wallcovering, photo credit: Rockwell Group and Maya Romanoff; "Experiencing Olmsted: The Enduring Legacy of Frederick Law Olmsted's North American Landscapes," at Amazon.
David Rockwell, founder and president, Rockwell Group
"Experiencing Olmsted: The Enduring Legacy of Frederick Law Olmsted's North American Landscapes." Our office overlooks Union Square Park, and it's made me an obsessive fan of its designer, Frederick Law Olmsted. We have him to thank for its lush trees, wide sidewalks, and a stage-like design that draws performances and gatherings. This book by The Cultural Landscape Foundation, a passionate protector of our landscape heritage, includes 200 of Olmsted's most iconic projects and is rich with original drawings and plans.
Maya Romanoff's Exclusive Peel + Stick Wallcovering: CIVILIAN Hotel Collection | Curated by David Rockwell. Proceeds Support the American Theater Wing (starting at $525) The custom wallcoverings adorn the walls of NYC's Civilian Hotel and are part of the property's Olio Collection, the hotel's one-of-a-kind art program that represents more than 100 years of Broadway history with works by theatrical creatives.
There are seven patterns offered in the collection, including designs inspired by the Broadway productions of: "After Midnight," "Hamilton," "Beetlejuice," "Chicago," and "Hairspray." A portion of every sale goes to the American Theatre Wing, which provides grants and scholarships, connects talent at all stages with educational and professional opportunities, and creates content that illuminates and preserves theater.
A contribution to the American Theatre Wing. You can donate to their general fund or earmark your donation to one of their amazing programs, such as Springboard NYC (provides theater education to college students), the Andrew Lloyd Webber Initiative (provides classroom grants, scholarships, and tuition support for students at all levels), or the Jonathan Larson Grant (a grant awarded to emerging musical theater composers, lyricists, librettists, and writers).
A contribution to DIFFA; The Design Industries Foundation Fighting AIDS is an organization near and dear to my heart. I've been involved with DIFFA for nearly 30 years. It's been wonderful to see the organization grow and evolve to address current challenges such as food and housing insecurities and mental health well-being.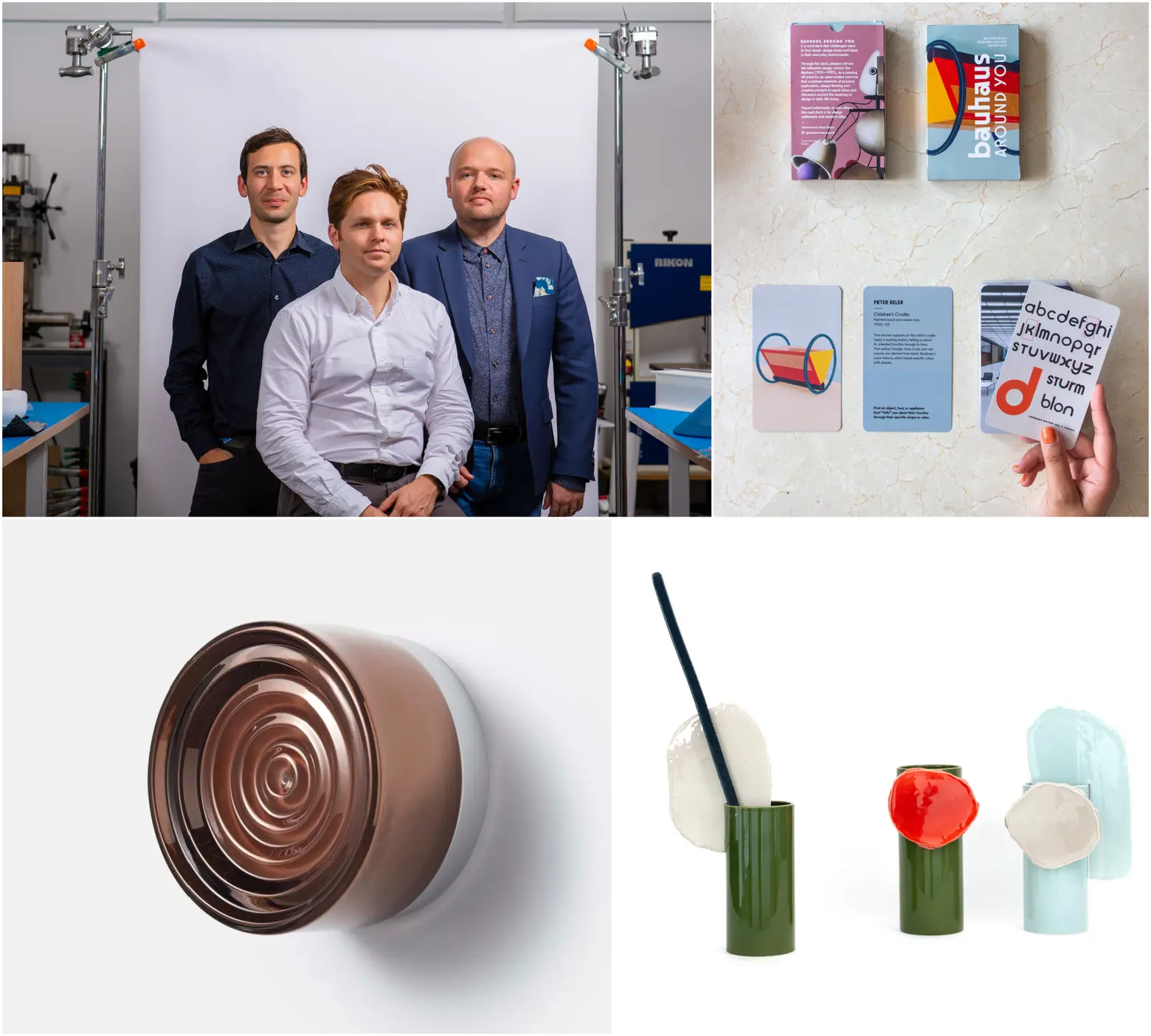 Photo credits, clockwise from top left: Theo Richardson, Charles Brill, and Alex Williams, photo courtesy of RBW; Bauhaus Around You card deck, photo by Eric Mayes; Vases Decoupage, photo © Studio Bouroullec; Ripple Sconce, photo courtesy of RBW.
Theo Richardson, Charles Brill, and Alex Williams, Founding partners, RBW
Bauhaus Around You Card Deck. Being RISD alum, Bauhaus often finds its way into our every day and this deck celebrates that in a way that everyone can enjoy.
Vases Découpage, Barre for Vitra by Ronan & Erwan Bouroullec. This graphic, whimsical vessel greets visitors at the newly opened RBW Factory. It brightens many people's day and will surely be a bright spot in your gifting lineup.
Ripple Sconce. The gift of light is hard to beat. This year we're sharing our latest introduction, Ripple, inspired by waves coursing across the surface of water.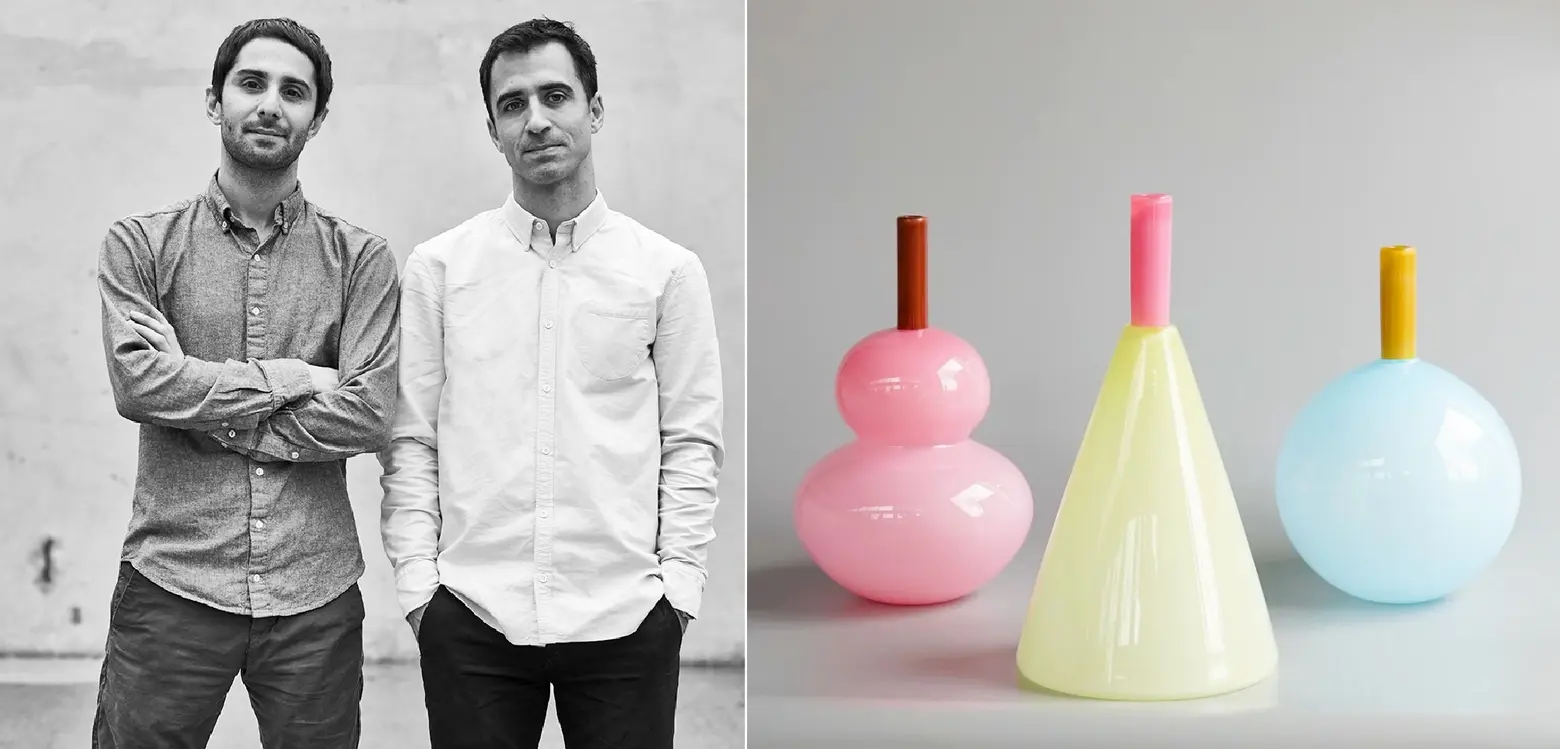 Left to right: Rustam-Marc Mehta and Tal Schori of GRT Archiitects, photo courtesy of GRT; photo courtesy of Mantel PDX
Rustam-Marc Mehta and Tal Schori, founding partners, GRT Architects
Shichimi Food Magazine #01: The Framing Issue. Because we are a food-oriented and food-motivated office. This publication is on our wish list with 58 pages of beautiful food imagery, an ambitious approach to magazine design, and a very desirable hand-embroidered insert by the editor.
Vitreluxe: Tube Top Vases. Because we've been experimenting with colored glass for custom light fixtures for a restaurant that will open in the new year…
This construction t-shirt. Because we can laugh at ourselves…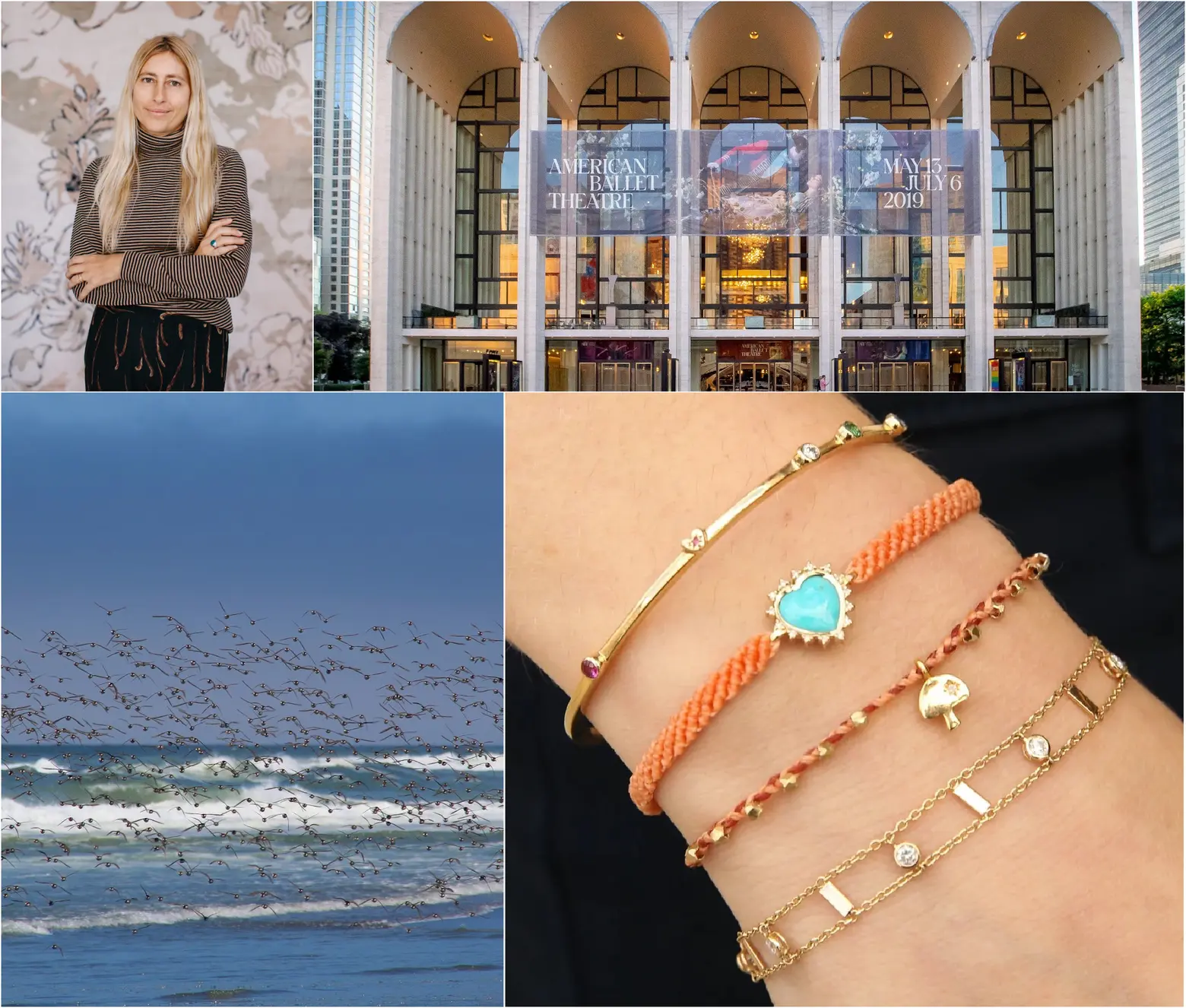 Photo credits, clockwise from top left: Shanan Campanaro, photo courtesy of Eskayel; Metropolitan Opera at Lincoln Center via Wikimedia cc; bracelets, photo by  Emma J. DiMarco/Scosha; Kranich17  via Pixabay
Shanan Campanaro, founder and creative director of Eskayel
Tickets to the Metropolitan Opera in New York City. My mom gave us–me and my husband, Nick Chacona–box seats one year and it was so fun! I love the design of theatre; it's such an amazing space and the box seats are very comfortable!
Donations to Surfrider. This is what I have been getting my nieces and nephews the past few years. They might not appreciate it now but for kids who have everything they need; this is a nice way to get them thinking about protecting the beaches they frequent most days while living in California. And it helps the foundation.
Scosha bracelets. I love Scosha's take on the woven travel bracelet. It's just elevated enough to feel fancy but still has the right vibe.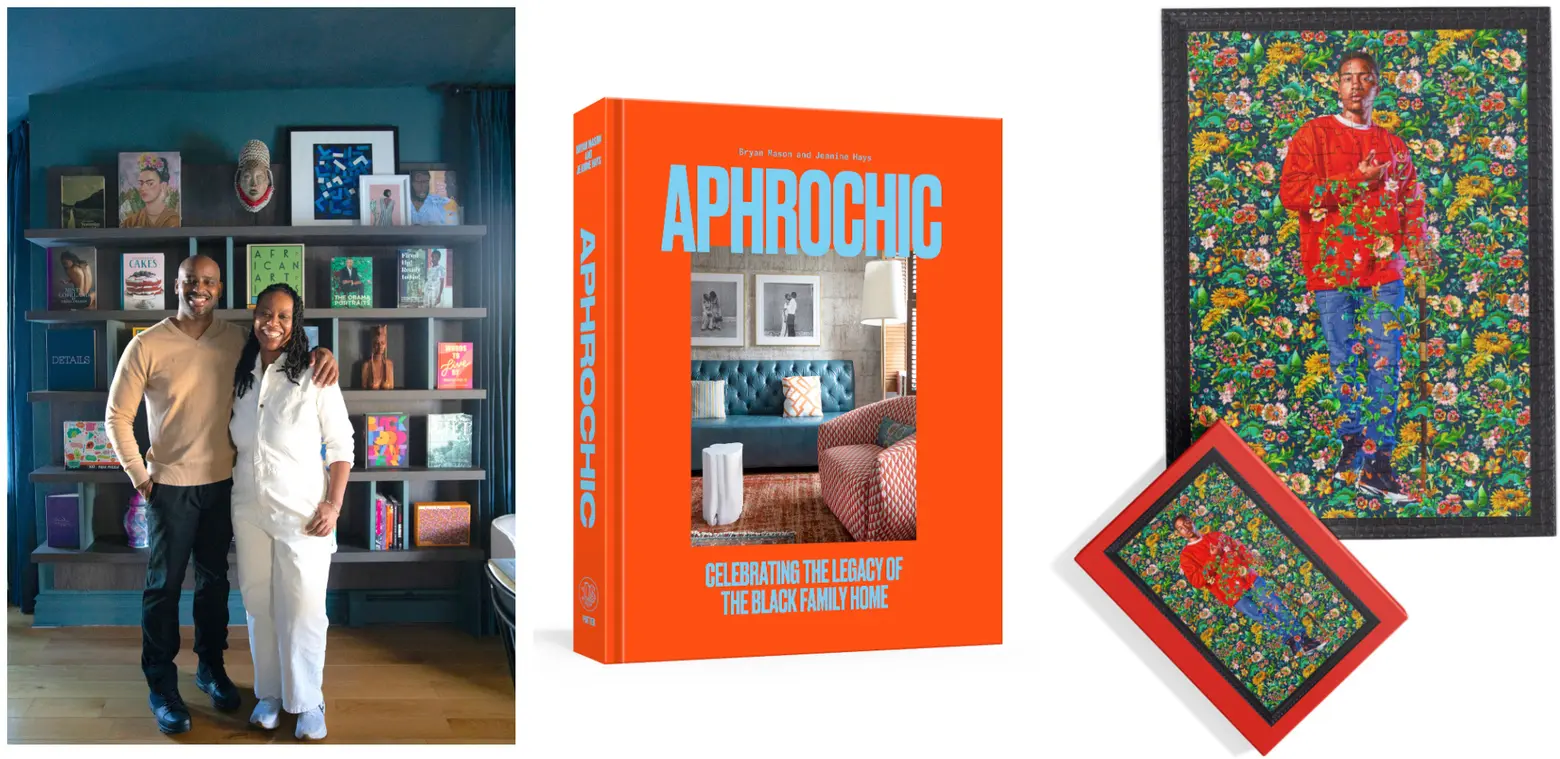 Photo credits, left to right: Bryan Mason and Jeanine Hayes of Aphrochic, photo courtesy of Aphrochic;  "AphroChic: Celebrating the Legacy of the Black Family Home" via Amazon; puzzle photo courtesy of Kehinde Wiley.
Jeanine Hays and Bryan Mason, founders, AphroChic Modern Media and Design
For the art lover, we suggest pieces from The Studio Museum in Harlem's new Barkley L. Hendricks collection. Our favorites are the Victory at 23 earrings.
This puzzle featuring the work of Kehinde Wiley is also perfect for the game room:
And we recommend our book, "AphroChic: Celebrating the Legacy of the Black Family Home" as the perfect stocking stuffer!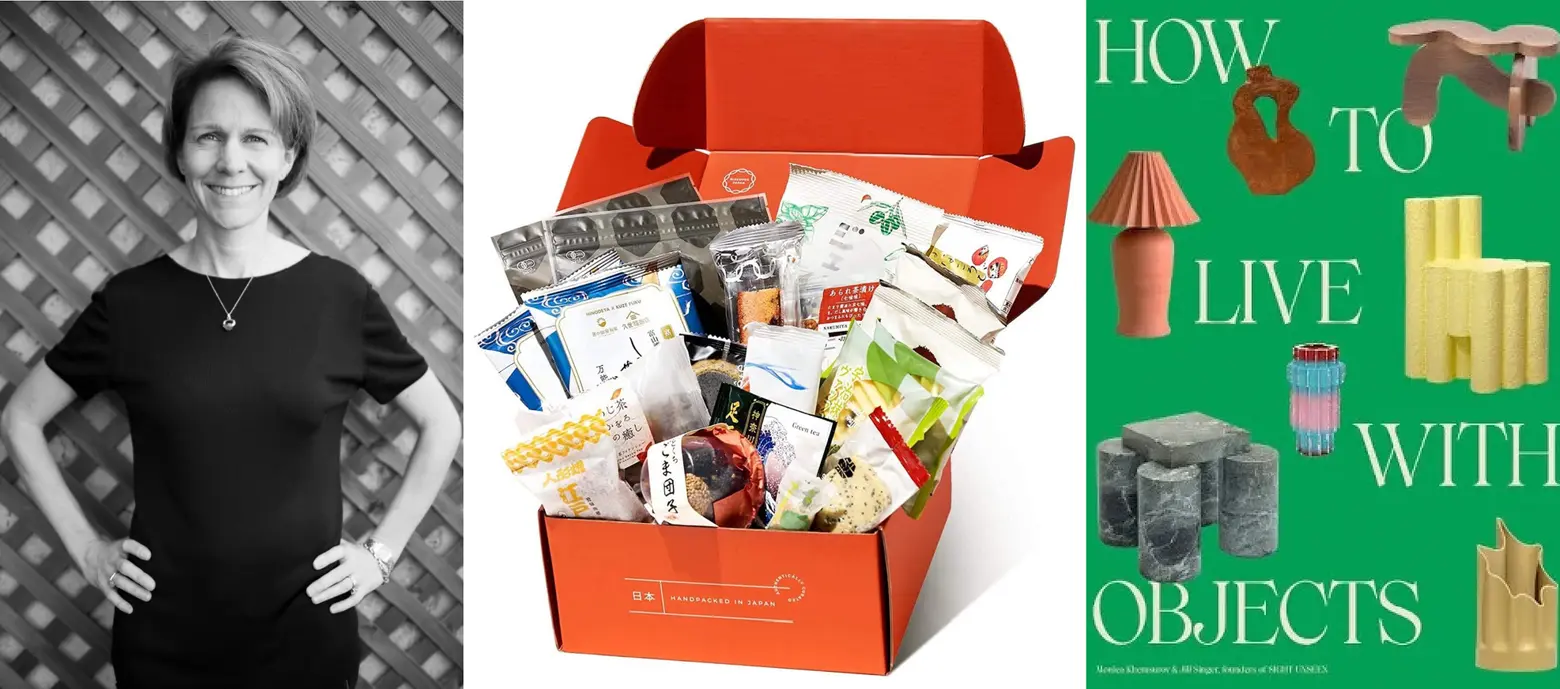 Left to right: Sybille Schneider, photo courtesy of Leroy Street Studio; Bokksu Japanese Snack Box via Amazon; "How to Live With Objects," via Amazon. 
Sybille Schneider, director of interiors at Leroy Street Studio
Future Fair presents the third edition of the Holiday Market. A curated coterie of galleries and independent curators present original artworks, editions, works on paper, and objects within a range of accessible price points. This year, in an effort to support diversity and inclusion at Future Fair 2023, the Holiday Market will contribute 10 percent of the total sales to award select exhibitors with grants to aid with participation costs next May.
"How to Live With Objects," the new book from Sight Unseen Founders Jill Singer and Monica Khemsurov. In the modern home, it matters less whether your interior is perfectly appointed, and more whether it's authentically personal, unique, and filled with objects you feel a connection to!
Bokksu Japanese Snack Box. Love that subscription!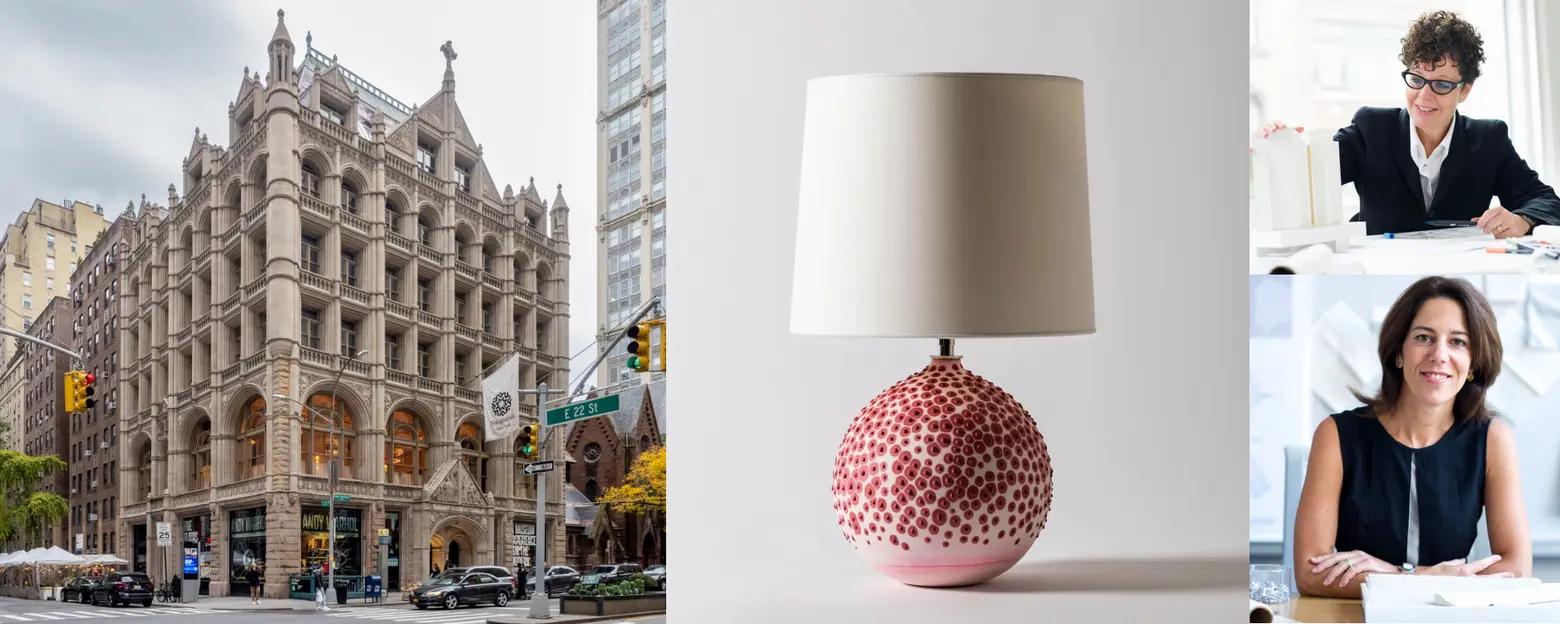 Left to right: Fotografiska NYC, photo via Wikimedia cc; Hesse lamp, photo by Peter Bohler; Nancy J. Ruddy (top), Ximena Rodriguez (bottom), photos courtesy of CetraRuddy.
Nancy J. Ruddy, principal, and Ximena Rodriguez, director of interior design, CetraRuddy
Fotografiska membership. CetraRuddy designed the transformation of an 1894 landmark into a museum of photography on New York's Park Avenue. Members can enjoy the exhibits in a highly social, immersive experience where they mingle and meet, eat and drink, and experience amazing photography in rotating exhibitions. Here's the page for gifting a membership–they begin at $200 per year.
Pottery from Studio Tashtego. Founded in 2019, Studio Tashtego is a contemporary art and design gallery in Cold Spring, N.Y., specializing in ceramics, glass, furniture, lighting, textile and sculpture. The pricing for the expressive ceramics work varies widely, but the artists are serious and diverse, from Ken Eastman and Gary DiPasquale to Hiroshi Toyofuku and Soledad Christie. Pricing is upon request.
Elyse Graham lighting for lamps. Founded in 2014, the Elyse Graham Studio brings unusual materials and experimental processes into their creative process "melding of art and object." The results for lighting fixtures capture the unique properties of the materials they use through exploration and innovation, and each piece is an original–totally unique in pigmenting and casting. The Microbe line of lamps, such as the blush-colored Hesse Lamp, starts around $1,400.00.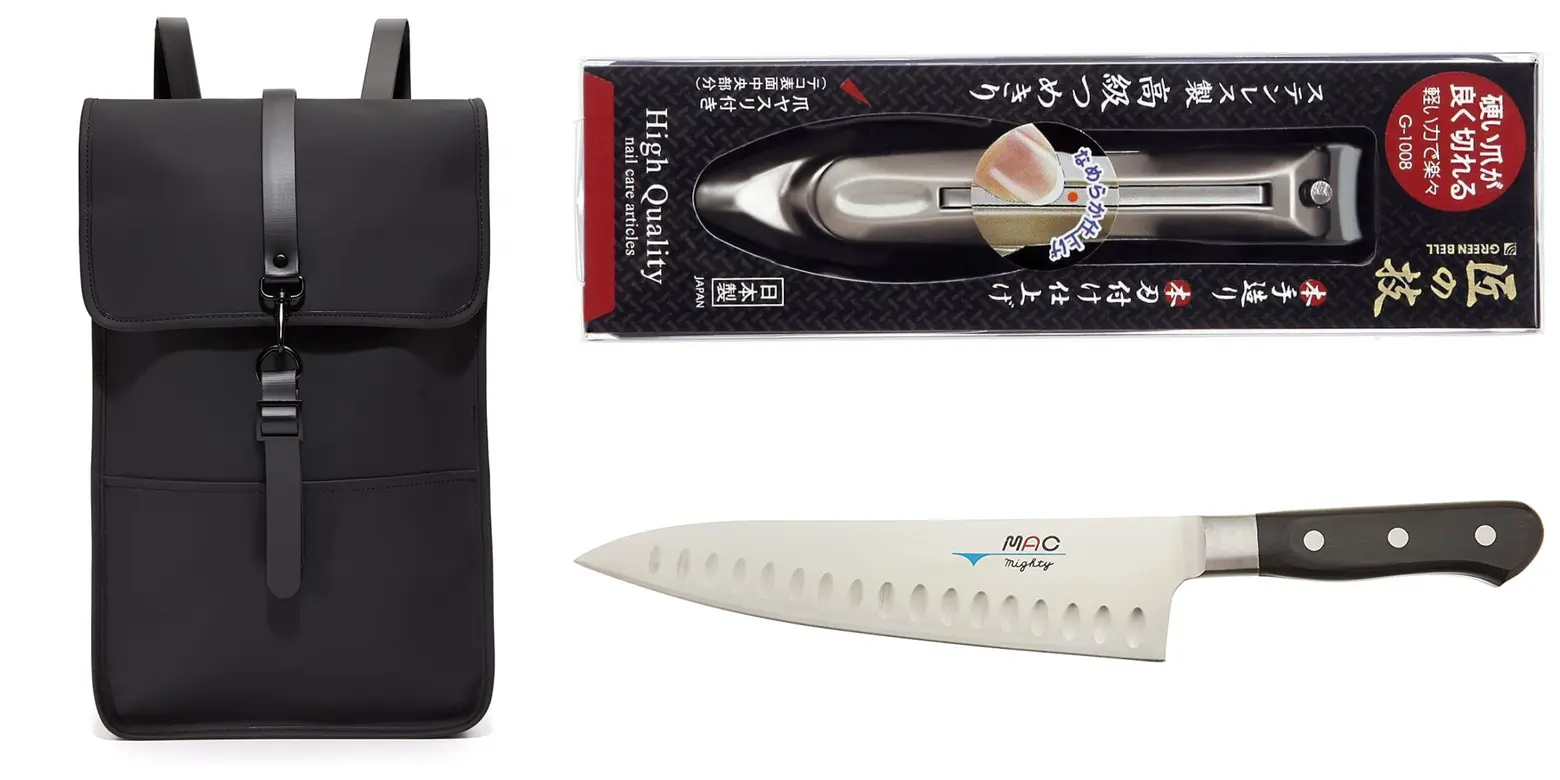 Photo credits, clockwise from left: Rains backpack, via Amazon; Green Bell G-1008 nail clipper via Amazon; chef knife via Amazon
Jeff Sherman, Delson or Sherman Architects
Mac Knife Professional 8 Inch Hollow Edge Chef Knife. For its price, durability, and sharpness, this is the best chef knife on the market.
Green Bell G-1008 Nail Clipper (Takumi No Waza). An order of magnitude better than any nail clipper you've ever used before.
Rains Backpack. An uncommonly well-designed bag. Sleek, waterproof, user friendly, trim but capacious.
Markable Umbrella from Muji. A clean, simple design that is especially sturdy. The only time you need to buy a new one is when it disappears at a party.
+++
Editor's note: We may receive a commission for purchases made through these affiliate links. All prices reflect those at the time of publishing.
RELATED: 
Photo credits for lead image, clockwise from top left: Metropolitan Opera at Lincoln Center via Wikimedia cc; Ripple Light courtesy of RBW; lapis lazuli gold signet ring courtesy of Michele Varian; Bauhaus Around You card deck courtesy of Form Function Studio; "AphroChic: Celebrating the Legacy of the Black Family Home" courtesy of Aphrochic; pitcher, ©Jessi Frederick/Sophie Lou Jacobsen.