Community board wants to rename Willoughby Square Park to honor area's abolitionist ties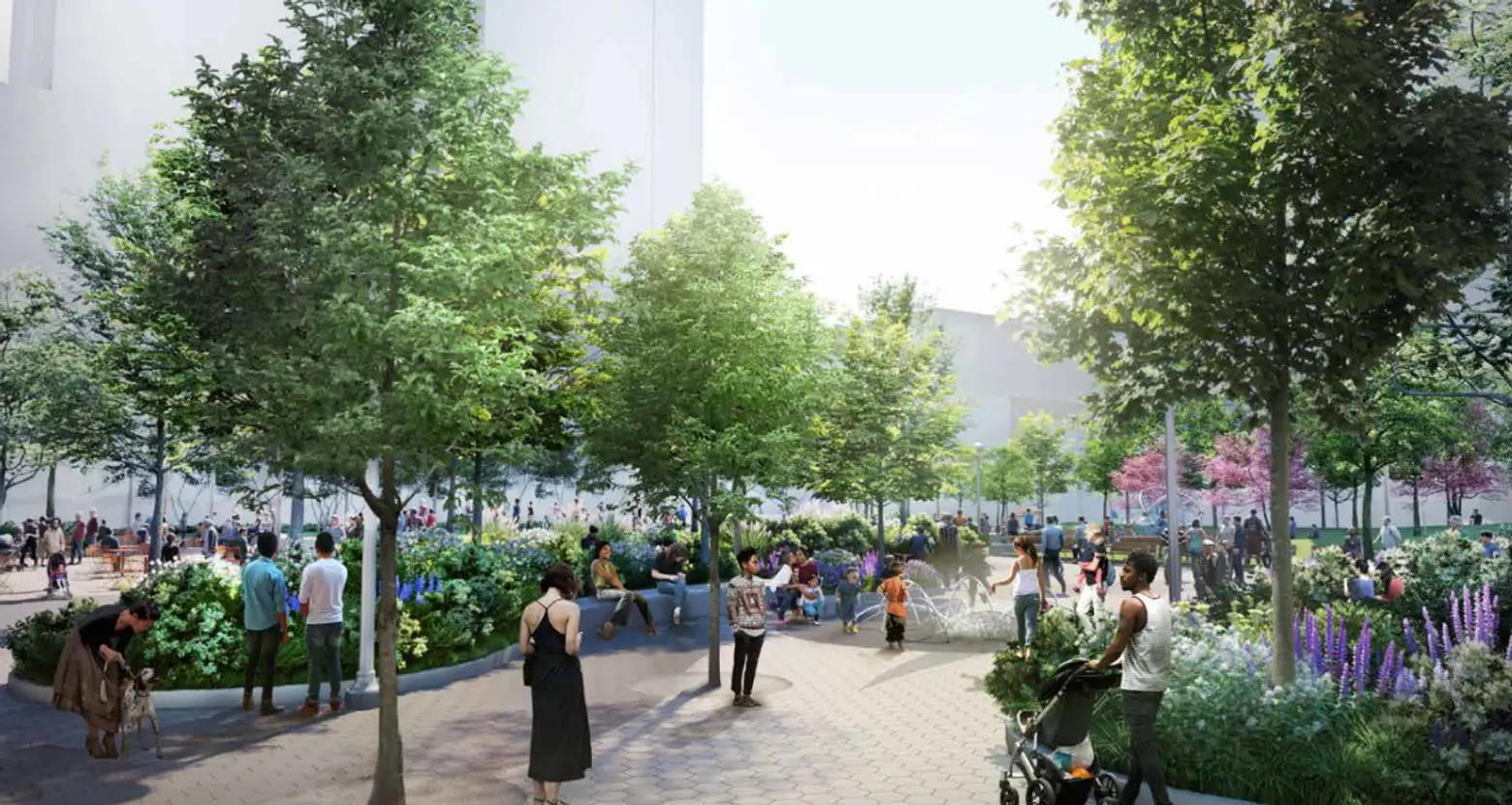 Renderings by Hargreaves Jones, courtesy of NYCEDC
During a Brooklyn Community Board 2 meeting on Wednesday, the group's Youth, Education, and Cultural Affairs Committee voted to rename Downtown Brooklyn's proposed Willoughby Square Park, as Curbed NY first reported. Jacob Morris, a historian and the head of the Harlem Historical Society and the New York City Freedom Trail, initially brought forward a resolution to co-name the square Abolitionist Place Park. By the end of the meeting, the board decided to recommend a full renaming to the city's Economic Development Corporation. The resolution will be voted on by CB2's full board on Oct. 7.
"Why not simply call it [Abolitionist Place Park]? Particularly since there's so much abolitionist history on that particular block," Eric Spruiell, a cultural affairs committee member, said during the meeting, according to Curbed.
Spruiell cited the ongoing controversy at nearby 227 Duffield Street, the former home of prominent abolitionists Thomas and Harriet Truesdell. The building's current owner, Samiel Hanasab, applied for a demolition permit earlier this summer to make way for a 21-unit residential building.
In response to criticism from preservationists and locals, Hanasab said he plans to build an African American museum in the basement of the property. "I have a high respect for African Americans," he told Gothamist. "This project will be in the basement."
Willoughby Square Park is already 15 years in the making. Last month, the city revealed an updated design proposal for the park which would include a $700,000 memorial in honor of the area's rich abolitionist history. The city plans to select an artist by the end of the year to design the memorial, which would build on In Pursuit of Freedom, an initiative created by the Brooklyn Historical Society, Weeksville Heritage Center, and Irondale Ensemble Project.
Many argue that this memorial falls short of what was promised when the project was first put forward in 2007. Earlier this month the community board voted to delay its approval of the park's new design for 30 days "until stakeholder input can be considered and historians can be consulted," as the Brooklyn Eagle reported.
This sentiment was echoed by Todd Fine, who serves as the president of the Washington Street Advocacy Group and attended Wednesday's meeting. "A worthy memorial park to honor the abolitionist movement in Downtown Brooklyn is a complex matter that needs input from historians and experts," Fine told 6sqft in an email. "This renaming of the park will hopefully encourage the City to modify its design plans."
Meanwhile, the Landmarks Preservation Committee has remained quiet on the matter of preserving 227 Duffield. Michael Higgins of the Families United for Racial and Economic Equality and a leader in the effort to preserve the historic building told Gothamist that he and other supporters are staging a rally in front of the LPC's offices at 1 Centre Street on Friday, Sept. 28.
[Via Curbed]
RELATED: