Brooklyn startup competes with Amazon this holiday season with same-day delivery from local shops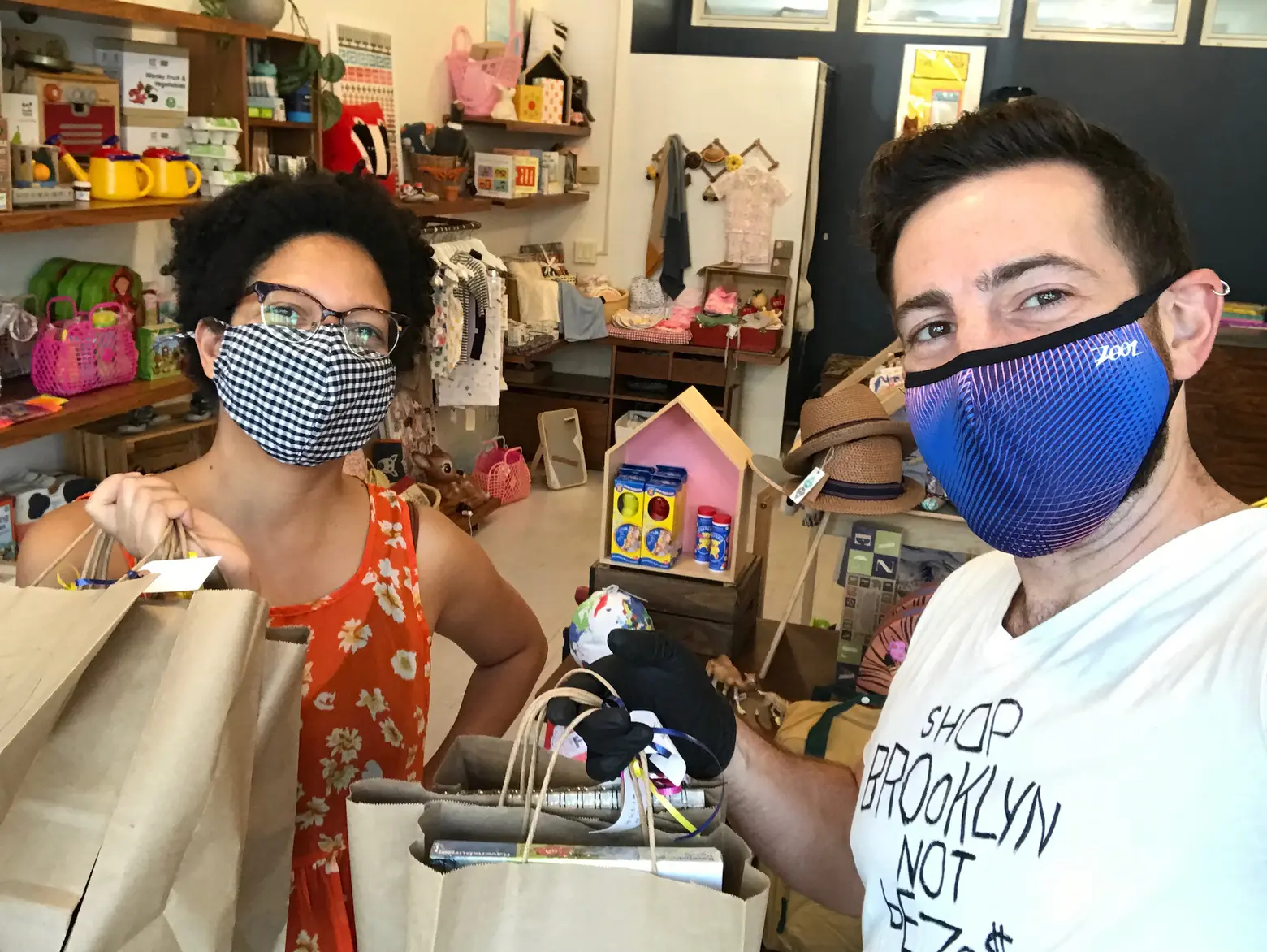 ShopIN.nyc's VP of Marketing, Andrew Tider, picking up an order from Shirley Bryant, co-owner of Geometry Kids; Photo courtesy of ShopIN.nyc
Shopping local this holiday season is more important than ever as small businesses across New York City struggle to stay afloat during the coronavirus pandemic. A startup company is making it easier to stay home and avoid Amazon and other major online retailers by offering same-day delivery from Brooklyn-based stores. ShopIN.nyc is a one-stop-shop for every-day items like household supplies and pantry staples and even special occasion gifts and holiday decor, all from small businesses in Brooklyn.
With the tagline, "Shop Brooklyn not Bezo$," the company lets you shop several local retailers at once and provides same-day or one-day delivery, depending on when the order is placed. All products are delivered in a single, convenient package.
Neighborhood favorites participating in the program include Sahadi's, Brooklyn Superhero Supply Co., Amy's Bread, Think Coffee, Annie's Blue Ribbon General Store, Woods Grove, Runnin' Wild Toys, One Girl Cookies, and dozens of others. ShopIN.nyc is also available in select Manhattan neighborhoods.
Since the start of the pandemic in March, thousands of NYC small businesses have shuttered. And as many as one-third of the city's 230,000 small businesses may not reopen when the pandemic eventually wanes, as 6sqft reported this summer.
ShopIN.nyc launched a new initiative for this holiday season that aims to shift money typically spent on Amazon gift cards back into communities. The "Brooklyn Gift Card" can be used online at stores across the borough. A Manhattan version is expected to launch soon.
"Every year, half of holiday shopping is spent on gift cards, primarily Amazon gift cards," ShopIN.nyc co-founder Maya Komerov said. "Money like that makes no difference to a big corporation like Amazon, but for small businesses, it's what keeps rent paid and dinner on the table. The ShopIn gift card is meant to help keep that money in the community, and make sure it goes to the people who really need it."
RELATED: