You can ride retro NYC subway trains this weekend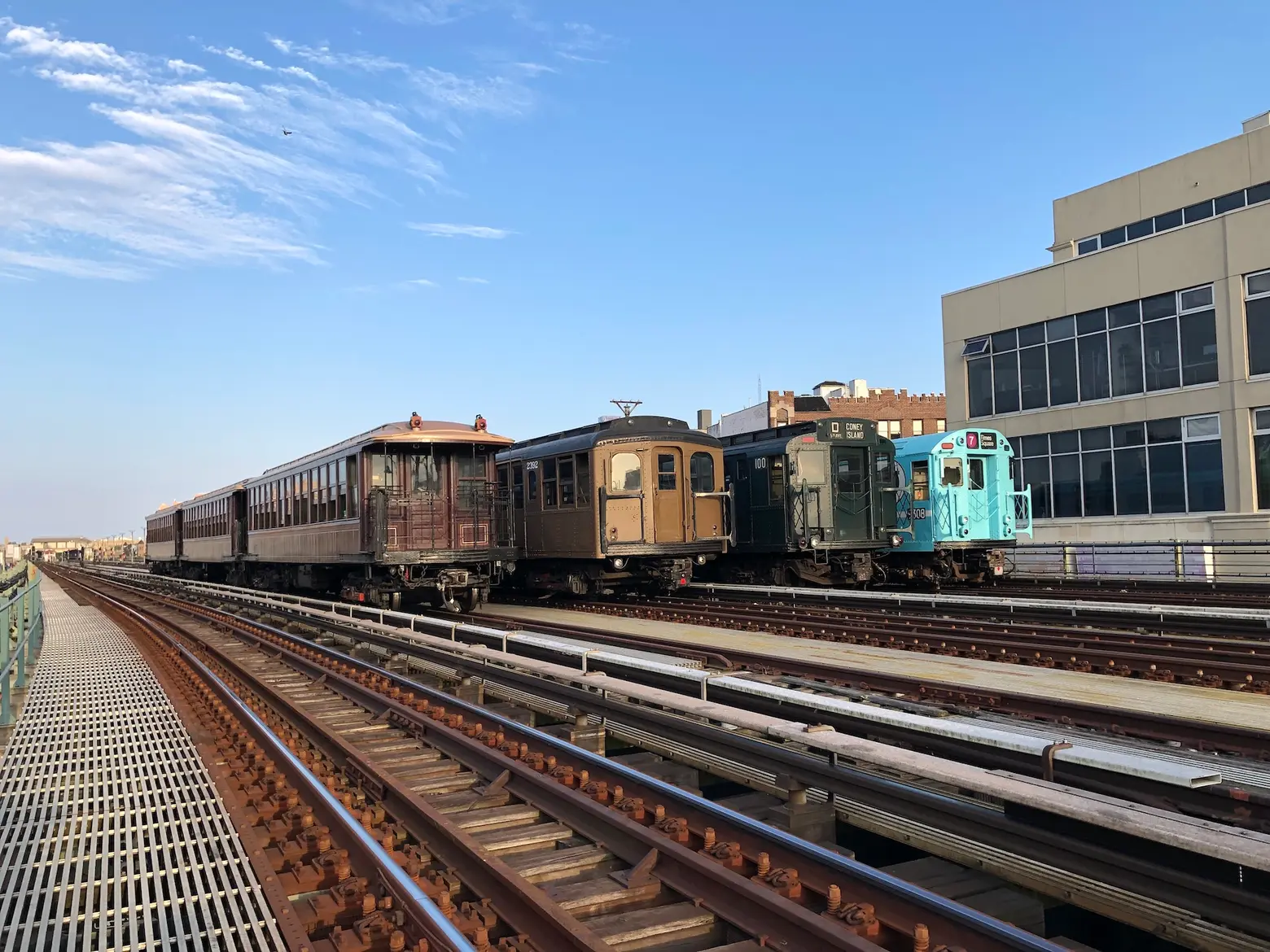 Image courtesy of the New York Transit Museum
This weekend, take a special ride on a historic New York City subway train. The New York Transit Museum's annual Parade of Trains event returns on September 9 and September 10 with a selection of vintage trains running between Brighton Beach and Kings Highway on the B and Q lines. Admission is free with subway fare.
"Whether you're a history buff, a transit enthusiast, or simply want to experience an 'Only in New York!' one-of-a-kind experience, Parade of Trains promises to be a fantastic weekend for all ages," Concetta Bencivenga, Director of the New York Transit Museum said.
"The Transit Museum is extremely fortunate to have over a century of rolling stock that still rolls and we're delighted to be able to be a "museum without walls" and bring the vintage fleet to you for the weekend!"
The trains will run consistently between Brighton Beach and Kings Highway, with each trip lasting roughly 10 minutes. Passengers can only board at Brighton Beach and Kings Highway, and all boarding will take place at Brighton Beach on the two interior platforms. Riders should expect wait times between rides.
The Parade of Trains will include the R-1/9, BMT Standard, and BU Gate Cars. The vintage subway cars have no air conditioning, bright lighting, or automated announcements, giving riders a glimpse into the everyday life of commuters during the early 20th century before the modernization of train cars.
Run from 1903 to 1969, the BU Gate Cars are the oldest trains in the museum's collection. Also referred to as "gate cars," the trains feature a lightweight wooden body mounted on steel underframes. Passengers board and exit through open-air spaces at both ends of each car. A conductor manually opens and closes metal gates and rings a bell to signal that all passengers have boarded safely and the trip can continue.
In service from 1914 through 1969, the BMT Standard was the first train car with destination roll signs, larger windows, and brighter lighting. They were designed as a suburban railroad car, with a focus on maximum seating.
On the rails from 1930 through 1977, the R-1/9 set the standard for wider, faster opening doors and a reduction in the number of seats to make way for rush hour crowds. These cars feature rattan seats, paddle ceiling fans, incandescent light bulbs, and roll signs for passenger information.
The Parade of Trains is part of the Nostalgia Train rides, which the Transit Museum has run since 1976. This year's event takes place from 11 a.m. to 4 p.m. on Saturday, September 9 and Sunday, September 10.
RELATED: