Everything you need to know about this year's Caribbean Carnival in NYC
New York City's West Indian-American Day Carnival and Parade returns to Brooklyn this Labor Day. The festival, which typically attracts over a million spectators, takes over a stretch of Eastern Parkway in Crown Heights, celebrating the diversity of Caribbean culture with dancing, elaborate costumes, traditional music, and food.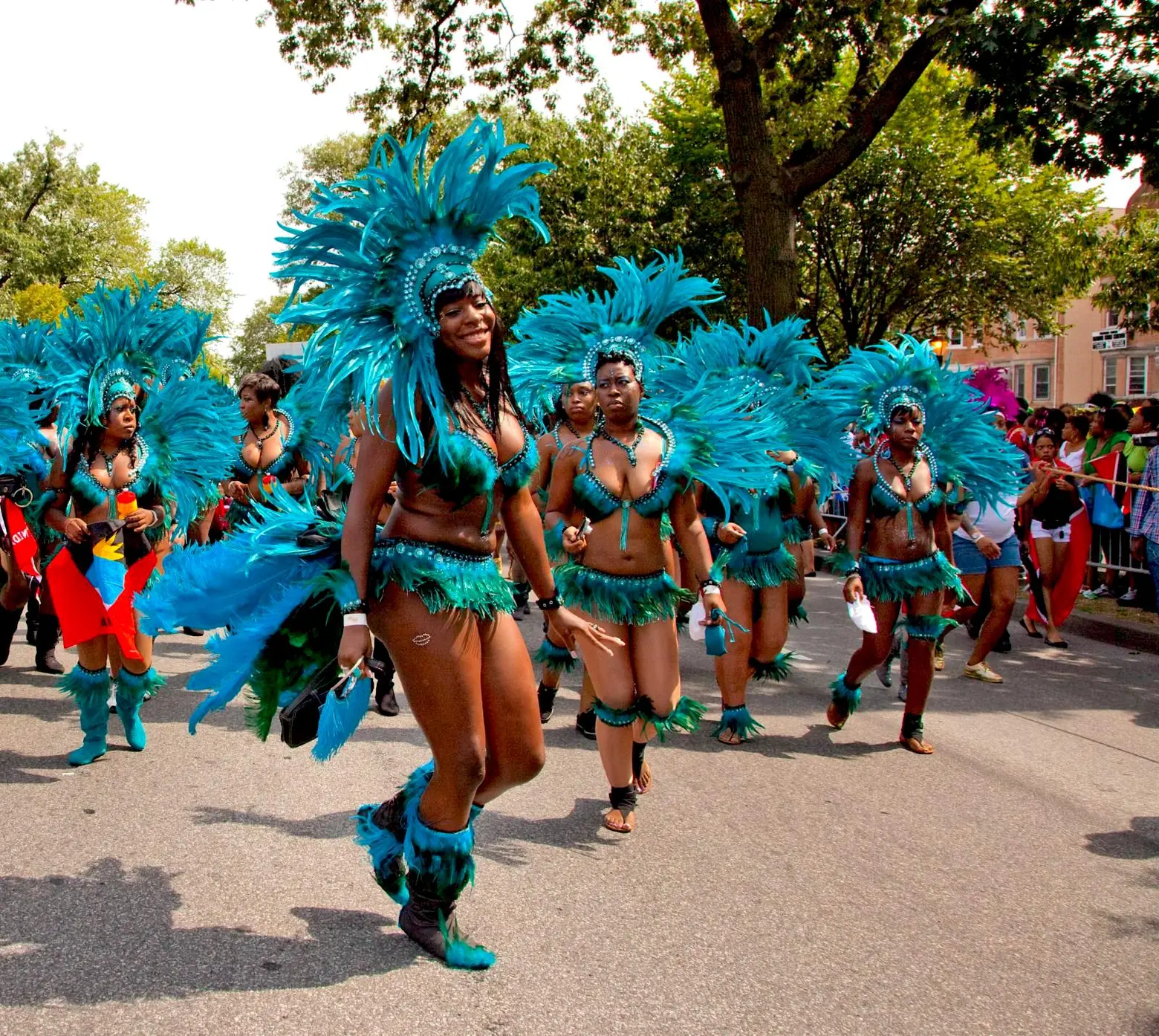 Via Wikimedia
New York City's Caribbean Carnival has roots in Harlem, where many immigrants from the West Indies settled at the turn of the 20th century. During the 1920s, Trinidad native, Jessie Wardell, began the Carnival in Harlem by hosting extravagant costume parties that were modeled after Carnival, an international event typically held in the winter, before Ash Wednesday.
After many indoor celebrations, the event moved outdoors, with the first known Carnival street parade in NYC occurring on September 1, 1947. Two decades later, the parade moved to Crown Heights, where it remains today.
This year's parade takes place on Monday, September 4 at 11 a.m. and runs down Eastern Parkway in Crown Heights, beginning on Schenectady Avenue and ending at Grand Army Plaza.
Many revelers also participate in J'Ouvert, a predawn public street festival that kicks off the Carnival. The origins of the celebration date back to slavery times and are based on masquerade balls of French settlers in the 18th century, as 6sqft previously learned. Because slaves in Trinidad were banned from attending, once emancipated, they created their own carnivals, as a way to mock their masters and celebrate freedom.
While traditions vary, participants will smear paint and powder on their bodies and place horns on their heads. Some dress as African warriors, devils, or goblins, and dance to the sounds of steel drums.
J'Ouvert takes place from 6 a.m. to 11 a.m. and runs on Flatbush Avenue between Grand Army Plaza and Empire Boulevard.
Schedule of Caribbean Carnival events for Labor Day Weekend:
Thursday, August 31: Vibes With Voicey The Concert New York: Soca and Shayo at the Brooklyn Museum, from 4 p.m. to 11 p.m.
Friday, September 1: Soca Fest NYC with Kes The Band & Friends at the Brooklyn Museum, 8 p.m. to 3 a.m.
Saturday, September 2: Junior Carnival, assembles at Kingston Avenue and St. John's Place, travels up St. John's Place to Franklin Avenue to President Street, and ends at the Brooklyn Museum. The event, which includes live performances, takes place from 9 a.m. to 4 p.m.
Saturday, September 2: New York Carnival Panorama at the Brooklyn Museum, 7 p.m. The steelpan competition is one of the largest in the United States and is modeled after the contest that originated in Trinidad.
Sunday, September 3: Sunrise Day Soirée, 3 p.m. at the Brooklyn Museum.
Monday, September 4: J'Ouvert, 6 a.m. to 11 a.m.
Monday, September 4: Labor Day Carnival
The following streets will be fully closed for the J'ouvert and West Indian American Labor Day Parade and Festival starting Sunday, September 3 through Monday, September 4, 2023, in Brooklyn:
Grand Army Plaza (entire circle)
Buffalo Avenue between Eastern Parkway and East New York Avenue
Rochester Avenue between East New York Avenue and Sterling Place
Ralph Avenue between Eastern Parkway and East New York Avenue
East New York Avenue between Howard Avenue and Utica Avenue
Eastern Parkway between Howard Avenue and Grand Army Plaza
Washington Avenue between Sterling Place and Lincoln Road
Flatbush Avenue between Grand Army Plaza and Caton Avenue
Ocean Avenue between Empire Boulevard and Parkside Avenue
Butler Place between Grand Army Plaza and Sterling Place
St. John's Place between Underhill Avenue and Grand Army Plaza
Rockaway Parkway between East New York Avenue and Rutland Road
Parkside Avenue between Park Circle and Flatbush Avenue
Bedford Avenue between Eastern Parkway and Empire Boulevard
Empire Boulevard between Flatbush Avenue and Nostrand Avenue
Nostrand Avenue between Empire Boulevard and Linden Boulevard
Lincoln Place between Eastern Parkway and East New York Avenue
RELATED: