All the free stuff and discounts you can get in NYC if you're vaccinated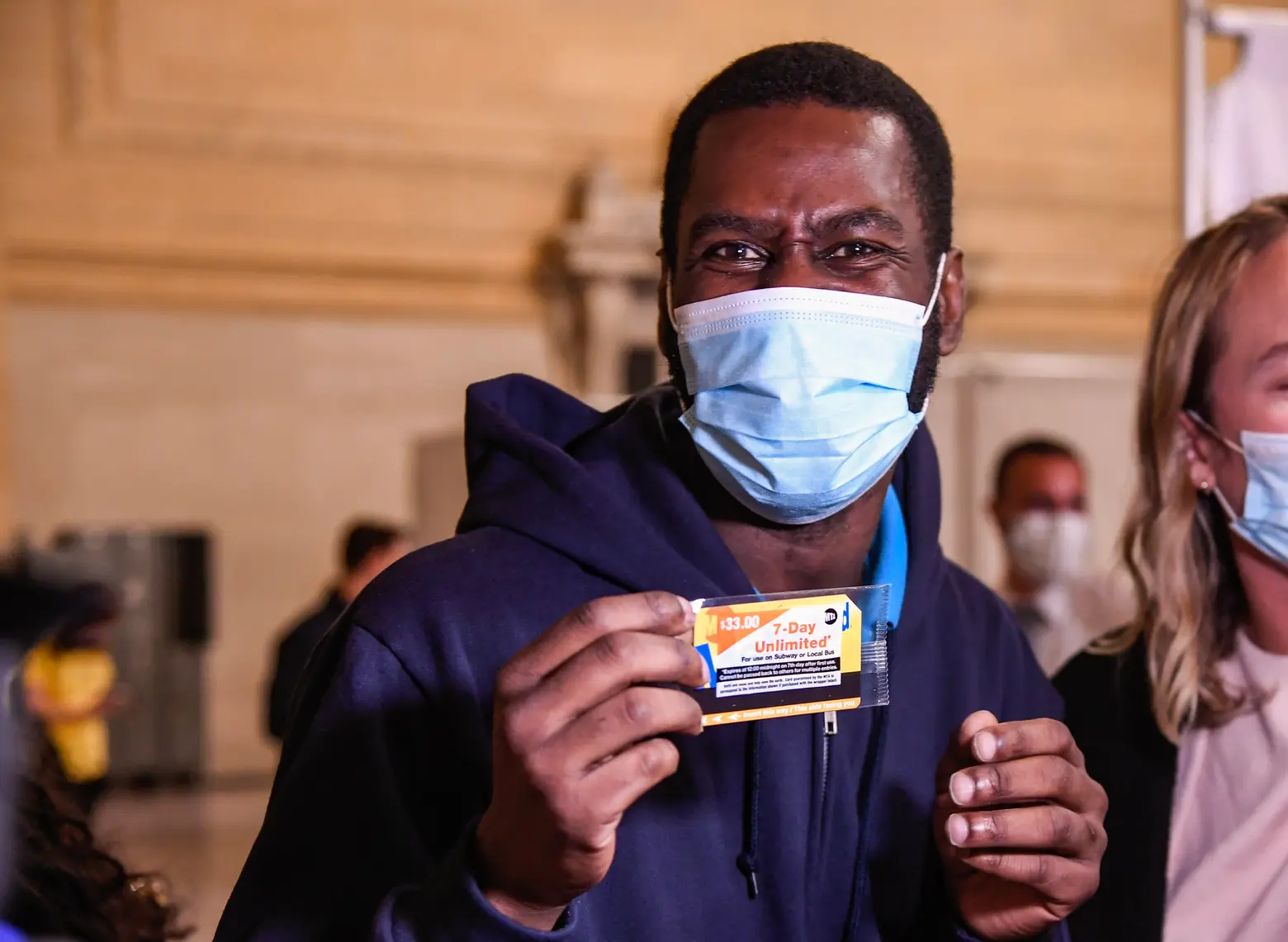 Shake Shack fries, Krispy Kreme donuts, 7-day MetroCards, Yankees tickets–these are just some of the perks available to New Yorkers who receive their Covid-19 vaccination. Some of the deals are dependant on one's vaccine location, while others are nationwide. Ahead, we've started a running list of all the offerings.
FOOD
Shake Shack
With kids aged 12-15 now eligible for the Pfizer vaccine, Shake Shack has teamed up with the NYC Mayor's Office to offer a free side of Crinkle Cut Fries (with the purchase of a burger or sandwich) to anyone who shows their CDC-issued vaccine card at select NYC locations through June 12. Plus, if you get vaccinated at one of the city's mobile vaccine clinics, you'll receive a voucher for a free burger or sandwich (this deal is only running while supplies last).
Krispy Kreme
Anyone who shows their valid COVID-19 vaccination card can receive a free glazed doughnut at any Krispy Kreme location in the U.S. through the end of the year.
Junior's Cheesecake
Until Memorial Day, Junior's Cheesecake will give a free mini cheesecake (it's only 140 calories!) to anyone who shows their vaccine card at their Downtown Brooklyn flagship.
Nathan's Famous
At their original Coney Island location, this famous hot dog chain is giving free hot dogs to people who show up with their vaccine card on the same day they receive the shot.
White Castle
Through May 31, this hamburger chain is giving a free dessert on a stick to customers who share proof of receiving a COVID-19 vaccine. This includes Gooey Buttercake-on-a-Stick, Fudge Dipped Brownie-on-a-Stick, Fudge Dipped Cheesecake-on-a-Stick, and Birthday Cake-on-a-Stick.
THINGS TO DO
American Museum of Natural History
For those who get vaccinated under the blue whale at the American Museum of Natural History, the museum will give complimentary general admission on a future visit for a group of four.
Yankees and Mets
Starting May 19, both Yankee Stadium and Citi Field are offering the one-dose Johnson & Johnson shot to game attendees. Those who take advantage of this program will also receive a free ticket voucher to a future game (while supplies last).
Nets Playoff Tickets
A mobile vaccine site that is aimed at reaching New Yorkers who live in the 33 neighborhoods hardest hit by the pandemic will be stationed outside the Barclays Center. Those who receive their vaccine here can enter a lottery to win free Nets playoff tickets. Those from the designated areas who have already received a vaccine can visit the mobile site to enter the lottery, too.
Brooklyn Children's Museum
Starting May 20, a vaccine site will open at the Brooklyn Children's Museum in Crown Heights. Those who get the shot at the museum will receive free same-day admission and a family pass for another day.
The Bronx Zoo
A vaccine hub will open at the Bronx Zoo at the Southern Boulevard parking lot on May 21 and operate Monday through Friday between 10 a.m. and 5 p.m. All individuals who receive a vaccine at this location will receive a free ticket for a future visit. Walk-ins are welcomed, but appointments can also be made here or by calling 877-VAX-4NYC. The site is offering the Pfizer vaccine.
New York Aquarium
The city will set up a vaccine site at the New York Aquarium in Coney Island. Those who get the shot will receive free passes for a future visit. More details on the incentives offered at this site will be released in the coming days.
TRANSPORTATION
MTA Trips
The city is currently operating eight pop-up vaccination sites at busy subway, LIRR, and Metro-North stations, including Grand Central and Penn Station. Those who receive the one-shot Johnson & Johnson vaccine at these locations will receive a free seven-day MetroCard or two free one-way trips on the LIRR or Metro-North.
Citi Bike
After rolling into City Hall on a Citi Bike from Gracie Mansion, Mayor Bill de Blasio this week announced a new incentive for those who get a vaccine at a city site: a two-week membership to Citi Bike. "That is a really good deal," de Blasio said.
WELLNESS
Retro Fitness
Need to work off that Quarantine 15? Retro Fitness is offering a $0 down and no-commitment membership to anyone who has received the vaccine.
The Vitamin Shoppe
Through May 31, The Vitamin Shoppe will give away one free, full-size healthy snack or drink product to any customer who shows their official Covid-19 Vaccination Record.
LOTTERY TICKETS
Gov. Andrew Cuomo is rolling out a pilot program, "Vax and Scratch," between May 24 and May 28 that gives free New York State lottery scratch-off tickets to those aged 18 and older who get vaccinated at 10 state-run sites. The ticket, which is sold for $20, has a grand prize of $5 million. There are a number of prizes that range between $20 and $50,000. According to Cuomo, the chance of winning any sum of money is 1 in 9. Sites in New York City offering free scratch-off tickets include Medgar Evers College, Bay Eden Senior Center, Javits Center, and York College.