3 Hudson Boulevard loses 100+ feet in new renderings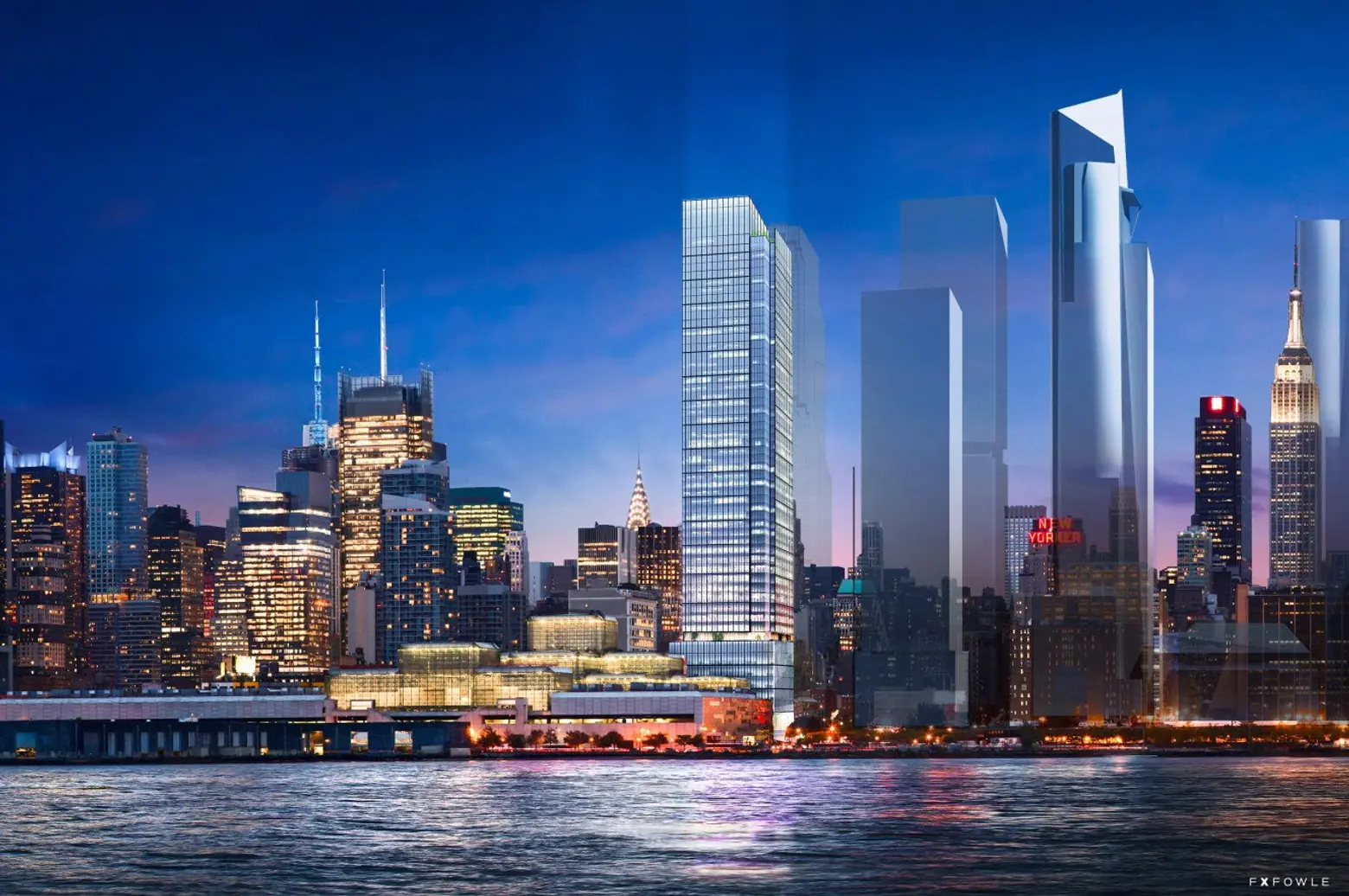 A new rendering of 3 Hudson Boulevard, via FXFOWLE/Moinian Group
A revised proposal for the Moinian Group's Hudson Yards tower 3 Hudson Boulevard calls for a slight height chop, which will strip it of its supertall status. A redesign from FXFOWLE now brings the total square footage to 2 million square feet from a previous 1.8 million and lowers its height to 940 feet tall from 1,050 feet. Instead of 63 floors, the tower will rise 53 floors in this new design. To match standards for today's modern office, the building will now feature larger floor plates, higher ceilings and a terrace on the eighth floor. As the New York Post reported, a groundbreaking ceremony will be held this Friday with elected officials, celebrating the reboot.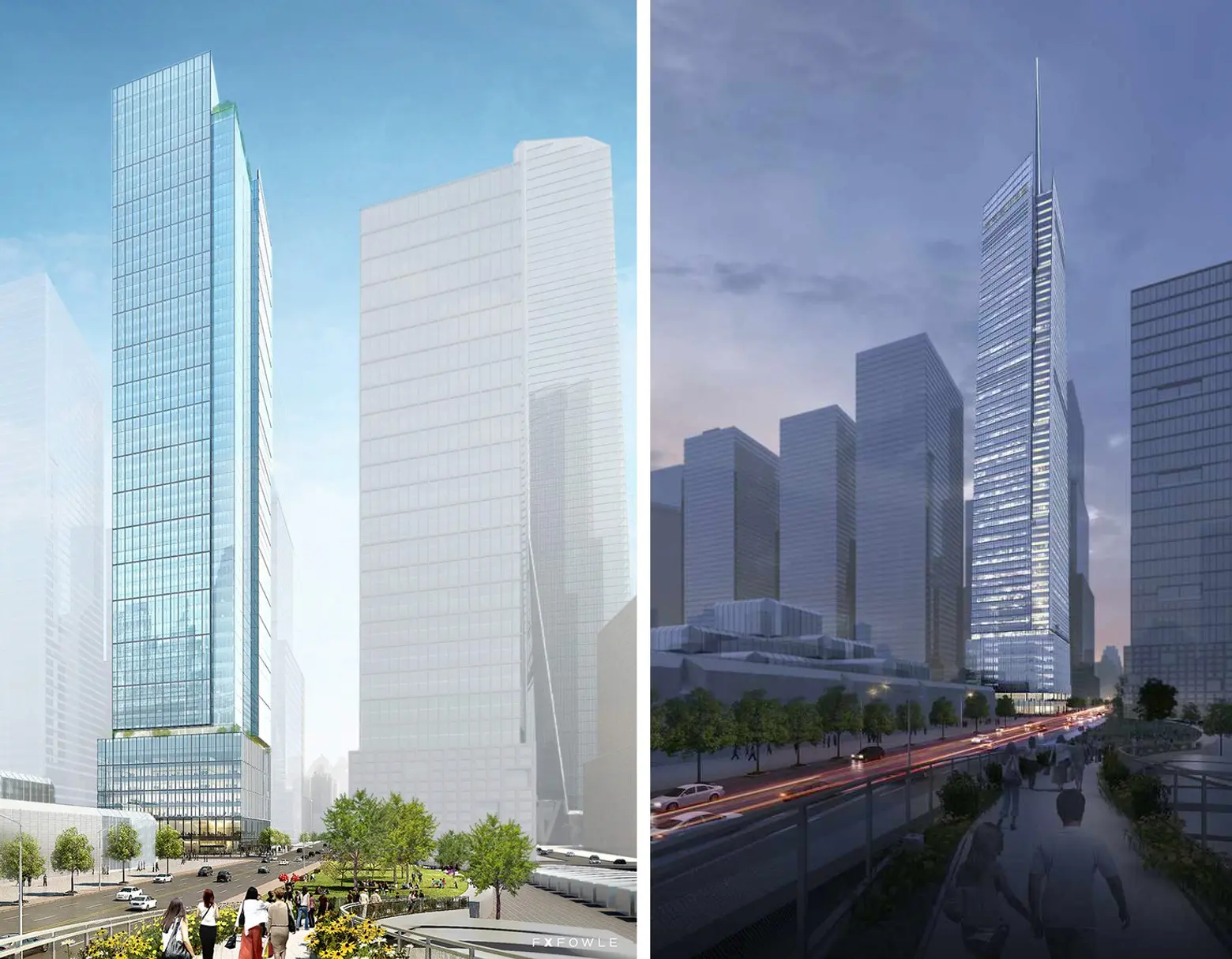 A new rendering of 3 Hudson Boulevard (L) and a rendering from September featuring the 300-foot spire, via FXFOWLE/Moinian Group
The Moinian Group hopes the new design helps attract tenants to its office tower, as it has yet to sign a deal with an anchor tenant. Sources told the Post that the group may be looking at tenants interested in buying its own floors or investors that want to become a minority stakeholder. Joseph Moinian first purchased the site, which sits on the corner of Eleventh Avenue and West 34th Street, in 2005 from Verizon for just over $54 million. The Metropolitan Transporation Authority has used the site for the last decade as the site of construction for the 7-train.
It's unclear whether the 300-foot spire seen in previous renderings of the tower will be a part of this new design, as it has appeared and then disappeared soon after in conceptual images. Other parts of the design seem unchanged, including its ability to maximize sunlight and amplify nature because it turns toward the sun as it rises. At the top of the tower, the building will be carved out to create more corners for the building, enhancing views of the Hudson River, Hudson River Park, and the High Line.
"We are sitting on a full block with unobstructed views — 360-degree views, to the south, northeast and especially west, because we have Javits [the low-rise convention center] across the street," Moinian told the Post. "From the fourth floor you can see the water and New Jersey."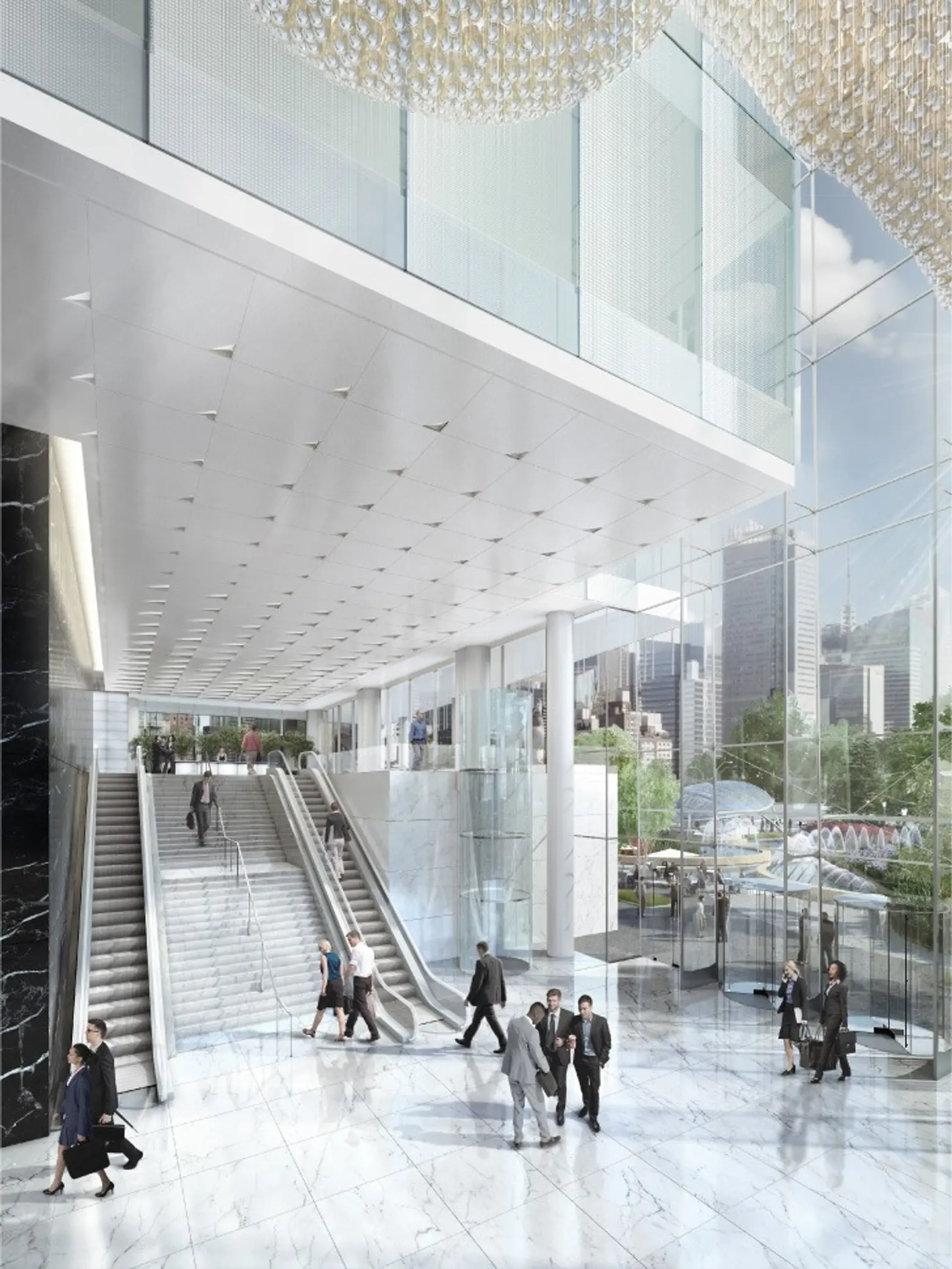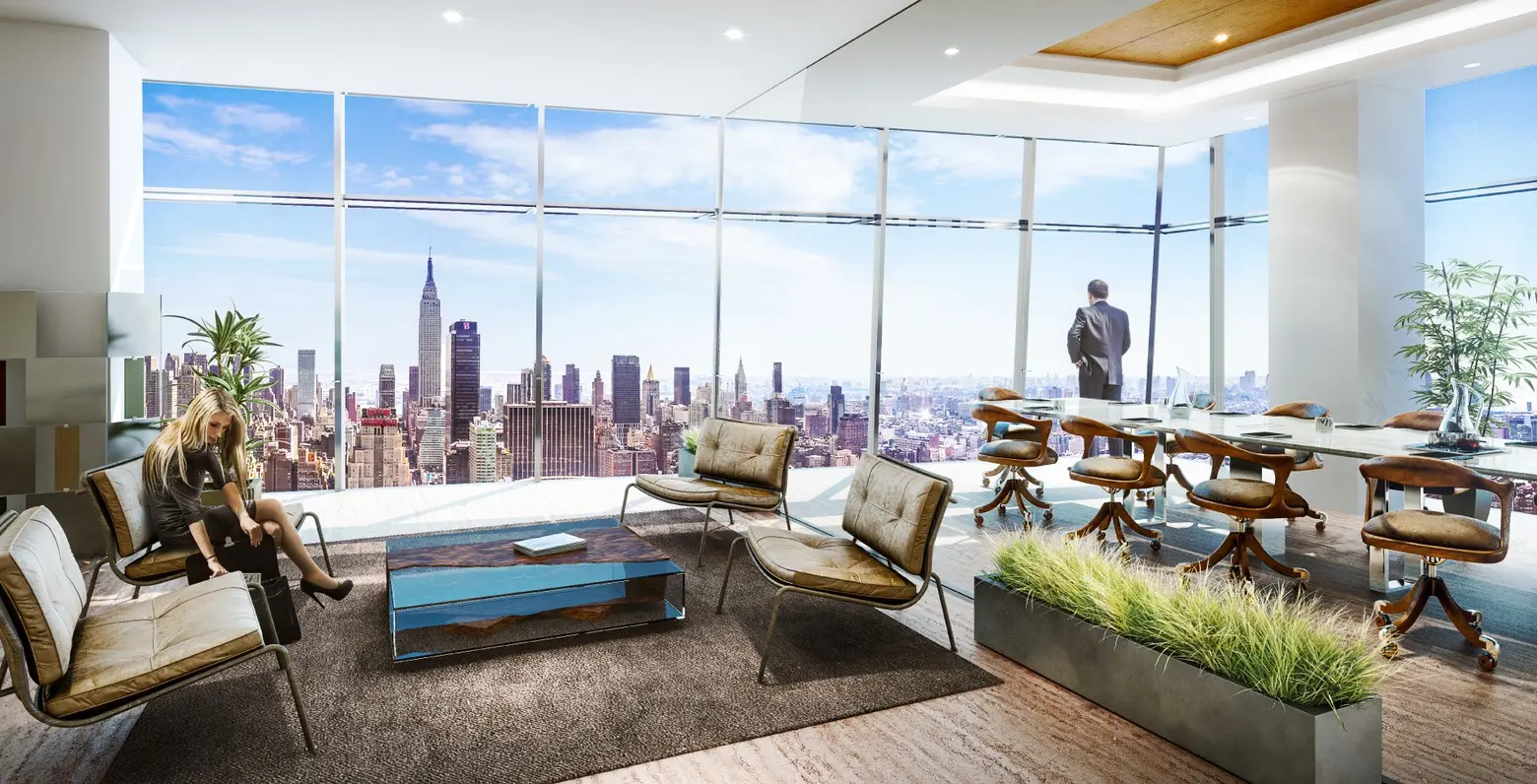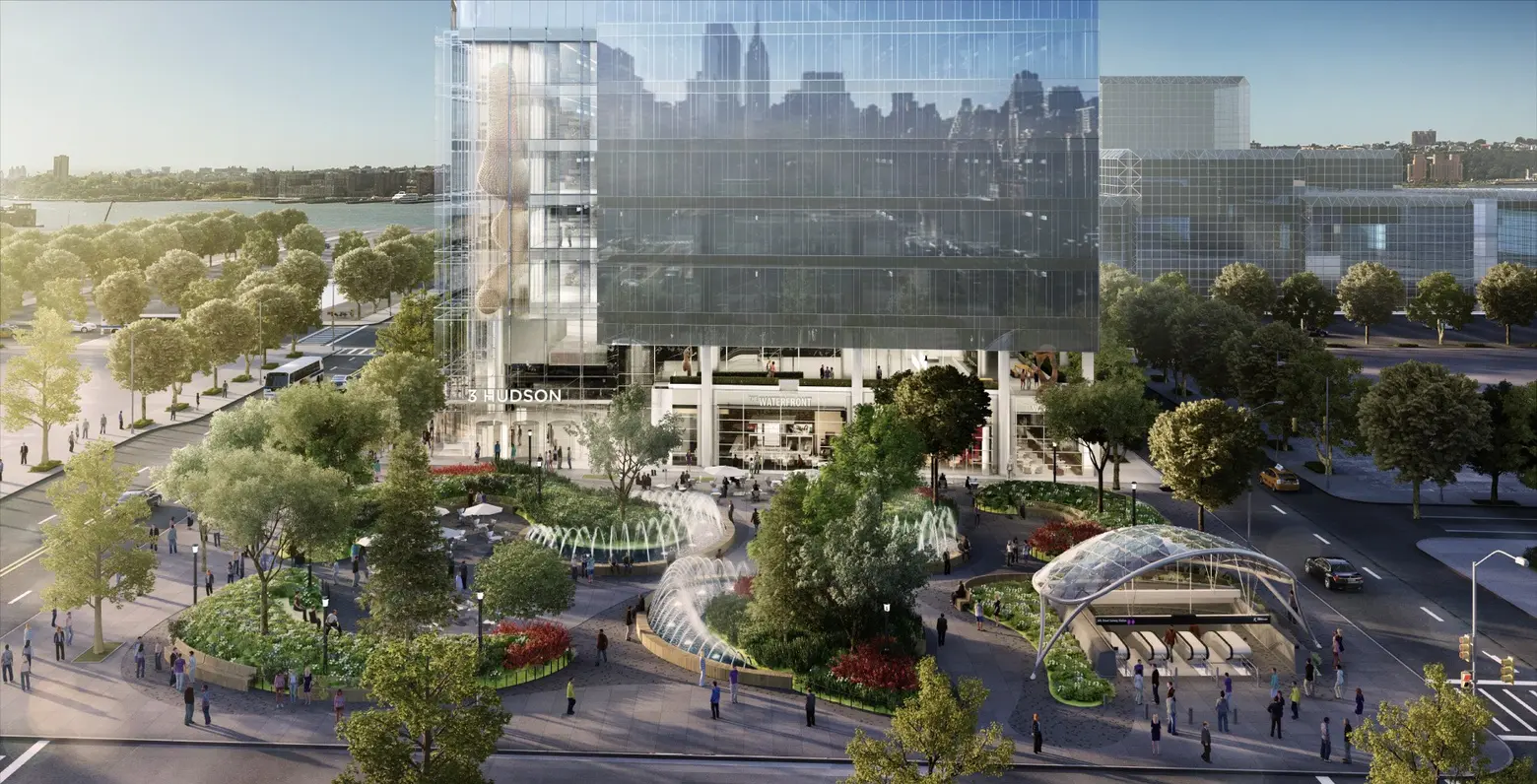 Renderings from September 2017, via FXFOWLE/Moinian Group
The tower will feature high ceilings, efficient column-free floor plates, and environmentally sustainable building systems. The top two floors will be used as a conference center or executive or cafeteria dining. Moinian is also courting a restaurant to fill part of its 12,600 square feet of retail space, as well as a cafe with outdoor seating near Hudson Boulevard Park.
View of construction as of October 22, 2017 © NyConstructionPhoto/Flickr
The tower's estimated completion date falls sometime in 2021.
[Via NY Post]
RELATED:
All renderings via FXFOWLE/Moinian Group