$100M proposal aims to turn Union Square into NYC's 'most accessible' space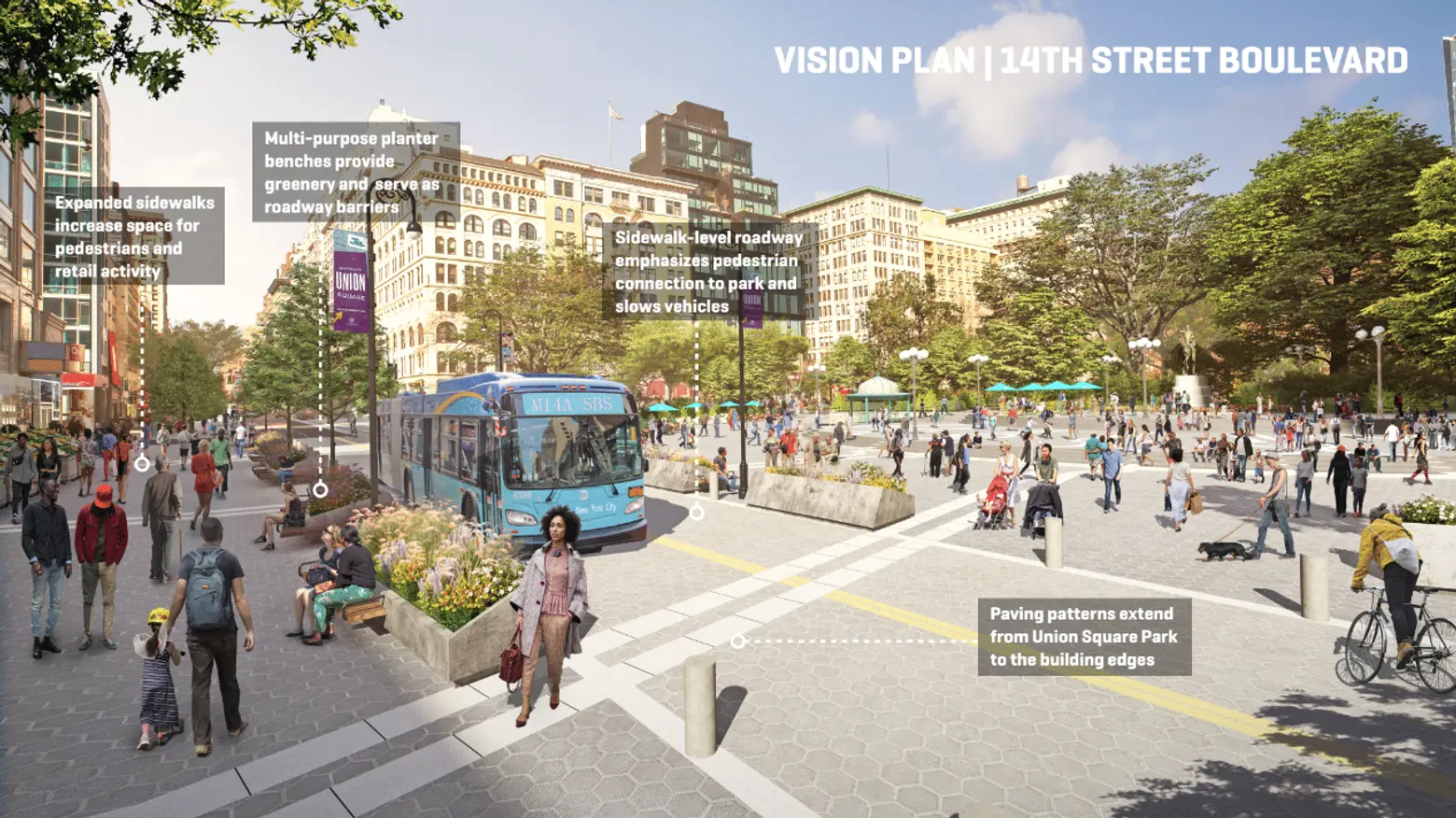 All images: Marvel courtesy of Union Square Partnership
Open space around Union Square would increase by more than 33 percent under a new proposal to transform the Manhattan neighborhood into New York City's "most accessible space." The Union Square Partnership on Tuesday released a plan that expands Union Square Park by about two acres to the edges around the square and connects landscaped plazas with safe, pedestrian-friendly space. Designed in collaboration with Marvel, the proposal is the result of a two-year community out-reach process.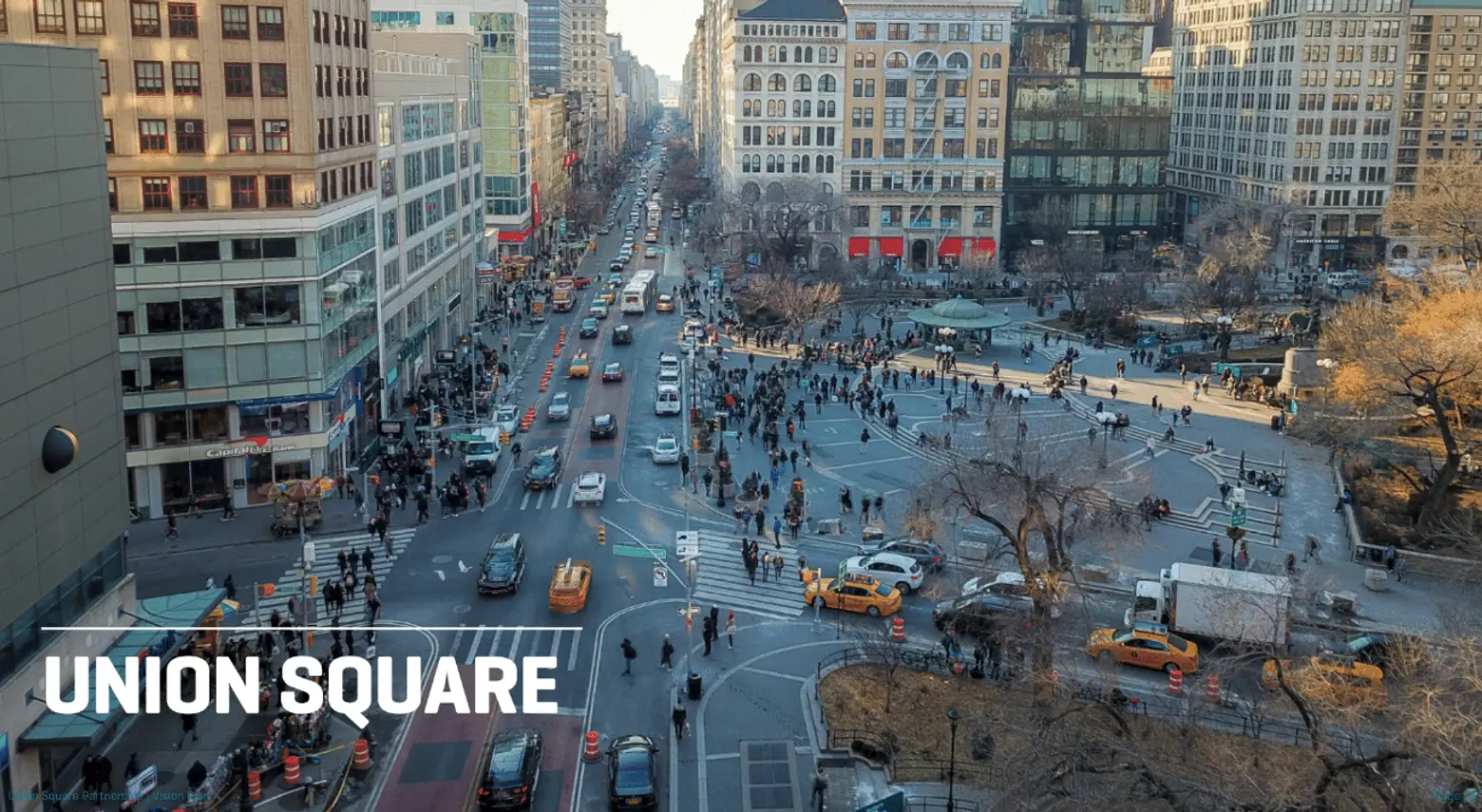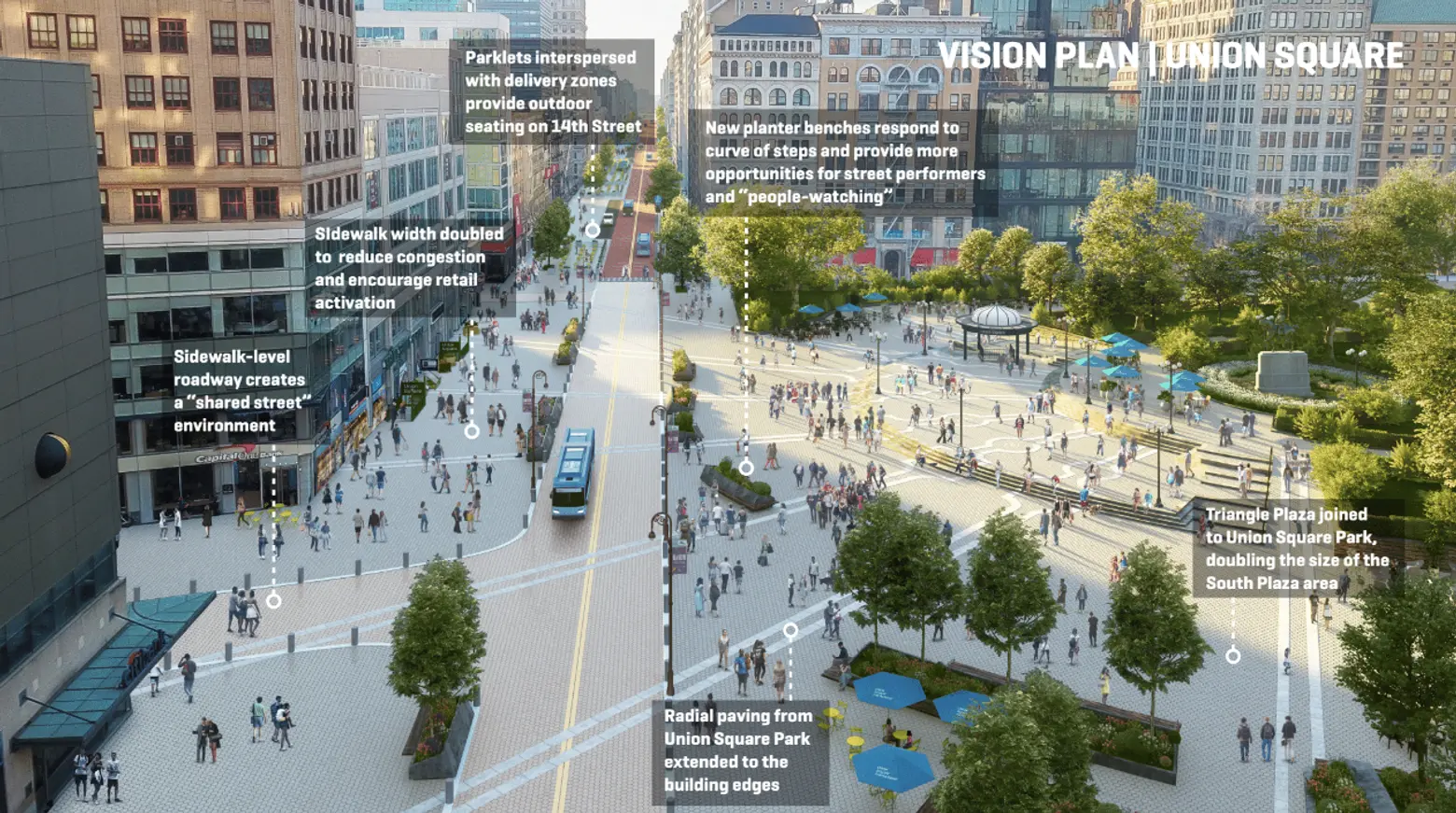 "We are proud to unveil a Vision Plan that places the needs of the Union Square-14th Street community at the forefront by promoting openness, equity, safety, and accessibility. The ultimate goal here is for parkgoers to know they have arrived at a place that is special," Jennifer Falk, executive director of Union Square Partnership, said in a press release.
"Initiated as a response to the proposed L train shutdown, this Vision Plan evolved as COVID-19 upended our world, and with it, our relationship with public space. More open space, safer pedestrian and cyclist travel, better transit, and more outdoor seating and greenery – all of these changes are called for in this plan and will benefit our community immeasurably as we chart the district's next chapter."
There are five major projects that are part of the broader transformation of Union Square-14th Street. The vision builds off the successful 14th Street busway–which launched in the fall of 2019–and adds designated bus boarding zones and pedestrian areas. The "world-class boulevard" of 14th street would include widened sidewalks that extend to the edges of buildings, new parklets, and additional plantings.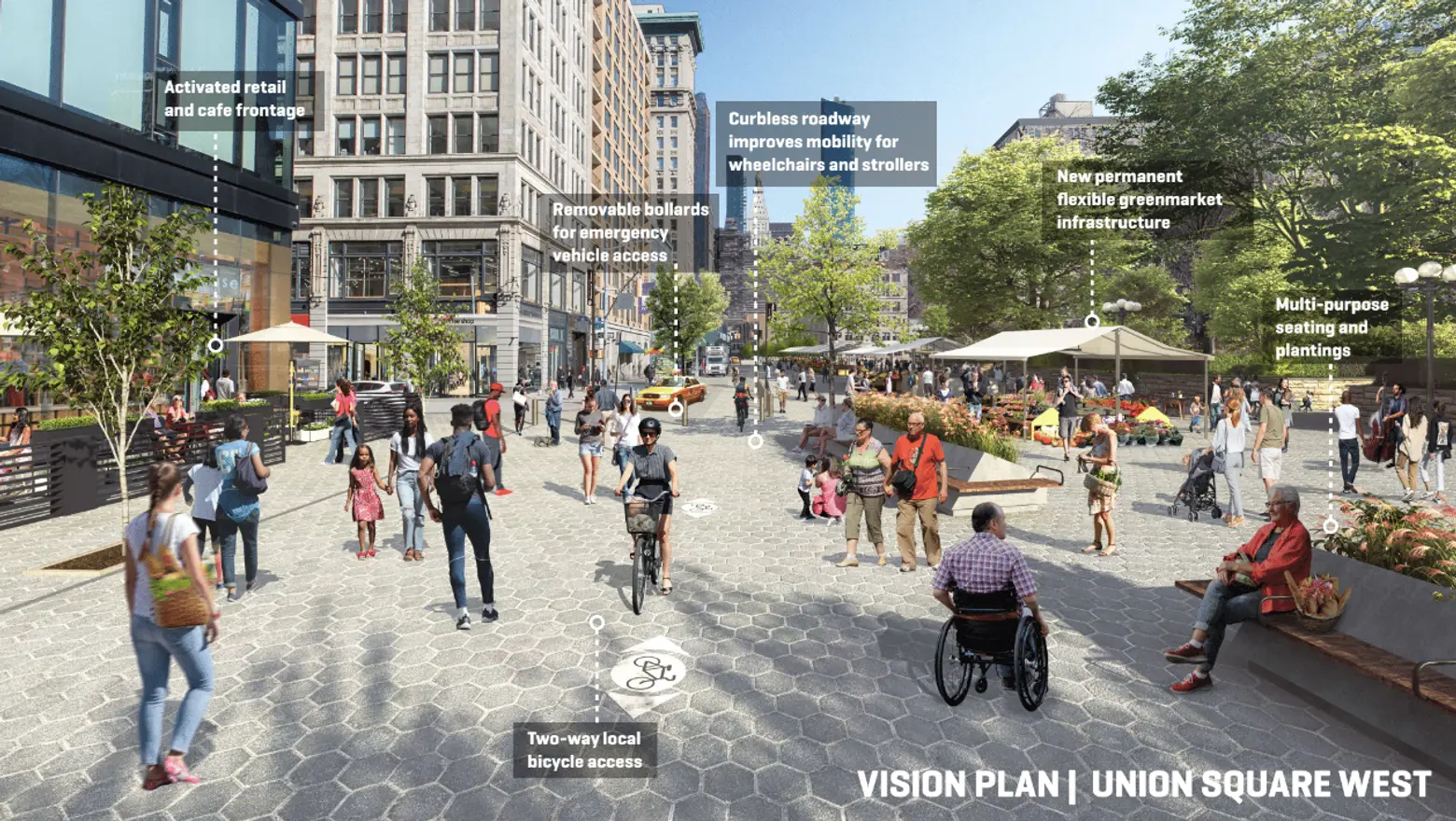 The proposal envisions Union Square West as a seamless plaza that extends from the park to the buildings, allowing for more outdoor seating and foot traffic at retail stores along the square. A new permanent flexible space for GrowNYC's Greenmarket, a larger and more accessible subway entrance on 16th Street, and more seating along Union Square West are included in the plan.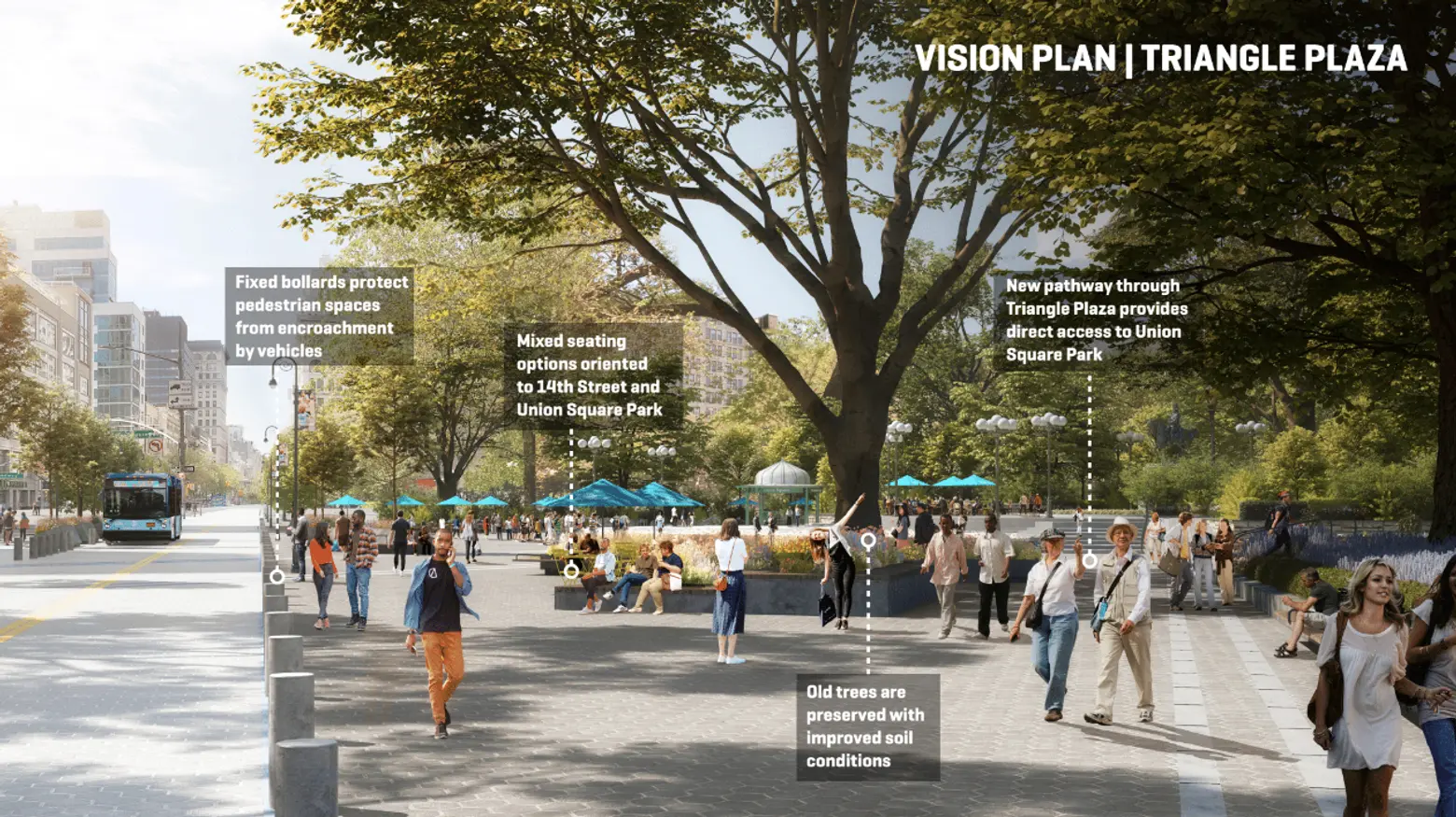 On the southeastern end of the square, Triangle Plaza would be connected to the park to create a cohesive experience and allow for more engagement with 14th Street and Union Square East. To allow for more pedestrian access between the spaces, cars could be restricted southbound on Union Square East between 17th and 14th Streets.
The plan also calls for the temporary plaza at 17th Street and Broadway, created by the city's Department of Transportation in 2011, to become permanent. The Broadway Gateway Plaza would welcome pedestrians to the square and serve as the terminus of the 2.5-mile corridor from Columbus Circle planned by DOT.
Finally, the partnership plans to develop a new master plan for Union Square Park, which would include a number of infrastructure repair and replacement projects. The plan covers the reconstruction of about one mile of streets and 3.5 acres of existing park land and installation of streetscape improvements in an area of 20 city blocks. The project, which officials estimate to cost $100 million, would have to go through the city's public review process and likely take decades to complete.
"Our public spaces thrive when we improve connections between parks and neighborhoods," NYC Parks Commissioner Mitchell J. Silver said. "This vision will enhance Union Square Park with a more seamless, equitable, and accessible design. The plan is an outstanding example of how our Parks Without Borders framework can be applied to one of New York City's most iconic parks."
See the full Union Square-14th Street District Vision Plan here.
RELATED:
All images: Marvel courtesy of Union Square Partnership