100 free things to do in New York City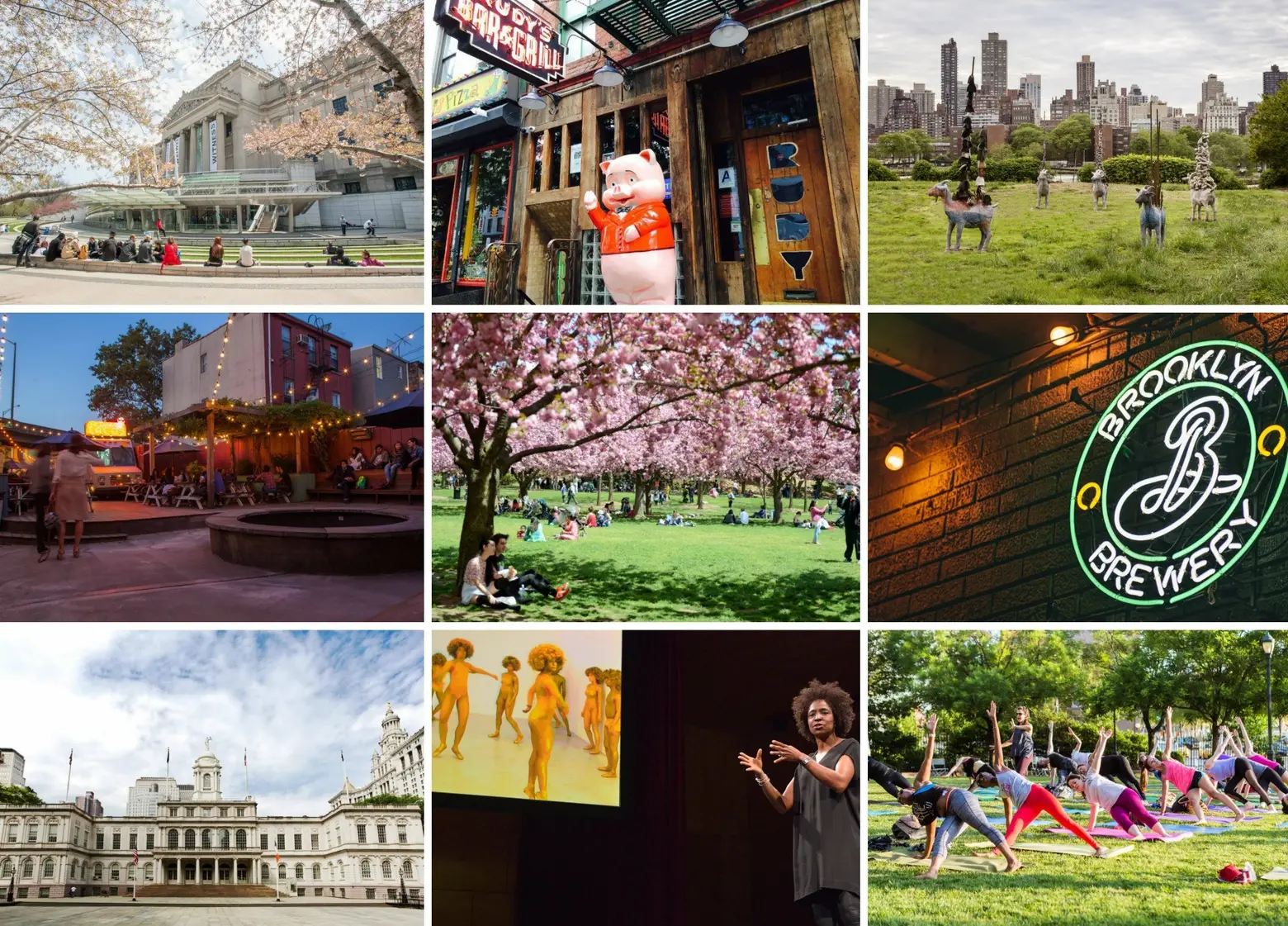 Despite being one of the most expensive cities to live in, New York City offers many free activities, events, and attractions all year round, letting you pinch pennies when the rent check is due. From free lectures at the Met to free group meditation classes, there are tons of activities that don't cost a dime. To help New York visitors and natives alike, we've put together a guide of the 100 best wallet-friendly things to do in the Big Apple.
Museums & Monuments
Whether it's your first time in New York, or you have lived here all of your life, exploring one of the many museums is a must. However, it's not cheap to visit these incredible institutions, with admission costing upwards of $25 at many of them. Thankfully, a lot of museums offer discounted or completely free days once per week or month. And, even better, some offer free admission every day.
1.  African Burial Ground National Monument
290 Broadway between Duane and Elk Street, Lower Manhattan
The monument, which is the first of its kind dedicated to Africans of early New York, contains the remains of more than 419 Africans buried during the late 17th and 18th centuries in NYC. The indoor center and outdoor memorial are always free Tuesday-Saturday.

2. General Ulysses S Grant National Memorial
Riverside Drive at 122nd Street, Morningside Heights, Manhattan
Known as Grant's Tomb, the memorial is the final resting place of the 18th President of the U.S. and his wife Julia Dent Grant. The visitor center and memorial are free every day it's open–Wednesday, Thursday, Friday, and Saturday.

3. Green-Wood Cemetery
500 25th Street, Sunset Park, Brooklyn
The 478-acre park is a Revolutionary War historic site and was designated a National Historic Landmark in 2006. Admission to the cemetery, which operates seasonally seven days a week, is free at all times.

4. The New Museum
235 Bowery, Lower East Side, Manhattan
A home for contemporary art and ideas, the New Museum offers pay-what-you-wish admission on Thursday nights between 7-9pm.
5. National Museum of the American Indian
One Bowling Green, Bowling Green, Manhattan
A part of the Smithsonian Institution, the museum aims to advance the knowledge and understanding of Native cultures of the Western Hemisphere. Admission is always free, open 10 am to 5 pm daily and Thursdays to 8 pm.

6. Brooklyn Museum
200 Eastern Parkway, Prospect Heights, Brooklyn
The Brooklyn Museum is the city's third-largest at 560,000 square feet and contains over 1.5 million pieces of art. Free on the first Saturday of the month only from 5-11pm with a 5-7pm happy hour.

7. Bronx Museum of the Arts
1040 Grand Concourse, Bronx
The Bronx Museum of the Arts is an internationally recognized contemporary art museum that connects diverse audiences to the urban experience. It is always free, with operating hours 11 am- 6 pm, Wednesday, Friday, Saturday and Sunday, and to 8 pm on Thursday.

8. Museum of Modern Art
11 West 53rd Street, Midtown West, Manhattan
At one of the world's preeminent modern art museums, admission is free every Friday from 4-8pm.

9. Museum of the Moving Image
36-01 35 Avenue, Astoria, Queens
This Queens museum remains the only in the U.S. dedicated to the art, history, and technology of the moving image. Admission is free from 4-8pm every Friday.

10. Queens County Farm Museum
73-50 Little Neck Parkway, Floral Park, Queens
Dating back to 1697, the farm museum occupies New York City's largest remaining piece of undisturbed farmland. The farm grounds are open daily, year-round from 10 am- 5 pm and are always free, except during public events.

11. Leslie-Lohman Museum of Gay and Lesbian Art
26 Wooster Street, Soho, Manhattan
The museum is the first dedicated LGBTQ art museum in the world. It's open 12-6pm Wednesday- Sunday and 12-8pm on Thursday. Admission is free, but there's a suggested donation of $8 per person.

12. BRIC House
647 Fulton Street, Fort Greene, Brooklyn
Daily admission BRIC House, Brooklyn's leading presenter of free cultural programming, is free.

13. Museum of Jewish Heritage
Edmond J. Safra Plaza, 36 Battery Place, Battery Park City, Manhattan
In memorial of those who died in the Holocaust, the museum features more than 25,000 items related to Jewish history. Admission to the museum is free on Wednesday and Thursday from 4-8pm.
14. Federal Hall National Memorial
26 Wall Street, Financial District, Manhattan
At this spot on Wall Street, George Washington took the oath of office and was the site of the first Congress, Supreme Court, and Executive Branch offices. The memorial is open all year from Monday-Friday, 9 am-5 pm and admission is free.

15. Onassis Cultural Center
Olympic Tower, 645 Fifth Avenue, Midtown, Manhattan
The cultural center promotes Greek culture through art exhibitions and events. Its operating hours vary for events, but the Olympic Tower Atrium remains open daily and admission is free.

16. Tibet House US Cultural Center
22 West 15th Street, Union Square, Manhattan
Created at the request of the Dalai Lama, the cultural center aims to preserve the unique culture of Tibet. Admission to the cultural center is free and open Monday-Friday 10am-6pm.
Art Installation & Galleries

Catching up with the city's ever-changing art scene is made easy thanks to the abundance of free artwork on display throughout NYC. While digging into the many classic art galleries of Chelsea is always recommended, the outer boroughs also offer their fair share of inspiring installations. Head to the Socrates Sculpture Park in Queens or Brooklyn's Williamsburg Art & Historical Center for free art every day.
17. David Zwirner Gallery
519, 525 and 533 West 19th Street, Chelsea, Manhattan
At this acclaimed Chelsea gallery, which opened in 2002, visitors can explore the works of many European and American contemporary artists. The exhibition space is open Tuesday through Saturday from 10 am to 6 pm and is free to explore.

18. The Museum at the Fashion Institute of Technology
Seventh Avenue and 27th Street, Chelsea, Manhattan
The museum's permanent collection includes about 50,000 garments and accessories ranging from the 18th century to present-day. Admission is free to the public Tuesday through Friday from noon to 8 pm and Saturdays from 10 am to 5 pm.
19. Japan Society Gallery
333 East 47th Street, Midtown, Manhattan
Since 1971, the Japan Society Gallery has been a premier institution for Japanese art, ranging from classical Buddhist sculpture to paintings from the 21st century. It's free Friday, 6 pm-9 pm.
20. New York Earth Room
141 Wooster Street, Soho, Manhattan
The spacious Soho gallery features a 22-inch deep pile of soil, weighing 280,000 pounds. See the "interior earth sculpture installation" for free Wednesday through Sunday, 12 pm–6 pm.
21. Socrates Sculpture Park
32-01 Vernon Boulevard, Long Island City, Queens
Once an abandoned landfill and dumpsite, the waterfront sculpture park supports local artists and is an internationally acclaimed outdoor museum. The park is open and free every day, from 9 am to sunset.
22. Schomburg Center for Research in Black Culture
515 Malcolm X Boulevard, Harlem, Manhattan
Current exhibits at the center, one of the world's leading institutions dedicated to the black experience, include Black Power! and Power in Print, both exploring the art of the Black Power movement. It's open 10 am-6 pm Monday, Thursday-Saturday, 10 am- 8 pm on Tuesday and Wednesday and closed on Sunday.
23. Brooklyn Central Library galleries
10 Grand Army Plaza, Prospect Heights, Brooklyn
Sitting right next to Prospect Park, the sprawling library presents local and international artists and their work, usually with exhibitions relating to cultural themes and books. The library is open Monday through Thursday from 9 am to 9 pm, Friday and Saturday from 9 am to 6 pm and Sunday from 1 pm to 5 pm.
24. AIA New York Chapter Center for Architecture
536 LaGuardia Place, Greenwich Village, Manhattan
As the oldest and largest chapter of the American Insitute of Architects, the center hosts hundreds of free, public programs that focus on architecture, planning and design. Gallery hours are Monday- Friday, 9 am to 8 pm and Saturday 11 am to 5 pm.
25. Pierogi 2000
155 Suffolk Street, Lower East Side, Manhattan
Known for its eclectic and thought-provoking pieces, Pierogi 2000 features the work of both new and mid-career artists. Check out the gallery Tuesday through Saturday from 11 am to 6 pm.
26. Williamsburg Art & Historical Center
135 Broadway, Williamsburg, Brooklyn
This multifaceted art center aims to create a bridge between artists on a local and international scale. The gallery in the WAH Center ("WAH" in Japanese means "peace" or harmony") is open Friday, Saturday and Sunday from 12 pm to 6 pm.
Food & Drink Deals
As most New Yorkers know, the best things in life are free…food. If you're scrimping on cents until payday, try heading to one of the bars below. From complimentary-with-a-beverage pizza and Murry's Cheese to bagels and cream cheese spread, you'll end the month with both wallet and stomach happily full.
27. Ryan Maguire's Restaurant & Bar
28 Cliff Street, Financial District, Manhattan
This classic Irish pub offers a free buffet from Monday-Friday, 5-7 pm.

28. SingleCut Beersmiths
19-33 37th Street, Astoria, Queens
The brewery, which opened in 2012, offers free tours with sample-size pours 5 pm on Sundays.

29. Alligator Lounge
600 Metropolitan Avenue, Williamsburg, Brooklyn
At this Brooklyn bar, a free personal pizza comes with every drink purchase every day until 3:30 am. 

30. Brazen Head
228 Atlantic Avenue, Cobble Hill, Brooklyn
Complimentary food ranges from free wings on Monday to free plates of cheese and wine discounts on Wednesday. Deals happen almost every night, but varies.
31. Blind Tiger Ale House
281 Bleecker Street, West Village, Manhattan
With nearly 28 beers on tap and free cheese, you can't go wrong at this alehouse. Complimentary cheese from Murray's Cheese, Wednesday 6 pm.

32. Huckleberry Bar
588 Grand Street, Williamsburg, Brooklyn
If you're in the mood for a night of free mac & cheese and a movie, head to the Huckleberry Bar every Monday at 9 pm. Plus, each month features a different theme for the movies. 

33. The Levee
212 Berry Street, Williamsburg, Brooklyn
This old-fashioned bar provides life's simple pleasures like beer, booze, and pool. Oh, and free cheese puffs daily.

34. Machiavelli
519 Columbus Ave, Upper West Side, Manhattan
At this classic Italian restaurant, the purchase of a happy-hour beverage comes with a personal pizza and other finger food, weekdays 4-6 pm.
35. Matt Torrey's
46 Bushwick Avenue, East Williamsburg, Brooklyn
In addition to that $4 Bloody Mary, enjoy a free spread of bagels and all the fixings at Matt Torrey's during brunch on Saturday and Sunday starting at noon.

36. Rudy's
627 9th Avenue, Midtown West, Manhattan
At one of the oldest dive bars in New York City, free hot dogs accompany every beverage. As Anthony Bourdain once put it, "When you sit down, I don't know about a free hot dog. But after a few beers, it seems like a good idea."

37. Astor Wine & Spirits
399 Lafayette Street, Greenwich Village, Manhattan 
The spacious wine hub in the landmarked De Vinne Press Building provides weekly free wine tastings. Check the schedule for specific wines and other events.
Walking Tours

For lovers of beer, architecture, history and everything in between, a walking tour exists. New York City, one of the easiest cities to navigate by foot, is chock full of historic and unique spots. Although some can be expensive, a lot of organizations provide free tours, requiring only a reservation. Just be sure to wear comfortable shoes and get a camera ready.
38. Brooklyn Brewery
79 North 11th St, Williamsburg, Brooklyn
A former matzo factory turned brewery, the famed Brooklyn Brewery offers free tours every Saturday 12:30 pm and Sunday at 1 pm.
39. City Hall
City Hall Park, Financial District, Manhattan 
Visit one of the oldest continuously used City Halls in the nation that still houses its original governmental function with a public tour run by the city's Design Commission. No reservation is required for tours on Wednesday.
40. Federal Reserve Bank of New York
44 Maiden Lane, Wall Street, Manhattan
At the Federal Reserve, tours teach visitors about the role of the New York Fed and the Federal Reserve System in setting monetary policy and let New Yorkers explore the gold vault, 80 feet below street level. Tours require a reservation of at least 30 days in advance.
41. Grand Central Partnership
120 Park Avenue (across Grand Central), Midtown, Manhattan
Urban historians Peter Laskowich and Madeleine Levi walk visitors through the terminal's whispering gallery, the "original" Lincoln Memorial and more. Free tours consist of 90-minute walking tours at 12:30 pm every Friday.
42. NYPL's Stephen A. Schwarzman Building 
476 Fifth Avenue, Midtown, Manhattan
As the flagship building of the New York Public Library, the Stephen A. Schwarzman Building boasts Beaux-Arts architecture and world-renowned collections. The library offers free tours 11 am and 2 pm Monday- Saturday, 2 pm Sunday.
43. Saint Patrick's Cathedral
5th Avenue between 50th and 51st Streets, Midtown, Manhattan
Learn more about the famed cathedral's deep-rooted history in the city and explore its architectural wonders with free tours Monday through Friday beginning at 10 am. There is a suggested $5 donation for admission.
44. Chelsea Craft Brewing
463 East 173rd Street, Claremont Village, The Bronx
Chelsea Craft Brewing, which opened in 1995, can be credited for jumpstarting the city's brewery craze. Free tours are available Saturday, 2-6 pm, and include a free beer sample.
45. Big Apple Greeter
1 Centre Street, Financial District, Manhattan
Big Apple Greeter's more than 300 volunteers bring roughly 7,000 visitors a year to over 100 neighborhoods throughout NYC. Reserve tours three to four weeks in advance.
46. Village Alliance 
131 East 10th Street, East Village, Manhattan
The walking tour stretches from St. Marks Place to Sixth Avenue, taking in sites like the residences of Lou Reed and Andy Warhol and the studios where Jimi Hendrix and Bob Dylan performed. Head to St. Mark's Church at 11:30 every Saturday until October for the free walking tour.
47. Greenwich Village Society for Historic Preservation 
232 East 11 Street, Greenwich Village, Manhattan
Free historic tours of the Village are provided by GVSHP, the group that has successfully lobbied for the landmark designation for more than 1,250 buildings in the neighborhood. Walking tours require a reservation.
48. Gracie Mansion 
East End Avenue and 88th Street, Yorkville, Manhattan
On Tuesdays only, visitors can explore the "people's house," the official house of the mayor of New York. Free tours are offered at 10 am, 11 am, 2 pm, and 3 pm, but require a reservation.
Outdoor Activities

As new construction and development projects continue to rise above us every day, it seems as if there's nothing outside of this chaotic, concrete jungle. In reality, nature-filled, outdoor activities do exist in New York City that doesn't include walking to your neighborhood's deli. Plus, most of them are free, like the city's public pools and parks.
49. The Downtown Boathouse
Hudson River Greenway, Tribeca, Manhattan
The all-volunteer organization is the largest free kayaking organization in the world. Find free kayaking at Pier 26 and Governors Island. At Pier 26, paddling is offered on the weekend from 9 am to 5 pm until October 9. Night-time paddling occurs Tuesday, Wednesday and Thursday nights from 5 pm to 7:30 pm through Sept. 14.
50. Staten Island Ferry
4 South Street, South Ferry, Manhattan & 1 Bay Street, Staten Island
Without costing a penny, ride the ferry for 25 minutes from Lower Manhattan to Staten Island for incredible views of the Statue of Liberty and the NYC skyline. The fare-free ferry runs every day, making a total of 118 trips per weekday. 

51. Brooklyn Botanic Garden
150 Eastern Parkway, Prospect Heights, Brooklyn
First founded and designed by the Olmsted Brothers firm in 1910, the Brooklyn Botanic Garden is now considered a premier garden in the heart of the borough. It is free Tuesday, 10 am to noon on Saturday and weekdays in winter.
52. Bronx Zoo
2300 Southern Boulevard, The Bronx
The impressive Zoo spans 265-acres free and includes more than 6,000 animals. Every Wednesday, admission is pay-what-you-wish. Open daily from April 1 to November 5 from 10 am to 5 pm. During the winter months, the zoo closes at 4:30 pm.
53. New York Botanical Garden
2900 Southern Boulevard, The Bronx
Visit one of the greatest botanical gardens in the world, as well as the largest in any city, for free all day Wednesday and from 9-10 am on Saturday.
54. The High Line
From Gansevoort Street to West 34th Street, between 10th and 12th Avenues, Manhattan
Explore the High Line, an elevated freight rail line transformed into a public park, for free every day. Open Dec. 1- Mar. 31, from 7 am-7 pm; April 1 to May 31, from 7 am-10 pm; June 1 to Sept. 30, from 7 am-11 pm; Oct. 1 to Nov. 30 from 7 am to 10 pm.
55. Moonlight Ride through Central Park 
Columbus Circle (SW corner of Central Park), Manhattan 
At 10 pm on the first Friday of every month, take a fun, but relaxing, bike ride through Central Park at night. While the guided bike (or rollerblade) ride is free, participants should bring their own bike, a helmet, and light. Moonlight Ride offers tours all year round, but riders must reserve a spot.
56. City Island's Land Ferry
6 Park Place, Pelham, New York (No. 6 train station at Pelham Bay Park)
City Island is a small, nautical island in the northeastern part of the Bronx. For those who want to learn more about the island can take a free"land ferry" or decorated minibus on the first Friday of the month from the train station to City Island.  The land ferry picks up passengers from the No. 6 train on the first Friday of the month from 5:30 to 9:30 pm every half-hour and provides free tours.
57. NYC pools
Various locations in all boroughs
To benefit from the city's free public pools, all you need is a swimsuit. Free swim programs for youth, seniors and people with disabilities are available. Pool hours are from 11 am- 7 pm during the summer only.
58. Free fishing
Various locations in all boroughs
The city boasts over 500 miles of shoreline, as well as lakes and rivers, so there's plenty of opportunities to fish. While it's free to fish in every borough, city regulations must be followed.

59. Long Island City Community Boathouse
46-01 5th Street, Long Island City, Queens
On selected weekend afternoons, the boathouse, in partnership with the Socrates Sculpture Park, provides free walk-up paddling at Hallets Cove and at Anable Basin for people of all skill levels. While the free kayaking programs are seasonal, the boathouse also has programs that promote awareness about the environment and the New York harbor. 

60. The Gowanus Dredgers Canoe Club
2nd Avenue near Bond Street, Gowanus, Brooklyn
The canoe club, a totally volunteer-run organization, offers free canoe tours of the Gowanus Canal while providing a history lesson with it.  In addition to canoe tours, visitors can partake in kayaking and boating in Red Hook, Brooklyn Bridge Park, Long Island City and Staten Island. The free self-guided canoe trips are first-come, first-served, but be sure to check the club's schedule ahead of time.
61. The Elevated Acre
55 Water Street, Financial District, Manhattan
Discreetly tucked between two office buildings, there is a secret, totally free, elevated plaza. The hidden meadow features gardens, plants, and peace from the chaotic streets below. While eating lunch is free every day, sometimes free programs, like yoga classes, also are available.
62. Brooklyn Heights Promenade
Between Joralemon Street and Grace Court, Brooklyn Heights, Brooklyn
Just one-third of a mile long, this promenade has been called one of the most romantic spots in Brooklyn. With sweeping views of the Statue of Liberty, Manhattan skyline and the iconic Brooklyn Bridge, the spot is priceless. And right next door, the Brooklyn Bridge offers a ton of free events daily.
63. Fort Wadsworth
210 New York Avenue, Staten Island
The 226-acre public park, one of the oldest military sites in the country, guarded New York City for over 200 years. The fort is open and free every day from dawn to dusk. 

64. NYC Parks Urban Park Rangers programs
Various locations in all boroughs
Since 1979, the Urban Park Rangers program has helped New Yorkers connect with nature through public education, lectures and outdoor adventures. Rangers run various free events all year, like canoeing, family camping, hiking and fishing.
Live Entertainment

In the 'city that never sleeps,' live entertainment is never hard to find. And surprisingly, finding free events is easier than you think. There are hundreds of venues across all boroughs that offer discounted or free tickets. Watch talented performers every night of the week for free, whether it's an improv show, an open-mic night or even a taping of Stephen Colbert's show.
65. Whiplash at Upright Citizens Brigade Theatre in Chelsea
307 West 26th Street, Chelsea, Manhattan
Head to the iconic UCB theater in Chelsea every Monday at 11 pm to catch a free comedy show hosted by comics Leo Allen and Aparna Nancherla. Make sure to reserve a spot online ahead of time.
66. The Creek and the Cave
10-93 Jackson Ave, Long Island City, Queens
For good food and free comedy, go to LIC's the Creek and the Cave. The venue's schedule is jam-packed with great shows, stand up and screenings, so there's always something. Every day, the restaurant and bar are open late.
67. The Standing Room
4738 Vernon Blvd, Long Island City, Queens
An affiliate of the critically-acclaimed comedy club the Stand in Gramercy, the Standing Room in LIC brings free comedy almost every night. Plus, the bar considers itself a premier destination for cocktails and artisan draft beers in the booming Queens neighborhood.

68. The Broken Comedy at Bar Matchless
577 Manhattan Avenue, Greenpoint, Brooklyn
Catch a free comedy show every Monday at 8:30 pm at Bar Matchless, located across from McCarren Park.
69. The Sherry Vine Show at Industry
355 West 52nd Street, Hell's Kitchen, Manhattan
Experience one of the longest-running drag shows in New York, with a full hour of parodies and Broadway tunes. The door opens every Wednesday at 11 pm at Industry.
70. Lucky Jack's
129 Orchard Street, Lower East Side, Manhattan
Every Wednesday, Lucky Jack's offers free comedy shows at 9 pm, with no drink minimum required.
71. Otto's Shrunken Head
538 East 14th St, East Village, Manhattan
With its tropical drinks and tiki bar vibe, the nearly daily free music and comedy at Otto's Shrunken Head is just an added bonus. Otto's remains a favorite for punk rock fans and musicians alike.
72. Brooklyn Night Bazaar
150 Greenpoint Avenue, Greenpoint, Brooklyn
The massive club, with four bars, features three levels of live music, stand-up comedy, vendors, arcade games, and private karaoke lounges. Check out the Brooklyn Bazaar's schedule for free or super cheap nightly events.
73. Knitting Factory
361 Metropolitan Avenue, Williamsburg, Brooklyn
Despite being known more for its eclectic live music, the Knitting Factory also has free comedy every Sunday at 9 pm. Doors open at 6 pm and the show is first come, first served.
74. Daytime or Late-Night talk show tickets
Various studio locations 
For free, you can be a part of the studio audience for shows like the Daily Show, Good Morning America, Last Week Tonight with Jon Oliver and more. It does take some planning, so be sure to reserve them online with plenty of time before the show.
75. Friends & Lovers
641 Classon Ave, Crown Heights, Brooklyn
In increasingly-hipster Crown Heights, Friends & Lovers has indie and island funk music, political meet-ups and old-school dance parties, most of them free. Every Monday, there's a free comedy show at 8 pm.
76. Union Pool
484 Union Ave, Williamsburg, Brooklyn
Once a pool-supply outlet, Union Pool has multiple bars, outdoor space, a taco truck and free shows every Monday, 10:30 pm.
77. Ear Inn
326 Spring Street, Soho, Manhattan
At Ear Inn, one of the oldest bars in the city, you can attend poetry readings and screenings and listen to free jazz every Sunday, 8 pm-11 pm.
78. Pete's Candy Store
709 Lorimer St, Williamsburg, Brooklyn
Pete's Candy Store, which has always been a free venue, has booked many unknown and unsigned bands who later become famous (ie: Norah Jones). In addition to live music, enjoy weekly open-mic nights, trivia and poetry readings.
79. Gorilla Rep
Various outdoor locations
As an environmental theater, the Gorilla Repertory Theater Company brings free plays to parks all over New York City. Most of the plays produced by Gorilla Rep consist of Shakespeare works, with their most famous being their long-running production of A Midsummer Night's Dream.
Fitness

New York City is a great place to get fit for free. In addition to the city's own 'Shape Up' initiative, which provides free drop-in classes every week, a lot of places offer once a week or once a month classes for nothing but a suggested donation. Whether you're into running, dancing or de-stressing through group meditation, there's a free class for you.
80. Shape Up NYC
Various locations in every borough
Shape Up NYC is a free, city-run drop-in fitness program that takes across all five boroughs. No registration is required, just show up. Free classes range from Afro-Carribean Cardio to Sit and Be Fit, for all levels of fitness.
81. Three Jewels Community Center
61 4th Avenue, East Village, Manhattan
Founded by the first American-born Buddhist monk to be awarded the "Geshe" title in a Tibetan Buddhist monastery, this community center provides free meditation classes offered every day, at morning and at night.
82. Dharma Yoga Brooklyn
82 Sixth Avenue, Park Slope, Brooklyn
At the Brooklyn Yoga School, classical yoga classes are offered for free but do have a suggested donation of $10-20 per class.
83. Shambhala 
118 West 22nd Street, Flatiron, Manhattan
If in need of a relaxing retreat, head to Shambhala for silent, public meditation sessions. Public sittings classes are available for drop-ins every Thursday 6 pm – 7 pm, Friday 6 pm-7 pm and Sunday 9 am- 11:45 am.
84. Lululemon
129 North 6th Street, Williamsburg, Brooklyn
To set off the cost of items at the high-end athletic clothing chain, Lululemon's new Williamsburg store offers various free events, like yoga, meditation, and cycling. RSVP for the store's events like Workout Wednesdays and cycling tours through Brooklyn, Two Ambassadors, One Community.
85. Bootcamp at Bryant Park
Bryant Park's Fountain Terrace on Sixth Avenue, Midtown, Manhattan
Rain or shine, every Wednesday from 6:30 am to 7 am, join The Rise NYC, a community-driven pop-up fitness group, for thirty-minute rotations of crunches, planks, burpees, and mountain climbers.
86. Sivananda Yoga Vedanta Center 
243 West 24th Street, Chelsea, Manhattan
This Chelsea yoga center provides free group meditation and devotional chanting, known as Satsang, twice a week. The 90-minute free class is on Wednesday from 7:45 to 9:15 pm and Sunday from 6:15-7:45 pm.
87. NYC Fun Run Club
Meets at a different Manhattan bar weekly
For runners looking for a less solitary experience, the NYC Fun Run club meets at a different bar in Manhattan every Wednesday at 7 pm, heads out for a run, and then meets back at the bar for a few beers. All paces welcomed, you just want to be able to make it back to the bar.
88. Meatpacking Sweat Sessions
Hudson River Park between 14th and 15th Streets
Get ready to sweat it out at Hudson River Park's 14th Street Park in free 45-minute classes every Tuesday night during the summer. Classes include dance cardio, boxing, pilates and more. Sign up online to reserve a spot.
89. New York Road Runners
320 West 57th Street, Midtown, Manhattan
The Road Runners group, the city's premier racing club and organizer of the NYC Marathon, offers various free events. Be sure to check out their Eventbrite first to see which running-focused classes are available and open to the public.
Lectures and Seminars
If looking to learn something new or even sharpen a forgotten skill, you've come to the right place. Without spending a dime, you can listen to and engage with the brightest and most creative professionals in any field. While New York offers hundreds of readings, lectures and educational events daily, we've compiled some of the best that offer free or nearly free tickets frequently.
90. MetSpeaks
1000 Fifth Avenue, Upper East Side, Manhattan
The largest art museum in the United States provides free lectures through the MET Speaks program. Free lectures, which focus on current exhibitions, conservation projects, and the museum's collection, come with museum admission.
91. Brooklyn Brainery
190 Underhill Avenue, Prospect Heights, Brooklyn
Brooklyn Brainery offers cheap, crowdsourced educational classes on almost everything, from chemistry to embroidery. While most classes cost a few bucks, each month free events are offered, including free food history and science lectures.
92. The Cooper Union
30 Cooper Square, Noho, Manhattan
A historic NYC institution, Cooper Union, established in 1859, offers free lectures and book readings from well-known intellectuals and writers. Registration is usually required, so sign up early for every event.
93. Gotham Writer's Workshop
555 Eighth Avenue, Garment District, Manhattan
The Gotham Writer's Workshop is the largest adult-education writing club in the United States. The group provides a host of free classes and workshops for those interested in memoir writing, fiction, screening and everything in between, with no registration needed.

94. Teachers and Writers Collaborative
540 President Street, Gowanus, Brooklyn
The nonprofit offers programs for those looking to sharpen their writing skills, as well as become better at teaching writing as a subject. Educators, writers, and students can freely use its resource library and meeting space.

95. Secret Science Club
149 7th Street, Gowanus, Brooklyn
This not-so-secret science club gathers monthly at the Bell House for free lectures and experiments by professional scientists. Since the club meets at a bar, the events are 21 and over.
96. Three Lives & Company
154 West 10th Street, West Village, Manhattan
Considered one of the best bookstores in all of NYC, Three Lives, in addition to its rare collection, offers free public readings, which are always on a first-come, first-served basis.
97. Unnameable Books
600 Vanderbilt Avenue, Prospect Heights, Brooklyn
This mom-and-pop bookstore has free poetry readings, lectures and other literary events perfect for every Brooklyn bibliophile. It's open daily and operates later than most bookstores: 11 am to 11 pm.
98. New York & Brooklyn Public Libraries
All NYPL and BPL locations 
The next time you're checking out a book at your local library, check out the free events offered at every branch. From children's programs to arts and crafts for adults to language classes, the city's libraries may have everything you're looking for.
99. New York Society for Ethical Culture
2 West 64th Street, Upper West Side, Manhattan
The society focuses on ethics, not theology, to encourage respect for humanity and nature. Free lectures, social gatherings, and meet-up discussions are available at their 100-year old building frequently, with some costing as little as $10.
100. Park Slope Co-op
782 Union Street, Park Slope, Brooklyn
Founded in 1973, the co-op provides healthy, affordable produce for members. For non-members who hope to learn more about food and the community the co-op serves, free workshops, classes and events are available.
RELATED: