11 spots to watch the 4th of July fireworks in NYC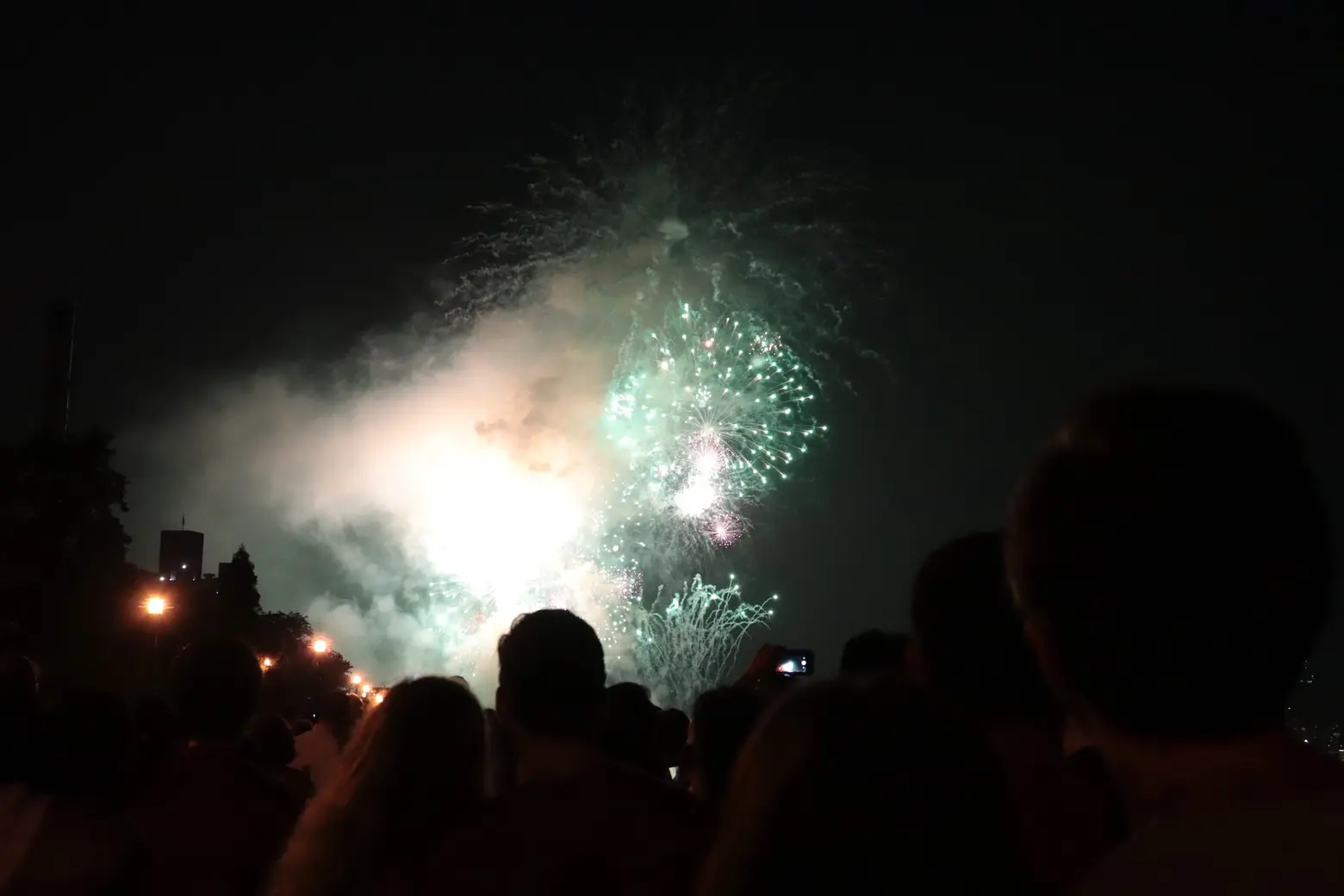 After most Fourth of July festivities were canceled or scaled-down in 2020 because of the pandemic, New Yorkers are more than ready to celebrate this year. With Macy's annual 4th of July Fireworks show taking over the East River and Jersey City's massive display sparkling over the Hudson River, there are plenty of places to take in the magic of pyrotechnics across New York City and the Jersey waterfront. To ring in Independence Day, we've rounded up the best places hosting firework viewing parties, from the highest observation deck in the Western Hemisphere to a cruise ship sailing around the Hudson River. In addition to these ticketed events, there are also several free public viewing locations, including elevated portions of FDR Drive in Manhattan.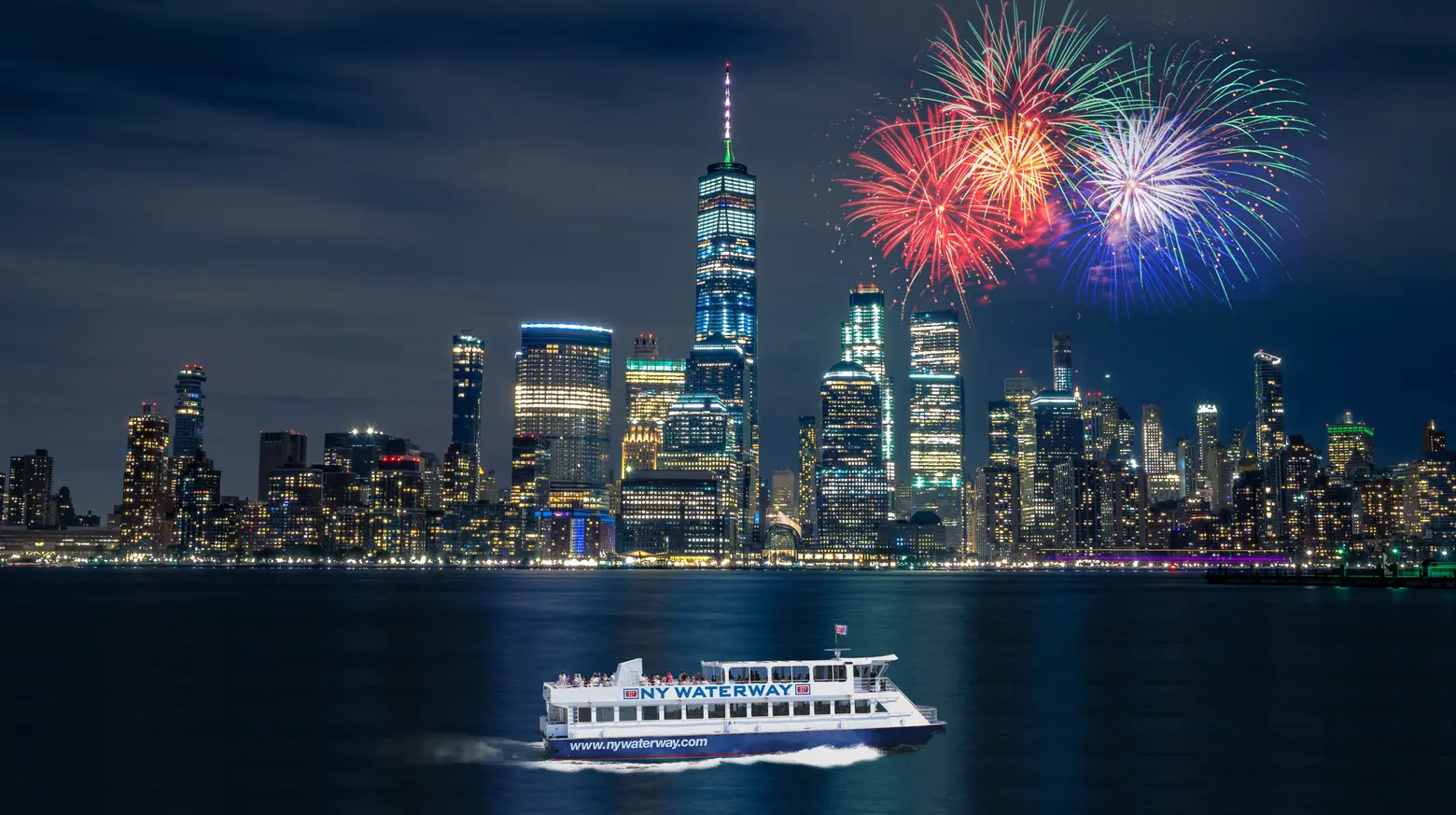 Photo courtesy of NY Waterway
4th of July Cruise New York Waterway
Departs from Port Imperial, Weehawken
While some Independence Day partygoers will climb New York City's tallest towers for firework gazing, there are a few opportunities to take in the sights from the water. NY Waterway's 4th of July cruises return this summer, offering food, beverages, and a DJ playing music synchronized to the firework display. There are two early evening cruise departures from the Port Imperial Ferry Terminal in Weehawken, NJ. Ticketholders hailing from New York City will receive a free round trip to Midtown. Tickets are priced at $165 for adults, $155 for seniors, and $125 for children aged 12 and under. Find more details here.
Harriet's Rooftop & Lounge
60 Furman Street, Brooklyn Heights
There's a reason Harriet's Rooftop & Lounge made it on our list of the best rooftop bars in New York. With picture-perfect views stretching from the Statue of Liberty to the Brooklyn Bridge, Harriet's is ideal if you're feeling celebratory. Located on the 10th-floor rooftop of 1 Hotel Brooklyn Bridge, the bar is hosting a viewing party for the Macy's show this July 4, with outdoor and indoor lounge seating available. Guests can enjoy seasonal bites and tasty cocktails, all against a backdrop that never ceases to amaze. For July 4 from 7 p.m. to 12 a.m., table reservations are available starting at $1,500 for groups of six. A pool lounge chair can be reserved for $500 per person. All tables and lounge chairs come with a bottle of Rosè.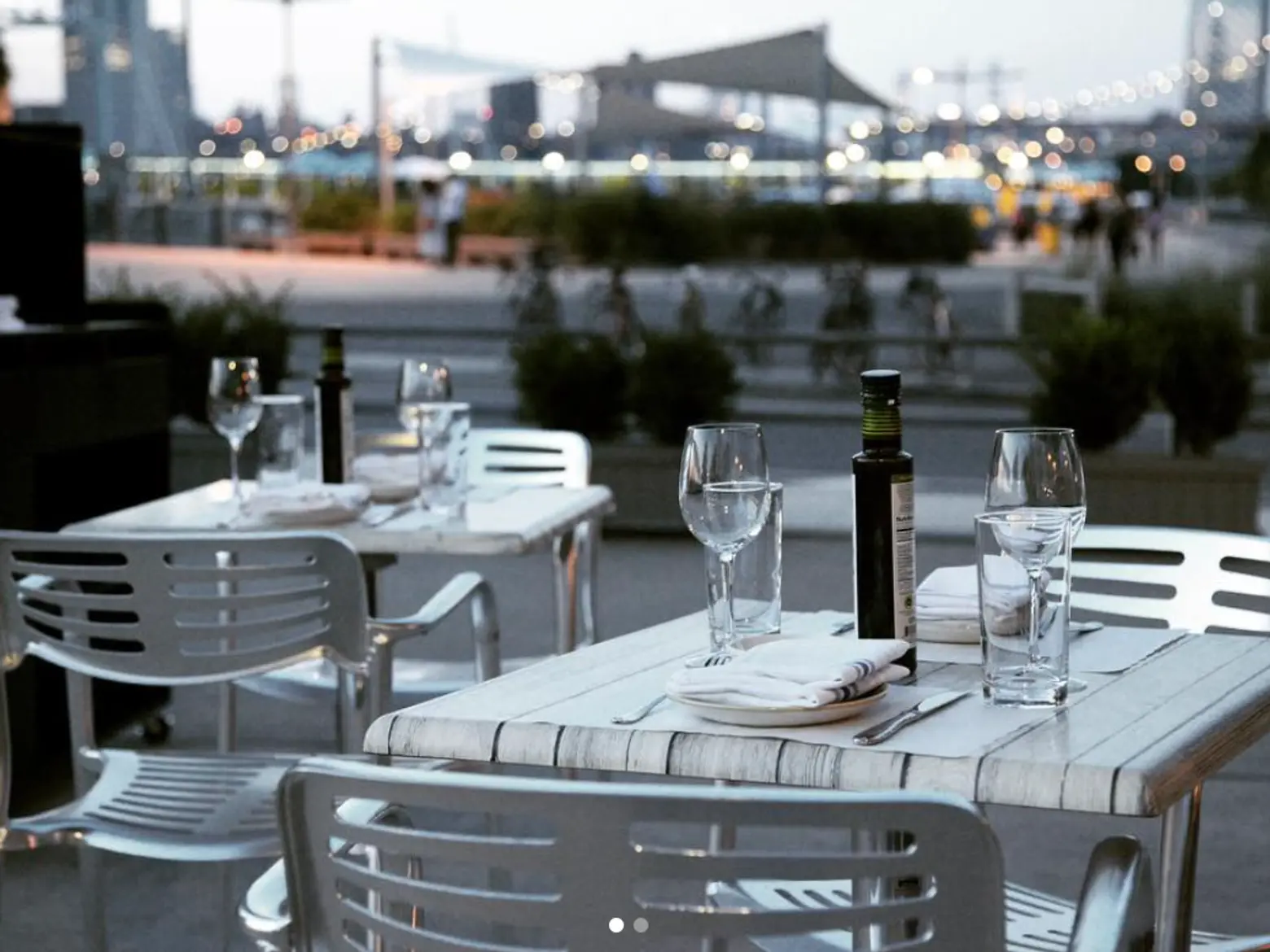 Photo courtesy of Estuary
Estuary at ONE°15 Brooklyn Marina
159 Bridge Park Drive, Brooklyn Heights
Located across from the waterfront and Brooklyn Bridge Park's Pier 5, Estuary at ONE°15 Brooklyn Marina provides nonobstructed views of the Manhattan skyline and the Macy's 4th of July fireworks show. Taking advantage of its prime location, Estuary is offering its outdoor patio for fireworks viewing, along with a special July 4 menu, including a raw bar. Tickets cost $150 per person and include an open bar until 10:30 p.m. with food offered a la carte. Book a reservation here.
The Williamsburg Hotel
96 Wythe Avenue, Williamsburg
The Williamsburg Hotel is pulling out all of the stops this 4th of July. Presented by Zero, the all-night affair includes a BBQ feast (with vegan options) and music by several artists. The party takes place on both the hotel's rooftop terrace and its water tower, a unique event space designed to resemble a classic New York City water tank. Tickets range from $175 for general admission to $3,500 for a rooftop table for 10 guests with bottle service. A water tower table for six guests costs $2,250. Book a table here.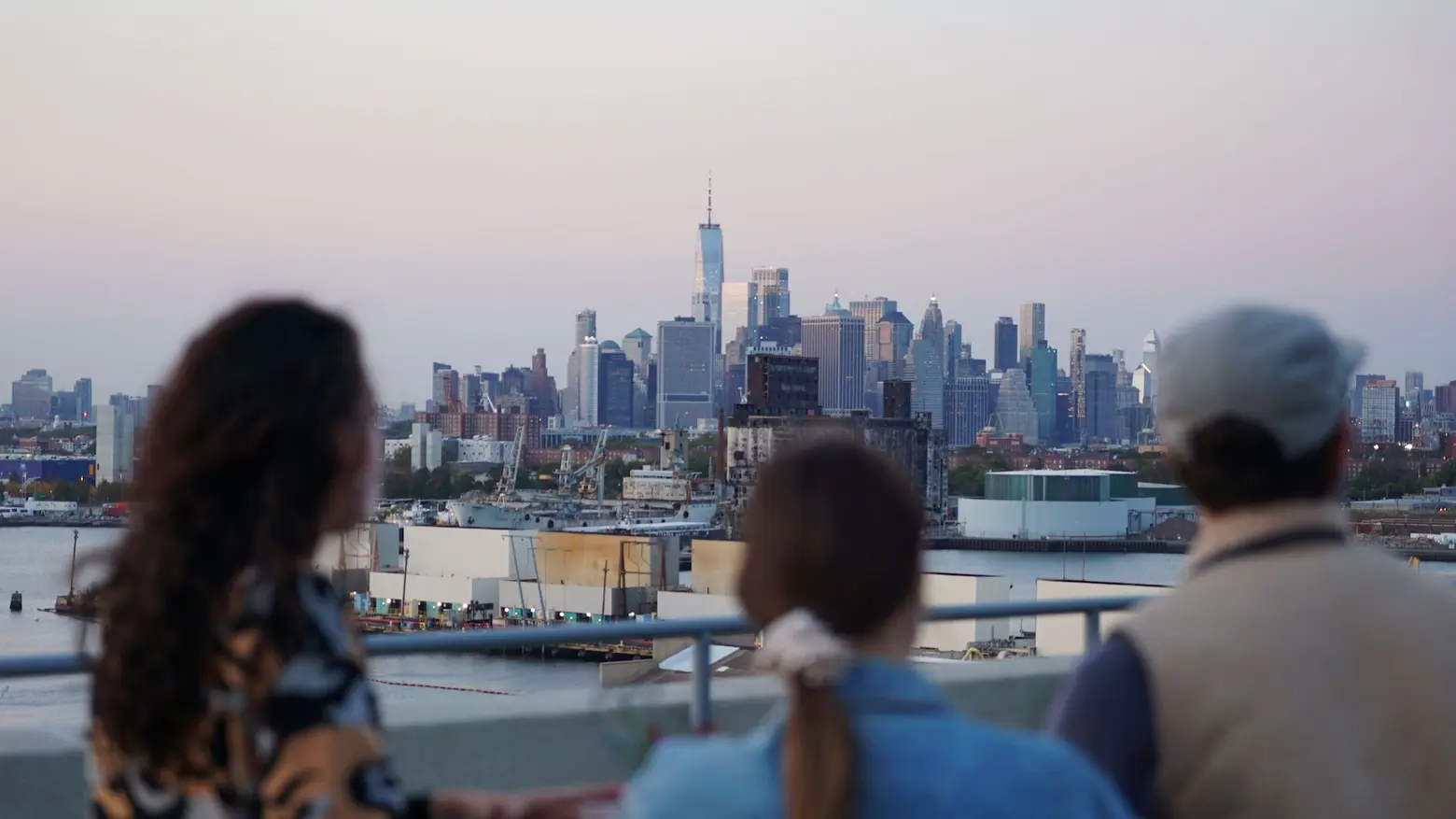 Brooklyn Grange, Sunset Park; Photo © Brooklyn Grange Rooftop Farm
Brooklyn Grange
850 Third Avenue, Sunset Park
For a more laid-back type of atmosphere, head to the Brooklyn Grange's Sunset Park location. The rooftop farm's event, called BBQ, Beers & Fireworks by 1:1 Foods at Brooklyn Grange, is a three-hour celebration featuring summertime eats, all-you-can-drink beer and wine, live music, face painting, and tarot readings. The event, which is 18+, runs from 7 p.m. to 10 p.m. and costs $150 per person. Find out more here.
La Tombola
2102 Riegelmann Boardwalk, Coney Island
Located in the historic Childs Restaurant buildings on the landmarked Riegelmann Boardwalk, La Tombola is a massive restaurant and bar overlooking the beach. The restaurant gives classic boardwalk bites an Italian upgrade, with a menu including everything from rice balls and pizza to seafood boils and fish and chips. During the 4th of July weekend, La Tombola is offering a three-hour buffet and live music on the restaurant's rooftop on July 2-5. Keep in mind, Coney Island's firework show is expected to start after Macy's at around 10 p.m. More details here.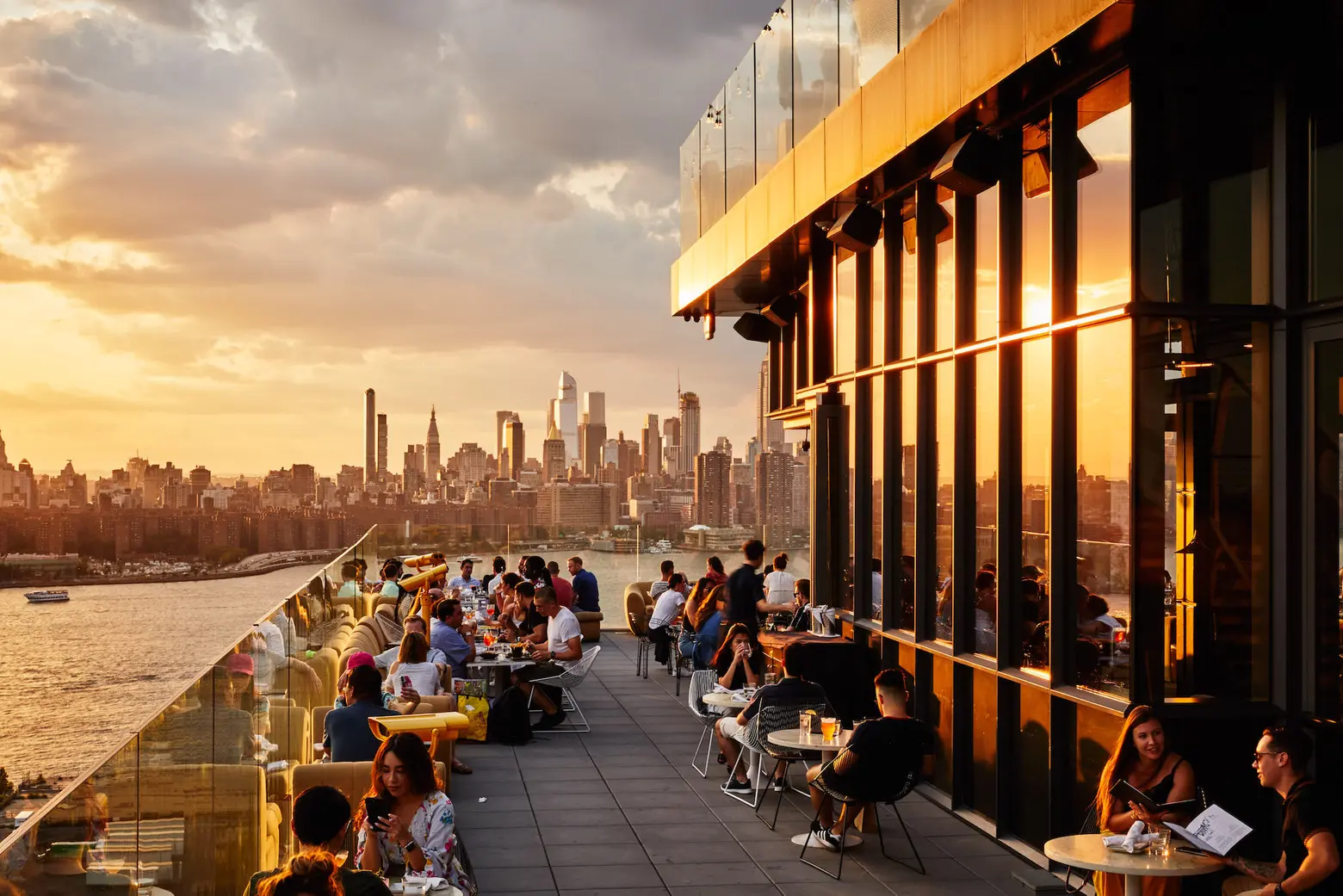 Photo credit: Noah Fecks, Dan Kocsis, Thais Aquino & Andrew Boyle
Westlight at The William Vale
111 North 12 Street, Williamsburg
Westlight, the 22nd-floor rooftop bar of The William Vale, boasts unparalleled skyline views, perfect for viewing East River fireworks. The hotel is holding two events, one on Saturday with live music, and a second on Sunday, with a set from DJ Tennis, Carlita, De Roos, and Old City. For the July 4 event, tickets for entry starting at 8 p.m. cost $150, which does not include a table or food and drinks. Tickets for a table reservation for Sunday range in price from $350 for two people to $2,500 for a group of 10. How great of a fireworks view depends on which table you reserve, so be sure to double-check when you book. Details here.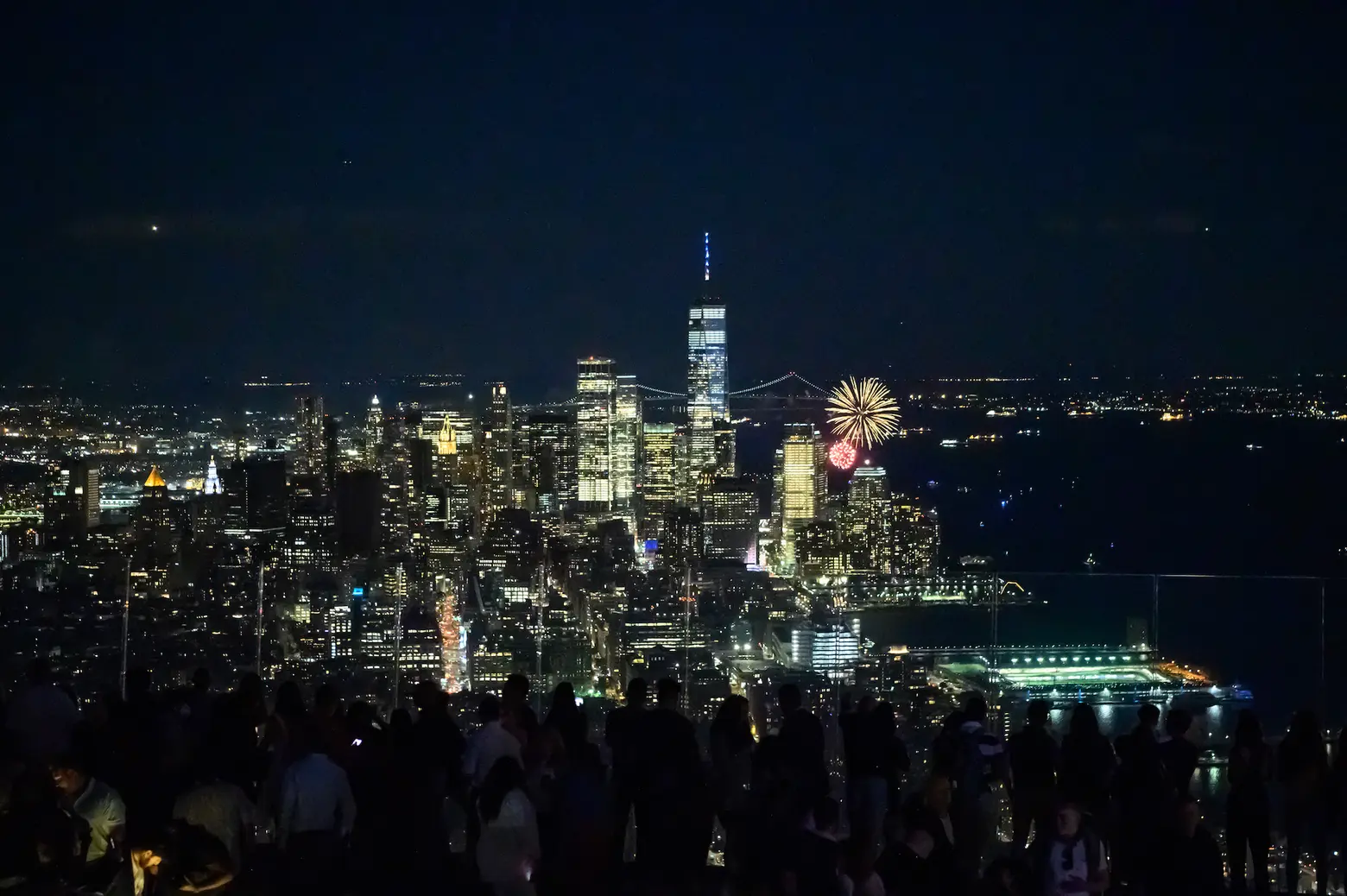 Photo courtesy of Edge NYC / Related Companies
Edge at Hudson Yards
30 Hudson Yards, Hudson Yards
Few places are better for a fireworks show than New York City's highest outdoor sky deck. Edge, the 1,100-foot-high observation deck at 30 Hudson Yards, is hosting a one-of-a-kind 4th of July celebration, providing visitors some of the best views of the displays in the area. For $250 per person, enjoy three glasses of champagne or sparkling tea, a personalized photo book, unlimited popcorn, and music from a string quartet made of members of The Met Orchestra. Tickets are limited and go on sale Monday, June 28 at 12 p.m. online here.
One World Observatory
117 West Street, Lower Manhattan
Another sky-high viewing party is happening at the event space at the One World Observatory. Hosted on the 102nd floor of One World Trade Center, the celebration includes a premium open bar from 8 p.m. to 11 p.m., unlimited American-inspired food options (think hot dogs, festival foods), and passed canapes and sweets. Priced at $350 per person, the event runs from 8 p.m. to 12 a.m. and all guests must be 21 and older and show proof of vaccination. Buy your tickets here.
Rooftop at Exchange Place
1 Exchange Place, Jersey City
The views at the Rooftop at Exchange Place are impressive year-round but are especially breathtaking on the 4th of July. Situated right on the Jersey City waterfront, the bar features two levels of outdoor space: the terrace and the rooftop. For $125, dinner on the terrace comes with a three-course pre-fixe and a glass of wine or champagne. Rooftop views (and an open bar) will cost $150 for general admission, with $200 for VIP seating, and $250 for totally unobstructed views.
50 Star Fireworks
Exchange Place at Montgomery & Hudson, Jersey City
After a pause on the show last year, New Jersey's largest fireworks display returns to the Jersey City waterfront this July 4. Launching from two barges in the Hudson River, the fireworks will be put on by Grucci, a family-owned company that created displays for eight presidential inaugurations, the Olympics, and holds the Guinness World Record for "largest fireworks display" ever recorded. Although this year's 50 Star Fireworks event won't include concerts headlined by big-name stars (previous musicians have included Pitbull and Akon), visitors can enjoy the Jersey City Night Market, a tasty open-air food market, as well as artisan crafts, music, and of course, a free front-row seat to the fireworks display.
RELATED: