Macy's 4th of July fireworks show returns to the East River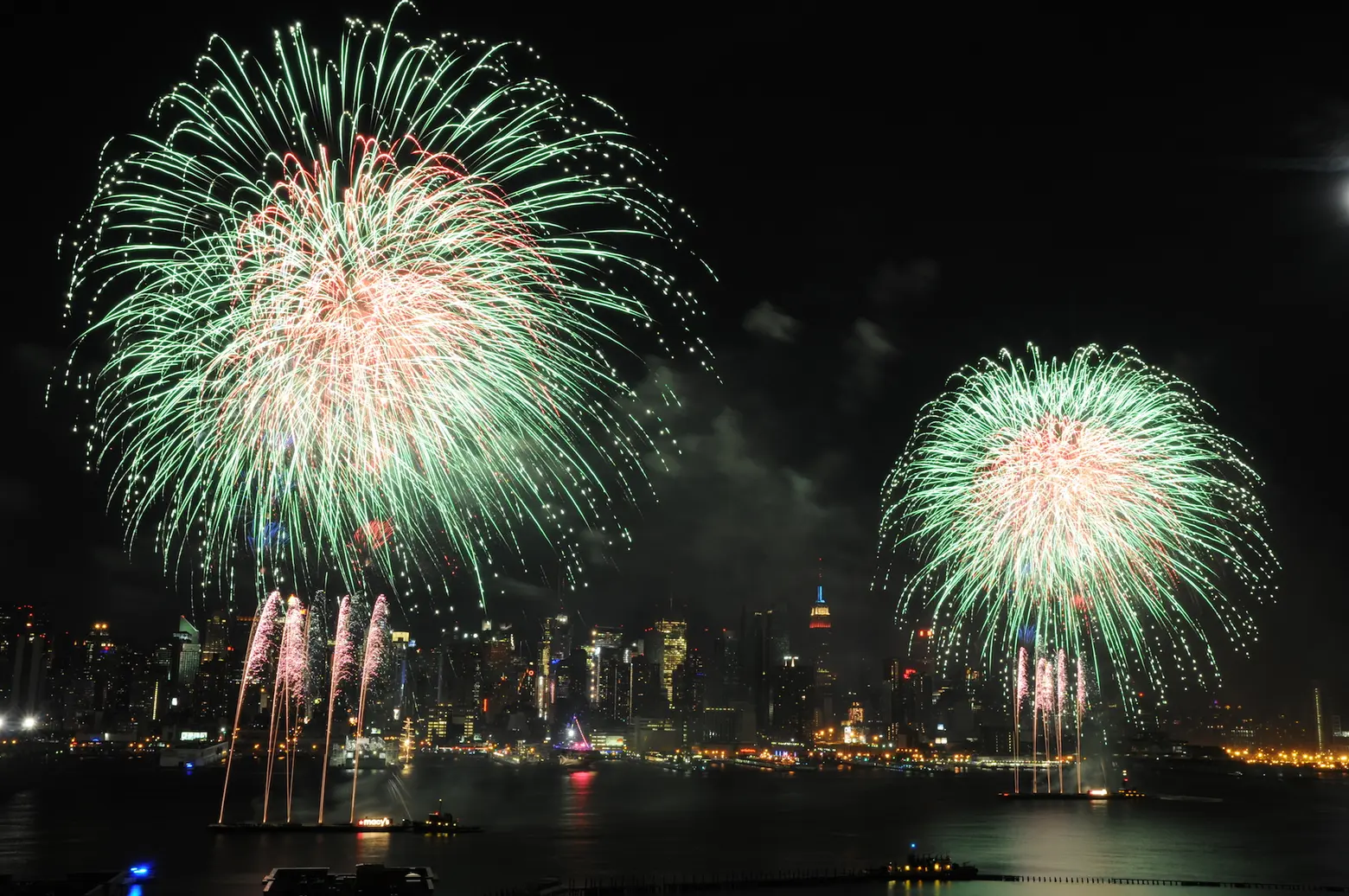 After a downsized celebration last year because of the pandemic, the Macy's annual 4th of July Fireworks show is "back and literally better than ever," Mayor Bill de Blasio announced on Thursday. As part of the biggest Independence Day celebration in the country, Macy's will launch more than 65,000 shells and effects from five barges positioned on the East River in Midtown.
"New Yorkers have worked hard to fight back COVID-19 and build a recovery for all of us," de Blasio said. "This summer, we can't wait to reconnect with the iconic events that make our city great. These fireworks make us all proud to be New Yorkers and Americans, and I'm looking forward to a joyful and safe viewing this year."
The fireworks display kicks off at roughly 9:25 p.m. on Sunday, July 4. Public viewing locations will open to fully vaccinated spectators on elevated portions of FDR Drive in Manhattan with entry points at East 23rd, East 34th, and East 42nd Streets.
For non-vaccinated viewers, a public viewing location will be available along the Queens, Brooklyn, and Manhattan waterfronts. All viewing locations will be managed by the NYPD.
Designed and produced by Macy's with Pyro Spectaculars by Souza, the 45th rendition of the show will feature shells and effects in a variety of colors and shapes including "eclipsing fans, triple linking rainbows, blue jellyfish with crackling tentacles and red, white and blue waterfalls, creating dramatic effects a mile across the river and from 1,000 feet in the air to the water's edge," according to a press release.
A patriotic musical score will accompany the fireworks with classics such as "The Star-Spangled Banner" and "America the Beautiful," featuring guest performances from The United States Army Field Band & Soldiers' Chorus and a performance of "Lift Every Voice and Sing" by Broadway Inspirational Voices.
A national broadcast of the celebration will play on NBC starting at 8 p.m. and include performances by musicians like Black Pumas, Coldplay, OneRepublic, Reba McEntire, and others.
"As America commemorates Independence Day, we are thrilled to join the celebration with a spectacular Macy's 4th of July Fireworks display honoring the heroic spirit of our nation," Will Coss, executive producer of Macy's 4th of July Fireworks, said in a press release. "Live from New York City, five barges positioned on the East River will launch an epic celebration that will inspire a renewed sense of hope and optimism among our fellow New Yorkers and viewers nationwide."
And following the Macy's show, another fireworks display will launch at Coney Island around 10 p.m. Earlier in the day, Nathan's Famous International Hot Dog-Eating Contest will take place, with free ticketed admissions available on a first-come, first-served basis.
In response to the pandemic and to discourage crowds from gathering, last year's show included five-minute bursts of fireworks throughout the five boroughs from June 29 through July 1, culminating in a finale on Saturday, July 4.
RELATED: