Track the progress of NYC snow plows with this interactive map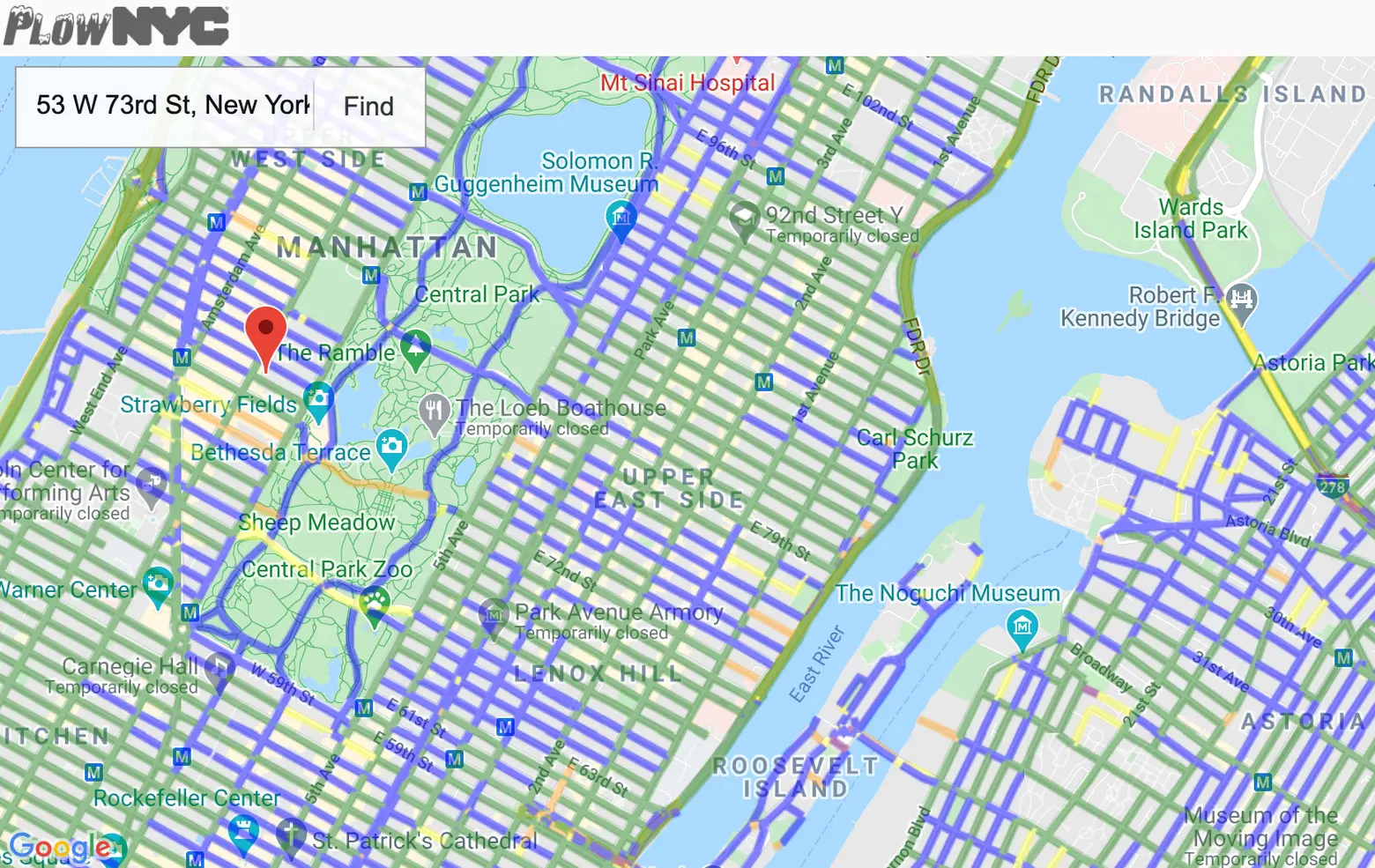 Gov. Andrew Cuomo declared on Monday a state of emergency for New York City and much of the state as Winter Storm Orlena continues to hit the area with heavy snowfall, over 50 mph winds, and white-out conditions. While many New Yorkers are already working from home, essential workers still have to get to work. With the city expected to get 16-22 inches of snow, the Department of Sanitation has updated its interactive PlowNYC map to see if and when your street has been plowed and salted.
Updated every fifteen minutes, the map displays every borough and color-codes streets by its snow removal designation (critical, sector, haulster, and non-DSNY), as well as the snow vehicle activity on each street. Most recently plowed streets are colored green, followed by blue, yellow, and orange. Users can enter their address to view their block and zoom in to see specific streets.
A state of emergency is in effect for New York City.

• Heavy snow and strong wind gusts could bring up to 22 inches of snow
• In-person learning is cancelled for today and tomorrow
• Alternate Side Parking is suspended through Saturday
• Nonessential travel is restricted

— Mayor Bill de Blasio (@NYCMayor) February 1, 2021
An unfortunate outcome of the winter storm is that all COVID vaccine appointments at city sites have been cancelled today and tomorrow. As for public transportation, all above-ground subway lines will suspend service at 2pm today. Sarah Feinberg, president of the New York City Transit Authority, said it's likely that some bus service will be suspended as conditions worsen. Rick Cotton, executive director of the Port Authority of New York and New Jersey, announced that all PATH service will be suspended as of 3pm today. Likewise, the last Metro-North train will run around 3pm today. All of the transit agencies will be updating their websites with more information.
RELATED: