9 of 10 New York regions have met reopening metrics, NYC still waiting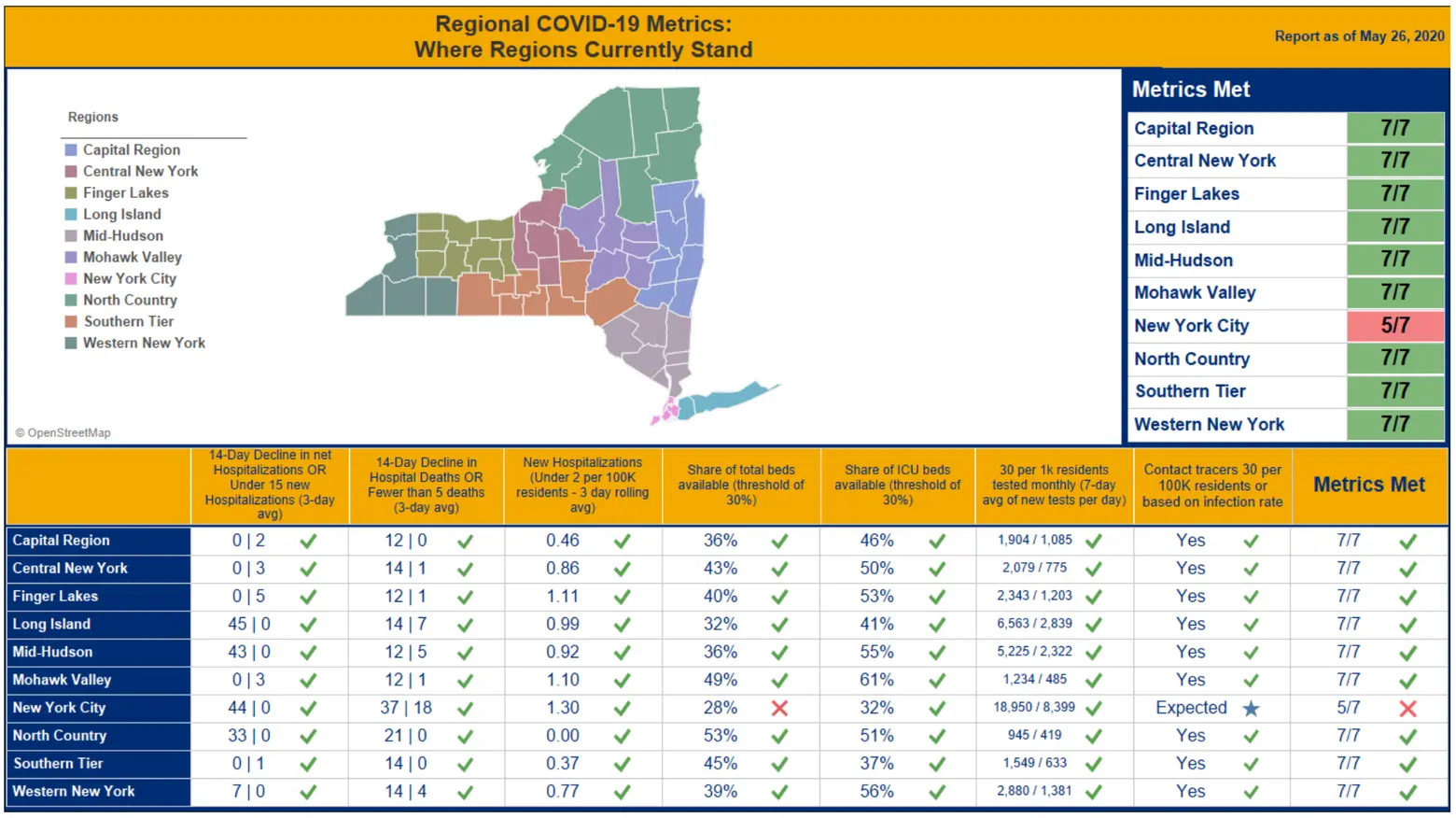 After the New York PAUSE order was put into effect on March 22, all but one of the state's 10 regions have met the metrics to start phase one of reopening since it expired on Friday, May 15. As outlined on an interactive dashboard that monitors regional status, New York City is the only region not to have hit this benchmark. The city has not reached a 30 percent threshold of the share of total hospital beds available and has not gotten its contact tracing program up to the required level. As 6sqft reported, phase one allows construction, manufacturing, agriculture, forestry, fishing, and select retail that can offer curbside pickup to reopen.
The governor previously divided the state into 10 regions for the purpose of reopening. To do so, a region must meet seven metrics:
14-day decline in hospitalizations OR under 15 new hospitalizations (3-day average)
14-day decline in hospitalized deaths OR under 5 new (3-day average)
New hospitalizations — under 2 per 100,000 residents (3-day rolling average)
Share of total beds available (threshold of 30%)
Share of ICU beds available (threshold of 30%)
30 per 1,000 residents tested monthly (7-day average of new tests per day)
30 contact tracers per 100,000 residents or to meet current infection rate.
All of these metrics can be tracked daily in the State's new Regional Monitoring Dashboard. For any region nearing a reopening, they must prepare themselves in coordination amongst local officials to have their testing/tracing in place, monitor the infection rate with hospitals on a day-to-day or even hour-to-hour basis, ensure businesses are in compliance, and be in constant communication with local governments.
There is also what the governor is calling the "regional control room," a command center for a given region made up of the top government, academic, and healthcare professionals. This is where the spread can be monitored in real-time and changes to the activity levels can be made. (You can see the members of each regional control room here.) "Nobody wants to go back to the other side of the mountain," said the governor. All of this is being guided by the State's NY Forward Reopening Guide (PDF).
As was previously outlined, phase two includes professional services, finance and insurance, retail, administrative support, and real estate/rental leasing. The third phase brings back restaurants and food services, as well as hotels and accommodations. The fourth and final phase will see the reopening of arts, entertainment, recreation, and education.
The question of when New York City will reopen is, of course, at the forefront. For the past several weeks, the city has remained stagnant in only having checked five of the seven boxes. Those that NYC has not met are share of total beds available (they're at 28% when they need to be at 30%) and do not yet have their contact tracing program up to the necessary ratio of 30 tracers per 100,000 residents.
Mayor de Blasio has maintained that it likely won't be until mid-June that some non-essential businesses will begin to reopen. Earlier in the month, he announced that the city was actively hiring more than 2,500 contract tracers. In his press conference yesterday, he said that more than 1,700 tracers are ready to begin work next week on June 1. This group will be split into two categories–938 case investigators, who will follow up with those who've tested positive for COVID and then call their contact lists, and 770 monitors, who will provide more hands-on assistance in the form of delivering food and setting people up with isolation rooms in hotels.
Roughly 43 percent of both contact tracing groups are working in the city's hardest-hit communities. To that end, last week, the state released data on preliminary antibody test results that showed lower-income communities and communities of color were affected by COVID at a higher rate than the city overall: 27 percent tested positive for COVID-19 antibodies, compared to the city's overall antibody rate of 19.9 percent. For example, the Morrisania section of the Bronx has a 43 percent positive rate, and Flatbush, Brooklyn is at 45 percent.
Today, the mayor shared the following statistics from that are the city's key indicators:
People admitted to hospitals for suspected COVID-19 was at 59 (the goal is to stay under 200)
People currently in ICUs for suspected COVID-19 was at 421 (the goal is to get under 375)
Percentage of people tested who are positive for COVID-19 was down to 6%, the lowest yet (the threshold is 15%)
The city is currently conducting 27,000 tests per day. "The more New Yorkers we're reaching, the better picture we're getting of what's happening in New York City, the fewer people we're finding test positive as a percentage. That's a great sign for the future of the city," said Mayor de Blasio.
Neighboring states New Jersey and Connecticut began their reopenings last week. As of Monday, May 18, New Jersey allowed the restart of non-essential construction, non-essential retail stores to reopen for curbside pickup only, and drive-through and drive-in events to operate under social distancing guideline. As of May 20, Connecticut started to allow restaurants, offices, hair salons, museums, and retail stores to open, but they must follow strict guidelines.
"We are starting a new chapter in the fight against this virus – we've worked together as a state to flatten the curve and the decline has finally reached a point where it is just about where we started this journey, so now we can turn to reopening," Governor Cuomo said earlier this month.
Editor's Note: This story was originally published on May 11, 2020, and has been updated.
RELATED: