The History of Bowery Bay Beach, the 'Coney Island of Queens'
This past holiday weekend, New Yorkers flocked to Coney Island for the annual Nathan's Hot Dog Eating Contest, the fireworks display, and to enjoy the beach and boardwalk. For some, though, traveling all the way out to the end of Brooklyn with beach chairs and coolers is daunting, which is why it's sad to learn that back in the 19th century, there was another amusement destination in the city, at the site of present-day LaGuardia Airport.
Bowery Bay Beach (later named North Beach) opened in 1886 on the shores of Bowery and Flushing Bays. Built by noted piano manufacturer William Steinway in partnership with brewer George Ehret, it included beaches, swimming pavilions, a huge beer hall, zoo, and the Gala Amusement Park. At one time it was more popular than the parks in Brooklyn, earning it the moniker "the Coney Island of Queens."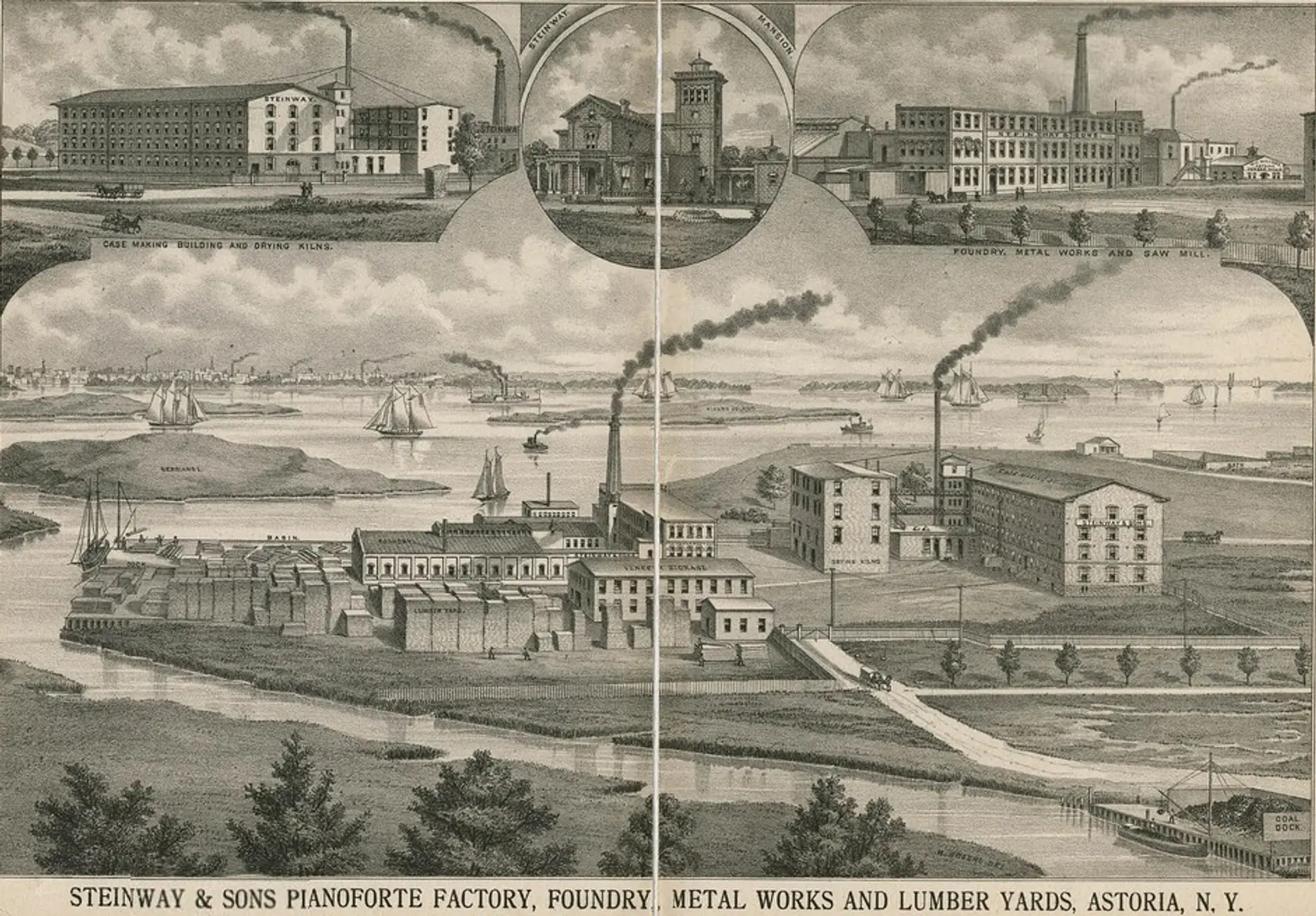 Steinway & Sons piano factory in 1875, via Queens Borough Public Library
William Steinway was the son of Henry Steinway, who founded Steinway & Sons in 1853. William would become head of the American and German piano manufacturing firm in 1889, but he worked with his father from the beginning. In 1870, he started developing a company town known as Steinway Village. It was located on 400 acres in present-day northern Astoria. It was here that he built the Steinway Piano Factory (still in existence today), and he surrounded it with worker housing, a church, library, and public trolley.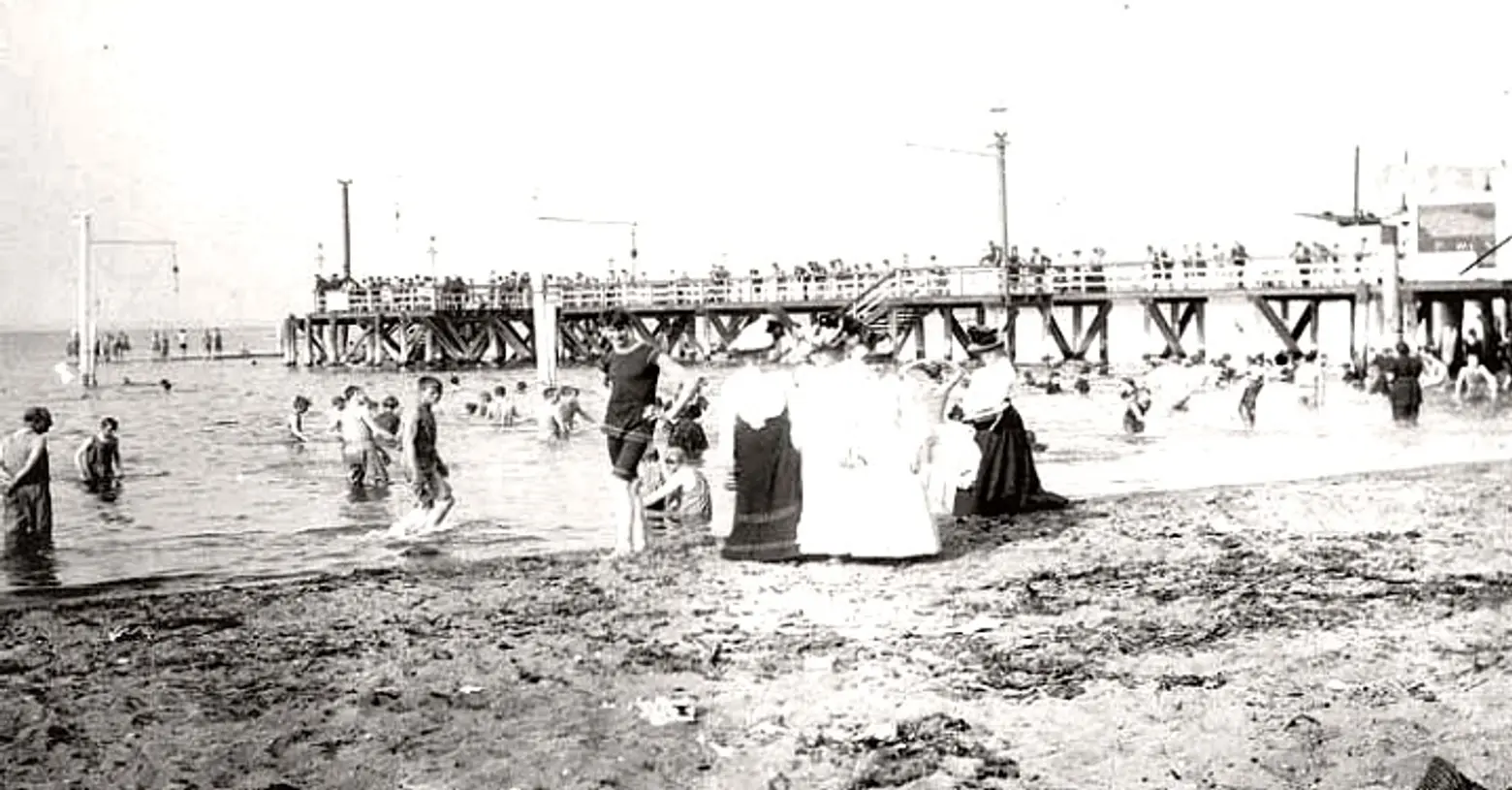 Bowery Bay Beach in 1894, via the Greater Astoria Historical Society
In 1886, William and George Ehret, a fellow German immigrant who had opened the Hell Gate Brewery in 1866 across the East River in Yorkville, decided to create a beach recreation area nearby where Steinway's employees could go for entertainment that included a large beer garden. It was also open to the public, as Steinway hoped other working-class visitors from Manhattan would travel on his streetcars, trolleys, and ferries.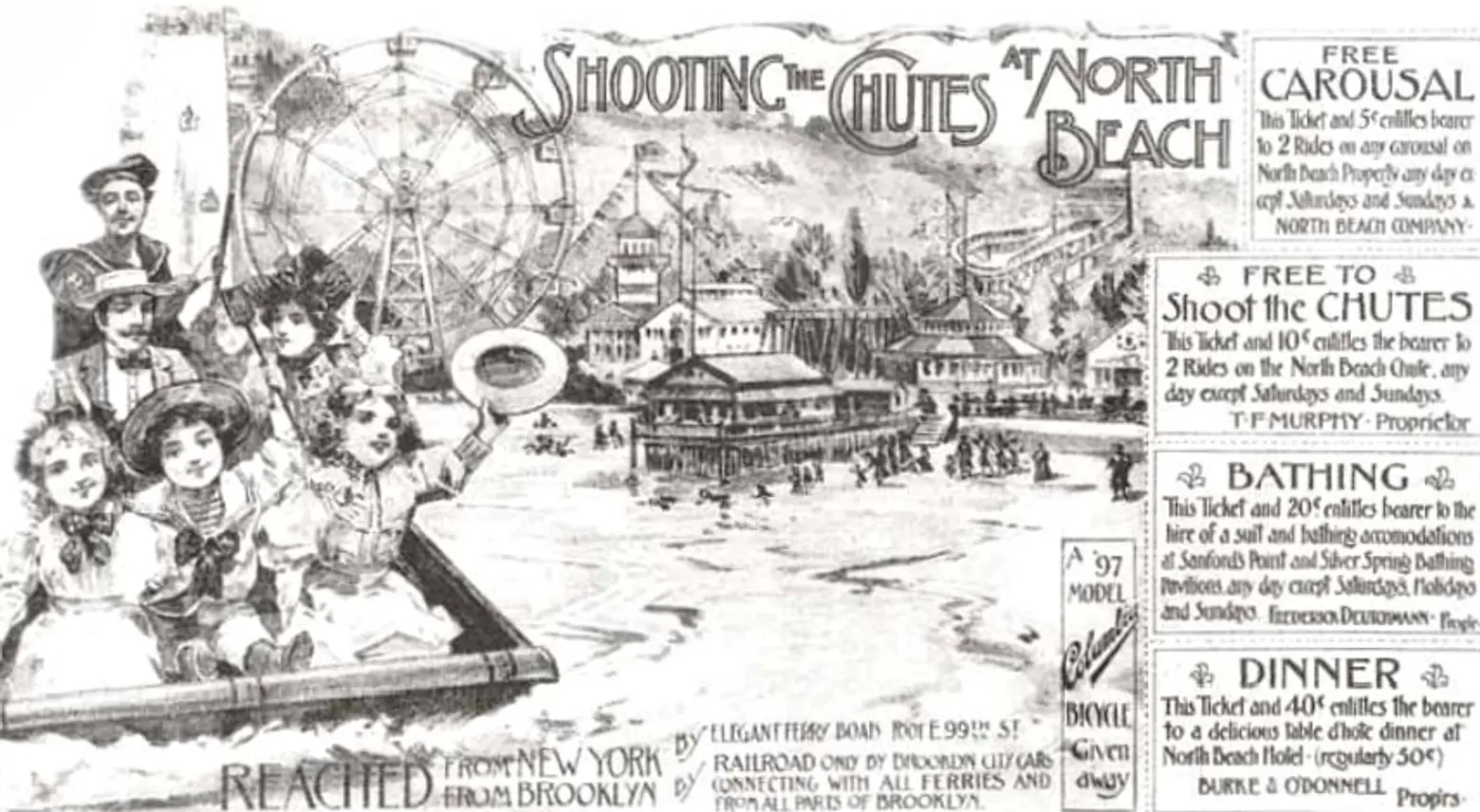 An 1897 ad, via Greater Astoria Historical Society
When it opened, Bowery Bay Beach had a large bathing pavilion, a boathouse and dock, picnic areas, and restaurants. It would expand to include grand hotels, the east coast's first Ferris wheel, carousels and other rides at the Gala Amusement Park, hot air ballons, a small zoo, movie houses, and various stage and theater acts. There were fireworks displays, shooting contests, boat races, vaudeville shows, and high wire acts. In its hey day (1895-1915), 10,000 visitors were showing up each Sunday and it became known as North Beach (to distinguish it from Manhattan's Bowery). During the day it remained a wholesome family retreat, but at night it was the hot spot for young singles to drink beer, dance, and mingle with each other.

Aerial view of Glenn Curtis Airport in 1932, via MCNY
But after Prohibition, the dance halls and saloons closed, bankrupting the development. Around this same time, both the Flushing River and East River had become so polluted that the sand on the beaches turned oily and muddy and swimmers had to stay out of the water because of untreated sewage. North Beach became unpopular, and by the late 1920s, part of Bowery Bay was filled in to make runways for Glenn Curtiss Airport. It had completely disappeared in the next decade, replaced by LaGuardia Airport.
RELATED: