The best places to live in Westchester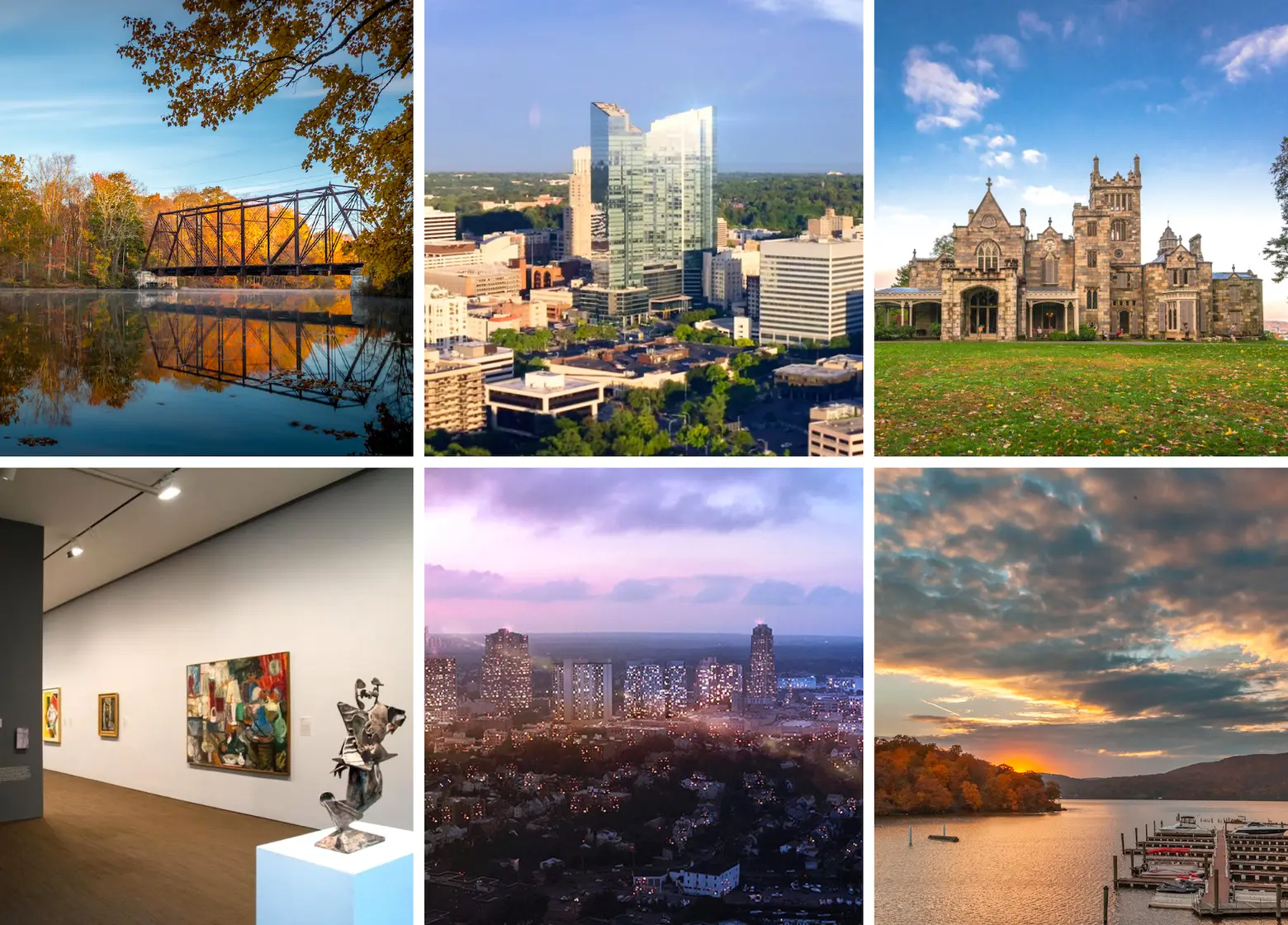 Moving to the suburbs after growing out of a New York City apartment is not a new phenomenon. But after many New Yorkers spent the early days of the coronavirus pandemic cooped up inside small spaces, trading in city life for country living has become more attractive than ever. Westchester County continues to draw new residents with its affordable and spacious homes, access to nature, proximity to Manhattan, and abundant public transit options. But with six cities, 19 towns, and 20 villages, choosing where to live in Westchester can be daunting. Whether you're looking for walkable urban areas with a reputable school system, artsy towns with waterfront access, or rural villages with more horses than people, there's a home for you in this diverse county.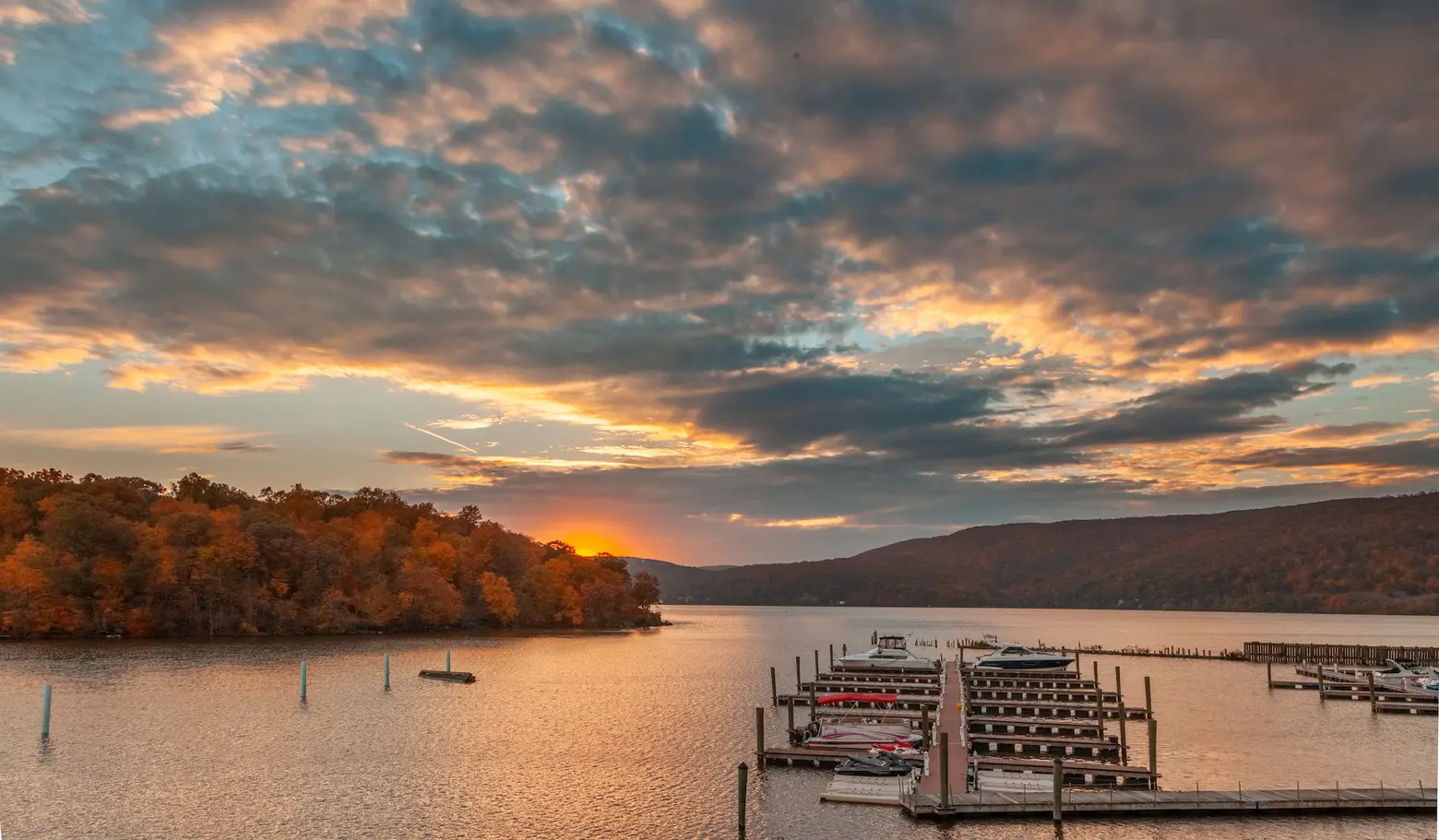 Sunset from Fin & Brew in Peekskill. Photo credit: Westchester Tourism & Film
Peekskill
A waterfront city with Revolutionary roots and an established art scene, historic Peekskill mixes the best of urban and country living. About 40 miles north of New York City, the Westchester community of roughly 24,000 residents served as a strategic region during the American Revolution and George Washington set up headquarters at the Birdsall House, where Benedict Arnold was given command of West Point. Due to its riverfront location, the city later became an important manufacturing center.
Peekskill has transformed once again into a residential community with a bustling downtown and space for artists. Beginning nearly three decades ago, the city created an Artist's District with affordable live-work homes to attract creative talent while revitalizing the area. A number of art galleries and museums surround Main Street, including the Hudson Valley Center for the Contemporary Arts and the Peekskill Museum. With its abundance of nature and recreation spots (Anthony's Nose, Riverfront Green Park), its solid restaurant and bar scene (Peekskill Brewery, Taco Dive Bar, Peekskill Coffee House), affordable housing options (a $286,200 median home value), and proximity to the NYC (an hour Metro-North ride to Grand Central), Peekskill packs a lot into just five square miles.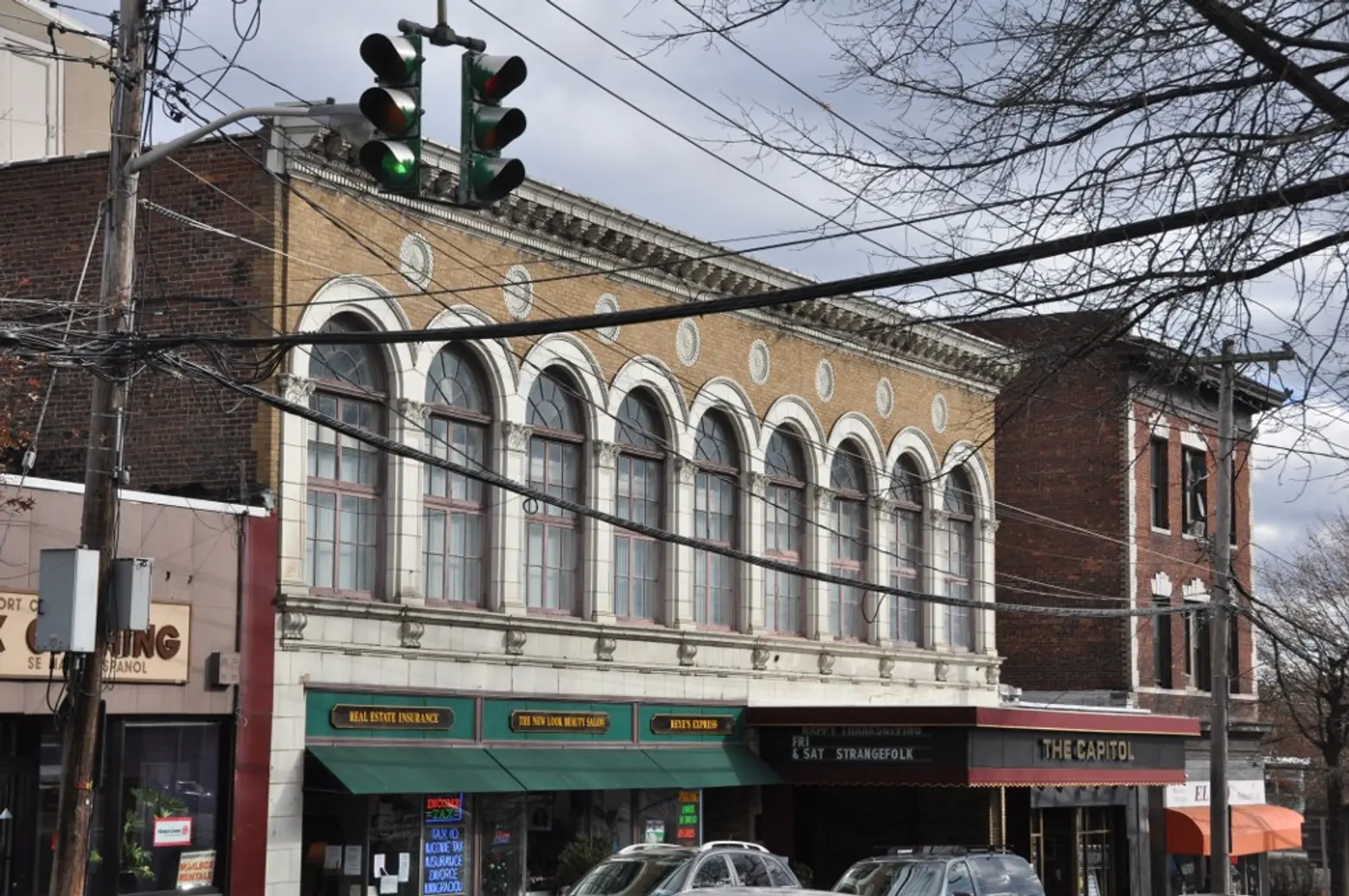 The Capitol Theatre in Port Chester, photo by User:Magicpiano via Wikimedia Commons
Port Chester
Once an industrial community of boat-builders and fishermen, Port Chester is now seen as the restaurant and entertainment capital of the county. Anchored by the historic and recently reopened Capitol Theatre, the waterfront village kicked off a reactivation of its downtown at the turn of the 21st century, which has brought new residential buildings and exciting dining options, like Argana Restaurant & Bar, Sonora Restaurant, Kneaded Bread, Rye House, and many others. Other highlights of this community include its landmarked post office, six parks, and high-ranked public schools.
Just under 30,000 residents call charming Port Chester home, residing in a mix of multi-family homes, single-family colonials, Tudors, and ranches, as the New York Times reported. According to the Westchester County Office of Economic Development, the median house value is $445,200.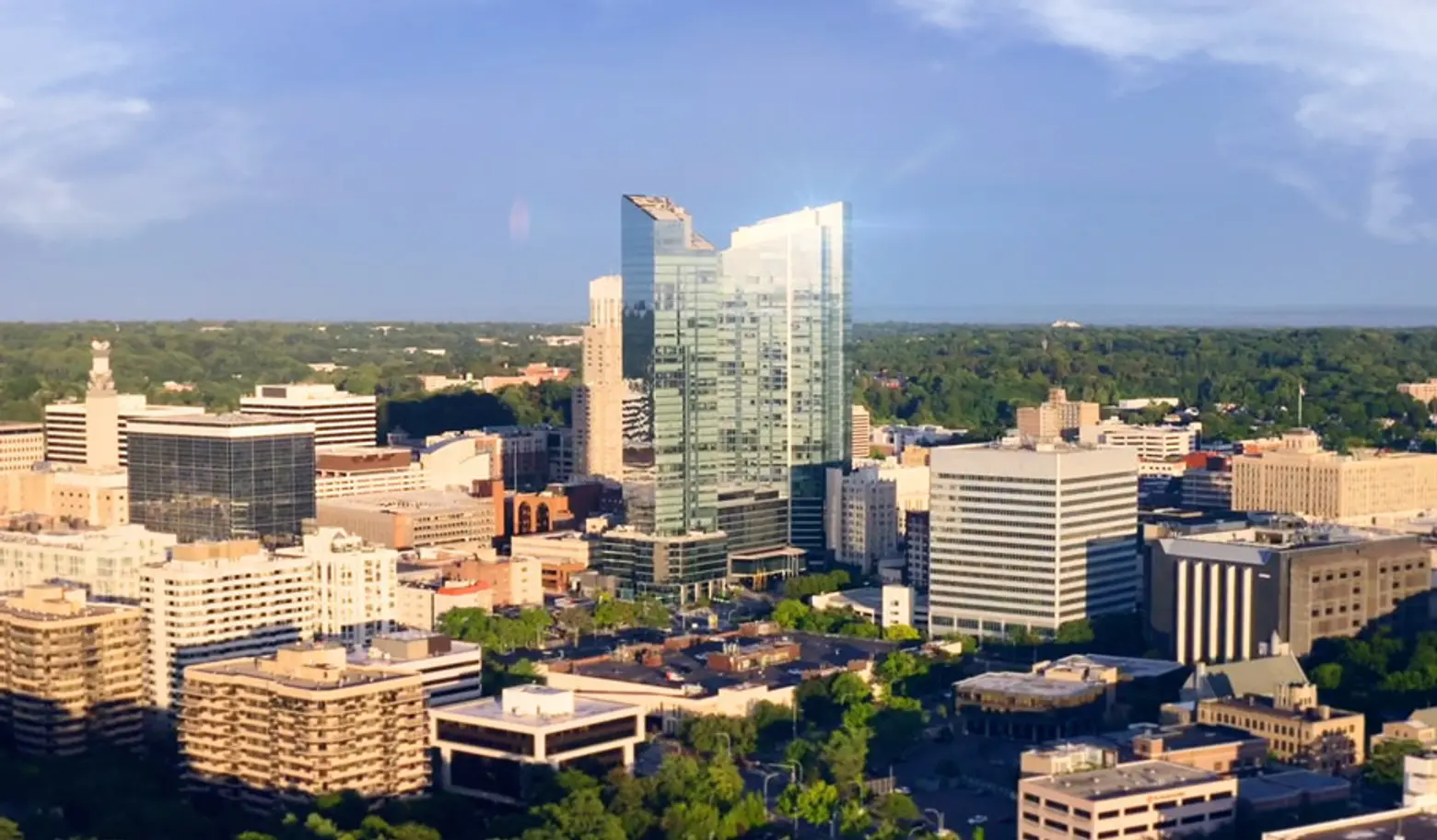 Photo of White Plains; Photo credit: Westchester County Office of Economic Development
White Plains
A walkable, dense suburban city, White Plains offers the convenient lifestyle of NYC without the exorbitant price tag. Serving as the county seat, White Plains is home to a number of federal and state offices, the headquarters of Heineken USA and Reader's Digest, and is considered the commercial center of Westchester. While the city has long-boasted a healthy business hub, its housing stock has grown quickly over the years, with a new focus on downtown living, especially near the two Metro-North train stations. Last year, the city unveiled a plan to bring three mixed-use developments that would create roughly 1,800 units of housing to the new transit district zone. Overall, there are over 3,000 units of residential housing built or currently in the approval process in the downtown region. Across its single-family homes and new high-rise condo buildings, the median home or condo value in White Plains is $520,100.
While its proximity to the Bronx and Manhattan is a definite perk of the mid-sized city, White Plains has plenty of cultural activities, fine dining, shopping, and historic sites of its own. Find the White Plains Performing Arts Center, the Westchester Philharmonic, the NBA minor league team the Westchester Knicks, and historic sites like the Elijah Miller House, the Percy Grainger Home, and the Battle of White Plains Park. Making it even easier and more eco-friendly to get around, the city has installed 4.3 miles of designated bike lanes.
Mount Vernon
Here's another Westchester city with a George Washington connection. Bordering the Bronx, Mount Vernon, named after the first president's Virginia plantation, is one of the state's most populous cities with over 68,000 residents. Homes are affordable by New York standards, with a median value of $355,600, and access to the Bronx and Manhattan is easy, with the 2 subway train at 241st Street just outside its borders. Long called the "city of homes" for its bedroom community status, Mount Vernon has an older housing stock but a number of corridors have seen new construction in recent years. The western end of the city that borders Yonkers has seen a rise in new development, including 42 Broad Street, a 249-unit tower and 22 South West Street, a 189-unit mixed-use project, both near train stations.
One of the biggest perks of living in Mount Vernon is its proximity to the Big Apple, all while offering more spacious, affordable homes. NYC parks like Van Cortlandt Park and Wave Hill are a short drive away, with the New York Botanical Garden and the Bronx Zoo just slightly further. Inside Mount Vernon, Saint Paul's Church is one of the oldest churches in the state as the original parish was founded in 1665. The present stone and brick structure at the site was constructed in 1763 and became a field hospital during the Revolutionary War. It was designated a National Historic Site in 1943.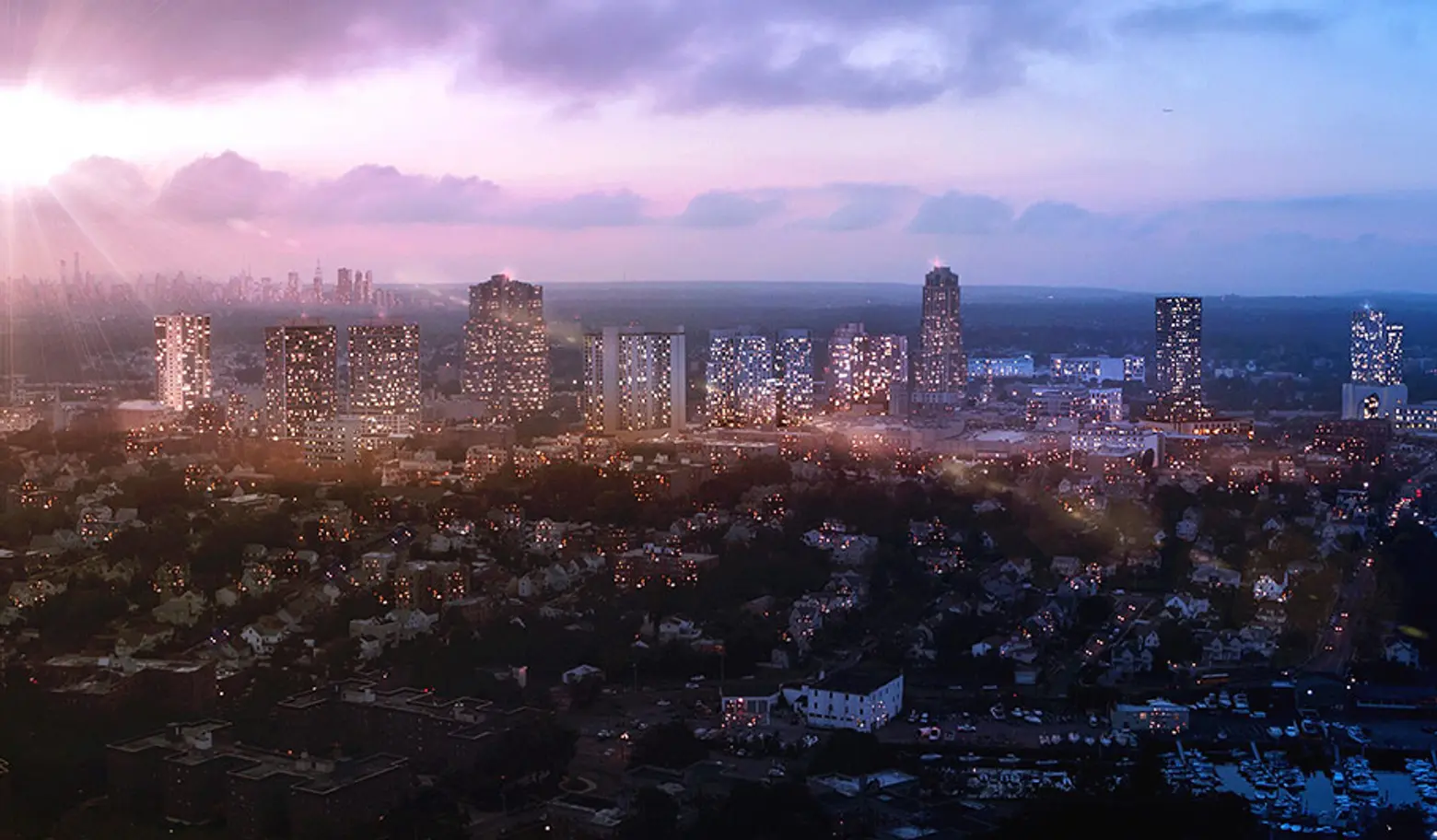 Photo of New Rochelle; Photo credit: Westchester County Office of Economic Development
New Rochelle
Another city in Westchester is undergoing a revitalization, with a flurry of new modern residential, retail, and office developments planned for downtown New Rochelle. Located along the Long Island Sound and home to roughly 80,000 residents, the "city outside of the city" is just 30 minutes to Grand Central Terminal on Metro-North. While downtown is bustling, New Rochelle also offers a diverse collection of suburban neighborhoods, home to older Colonial and Victorians, split-level ranches, and high-rise rentals. The median home value in New Rochelle is $523,000.
Despite its urban center, the city is still home to over nine miles of coastline and over 300 acres of parkland, two public beaches, Glen Island Park and Hudson Park, hiking and walking paths at a number of nature preserves, including Ward Acres and the Davenport Neck Bird Sanctuary. It's easy to get your culture and entertainment fix in New Rochelle, from the Museum of Arts and Culture and the Castle Gallery to New Roc City and the New Rochelle Council on the Arts.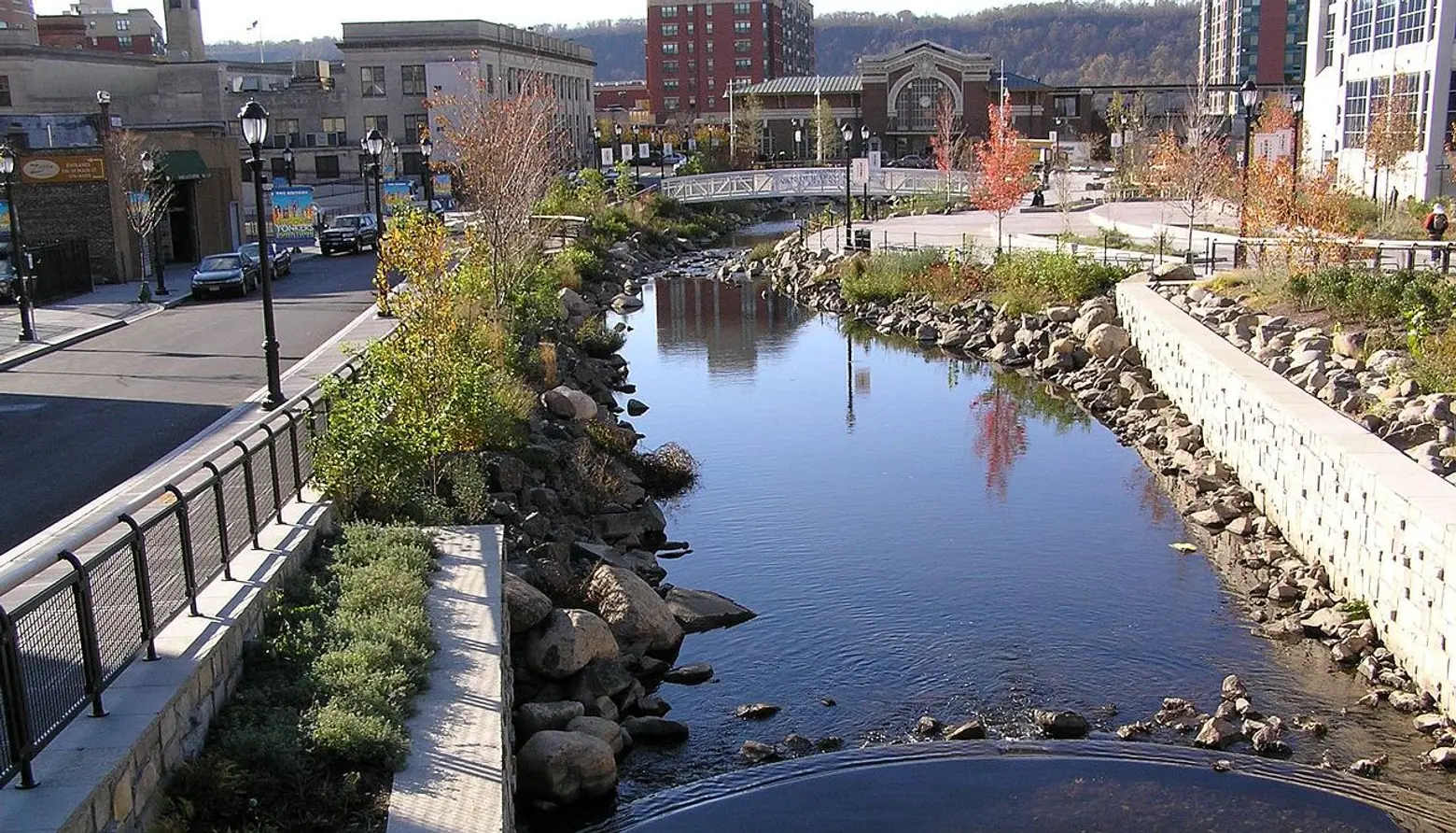 Getty Square and the Saw Mill River in Yonkers, photo by Anthony 22 via Wikimedia Commons
Yonkers
With dozens of distinct neighborhoods, nearly 80 parks and playgrounds, a robust transportation system, and impressive culture and entertainment scene, the largest city in Westchester holds its own. Like many places in the county, Yonkers was originally a manufacturing powerhouse and home to many innovators, like Elisha Otis, who invented the first safety elevator in 1854, and Charles Harvey, developer of the first elevated train line on Greenwich Street in 1867.
Over the last few decades, the city of 200,000 residents has undergone some changes as attention shifts to creating more housing, with new high-rises and converted old factory buildings rising along the Hudson River waterfront and facing the Palisades. Last year, the city's Industrial Development Agency (IDA) provided tax cuts to roughly a dozen projects which will ultimately create 2,246 new units of housing and over 105,000 square feet of commercial space, as The Real Deal reported. While standard suburban-style single-family homes are plentiful, many of the residential buildings are rentals, like the Apex Hudson Riverfront, Hudson Park, Soyo Lofts, and future projects planned for the area.
Yonkers also offers a wide range of cultural and recreational activities, appealing to both young professionals and families. From the stunning 43-acre Untermyer Gardens and Tibbetts Brook Park to the Hudson River Museum and Legoland Discovery Center, there's something fun to do for all ages.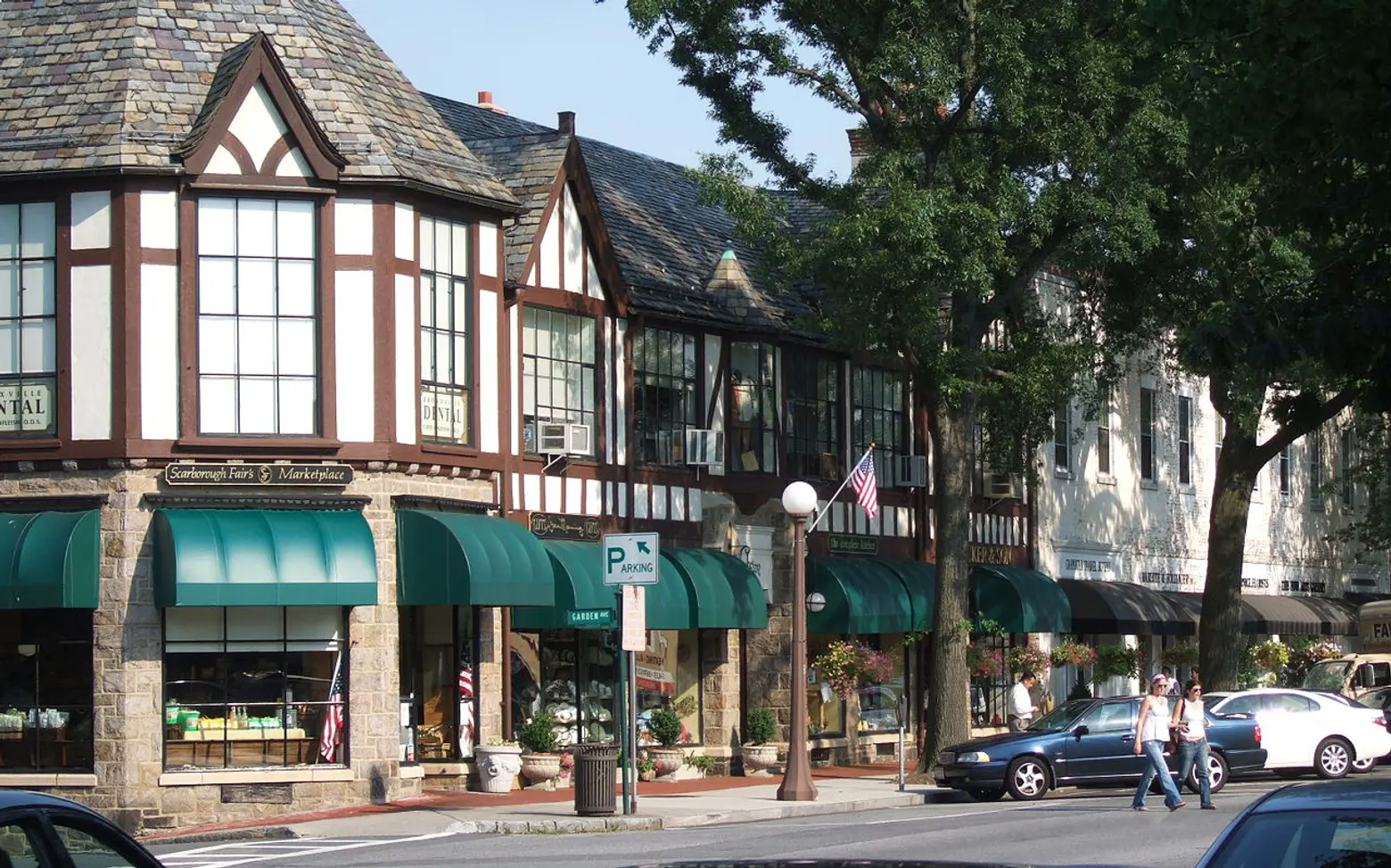 Downtown Bronxville, photo by Trxr4kds via Wikimedia Commons
Southern Westchester
With its walkability and proximity to public transportation, the densely populated Southern region of the county serves as the perfect starter suburb for those leaving the city for the first time. Home to diverse and developing cities like Yonkers and Mount Vernon and quieter affluent villages like Bronxville and Eastchester, the area offers some of the best entertainment, dining, and cultural activities in the county.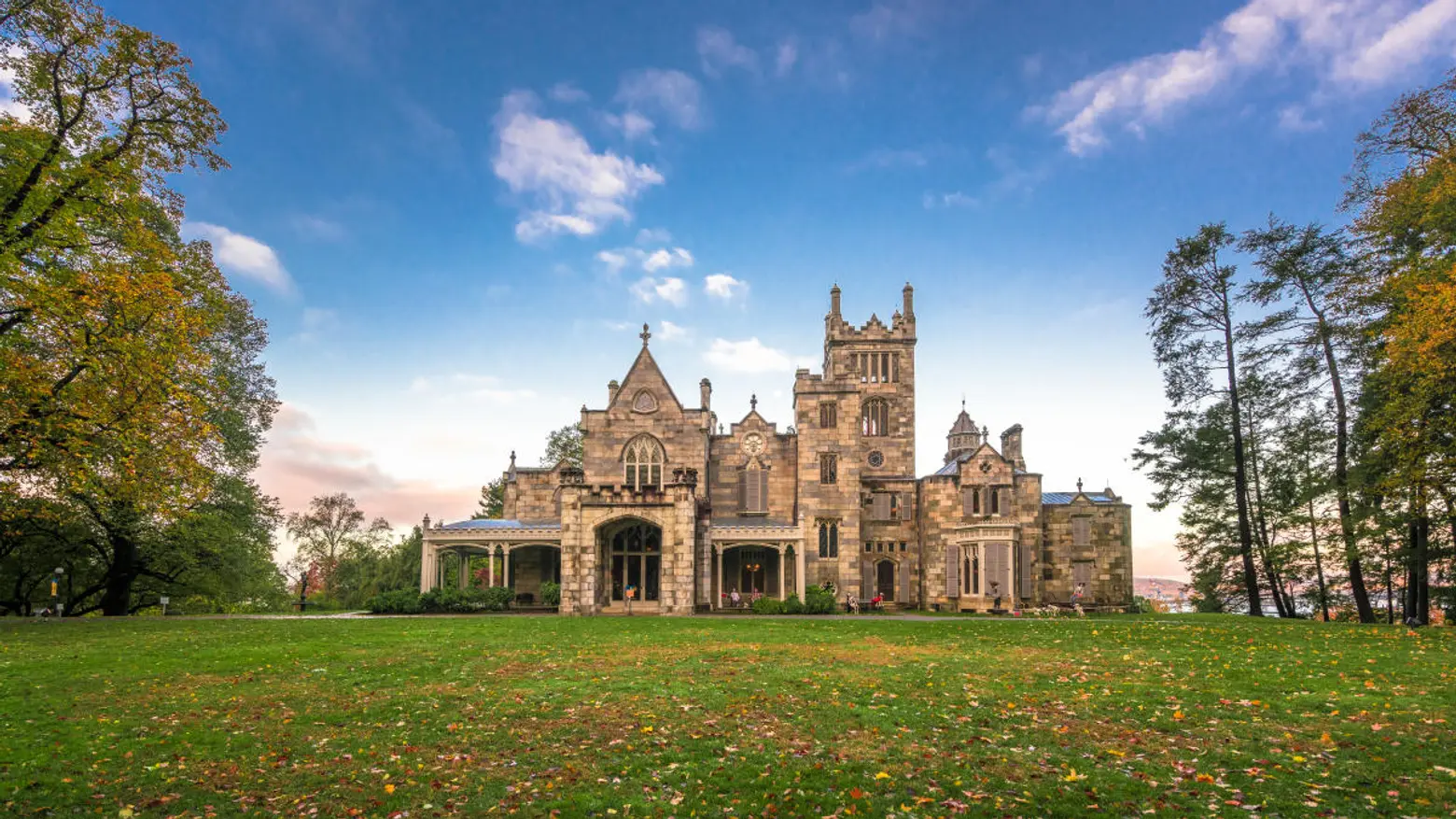 Located in Tarrytown, Lyndhurst Mansion is a historic estate on the banks of the Hudson River; Photo credit: VisitWestchesterNY.com
Hudson River
NYC dwellers may be most familiar with the Hudson River region of Westchester since many towns, villages, and cities of this area are easily accessible via Metro-North and provide some of the best weekend getaway locations. The historic riverfront region includes New England-like Dobbs Ferry and its Old Croton Aqueduct State Park, the village of Sleepy Hollow immortalized by Washington Irving, the Town of Cortlandt and its 15 miles of waterfront access, charming half-mile long Irvington, park-abundant Hastings-on-Hudson, architecturally significant Village of Ossining, and prosperous Briarcliff Manor.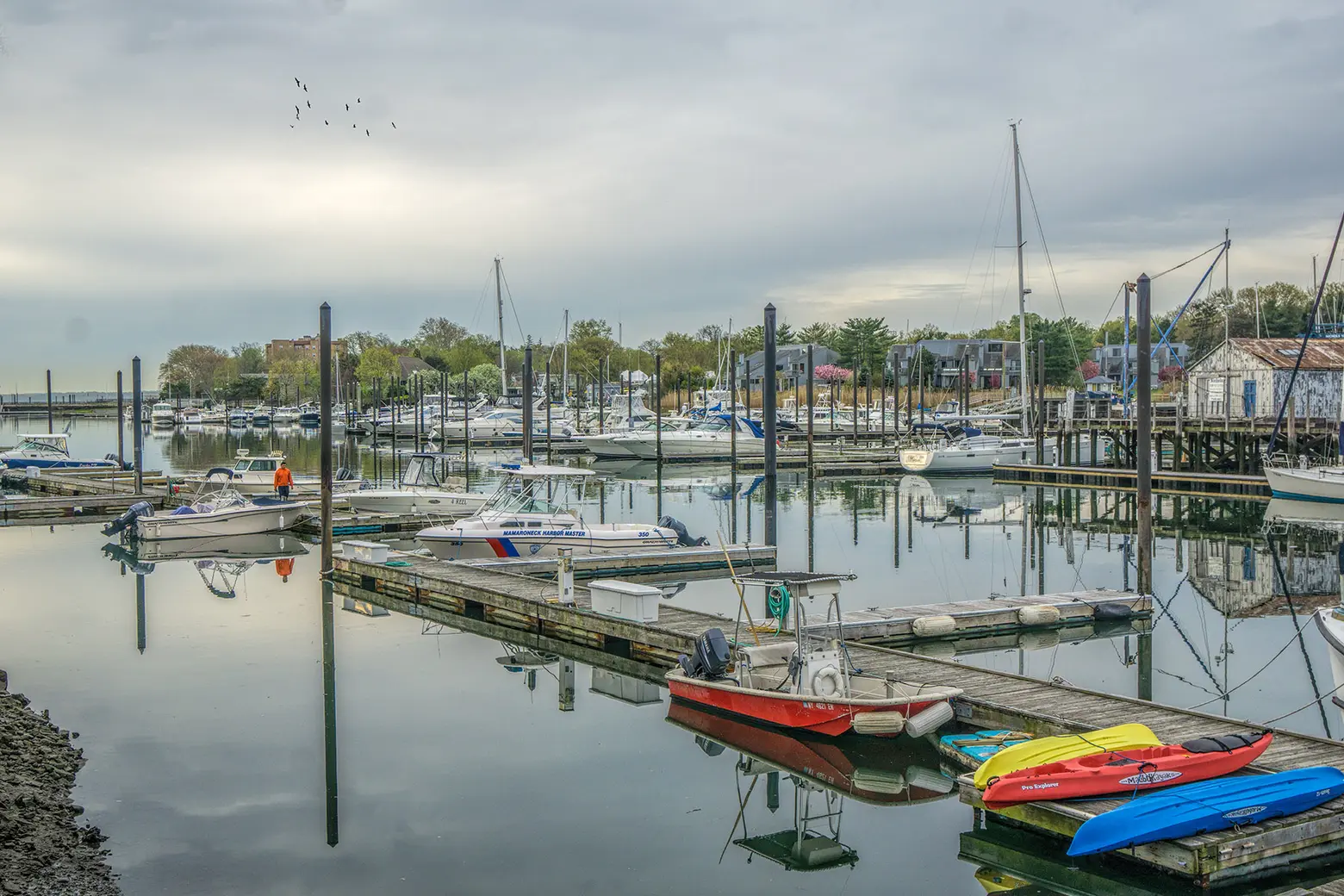 Mamaroneck harbor, photo by June Marie via Flickr cc
Sound Shore
Stretching about 36 miles, the aptly-named Sound Shore region is home to six municipalities that sit along the Long Island Sound and boast marinas, private beaches, and waterfront access. In addition to New Rochelle and Port Chester, the region includes the town and village of Mamaroneck, one of the county's oldest communities and known as "The Friendly Village, Rye, the county's smallest city home to America's oldest amusement park, and Larchmont, known for its antique shops and impressive mansions.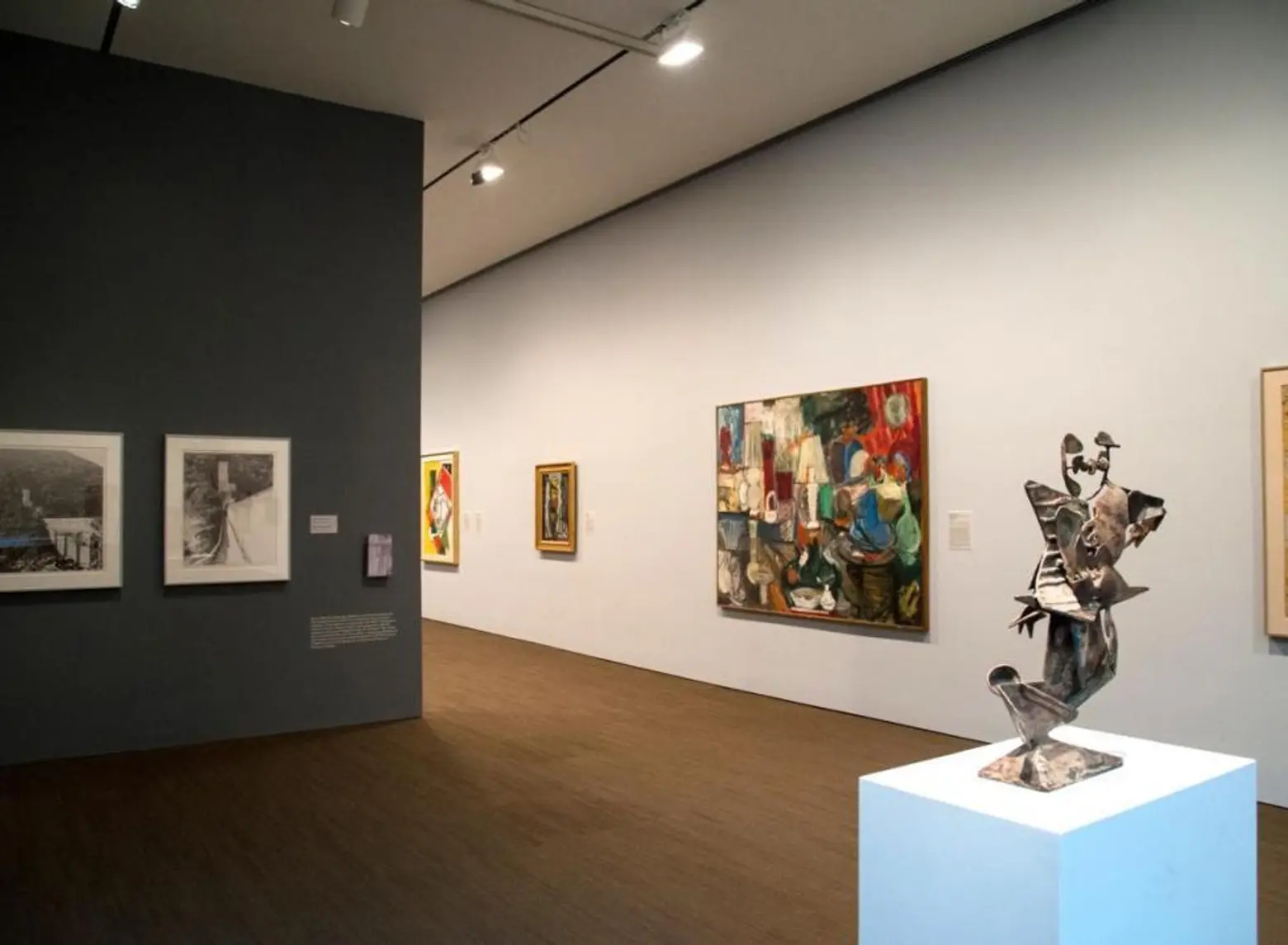 The Neuberger Museum of Art is located on the campus of Harrison's Purchase College; Photo credit: VisitWestchesterNY.com
Mid-County
In Mid-County, White Plains takes center stage as the commercial hub of this region, while the surrounding suburb communities providing a mix of scenic trails, family-fun, and culture. From the lively downtown and art scene of Pleasantville and Harrison to the excellent education system of Rye Brook, this region manages to mix both rural, urban, and suburban charm across just nine towns.

Goldens Bridge is a hamlet in the town of Lewisboro. Photo credit: Westchester Tourism & Film
Northern Westchester
For those looking for places to bike, hike, and explore the great outdoors, Northern Westchester has it all. Enjoy the rolling hills and open country of Somers and Lewisboro, the massive 4,315-acre Ward Pound Ridge Reservation of Pound Ridge, and horse farms and historic homes of Bedford and North Salem. Mount Kisco is chock-full of retail and recreational options, but with green space, like Kisco Mountain, easily accessible. And historic Yorktown, which was first settled in 1683, provides a mix of commercial and residential spaces for its roughly 36,000 residents.
+++
For more information about living in Westchester, visit Westchester County Economic Development >>