Where to order Thanksgiving takeout in New York City this year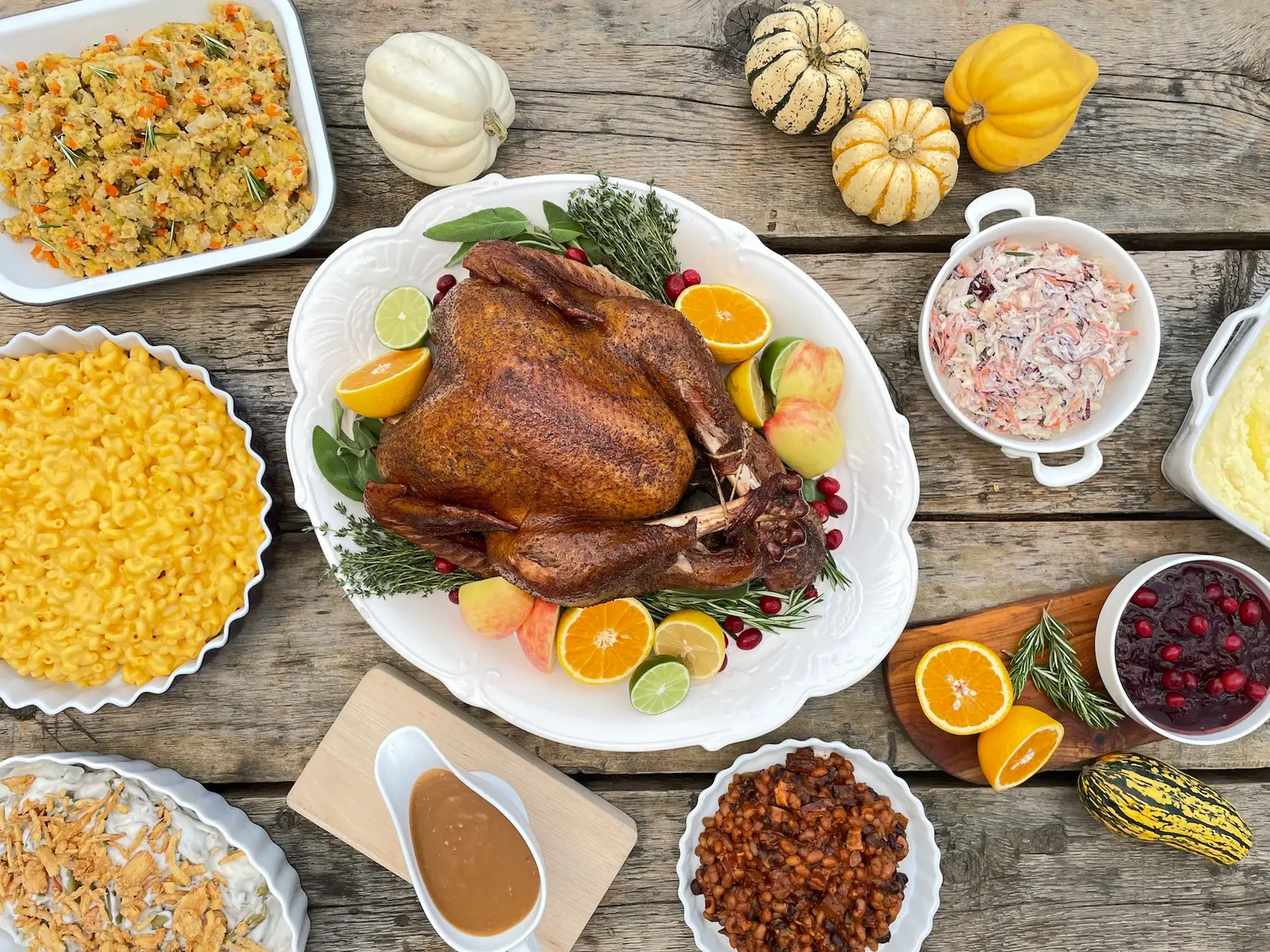 Photo courtesy of Pig Beach BBQ
You can spend more time with friends and family and less time in the kitchen this Thanksgiving by ordering in. There are many New York City restaurants offering Turkey Day meals for takeout and delivery, from a traditional feast with all of the fixings at Bubby's to a Middle Eastern-inspired meal from Edy's Grocer. And don't forget the pie!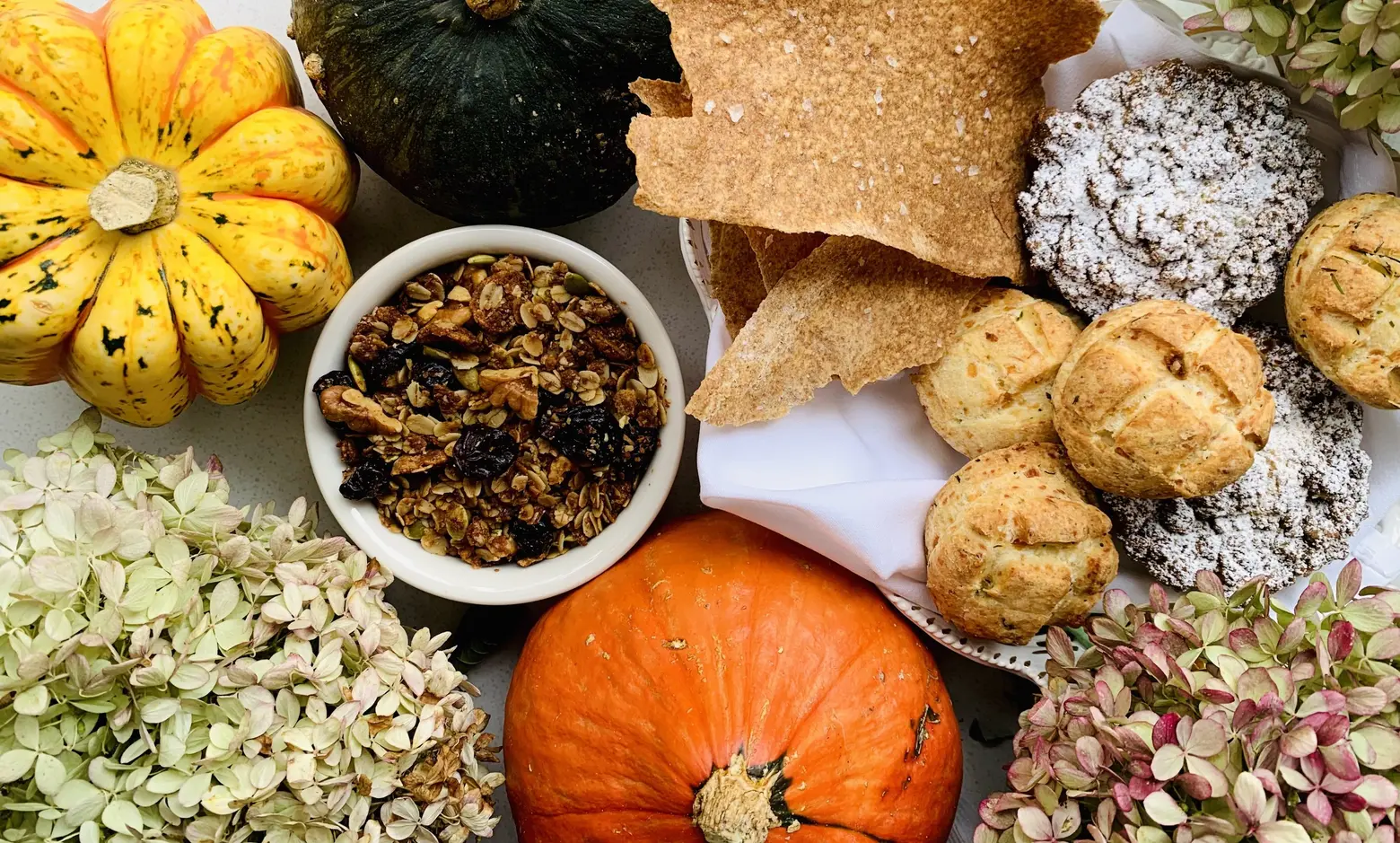 Photo courtesy of Agi's Counter
Agi's Counter
Crown Heights newbie Agi's Counter will help you complete the big meal with a bread basket. The Eastern European cafe, which opened on Franklin Avenue last year, is selling a box of bread and pastries, including Agi O's Cereal, a half-dozen mini pogacsa, spelt crackers, two pieces of apple caraway and rye coffee cake, a loaf of sage and cherry cornbread, and jam and butter. The box costs $65 and can be pre-ordered on the Agi's Counter website and picked up at the shop starting Monday, November 22 through Wednesday, November 24.
Aquavit
Back by popular demand, Midtown's Aquavit is selling its Thanksgiving to-go kit again this year. Known for its seasonal Nordic cuisine, the Michelin-star restaurant's prix fixe holiday menu includes mains like fennel and caraway spiced turkey breast and smoked turkey sausage and sides, from herb roasted root vegetables and rye and brioche stuffing to truffled mushroom spaetzle. Desserts include milk bread, pumpkin pie, and chocolate trifle cake. The package costs $525 and feeds four people.
Blue Smoke
Longtime Battery Park City barbecue joint Blue Smoke is offering a Thanksgiving dinner for four that comes fully ready to reheat and eat. For $175, the meal includes two pounds of smoked turkey breast, gravy, green bean casserole, mashed sweet potatoes with spiced pecans, and a pint of cranberry sauce. The package is available to pick up on November 23 and November 24. The restaurant also has a variety of pies for pick-up, including bourbon pecan, apple crumb, and pumpkin, at $30 each. Place an order here or via Goldbelly here.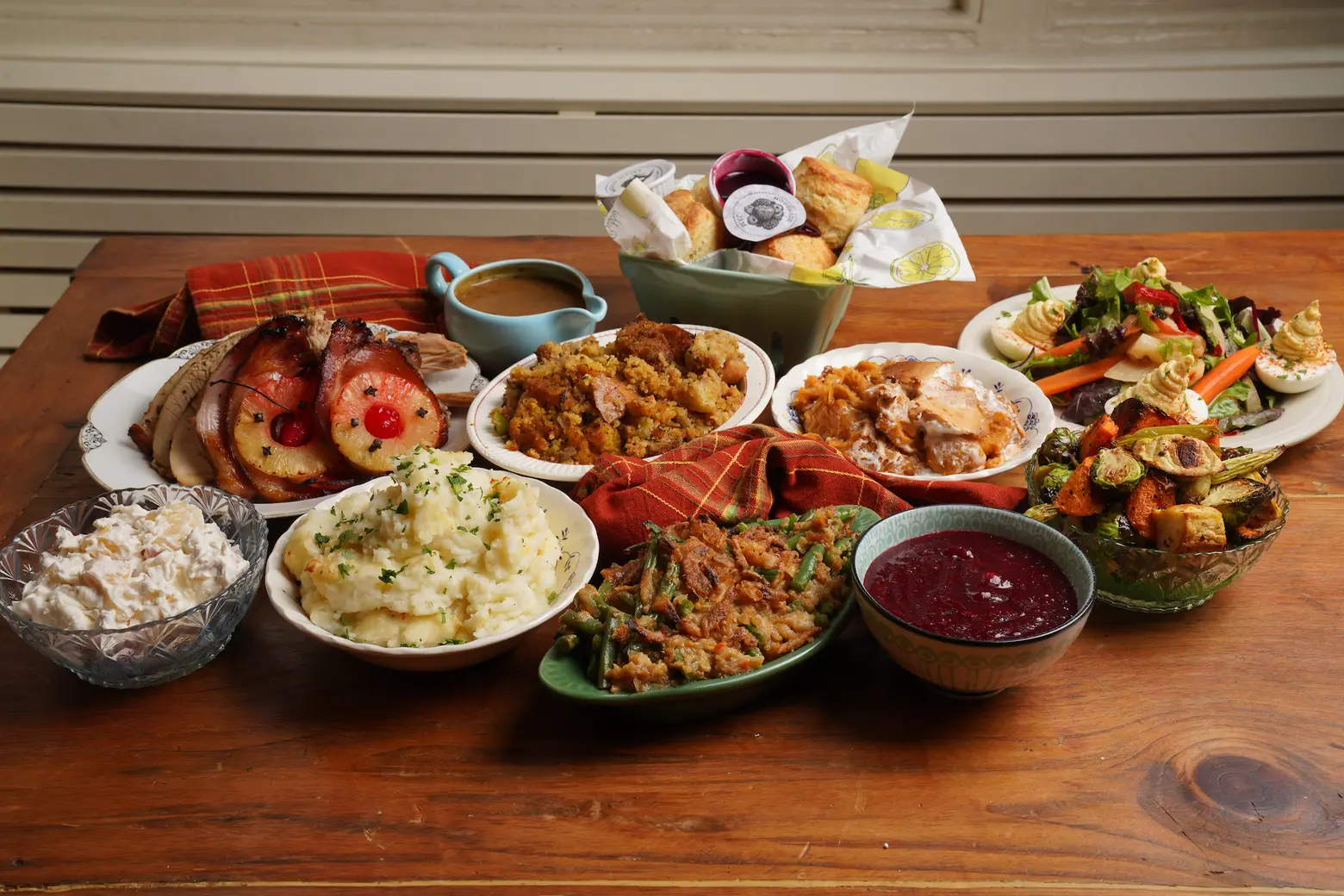 Photo: Alexander Stein for Bubby's
Bubby's
Bubby's knows Thanksgiving: The Tribeca eatery opened on Thanksgiving Day in 1990 as a pop-up pie shop. Three decades later, Bubby's remains a popular choice for American comfort food. For Thanksgiving, the restaurant is offering take-out packages for pick-up that include starters like deviled eggs and buttermilk biscuits, mains like a roasted Pallman Farms turkey and glazed ham, and sides like cornbread stuffing, mashed potatoes, fresh cranberry sauce, and more. Plus, each box includes one slice of three pies: apple whiskey crumble, pumpkin, and sour cherry. The takeout meal costs $175, feeds two people, and is sold cold with reheating instructions. Orders must be placed by November 17 and picked up on November 24 between 10 a.m. to 4 p.m.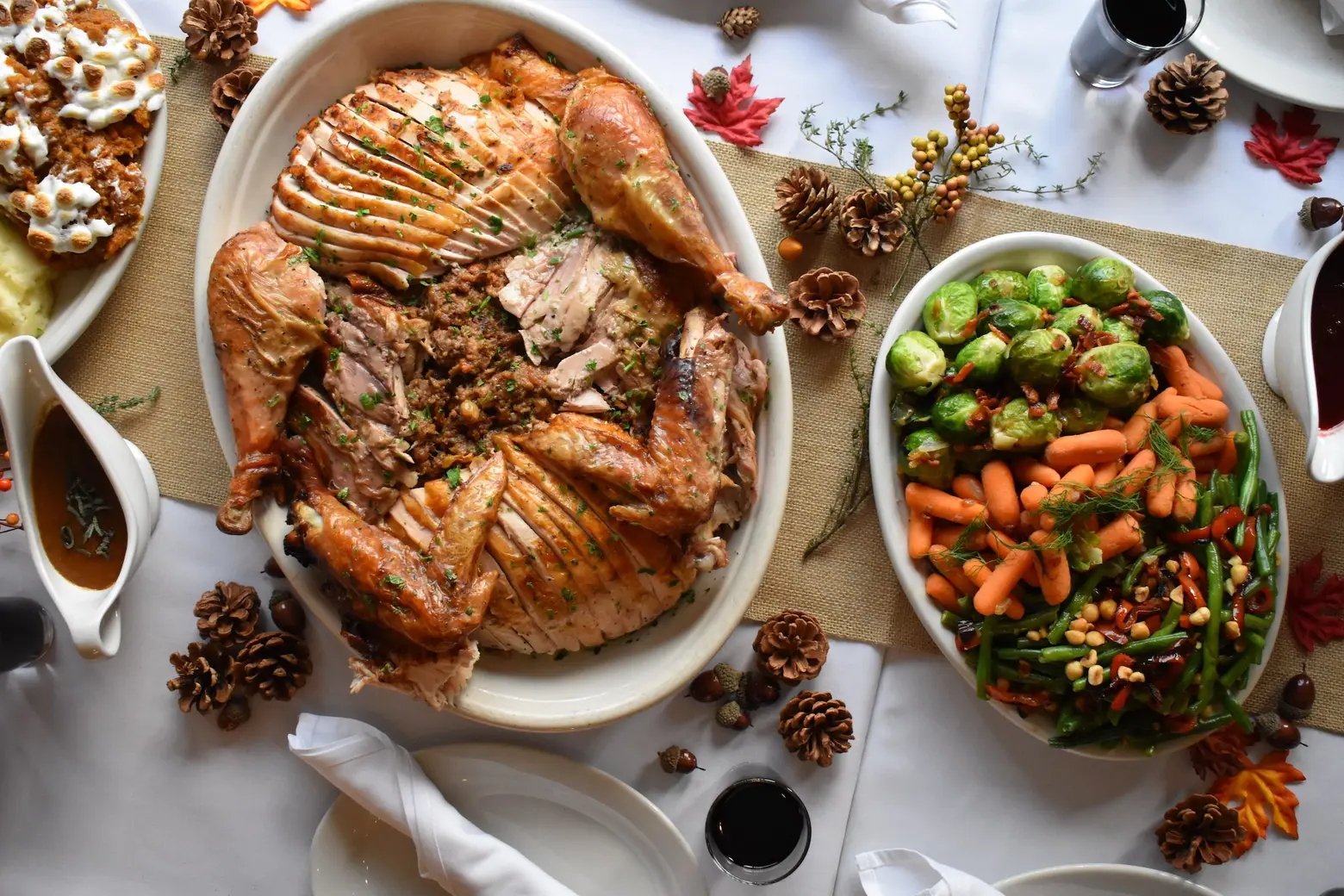 Photo courtesy of Carmine's
Carmine's
Known for its family-style portions, Carmine's is perfect for the big meal. For Thanksgiving, the Manhattan restaurant, which has locations in Times Square and the Upper West Side, is selling a to-go feast available for both take-out and delivery. For $349, the package feeds up to eight people and includes an 18-pound turkey with sausage and sage stuffing served with cranberry sauce, caramelized Brussels sprouts with bacon, string beans, carrots, sweet potatoes topped with marshmallows, and mashed potatoes with gravy. Add a pie, pumpkin or apple, to your order for $25. Place an order here.
Chez Nick
On the Upper East Side, new American restaurant Chez Nick is selling to-go Thanksgiving packages. The menu, $160 for two people or $320 for four, includes an herb-roasted turkey breast and braised leg fricassee, homemade stuffing, Brussels Sprouts, mashed potatoes, marinated green bean almondine, an arugula salad, gravy, cranberry sauce, and homemade chocolate chip cookies for dessert. Orders must be placed by November 20 and picked up at Chez Nick on November 22 and November 23 from 11 a.m. to 4 p.m. Add a homemade apple or pumpkin pie for $50. Place an online order here.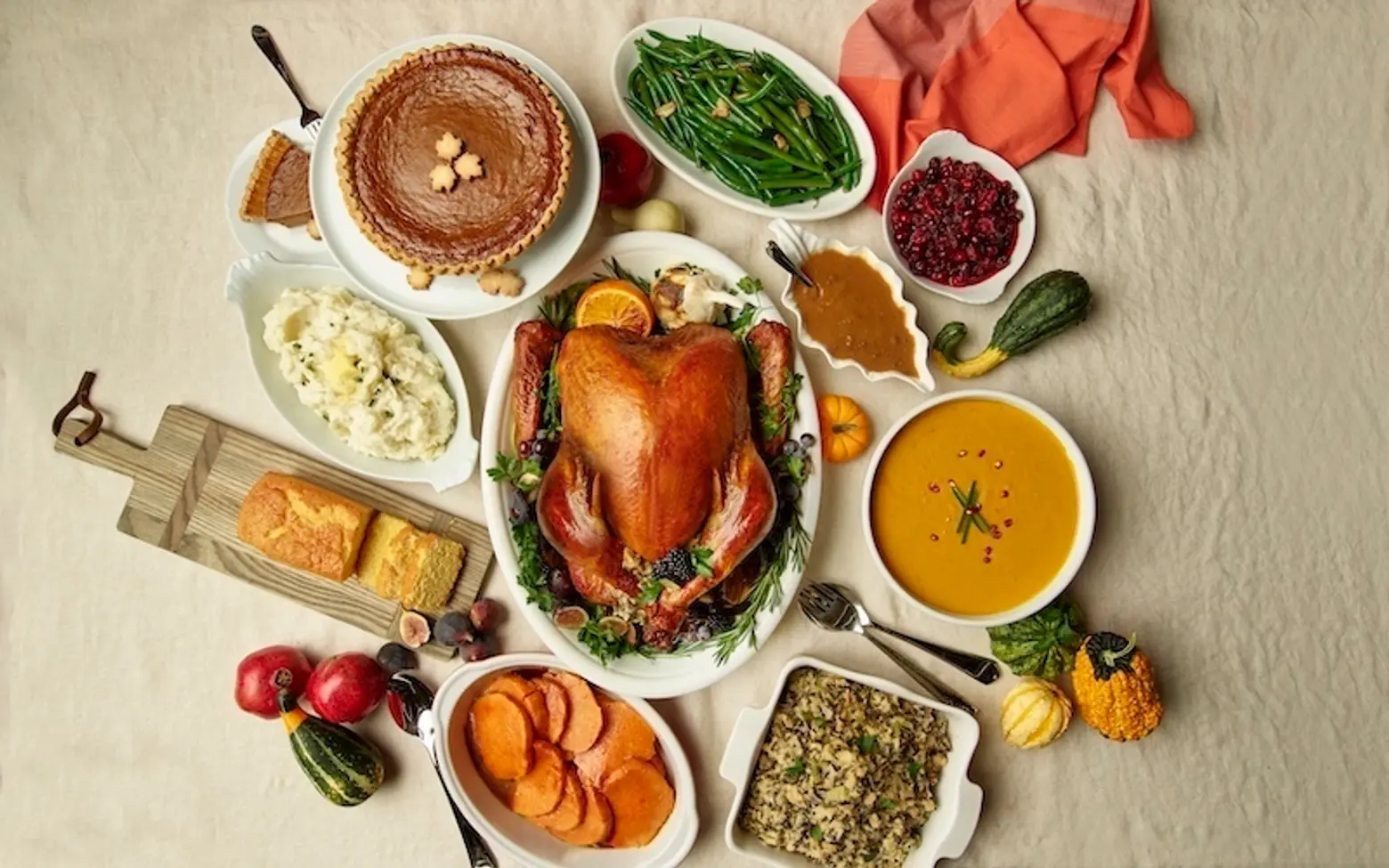 Photo courtesy of Citarella's
Citarella
New Yorker favorite Citarella is an easy choice for chef-prepared Thanksgiving feasts this year. The package, $299 for four people or $499 for eight people, includes a turkey breast dinner with a dozen additional dishes, pumpkin bisque, autumn lasagna, sautéed Brussels sprouts and string beans, cranberry conserve, chicken bone broth, turkey gravy, glazed sweet potatoes, mashed potatoes, wild rice stuffing, cornbread, and pumpkin pie. The gourmet market is also offering a variety of appetizers, side dishes, and desserts a la carte, from soup and salads to macaroni and cheese and risotto with pumpkin and mushroom. Orders can be placed in person, over the phone, or online here.
Daily Provisions
This holiday, Daily Provisions has something for every table, whether it's just a few sides, a box of pumpkin spice crullers, or the whole meal. If you feel like skipping the turkey this year, the cafe has a Thanksgiving dinner option that includes two roast chickens and family-sized servings of classic sides like mashed potatoes, Brussels sprouts, cranberry sauce, and eight rolls from Orwashers, priced at $215. Get just the sides for $150, a box of six crullers for $36, and a selection of holiday sweets for $60. Pre-order on the Daily Provisions website here for pickup on Wednesday, November 23.

Photo courtesy of Dickson's Farmstand Meats
Dickson's Farmstand Meats
Dickson's Farmstand Meats, a butcher shop located in Chelsea Market, is selling both fresh and cooked turkeys, along with other holiday meats like ham, duck, and sausage. At the time of publication, the rare pasture-raised KellyBronze turkey has sold out. But there are still plenty of options, including a plethora of sides, like stuffing, cranberry-apple sauce, maple-siracha glazed carrots, sorghum-glazed sweet potatoes, and herbed compound butter. Place your order here before more items sell out.
Edy's Grocer
Edy's Grocer, a Lebanese market that opened in Greenpoint in 2020, is offering a Middle Eastern twist on Thanksgiving. The special holiday menu has a la carte dishes, like baked mac 'n' cheese (with an Aleppo pepper sesame crust), harvest Fattah (vegetables tossed in cilantro lime tahini), and zesty turkey (a sumac spiced confit and sous-vid turkey breast and legs). The full-fledged feast costs $325 and feeds up to eight people. Pre-order online here for pickup starting Sunday, November 20 through Tuesday, November 22.

Photo courtesy of Estuary
Estuary
The Brooklyn Bridge Park restaurant Estuary is once again offering to handle the big meal for you with a take-home Thanksgiving package available for pick up and delivery. The kits start at $320 plus tax for a dinner that feeds four to six people and includes a whole turkey, cranberry sauce, cornbread stuffing, roasted rosemary potatoes, Brussels sprouts, and your choice of pie (brown butter pumpkin, traditional pecan, or deep dish apple). For a bigger group of up to 10 people, the package costs $400 and includes additional sides like gravy, sweet potato puree, and macaroni and cheese. All orders must be placed by November 19 at 5 p.m. and will be available to pick up on November 23 from 12 p.m. to 4 p.m. and November 24 from 10 a.m. to 12 p.m. Delivery is available within a two-mile radius on Thanksgiving Day, but contact the restaurant directly.
Gage & Tollner
Gage & Tollner, a historic Brooklyn restaurant given new life in this century, is offering to-go a la carte items for Thanksgiving. The "everything but the turkey" menu includes creamed spinach, roasted root vegetables, cauliflower soup, cranberry relish, and apple brown butter maple pie. Pick-up is available Monday, November 21 through Wednesday, November 23 between 11 a.m.-2 p.m.
Harry's Table by Cipriani
Harry's Table by Cipriani, the new Italian food market located at the Waterline Square residential development, is currently accepting orders for a prix-fixe Thanksgiving meal. For $575, the package feeds up to 10 people and comes with starters like an arugula salad with candied apples, walnuts, and gorgonzola, a butternut squash soup, mains like a whole slow roasted turkey and gravy, and sides like an herb focaccia bread and sweet Italian sausage stuffing, sweet mashed potatoes, roasted Brussels sprouts with pancetta, and cranberry sauce. Desserts include a pumpkin pie and a pecan pie. Place your order by November 21 for pick up on November 24 from 9 a.m. to 1 p.m. For residents of Waterline Square, the meal can be delivered right to your door. For delivery, email [email protected].
Morgan's Brooklyn Barbecue
After a fire destroyed Morgan's Brooklyn Barbecue and forced the Prospect Heights restaurant to temporarily close last year, the smokehouse's Flatbush Avenue location has finally reopened. Morgan's is offering a few takeout holiday meals for Thanksgiving this year, including a 16 to 18-pound whole-smoked turkey for $220. For $325, get a full dinner for 10 to 12 people, which includes green beans, stuffing, sweet potatoes, cranberry sauce, and gravy in addition to the turkey. The Thanksgiving menu is available for pick-up only; orders must be placed by November 21 and picked up after 11 a.m. on Thanksgiving Day. Place your order here.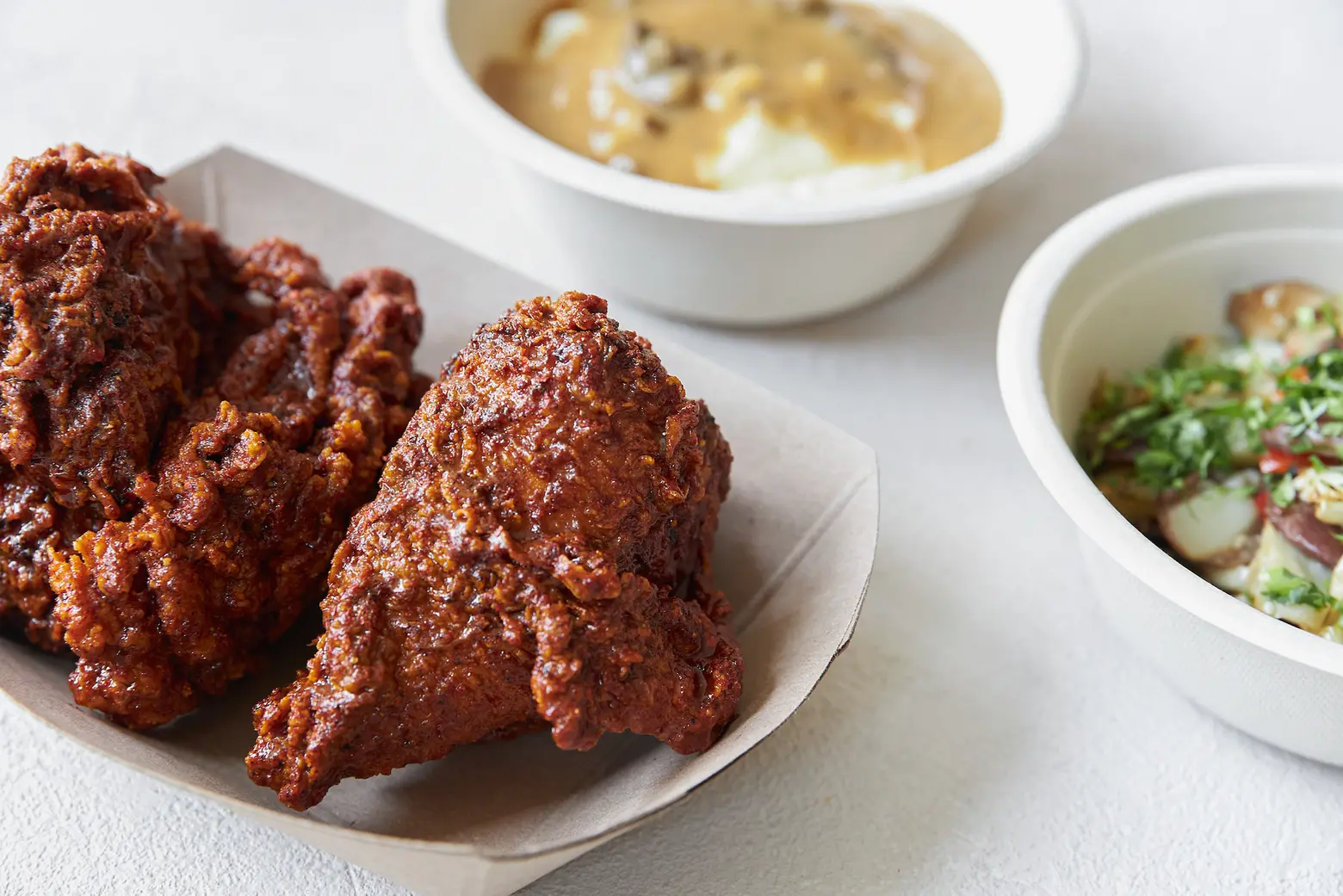 Photo courtesy of Pecking House
Pecking House
Brooklyn's hottest pop-up-turned-brick-and-mortar is offering its innovative menu inspired by Southern and Taiwanese cuisine as a to-go option this holiday season. Impress your Friendsgiving party with Pecking House's $70 12-piece chicken platter, which includes the restaurant's super popular chili fried chicken, in addition to the salted egg yolk fried chicken and the naked style with salt, five spice, and vinegar powder. There's also a cauliflower version for a vegetarian option for $55. Side dishes offered include cheddar cornbread with apple honey, braised collard greens, mashed potatoes with duck heart gravy, and heirloom butterbean salad, all priced at $55. Complete the meal with a sweet treat, with choices of peanut butter pudding with chocolate ganache or banana pudding. Orders can be placed on a first-come-first-serve basis via email to [email protected] starting November 12 and must be picked up on Wednesday, November 23.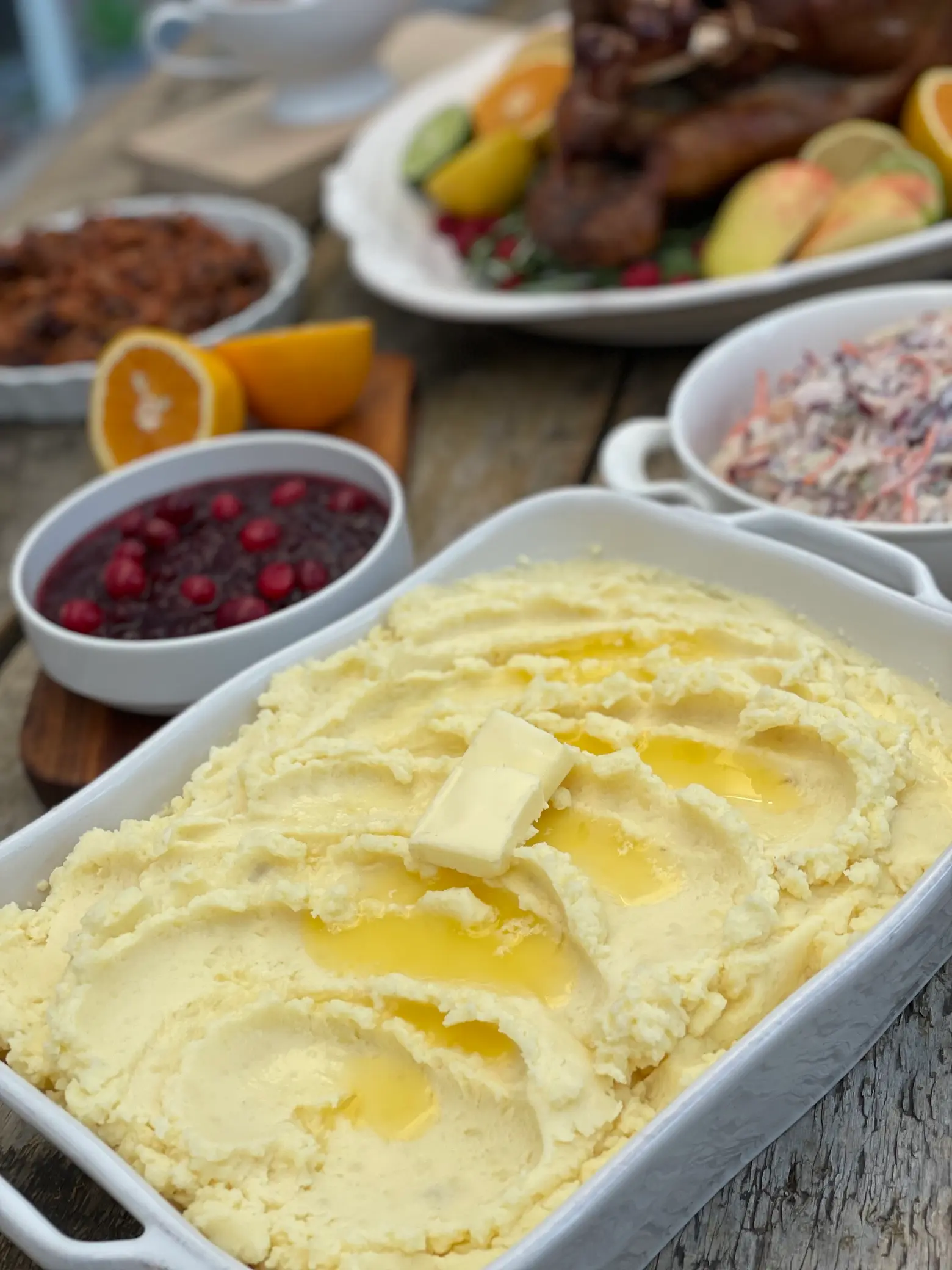 Photo courtesy of Pig Beach BBQ
Pig Beach BBQ
Offering a smokier take on the big meal is Pig Beach BBQ, which has locations in Gowanus and in Astoria. For $275, the full feast promises to feed up to 12 people, with a choice of a main (14-15 pound smoked whole turkey, brown sugar, and maple glazed spiral ham, or smoked prime rib roast), two sides (from classic mashed potatoes and green bean casserole to purple coleslaw with pineapple and smoked jalapeno and brown sugar and pecan candied yams), and one pie (chocolate pecan, pumpkin, or apple). Items can also be ordered a la carte. Pre-order your dinner by November 18th and pick up the order on November 23. If you miss out this Thanksgiving, Pig Beach BBQ is also offering the same deal for Christmas.
The Landing at Penn 1
As part of the new "Penn District," an in-the-works neighborhood developed by Vornado in the area surrounding Penn Station, The Landing is located on the second floor of the office tower Penn 1. Typically a spot for busy New Yorkers to grab breakfast on their way into the office or to host a lunch meeting, the restaurant this year is offering a to-go Thanksgiving catering kit. Developed by Chef Jonathan Ho, the package costs $250, feeds four people, and includes a brined and roasted turkey breast, butternut squash soup, roasted Brussels sprouts, mashed potatoes, herb roasted potatoes, focaccia stuffing, gravy, house-made cranberry sauce, and choice of apple or pecan pie. A package with enough food for six people is available for $325. Orders can be placed starting November 14 for pick-up at the Midtown restaurant on November 23.

Photo courtesy of the Tin Building
Pies for pick-up & delivery
Bien Cuit
Brooklyn bakery Bien Cuit is selling two somewhat nontraditional pies this holiday. A chocolate ginger pecan pie for $60 and a pumpkin tamarind pie for $50.
Breads Bakery
You'll be everyone's favorite guest if you show up to dinner with dessert from Breads Bakery. Pies start at $37 and range from a pumpkin pie to a babka pie, a pie version of the bakery's acclaimed chocolate babka. Place your order here for local pickup or delivery for November 21 through the 23. For nationwide delivery via Goldbelly, Breads Bakery is selling a Thanksgiving pie package that includes one babka pie and one pecan tart for $100.
Tin Building by Jean-Georges
The newly opened Seaport marketplace curated by Chef Jean-Georges Vongerichten is ready to meet all of your holiday party needs, from charcuterie to bouquets. For Thanksgiving, the Tin Building is selling a Granny Smith Apple pie, available for pick up for $27.
Pies 'n' Thighs
Masters of comfort food, Williamsburg's Pies 'n' Thighs is selling some Thanksgiving classics for pick-up and delivery, including their beloved banana cream pie for $40. Other pie flavors available this holiday include apple, bourbon pecan, pumpkin, and sour cherry pear crumble. Might as well add in some buttermilk biscuits and cornbread while you're at it, paired with honey butter, hot pepper jelly, or sour cherry jam. For nationwide shipping, check out Pies 'n' Thighs on Goldbelly.
Rolo's
This Ridgewood restaurant is selling three Thanksgiving pies for pick-up: brown butter cherry tart, pumpkin, and sweet potato, and sour cream apple crumb. Each costs $50 and can be pre-ordered here. You can pick up your pie on Wednesday, November 23 from 9 a.m. to 3 p.m.
Kreuther Handcrafted Chocolate
The result of a culinary partnership between chef Gabriel Kreuther and pastry check Marc Aumont, Kreuther Handcrafted Chocolate is known for its high-quality sweet treats and its beautiful packaging. The shop is selling a $95 Thanksgiving gift set that includes something for everyone, including a maple pecan tart, a 12-piece chocolate assortment, assorted caramels, 12-piece assorted cheesecake macarons, and dark chocolate salted caramel truffles.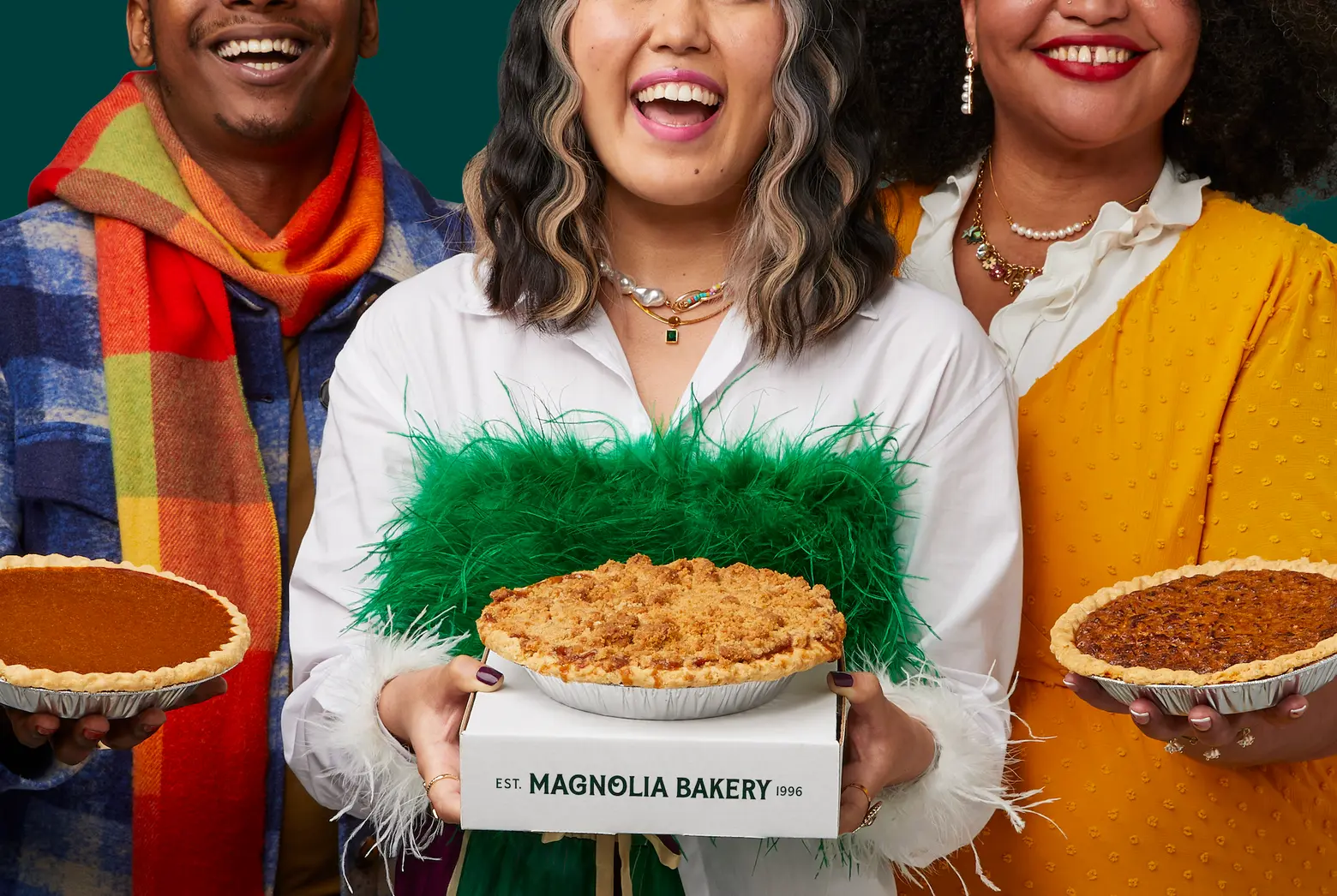 Photo courtesy of Magnolia Bakery
Magnolia Bakery
Along with pie, how about bringing pudding to Thanksgiving dinner? Magnolia Bakery is selling a Thanksgiving Sampler Pack that includes its famous banana pudding plus your choice of apple crumb, pecan, or pumpkin pie for $80. Other pie options include pumpkin praline and chocolate pecan for $28. Last year, the bakery launched its first-ever non-banana-based pudding and it's available again this year. Made with a blend of apple pie filling and vanilla pudding and topped by a cinnamon crumb topping, the apple crisp pudding is ideal for a festive fall gathering. The party bowl size costs $58.