Take a tour of the NYBG's Holiday Train Show, now with a new Central Park section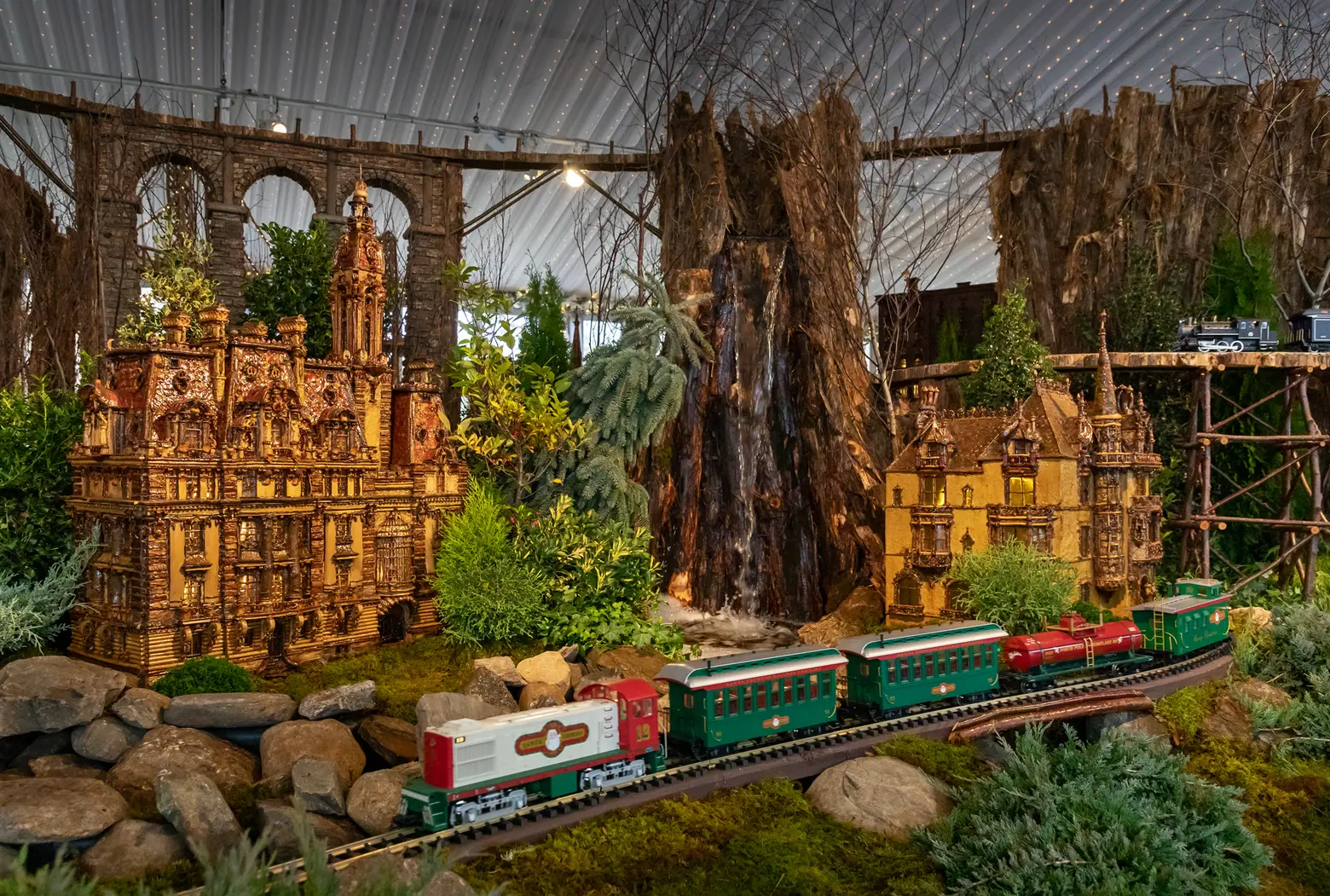 The New York Botanical Garden's 28th annual Holiday Train Show is back for the season, and this year it has an entirely new Central Park section, featuring iconic spots like Belvedere Castle, Bethesda Terrace, and the Bow Bridge–all made entirely from natural materials including bark, seeds, berries acorns, and cinnamon sticks. 6sqft took a special tour of the exhibit, which features a total of 175 New York landmarks, and went behind-the-scenes with Laura Busse Dolan, President and CEO of Applied Imagination, the design firm that works all year long to make this whimsical show a reality. From the exhibit's 2,000 plants to its 25,000 pounds of cedar bark and 200 boxes of moss, Laura fills us in on all the fun and little-known facts about the Holiday Train Show.
The first Holiday Train Show took place in 1992 under the artistic direction of Paul Busse. Paul always loved plants and gardens, and he received a degree in landscape architecture and started a landscaping company. But he also loved trains, and in 1982, he combined his passions and created his first "public garden railroad" for the Ohio State Fair. By 1991, this had become such an integral part of his business that he started a company devoted to "botanical architecture," according to Applied Imagination's website.
Though Paul is now retired, he is still involved, and his daughter, Laura Busse Dolan, owns and operates the company, which is set on 30 acres in Alexandria, Kentucky, right next to Cincinnati, Ohio. They have 16 full-time employees, including their creative director who has a Master's in architecture, as well as associates around the country who collect natural materials for them. For the Holiday Train Show, they also have a local team that joins them each year and helps with the installation.
Some of Applied Imagination's other major installations include a holiday display at the U.S. Botanic Garden in Washington, D.C., a summer indoor-outdoor display at the Biltmore Estate in Asheville, North Carolina, and a warm-weather display at the Chicago Botanic Garden.
Now, take a full tour of the 2019 Holiday Train Show: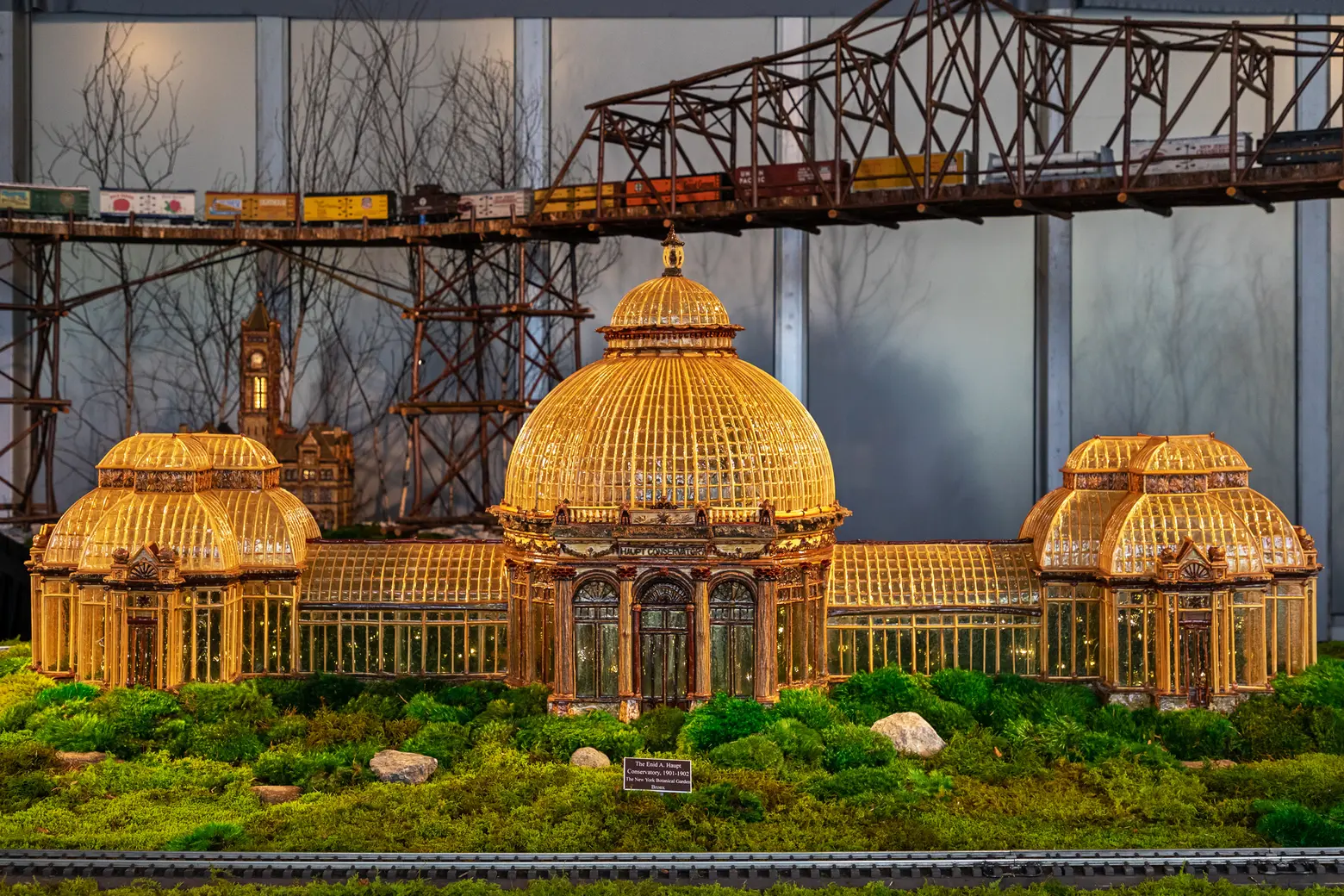 Since the New York Botanical Garden's Enid A. Haupt Conservatory is currently undergoing restoration, the show is being held in an adjacent tent. The Conservatory model seen above took more than 600 hours to create.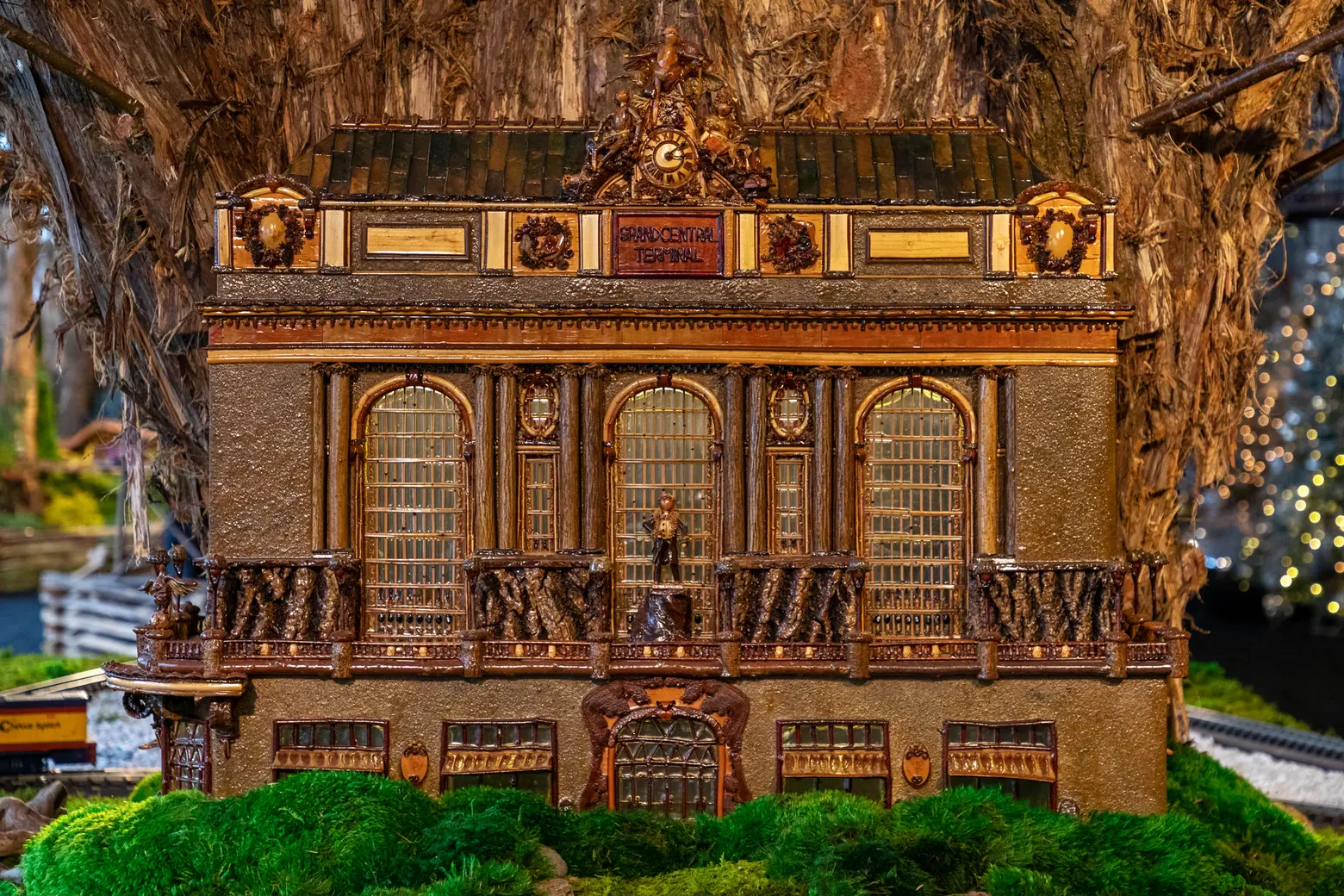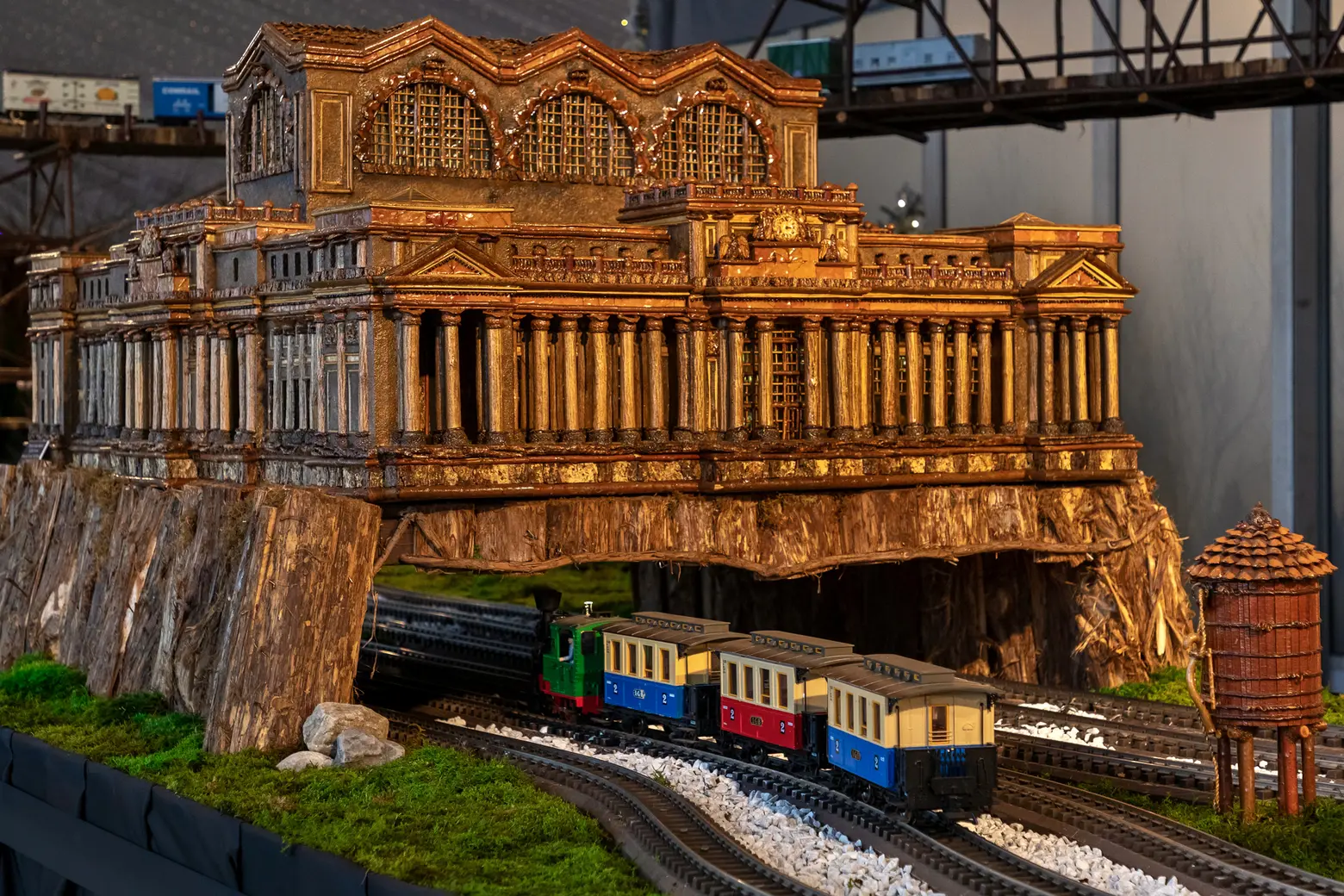 At the beginning of the show, you'll see models of Grand Central Terminal and the original Penn Station. The balustrades of Penn Station were constructed with acorn bark.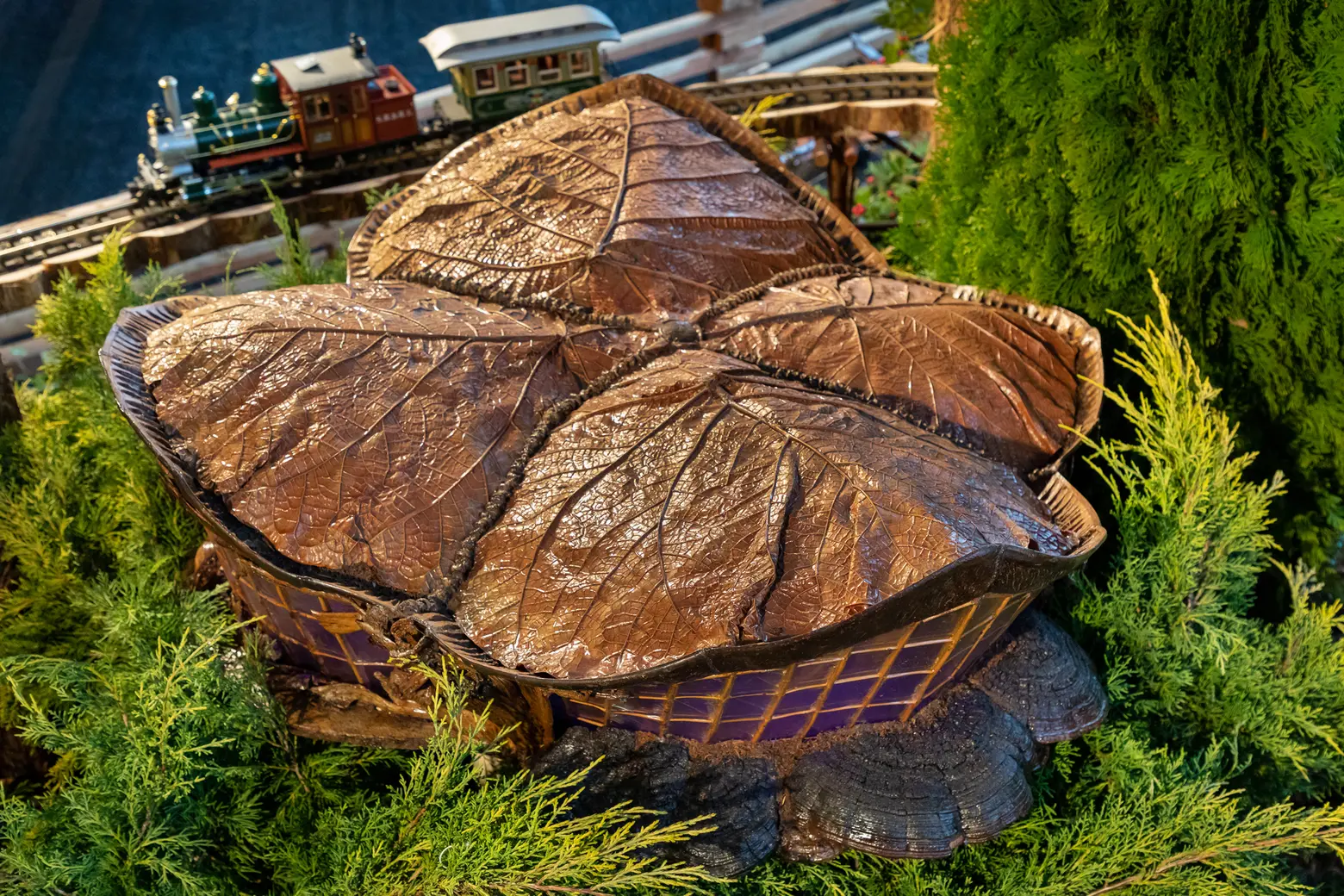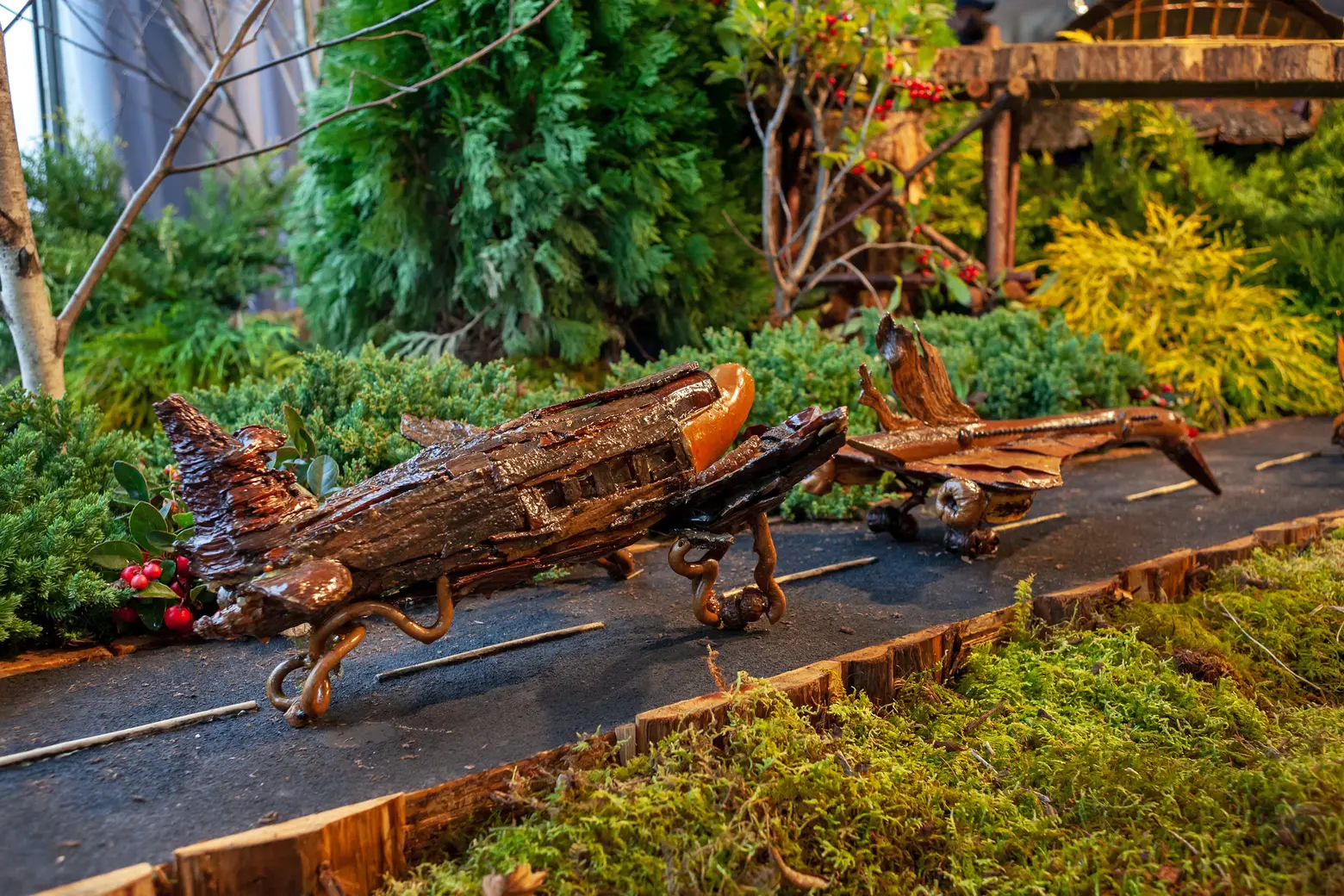 The TWA Flight Center was added to the show in 2010. Its roof is made of Grandleaf Seagrape tree leaves, banana bunch stems, and Royal Poinciana bean pods.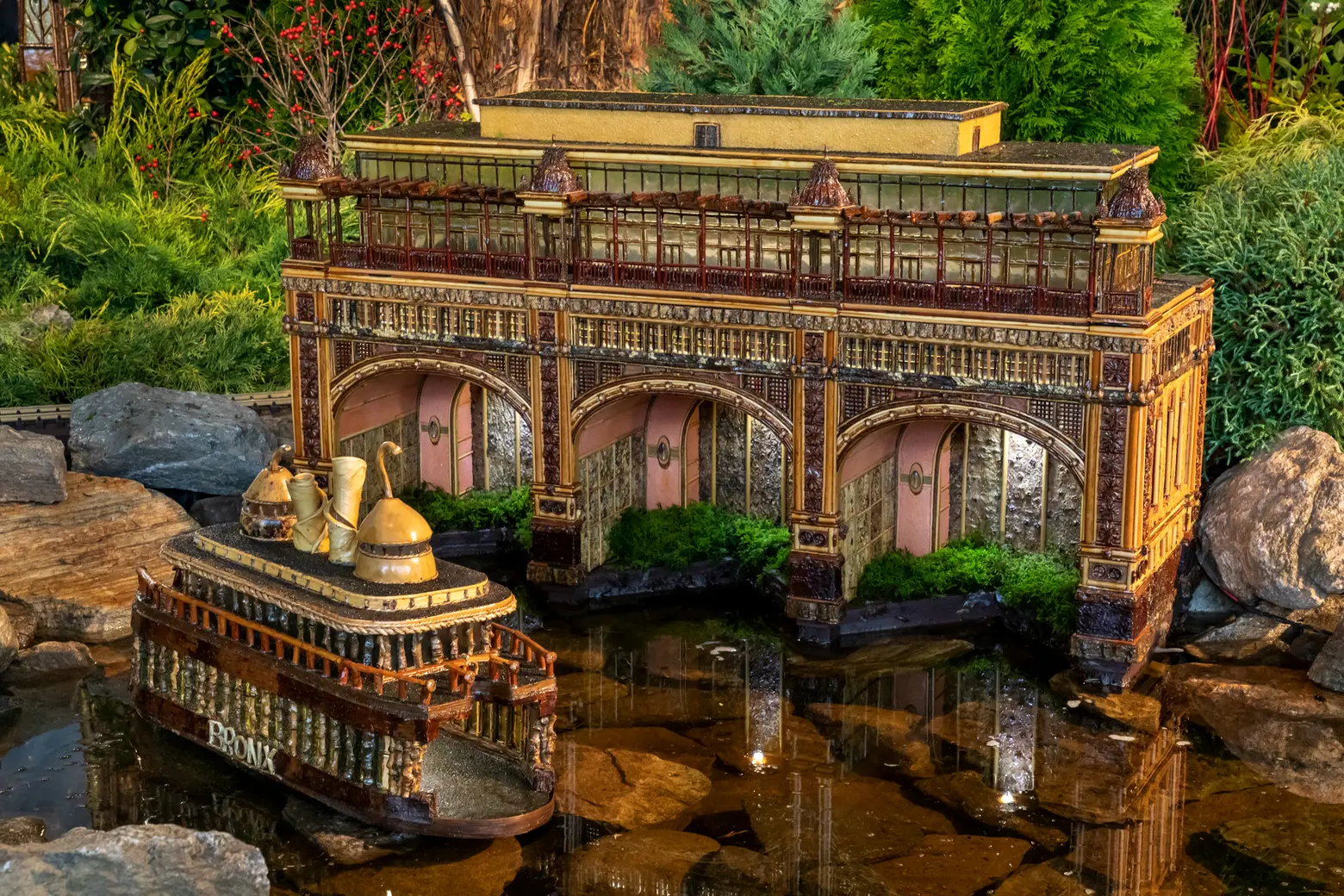 Above, the battery maritime building and a vintage ferry boat. This was new as part of last year's Lower Manhattan theme and was the first time a boat element was featured.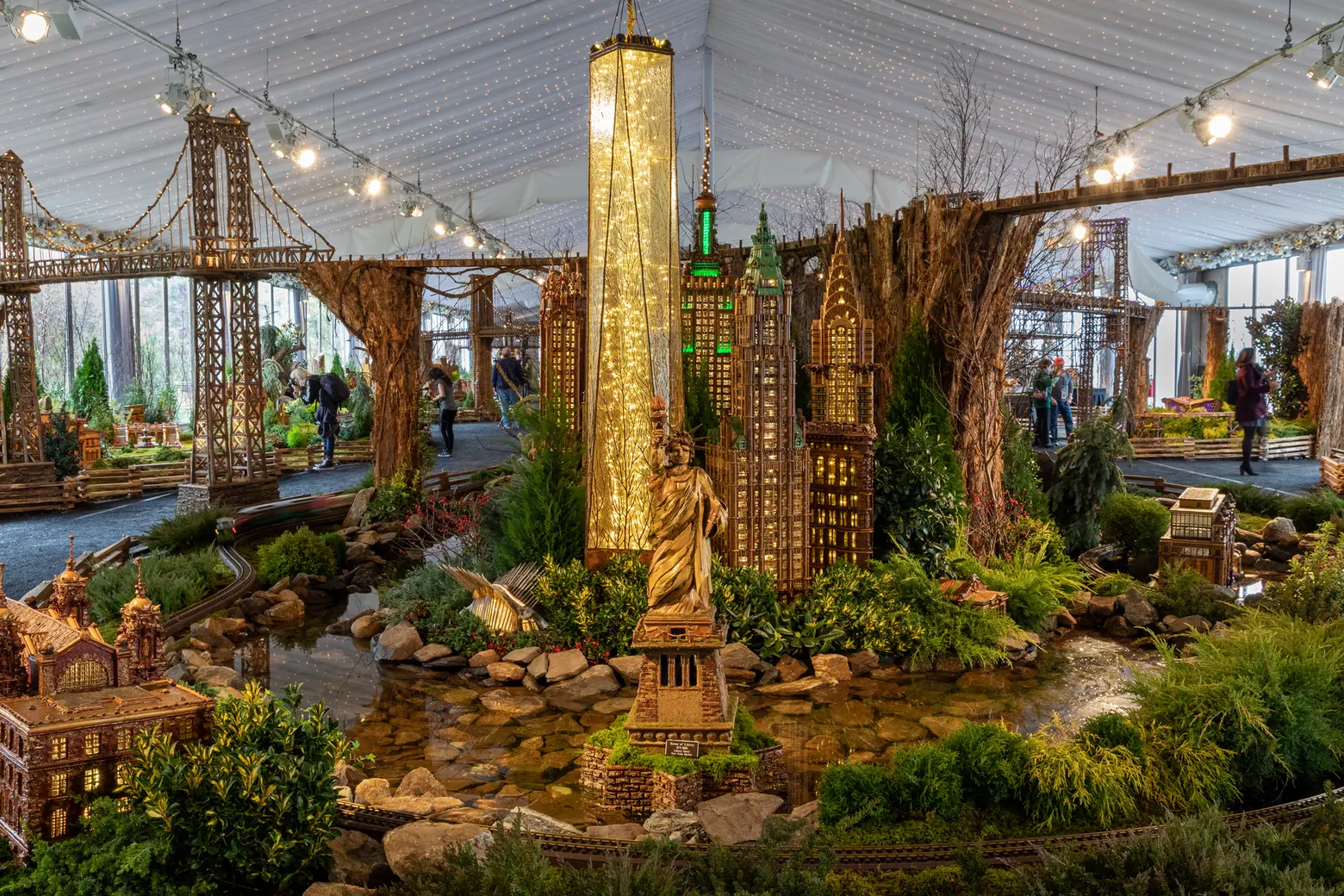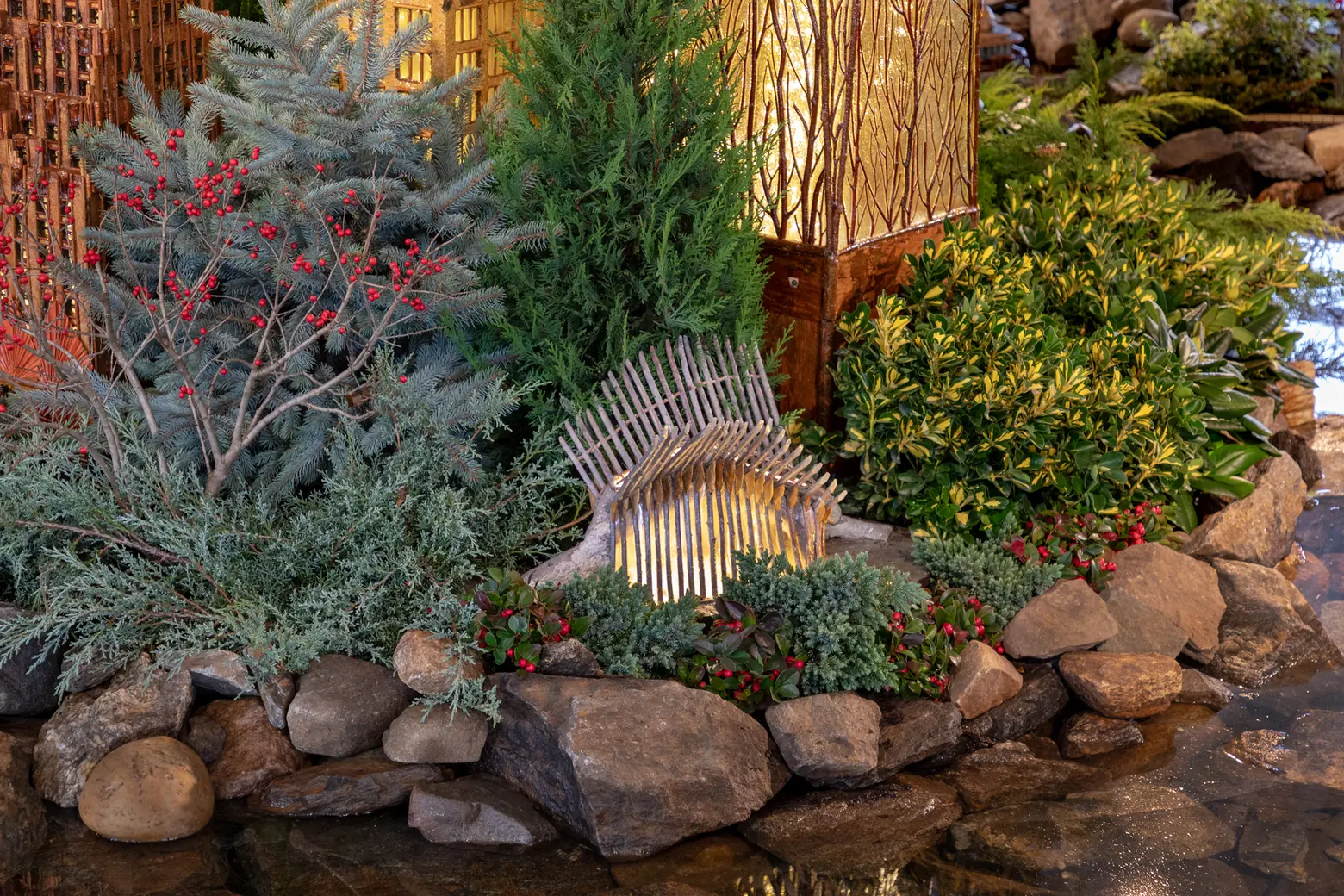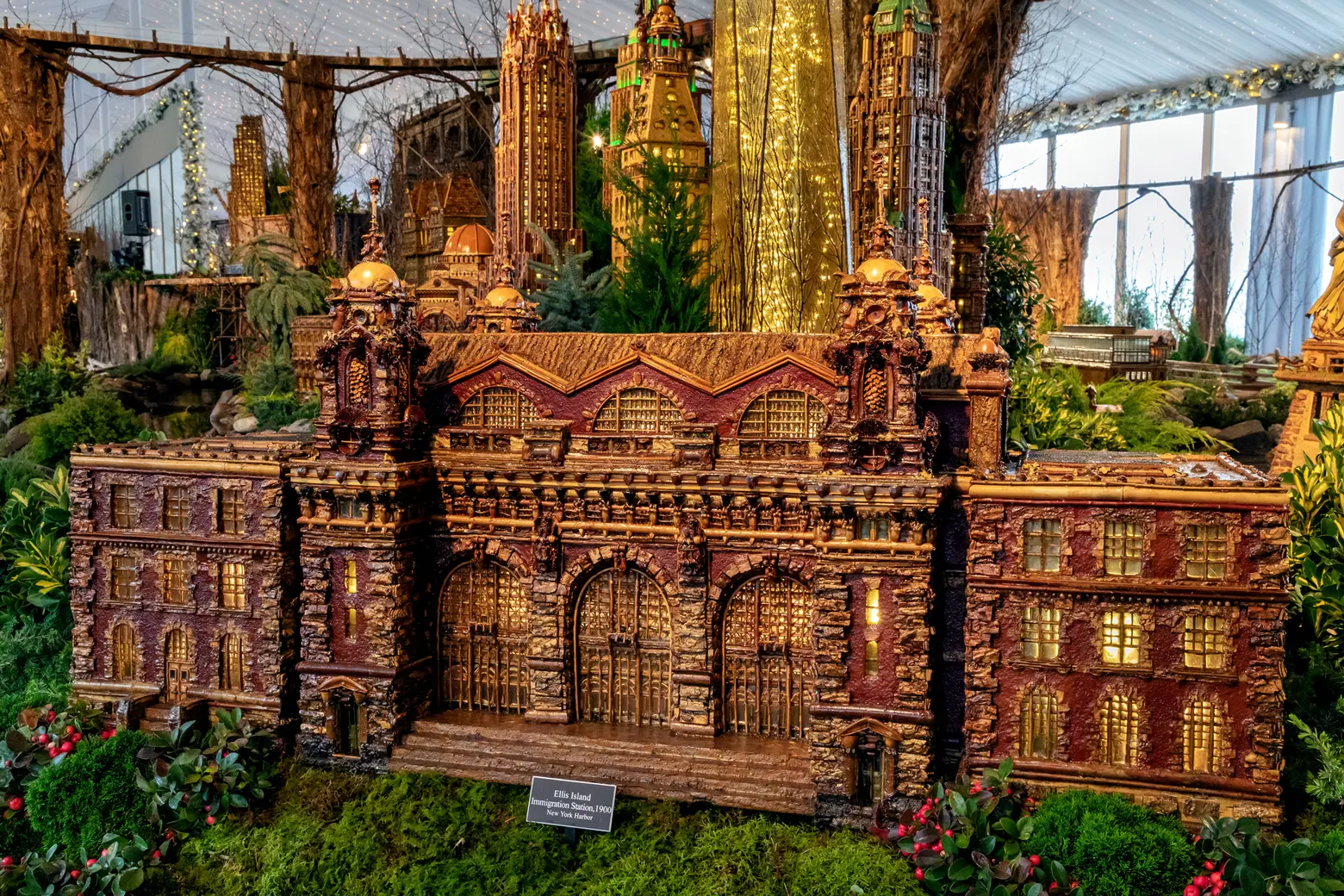 Other new models last year included One World Trade Center, the Woolworth Building, and the World Trade Center Oculus, which joined existing replicas such as the Statue of Liberty and Ellis Island. In 2017, the Empire State Building and Chrysler Building were updated. The branches on One World Trade symbolize rebirth and regrowth.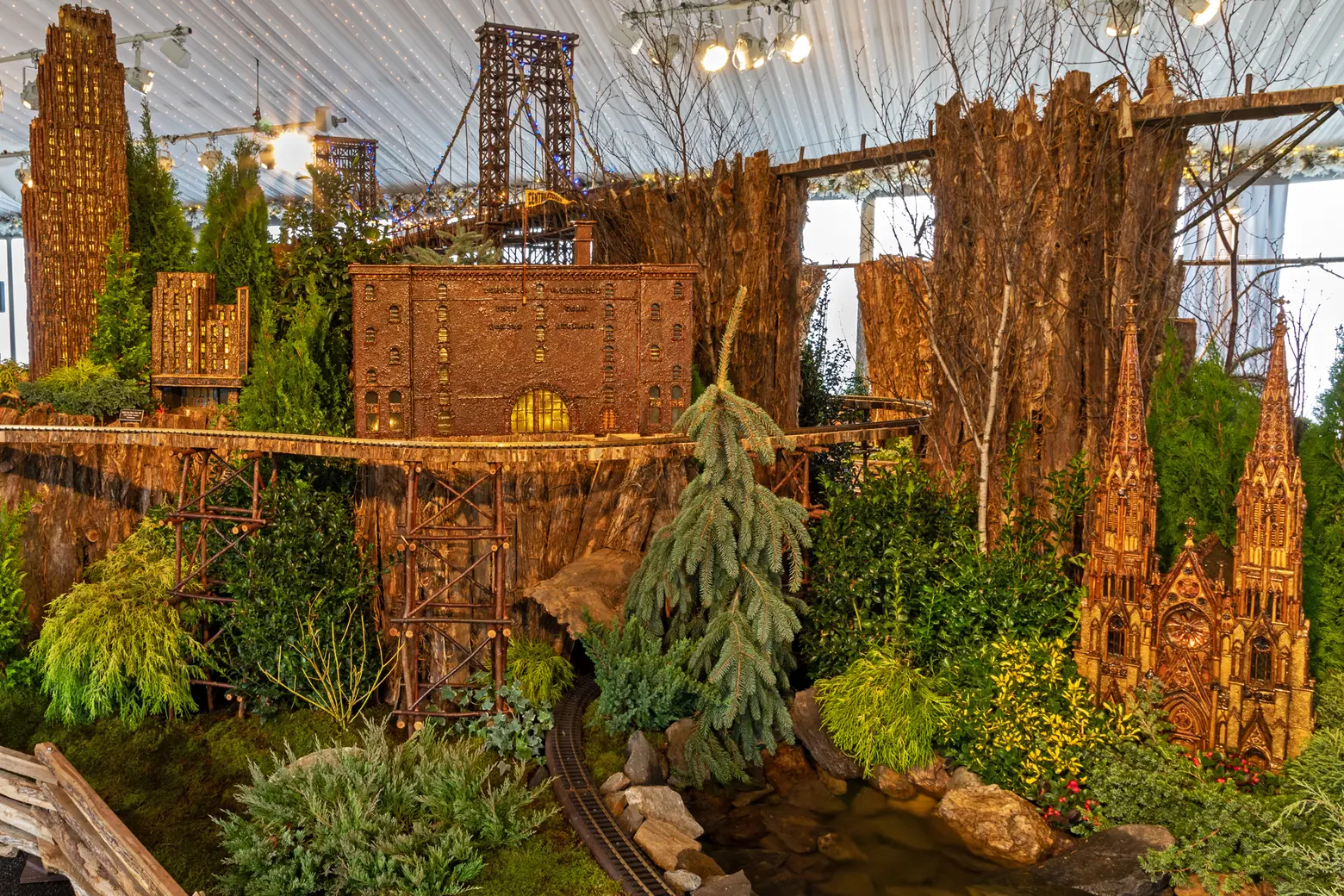 This year's exhibit required a lot more plants than normal (2,000 to be exact) since the Conservatory is already filled with plants to serve as the backdrop. It also required seven or eight 3,500-pound bundles of cedar, all shipped from Kentucky, to make the exhibits. The fabrication team builds all of the sculptural cedar on site.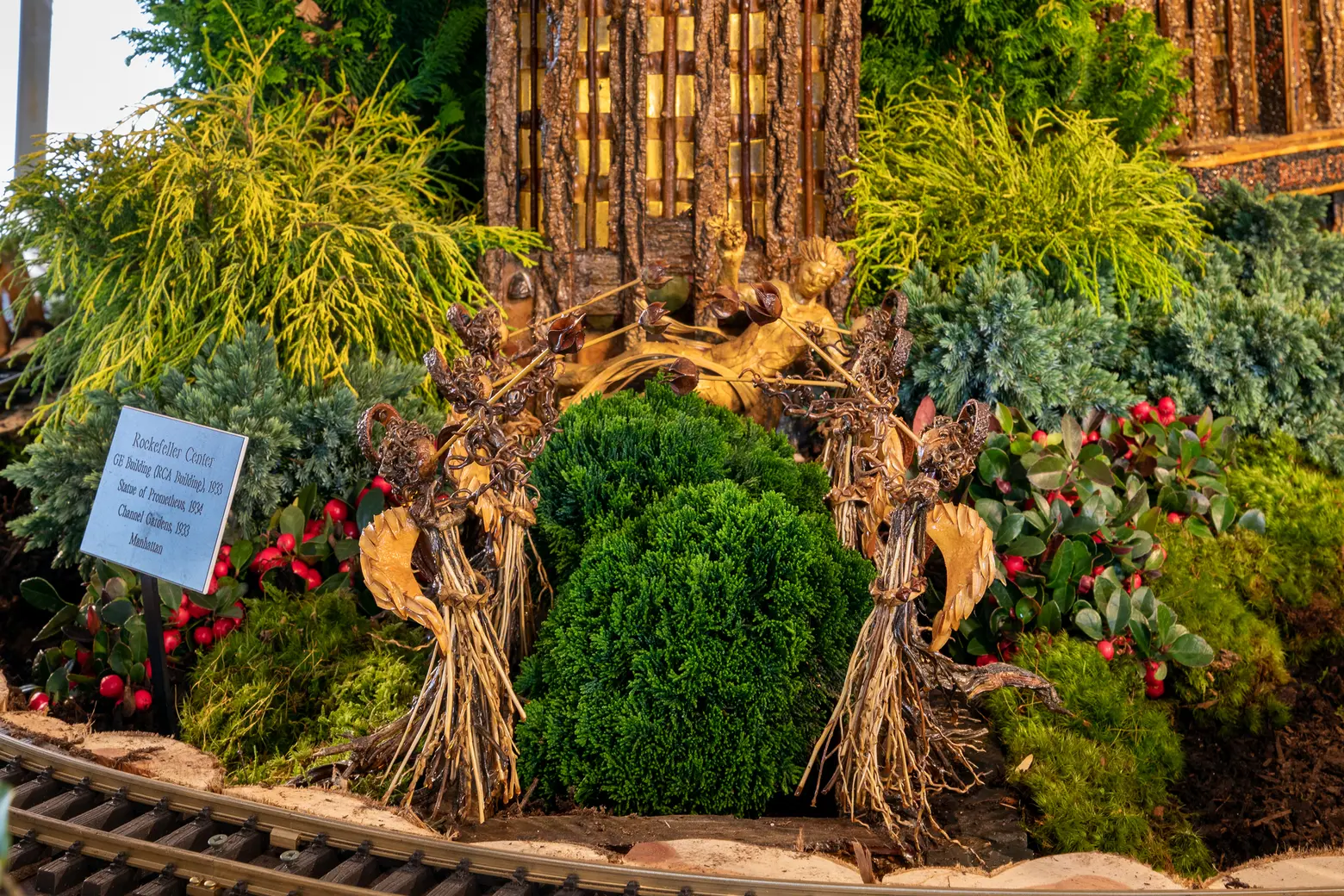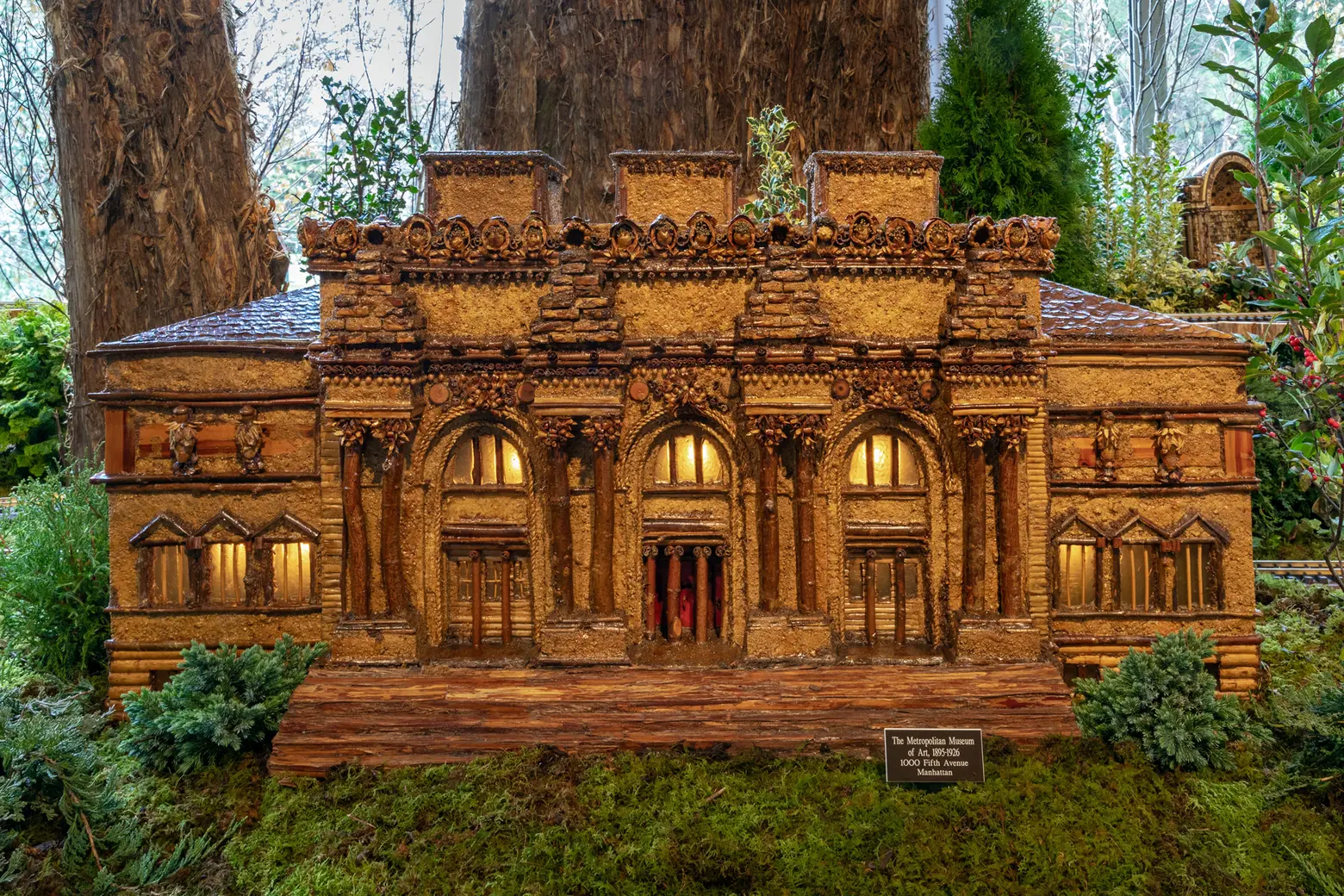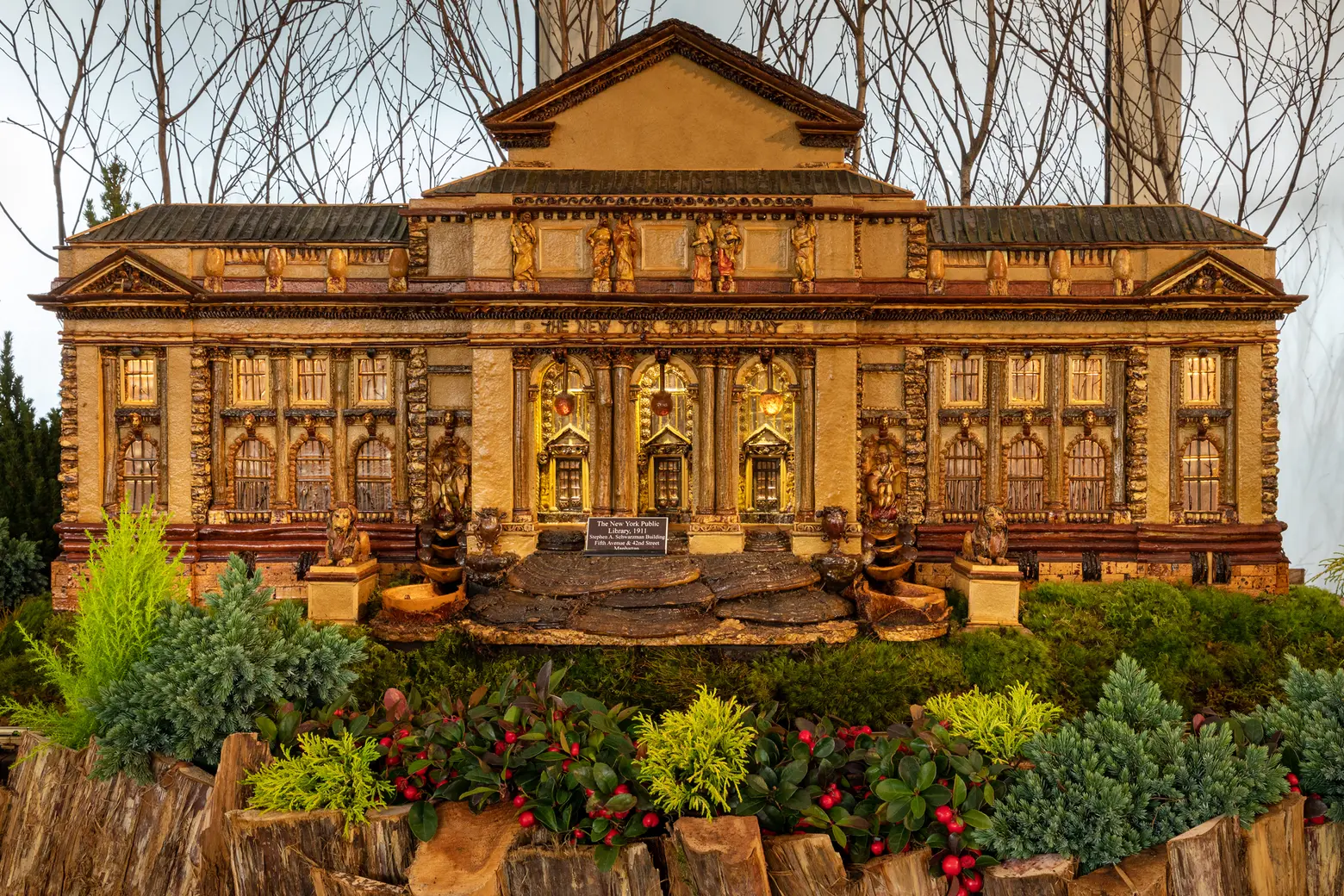 Above, the angel sculptures at Rockefeller Center's Channel Gardens, the Metropolitan Museum of Art, and the New York Public Library. The models are coated with spar urethane to preserve them. Some are original (like the Edgar Allen Poe Cottage) or 20 years old, but they do need to be spruced up every few years. When the artists come on-site each year, they are equipped with giant repair kits full of every imaginable material if something needs fixing.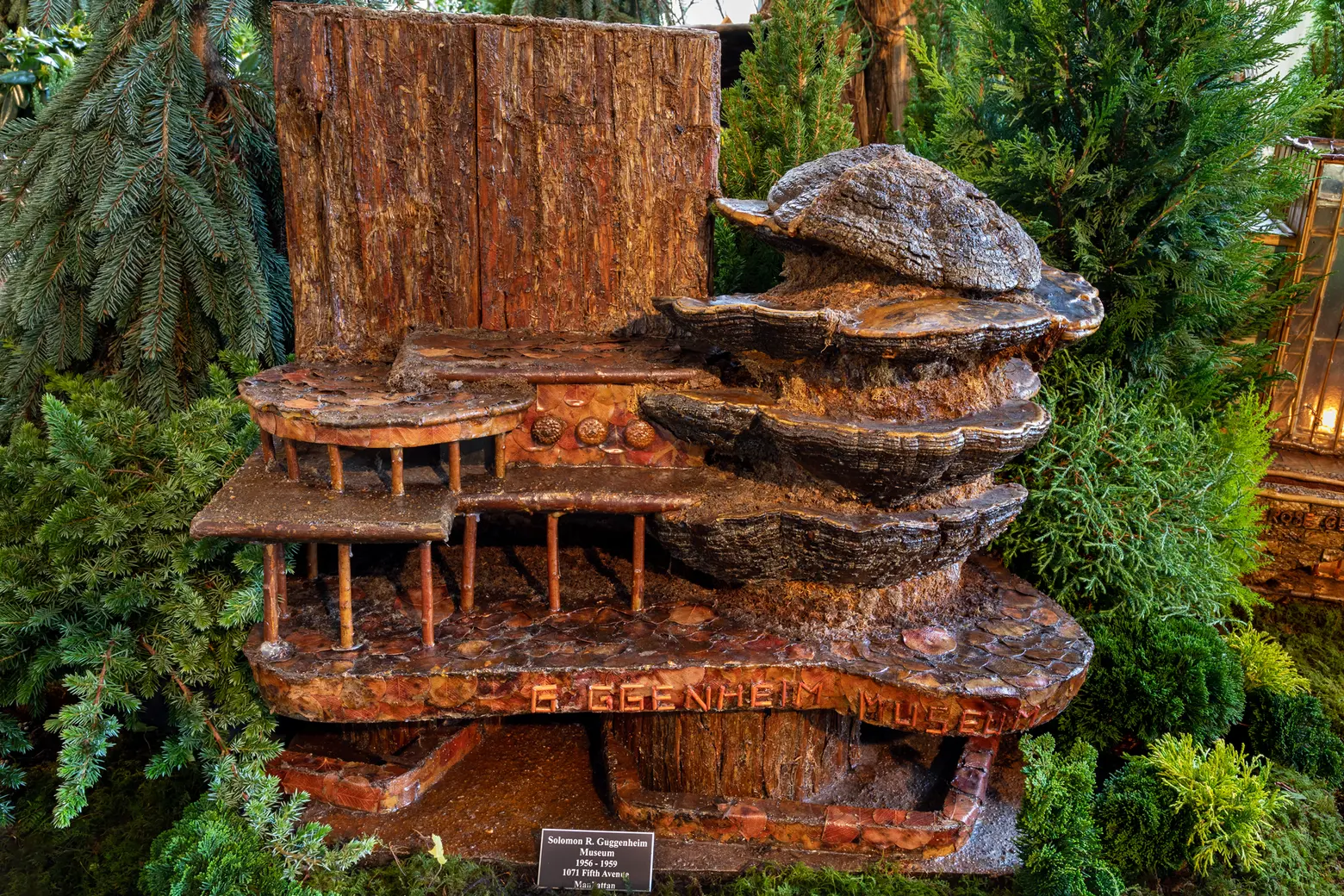 Paul Busse is a huge fan of Frank Lloyd Wright, so the Guggenheim was an early model. It's made from toadstools.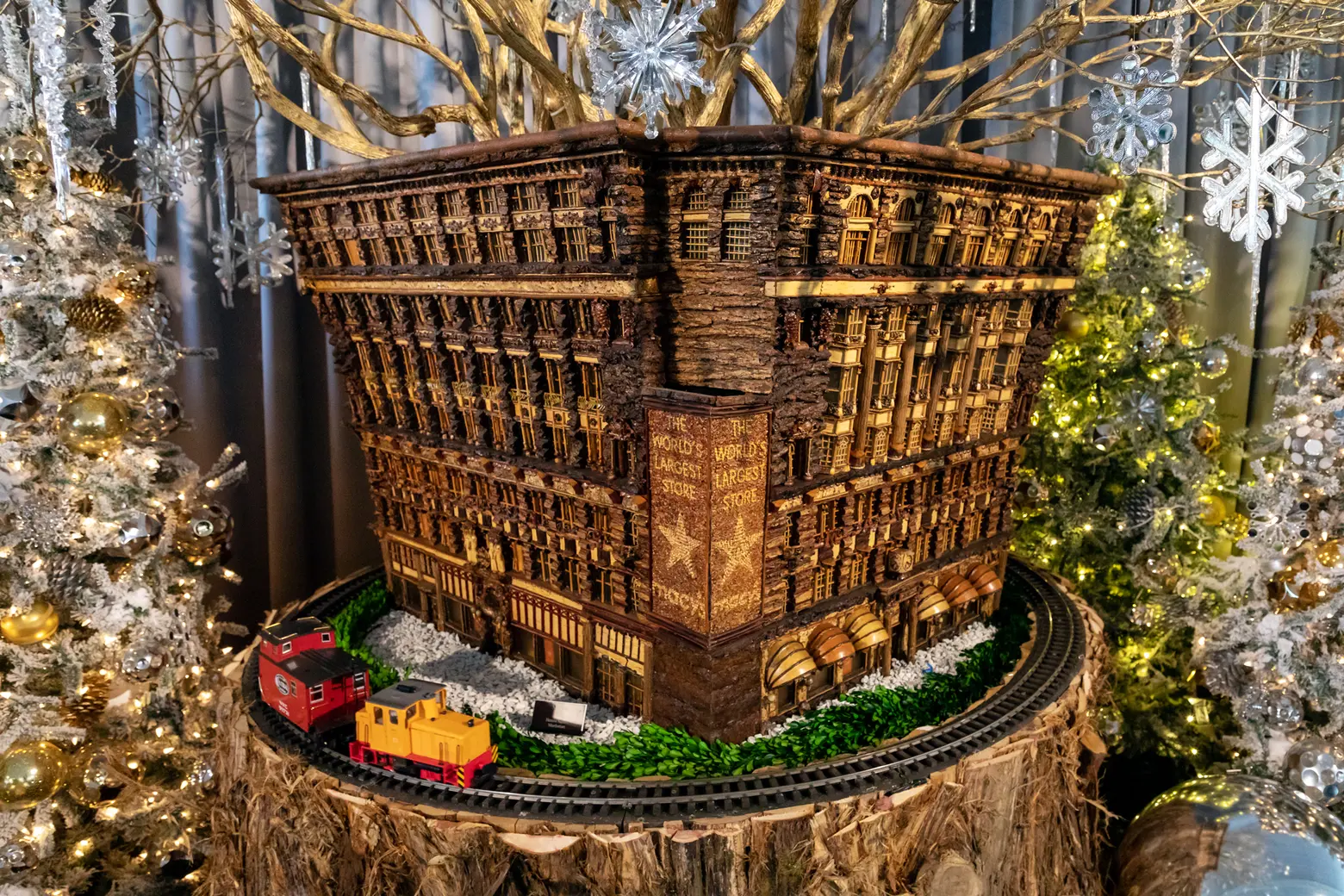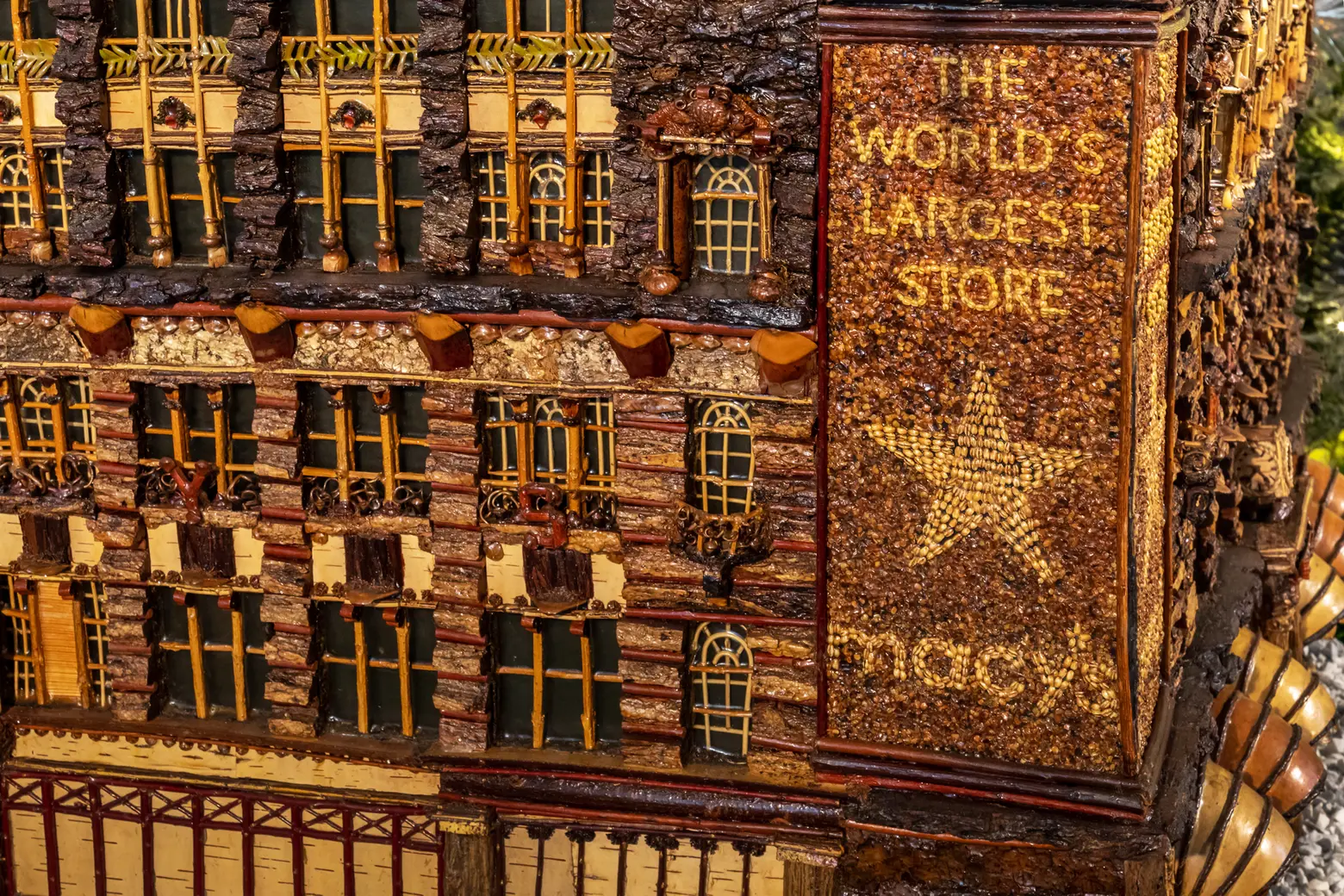 To make the Macy's sign, designers used barley and red pepper flakes. The awnings are gourds, and the mullions are birch. We asked Laura what materials her team uses most to build the models, and she said pine cones in different forms and various barks to create texture. She also noted that every building requires some form of sticks for the windows.
Thomas the Tank Engine has been with the show for 10 years; he runs around Yankee Stadium. Other G-scale trains include mid-century diesel-electric trains, steam locomotives, and modern freight trains.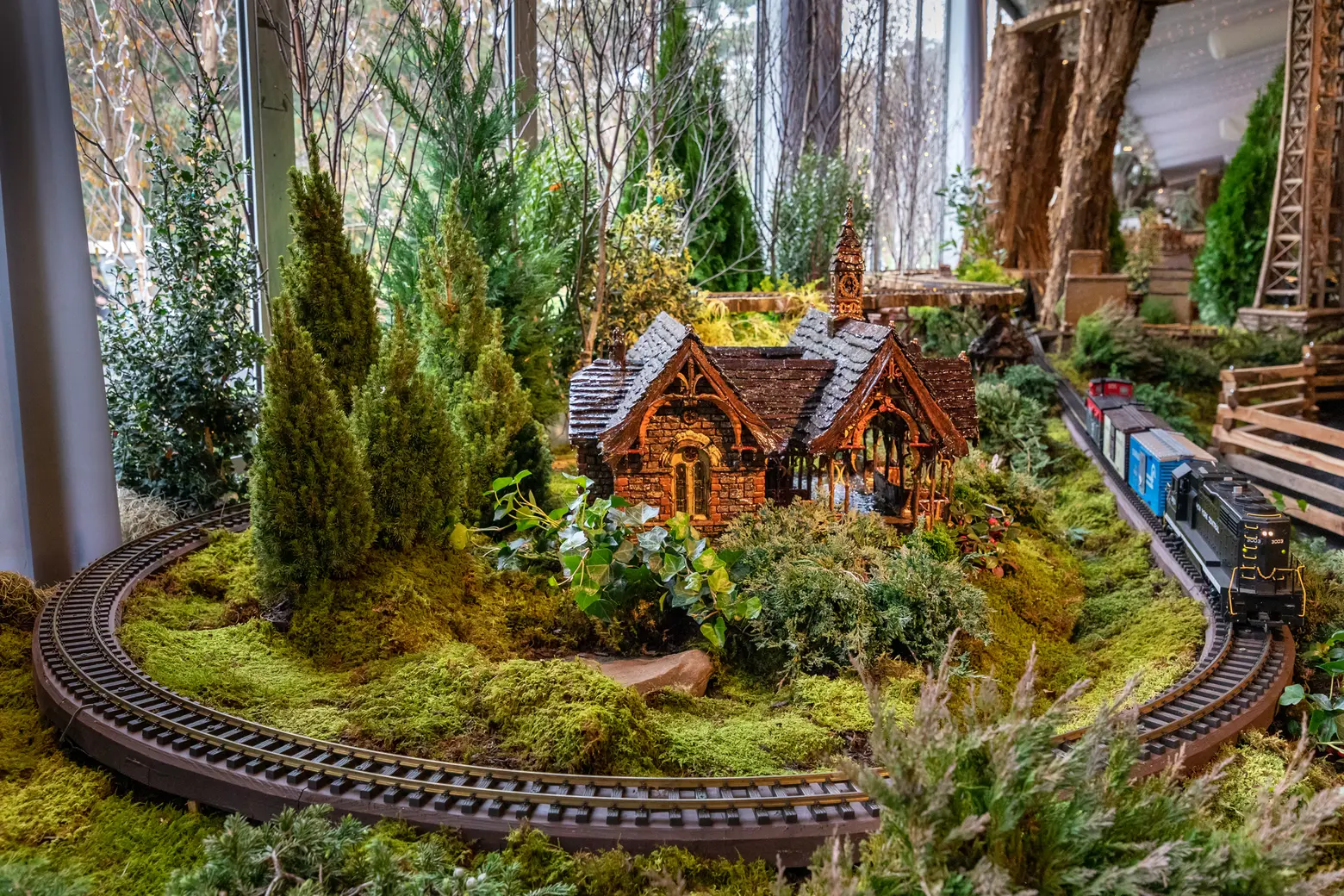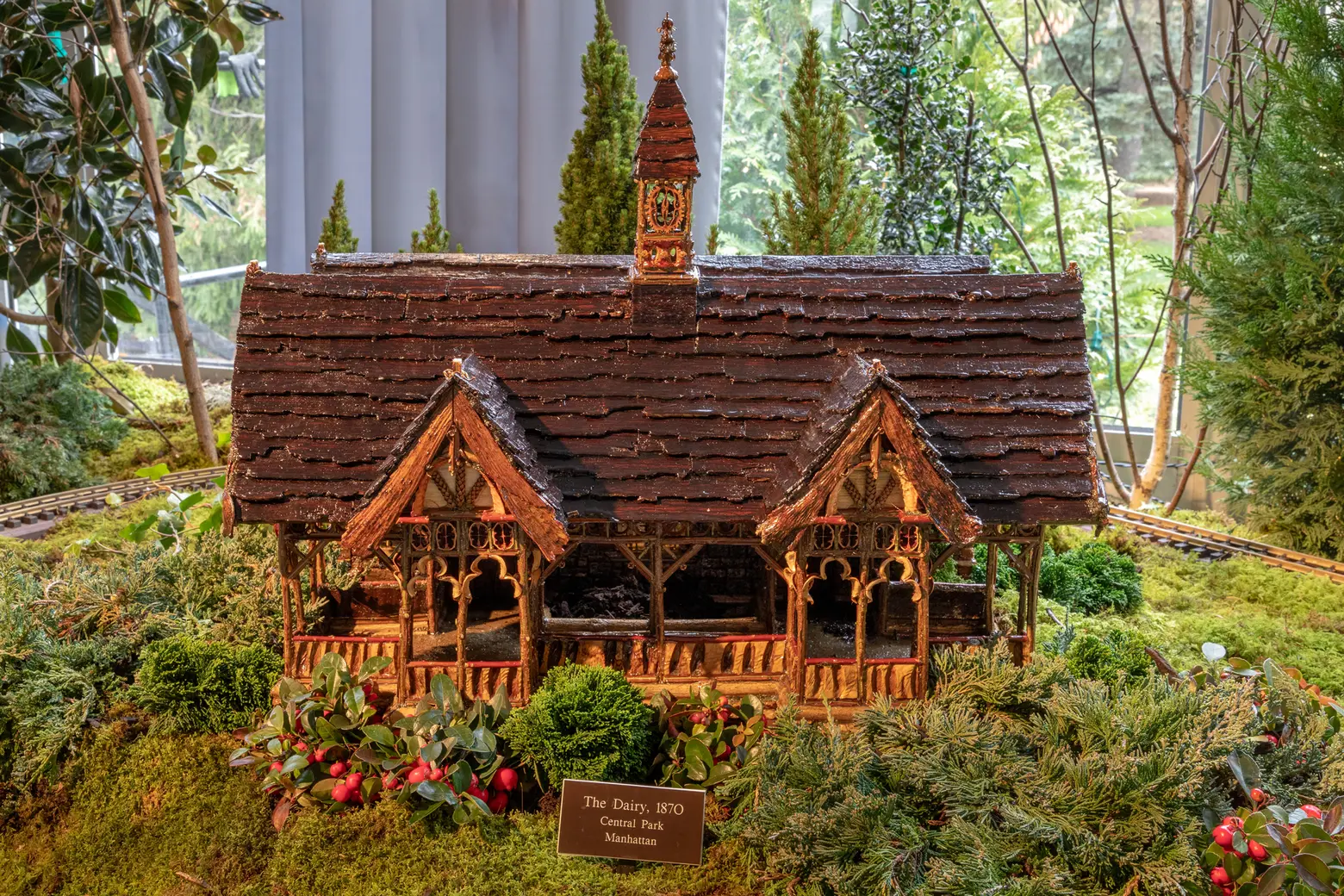 The new Central Park section starts with the Dairy. It's all set atop a field of moss. In the entire show, there are 200 boxes worth of moss, all of which were shipped up from North Carolina.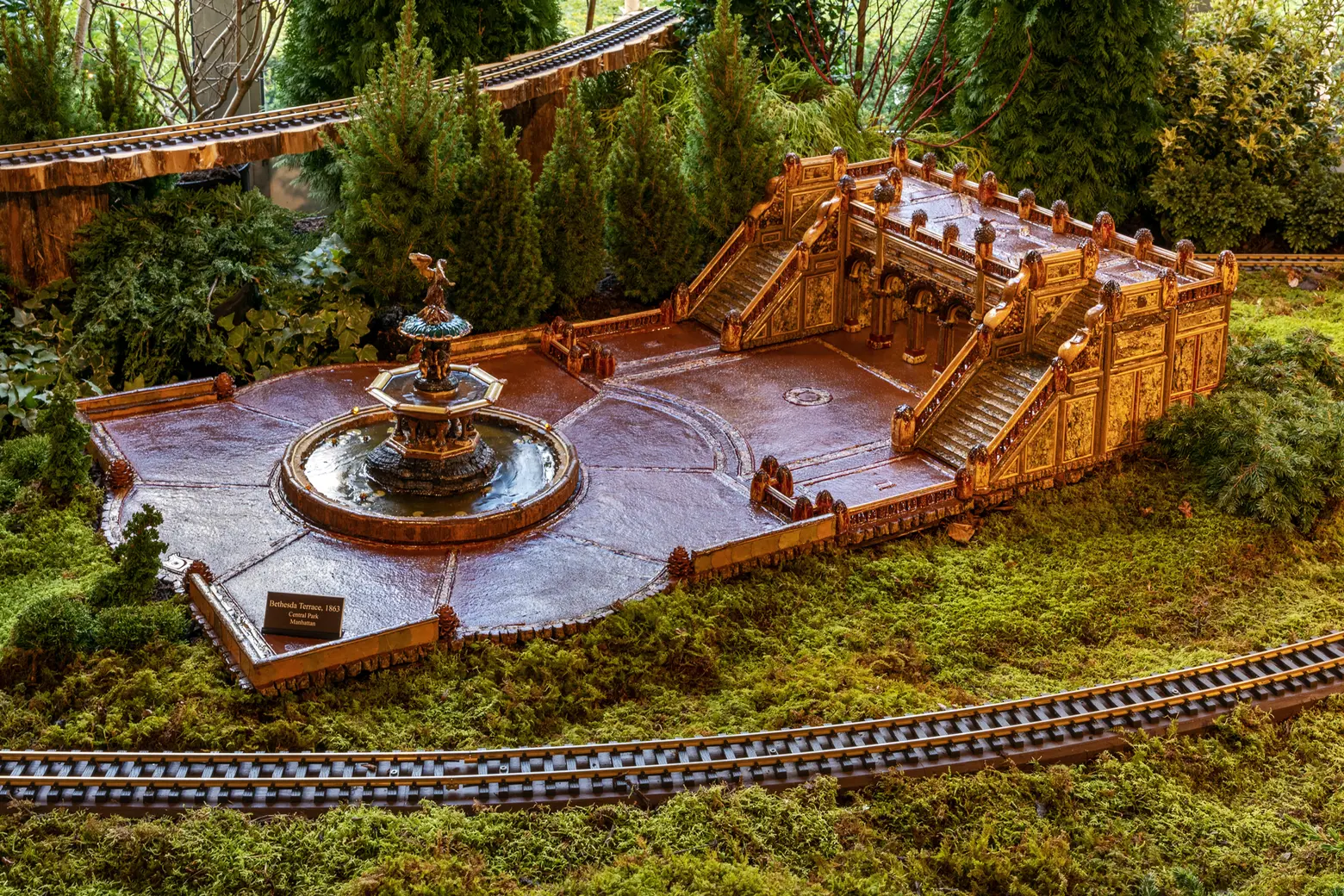 The show previously featured the fountain and Angel of the Waters statue, but the full Bethesda Terrace model is new. Horse chestnut bark was used for the mosaic work.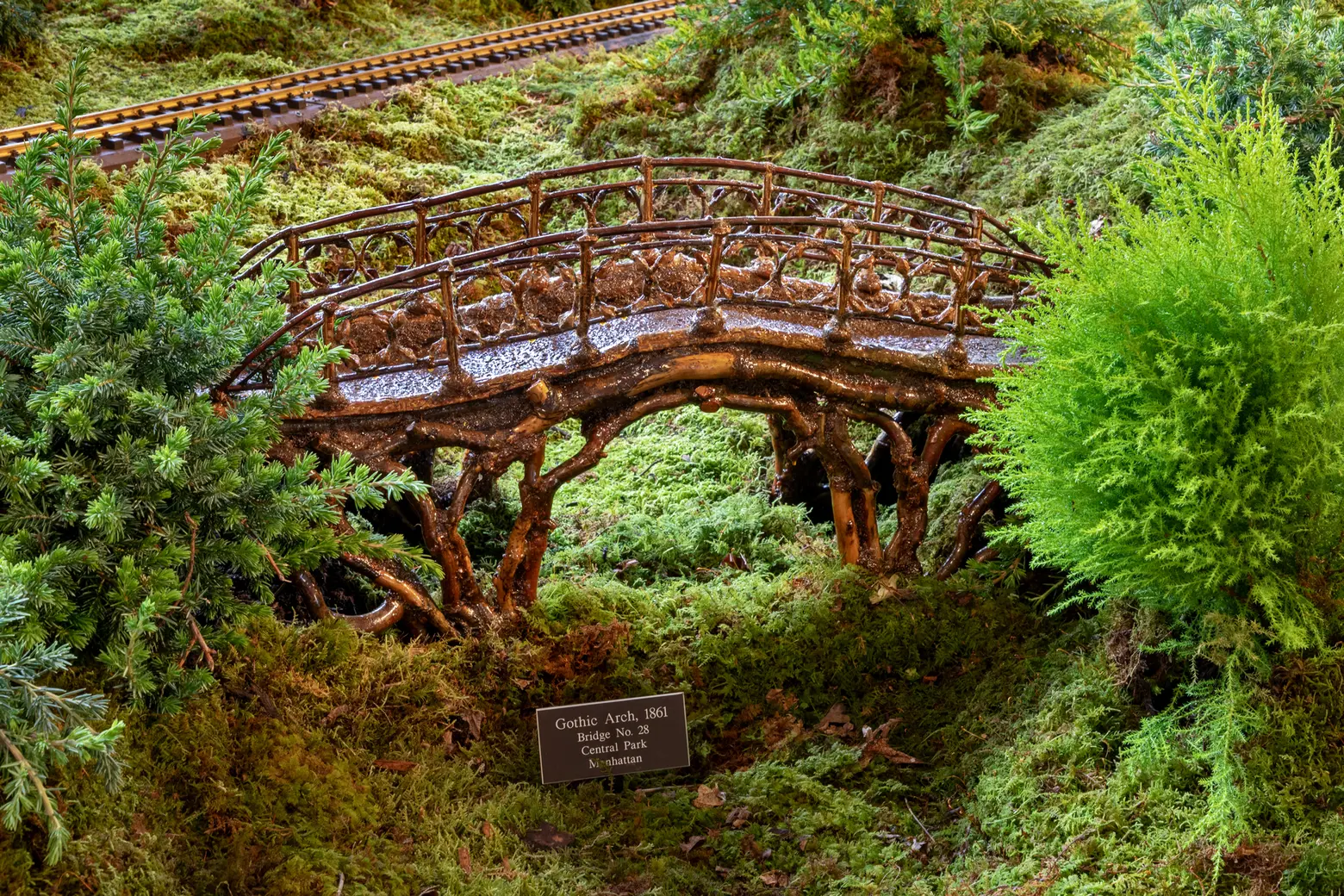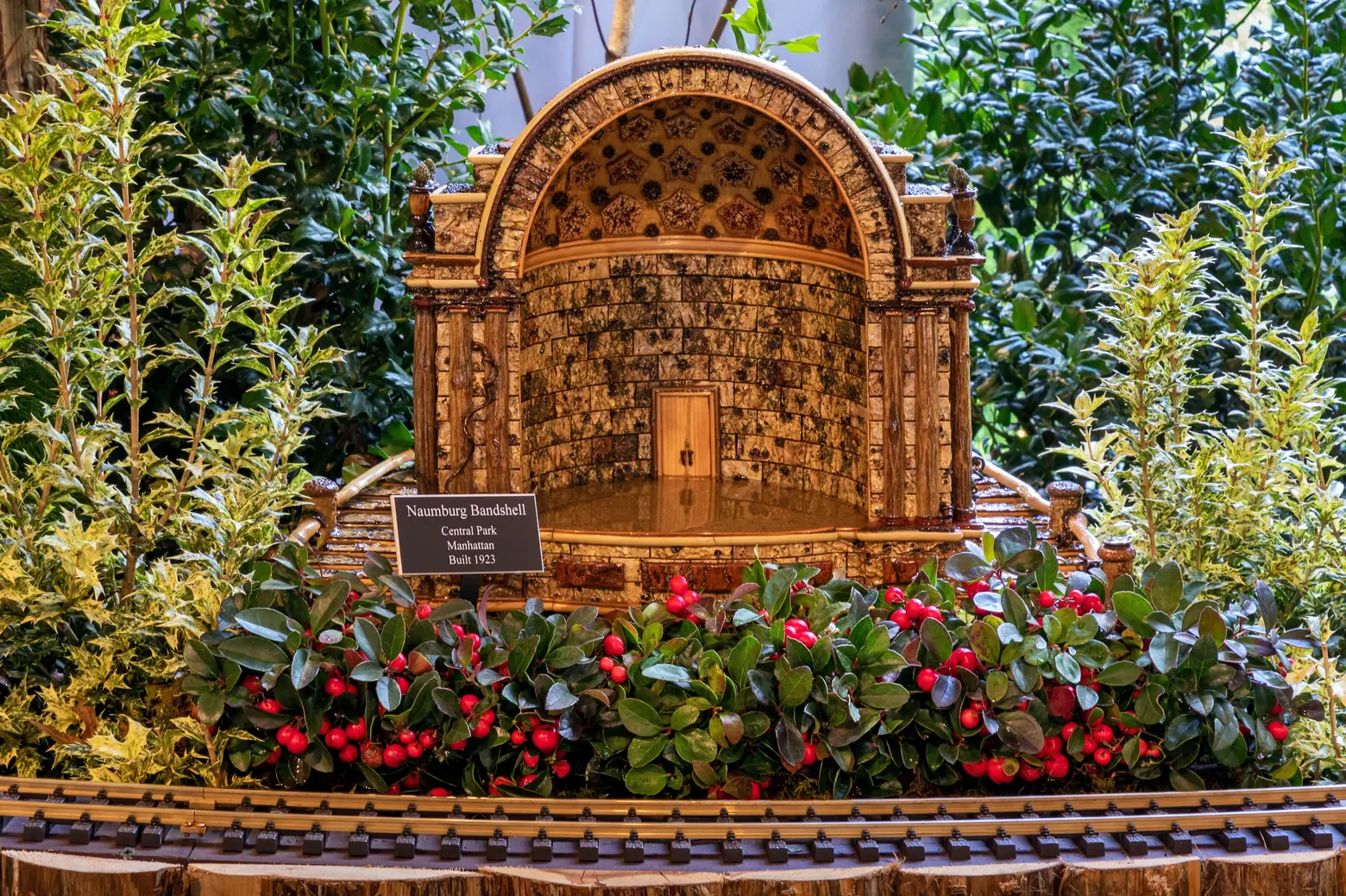 The new model of the Naumburg Bandshell is made from a whole piece of cut gourd, decorated on the inside.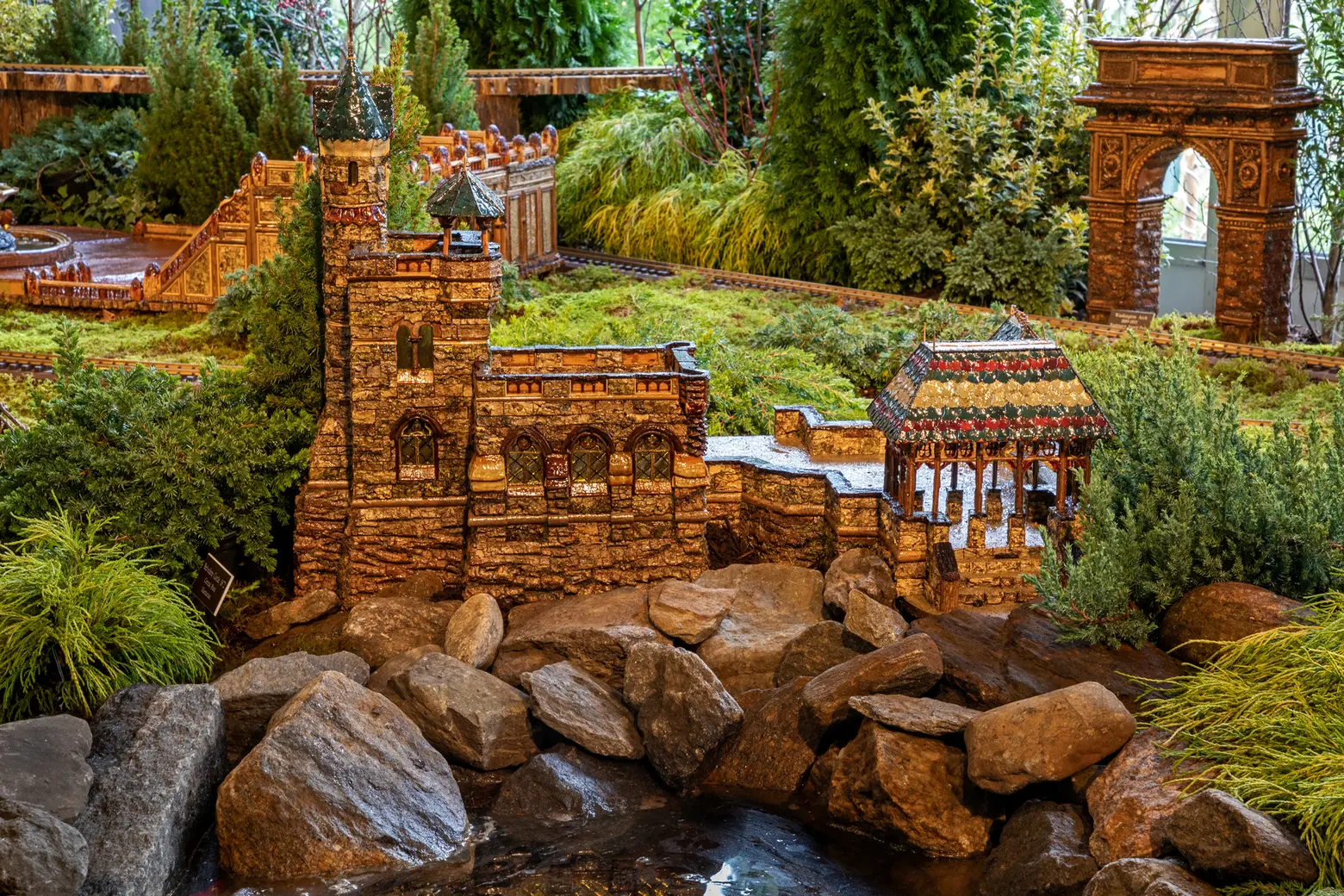 When Applied Imagination decided they wanted to redo Belvedere Castle this year, they got very lucky. Since the actual building underwent a renovation recently and is a NYC landmark, they were able to find documents and architectural plans online that they could follow. Usually, they begin by using Google Earth, checking various archives for historic photos, and putting the two together.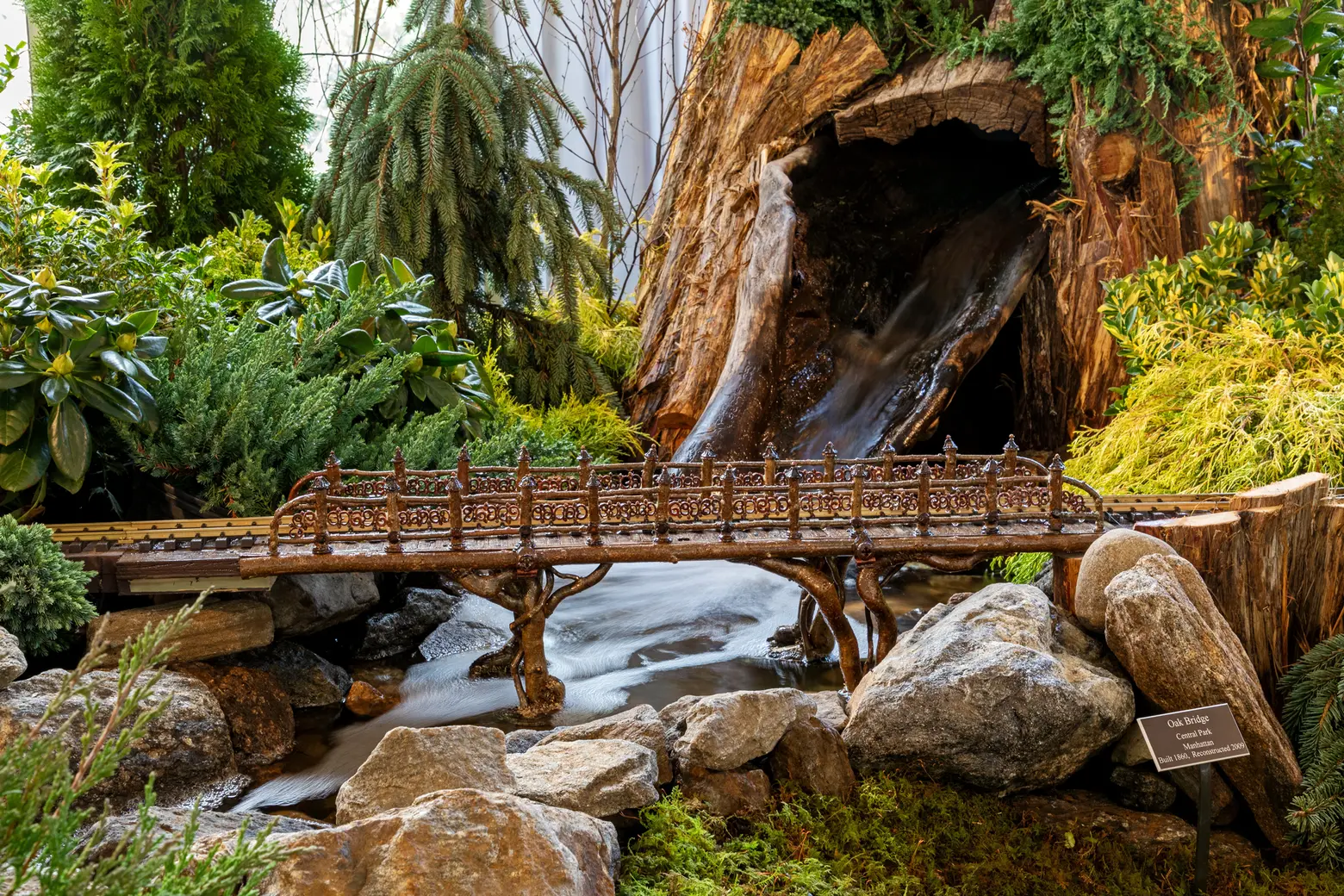 The waterfall that is part of Central Park is built from a downed tree that the team pulled from the forest.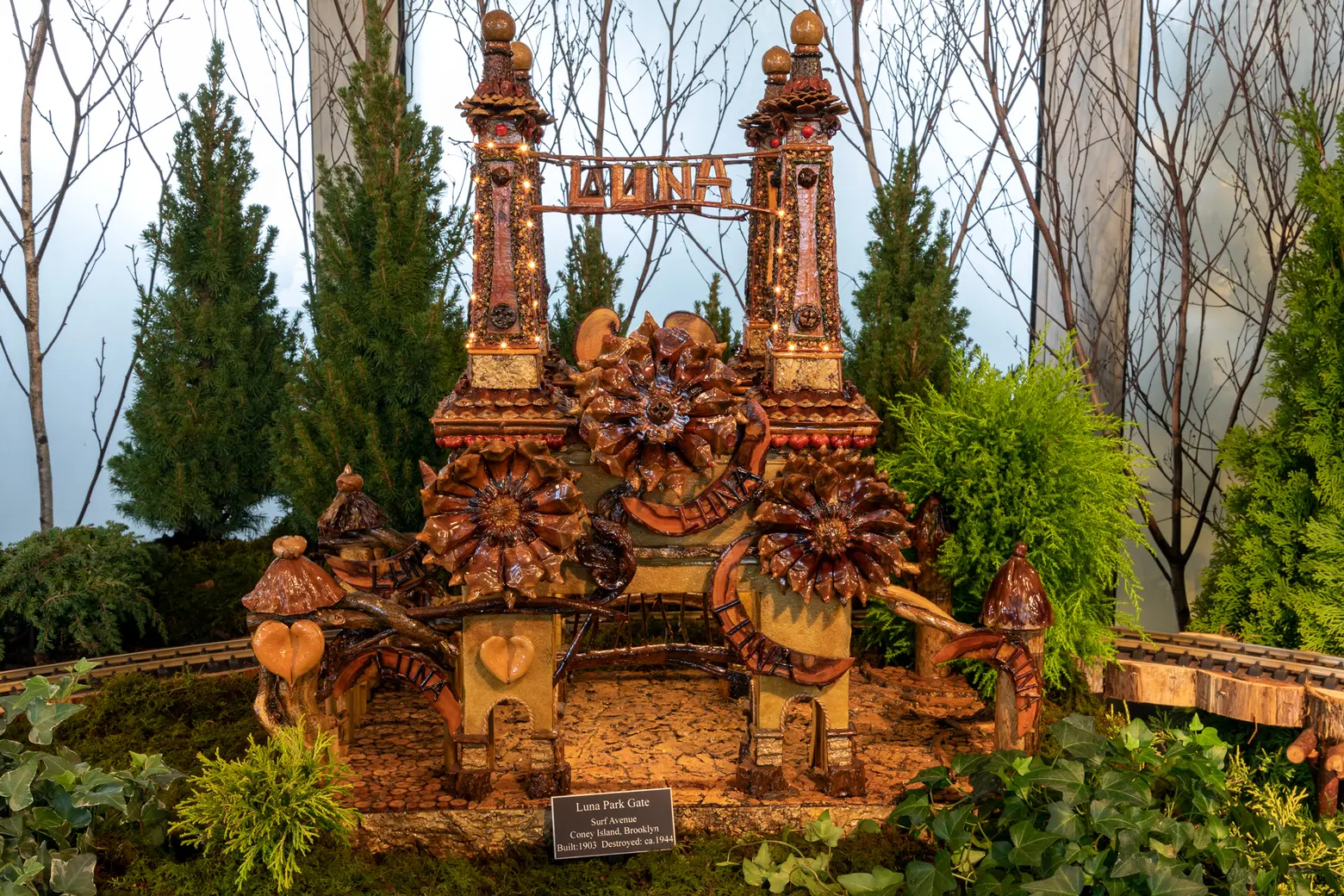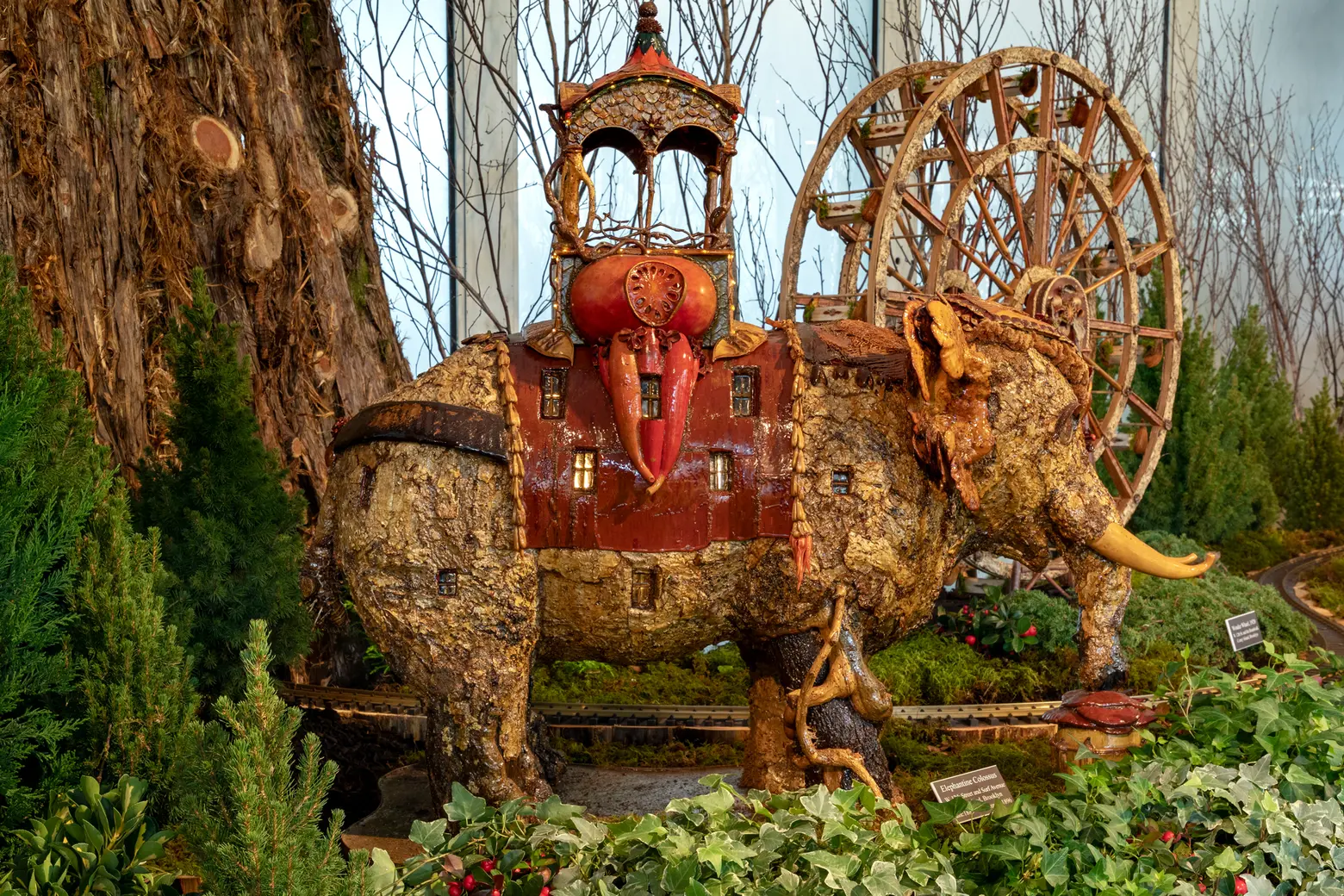 A few years ago, the theme was Coney Island. Along the course of the show, you can see 500 cut birch treetops/limbs that were sent in from Maine to help form the background.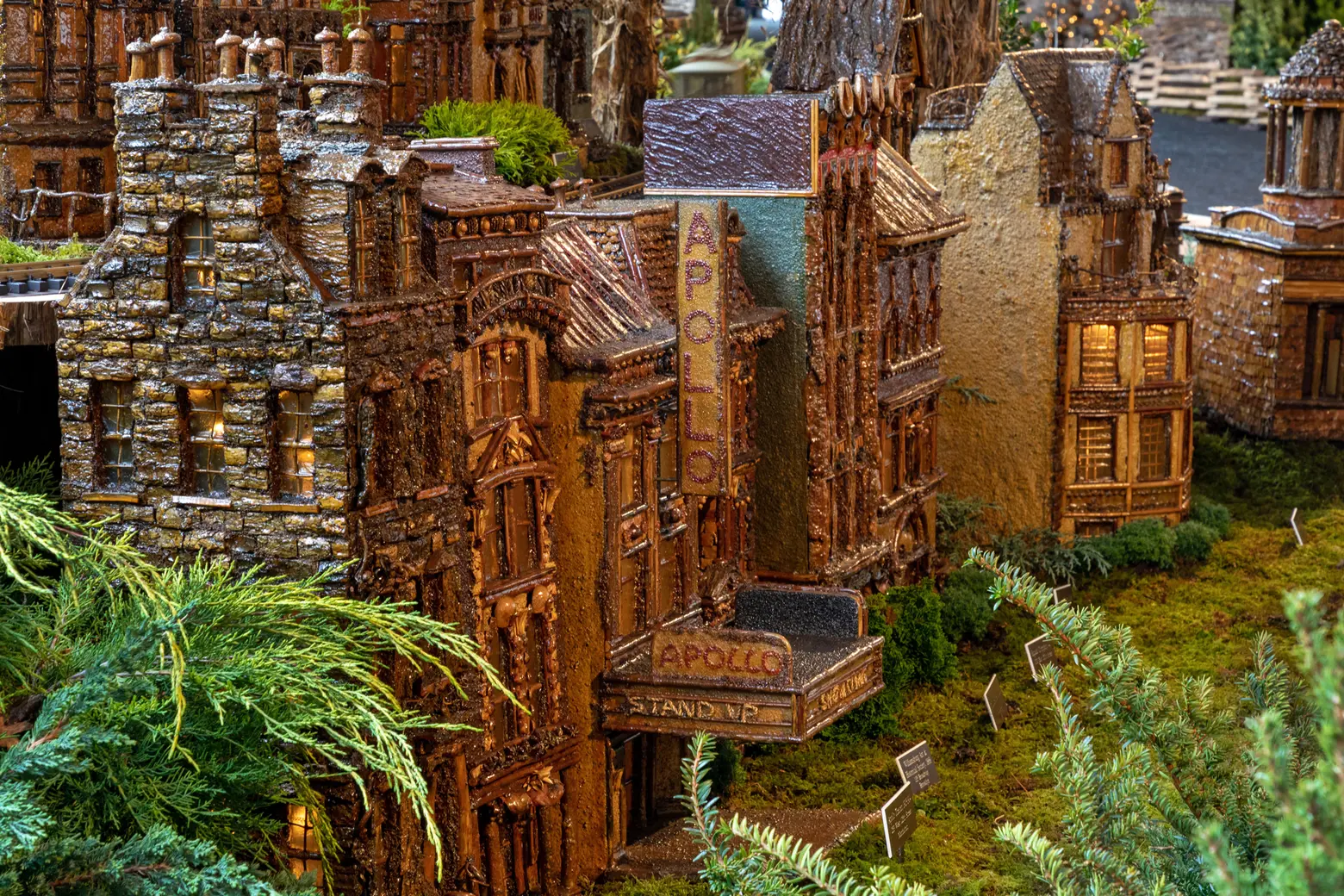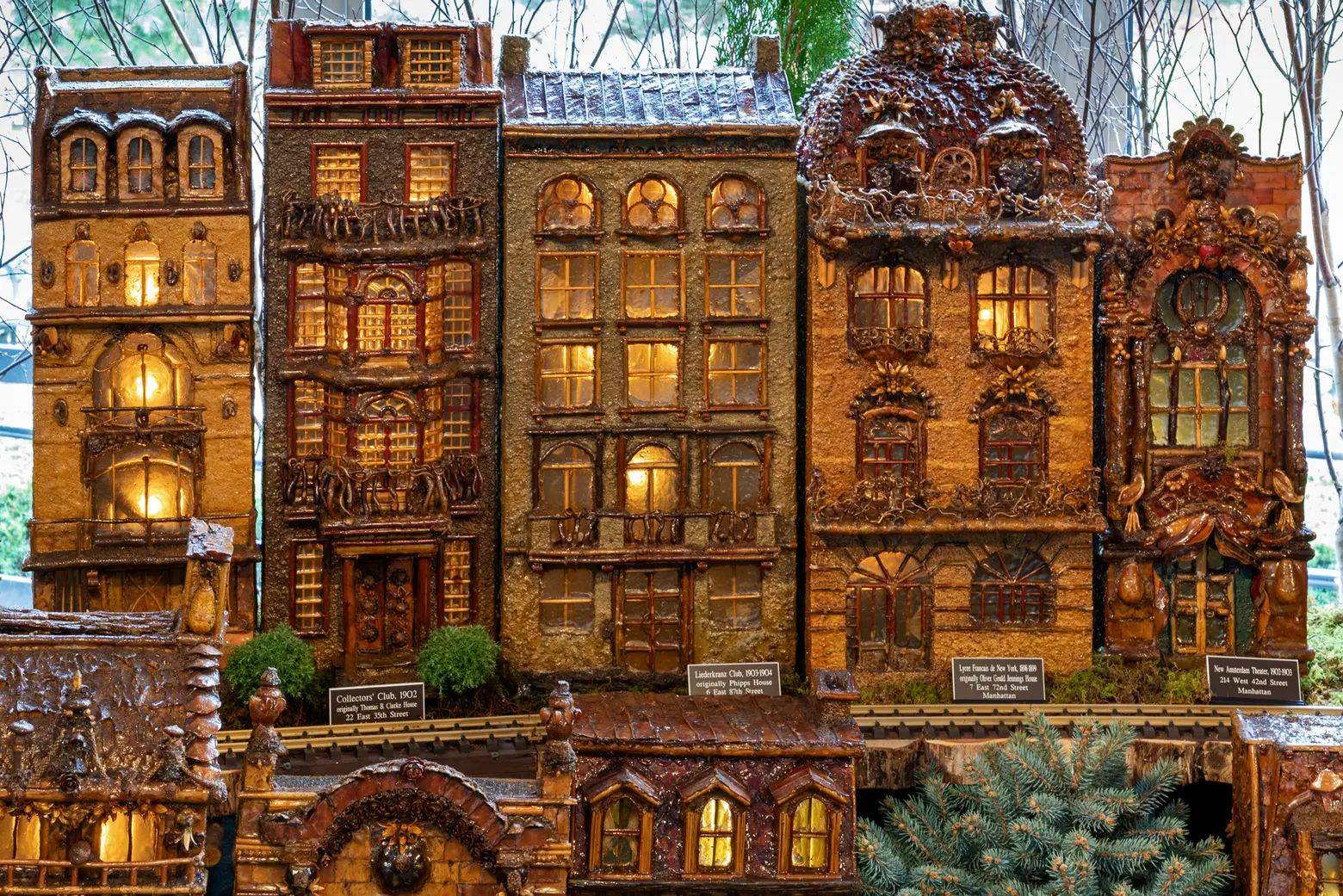 This is the first time that the entire collection of rowhouses is in one group. The scale of the buildings is not 1:1; often, perspective or height is distorted so it feels like you're looking up at the real building.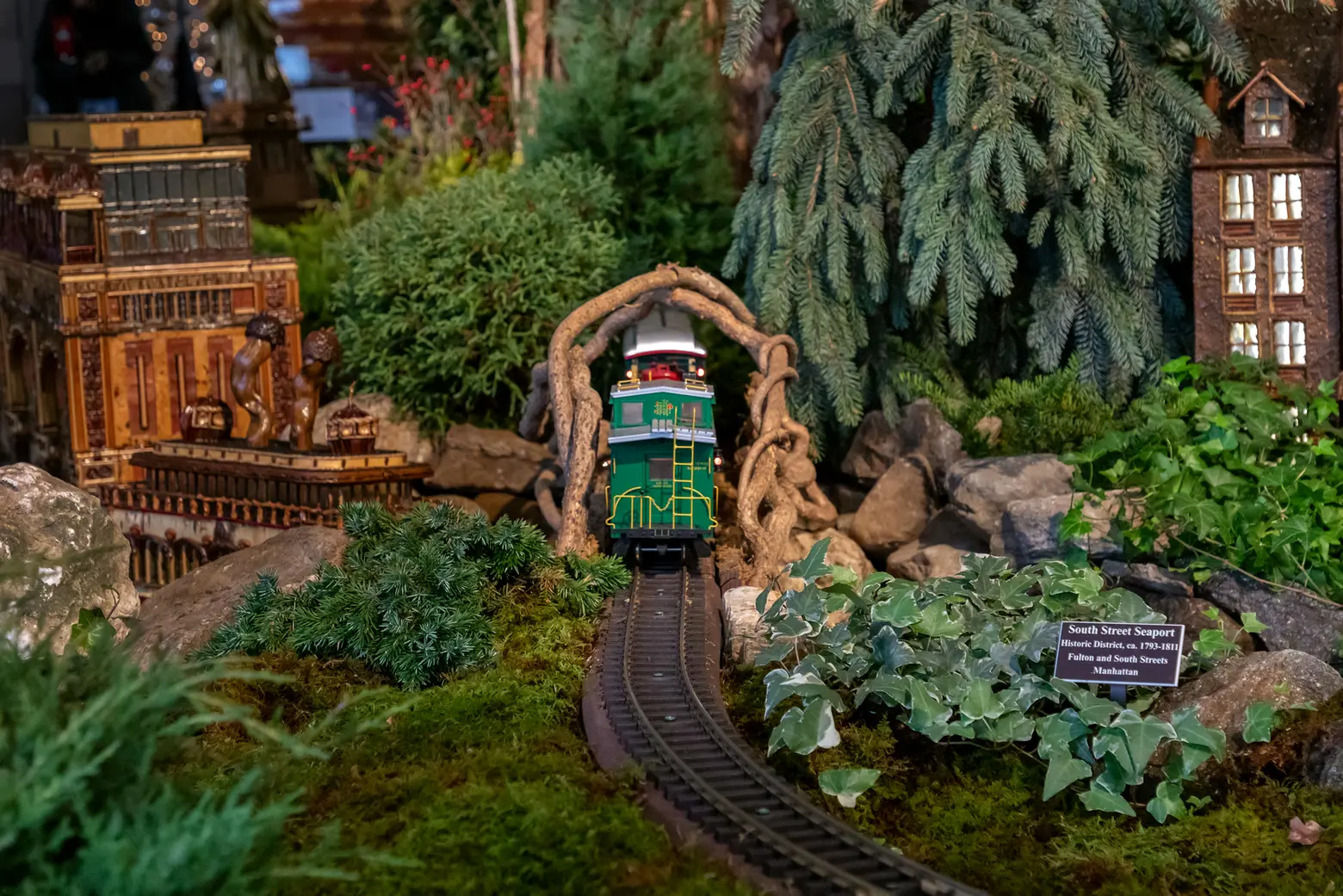 Though this year's show is the largest installation Applied Imagination has ever done, Laura tells us that she's already planning for next year.
The Holiday Train Show is on view through January 26, 2020. To find out more details and for all the programming surrounding the exhibit, click here >>
And to get an interactive look at the show, check out this video from photographers James and Karla Murray:
RELATED:
All photos by James and Karla Murray exclusively for 6sqft. Photos are not to be reproduced without written permission from 6sqft.