Study: New York City could get hit with a flood every five years instead of every 500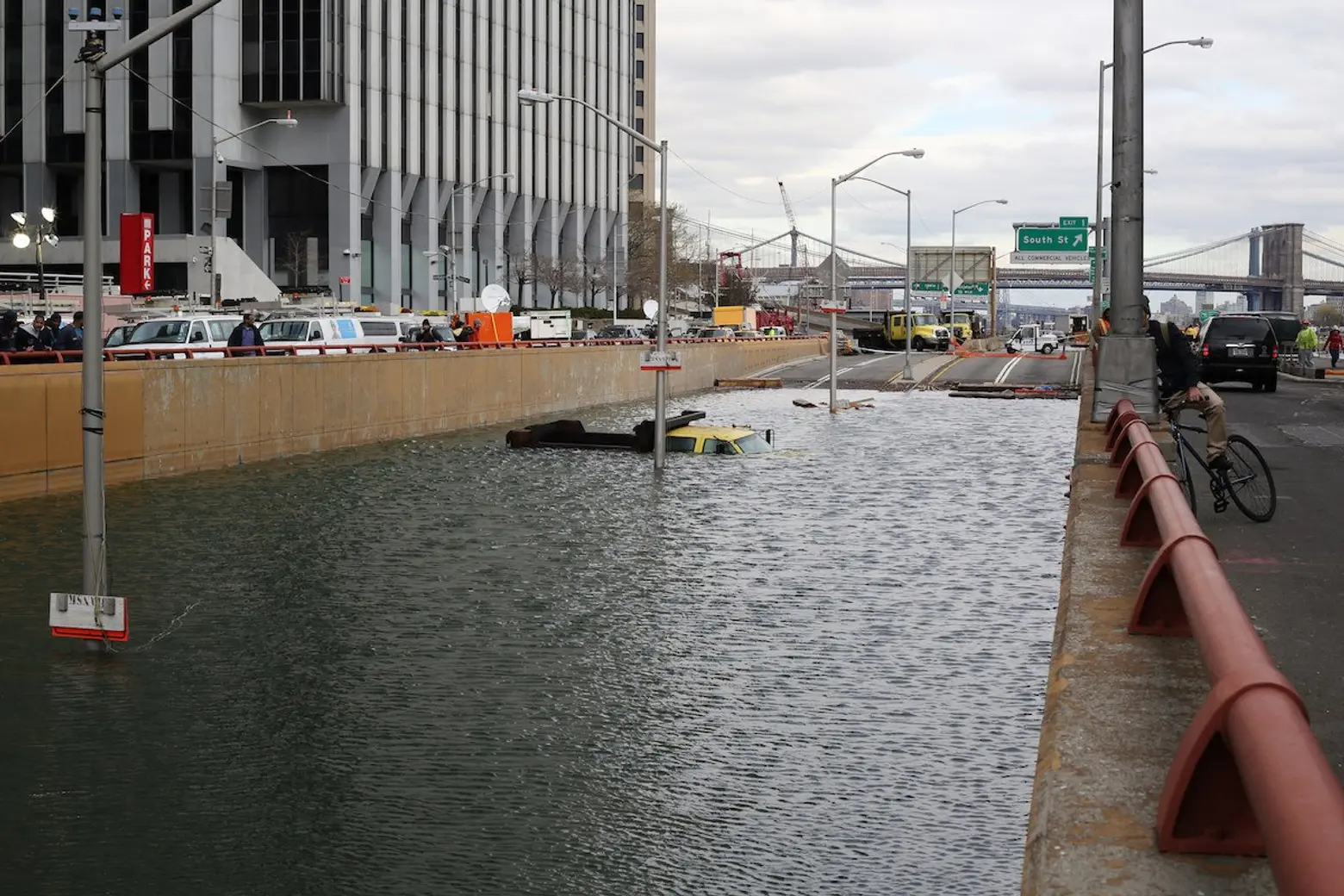 Flooded Battery Park Tunnel after Hurricane Sandy. Image: Timothy Krause via Flickr.
With the October 29th anniversary of superstorm Sandy approaching and storms leaving the world's coastlines waterlogged, 6sqft recently covered a new report predicting rising sea levels and a growing flood risk. Now a new study, published Monday, found that New York is almost halfway through a 500-year span of rising seas that began in 1800–and the worst is yet to come. But according to the Washington Post, this increased likelihood of flooding has a silver lining.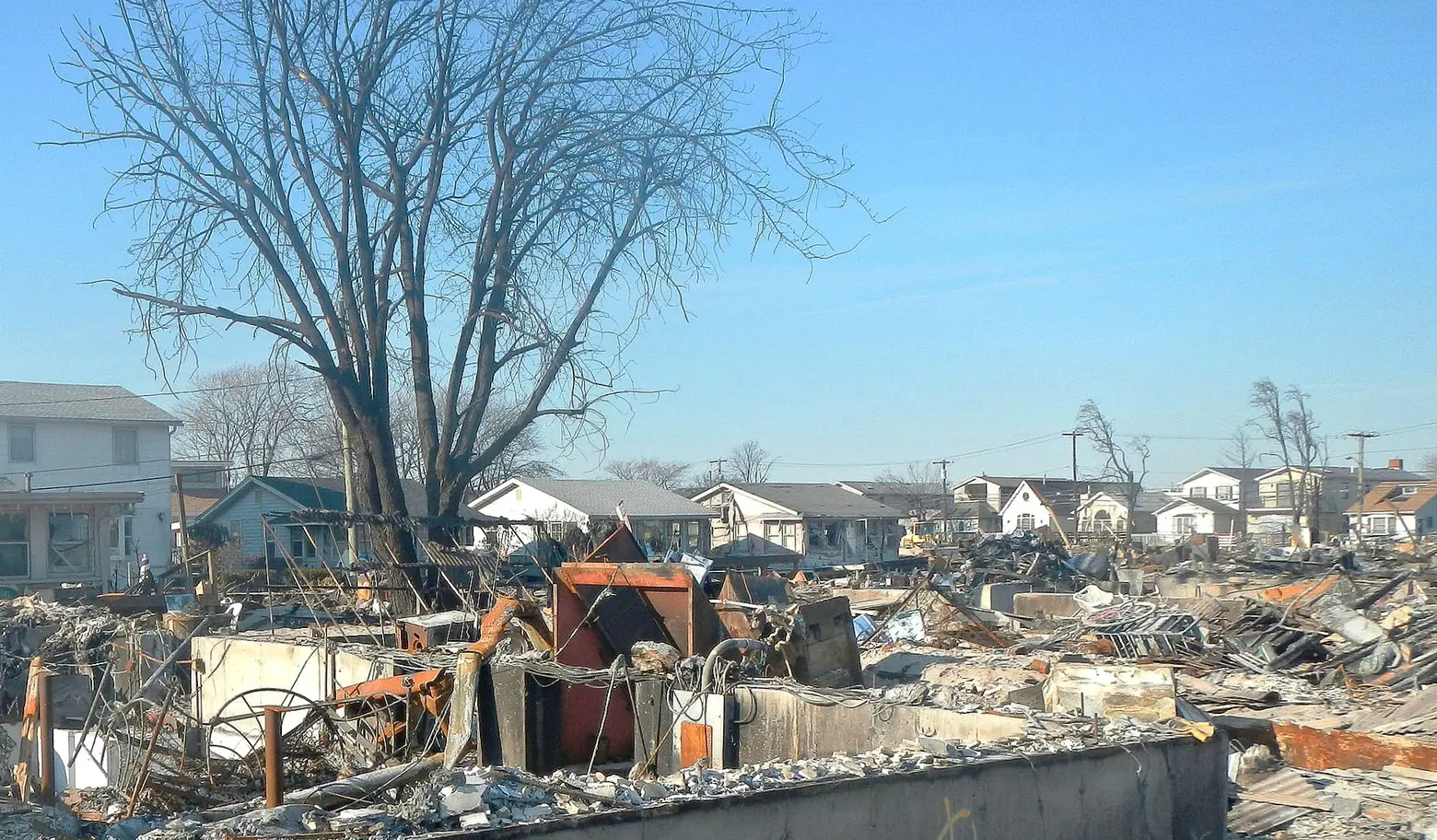 Hurricane Sandy damage in Breezy Point, Queens.
Looking to the Antarctic ice sheet 8,000 miles away, the new report, which was was published in the journal Proceedings of the National Academy of Sciences, found that storms would be more likely to swerve away from New York City. The problem lies in the fact that the storms that do batter the city's shores will be more powerful on average, and they'll be starting from a higher baseline due to those climate change-related higher seas.
As a result of those changed conditions, the risk of a storm like Sandy–though with a slightly less freakishly large storm surge– is now likely to be a one-in-25 years event rather than a one-in-500-years event. And by 2030, the projections show, the city could get windblown and waterlogged every five years. The study concluded, for example, that the one-in-500-years flood height at Battery Park could range from 13.1 to 16.7 feet by the year 2100 and 16.4 to 50.5 feet by the year 2300.
Andra Garner, the Rutgers University researcher who led the study, told the Post, "Ultimately, the balance of evidence for our study is probably bad news for New York. Although we do find minimal changes to future storm surge because of a compensation between shifting storm tracks and increasing storm intensity, we find drastic increases to overall flood heights due to rising sea-levels, which we calculate by combining storm surge with potential future sea-levels."
To be able to predict what will happen, we should be watching Antarctica. According to the report, how much the sea level will rise depends on stability of Antarctica, which has large volumes of ice grounded below sea level in places that are exposed to warm sea water. If those pieces of ice collapse into the ocean, the ice sitting above sea level will cause a significant sea level rise. Floodwaters that reach 7.4 feet–approaching Sandy's 9.2 feet–will be "permanently exceeded by 2280—2300 for scenarios that include Antarctica's potential partial collapse."
Benjamin Strauss, a sea-level-rise expert with Climate Central who was not involved in the study told the Post, "It looks like under all of the main scenarios and models examined, by the end of the century if not earlier, New York would regularly see floods high enough to flood the subway system as engineered today."
According to Penn State glaciologist and study co-author Richard Alley, the news is both good and bad: "It could be seen as good news that more storms might steer away from New York. It might be seen as bad news in the other places where the storms go instead. My impression is that the rare, huge storm is the most worrisome, and that having bigger storms that usually steer away from the city would leave the possibility of an occasional Sandy-type left turn bringing especially large damages to a city that had started to forget the last big hit."
[Via Washington Post]