Spotlight: Alex Gomberg Keeps Up the Tradition at 63-Year-Old Brooklyn Seltzer Boys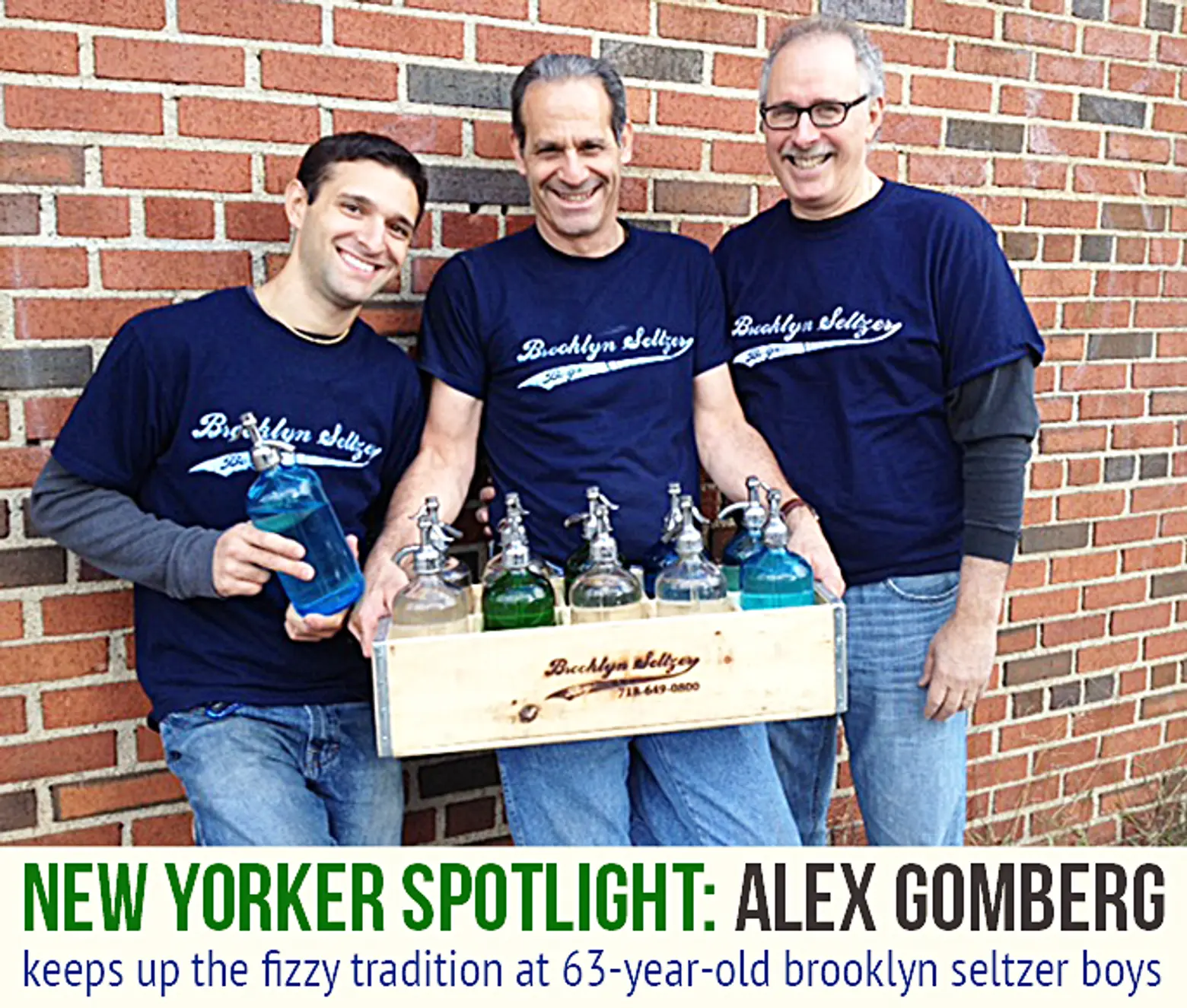 L to R: Alex Gomberg, Kenny Gomberg, Irv Resnick
When Alex Gomberg says "I have seltzer in my blood," he's not referring to the quantity of seltzer he drinks, but rather describing how deep the seltzer tradition runs in his family. It began in 1953 with his great-grandfather, Moe Gomberg, who opened up Gomberg Seltzer Works, a seltzer bottling plant in Brooklyn. The term seltzer man may be new to some, but it refers to someone who delivers seltzer in glass bottles right to your door; no supermarket needed.
Over the years, seltzer delivery went out of favor and the family business, currently run by Alex's father Kenny Gomberg and uncle Irv Resnick, continued to bottle for others, but was no longer doing delivery routes themselves. Four years ago, Alex joined Gomberg Seltzer Works and felt strongly that company should return to its delivery roots. He helped developed a delivery branch, aptly named Brooklyn Seltzer Boys, and today, Alex is well on his way to becoming many New Yorkers' 21st century seltzer man. His idea of returning to delivery service was right on the mark as the company is benefitting from a myriad of factors including nostalgia, a focus on curated, well made items, and the popularity of home delivery. 6sqft recently spoke with Alex to find out about Gomberg's seltzer, what it's like to be a seltzer man, and how he's bringing seltzer delivery back to New York.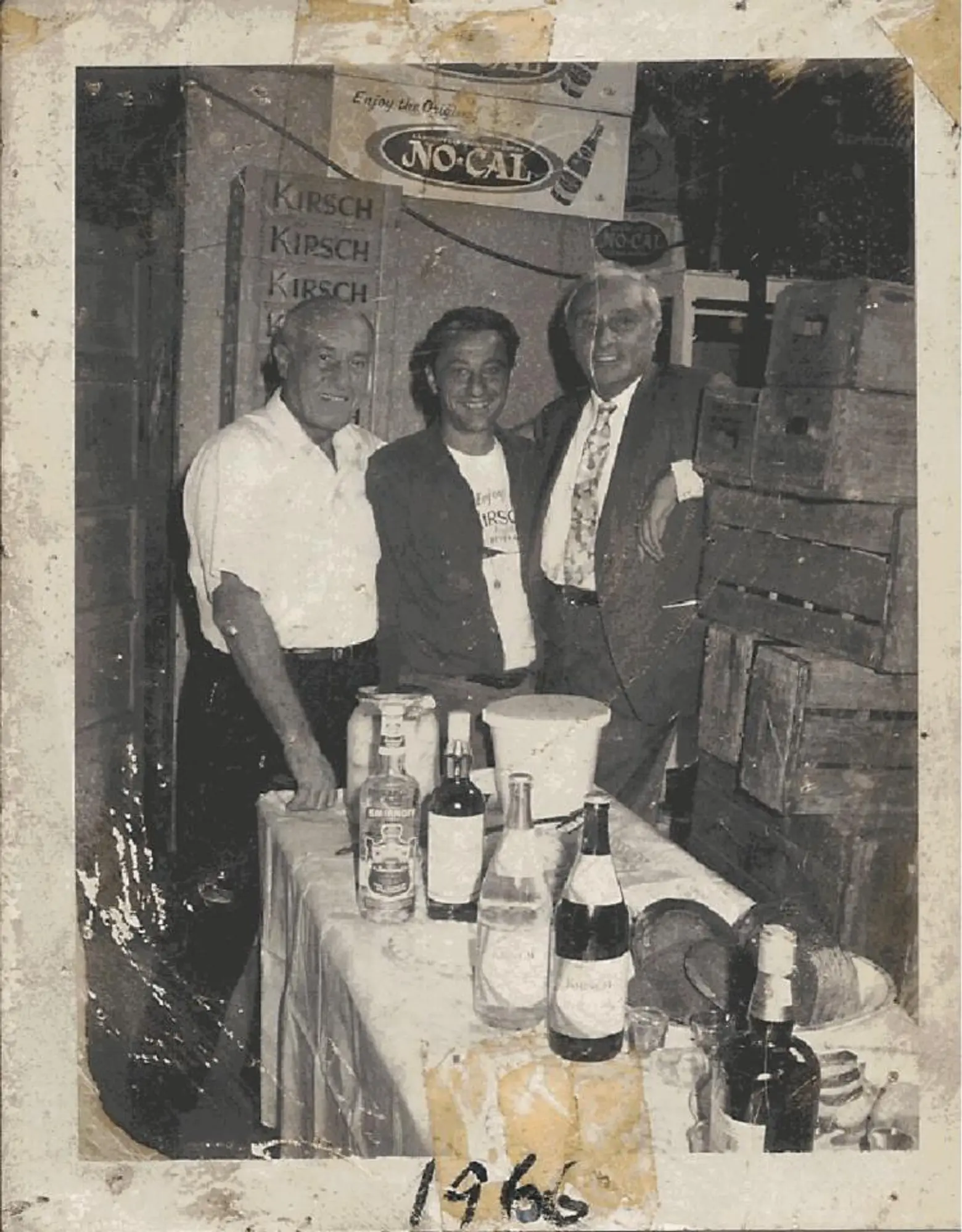 L to R: Moe Gomberg, Pacey Gomberg and Morris Kirsch in 1965
Since your great-grandfather began delivering seltzer, how has the industry changed?
There were many bottling plants all throughout New York and all throughout the country. Now, Gomberg Seltzer Works in Brooklyn is one of only three siphon seltzer bottlers left in the country and the last in New York. There were hundreds and hundreds of seltzer men and now there's like five, and Brooklyn Seltzer Boys is one of them. I'm probably the youngest of them all. All the seltzer men are in their 60s, 70s and 80s.
What about your family's company; has that also changed a lot?

We changed the brand and a lot of the ways we do business. It's not a pen and paper business anymore. We have a website, which is unheard of for the seltzer industry. My customers email me. These are things that were never ever done before. We're combining the old style business with modern technology. We're mixing the two together, and people like that. We're expanding on something that was going to go.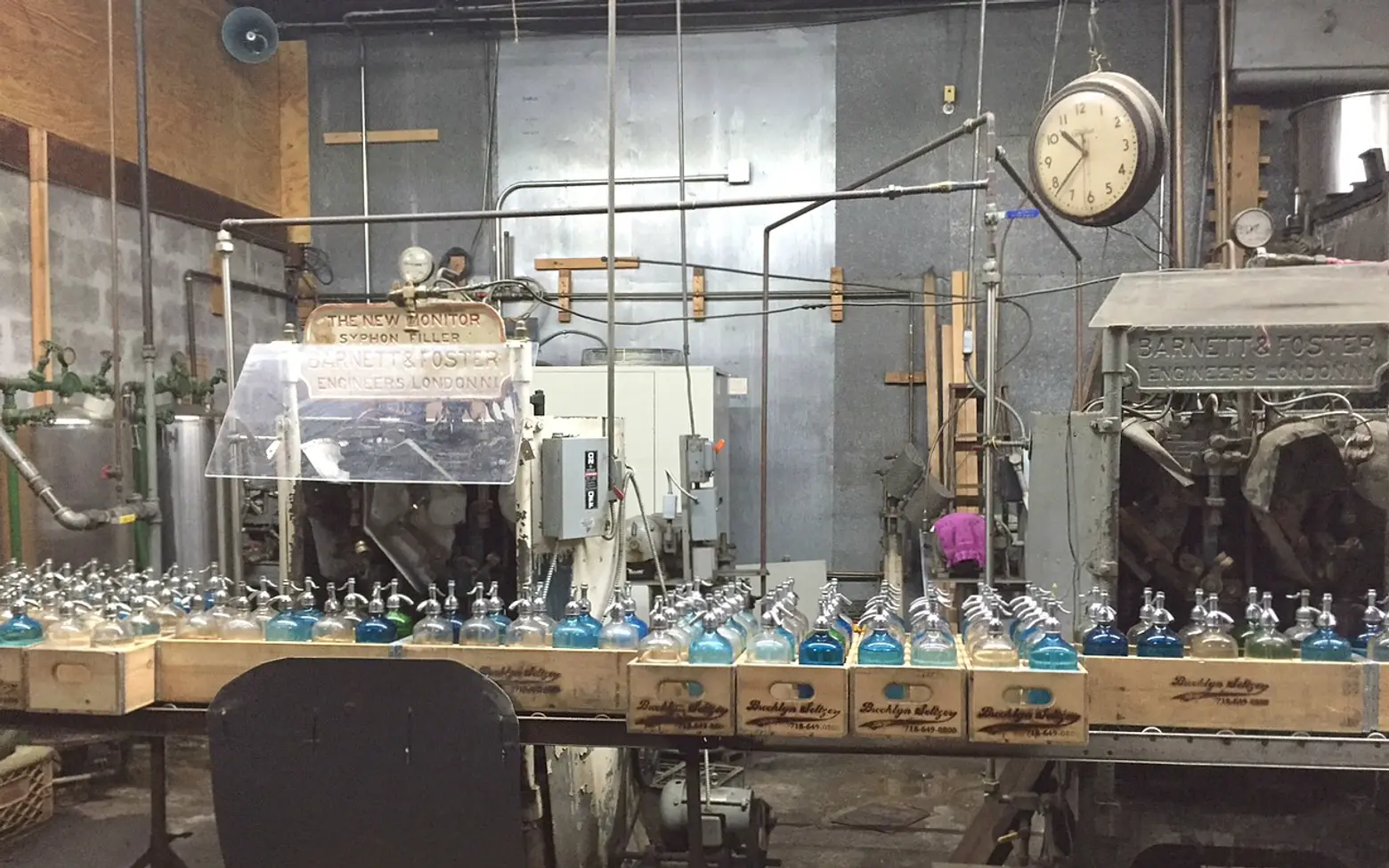 What makes Brooklyn Seltzer Boys' product different than buying a bottle at the supermarket or using SodaStream?
Nothing even comes close to the amount of pressure we use to bottle our seltzer because we're using a heavy glass siphon bottle with a metal top. We're able to hold about 60 pounds of pressure. I don't think a plastic bottle comes anywhere near half of that. The pressure is not the same, the bubbles not as big or strong. With our seltzer, it holds the pressure constant at 60 pounds the entire time there's liquid in the bottle. So that first pour, it's the same thing the next time and the the next time. It always has the same consistent, pressure.
We always say good seltzer should hurt when you drink it; you shouldn't be able to gulp it down. Our seltzer gives you a bigger bite when you drink it. It definitely has a different taste, that's number one. Number two, there's no additives, there's no salt, there's no coloring, no flavoring, nothing other than triple filtered New York City tap water and C02. We triple filter the water through sand, charcoal, and paper to take out any odors, taste, or micro solids, so it's a very clean, healthy seltzer.
SodaStream is cool because you can make your seltzer as needed [without going] to a store. You use your own water, and if you live in New York City, you're using the same water, which is good. It might initially taste good, but if you put the cap on that seltzer bottle and put it in the fridge to save it for later, it's not going to have the same carbonation that it did when it initially was poured.
Do you use a special bottling machine?
Our seltzer is filled with a Barnett & Foster siphon filling machine, which is about a hundred years old. There's a carousel that goes around in a circle. There's six bays, you put a bottle in each bay, but each bottle has to be manually placed, that's as automated as it got back in the day.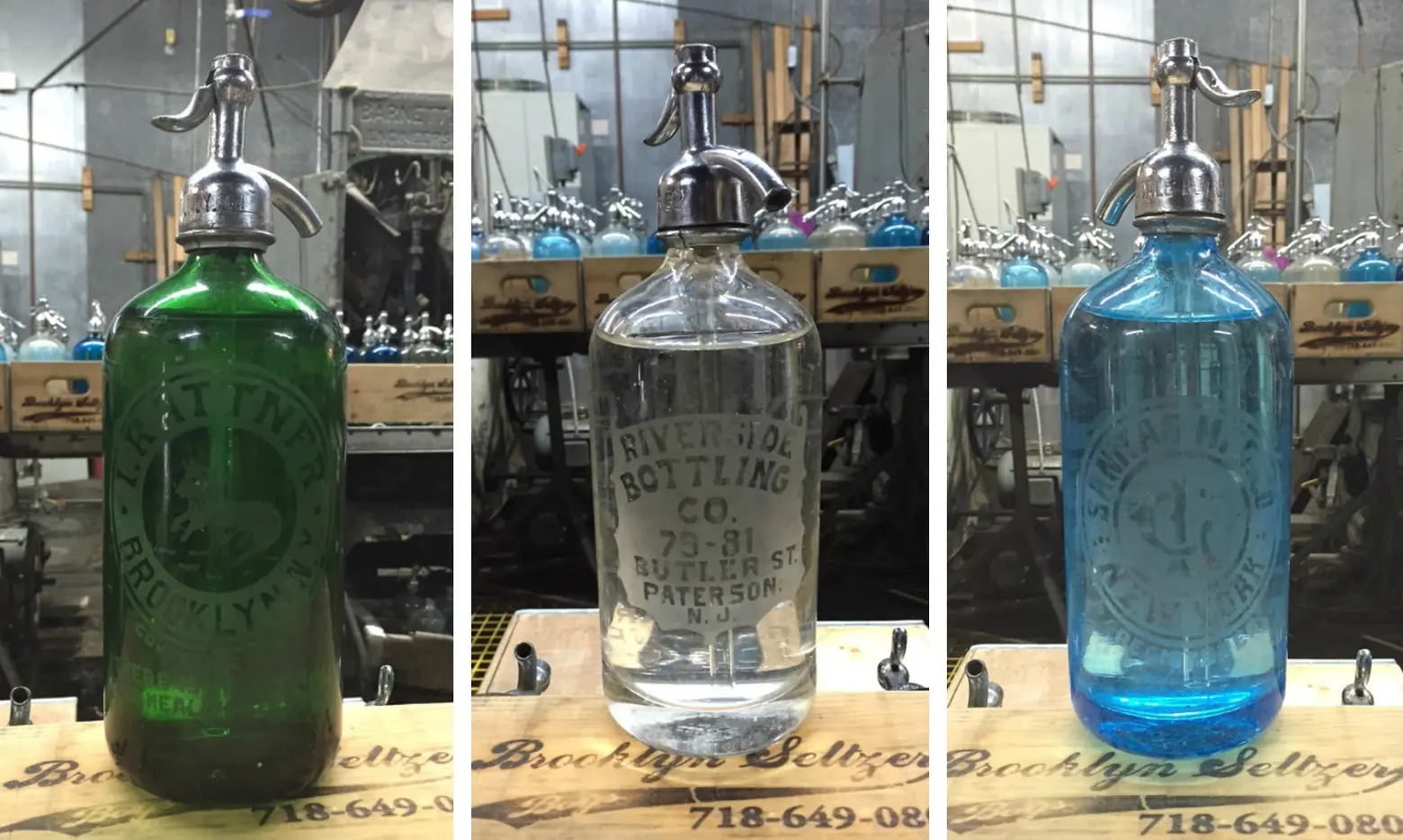 Can you share a bit about your bottles?
Most were actually hand blown in Czechoslovakia in the early 1900s, so we're using all original bottles. That's really important to our business. Each bottle has a different etching of an older seltzer man. Back in the day when Marty Cohen (I'm making up a name) was a seltzer man, he had all his blue bottles printed with his logo and name. All his customers got those bottles. Over time, he would either retire, sell his route, or pass away, and his wife sold the bottles to Eli. Eli now had a collection of his own personal bottles and this other guy's bottles. It kept happening over time and nobody was making bottles anymore because they had so many. Now there's only a handful of seltzer men left, and they all have a collection of these different seltzer bottles from all these seltzer men.
How did you acquire these older bottles?
Whenever my dad or uncle knew a seltzer man was retiring, they either accumulated them or bought them. They've been collecting them for years and years, and the reason I got into the business is because they had so many bottles that weren't being used. For the longest time, they wanted to get back into the delivery business because they had these bottles; they didn't want to see the business go, but they didn't have the time to do it. That's where I came in. They had the experience, I had the time. We cleaned up these bottles, restored them, put them back into circulation, and now we have quite a few hundred customers to whom we deliver on a weekly or monthly basis.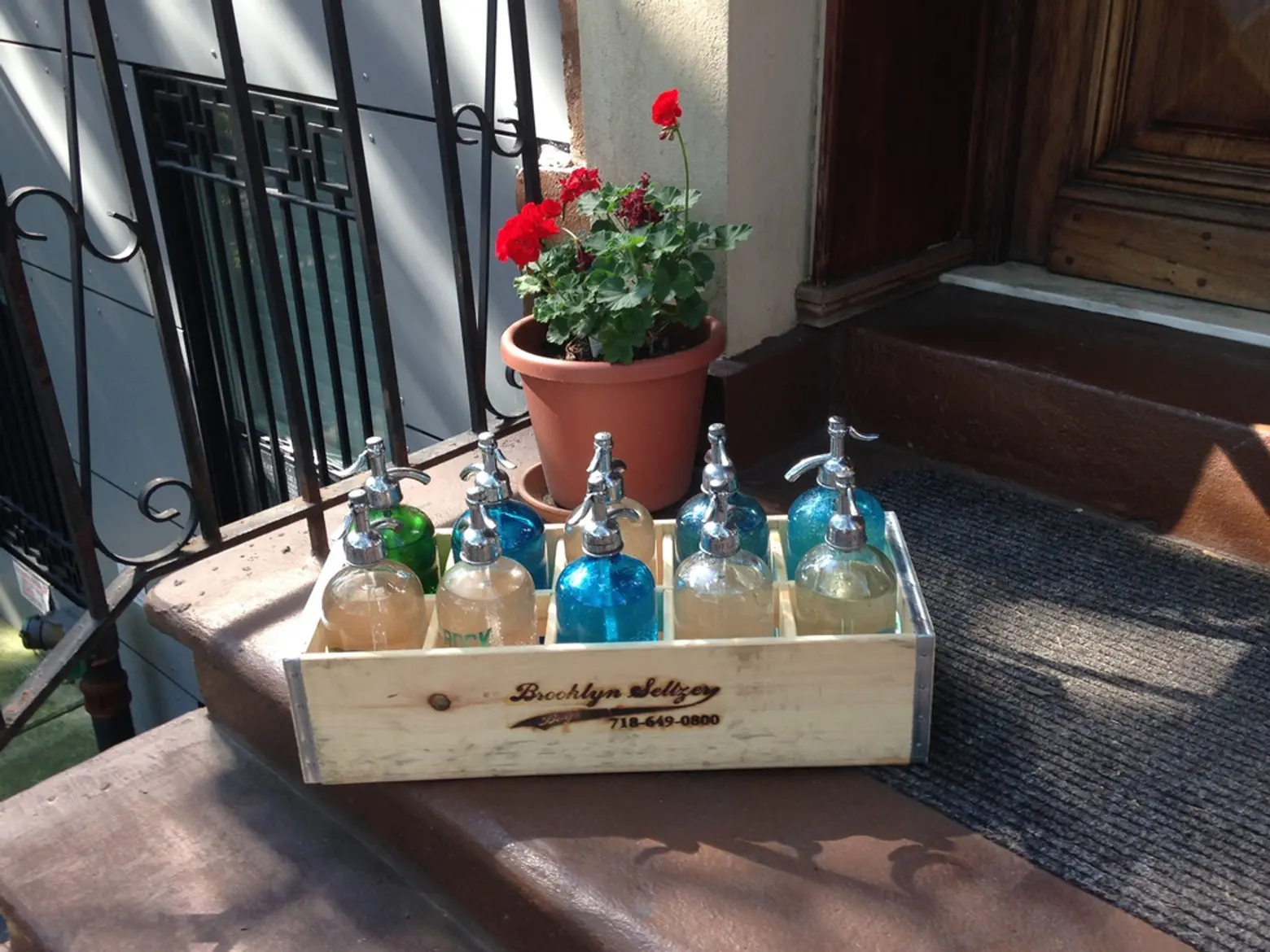 What's it like to deliver seltzer in 2016?
It's still delivered in old fashioned wood cases, but we don't have one of those trucks with the seltzer basically hanging off the side. I deliver in a regular van or truck like any other delivery business. When I'm in the streets, people stop me all the time and ask me questions: "What is that or what are you delivering?" They say, "I remember getting that stuff. I can't believe you guys are still around."
It's a novelty and we actually do bar and bat mitzvahs and weddings now. We have an egg cream station for events, and it's always the talk of the party. We want to get out there and start showing people a very famous, traditional Brooklyn drink. But rather than the kids, it's the adults who want the egg creams.
Do you have expansion plans on the horizon?
Right now we're only in select markets in Manhattan, Brooklyn, Queens, and parts of New Jersey. People seem to resonate with the Brooklyn name. We definitely have a good amount of inventory to fulfill the orders we're getting in. If we keep getting more customers, we're going to need more bottles. Hand blowing seltzer bottles is a thing of the past. It's going to be a great problem to have, but it's going to be an expensive one because we'll need to source bottles.
+++
[This interview has been edited for clarity]
RELATED:
All images courtesy of Brooklyn Seltzer Boys